The most important thing you can learn on a keto diet is that there's no such thing as a boring salad. Our amazing low-carb Keto Blue Cheese Dressing is the ultimate decadent addition to level up any salad. It's also super easy to make so you can whip up a super fancy addition to your lunch at a moment's notice.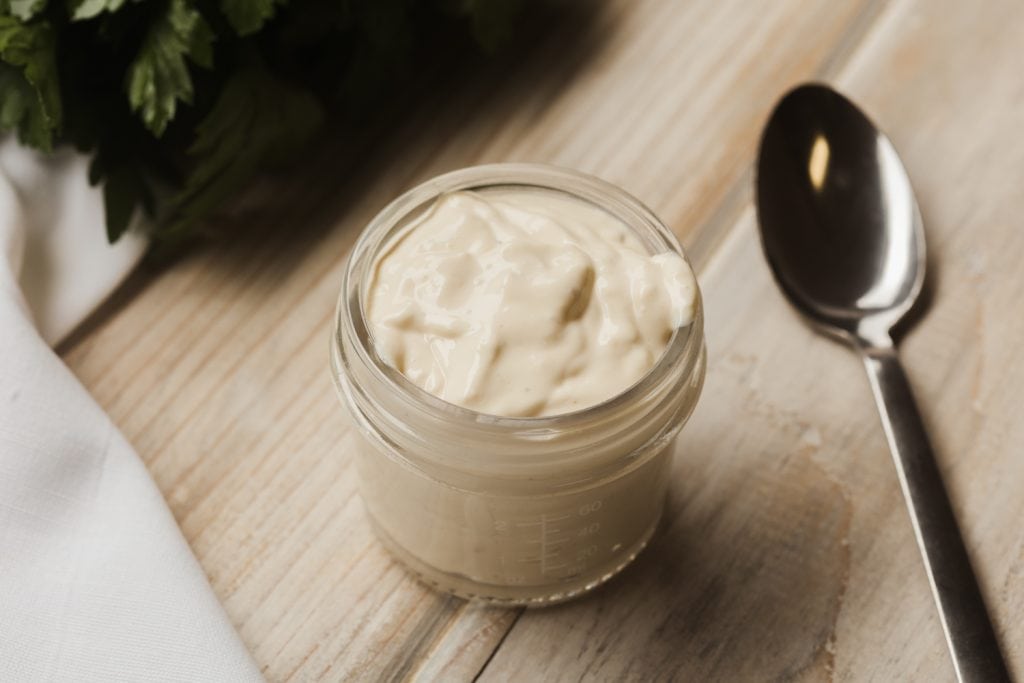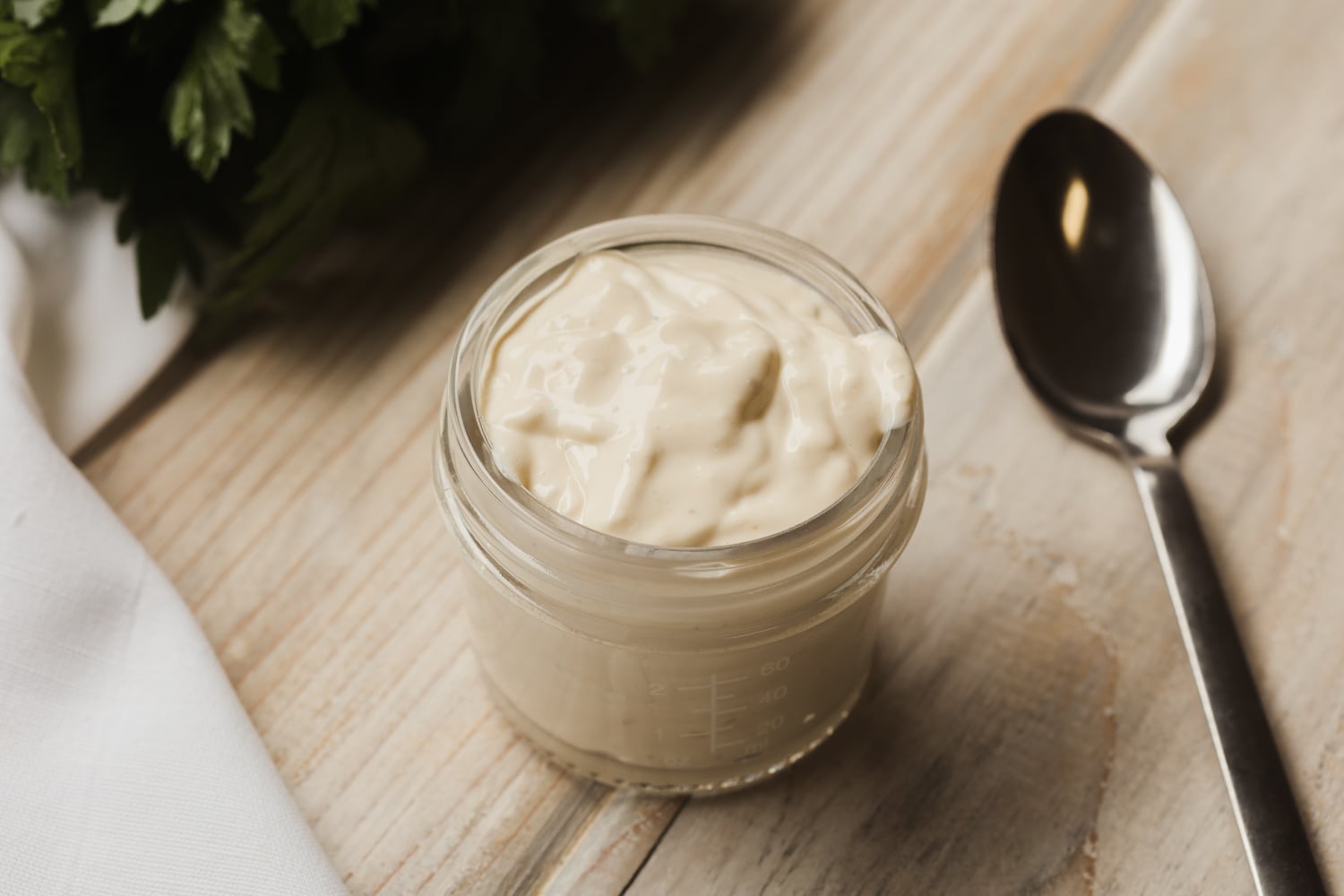 You'll never need to spend way too much money on a disappointing salad again!
What You'll Need
This homemade Keto Blue Cheese Dressing can be made by hand in no time at all. All you'll need is:
A whisk
A mixing bowl
A spoon
If you want an extra creamy dressing, you could use an immersion blender ("stick mix") for about 20 seconds. However, we recommend keeping the chunks of blue cheese intact for delicious little bites of flavor.
How to Make Keto Blue Cheese Dressing
This recipe is so quick and easy you'll be able to throw it together in less time than it takes to place an online delivery order! Are you ready to create the best salad dressing you've ever tasted?
Step 1: Mix the Ingredients Together
Add all the ingredients to a bowl and mix together to combine. Pay particular attention to make sure the mayo and sour cream are well-mixed.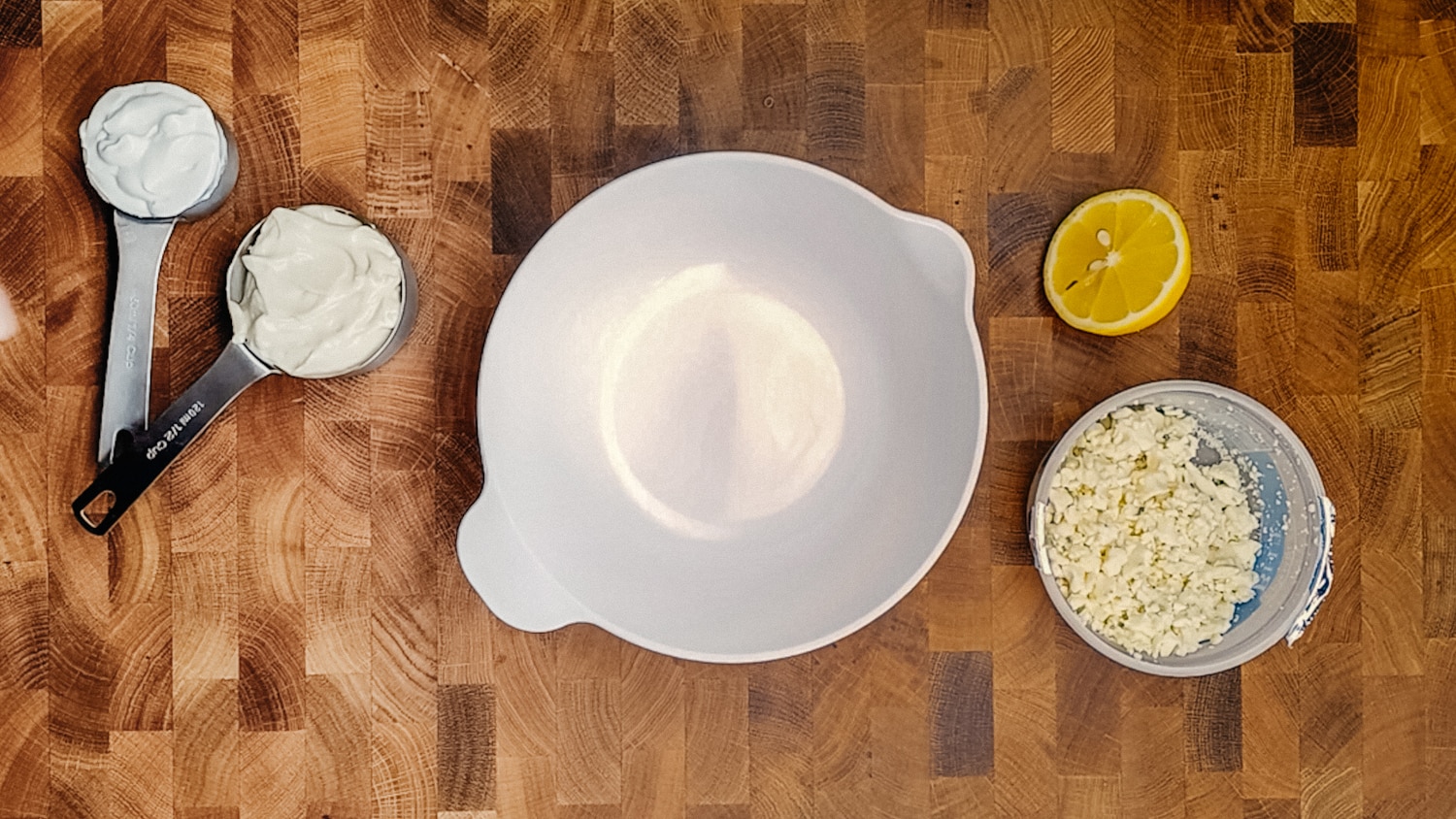 Step 2: Break up the Blue Cheese Crumbles
Using the back of a spoon, press the blue cheese chunks against the side of the bowl to break them apart, then stir to mix through. This will release extra blue cheese flavor throughout the dressing.
Step 3: Thin Out the Dressing (Optional)
Feel free to add a little nut milk, such as almond milk, to thin the dressing out. Keep adding more nut milk and stirring through until the dressing reaches your desired consistency
Common Questions
When it comes to tasty salads, there's always some way to make them a little bit healthier and a whole lot more delicious. Check out these commonly asked questions on all things salad, blue cheese and staying healthy on a keto diet.
Is Blue Cheese OK for a Keto Diet?
If you can tolerate dairy, pretty much all cheese is a fantastic addition to a keto diet – and blue cheese is no exception.
Cheese is very high in fat, which makes it an extremely delicious way to stay full and satisfied on a keto diet.
Blue cheese is also high in calcium, which can help to improve bone density and lower the risk of osteoporosis.
What Kind of Blue Cheese Should I Use?
The type of blue cheese you use depends entirely on how much you love blue cheese!
If you're new to blue cheese or still getting used to the bold taste, our easy Keto Blue Cheese Dressing is a great introduction to this robust ingredient. It's better to start small with more mild varieties, and eventually work your way up to something stronger.
Some mild varieties include:
Danish Blue
Gorgonzola
Bleu d'Auvergne
If you're looking for a much stronger flavor, look for Roquefort. It's probably the most strong or "offensive" blue cheese you can find. It's expensive, but definitely worth it if you live a stinky cheese!
If you can afford it, don't be afraid to expand your horizons by visiting a specialty delicatessen. Ask the salesperson for recommendations and see if you can sample the blues they have on offer.
What Dressings Are Keto-Friendly?
When it comes to keto-friendly salad dressings, you're always better off making your own. That's because while many salad dressings might be high-fat, but they can also be loaded with sugar.
If you're looking for a salad dressing at the store, make sure to double-check both the ingredients and nutrition info to check for added sugar and high carbs. Even buttermilk can add unwanted carbs that take your salad from keto-friendly to high-carb!
One of our go-to brands for condiments is Primal Kitchen. We also love using their mayo as a fuss-free homemade dressing.
While you might be tempted to keep the calories lower by using a low-fat dressing, one study showed that salad dressings with higher dietary fat allowed people to absorb more carotenoids from the vegetables than low and reduced-fat dressings.
In other words, a salad with a high-fat creamy dressing (like this one!) might just be the more nutritious choice.
Try some of the other keto dressing recipes we have created like Keto Ranch Dressing, Spicy Cilantro Dressing, or Keto Caesar Dressing.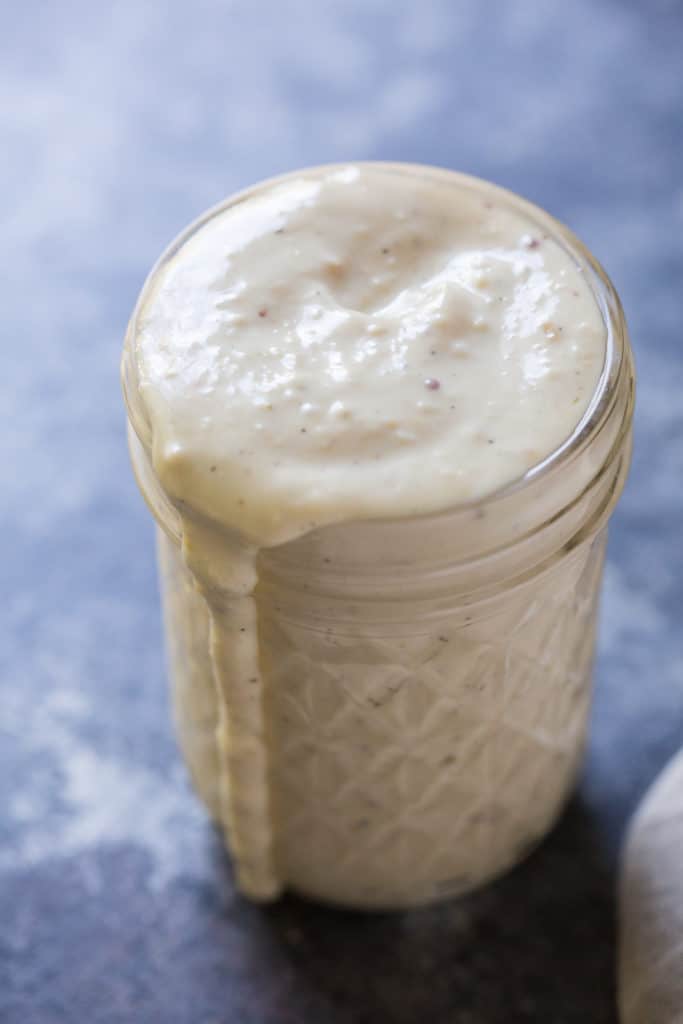 What Keto-Friendly Blue Cheese Dressing Should I Buy?
We get it – maybe you just don't have time to make your own salad dressing. And that's totally fine! In times like these, it's great to have keto-friendly, store-bought options to reach for.
We prefer to choose store-bought dressings that don't contain unhealthy oils like soy, canola or sunflower oil. Did you know canola oil has been linked to decreased learning ability in mice studies? For more info on this topic, check out our guide to healthy cooking oils.
Unfortunately, it's not always easy to find store-bought options made with healthy oils like olive oil and avocado oil – and this goes double for Blue Cheese Dressing.
However, we did manage to find two brands that contain absolutely no unhealthy oils:
Walden Farms Bleu Cheese Dressing – This brand specializes in low-calorie "diet" foods, so it doesn't have the same fat content as our recipe.
Hidden Valley Blue Cheese Dressing, Dip & Sauce Mix – This mixture can be added to your high-fat base of choice (such as mayonnaise or sour cream) to whip up your own dressing or dip whenever you like.
What Can I Substitute for Homemade Blue Cheese Dressing?
Not a fan of blue cheese? No worries. Try one of these tangy, creamy dressings – just make sure to watch the carbs and added sugar:
Caesar dressing (check out our recipe below!)
Ranch dressing
Avocado lime dressing
We're also a big fan of using mayo as a salad dressing. You can easily add your own spices and seasonings to create your own flavors, such as smoked paprika, mustard or lemon juice.
How Can I Make My Keto Blue Cheese Dressing Lower Calorie?
A keto diet is all about the delicious dietary fat. But whether you're trying to watch your calories or just don't want such a rich dressing, there are a few options to bring the fat content down a little.
Instead of sour cream, try using tangy yogurt instead. Thick greek yogurt works best, and will also add extra protein to your dressing.
If you're using Greek yogurt, make sure to avoid any added sugar.
You could also use lite mayo or sour cream. However, be aware that these "diet" substitutes often have more added sugar, which can increase the carbs.
Can I Use Buttermilk?
Some homemade Keto Blue Cheese Dressing recipes use buttermilk to produce a thinner consistency. 
While buttermilk is delicious, it's also quite high in carbs. One cup of buttermilk contains between 12-15 grams of carbs – or more.
And when you're following a keto diet and trying to keep your carbs around 20 grams per day, those sneaky added carbs from foods like salad dressing can really add up!
This is why we haven't included buttermilk in our homemade Keto Blue Cheese Dressing recipe. Instead, you can use unsweetened, low-carb nut milk to thin out your dressing if you prefer it on the runnier side.
We recommend:
Almond milk
Flax milk
A small amount of cashew milk
We wouldn't recommend using coconut milk, as the flavor is too strong and doesn't pair well with the blue cheese.
How Should I Serve My Keto Blue Cheese Dressing?
Creating a great salad is a true art form. It's all about the color and texture!
To create the perfect salad to pair with your low-carb Keto Blue Cheese Dressing, first choose a base of leafy greens. Our recommendations are:
Romaine
Butter lettuce
Arugula
Mizuna
Next, add some vegetables. Here are some great low-carb ideas:
Bell pepper
Cucumber
Radish
Onion
Cherry tomato
Don't forget the protein! Chicken, boiled eggs, salmon – whatever your heart desires.
To really elevate your salad, try adding fresh herbs and a little crunch – we're talking seeds like pepitas, pumpkin seeds and hemp seeds.
Of course, you don't have to use this low-carb Keto Blue Cheese Dressing for salads only. Check out these non-salad serving suggestions:
Served in place of dip with bell peppers and cucumber sticks, or keto crackers
Drizzled over chicken wings
Poured over steak or meatballs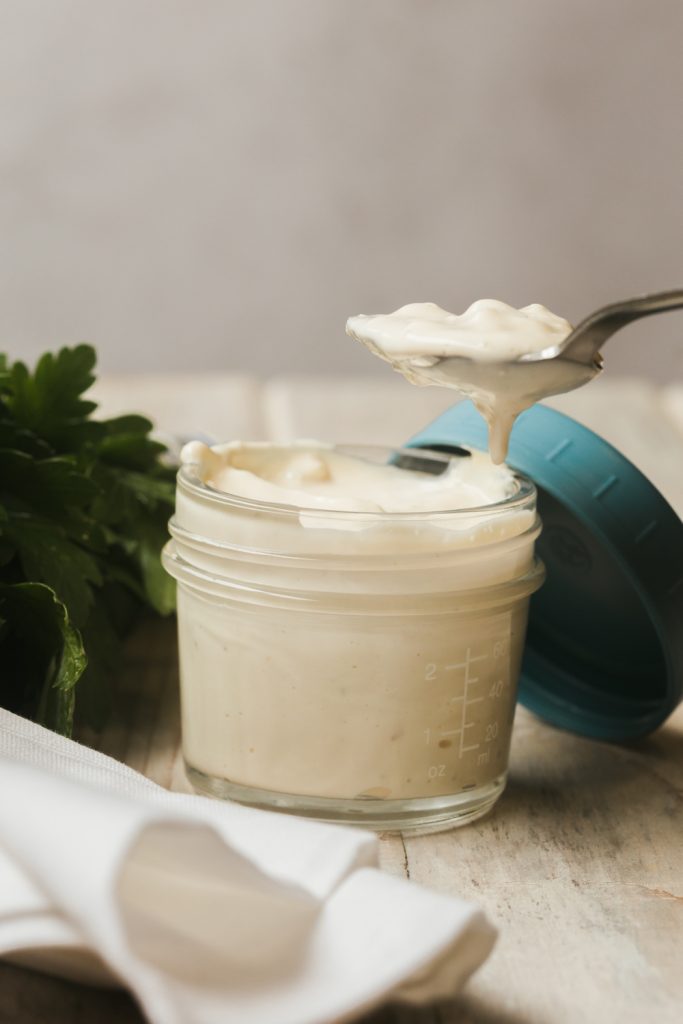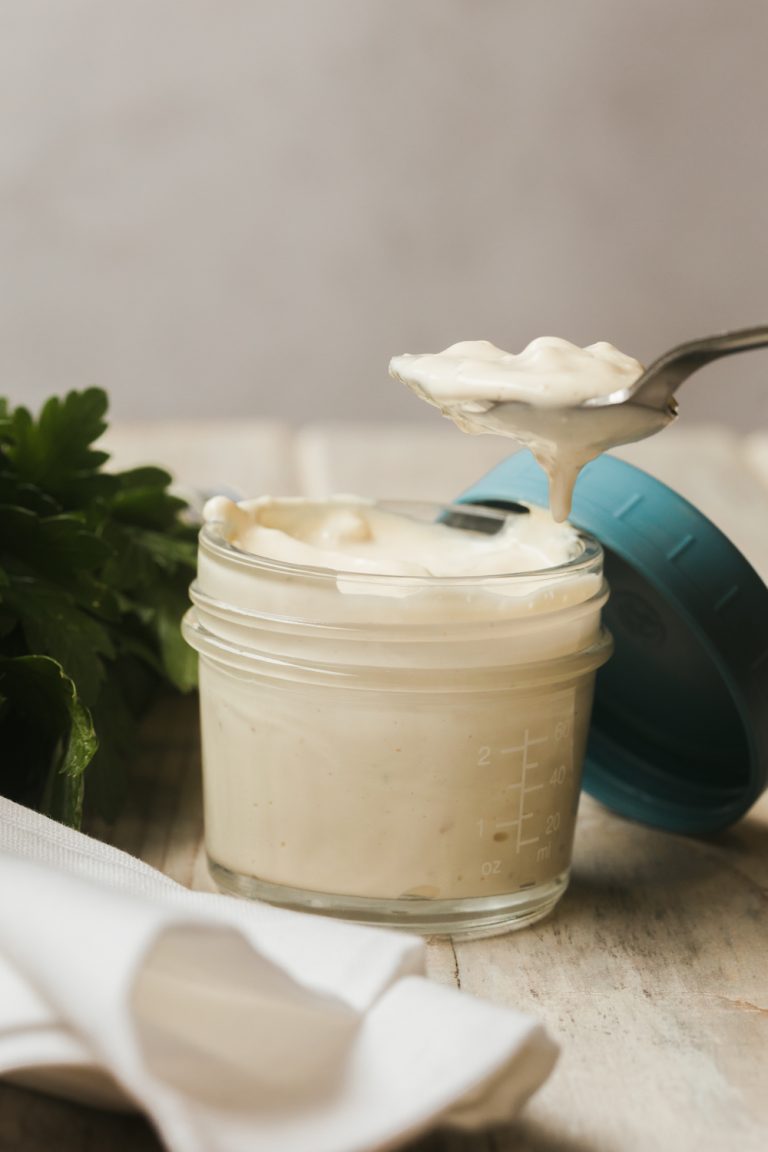 How to Store Your Keto Blue Cheese Dressing
Keep your dressing in an airtight container and store in the fridge for 5-7 days.
This homemade dressing recipe doesn't freeze well, so we'd recommend using it quite soon after preparing – or making a smaller portion so nothing goes to waste.
More Easy Keto Recipes Like This
Once you discover how easy it is to make a mind-blowingly delicious salad, you'll never look back! Has this low-carb Blue Cheese Dressing recipe given you the keto salad itch? Check out some of our other easy-to-make keto recipes:
Keto Caesar Dressing – A creamy low-carb Caesar dressing that doesn't even require anchovies!
Top 10 Keto Salads – A comprehensive list of our best keto salad recipes, plus our top salad tips.
Keto Broccoli Salad – Level up the humble salad with the best low-carb vegetable of all time.
Conclusion
Some people believe life's too short to eat salad. We think life's too short to eat dry, boring salads – and thanks to our Keto Blue Cheese Dressing recipe, you'll never have to!
When healthy store-bought salad dressings are so hard to come by, we love creating our own homemade Blue Cheese Dressing with simple, easy-to-find ingredients. Not to mention this recipe is a great new way to incorporate even more cheese into your keto diet!
Did you try our homemade Blue Cheese Dressing recipe? Leave a comment below and let us know what you thought, and be sure to tag us in your most delicious and exciting salads on social media!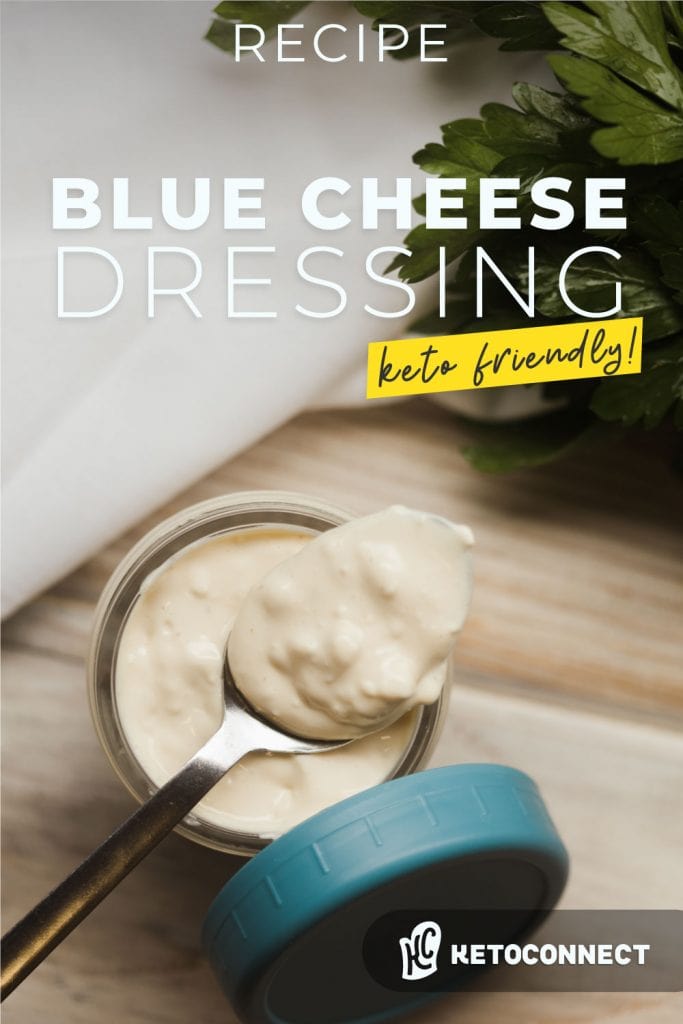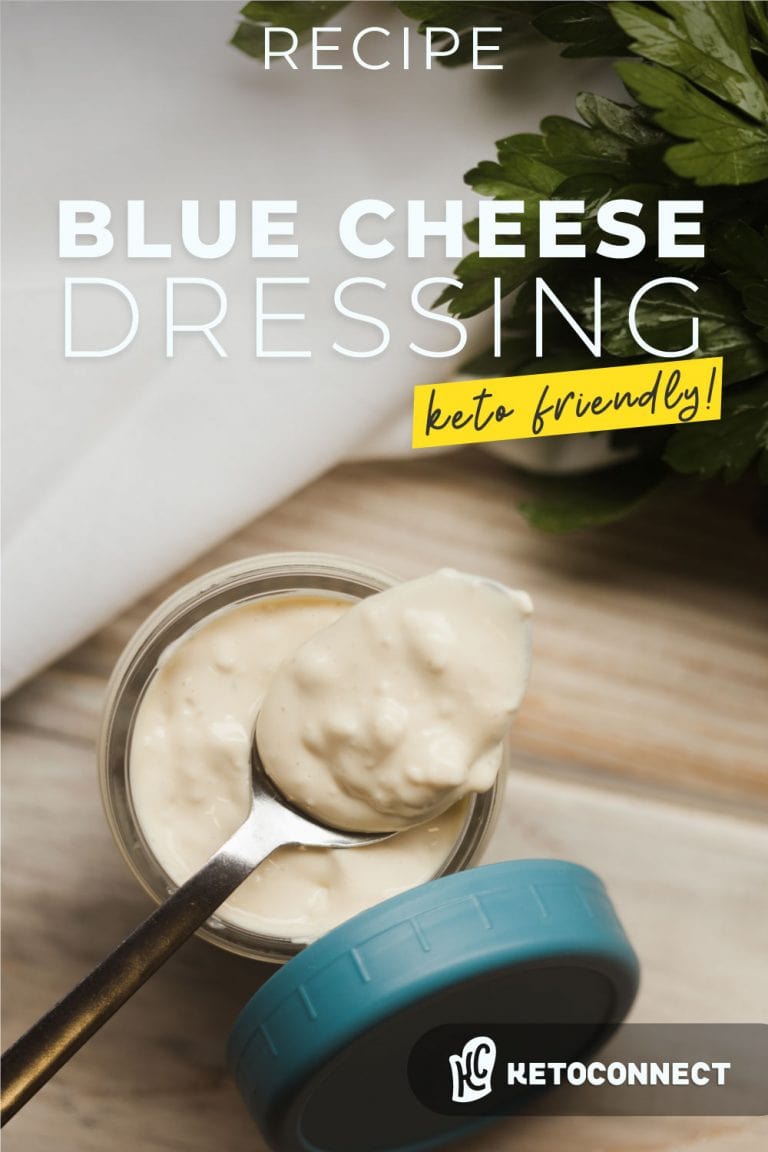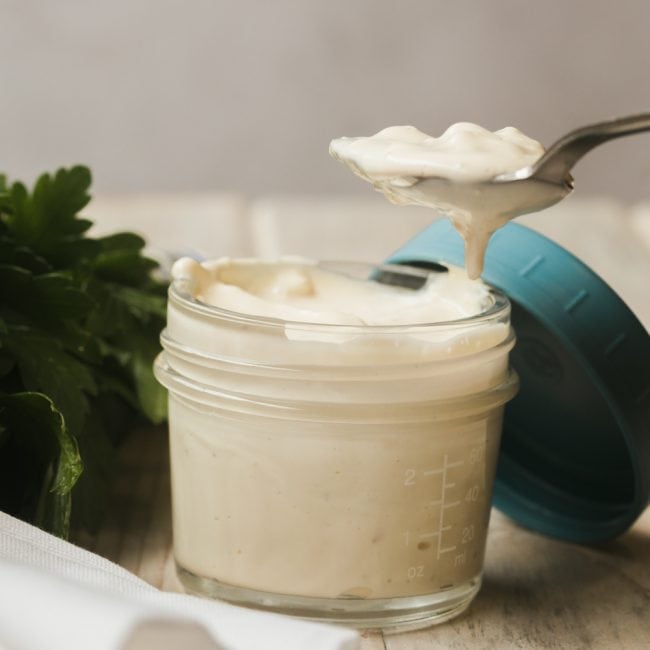 Homemade Keto Blue Cheese Dressing Recipe
A rich and creamy blue cheese dressing prefect for topping salads.
Total Time 5 minutes
Servings 4
Calories per serving 294kcal
Prep Time: 5 minutes
Cook Time: 0 minutes
Ingredients:
1/2 cup Mayonnaise
1/4 cup Sour Cream
3 oz Blue Cheese Crumbles
2 tsp Lemon Juice
salt and pepper to taste
Instructions:
Mix together the blue cheese, mayo, sour cream, lemon juice, salt and pepper in a mixing bowl.

Break apart all the chunks of blue cheese with the back of a spoon on the side of the bowl.

Optionally thin with nut milk for a runny dressing
Nutrition Facts
Homemade Keto Blue Cheese Dressing Recipe
Amount Per Serving
Calories 294 Calories from Fat 270
% Daily Value*
Fat 30g46%
Saturated Fat 9g45%
Trans Fat 1g
Polyunsaturated Fat 13g
Monounsaturated Fat 7g
Cholesterol 35mg12%
Sodium 486mg20%
Potassium 83mg2%
Carbohydrates 1g0%
Fiber 1g4%
Sugar 1g1%
Protein 5g10%
Vitamin A 270IU5%
Vitamin C 1mg1%
Calcium 130mg13%
Iron 1mg6%
* Percent Daily Values are based on a 2000 calorie diet.
Written By