Easy recipes are the best because we all have those busy nights where we want to whip up something delicious and quick. For us that's simple recipes like this Easy Pesto Chicken Recipe. We give you the basics for cooking low carb chicken breasts perfectly in the oven, and the ingredients for a creamy basil pesto sauce made perfect every time. You couldn't ask for a more tasty yet simple keto dinner recipe!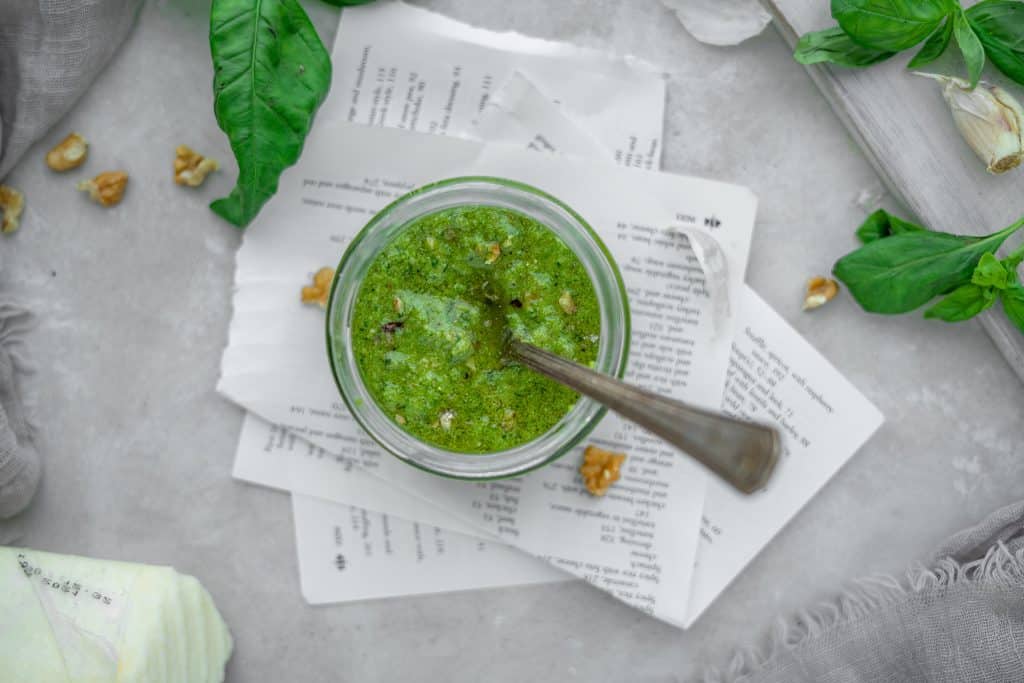 A Simple, Creamy Pesto Sauce!
I always felt like the only way to enjoy a delicious creamy pesto was if I bought it in the store or ordered it at a restaurant. It wasn't until I was on a keto diet that I realized how easy it is to make and how great it is for adding fat to meals! All you need is a base of fresh basil, some olive or avocado oil and salt and pepper! After that you can upgrade your basil pesto with some nuts of choice, we love walnuts, and some grated Parmesan! Blend everything up and you can store it in the fridge as a savory fat bomb to add your nightly meals! We like to use it as a sauce on top of our Chicken Crust Pizza too.
Picking the Ingredients for Low Carb Pesto
Basil pesto is one of those keto recipes that's super versatile and allows for a ton of substitutions. Whether you are budget conscious or just looking for the best tasting pesto, we have a variety of different ingredient options to choose from.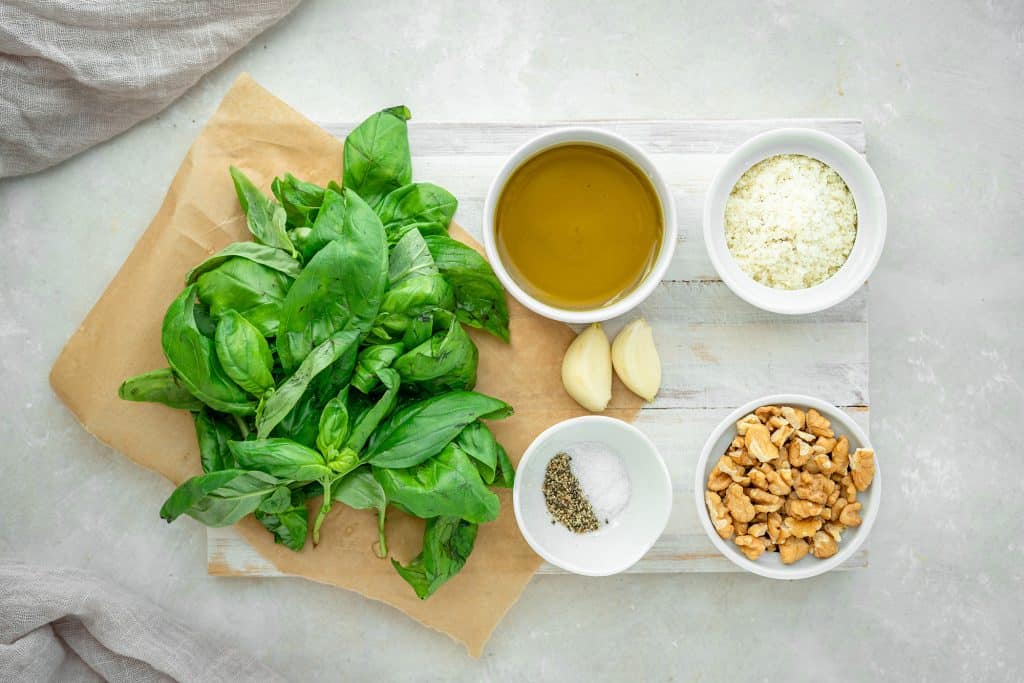 Herbs
The typical pesto recipe uses fresh basil, pine nuts, parmesan cheese, and extra virgin olive oil. However just because it's traditional doesn't mean that's what you have to use. You can make a really good pesto recipe with other herbs like coriander, parsley, chives, and cilantro. The only thing to keep in mind is that different herbs mean a different flavor profile. Your pesto may go better with a different meat than the traditional version. For example a pesto recipe with cilantro probably tastes better with a Mexican steak.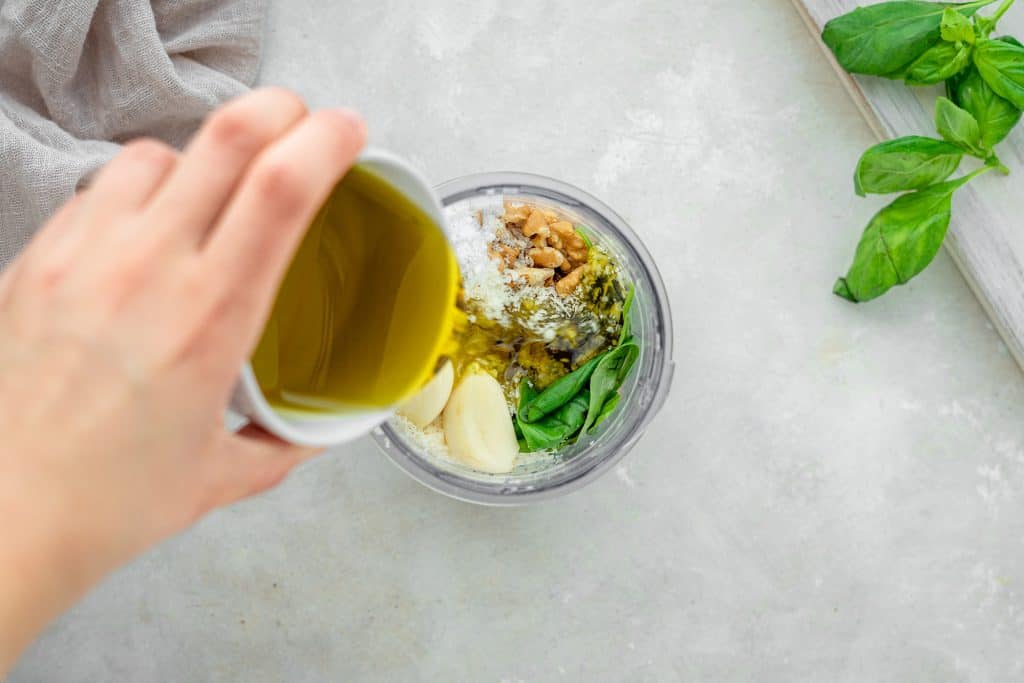 Garlic
While it may be tempting to use pre-made garlic in order to save time, Italian recipes especially need that extra touch of fresh flavor. Purchase fresh gloves of garlic and if you really hate peeling garlic that much, use this food safe rubber garlic peeler. It will save you a ton of time if you add a lot of garlic to your keto recipes.
Oil
Oil is probably the most important ingredient in pesto. It thins out the herbs and gives you a creamy sauce. A good pesto has high quality oils because you will be consuming a fair amount of oil in each serving. You want both the health and flavor of good oils to be there. We love a peppery and robust Spanish or Italian olive oil for this recipe. If you can't find one of these oils, you can always use a neutral flavored avocado oil. We recommend avoiding sunflower oil as it is high in omega 6's and known to cause inflammation(1).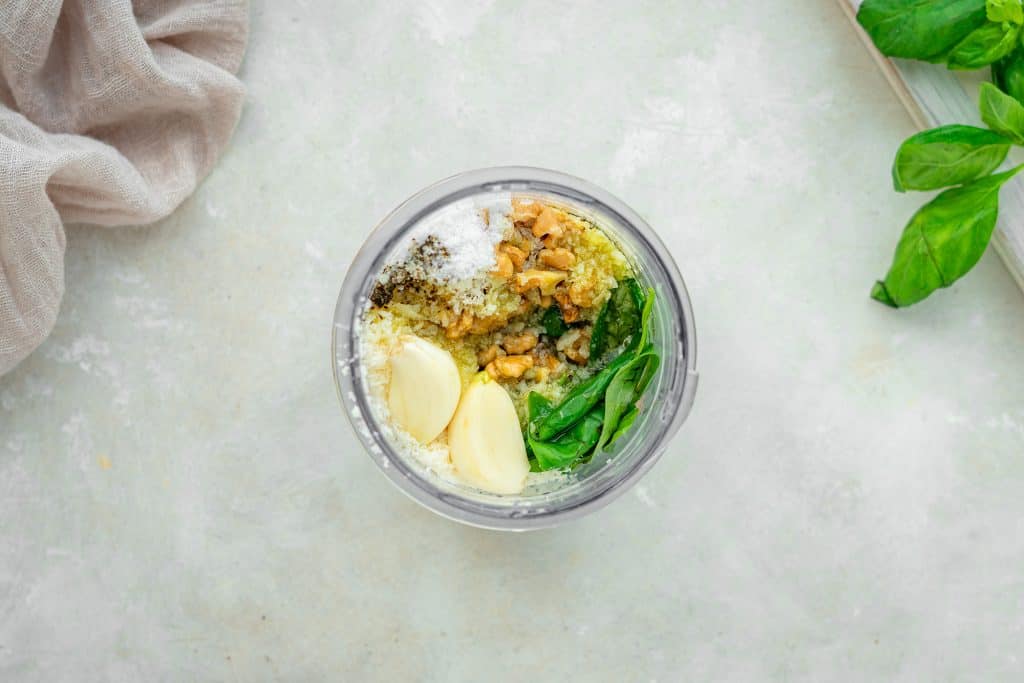 Low Carb Cheeses
Parmesan cheese is probably the one thing you don't want to change in this recipe. It adds a lovely nutty and salty flavor to our pesto that not many other cheeses have. If you can't find parmesan cheese your next best option would be a salty aged pecorino cheese. Pecorino will give you a similar texture and taste to parmesan cheese because it is also a much drier cheese option.
Nuts
If cheese is the least versatile nuts are the most. Nut options in low carb keto pesto recipes are really endless. We love walnuts, but a traditional pesto recipe uses pine nuts. Pine nuts have a really nice flavor; especially if they are roasted pine nuts, but they can be a bit expensive. If pine nuts aren't in your budget you can also make basil pesto with macadamia nuts, brazil nuts, or cashews. Each have a slightly different flavor profile, but all in all are great low carb options.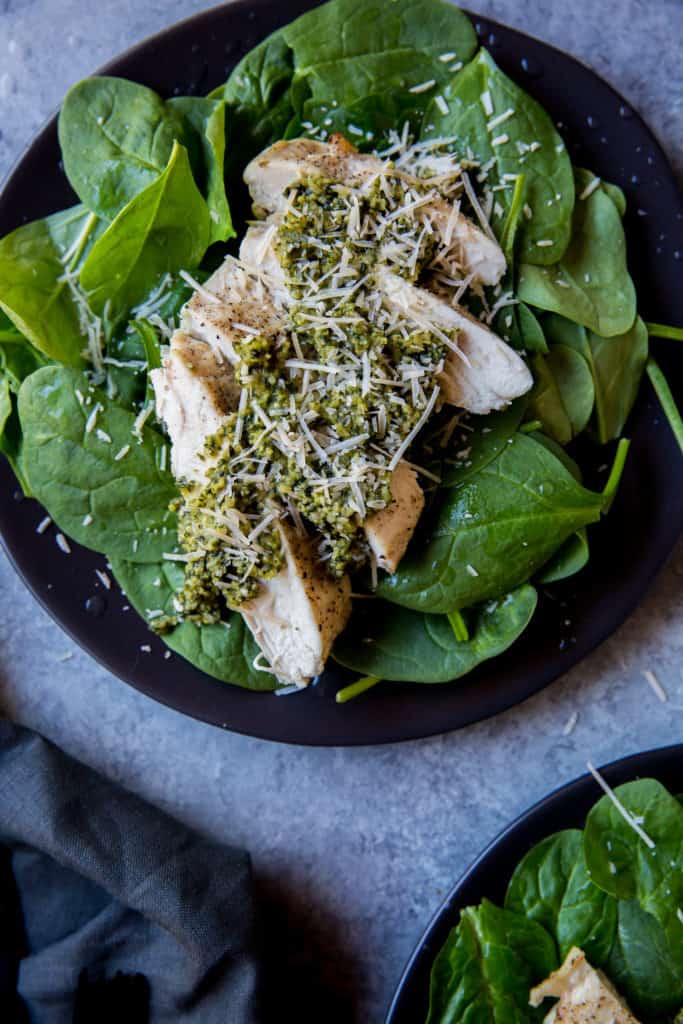 Easy Baked Chicken Breast
Baking in the oven makes for the juiciest low carb chicken breasts! When cooking chicken in general; especially chicken breast, the stove top or microwave methods can dry it out quickly. Dry chicken is super chewy making it hard to enjoy. However, cooking all meats in the oven guarantee a juicy piece of meat! We always like to sear our low carb meats on the stove top and then finish them off in the oven to ensure the meat doesn't lose all of its juices and dry out. Give our roasted red pepper chicken thighs a try if you don't believe us!
How to Make Keto Pesto Chicken
A good basil pesto never fails to upgrade your protein and make a delicious keto meal. To make this pesto keto all you need is some olive oil, herbs, parmesan cheese, and pine nuts. So let's get our ingredients and put it all together!
Ingredients
For your keto pesto you need fresh basil or herbs of choice. We love parsley or coriander as another fun herb option. Next you will need parmesan cheese, salt and pepper, and garlic. Finally pick out a high quality oil like olive oil or avocado oil, and some nuts. We normally use walnuts, but you can use pine nuts or cashews.
Baking Juicy Chicken
For the perfect keto basil pesto recipe, you'll need a baked low carb chicken breast. Our gluten free keto baked chicken breast is the juiciest meat around and starts by preheating the oven to 450 degrees. You can pound the chicken breasts lightly if desired for a more even thickness. Dry with paper towels and then set aside.
Pour the oil into a 9×13 baking dish. Roll the chicken breasts through the oil to coat, then place the chicken breasts side by side in the dish. In a bowl combine salt, pepper, onion and garlic powder. Sprinkle the mixture over your chicken and rub it in with your hands to lock in the oil and seasonings. Bake them uncovered for 15-20 minutes, or until a meat thermometer reads 160-170 degrees.
Making Keto Pesto
To make this recipe for pesto keto, begin by combining all pesto sauce ingredients into a food processor and pulse until smooth. See information about ingredients above to find out what you will need (hint fresh cracked black pepper is a must!). If you want a thinner sauce add more olive oil into the food processor and blend again.
Once the basil pesto is ready and the chicken has cooked, serve your meat immediately with a dollop of keto pesto. (Serving size is about 1/4 of the keto basil pesto recipe per 6oz chicken breast). We love to put it on top of keto pasta or zucchini noodles because they're low in carbs, but perfect for a plain base.
Storing Fresh Olive Oil Pesto
We normally keep this gluten free keto pesto in a mason jar in the fridge. It will last about 7 days refrigerated, but like our other keto recipes it's so good it will probably all be eaten first!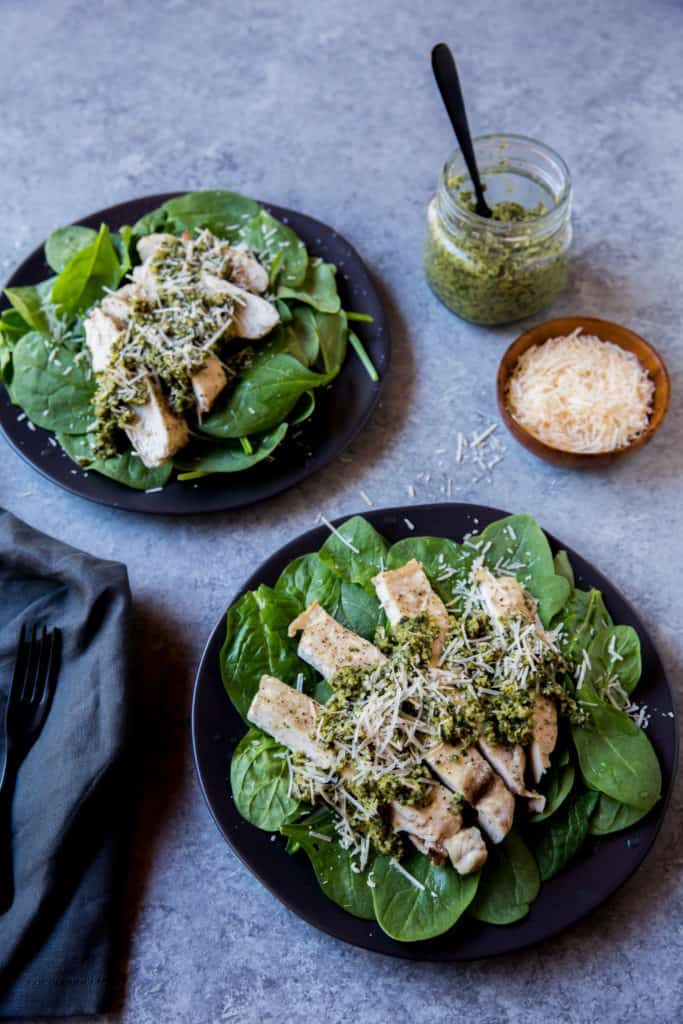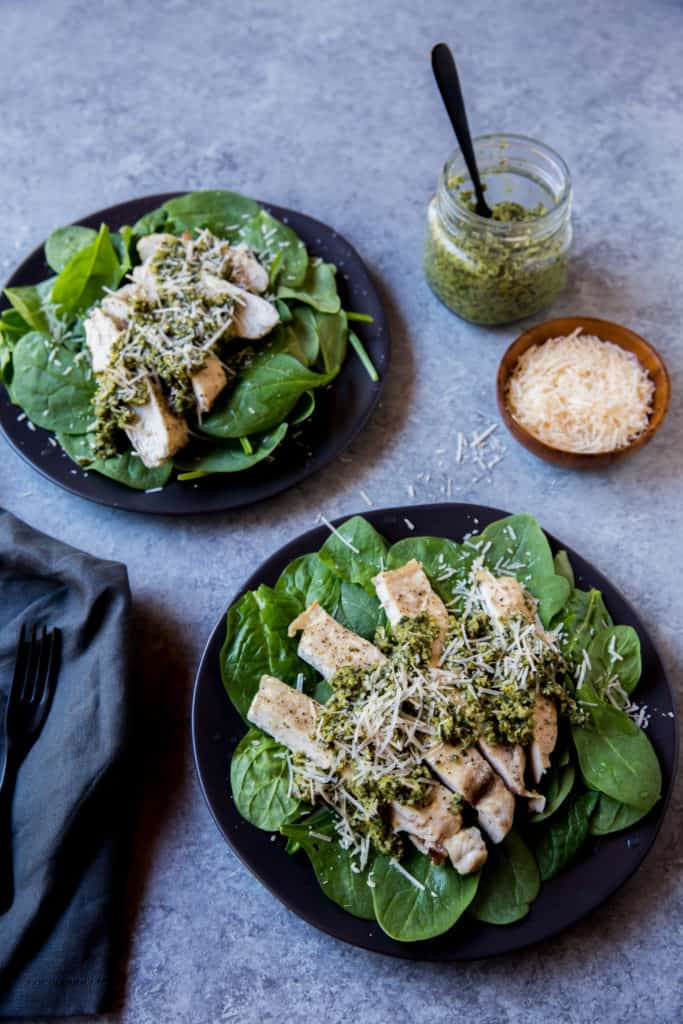 More Italian Keto Recipes
Can't get enough Italian? We have tons more keto recipes and meal plans that include Italian recipes packed with things like basil, tomatoes, and parmesan. Some of our favorite keto Italian recipes are:
Pesto Chicken Recipe
The pesto recipe we've given you in this post is great to make in bulk, store in the fridge, and then add to any meals you make. It ups the fat of your meal while still packing in the flavor. We use cups of this fresh gluten free keto pesto atop our low carb noodles. If you're not a fan of chicken breasts don't worry. Instead, make this basil pesto sauce and pair it with any of your favorite meats. Salmon and chicken thighs make great alternative low carb meat options. A recipe so delicious and versatile, yet what we love most about this Pesto Chicken Recipe is just how quick it is to make on busy nights!

Recipe can be quickly added to MyFitnessPal – Search "KetoConnect – Easy Pesto Chicken"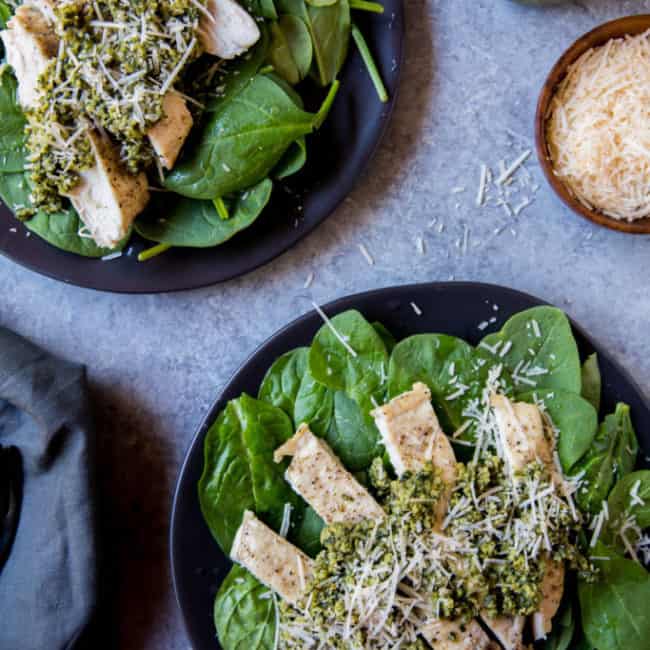 Pesto Chicken Recipe
Homemade pesto sauce drizzled over juicy chicken breasts.
Total Time 30 minutes
Servings 4 Servings
Calories per serving 620kcal
Prep Time: 10 minutes
Cook Time: 20 minutes
Instructions:
Preheat oven to 450 degrees. If desired, pound chicken breasts lightly so they are of even thickness, then dry with paper towels.

Pour oil in a 9×13 baking dish. Roll the chicken breasts through the oil to coat it, then place chicken breasts side by side in the dish.

Combine salt, pepper, onion and garlic powders in a small bowl. Sprinkle mixture over chicken and rub with your hands to coat in the oil and seasonings.

Bake uncovered for 15-20 minutes, or until a meat thermometer reads 160-170 degrees.

While the chicken is baking, make the pesto sauce. Place all the pesto sauce ingredients into a blender or food processor and pulse until smooth. Add more olive oil for a thinner sauce.

Once chicken is out of the oven serve immediately with a dollop of pesto sauce on top. Enjoy!
Notes
Net Carbs: 3g
Serving Size: 6oz Chicken + 1/4 pesto sauce recipe
Nutrition Facts
Pesto Chicken Recipe
Amount Per Serving
Calories 620 Calories from Fat 432
% Daily Value*
Fat 48g74%
Carbohydrates 3g1%
Protein 43g86%
* Percent Daily Values are based on a 2000 calorie diet.
Written By