This Keto Cheesecake Fluff recipe is definitely one of my favorite keto diet sugar free treats. You can make it in just a few minutes and customize it to your liking with ingredients such as vanilla, sugar free chocolate chips, pieces of strawberries or even toasted coconut.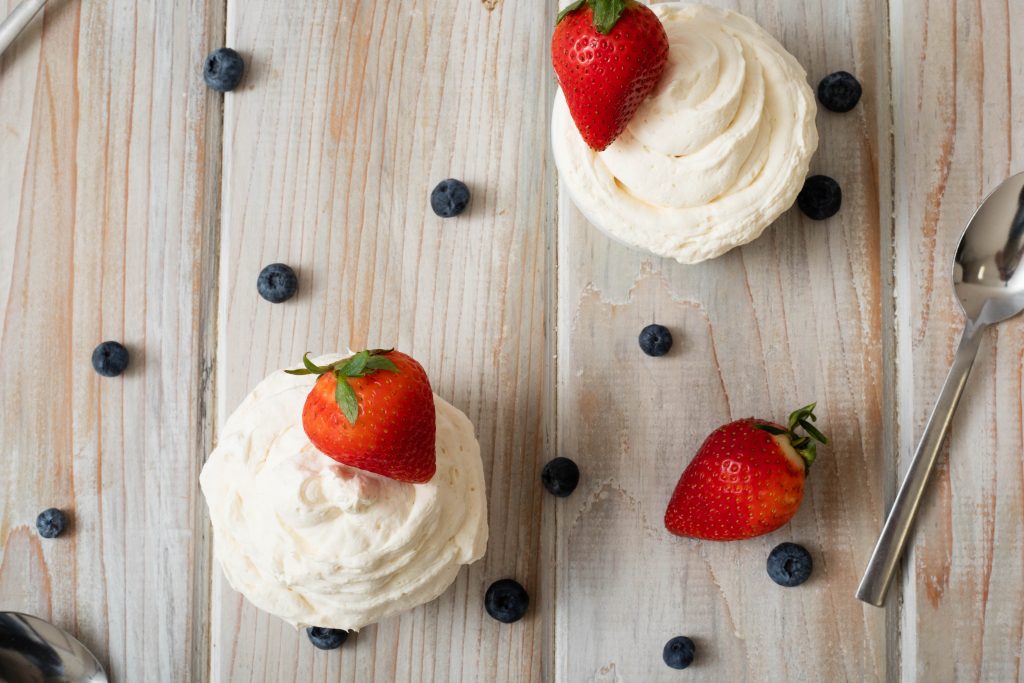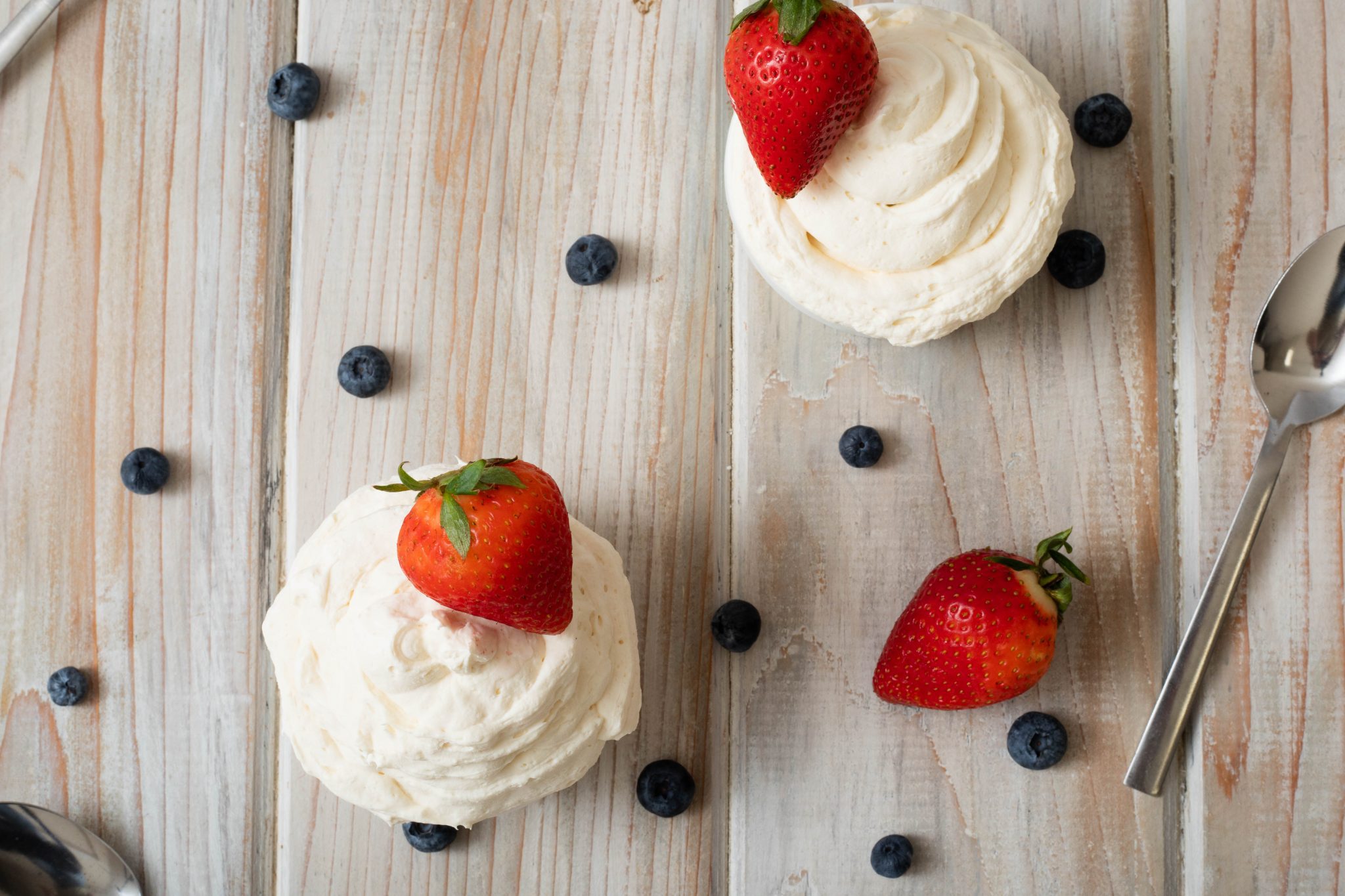 When I first started keto (which feels like ages ago at this point) this was the ultimate dessert I used to make for myself and Megha all the time, especially in the beginning when we didn't know much about baking with almond and coconut flour.
All that mattered to me at that point is to get in more fat during the day without all the net carbs. And of course, satisfy my sweet tooth which was off the chain in the first few weeks. I'm sure if you're in the beginning stages of your journey with the low carb lifestyle you can relate.
This sugar free dessert tastes like a low carb cheesecake mousse. Call it a no bake cheesecake mixture, but that's exactly what this keto fluff resembles.
Keto Cheesecake Fluff Recipe
Don't you just love keto recipes with only a few ingredients? The best thing (aside from the flavor, of course) is that this recipe calls for only 4 ingredients! All you need is softened cream cheese, heavy cream, powdered erythritol or any other keto sweetener and a hint of vanilla.
This is the most basic, standard recipe for Keto Cheesecake Fluff we've used over the years and wanted to show you as well. It's one of our favorite recipes up until now and probably, for years to come.
If you want to experiment with different flavors and variations by adding low carb berries or other ingredients that are low in net carbs, scroll down for more of our suggestions.
Ingredients
Heavy cream
It doesn't matter whether you use heavy cream or whipping cream, it will work in the same exact way.
The difference between the two is that heavy cream has to have at least 36% of milk fat, meanwhile whipping cream has between 30-36%.
Also, heavy cream and heavy whipping cream (yep, so many similar names) is the same exact thing so use them alternatively wherever you need to.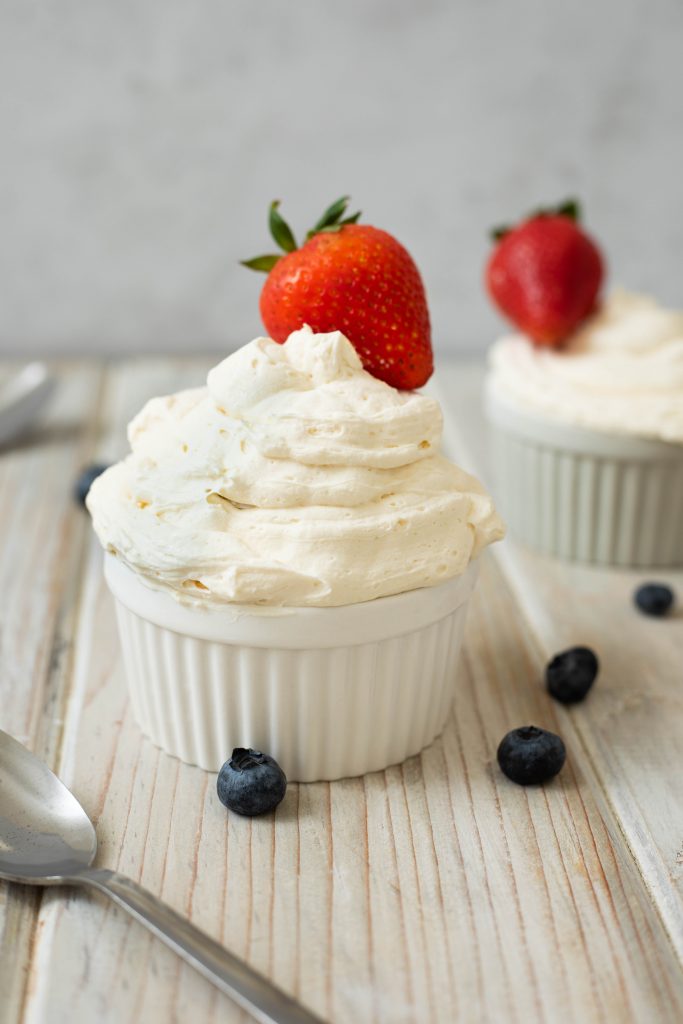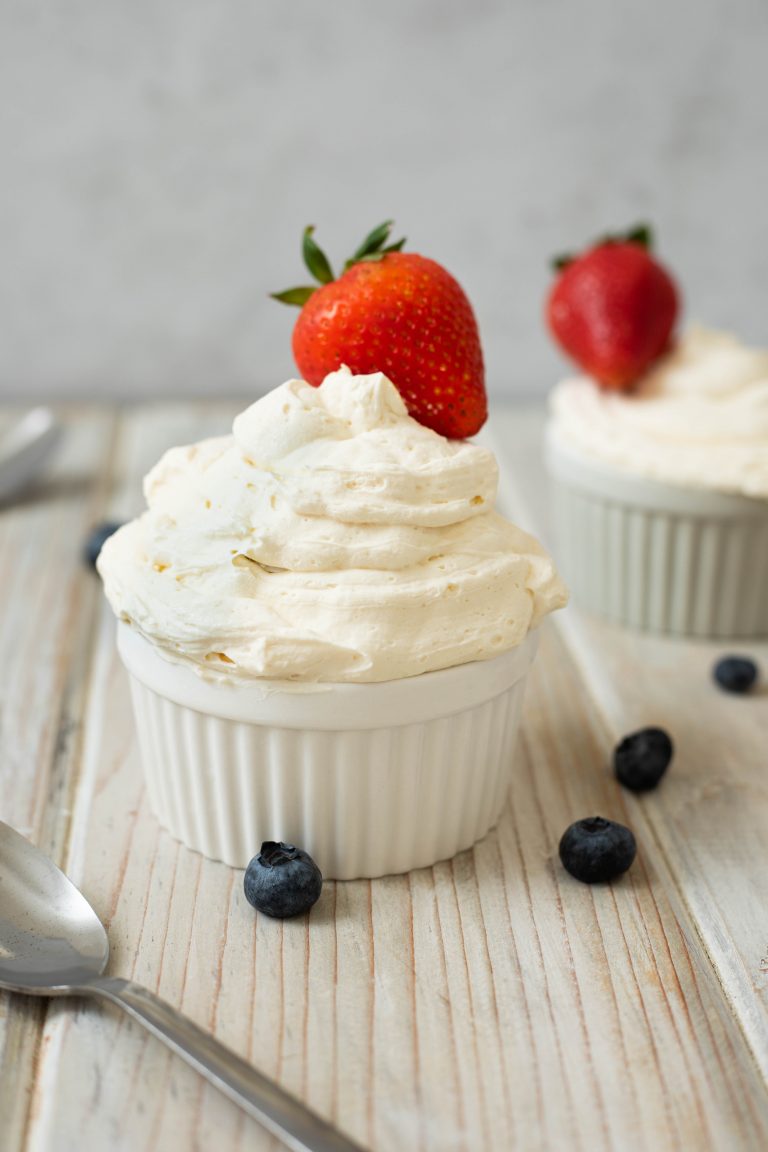 Cream cheese
Make sure to use softened cream cheese in this Keto Cheesecake Fluff recipe. You can do this by simply taking the cream cheese out of the fridge about an hour or two before you're making this recipe.
I wouldn't skip this step because you'll most likely end up with chunks and clumps in your cheesecake fluff. It just won't mix easily and that's definitely not the consistency we're going for.
Keto powdered sweetener
You can use any keto friendly, low carb powdered sweetener you want here. Whether it's powdered erythritol or monk fruit, it will still come out.
The key here is to have it powdered so there's no gritty feeling under your teeth and it mixes easily into soft and smooth cheesecake fluff.
Alternatively you can also use stevia but we haven't tried that so I can't recommend the exact number of drops to use here.
If I have to ballpark it I'd say 5-6 drops is fine, but adjust it to your preference. If you do decide to chose stevia, add a drop or two, mix it, try it and then add more if needed.
Vanilla extract
If you read our full recipes often, you've definitely noticed I use vanilla a lot and there's a reason for it. It simply gives any dessert, or Keto Cheesecake Fluff in this case, a wonderful taste plus it brings out all the other flavors in a recipe.
If you want to, you can add different extracts such as lemon extract, caramel extract or orange extract. The only thing I'd recommend you watch out for is the sugar inside.
While a small amount may not raise your blood sugar even if it's not sugar free, it's better to pick one with the best possible ingredients.
Make it in 3 easy steps
This Keto Cheesecake Fluff is one of the easiest keto recipes you'll ever come across. I highly recommend it to anyone who is just starting out with keto and wants to satisfy their sweet tooth without spending an hour in the kitchen.
Step 1: Combine all ingredients
Take out a large mixing bowl and combine softened cream cheese, heavy cream, vanilla and powdered, low carb sweetener.
Step 2: Mix until smooth
You probably don't need to use a stand mixer for this recipe, but I definitely recommend you do if you're trying to double or triple it.
Otherwise, just use an electric mixer to combine all the ingredients together into smooth cheesecake fluff. You want absolutely no lumps.
Step 3: Chill or add ingredients
You can eat it immediately or place in the fridge for an hour or two. I like the second option much better, the texture reminds me of those no bake, keto cheesecake recipes.
In this step, before you place it in the fridge, you can also add more ingredients. Berries, strawberries, shaved chocolate, coconut flakes, cocoa nibs – whatever you want, as long as it's okay on a low carb diet.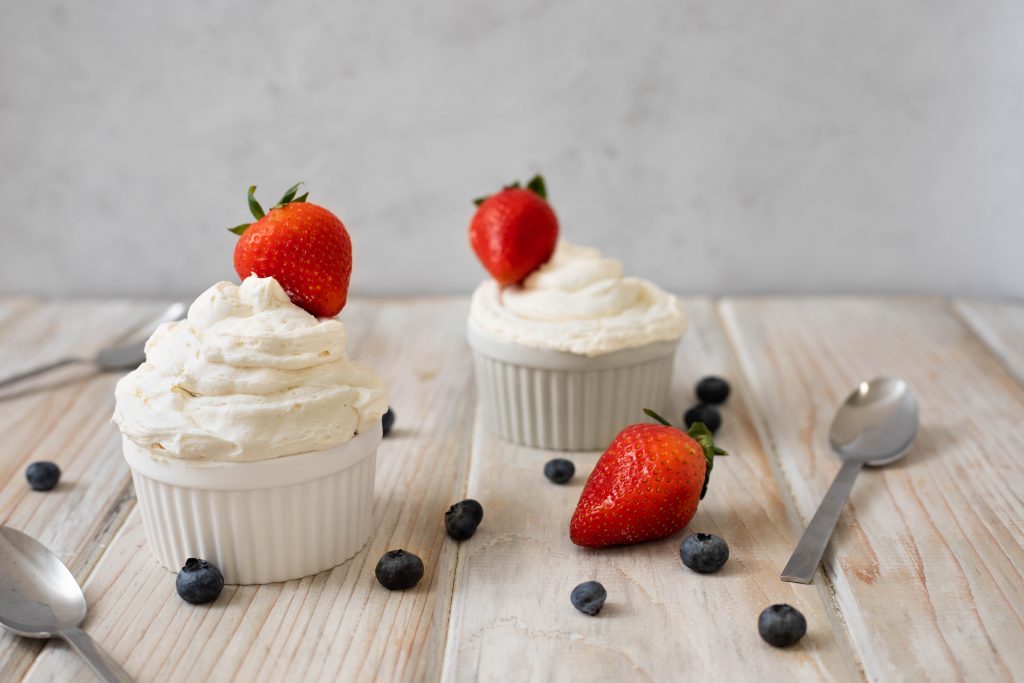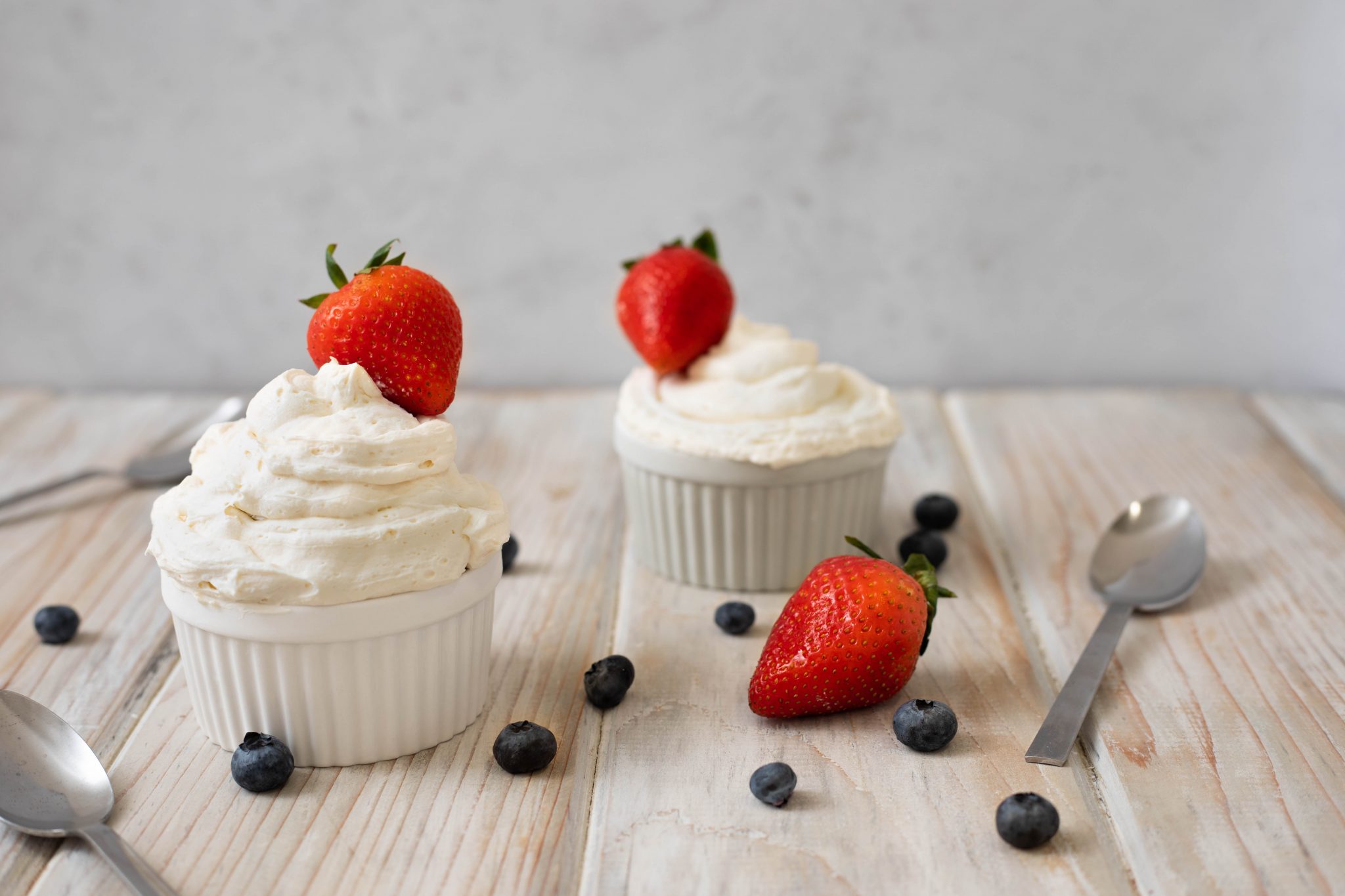 FAQs
Can I use whipped cream instead of heavy cream?
Store-bought whipped cream is full of sugar and not suitable for any low carb diet.
Sugar free whipped cream has an airy texture, so if that's what you'd like to use you will have to probably add much more of it than the amount of heavy cream we used in this recipe.
Also, over-mixing pre-made whipped cream can turn it into a liquid or… butter. You're better off sticking to heavy cream or whipping cream instead.
Can I use stevia instead of a keto powdered sweetener?
You sure can! If you can find the granulated version or powdered stevia, that's great! If you can't, make sure you add stevia drops carefully because its taste can get overwhelming quite quickly.
My suggestion is, add a drop or two at a time, mix it again and taste it. It's easy to make keto cheesecake fluff, but it's also easy to mess it up. Especially when you're not experienced in substituting difficult keto ingredients, such as sweeteners or flours.
Can I use this as an alternative to keto frosting?
Absolutely! Just make sure the fluffy texture is completely smooth. You may also want to chill keto cheesecake fluff and then put it in a piping bag.
I definitely recommend you try using this recipe as a frosting for our Low Carb Red Velvet Cupcakes. They're only 4g of net carbs per cupcake and take less than an hour to make. Whether you're just a fan of red velvet or make them most around holidays and Valentine's, you've got to try them for sure!
On the other hand, if you're a fan of simple vanilla flavors, use our cream cheese based keto fluff with these Classic Vanilla Keto Cupcakes. There are easy keto recipes, and then there is this recipe. They're perfect with a warm cup of coffee in the morning or as a midday snack for lunch.
Keto Cheesecake Fluff Variations
What I absolutely love about this recipe is that you can make it into anything you want to. There are dozens of possibilities for keto cheesecake fluff toppings and mixtures, such as adding lemon juice, fresh berries, chocolate, strawberries.
I mean, who wouldn't want a quick strawberry cheesecake in 5 minutes?
Vanilla
There's already a bit of vanilla extract added, so to make it into Keto Vanilla Cheesecake Fluff simply add more extract or even scrape out the beans from the vanilla bean pod.
Strawberry
It's like having an alternate version of a strawberry cheesecake. You can easily transform our recipe into Keto Strawberry Cheesecake Fluff by simply adding chopped strawberries to the mix. And if you're feeling extra fancy, put a leaf or two of mint on top!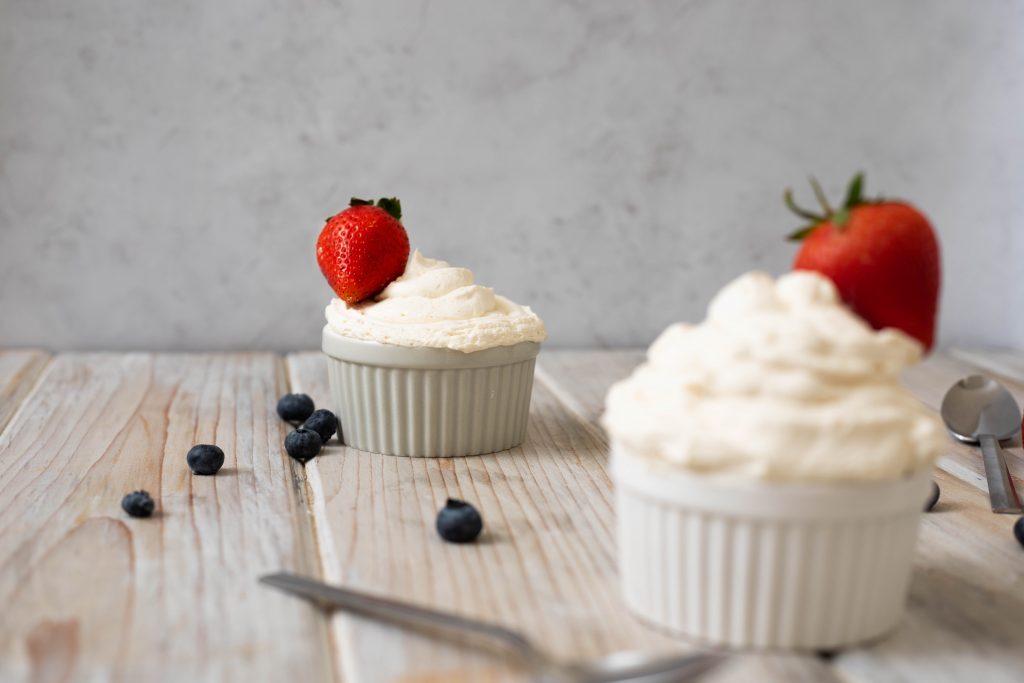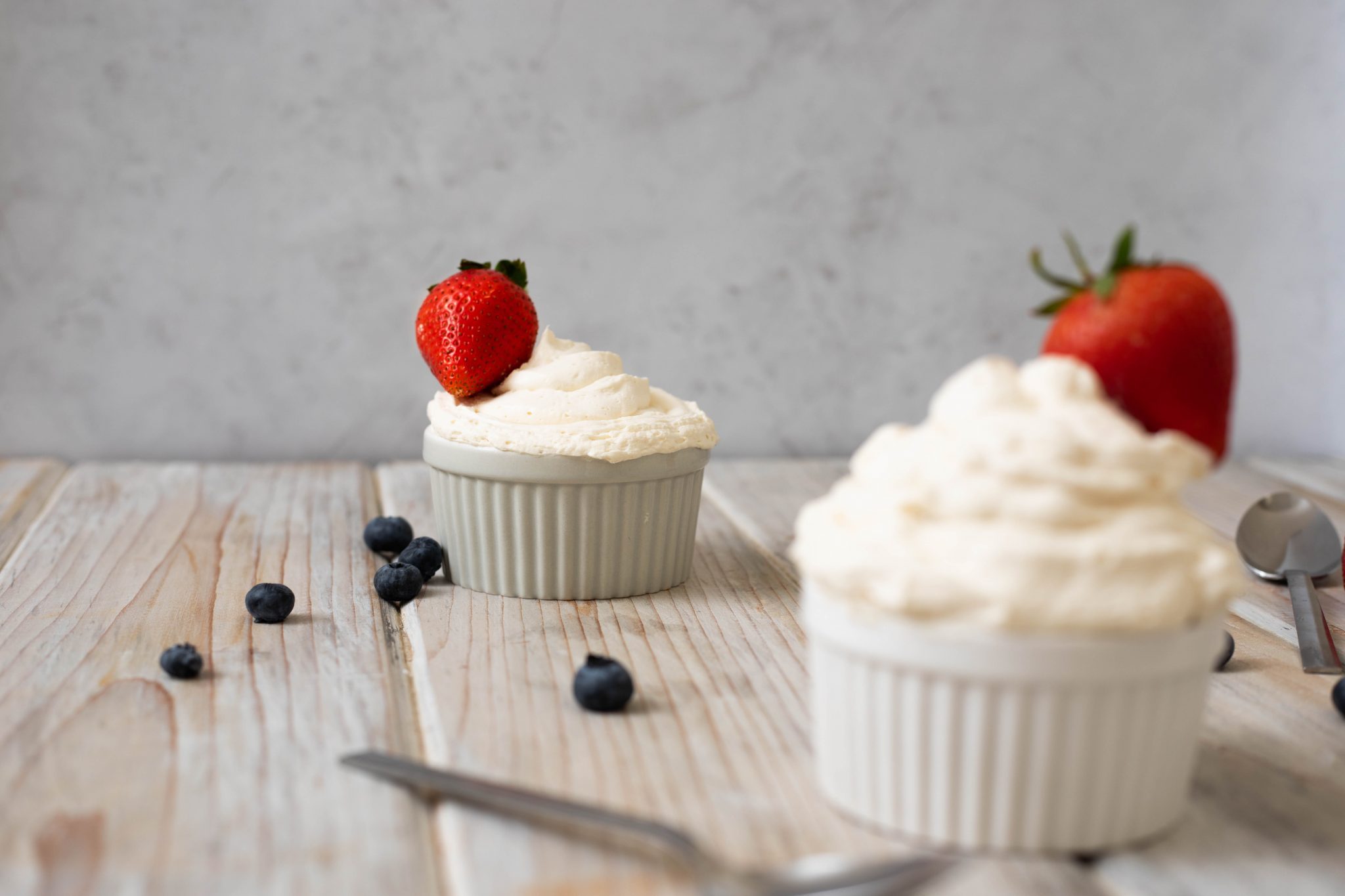 Chocolate
If you love chocolate and you would like to add it to your Keto Cheesecake Fluff, either mix the cream cheese mixture with a bit of unsweetened cocoa powder or add sugar free, keto and low carb friendly chocolate chips to the mixture.
Lemon zest
Maybe you're a fan of zesty and fresh flavors? If so, add lemon juice, zest or lemon extract to the mixture. You can also throw in a few fresh berries into the mix.
Have you tried our Keto Cheesecake Fluff?
With only 4 ingredients, you can make this simple recipe at any time of the day. Chill it if you love cheesecake or eat it right when it's done to satisfy sweet cravings.
Let us know in the comments if you've liked it!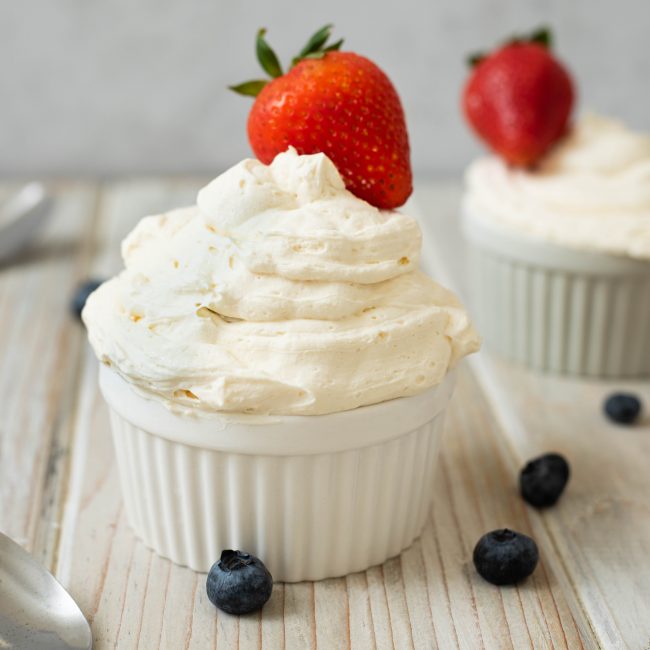 Keto Cheesecake Fluff
This is the most basic, standard recipe for Keto Cheesecake Fluff that calls for only 4 ingredients!
Total Time 15 minutes
Servings 2 servings
Calories per serving 405kcal
Prep Time: 5 minutes
Cook Time: 10 minutes
What You Need:
Mixing Bowl

Hand mixer

Ceramic Jars
Ingredients:
1/2 Cup Heavy Cream
4 oz Cream Cheese softened
1/4 Cup Powdered Keto Sweetener
1 tsp Vanilla Extract
Instructions:
Combine the cream cheese, heavy cream, vanilla, and sweetener in a bowl.

Using a hand mixer, whisk well until everything is combined and fluffy.

Serve immediately or store in the fridge.

Optionally add some cocoa powder, peanut butter, or chopped chocolate for extra flavor!
Nutrition Facts
Keto Cheesecake Fluff
Amount Per Serving
Calories 405 Calories from Fat 369
% Daily Value*
Fat 41g63%
Saturated Fat 25g125%
Polyunsaturated Fat 2g
Monounsaturated Fat 11g
Cholesterol 144mg48%
Sodium 205mg9%
Potassium 126mg4%
Carbohydrates 4g1%
Sugar 2g2%
Protein 5g10%
Vitamin A 1636IU33%
Vitamin C 1mg1%
Calcium 94mg9%
Iron 1mg6%
* Percent Daily Values are based on a 2000 calorie diet.
Written By