A kitchen timer allows you to walk away from your stove and complete other tasks while your food is cooking.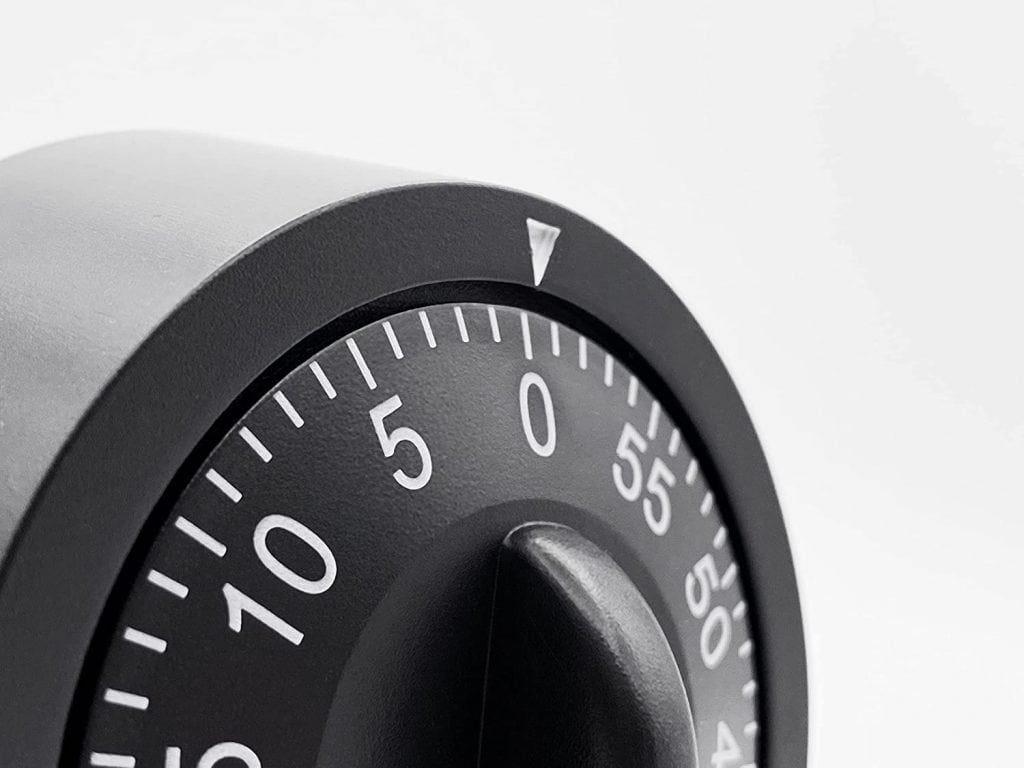 But what is the best kitchen timer?
This post goes through everything you need to know about shopping for kitchen timers. I'll cover the best timers while answering some commonly asked questions.
1. VOCOO Digital Kitchen Timer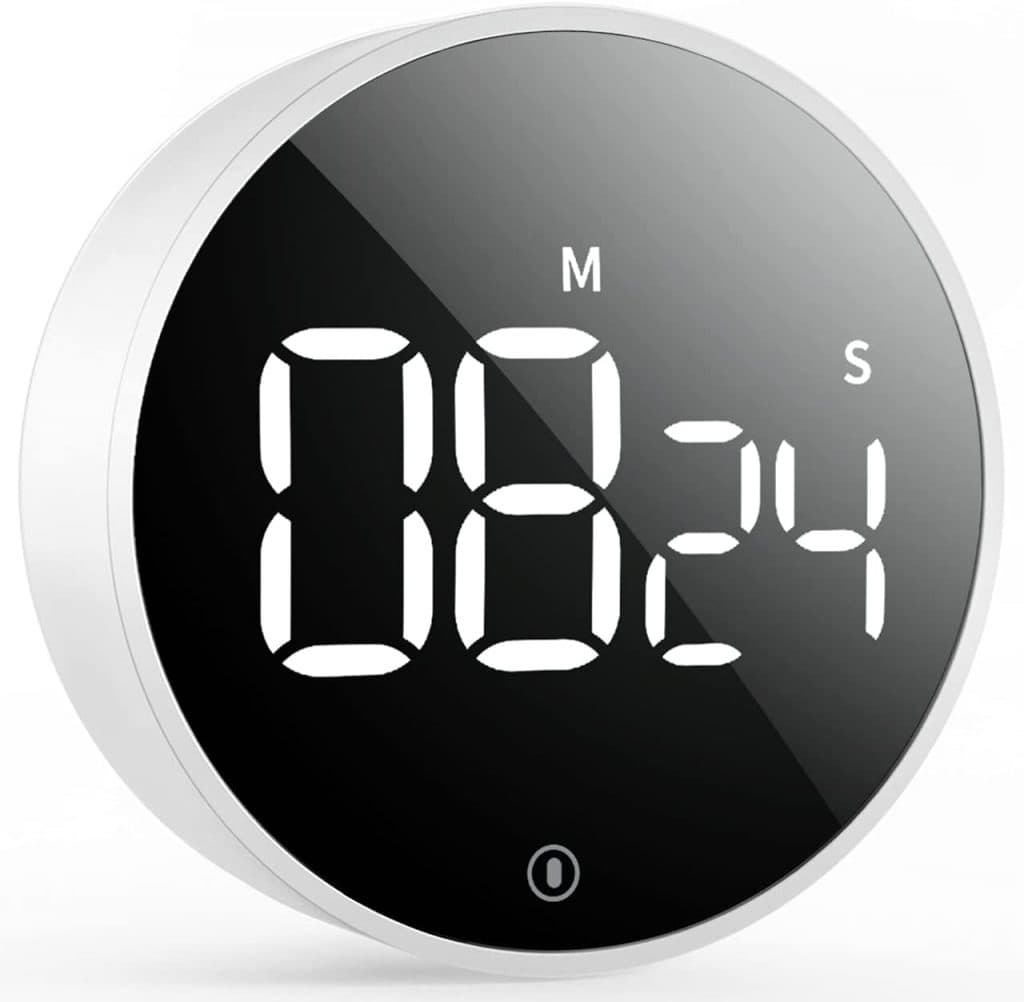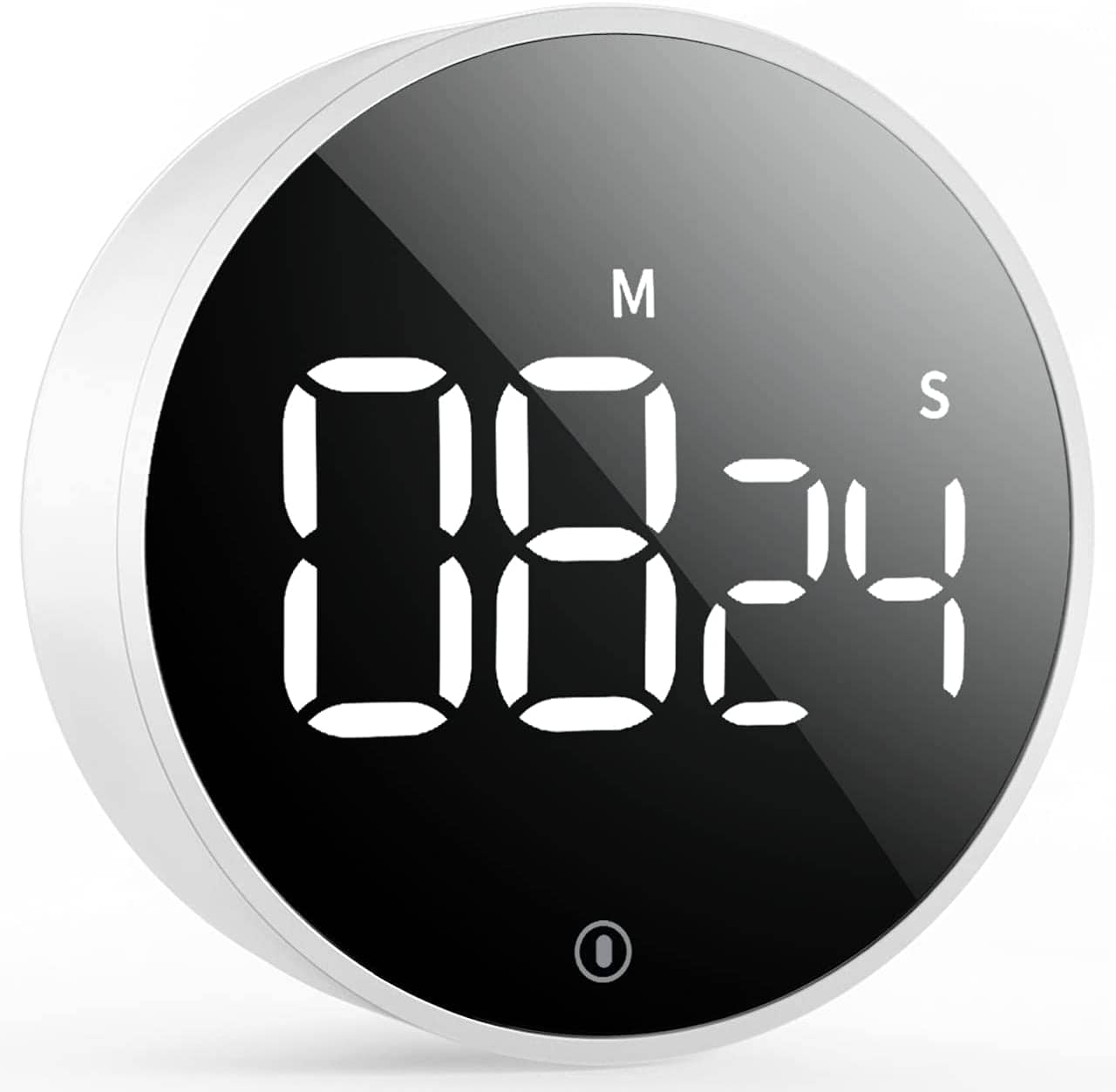 Best For: Home cooks looking for a digital kitchen timer that offers advanced features but is still affordable.
This VOCOO digital timer is small and loud, perfect for timing meals and beverages. It's similar to the KitchenAid digital kitchen timer because of it's sleek design. It offers handy features like:
Large and easy to read LED screen
Magnetic back
Adjustable alarm volume
You can set it in increments of five seconds by simply rotating the dial around the timer. If you want to go up in minutes, spin the timer quickly and when adding seconds, go a little slower.
This kitchen timer counts up to 99 minutes, so it's a practical option if you're slow-cooking food. To use it, simply hold the main button down for five seconds until it reaches zero, and tap it again. Once the timer is over, it'll beep for 60 seconds, and you can stop it by touching the screen.
Powdered by three AAA batteries, the VOCOO offers two modes. The Eco Mode dims the screen after 10 seconds to save battery power. Or, if you select the option with a sun icon, it'll stay bright.
But my favorite addition is the magnet at the back. It lets you stick the VOCOO to your coffee machine, refrigerator or stove for easy timing.
Pros
It's portable
The magnet makes sticking your timer to the stove easy
It doesn't take a lot of battery power
The timer goes up to 99 minutes
It also works as a stopwatch
Cons
It takes a while to get used to the outer ring
2. AOUCE 2 Pack Digital Kitchen Timer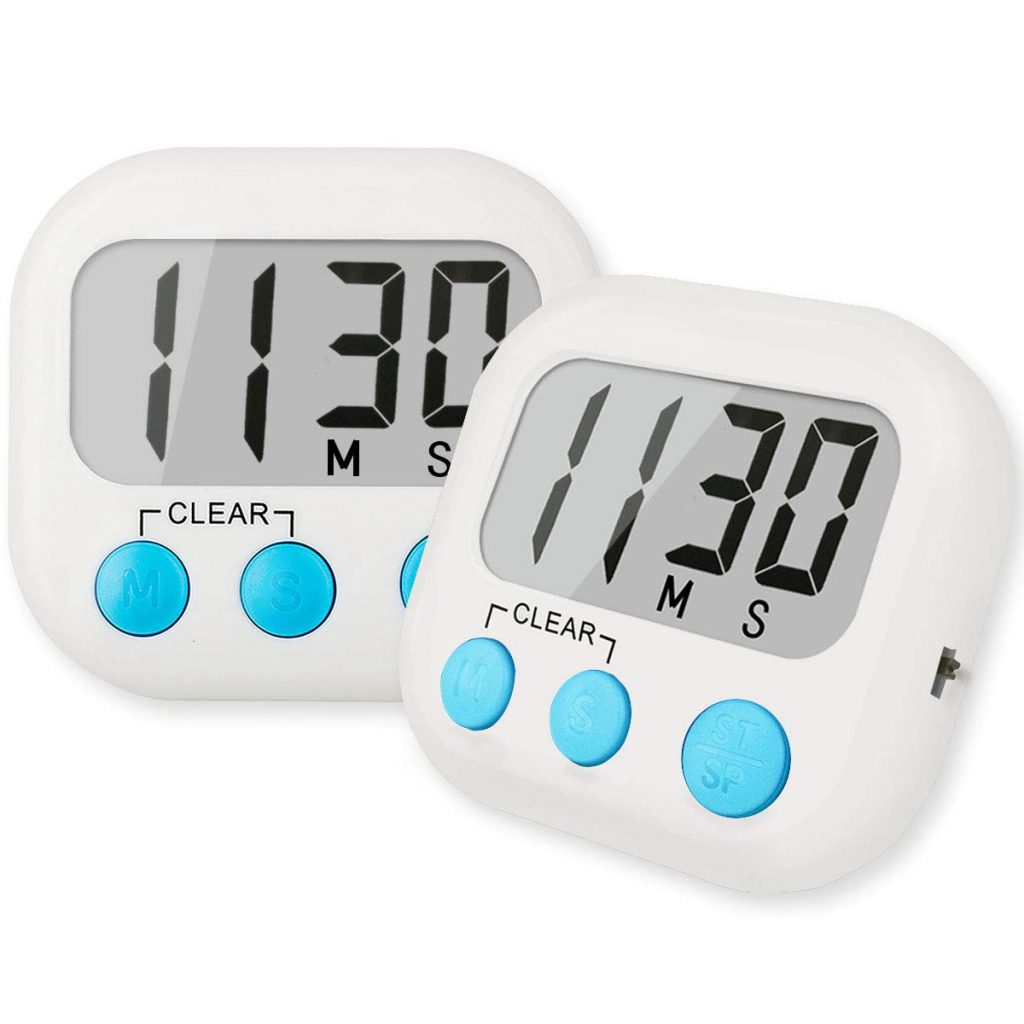 Best For: New cooks who want a basic timer that doesn't offer additional bells and whistles.
These digital kitchen timers come in a small box with two units and you get two AAA batteries with it. So if you're cooking food and brewing coffee simultaneously, use the magnet to stick one timer to the stove and the other on your coffee machine.
Here are some features that'll benefit your cooking experience:
Big buttons and a loud buzzer
A large kick out stand
Clock mode
What stands out about the AOUCE digital timer is the simplicity. It only has a screen and three buttons, so there's no learning curve. You have a button for minutes, seconds and stop-start.
Even though the design isn't as sleek as the VOCOO, it gets the job done.
At the back, you'll find a retractable stand so you can place it on the table facing up. There's also a loop on top to hang it against the wall.
Pros
The AOUCE offers an easy to read display
It offers a countdown feature
You'll find a retractable stand and loop for hanging
The magnet allows you to stick the timer to anything metal
It has two timers in one box
Cons
It only goes up to 59 minutes
Setting long-timers is tedious
3. ANTONKI Classroom Timer for Kids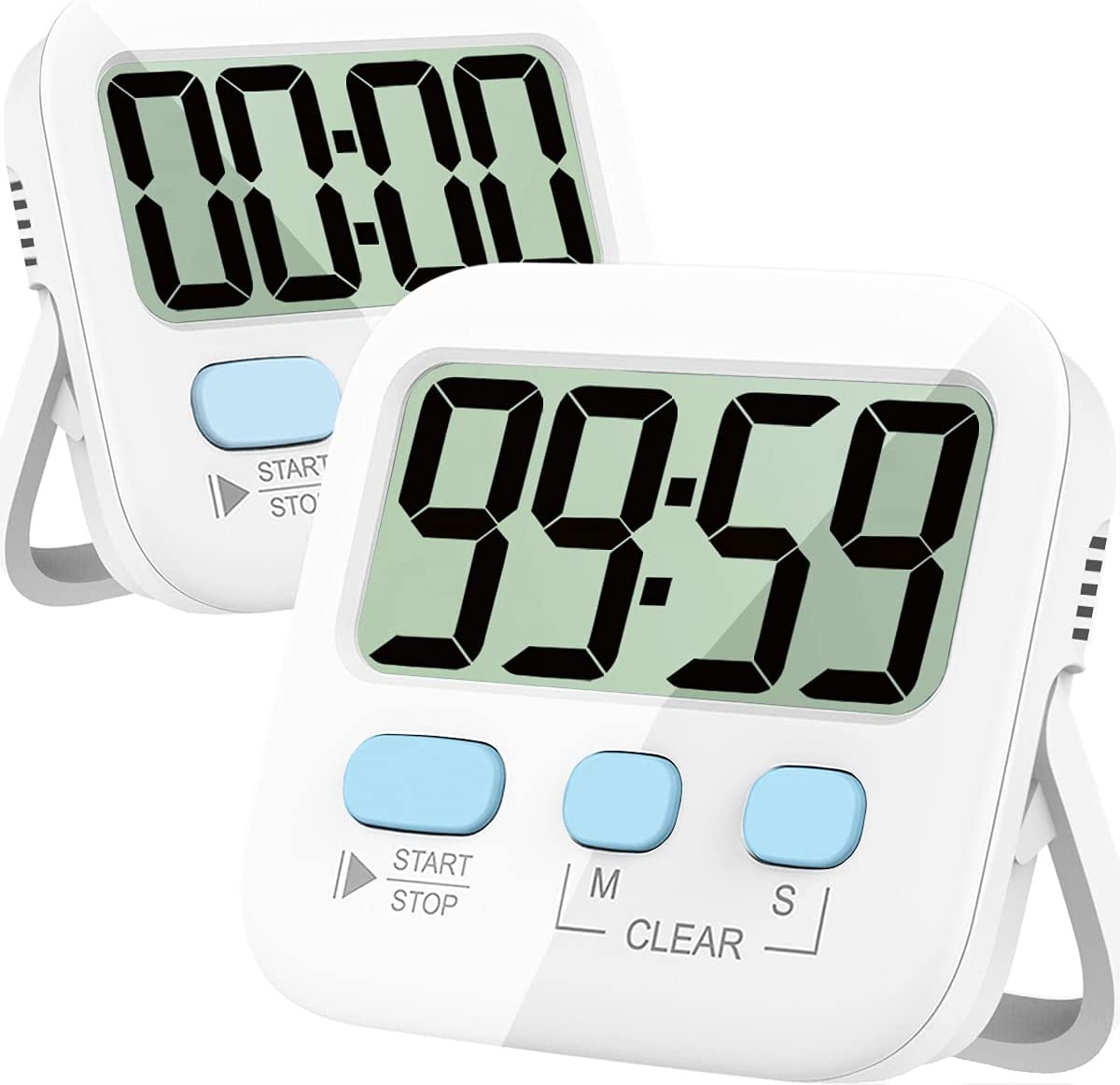 Best For: Home cooks who're teaching their children healthy cooking and eating habits.
This ANTONKI portable timer is a mix between the sleek VOCOO and basic AOUCE. According to ANTONKI, it's the number one selling timer in the US. One box contains two digital timers so you can prepare multiple meals at once.
Here are my favorite features:
Memory mode
Large kick outstand
Countdown function
Powered by a single AAA battery, this timer has a 1000-day warranty, so if it breaks within 1000 days of purchase, simply send it back to ANTONKI, and they'll replace it for free.
You'll also notice it's super simple. It uses a three-button design that makes changing the minutes and seconds easy. It also goes up to 99 minutes, so you can use it for longer meals.
But it does have drawbacks. I feel like the alarm is too loud. An easy way to fix this is to put some tape on the speaker to dampen the sound. The viewing angle is also limited. As soon as you turn the screen a few degrees, seeing the numbers is impossible.
Pros
It offers unique features like memory mode
The timer is small, so you can travel with it
It provides a magnet and kickstand
You get a 1000-day warranty after buying this timer
It comes with two units in the box
Cons
The viewing angle is limited
The alarm is too loud
4. ThermoPro TM02 Digital Kitchen Timer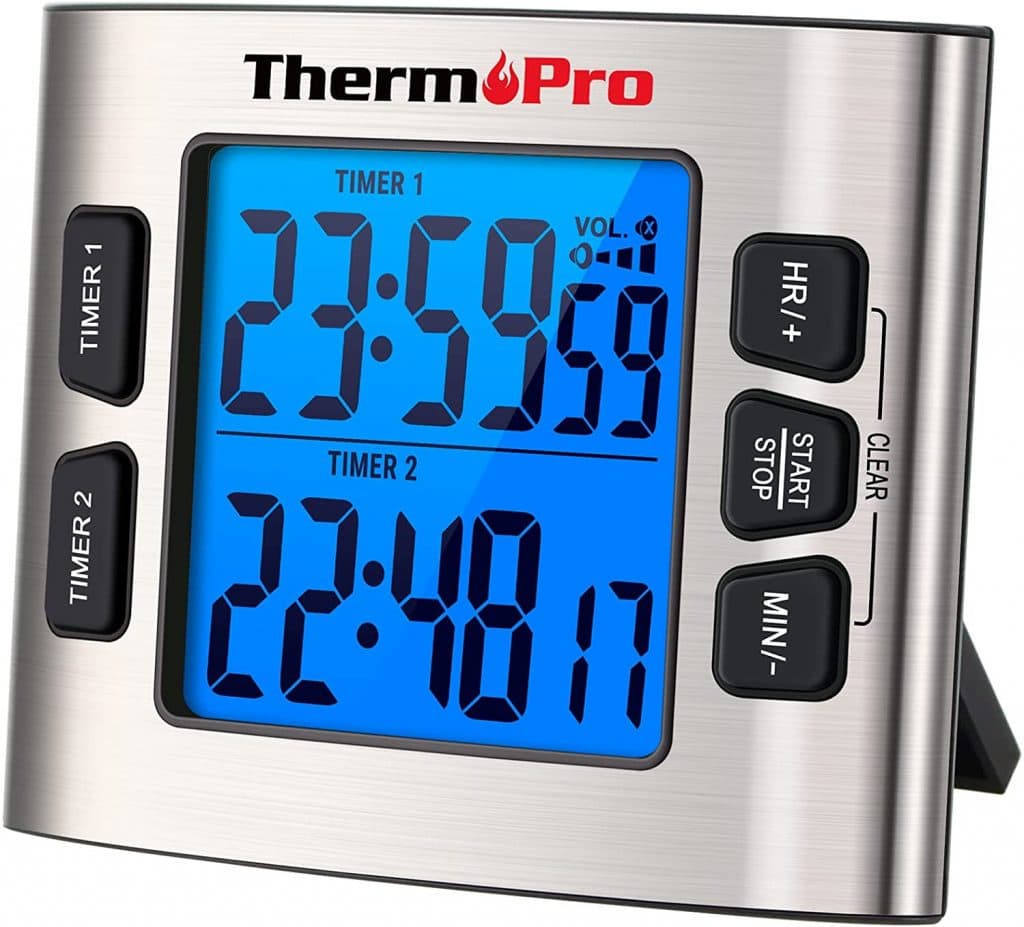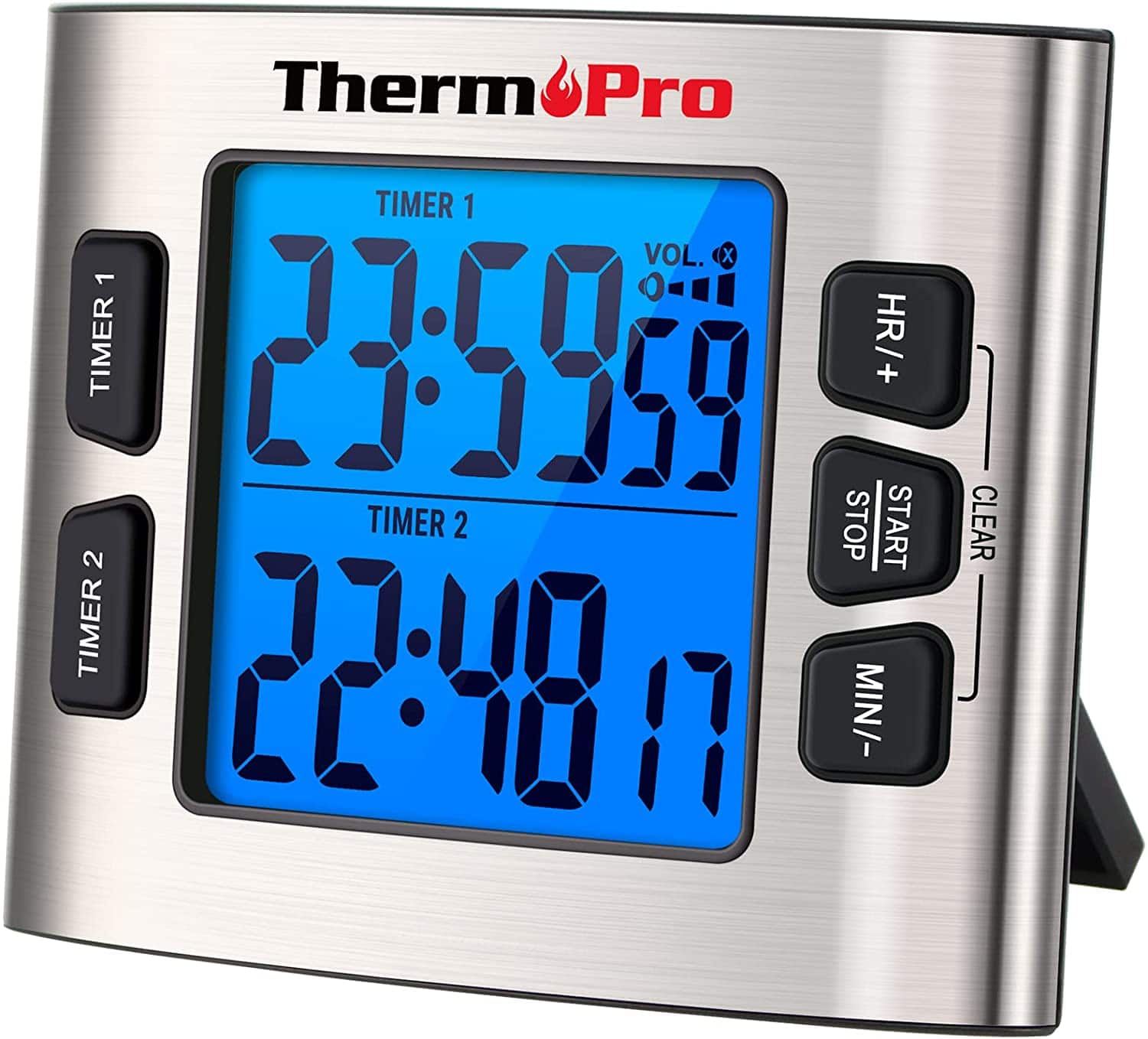 Best For: Experienced cooks looking for the newest kitchen timer features like clock mode and indoor temperature thermometer.
Compared to the previous three options, this dedicated kitchen timer offers more features, perfect for experienced home cooks who're always timing multiple meals. It's similar to the OXO Good Grips triple timer. Here are some of my favorite ThermoPro features:
Calendar clock mode
Separate timers
Auto memory feature
Large LCD screen
Like the OXO timer, this digital timer offers a large 2.6 inch LCD screen with two separate timers. Unlike previous options, this ThermoPro can run up to 23 hours and 59 minutes, so use it to slow cook meals like beef stew and brisket.
With the calendar clock mode, set timers in increments of dates, months and years.
You'll also find a dial at the back, allowing for easy volume control. If you have sleeping kids or are sensitive to loud noise, feel free to customize this alarm around your needs. The other dials let you tune the brightness, so when cooking early in the morning or late at night, it won't strain your eyes.
Pros
The two timers make multitasking easy
You can adjust the brightness and loudness of your large LED display
The big digits and buttons make for easy reading
It goes up to 23 hours and 59 minutes
It offers advanced memory features
Cons
If you're just cooking basic keto meals, you won't need most of the features
5. Colortrak 60 Minute Wind Up Timer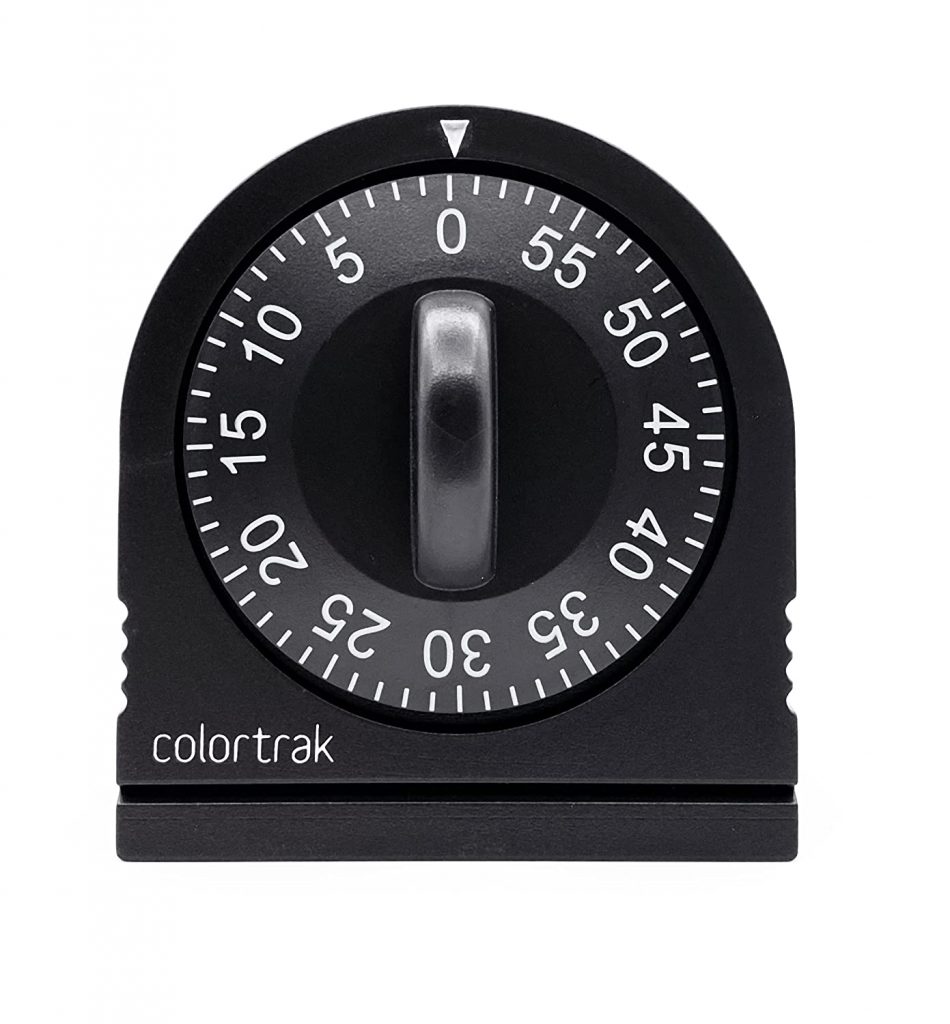 Best For: Cooks looking for an old-school wind up timer that's affordable and loud.
This Colortrak 60-minute timer is an affordable egg timer that only weighs three ounces and is perfect for new cooks looking for something basic. You set it in increments of one minute, and it goes up to an hour.
It offers multiple functions like:
Magnetic backing
An internal sensor
A low battery indicator
The unique alarm sound is loud, so you'll hear it even in the next room. It's small and portable, which is handy when traveling. You also don't need batteries to operate this Colortrack timer.
But what stood out to me is the classic design. It looks like the old school timers home cooks used in the 1900s. So if you prefer an old-school look over something with an LED screen, opt for this Colortrak.
Pros
It's small and portable
The unique alarm sound is loud but not too loud
Since it's made from plastic, it's affordable
It only weighs three ounces
Cons
It won't last as long as metal timers because its made from plastic
6. KeeQii Kitchen Timer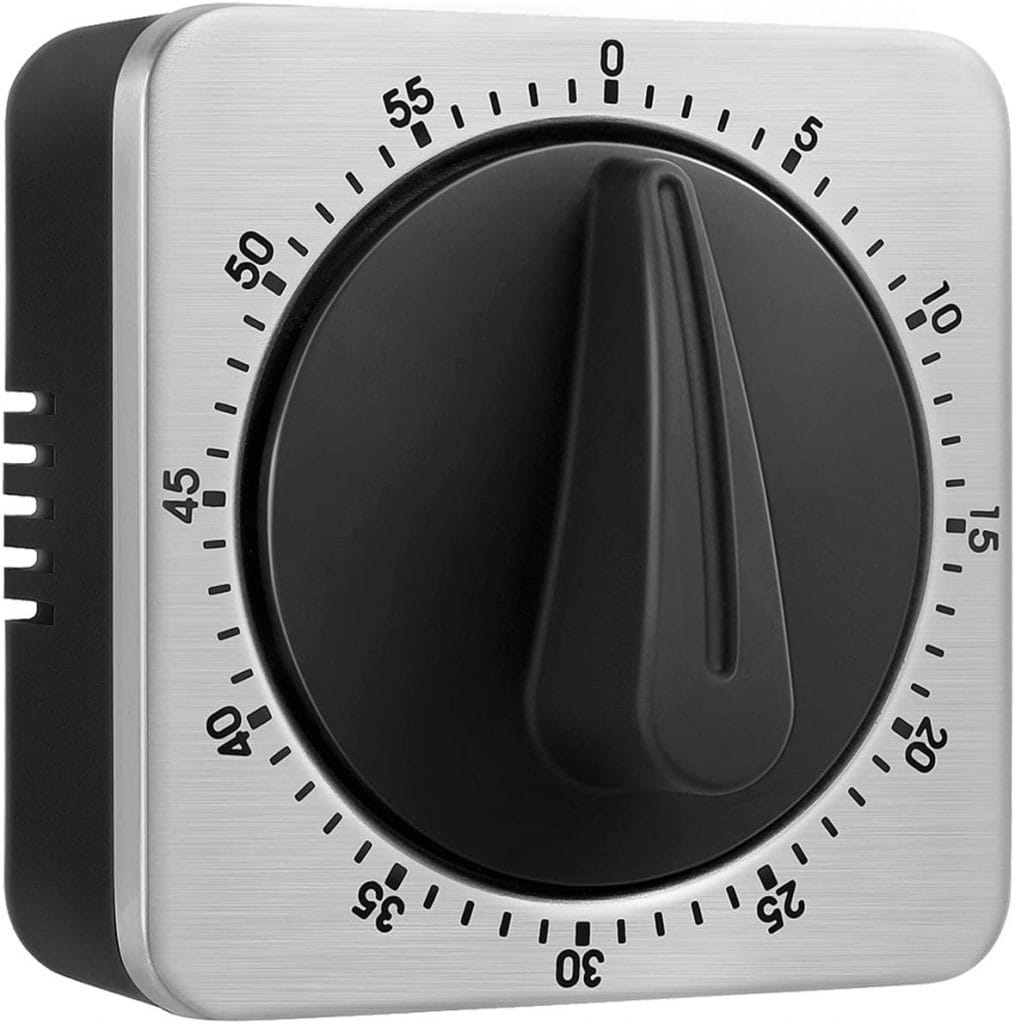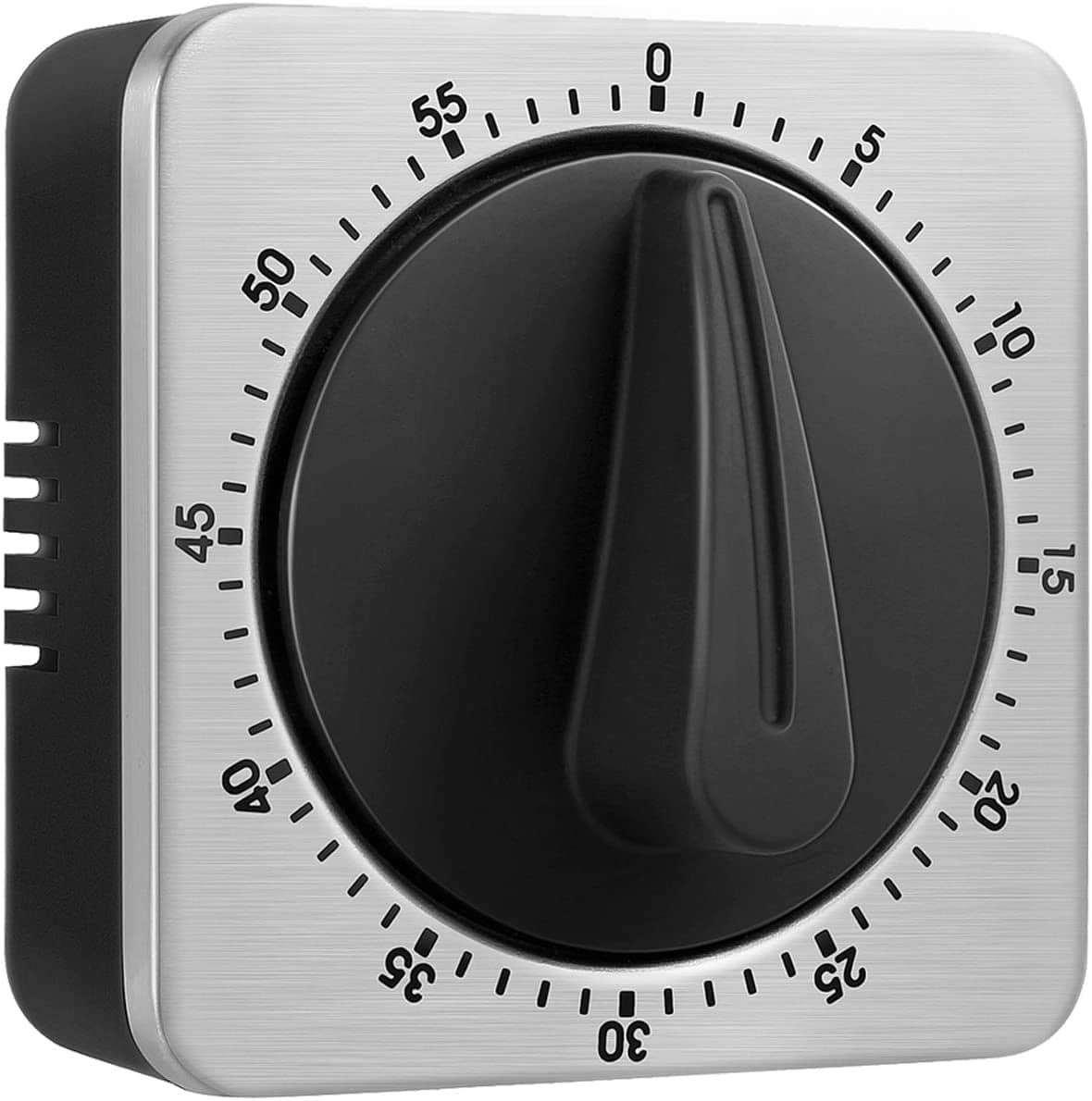 Best For: Anyone who needs a heavy-duty timer that won't break when it falls.
This KeeQii timer is like a stainless steel version of the Colortrak since it has that classic old-school design.
With an alarm sound of 80 decibels, it doesn't matter where you are at home; you'll hear your timer ring. This is helpful if you're walking around the house while slow cooking a meal. Here are some key features that caught my eye:
A clock function
Heavy-duty magnet for easy clock placement
Countdown mode
KeeQuii uses a simple design, so there's no learning curve. Simply turn the knob anticlockwise, set it to the desired time and you're good to go.
What I like about this KeeQuii is its heavy duty. So if you let it fall or spill hot water on it, the timer won't break.
The only drawback is that you can't use it early in the morning if you live with others. This is because of the loud alarm sound. It'll wake everyone in your house, and there's no way of adjusting the volume.
Pros
It offers a retro look
The clock is heavy-duty, so it won't break when you let it fall
You can hear the alarm from a few rooms away due to the 80-decibel alarm sound
It only weighs 3.5 ounces
Cons
You can't adjust the volume of the alarm
7. ETradewinds Digital Kitchen Timer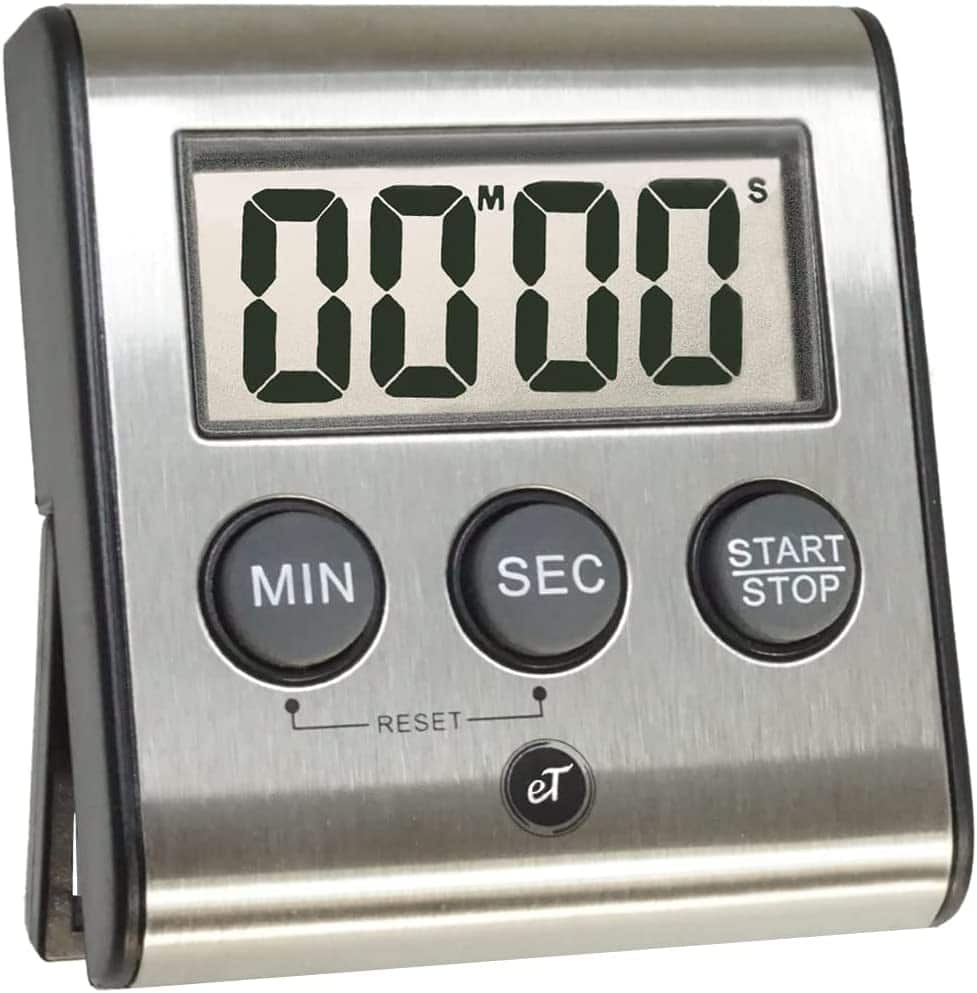 Best For: Home cooks looking for a basic kitchen timer than offers a lifetime warranty.
This digital kitchen timer is the last timer you'll need to buy with its lifetime guarantee. Because it's made with stainless steel, ETradewinds is so confident in it that they'll give you a brand new timer if your current one breaks.
These are some of my favorite ETradewinds kitchen timer features:
Quiet operation
Fast forward function
Long battery power and life
When setting timers, you won't hear that annoying beeping noise every time you click a button.
At the bottom, you'll find anchor points that prevent wobbling when you're setting a time on your kitchen countertop. It goes up to 99 minutes and 59 seconds, and if you want to go back to see the history of all your times, ETradewinds makes this possible with a click of a button.
Pros
This timer uses a no beep feature
Just this kitchen timer offers a lifetime limited warranty
The timer goes up to 99 minutes and 59 seconds
You can hang it around your neck or on your belt
Cons
The buttons are bulky and hard to press
Now let's cover what to look for when shopping for digital kitchen timers.
What To Look For When Shopping For A Kitchen Timer
Consider these three factors when buying a countdown timer:
Function
Portability
Design
Function
The most crucial factor to consider is the functionality of your kitchen timer.
Do you want something basic or a more advanced timer with an digital screen which lets you adjust the brightness and volume? For example, if you cook several meals at once, you'll need a triple timer.
Or, if you live with other people, you might need adjustable volume settings, so you don't wake everyone up.
Portability
Portability is another essential factor because small-timers let you hang them around your neck or clip it on your belt. You might not always hear an alarm stuck to the fridge or microwave if you're in the next room.
If you're traveling a lot, you'll also want small mechanical timer so you can toss them in your suitcase without much fuss.
Design
Get a timer that matches the tone of your kitchen. For example, if you're going for a modern look, opt for a digital kitchen timer with an LED display.
But if you want something more classic and old school, consider windup mechanical kitchen timers.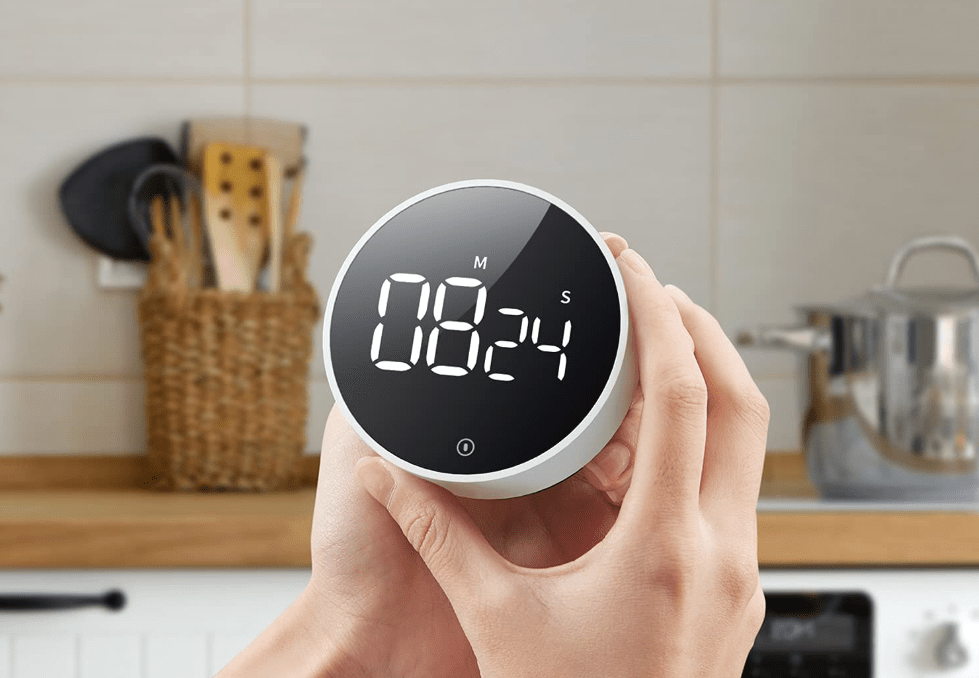 How Much Does A Kitchen Timer Cost?
High-quality mechanical timers start at around $5 but can go up to over $30. Timers on the lower end of the scale are still quality and can last for years, but they don't offer advanced features. A more expensive triple kitchen timer often has features like adjustable volume and backlit visual alert.
What Can You Use Kitchen Timers For?
The primary function of a kitchen timer is to time your meals and beverages. However, you can use it for other activities like taking power naps, exercising, cleaning and finishing work.
You may also like our detailed guides covering the best spatula for cast iron and best cast iron griddle!
Final Thoughts On The Best Kitchen Timer
With quality electromechanical kitchen timers, you can complete errands while your meals are cooking. Simply set a time, stick it to the fridge or stove, and you're good to go.
When shopping for a kitchen timer, consider function, portability and design. Reliable timers don't have to be expensive. You can get a basic yet quality kitchen timer for around $5 to $10. And if you want something fancier, LED timers only cost $30.
Written By