Getting Your Pumpkin Pie on a Keto Diet
It can be challenging. Pumpkin pie is traditionally packed with carbs, both in the form of pumpkin puree as well all the added sugar. We've got a great workaround for you! If you're on a keto diet and you want to hit your annual pumpkin pie quota, try these Pumpkin Cheesecake Cupcakes! The reason they fit so well into your keto diet is because we're cutting through the carb dense pumpkin pie with a thick layer of cheesecake. The remarkable thing about these is that the small amount of pumpkin in these really takes center stage. These pumpkin cheesecake cupcakes are the perfect replacement for your pumpkin pie this year. Plus, they look awesome and will be sure to garner you some compliments from the relatives!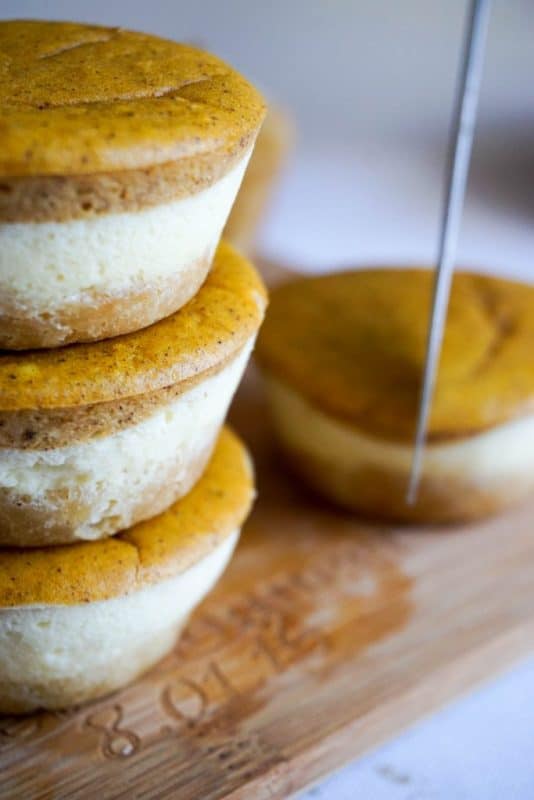 How Did You Make Them So Cute?
This isn't one of those recipes where you see the picture and you want to make it because it looks beautiful, and then when you get around to making it you end up with a sloppy mess that you're forced to eat immediately so no one sees the disaster. These pumpkin cheesecake cupcakes are easy to replicate and make just as pretty as the pictures. The trick is the layering technique we used. First, you form the crust in the bottom and bake it so it is solidified. Then add in 2/3 of the cream cheese mixture on top of the crust. Then, we pumpkinify the remaining 1/3 of the cream cheese by mixing in the puree and pumpkin pie spice. Top these puppies of with the pumpkin cheesecake mixture and you're all set.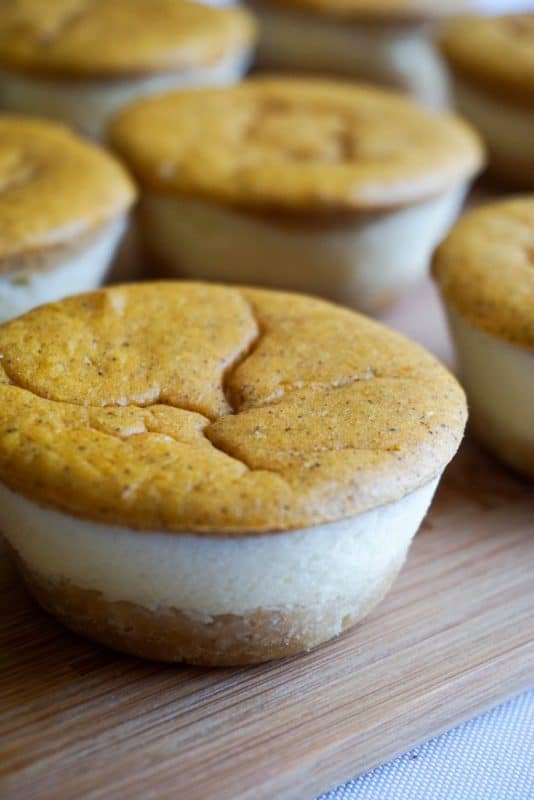 Don't Eat All the Pumpkin Cheesecake Cupcakes Fresh Out of the Oven!
If you do, you're depriving yourself from enjoying them at their true pinnacle. Trust me, you're going to want to pop these in the fridge for 2-3 hours and let them chill. After cooling down to a nice cheesecake temperature, these are ready. Dig in!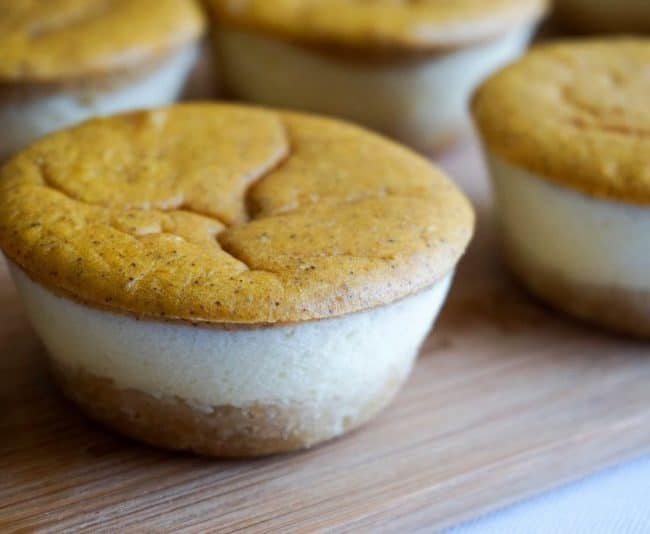 Pumpkin Cheesecake Cupcakes
We use this!
Total Time 1 hour 30 minutes
Servings 11 Cupcakes
Calories per serving 150.7kcal
Prep: 20 minutes
Cook: 1 hour 10 minutes
Ingredients:
Pumpkin Cheesecake Filling
Instructions:
Crust
Combine dry ingredients: coconut flour, erythritol and salt. Set aside.

In another bowl whisk together vanilla and melted coconut oil.

Slowly add the wet ingredients to the dry ingredients throughly combining.

Add in cubes of room temperature butter and use hand to form dough.

Using your hand mold the dough into the bottom of each cup of your greased cupcake pan. We use a silicon cupcake mold.

Place pan into a 350 degree oven for 12-15 minutes (depending on thickness of crust layer).

Once cooked, pull out and set aside to cool.
Filling
Using hand mixer cream together the room temperature cream cheese and erythritol.

Add egg, sour cream and heavy whipping cream. Continue to mix until thoroughly combined.

Use 2/3 of batter filling up the cupcake pan.

Add pumpkin puree and pumpkin pie spice to remaining 1/3 of batter and combine well (even out all lumps).

Slowly layer the remaining (newly created pumpkin cheesecake mixture) on top of the cheesecake layer in the cupcake pan.

Place into a 300 degree oven for 55-60 minutes. Use toothpick to check for a clean pull through.

Place in fridge to chill and serve cold. Enjoy!
Nutrition Facts
Pumpkin Cheesecake Cupcakes
Amount Per Serving
Calories 150.7 Calories from Fat 119
% Daily Value*
Fat 13.2g20%
Carbohydrates 5.4g2%
Fiber 1.9g8%
Protein 3g6%
* Percent Daily Values are based on a 2000 calorie diet.