Making Pumpkin pie keto friendly can be quite the challenge. Traditionally packed with carbs, both in the form of pumpkin puree as well all the added sugar makes this treat quite tricky to fit into your standard keto macros. Have no fear, we've created a great workaround for you! If you're on a keto diet and still want to hit your annual pumpkin pie quota, try these Keto Pumpkin Cheesecake Cupcakes!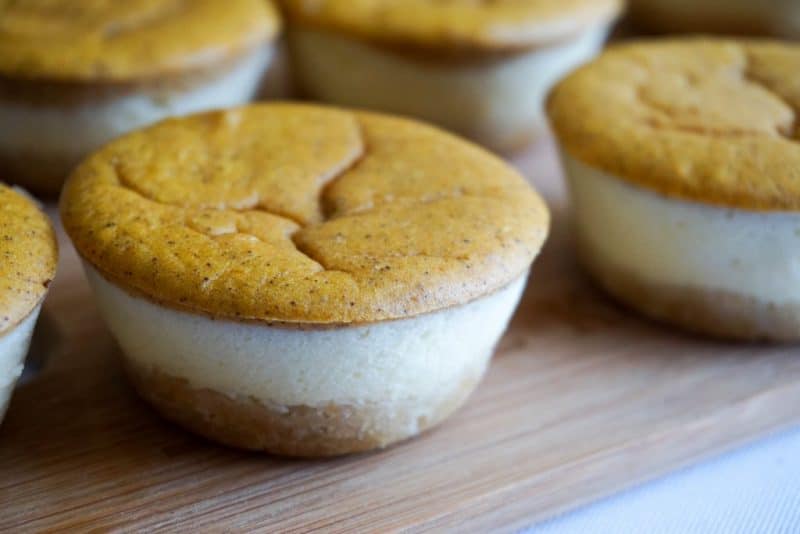 The reason they fit so well into your keto diet is because we're cutting through the carb dense pumpkin pie with a thick layer of cheesecake. The remarkable thing about these is that the small amount of pumpkin in these really takes center stage. These pumpkin cheesecake cupcakes are the perfect replacement for your pumpkin pie this year. Plus, they look awesome and will be sure to garner you some compliments from the relatives!
How Did You Make Them So Beautiful?
This isn't one of those recipes where you see the picture and you want to make it because it looks beautiful, but when you get around to actually making it you end up with a sloppy mess that you're forced to eat immediately. That way no one sees the disaster you created. These cheesecake cupcakes are easy to make and look just as pretty as the pictures. The trick is the layering technique we used.
First, you form the crust in the bottom and bake so it is solidified.
Then add in 2/3 of the cream cheese mixture on top of the crust.
Finally, we pumpkinify the remaining 1/3 of the cream cheese by mixing in the puree and adding pumpkin pie spice.
Top these puppies off with the pumpkin cheesecake mixture and you're all set.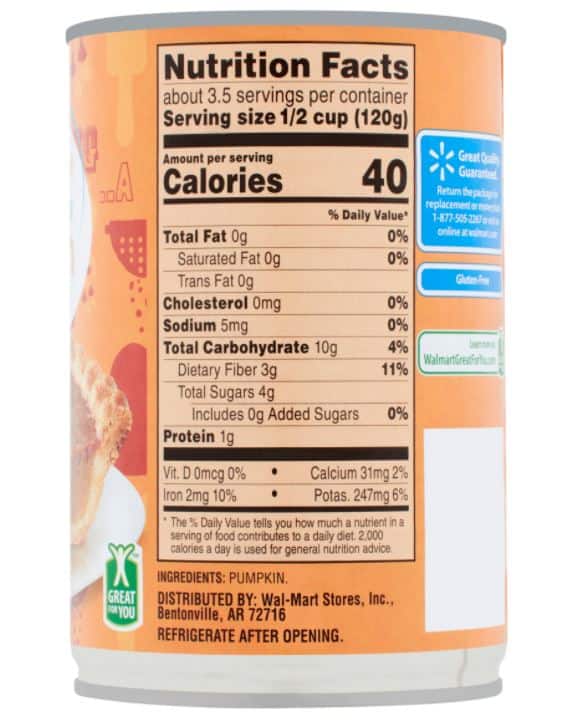 Can I use Canned Pumpkin Pie Mix?
Unfortunately you cannot use canned pie mix in this low carb pumpkin cheesecake recipe. Most canned pumpkin mixes have tons of sugar which make the carb count too high. We thought about that though and made sure to give you a great low carb option to keep this dessert sweet and pumpkiny without the blood sugar spike.
Benefits to Canned Pumpkin
Not only is 100% canned pumpkin puree delicious, but it's also nutritious! While pumpkin puree is a little higher in carbs, the amount we are using still only makes each keto pumpkin cheesecake 3.5 net carbs. Pumpkin also comes with many health benefits. Our keto pumpkin cheesecake bites are rich in Beta-carotene. This powerful antioxidant is great for promoting healthy skin and good vision. Plus, "our bodies can naturally convert beta-carotene into vitamin A—an essential vitamin" making it even easier to promote these positive effects(1).
Making the Perfect Keto Pumpkin Cheesecake
There are a few important steps in order to make the best low carb cheesecake. Starting with quality ingredients and a little love we can build up a solid recipe for this holiday season. I have included ingredient info, tips to create a great crust and smooth base, as well as tips to bake a perfect cheesecake every time. Follow these tips and tricks to make an amazing keto recipe every time.
Coconut Flour vs Almond Flour
Coconut flour is a staple in our keto pumpkin cheesecake bite. It has a deliciously nutty flavor while still increasing the fiber and volume of our crust. Unfortunately, coconut flour is very different from almond flour. Unlike coconut and almond milk, these two flours are not interchangeable. Almond flour is less absorbent requiring more flour to make a low carb crust. Coconut flour is also nut free and fairly inexpensive. Compared to almond flour, coconut flour is a great option for someone looking to make a low carb dessert without breaking the bank.
All About That Base
It is important to create a strong base when making cheesecake. I will discuss below how to get the perfect silky texture, but for now let's talk ingredients. A common question about this recipe is why we include sour cream. Sour cream acts as an extra silky layer. Sometimes regular cheesecake can be well, too cheesy. Sour cream adds a nice tang which contrasts the sweet vanilla base. As well as providing a looser cream that doesn't get as compacted and dense.
Another important ingredient is the sweetener of course! We used erythritol as it has a glycemic index of 1 and is super low calorie. There are a few different variations of erythritol sweeteners you can try, just know they may affect the end flavor. We recommend if you want to use a different brand going with Swerve or Lakanto.
Baking the Crust
The preparation of the crust is just as important as the ingredients. When making a cheesecake crust you need to make sure all the ingredients are well combined and there are no clumps. In order to make sure the cream cheese filling does not seep into our keto crust it is important to bake it first. Preheat your oven to 350°F and then bake the portioned and packed crusts for 12-15 minutes. Remove from the oven to cool before filling, and voila! You have an easy keto, sugar free crust.
Getting the Perfect Keto Cheesecake Base
Have all ingredients at room temperature! The best way to get a nice even mixture is to ensure all the ingredients are at room temperature. If one ingredient is straight out of the fridge while the rest are warm you're going to be left with a clumpy cheesecake. This goes for cream cheese, whipping cream, and even the egg too!
Once you get to the final 1/3 of the batter add in the pumpkin puree and pumpkin spice continuing to mix well for a minute so that all the clumps and spices are worked throughout the batter.
Pumped for Pumpkin!
I know for myself like most people, pumpkin season has me in my element! All the fall themed foods and recipes have my diet made up of 90% pumpkin. If that sounds like you too, try a variety of our pumpkin keto recipes!
Learn more about how much pumpkin you can have on a keto diet if you have questions.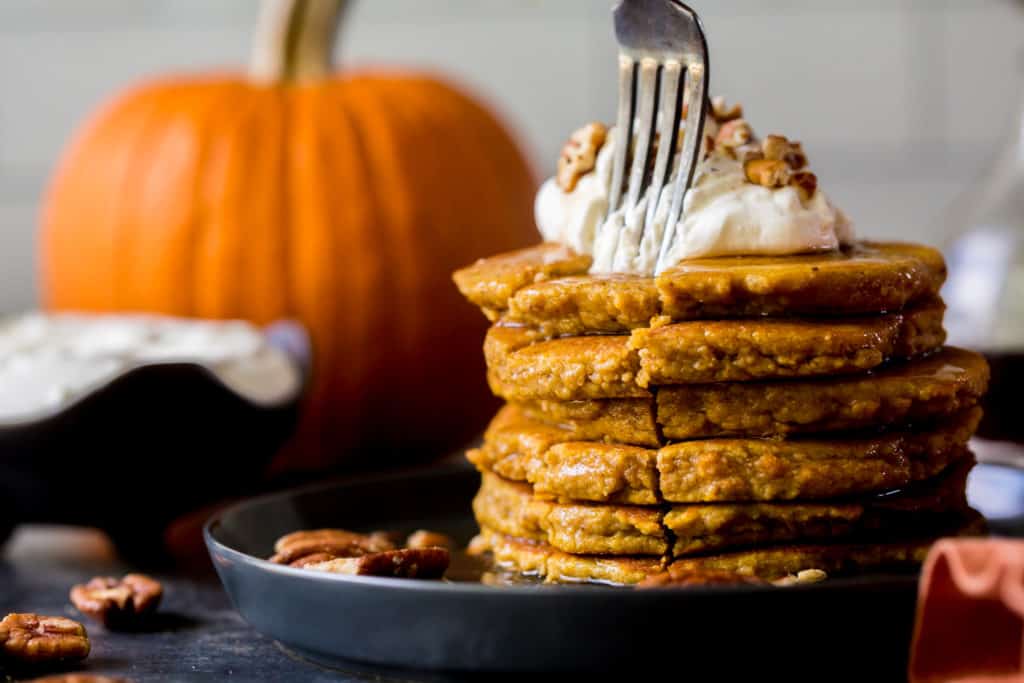 How to Prevent Cracked Cheesecake
It happens all too often, a beautiful cream cheese mixture goes into the oven set to bake. You walk away and somehow twenty minutes later the cheesecake already has a huge crack! It's important to know what causes cracks so you can prevent them in this keto recipe.
Don't over bake the cheesecake- Keto or not all cheesecakes that are over baked will lead to a dry surface that pulls and tears open. Make sure that you don't let the center fully set. Once it fully sets in the oven it is over baked. When removing the keto cheesecake from the oven it should still have a bit of a jiggle.
Cracks are common while cooling- If the cheesecake has stuck to the pan it can pull one side and cause a split. This is why we recommend the non-stick silicone which is usually better at fighting this. Feel free to run a dull knife around the pan or silicone tray to prevent any sticking after baking.
Avoid the top of the oven- When you put the keto cheesecake at the top of the oven it will begin to cook top first. Try putting it towards the center on a middle rack to avoid the top over baking.
Do not over beat the eggs- Over beating the eggs can cause too much air to go into the batter and create excess air pockets which can fill and expand with heat. The oven temperature will be just enough to make those burst and split your perfect keto cheesecake
Remember though even a cracked cheesecake still tastes delicious!
How to Fix Cracked Cheesecake
You followed everything and your keto cheesecake still cracked. This is annoying for sure but not impossible to have happen. Unfortunately there isn't much you can do to mend the cheesecake, but there are some great cover ups you can use instead. Here are a few topping ideas to cover that stubborn crack so your guests won't have a clue what happened!
Whipped Cream- This was an easy one as whipped cream pairs with all cheesecakes perfectly adding a delicate and light whipped topping. A great contrast from a rich cheesecake.
Melted Chocolate- Melt some keto chocolate chips or try melted 100% bakers chocolate mixed with some stevia for a new topping. The chocolate will cover any cracks on top while still giving you a rich dessert. Know that this will become chocolate and pumpkin flavored, but it is equally as good!
Pumpkin Frosting– Need a last minute fix? Whip up our vanilla keto buttercream and pipe a swirl on to this cheesecake. It is low in net carbs and can even be tied into the pumpkin theme more by adding 1 tbsp of pumpkin puree to the whole batch.
What is Pumpkin Pie Spice?
Pumpkin spice is a keto friendly seasoning. It is a mixture of ground cinnamon, cloves, ginger, and nutmeg. You can also pick some up off of amazon quickly. If you don't have time to wait for shipping and feel confident going to the grocery store go ahead and look for some. Just check and make sure it is one without added sugar.
Try some of our other recipes that use pumpkin pie spice like these keto pumpkin chocolate chip cookies or my personal favorite keto pumpkin muffins.
Why does Cheesecake Stick to the Pan?
Typical cheesecake recipes use a springform pan. While a springform pan is great for an even bake, they often stick the crust on the bottom and cream cheese filling on the inside. Because of this, we ditched our springform pan and opted for a non stick silicon cupcake mold instead. An added benefit is that these cook much quicker too, and who doesn't want low carb pumpkin cheesecake as fast as possible! If you want to bake in a springform pan instead I recommend this mini springform pan. Make sure you grease it well and add a few minutes to the baking time to make sure it is fully cooked.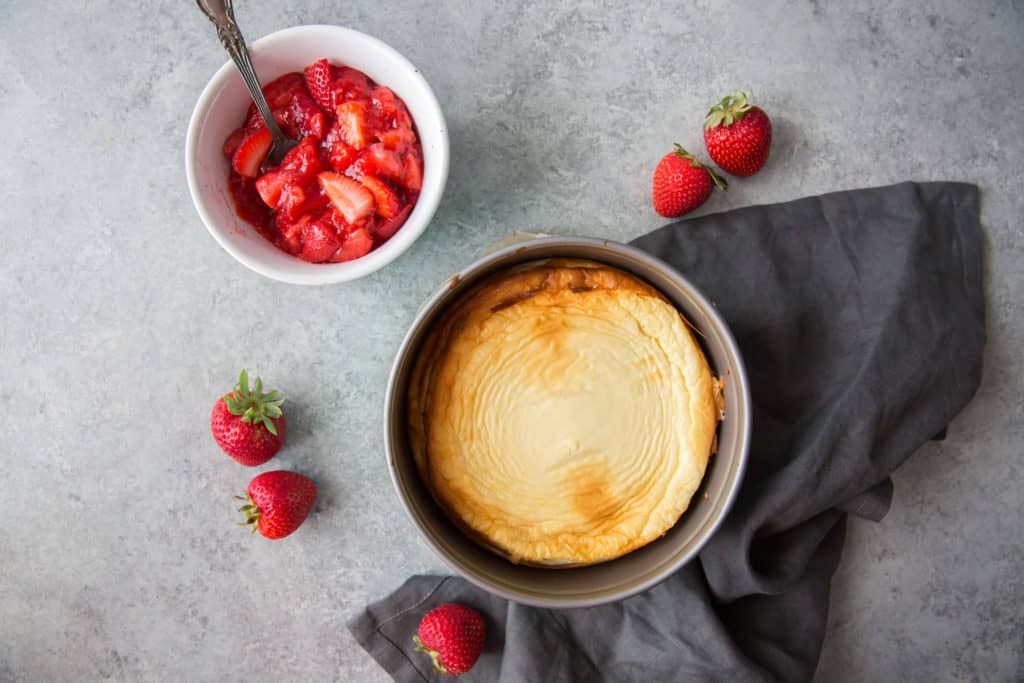 Save Some Pumpkin Cheesecake for Later
If you do, you're depriving yourself from enjoying them at the peak of their flavor. Did you know you actually taste things LESS when they're hot! Trust me, you're going to want to pop these in the fridge for 2-3 hours and let them chill. After cooling down to a nice cheesecake temperature, they are ready. So go ahead, dig in!
If you want to get extra fancy, Try topping these bites with a dollop of sugar free whipped cream to trick your family into thinking they're eating a sugary treat.
Storage and Freezing
These store well in the fridge for about a week. Just make sure they are in an air tight container and if possible towards the back of the fridge (aka the coldest part)
If you want to freeze cheesecake there is a specific way to do it. Place the cheesecake on a clean cardboard round. Wrap tightly with plastic wrap and then slide into a ziplock bag. Freeze for up to a month, longer than a month will cause the flavor and texture to diminish. Make sure when you want to eat them you pull a few out of the freezer and store them in the fridge in advance.
Want more keto cheesecake? Try some other easy keto recipes from our blog!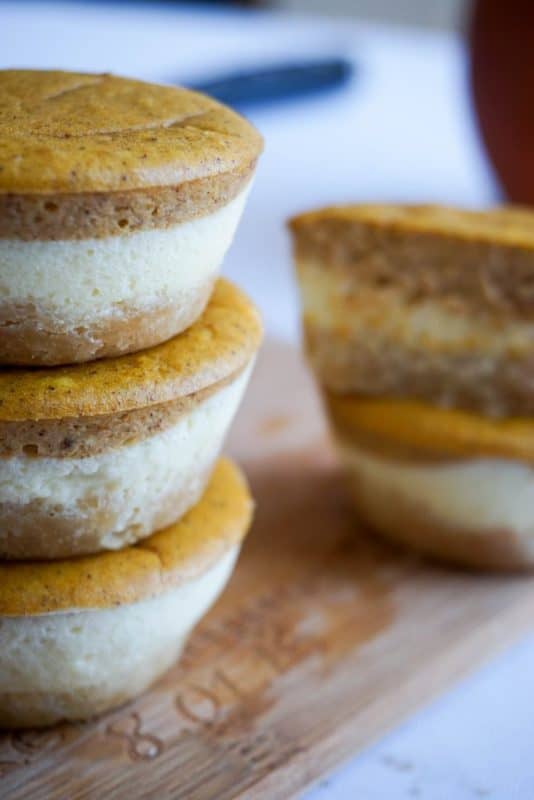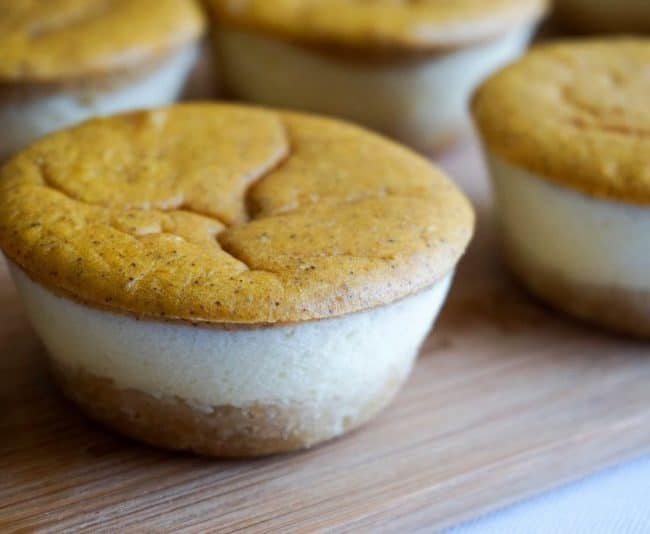 Pumpkin Cheesecake Cupcakes
We use this!
Total Time 1 hour 30 minutes
Servings 11 Cupcakes
Calories per serving 150.7kcal
Prep Time: 20 minutes
Cook Time: 1 hour 10 minutes
Ingredients:
Pumpkin Cheesecake Filling
Instructions:
Crust
Combine dry ingredients: coconut flour, erythritol and salt. Set aside.

In another bowl whisk together vanilla and melted coconut oil.

Slowly add the wet ingredients to the dry ingredients throughly combining.

Add in cubes of room temperature butter and use hand to form dough.

Using your hand mold the dough into the bottom of each cup of your greased cupcake pan. We use a silicon cupcake mold.

Place pan into a 350 degree oven for 12-15 minutes (depending on thickness of crust layer).

Once cooked, pull out and set aside to cool.
Filling
Using hand mixer cream together the room temperature cream cheese and erythritol.

Add egg, sour cream and heavy whipping cream. Continue to mix until thoroughly combined.

Use 2/3 of batter filling up the cupcake pan.

Add pumpkin puree and pumpkin pie spice to remaining 1/3 of batter and combine well (even out all lumps).

Slowly layer the remaining (newly created pumpkin cheesecake mixture) on top of the cheesecake layer in the cupcake pan.

Place into a 300 degree oven for 55-60 minutes. Use toothpick to check for a clean pull through.

Place in fridge to chill and serve cold. Enjoy!
Nutrition Facts
Pumpkin Cheesecake Cupcakes
Amount Per Serving
Calories 150.7 Calories from Fat 119
% Daily Value*
Fat 13.2g20%
Carbohydrates 5.4g2%
Fiber 1.9g8%
Protein 3g6%
* Percent Daily Values are based on a 2000 calorie diet.
Written By