The reason we love peppers? Their shape. They're basically an edible cup, making them the perfect vessel for any delicious filling – and our Keto Stuffed Peppers are a true testament to that.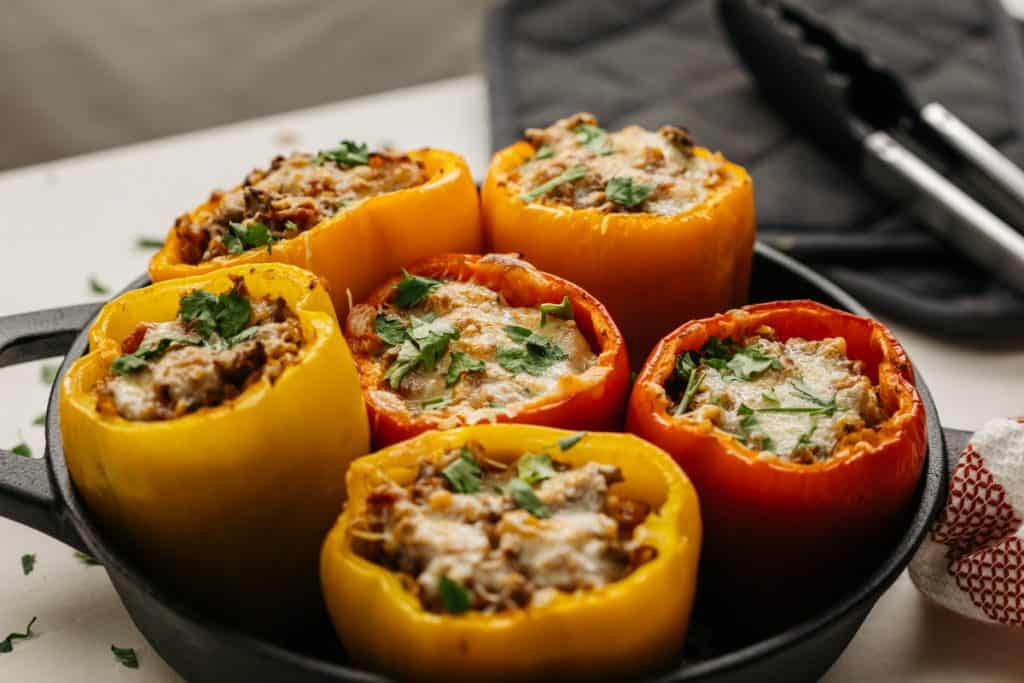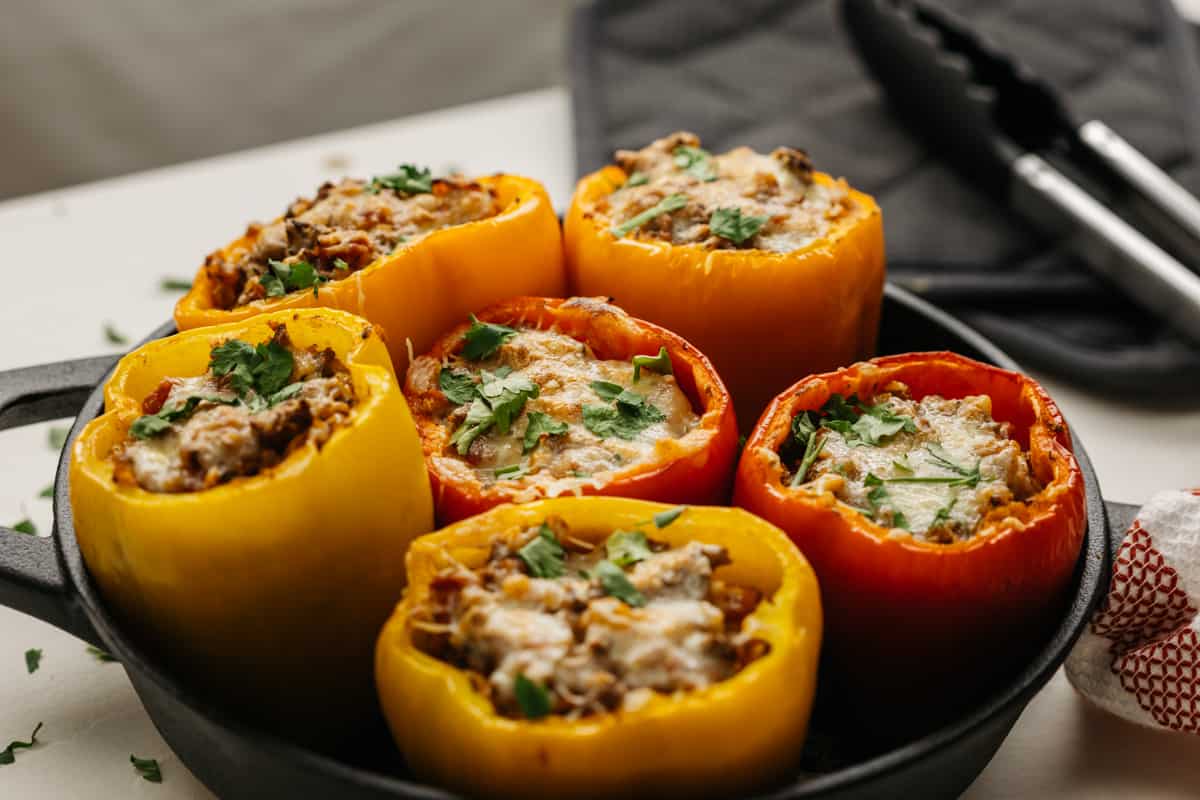 Of all the low-carb vegetables, the humble bell pepper has to be the most underrated. It has very few net carbs, can be enjoyed both raw and cooked, and has the most satisfying sweet taste to it.
These gluten-free peppers are filled with meat mixture and topped with melted cheese, which makes them totally irresistible.
What Makes This Keto Stuffed Peppers Recipe So Great?
There's more to creating a low-carb recipe than, well, removing the carbs.
Let's be honest: few people reduce their carbohydrate intake because they think carbs taste terrible. High-carb foods usually taste pretty good – sometimes, too good.
The trick to creating an amazing, low-carb recipe? Making it taste just as amazing as the high-carb version. Ideally, even better.
And of course, the low-carb macros have to be on point.
We're happy to say that our keto stuffed bell peppers tick all the boxes. Delicious, satisfying and totally suitable for a low-carb keto or gluten-free diet, these easy keto peppers stuffed with ground beef and tomato sauce have it all.
A Surprisingly Low-Carb Recipe
You don't have to eat only bacon and eggs on a keto or low-carb diet. There are so many incredible low-carb dishes just like this one that can fit into your nutritional needs.
We're endlessly surprised at how many different meals we can come up with using creative combinations of just meat, cheese and vegetables. And while these low-carb stuffed peppers are definitely low on carbs, they do contain a couple of ingredients that some people on a ketogenic diet may avoid.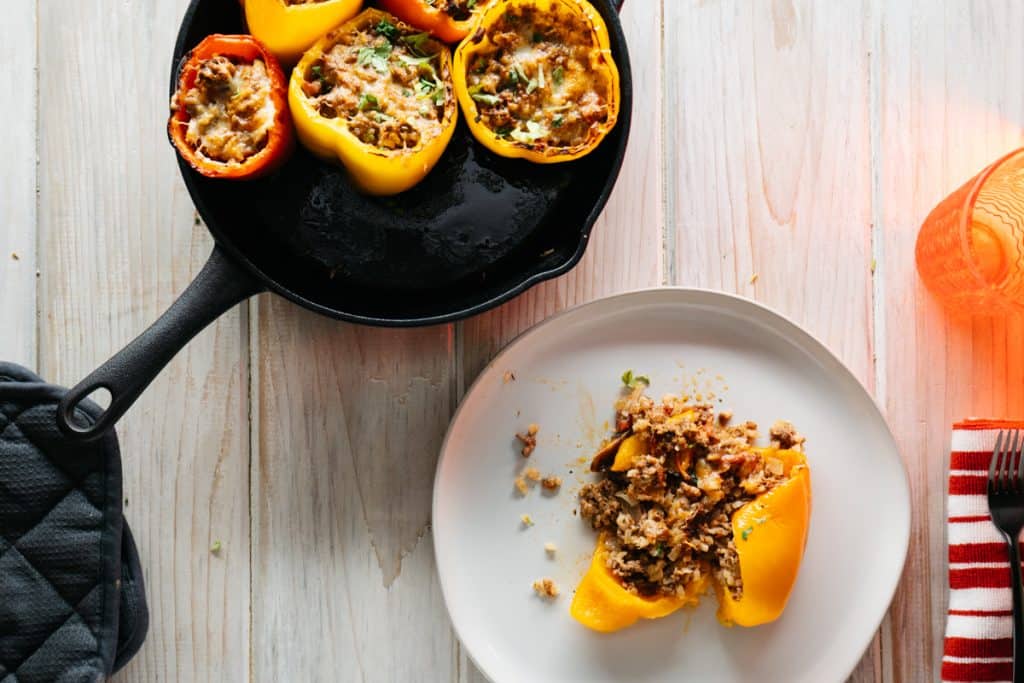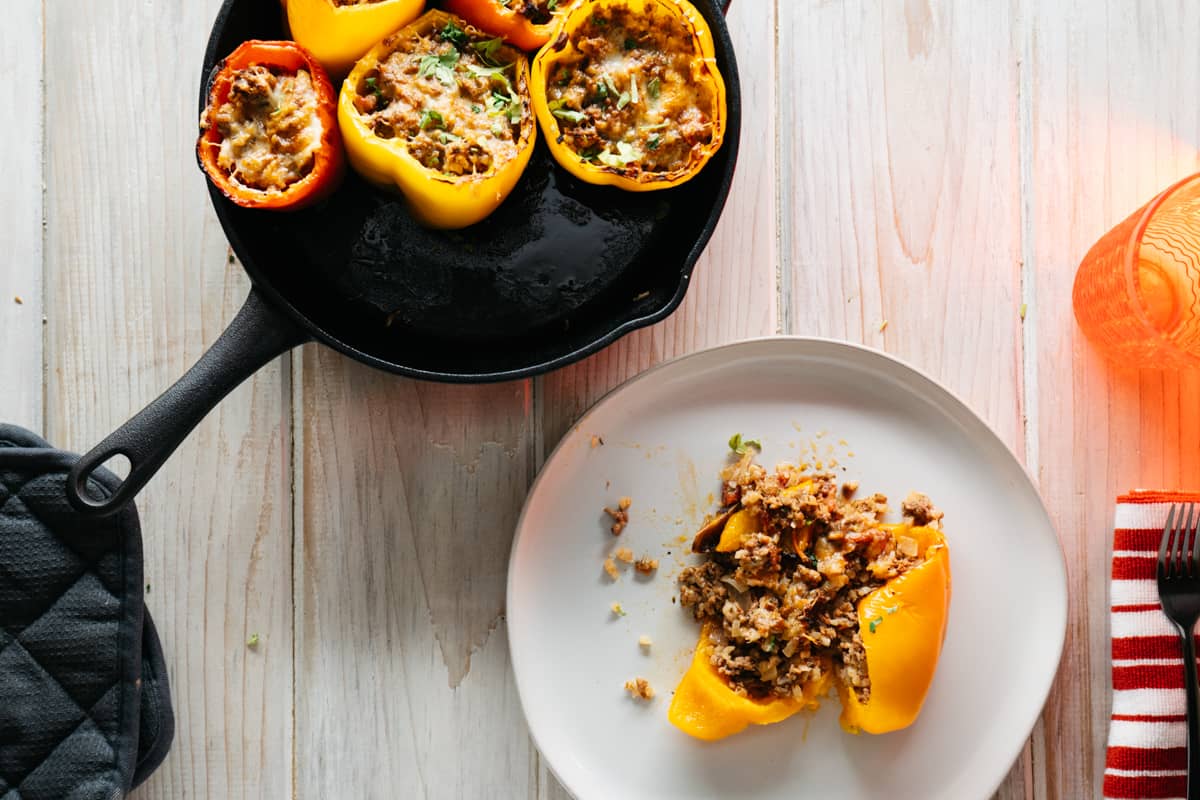 The good news? You definitely don't have to.
Are Bell Peppers Okay on Keto?
Yes! Bell peppers are a keto-friendly vegetable, and one you should definitely try to incorporate into your keto diet.
Chopped up and dipped in guacamole, blended into a sauce, baked in the oven like these low-carb stuffed peppers – there are so many ways to enjoy this versatile vegetable.
They're high in fiber and water, which keeps the net carbs low. Not to mention they have a ton of health benefits, from being a rich source of Vitamin C to containing a high amount of carotenoids, which are linked to eye health.
That said, there is some variation in net carbs across the different bell pepper varieties. Green bell peppers have the lowest carbs at 3 grams of carbs per 100 grams, while red peppers are highest with around 4 grams of carbs per 100 grams.
Red bell peppers will taste best in this recipe, but feel free to choose green bell peppers if you want to keep those carbs as low as possible.
Isn't Onion High Carb?
Onion does contain a higher amount of carbs than many other low-carb vegetables, with around 7 grams of net carbs per 100 grams. For this reason, many people choose to limit onion on a low-carb keto diet.
However, we don't recommend avoiding onion in your cooking. Onion creates a great flavor foundation for many recipes, especially Italian. Instead, simply limit how much you use.
As you can see, this recipe uses only half an onion in the ground beef mixture across six stuffed bell peppers.
Not to mention onions contains the antioxidant quercetin, which is amazing at fighting oxidative damage.
What About the Tomatoes?
Again, it's all about quantity. Diced tomatoes contain a higher amount of natural sugar – they are technically a fruit, after all! But they are definitely still keto-friendly.
We've kept the diced tomatoes to a minimum in this recipe to keep the carbs low without sacrificing on flavor.
Italian Meets Philly Cheesesteaks
When you think peppers, beef and melted cheese, what do you think of? Philly cheesesteaks, of course!
Now, this recipe isn't exactly a keto recreation of a Philly cheesesteak. We've put more of an Italian spin on this recipe by adding some classic Italian herbs and tomato. But there are definitely definitely some similar flavors that might just help to hit any cravings you've been having lately.
This is mostly thanks to the type of cheese used: Monterey Jack. This is a light, creamy cow's milk cheese that goes super stretchy when melted, like mozzarella cheese. This is similar to the provolone used in cheesesteaks.
They're Super Filling
Low-carb dishes are delicious (especially when we make them!), but the lack of carbs can mean they don't have a whole lot of volume. For some people, this can leave them craving more food, even after they've finished what should be a satisfying meal.
The trick here is to volumize using low-carb vegetables. This low-carb stuffed peppers recipe uses cauliflower rice. This is not only tasty, but will leave you perfectly satiated.
Personally, we think these Keto Stuffed Peppers taste way better than any rice-stuffed pepper recipe!
If you want to make this stuffed peppers recipe a little more filling and keto-fied, you could add extra fat such as sour cream or maybe even guacamole. These toppings would go great with the ground beef.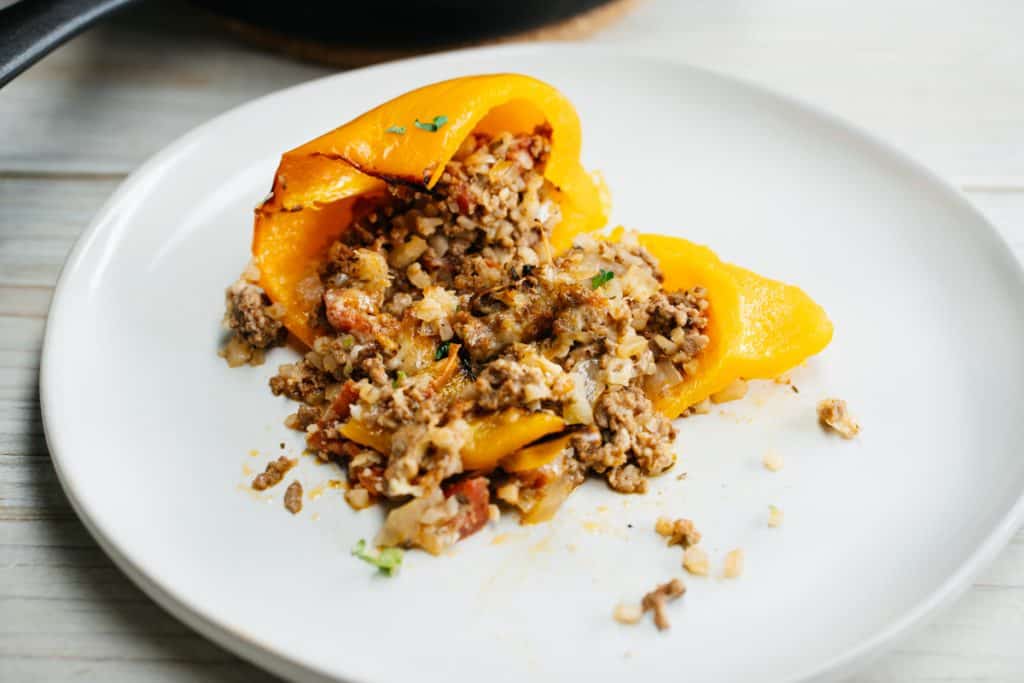 What You'll Need to Make These Low-Carb Stuffed Peppers
All you'll need for this stuffed peppers recipe is a large pot, a baking dish or tray, a spoon and a knife– that's it! A small knife will work best for cutting out the stem of each bell pepper, without cutting off too much of the edible part.
As much as we love playing around with the air fryer, sometimes the simplest recipes are best. Of course, don't be afraid to experiment with your air fryer for this recipe – but, you may still need to utilize an oven to broil and brown the cheese at the end.
How to Make Keto Stuffed Peppers
Ready to get your pepper on? This recipe takes as little as 30 minutes to make. And with so few steps, you'll be able to have these low-prep keto stuffed bell peppers on the dinner table in no time.
Start by preheating your oven to 375 degrees Fahrenheit (190 degrees Celsius). Using a small, sharp knife, remove the tops of the bell peppers and scoop out the seeds and remaining stem. Discard.
Add the oil to your pan. Once hot, add in the chopped onion, garlic and spices and cook over medium heat until the onions are cooked through – they should look translucent.
Add your ground beef, stirring and chopping as it browns.
When the beef is done, add in the cauliflower rice, tomatoes and tomato paste and stir until cooked. Remove from heat.
Stuff the peppers with the beef and vegetable mixture and top with shredded cheese. Place your stuffed peppers cheese side up on a baking tray or dish, then bake in the oven for 20-25 minutes.
To finish, broil your stuffed peppers for two to three minutes, or until the cheese has bubbled and browned.
Sprinkle with fresh parsley and enjoy right away.
How to Store Your Keto Stuffed Peppers
These low-carb stuffed bell peppers can be easily stored in the fridge and enjoyed another day. Once cooked, we recommend consuming within three days for optimal freshness.
While you can reheat this dish in the microwave, the oven will get you the best results. Don't be afraid to add a little extra cheese when reheating to make these stuffed peppers super delicious.
Unfortunately, peppers don't freeze too well, as they don't retain the same texture when defrosted. However, you can easily prep and freeze the tomato sauce and meat mixture ahead of time. Then, all you have to do is prep your fresh peppers and cheese!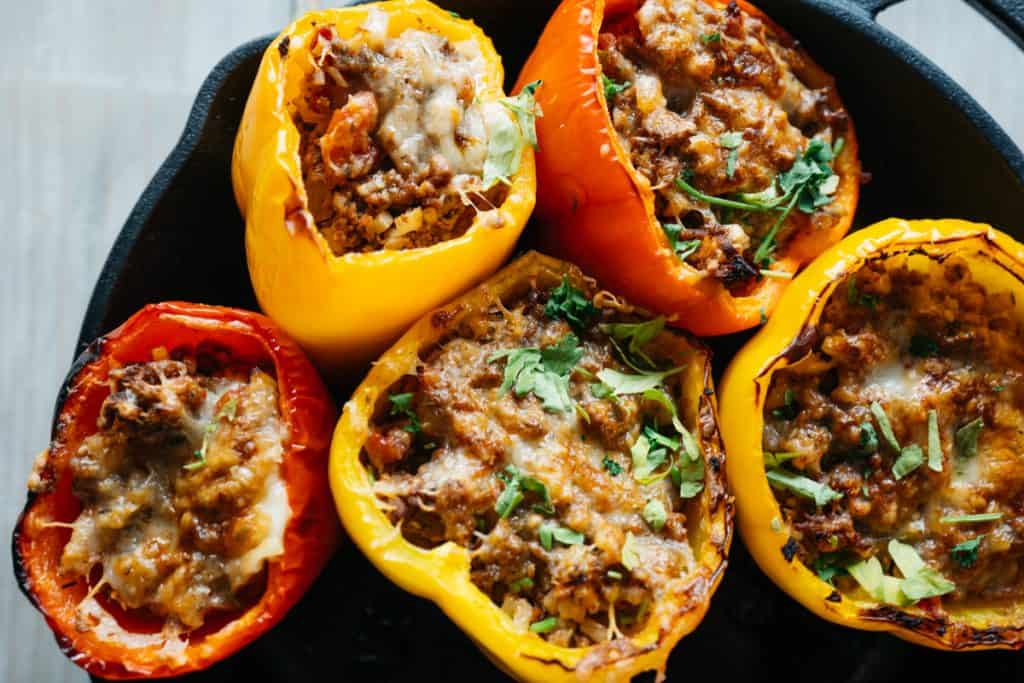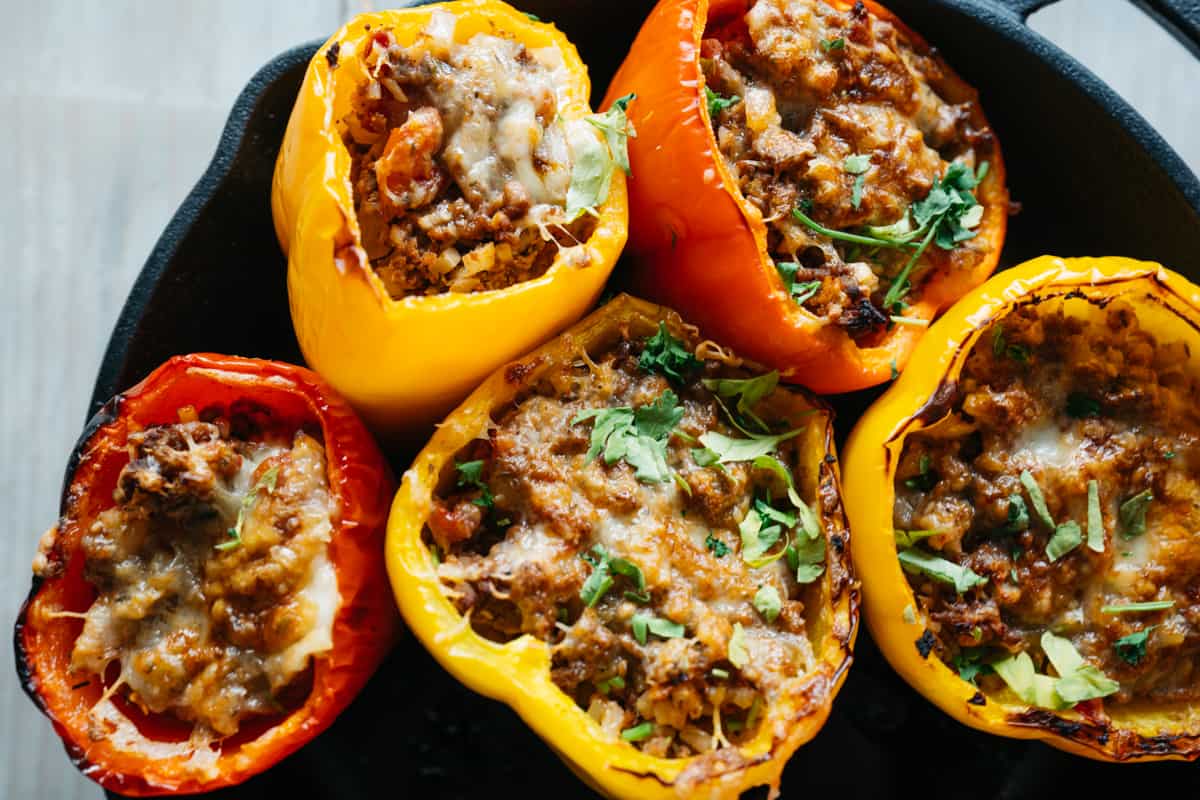 More Keto Recipes Like This
Craving more keto recipes like this Stuffed Bell Pepper dish? We've got plenty of tasty, easy keto dishes that we're sure you'll love.
Check these out: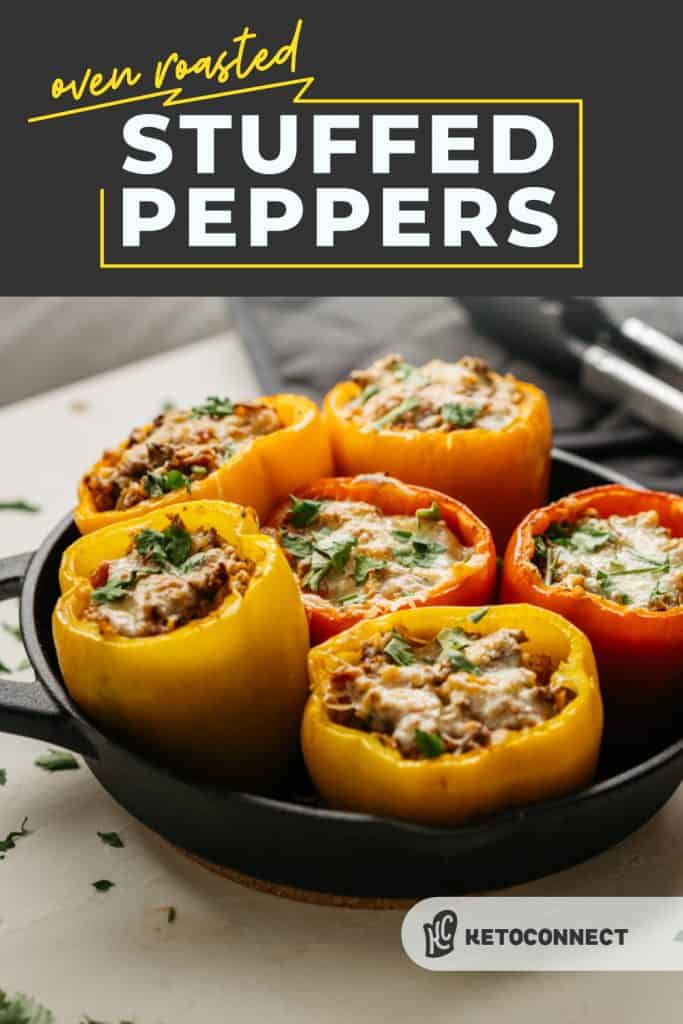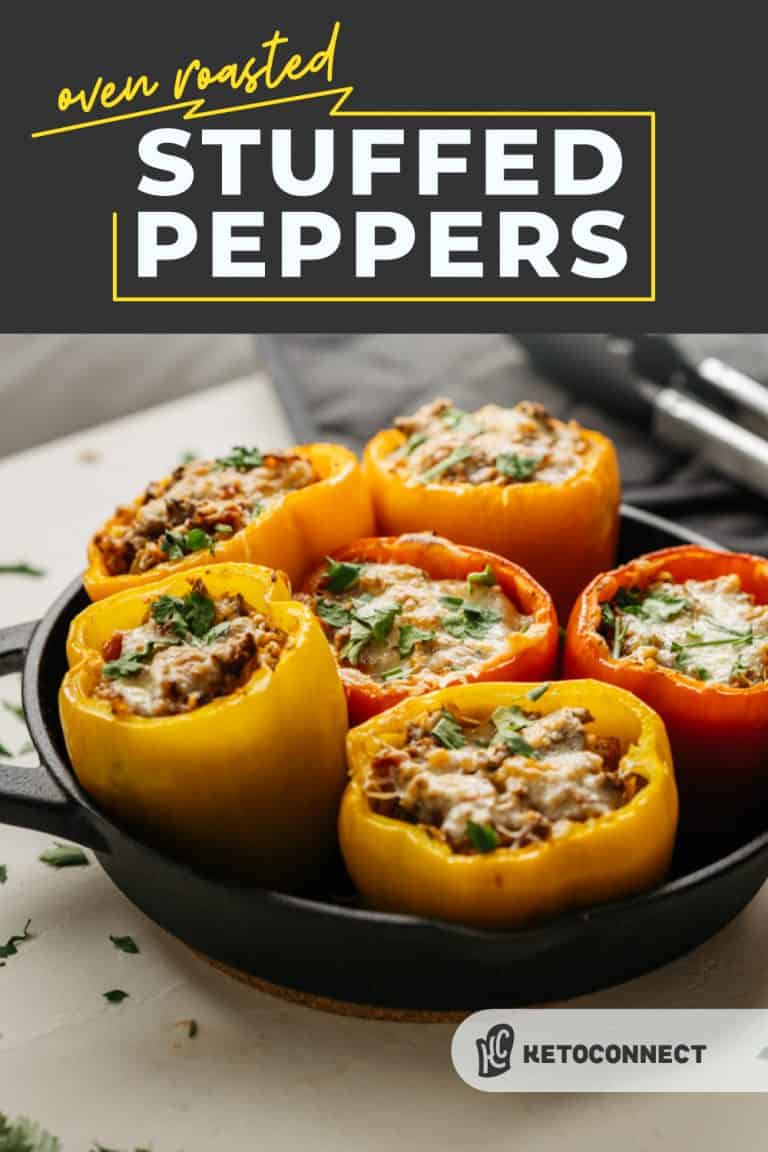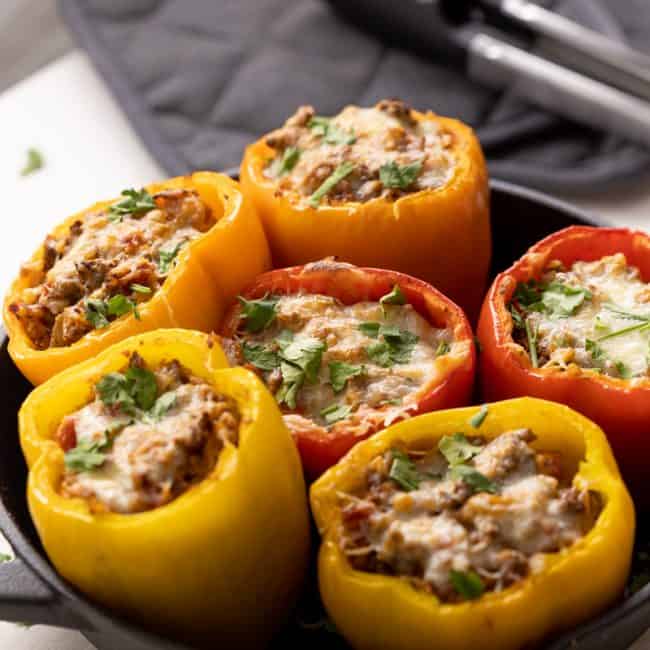 Keto Stuffed Peppers Recipe with Ground Beef
Try this easy keto stuffed peppers recipe with cauliflower, ground beef and cheese. It's an easy dinner recipe for a busy weeknight.
Total Time 30 minutes
Servings 6
Calories per serving 344kcal
Prep Time: 10 minutes
Cook Time: 30 minutes
Instructions:
Preheat oven to 375 degrees.

Remove the tops of the bell peppers and clean out the insides.

In a large pan cook the onion, garlic, oil, and spices on medium heat until the onions are translucent.

Add in the ground beef and brown all the way through. Once browned add in the cauliflower rice, tomatoes, and tomato paste. Cook for 3-5 minutes or until everything is cooked through and softened.

Fill the peppers and then top with cheese. Bake for 20-25 minutes and then broil for 2-3, or until the cheese has browned.

Serve warm topped with fresh parsley.
Nutrition Facts
Keto Stuffed Peppers Recipe with Ground Beef
Amount Per Serving
Calories 344 Calories from Fat 198
% Daily Value*
Fat 22g34%
Carbohydrates 16g5%
Fiber 5g20%
Protein 20g40%
* Percent Daily Values are based on a 2000 calorie diet.
Written By