Say hello to a keto meatloaf that won't come out dry! Most keto meatloaf recipes have trouble replacing the breadcrumbs in a traditional meatloaf recipe with a low carb breadcrumb alternative.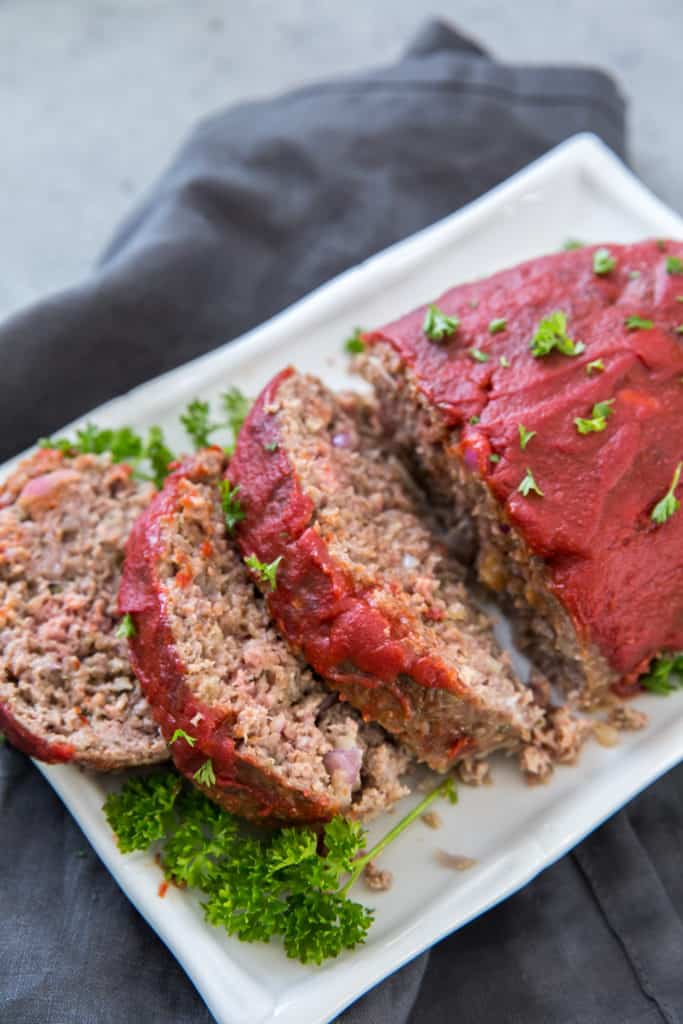 We'll show you how to crank up the flavor, and remove the carbs from your favorite comfort food.
You can check out our first cookbook Keto Made Easy for some keto copycat recipes including another keto meatloaf recipe that uses hemp hearts in place of breadcrumbs.
Choose a Keto Breadcrumbs Replacement
You have some options here and only a couple of them are good ones. The list of breadcrumb substitutions for keto meatloaf usually includes almond flour, coconut flour, hemp hearts, ground flaxseed and maybe even removing the bread crumbs altogether.
Don't make this mistake! Meatloaf needs a breadcrumb replacements or it will come out tough, dry and dense.
Almond Flour
Almond flour is the worst option. It barely absorbs any liquid, it adds a lot of calories to your recipe, and almond flour is quite expensive. Many keto recipes replace any high carb ingredient with almond flour by default, which is not a good way to go if you enjoy tasty meals. Leave the almond flour out of this recipe!
Coconut Flour
Coconut flour has the exact opposite problem as almond flour. It is very absorbent and really throws off the whole texture of the dish. While it does help the keto meat loaf retain a lot of moisture, coconut flour tends to throw off the whole dish in an describable way.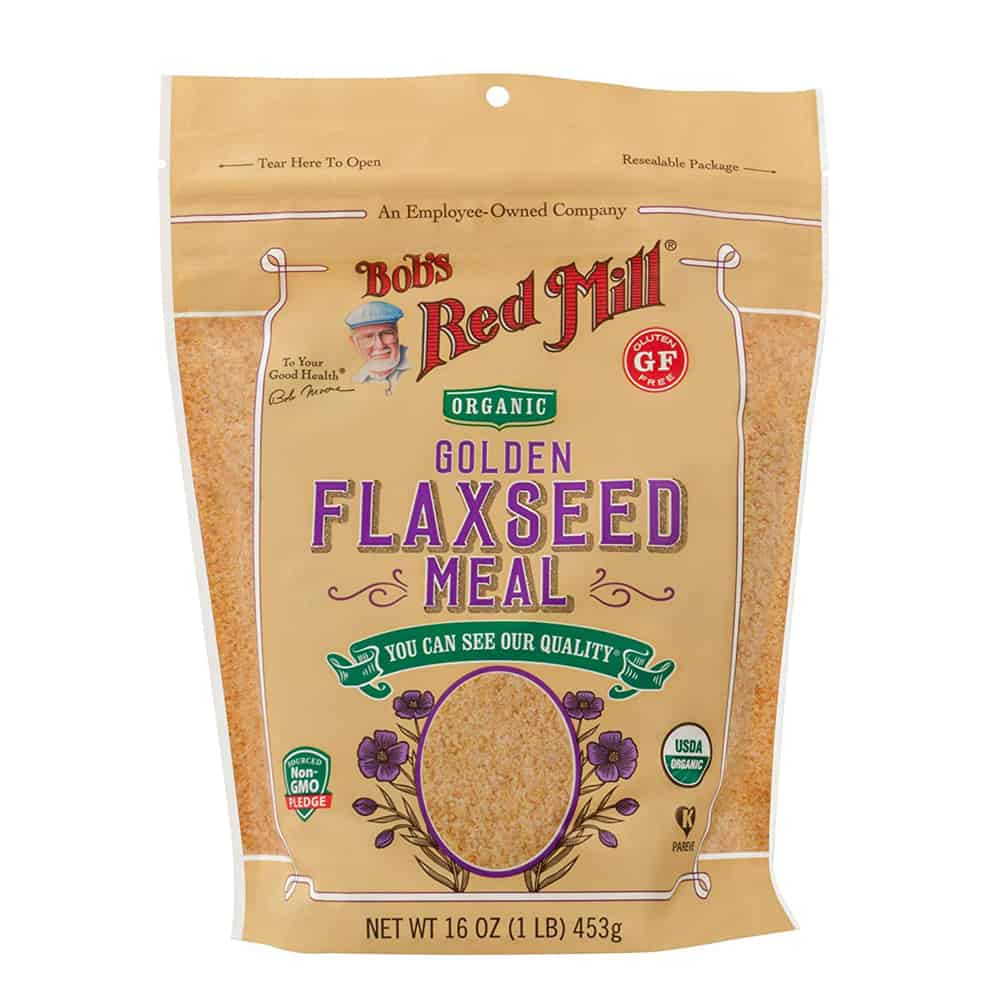 Ground Flaxseed
Now we are getting to the decent options. Ground flaxseed is good, but we'll get to the best options in a moment. Ground flaxseed adds a nutty flavor to the keto meatloaf, which isn't bad. It also makes the meat loaf low carb by adding close to zero net carbs to the recipe.
The downside is that it adds too much chewiness to this meatloaf recipe. While flaxseeds do have many benefits, making great meatloaf isn't one of them.
Hemp Hearts
Hemp hearts, or hemp seeds are a very good choice for making your meatloaf keto. They add good flavor and do a good job at retaining much of the moisture in this keto recipe.
While hemp hearts are not our top choice, they will definitely produce an enjoyable keto meatloaf recipe and should be considered as an option.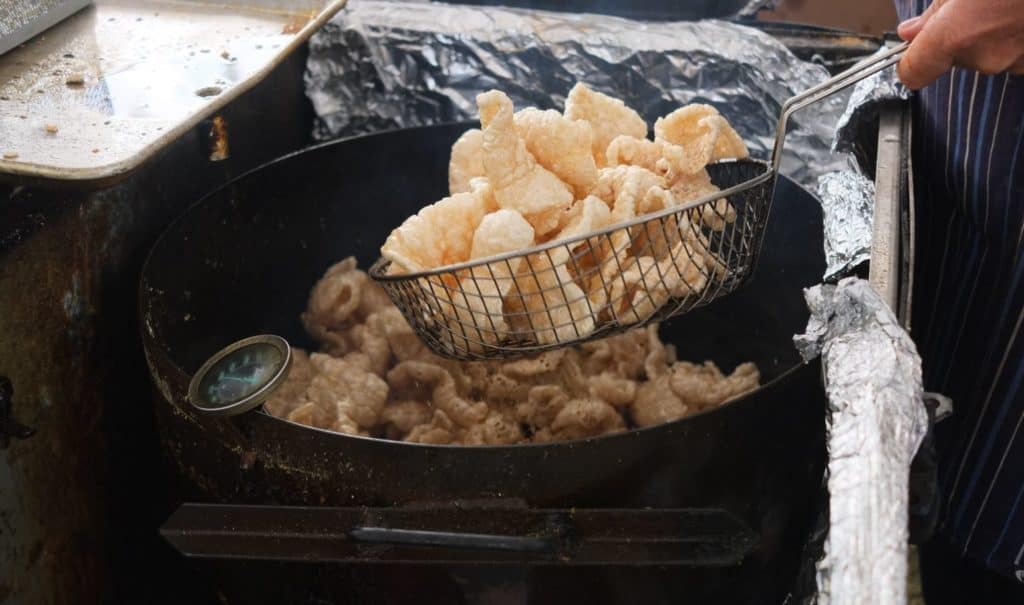 Pork Rinds
Here we have the winner of the breadcrumb replacement sweepstakes. Pork rinds, ground in a food processor are the ideal way to make your keto meatloaf nice and moist without throwing off the flavor with a foreign ingredient.
In fact, they actually add to the flavor of the ground beef. Using unflavored pork rinds is your best option. Also, be sure to check the sodium content so you know how much salt is needed for the rest of the meatloaf recipe.
How to Make Keto Meatloaf
Keto meatloaf is one of the easier recipes to alter for a low carb diet. It's 95% keto friendly to begin with, the only problem is the breadcrumbs.
To make keto meatloaf you need to find a suitable replacement for Italian breadcrumbs that isn't going to dry out your meatloaf.
Add Grated Parmesan Cheese
This helps with replacing the breadcrumbs, as well as adding a nice subtle flavor to the low carb meatloaf. While it is not absolutely necessary, it pairs nicely with the seasonings used in this recipe (onions or 1 teaspoon onion powder, 1 teaspoon garlic powder, and tomato paste).
Use 85/15 Ground Beef
85/15 ground beef is the perfect fat to protein ratio for this recipe. Typically recipes will call for 80/20 or 90/10, but we've tried both options and we're not satisfied with the results. 85/15 can be found at most grocery stores.
If you had to choose an alternative then go with 90/10. 80/20 ground beef is too fatty for this recipe and will result in a lot of fat dripping out of your meat loaf.
I might be a purist, but ground turkey and ground chicken are big no no's for me. They are too lean and will come out very dry in this recipe.
If you have further questions about the best type of ground beef to use for this recipe reference this handy guide to ground beef.
We've had the best luck using ground chuck for our keto meatloaf, but other variations work great as well. Included in the write up is a lot of good information on saturated fat, cholesterol and different nutrient contents of ground beef.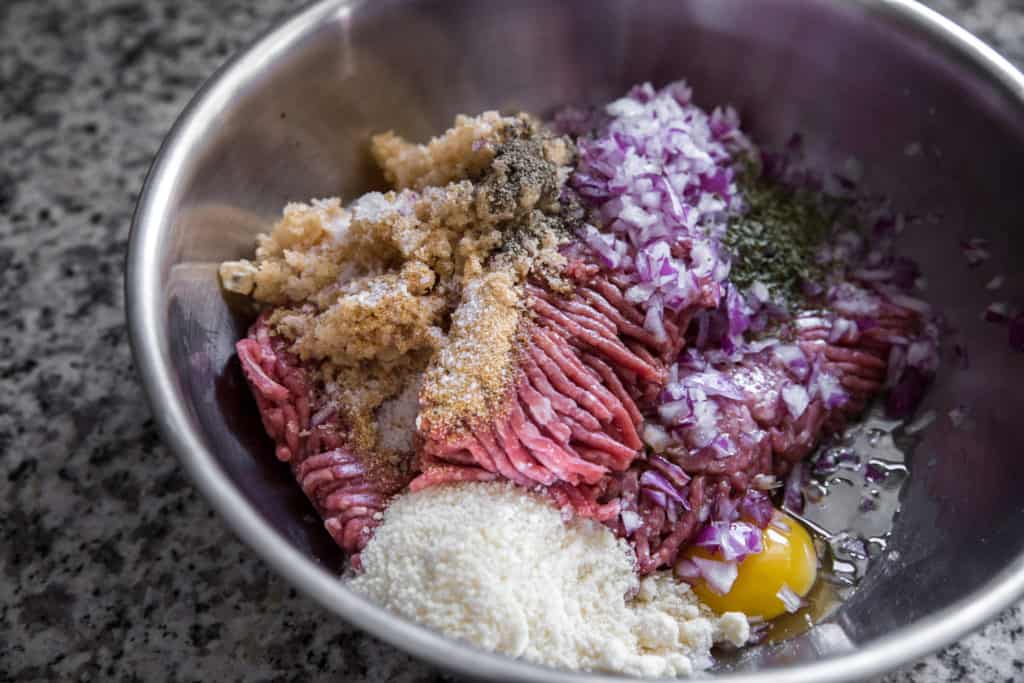 Combine Your Ingredients
Add the rest of your ingredients, including an egg (we always use large eggs) to a mixing bowl and mix together with your hands. You really can't make meat loaf without using your hands 🙂 In just prep time 10 minutes you can have the meat loaf mixture ready to go.
Prepare for the Oven
We're going to preheat oven to 375 degrees for this recipe. Many recipe call for setting the oven to 350, but we've had better results with a slightly higher temperature.
You can form the meatloaf mixture by hand into the shape you want on a baking sheet, or you can place the meatloaf mixture into a greased loaf pan.
Press the meatloaf completely into the pan and then flip it over onto a baking sheet prior to baking. You do not want to bake your meatloaf in the loaf pan!
Bake then Top with Ketchup Mixture
Place the low carb meatloaf in the oven for 20 minutes. This will be about half the cook time we are going for. Once the meatloaf has cooked for 20 minutes we are going to top it with the ketchup mixture.
People differ on whether they want more of a pure ketchup flavor on their meatloaf, or something a bit more sweet and spicy, closer to a barbecue sauce. I tend to opt for the latter.
For the tomato base you can choose from sugar free ketchup, reduced sugar ketchup, or tomato paste. We're going to be using tomato paste in this recipe because it gives you the strongest tomato flavor with the fewest amount of carbs.
To complete the tomato glaze, add some vinegar, Worcestershire sauce, and optionally a few drops of liquid stevia. The stevia adds some nice sweetness to the meatloaf recipe.
When the meatloaf comes out of the oven, top it with this sauce and then return it to the oven for the remaining 15 minutes cook time.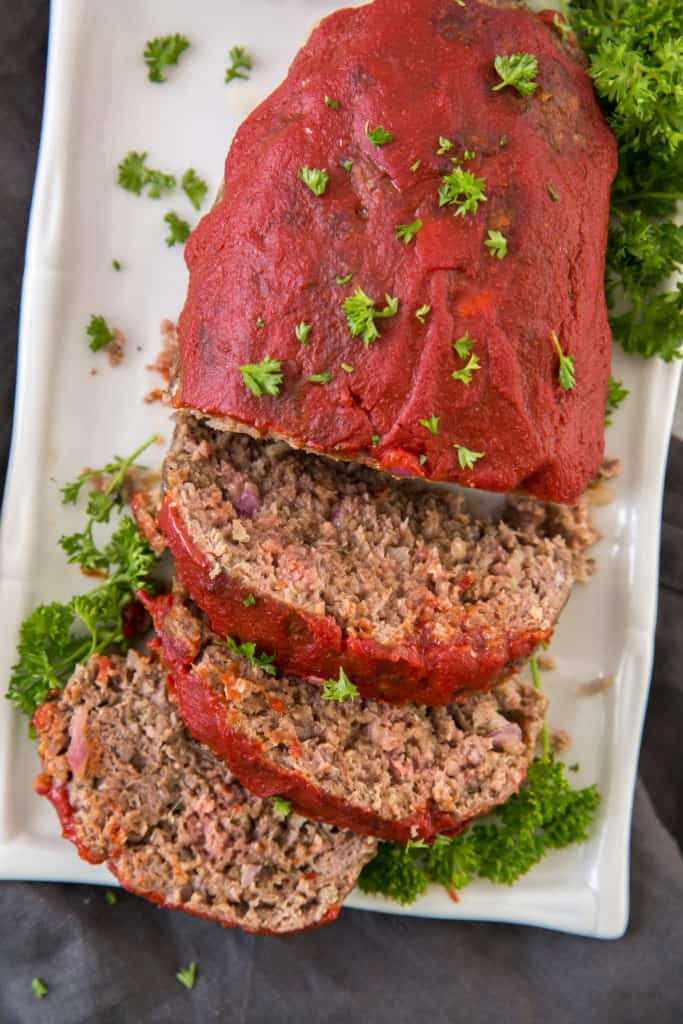 Allow to Cool and Enjoy!
When the meatloaf has been in the oven for a total time of 35 minutes test the internal temperature with a meat thermometer.
Be sure the internal temperature reaches 160 degrees, but keep in mind the temperature will continue to rise once you pull it out of the oven. Anything around 155 degrees is perfect.
Be sure to let the keto meatloaf cool for at least 1 minutes before slicing, otherwise you will lose a lot of the juices.
Now you're probably wondering what are some good side dishes to pair with this low carb meatloaf recipe. Luckily you came to the right place. We have hundreds of side dishes that go great with keto meatloaf. Some of our favorites are: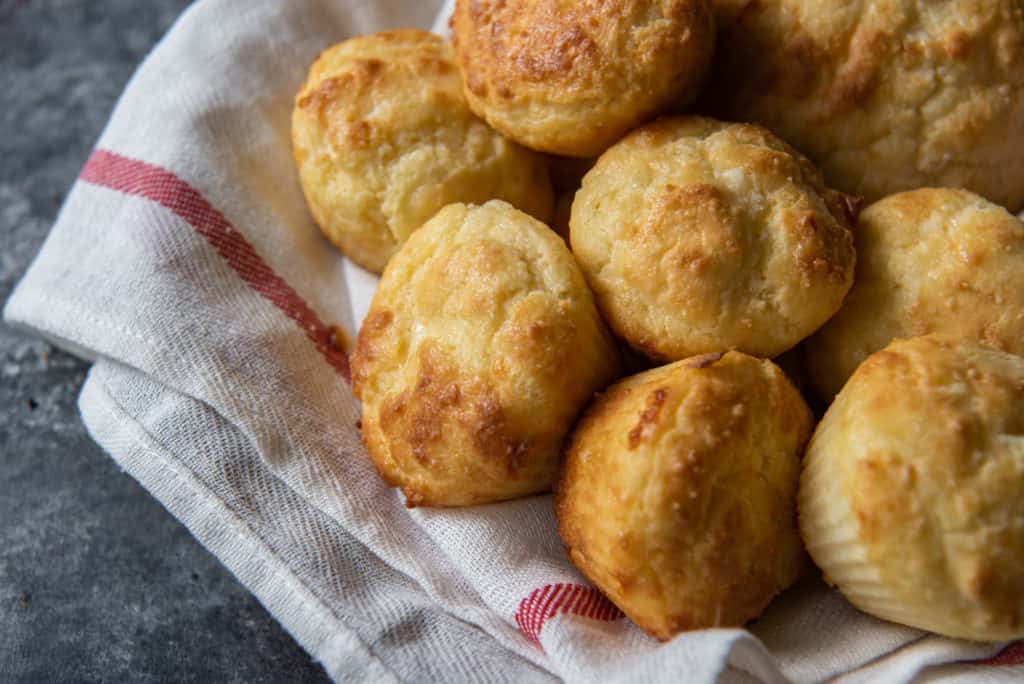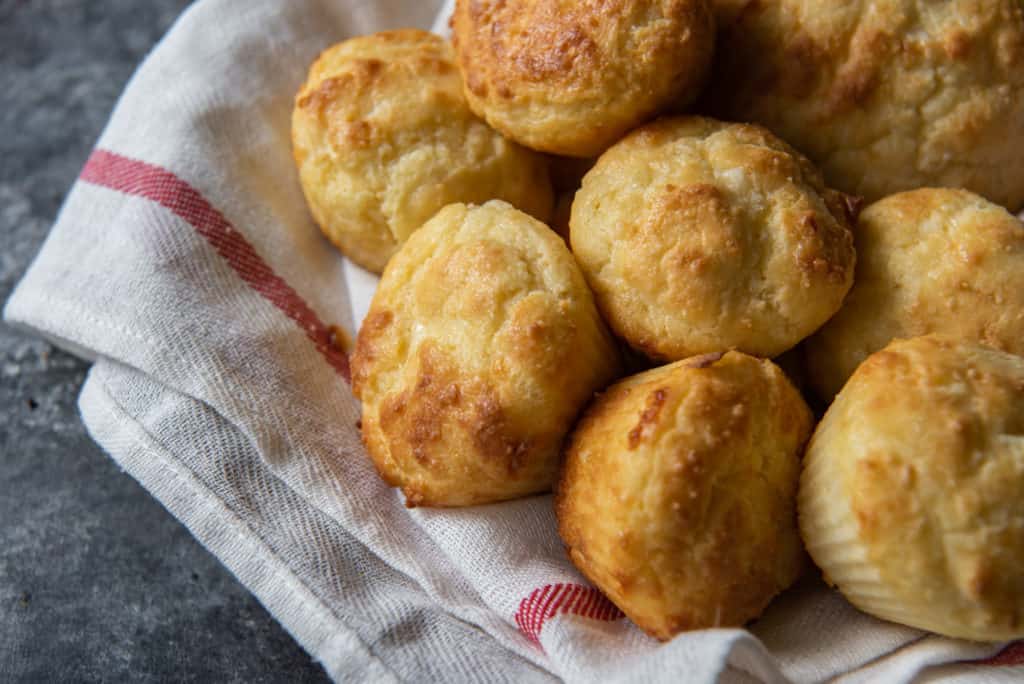 Once you've made meatloaf low carb there is almost nothing standing in the way of turning all of your favorite recipes into keto classics.
Make sure to try a recipe a couple times to really get the hang of it. We made several varieties of this meatloaf recipe before we finally found the best combination of ingredients.
More Keto Meal Prep Recipes
If you didn't already know, we have a meal prep section on our food blog that you can turn to every Sunday when you need to prep for the week.
Meal prep is something we commonly do to help us stay on track with our keto diet and free up time to play with our son, Theo, or get some work done.
Some of our favorite Sunday keto meal preps that will last all week long in the fridge and reheat great in the microwave are:
How Many Net Carbs Are In Meatloaf?
Another great question and my go to response for anything carb related is "it depends." I say this because it all comes down to the ingredients you use!
A breadcrumb replacement like ground pork rinds will run you 0 net carbs while something like almond flour could run you anywhere from one to three net carbs per serving.
The second place you'll find carbs adding up is in any veggies you dice up and add to the meatloaf prior to baking.
This will likely come in the form of onion and celery, and while they add a lot of flavor you can go without and still yield a delicious meatloaf!
The final, and third place, you'll find the carbs can add up is with the toppings. This is the main source of carbs since tomato is higher in sugars.
No matter what you decide, you'll be left with a high fat, high protein, low carb meatloaf so I wouldn't sweat the small stuff! And, something like the topping we've given you below adds maximum flavor for minimal carbs.
Loaf Pan Vs. Free Form?
In the recipe video we use a pan because its a quick way to get the loaf shape and that's how Matt's mom did it when he was a kid.
However, you cant go wrong with a free form loaf using your hands. You can even make 3-5 small loaves, one for each member of the family.
It really comes down to how much prep time you have. Free forming can be done much quicker and will turn out a more rustic looking meatloaf.
It's important to note, however, no matter which way you form it there will be quite a bit of fat runoff since ground beef tends to run higher in fat (we use 85/15).
This is totally okay and if you even want you can use it for a side dish or top your baked loaf with it prior to serving!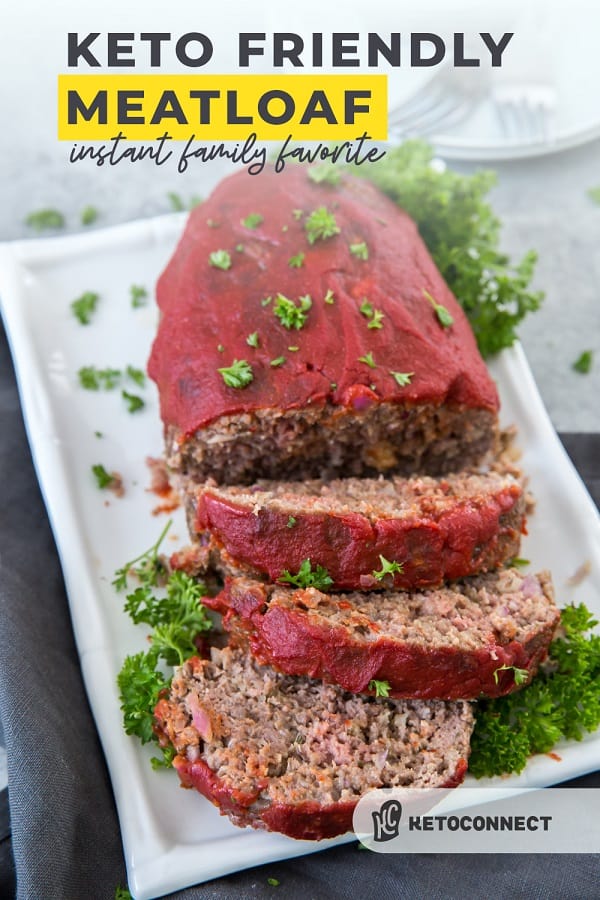 In Summary
Keto meatloaf is one of those recipes that you become more familiar with each time you make. This recipe has been in our keto dinner rotation for over a year now and we have improved it each time we make it.
Comfort foods are important to include in your keto diet if you want to stick to it long term and not feel deprived.
As long as you avoid a few of the common mistakes when making keto meatloaf you'll be alright. The biggest one is selecting the right filler ingredient to maintain the moisture of your meatloaf.
Avoid almond flour and coconut flour. Make sure to hit your internal temperature, allow meatloaf to cool 10 minutes before slicing and you should be in business!
If you are looking for more keto dinner recipes to add to your weekly meal plan be sure to check out our hundreds of other keto recipes.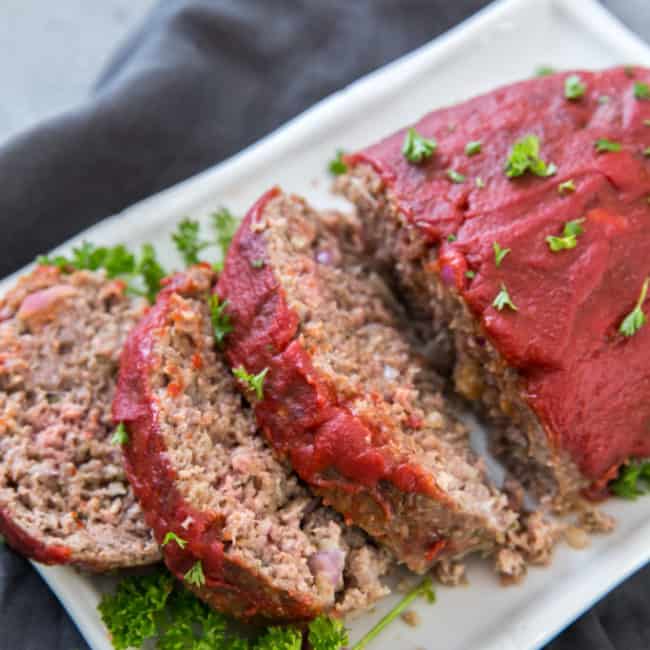 Easy Keto Meatloaf
This easy keto meatloaf recipe uses pork rinds and a low carb tomato topping for a moist and hearty weeknight dinner or meal prep!
Total Time 1 hour
Servings 6 servings
Calories per serving 256kcal
Prep Time: 10 minutes
Resting Time: 15 minutes
Cook Time: 35 minutes
Instructions:
Preheat the oven to 375°F degrees and grease a loaf pan (if using).

Add all meatloaf ingredients to a large bowl. Using your hands, combine well. Form the mixture into a loaf shape and place on a greased baking dish or press into your greased loaf pan and flip out on the baking sheet.

Bake for 20 minutes.

While the meatloaf is baking, add all topping ingredients to a small bowl and whisk together.

Remove meatloaf from oven and top with the ketchup mixture. Bake for an additional 10-15 minutes or until the meatloaf reaches 165°F.

Remove from the oven and allow to rest for 15 minutes to let the juices settle before slicing and serving.

Best stored in an air tight container in the fridge up to 5 days.
Notes
Net Carbs: 2g per serving
Yields: 6 servings/slices
Use our homemade keto ketchup recipe as a topping for a more flavorful meatloaf!
Nutrition Facts
Easy Keto Meatloaf
Amount Per Serving
Calories 256 Calories from Fat 153
% Daily Value*
Fat 17g26%
Carbohydrates 3g1%
Fiber 1g4%
Protein 22g44%
* Percent Daily Values are based on a 2000 calorie diet.
Written By