Say hello to keto friendly, never dry meatloaf with this easy to make recipe! If you are new to keto baking and cooking finding swaps for high carb ingredients like bread crumbs might seem daunting. However, it's actually quite simple once you start experimenting.
You can check out our first cookbook Keto Made Easy for some keto copycat recipes including another keto meatloaf recipe that uses hemp hearts in place of breadcrumbs.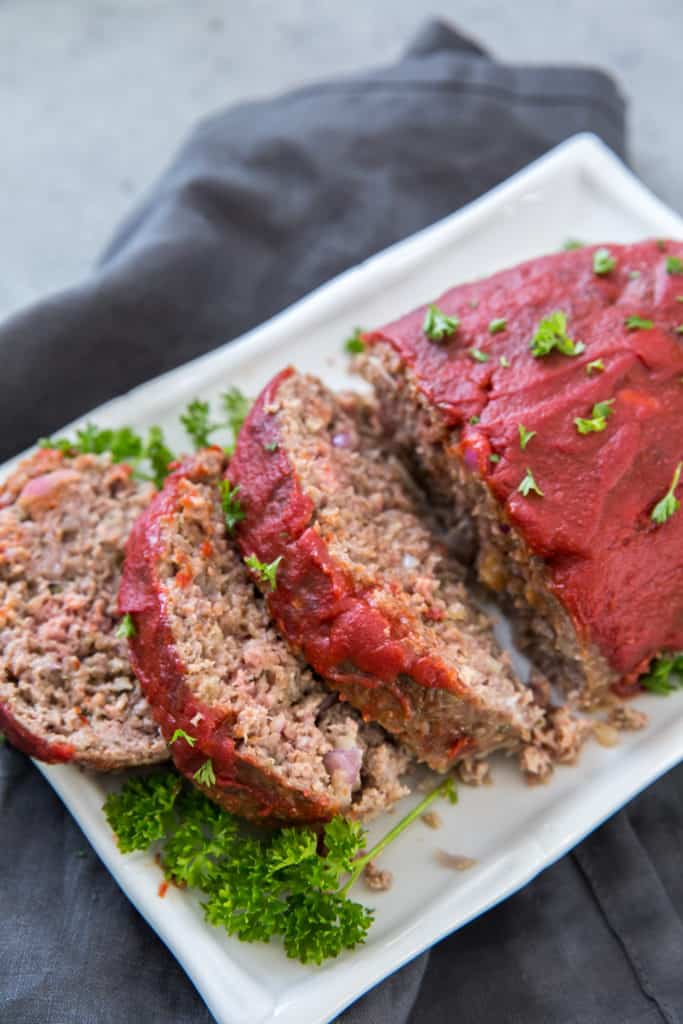 Low Carb Meal Prep Recipes!
If you didn't already know, we have a meal prep section on our food blog that you can turn to every Sunday when you need to prep for the week. Meal prep is something we commonly do to help us stay on track and free up time to play with our son, Theo, or get some work done.
Some of our favorite Sunday meal preps that will last all week long in the fridge and reheat great in the microwave are:
What Can You Use Instead Of Breadcrumbs For Keto?
This is the age old question and a great one to have the answer before starting the keto diet. There are plenty of replacements, but it all comes down to what you are using it for!
Moist meat? The best replacement to keep meat moist whether coating the outside or using on the inside for meatballs is ground up pork rinds and grated Parmesan. Maybe even a combination of both for extra flavor and crunch!
Pork free? Almond flour works wonders for coating chicken and making a roux. It's so versatile and also pairs great with some grated parmesan for a coating! Check out our chicken tenders to see for yourself.
Others options: we've found that hemp hearts works great when trying to keep meat moist, and coconut flour and nutritional yeast can also be great for coating and then frying up or baking in the oven.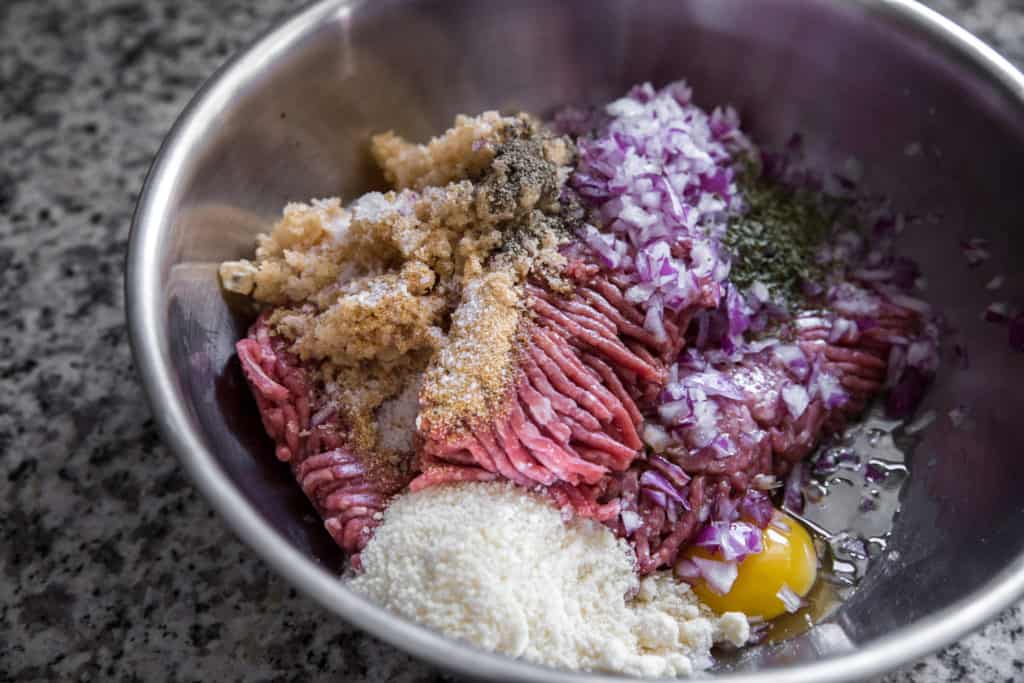 How Many Net Carbs Are In Meatloaf?
Another great question and my go to response for anything carb related is "it depends." I say this because it all comes down to the ingredients you use! A breadcrumb replacement like ground pork rinds will run you 0 net carbs while something like hemp hearts could run you anywhere from one to three net carbs per serving.
The second place you'll find carbs adding up is in any veggies you dice up and add to the meatloaf prior to baking. This will likely come in the form of onion and celery, and while they add a lot of flavor you can go without and still yield a delicious meatloaf!
The final, and third place, you'll find the carbs can add up is with the toppings. This is the main source of carbs since tomato is higher in sugars. No matter what you decide, you'll be left with a high fat, high protein, low carb meatloaf so I wouldn't sweat the small stuff! And, something like the topping we've given you below adds maximum flavor for minimal carbs.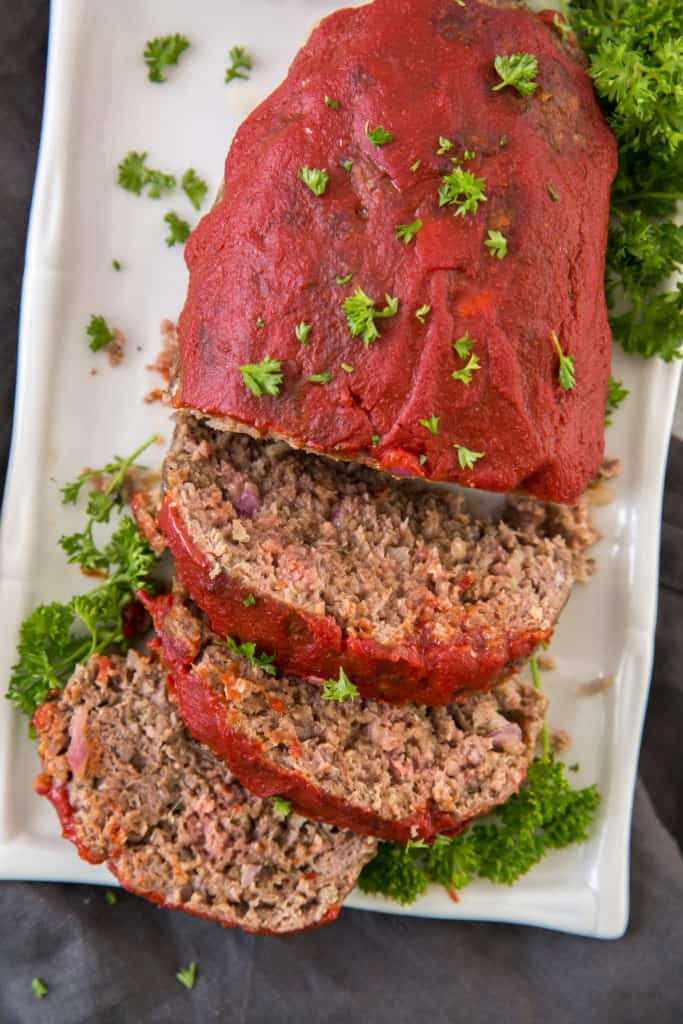 Loaf Pan Vs. Free Form?
In the recipe video we use a loaf pan because its a quick way to get the loaf shape and that's how Matt's mom did it when he was a kid. However, you cant go wrong with a free form loaf using your hands. You can even make 3-5 small loaves, one for each member of the family.
It's important to note, however, no matter which way you form it there will be quite a bit of fat runoff since ground beef tends to run higher in fat (we use 85/15). This is totally okay and if you even want you can use it for a side dish or top your baked loaf with it prior to serving!
Easy Keto Meatloaf
Whether you use the meat for one big meatloaf or make mini keto meatloafs for meal prep you can't go wrong. It is hearty, moist, and reheats great all week long! Serve this easy keto meatloaf along side one of our favorite side dishes, like air fryer avocado fries or cheesy keto garlic bread and make it a meal to remember!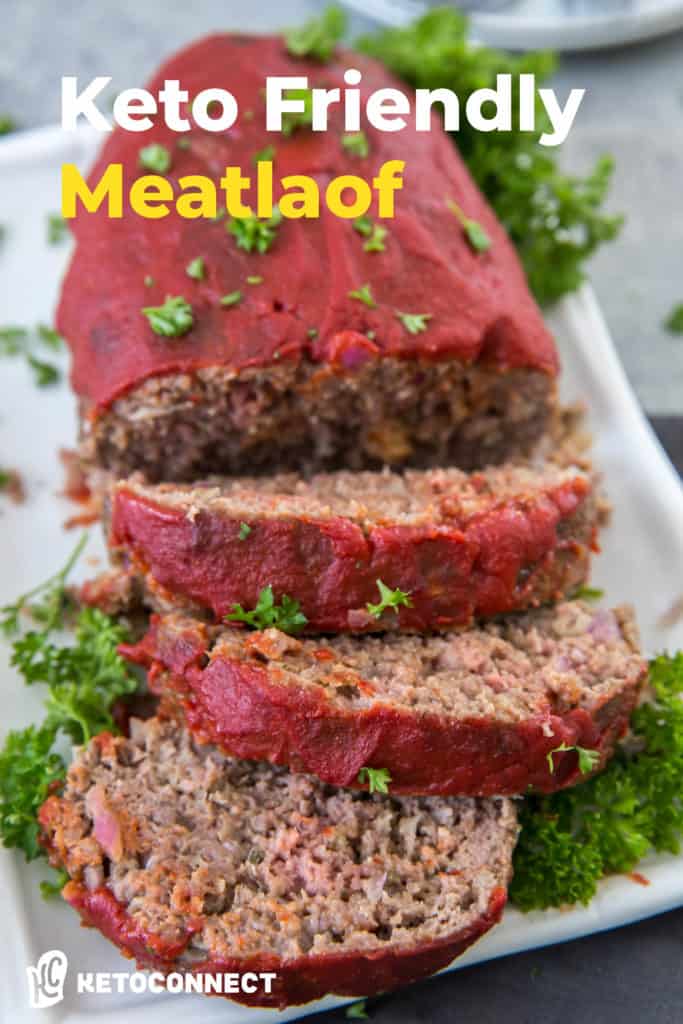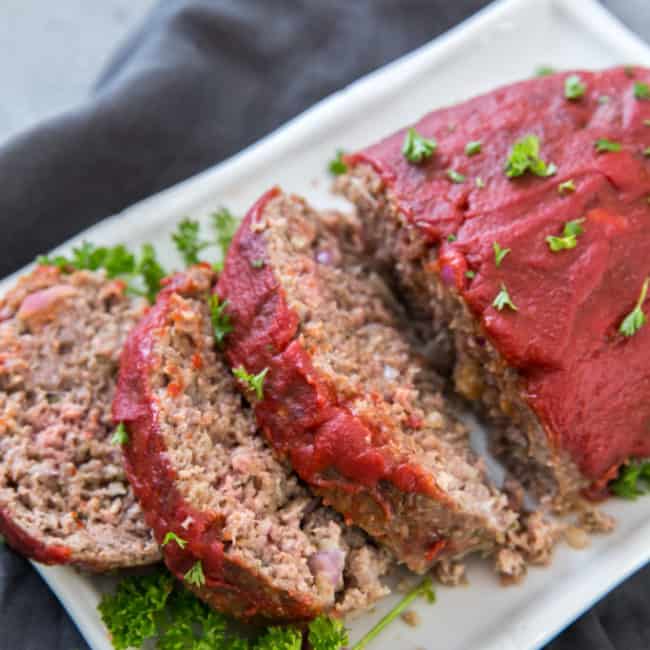 Easy Keto Meatloaf
This easy keto meatloaf recipe uses pork rinds and a low carb tomato topping for a moist and hearty weeknight dinner or meal prep!
Total Time 1 hour
Servings 6 servings
Calories per serving 256kcal
Prep: 10 minutes
Resting Time: 15 minutes
Cook: 35 minutes
Instructions:
Preheat the oven to 375°F degrees and grease a loaf pan (if using).

Add all meatloaf ingredients to a large bowl. Using your hands, combine well. Form the mixture into a loaf shape and place on a greased baking dish or press into your greased loaf pan and flip out on the baking sheet.

Bake for 20 minutes.

While the meatloaf is baking, add all topping ingredients to a small bowl and whisk together.

Remove meatloaf from oven and top with the ketchup mixture. Bake for an additional 10-15 minutes or until the meatloaf reaches 165°F.

Remove from the oven and allow to rest for 15 minutes to let the juices settle before slicing and serving.

Best stored in an air tight container in the fridge up to 5 days.
Notes
Net Carbs: 2g per serving
Yields: 6 servings/slices
Nutrition Facts
Easy Keto Meatloaf
Amount Per Serving
Calories 256 Calories from Fat 153
% Daily Value*
Fat 17g26%
Carbohydrates 3g1%
Fiber 1g4%
Protein 22g44%
* Percent Daily Values are based on a 2000 calorie diet.