You'll always find Matt doing the more intricate, experimental recipes in the kitchen. And, at first I thought this Keto Custard recipe was one of them, but once I saw how easy it was to make I realized I too should be working outside of my bounds. It's creamy and rich in maple bacon flavor, but best of all it's garnished with bacon for dipping and indulging, no spoon necessary! Watch Matt show you how to make it below.
FREE PRINTABLE: Keto Food List
Join 150,000 others to get a FREE keto food list and new recipes every week!
The Easiest Keto Custard You'll Make!
Most of the time needed to create this incredible keto dessert goes into the refrigeration when it needs to set. Once cooked, chilled and set you are left with one of the most delicious low carb desserts. The minimal work pays off great when you are dipping a slice of bacon into the creamy, rich custard!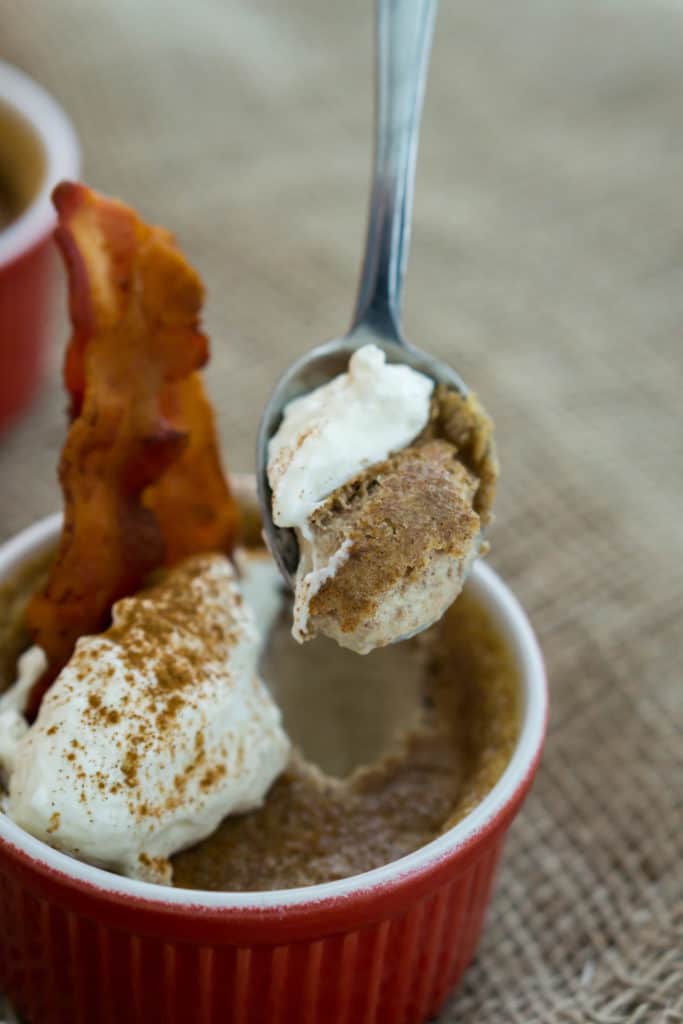 Must Make Keto Friendly SNacks
This recipe uses bacon strips (as garnish) so technically it could be a snack, right? It's more like a heavenly custard dip for bacon slices hehe. Well, snacks play a huge role in our house for in between meals and after dinner so we always want to find and make ones that are low in carb and won't mess up our macros. Some of our easy go-tos for keto friendly snacks are chocolate peanut butter fat bombs, parmesan crisps and high fiber muffins!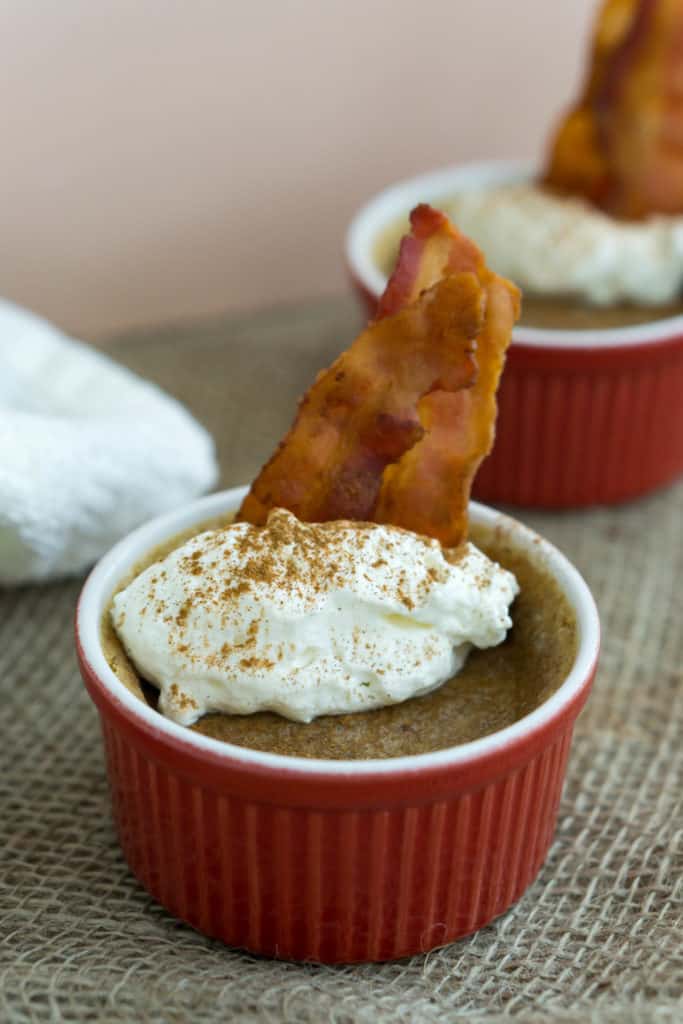 Maple Bacon Low Carb Custard
This is one of those desserts that seems and sounds a lot harder than it actually is! I'm cooking and baking all the time, and I was impressed by the outcome and a little envious of Matt's ease with this recipe. So, the second time around making this recipe I gave it a go and found that the ease of making in relation to the deliciousness of the outcome was low effort and high reward. Now, that is the making for a perfect dessert. Savory and sweet lovers will love this maple bacon keto custard alike, so go ahead and make it!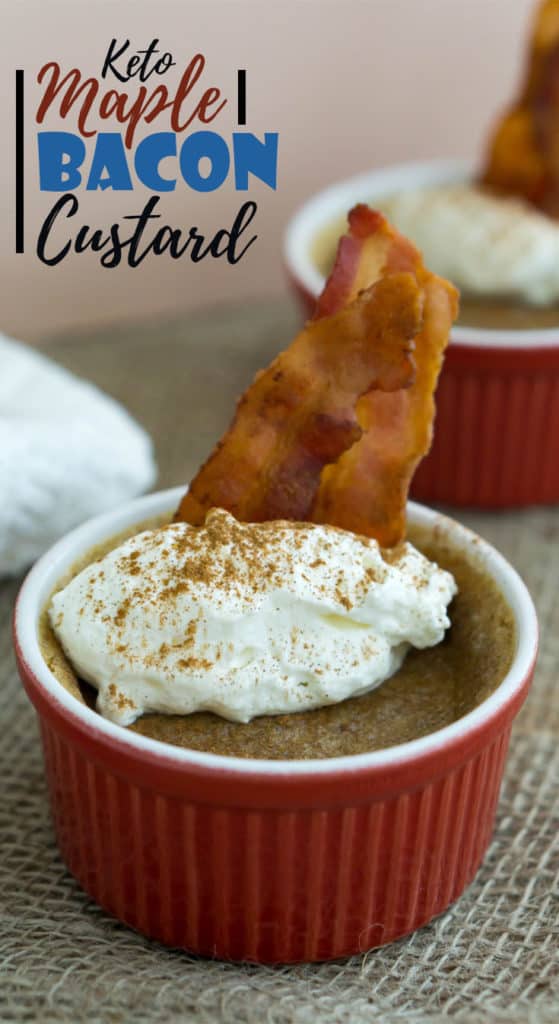 Recipe can be quickly added to MyFitnessPal – Search "KetoConnect – Maple Bacon Custard"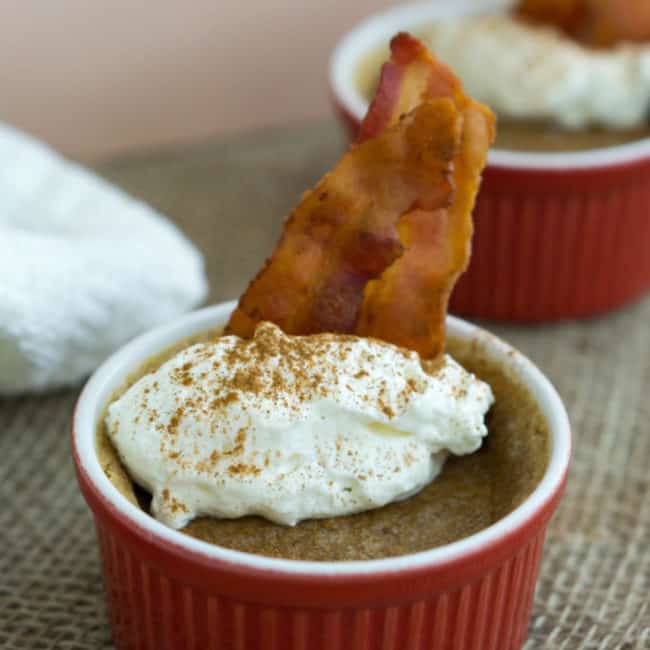 Keto Custard | Maple Bacon!
This keto custard is creamy and rich in maple bacon flavor, but best of all it's garnished with bacon for dipping and indulging, no spoon necessary!
Total Time 45 minutes
Servings 2 servings
Calories per serving 487kcal
Prep Time: 15 minutes
Cook Time: 30 minutes
Instructions:
Preheat the oven to 300 degrees.

Heat a small skillet to medium-high heat and cook three slices of bacon. Once cooked through set bacon on paper towels and set the grease aside to cool.

In a medium mixing bowl combine the heavy cream, egg yolks, stevia, maple extract and cinnamon using a hand mixer. Do not over mix to the point of whipping the cream.

Once the bacon grease has cooled add 1 1/2 tsp of it to the mixture and combine with the hand mixer.

Place 2 ramekins (3 inches in diameter) into a larger casserole dish and pour the custard mixture into the two ramekins. If there are a lot of bubbles on top, allow the mixture to rest for 5 to 10 minutes.

Fill the casserole dish (surrounding the ramekins) with boiling hot water 2/3 the way up the sides so the ramekins are in a water bath. Carefully place in the preheated oven and bake for 30 minutes.

The custard should still be giggly upon removal from the oven. Immediately place in the fridge for 2-3 hours and allow to fully set.

Garnish with bacon, if desired. Enjoy!
Notes
Net Carbs (per serving without bacon garnish): 5g
Nutrition Facts
Keto Custard | Maple Bacon!
Amount Per Serving
Calories 487 Calories from Fat 428
% Daily Value*
Fat 47.5g73%
Carbohydrates 5g2%
Protein 2.5g5%
* Percent Daily Values are based on a 2000 calorie diet.