We have had several requests to make a Keto Cookie Dough recipe so we finally caved and we are really excited to share this recipe with you! It's quick to make since no baking is required and can be adjusted to your liking. Add nuts, berries, or your favorite spices and call it your own. The entire family, keto or not, will love it!
Edible Chocolate Chip Cookie Dough!
I think I can say with surety that we all grew up eating cookie dough either straight out of the tub or during the process of baking cookies. The downside to cookie dough batter is the raw egg, which may or may not be of concern depending on who you are talking to. But, when you make cookie dough intentionally edible leaving out the egg makes it 100% safe for everyone to consume. Chocolate chip cookie dough is what fills both of our cookie dough eating memories so
of course we had to replicate it in a low carb form.
Sadly, This Dough Will Not Make A Keto Cookie
We created this recipe strictly for the feel of eating raw cookie dough without the raw aspect, which means baking these into cookies won't do you any good. You should look at this recipe as more of a fat bomb recipe that you can form into whatever shape you want and relive old memories by eating straight out of the fridge! If you are interested in chocolate chip cookies, however, we have crunchy chocolate chip cookies and chewy chocolate chip cookies for whatever texture you are craving! They would pair great with your morning Bulletproof Coffee.
Chocolate Chip Keto Cookie Dough
This keto cookie dough recipe is our new go to dessert because it brings us back to our childhood. We love to clean up after dinner, pull out a couple of these cookie dough balls and enjoy them guilt free as a fat bomb capper for the end of the night! If you are a cookie dough fan, make this keto cookie dough with your favorite add-ins!


Recipe can be quickly added to MyFitnessPal - Search "KetoConnect - Keto Cookie Dough"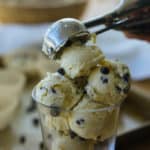 Keto Cookie Dough | Chocolate Chip!
Print Recipe
Instructions
Combine the butter and cream cheese into a large bowl using a hand mixer.

Add in the almond flour, erythritol, stevia, vanilla extract, and pink salt and combine.

Optionally, add in chocolate chips and fold to combine using a spatula. Refrigerate for an hour and then scoop into cookie dough balls.

Enjoy! Store in refrigerator up to 2 weeks.
Nutrition
Calories:
167
kcal
|
Carbohydrates:
2.3
g
|
Protein:
2.3
g
|
Fat:
17
g
|
Fiber:
1.1
g