You'll need a reliable kitchen set if you want the confidence to cook any meal regardless of how complex it is. Buying a complete set is also cheaper than individual utensils.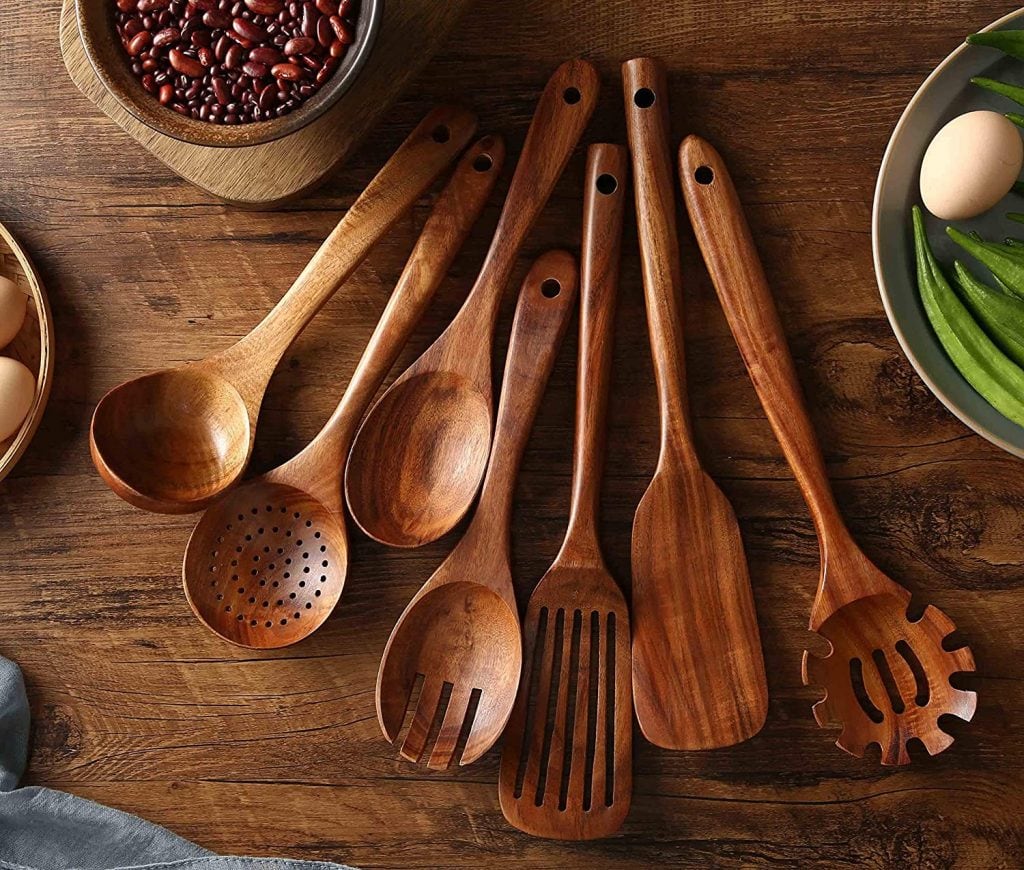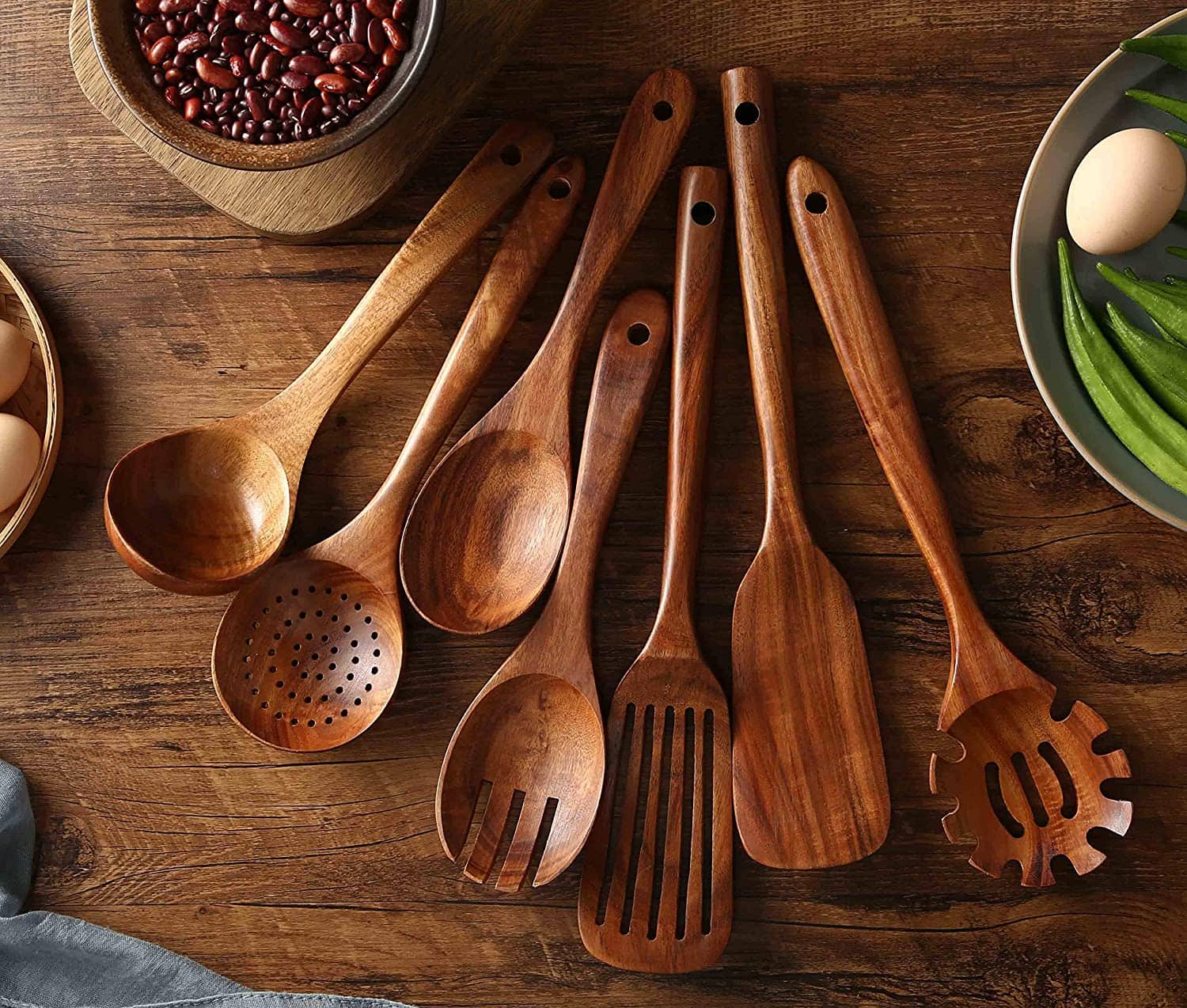 So in this post, I'll cover the best kitchen utensil sets. I'll look at the pros and cons while going through some handy features.
Umite Chef Stainless Steel Kitchen Set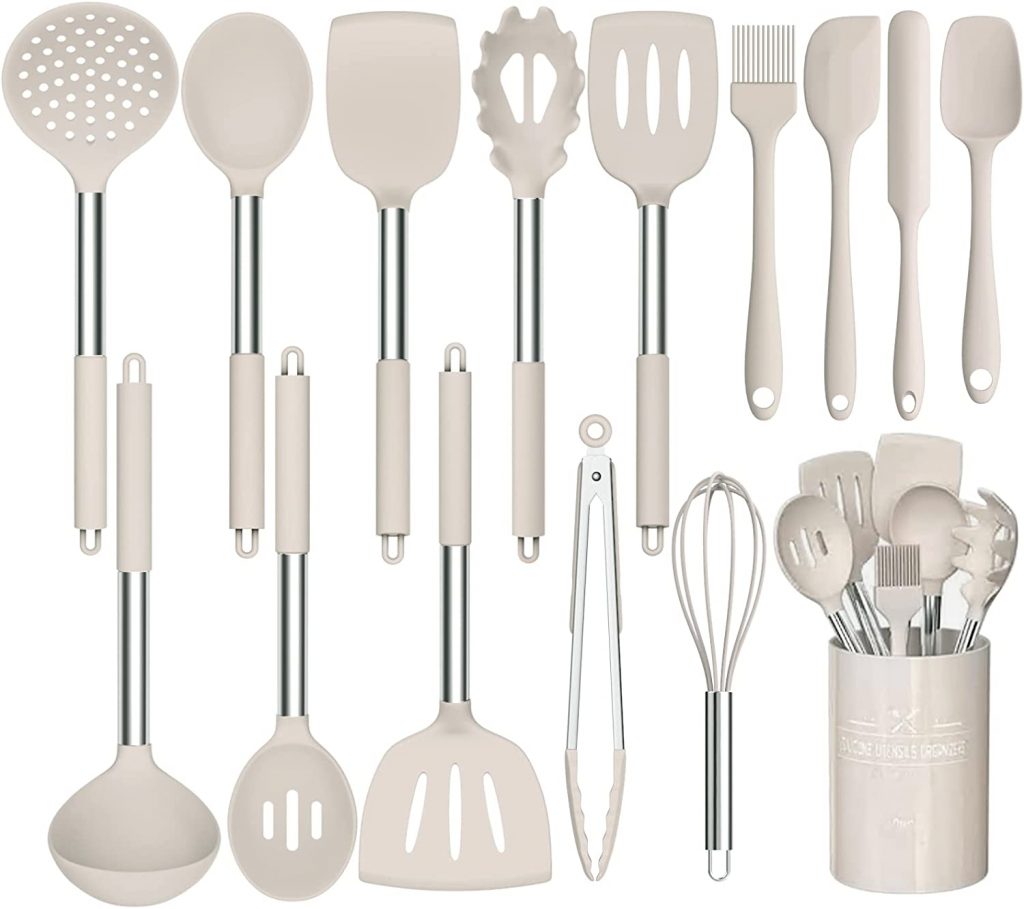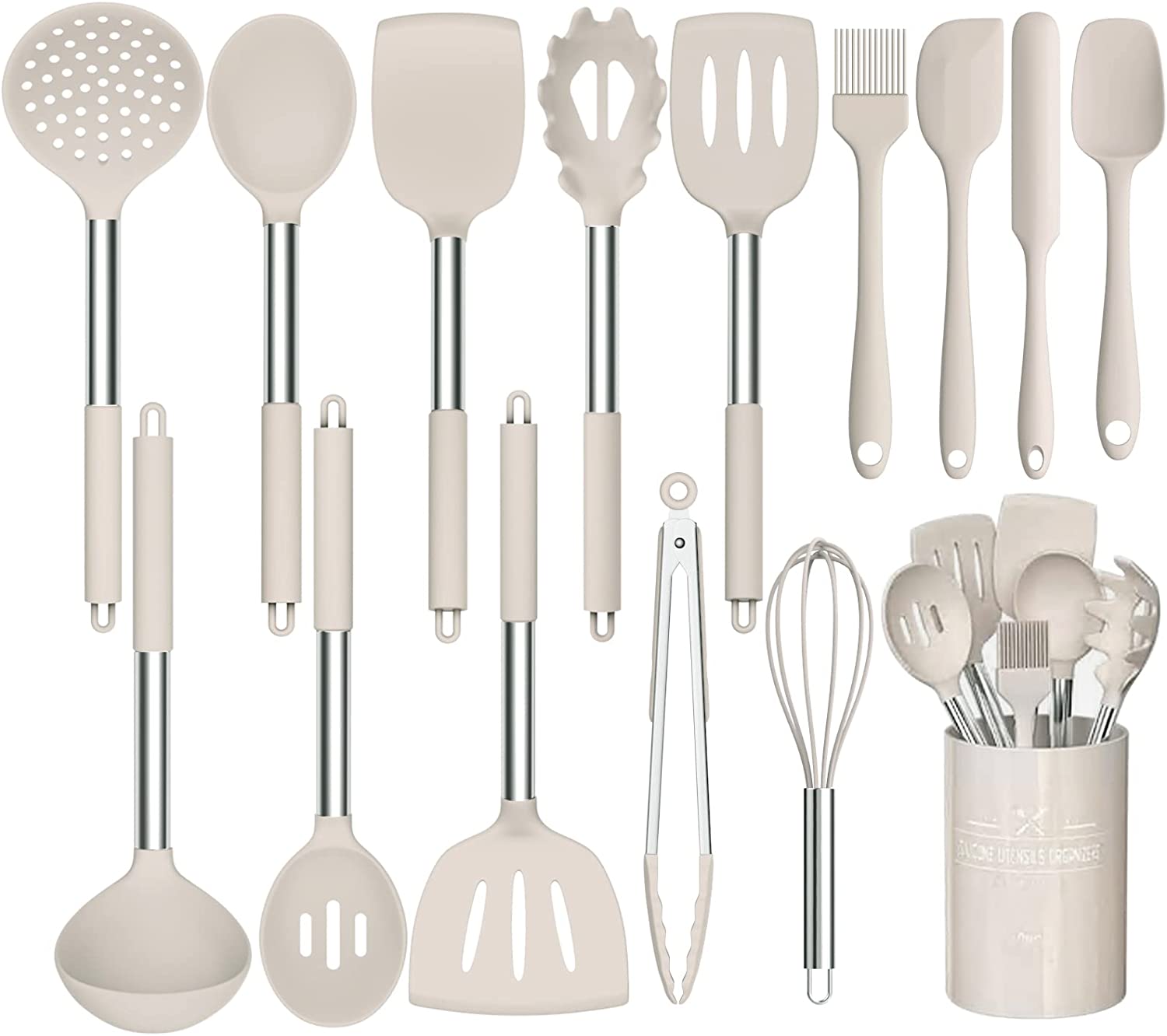 Best For: Cooks looking for a basic yet comprehensive kitchen utensil set that uses high-quality materials.
With this 15-piece Umite Chef stainless steel cooking set, you can make soup, pasta, steak and even use the ice cream scoop to dish ice cream.
It contains stainless steel utensils like:
Solid and slotted turner
Deep soup ladle
Flexible and solid spatula
Pasta server
Egg whisk
Ice cream spoon
Slotted and solid spoon
Kitchen tongs and holder
With all these different utensils, you'll be able to prepare any meal. But what I like about the Umite Chef set is it doesn't contain utensils you rarely need. Instead, it's a helpful baseline. So if you're having guests over and need to make pizza, simply buy a pizza cutter separately.
Umite Chef made this using high-quality 18/8 stainless steel, ensuring your utensils lasts a long time.
The handles and heads are silicone so they won't melt when cooking. If you use cast iron skillets, you'll also have peace of mind knowing it won't scrape and chip your equipment like metal.
After a long day of cooking, the last thing you want to do is stand behind a sink. That's why this stainless steel utensil set is dishwasher-safe. Simply pop it in the dishwasher, and you're good to go.
It comes in different colors like:
Green
White
Black
Mixed
Black and gold
This way, you can match your utensil set with the rest of your kitchen.
Pros
You can make almost any meal with this 15-piece set
It comes in different colors
The set is dishwasher-safe
It uses high-quality 18/8 stainless steel
The silicone won't damage your non-stick pans
Cons
It doesn't offer many baking utensils
AIUHI Wooden Spoons for Cooking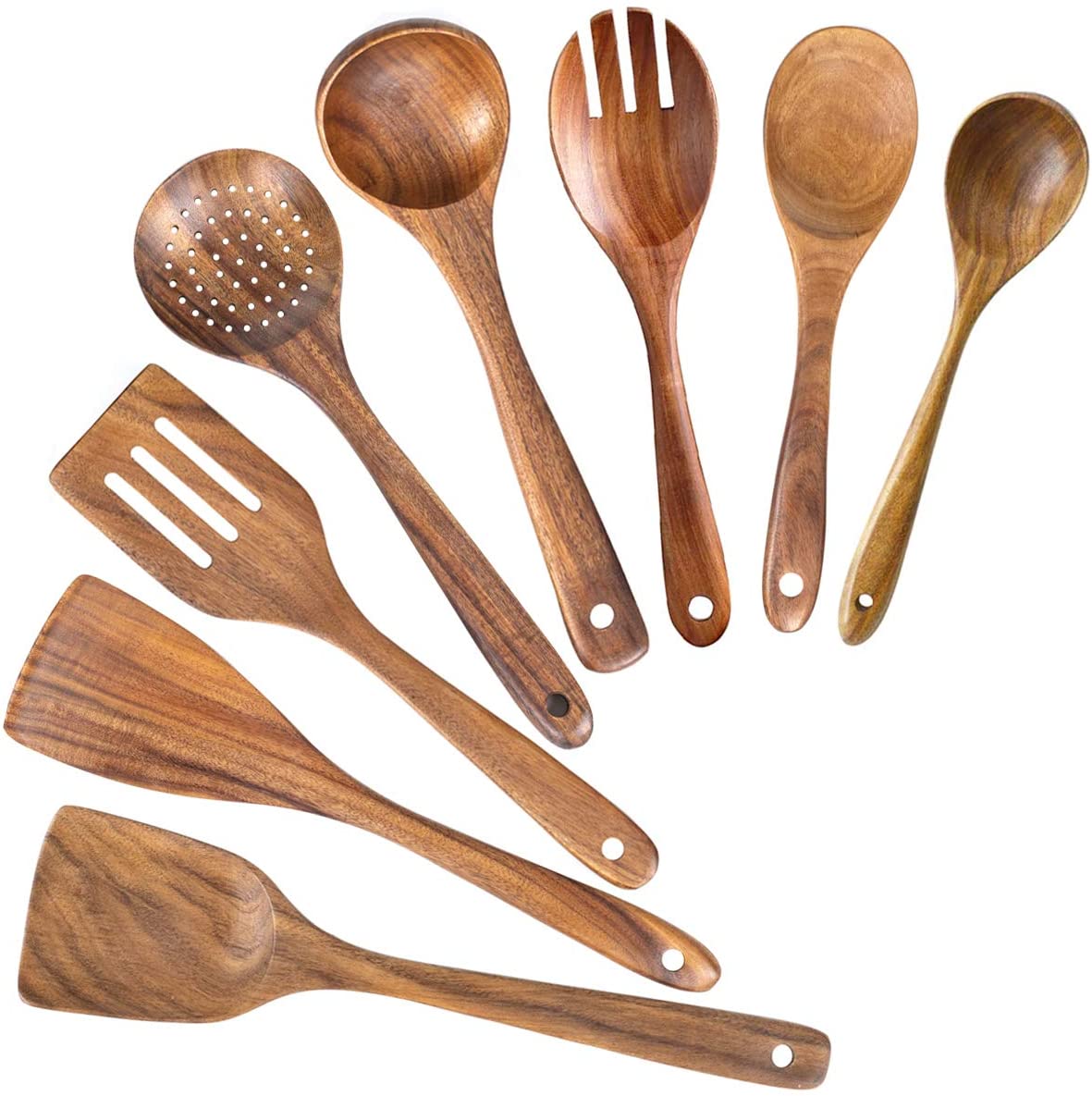 Best For: Anyone who wants an all-natural teak wood cooking set for their kitchen.
This 8-pack AIUHI kitchen set uses all-natural teak wood that's handmade and burnished three times to ensure a smooth finish. Since there are no dents or rough edges, you'll have peace of mind knowing you won't get splinters when cooking.
These are the cooking utensils you'll find when receiving your AIUHI set:
Mini pizza turner
Solid and slotted spatula
Two soup spoons with different depths
Slotted spoon
Pasta turner
A regular wooden spoon
It's available in a 9-pack option which offers a heavy-duty egg whisk.
If you're health conscious, you'll be happy to know that it contains no toxic coatings. The entire set is handmade, so you can use it under high temperatures and chemicals won't seep into your meals.
This benefits your health and the environment. Manufacturers don't emit as much carbon and chemicals into the atmosphere. If you're looking to reduce your carbon footprint, this all-natural kitchen set is a must.
The only downside is that although this set is dishwasher-friendly, AIUHI recommends handwashing it to preserve the wood and make it last longer. So after a long day of cooking, you'll need to wash this kitchen utensil set by hand.
Pros
It doesn't use any dangerous ingredients
The finish is smooth, so you won't get splinters
It's environmentally friendly because the set is handmade and natural
The customer support team will refund you within 24 hours if you don't like the set
Cons
You must handwash it if you want it to last long
Miusco Silicone Cooking Utensil Sets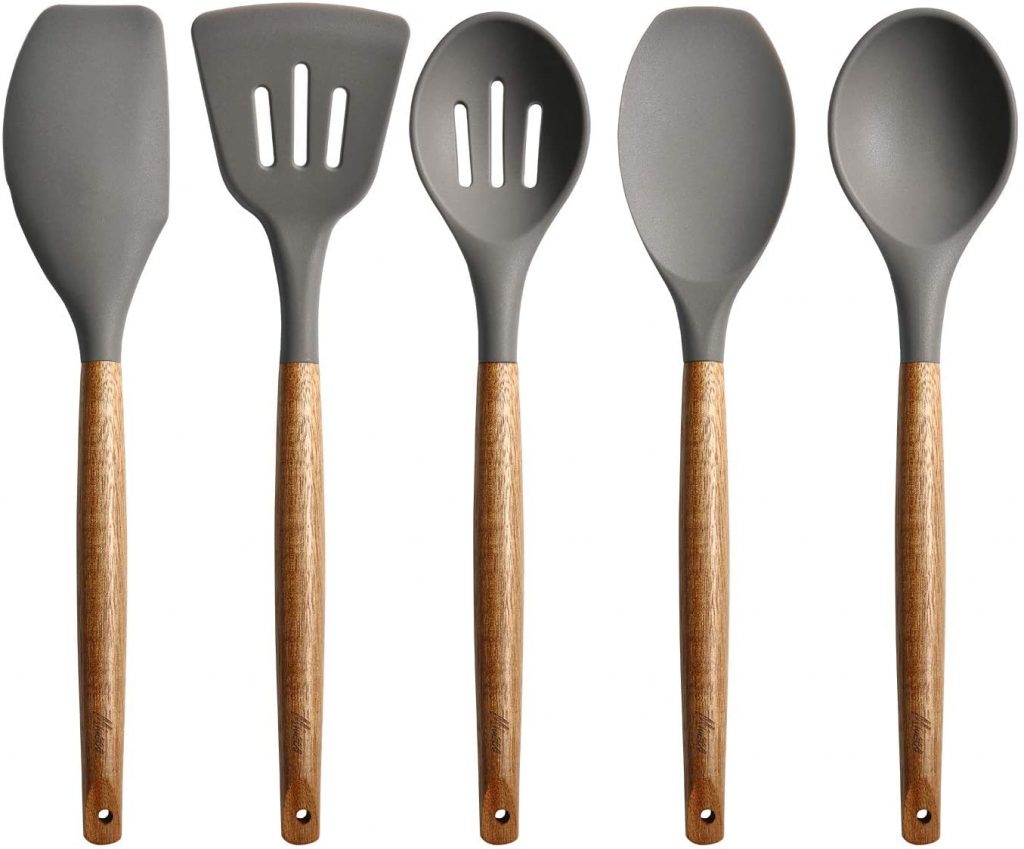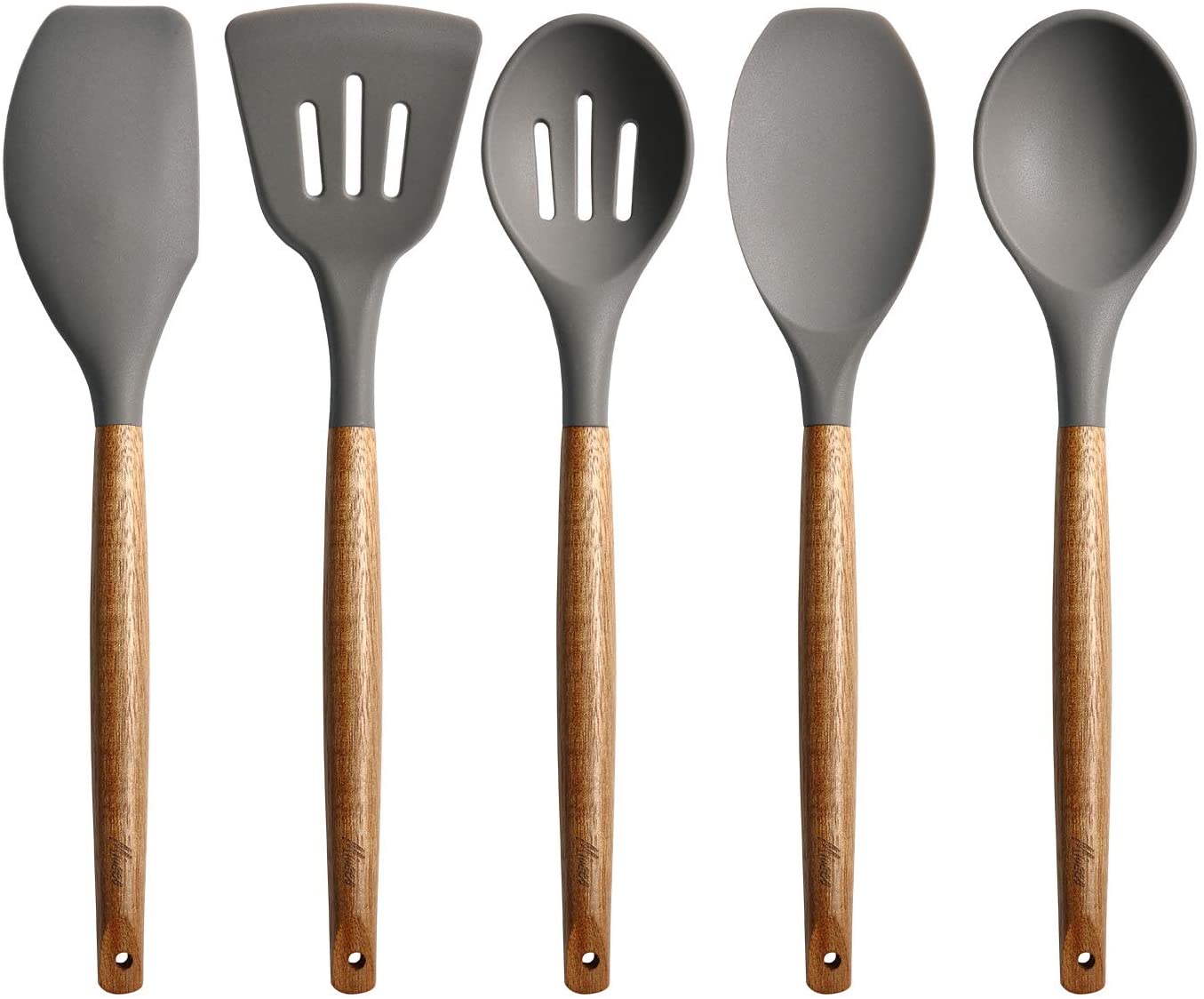 Best For: Health conscious individuals who need a kitchen set that doesn't contain toxic ingredients.
This five-piece Miusco non-stick kitchen utensil set uses silicone heads with natural acacia wooden handles that have a rustic finish. The high-quality materials ensure it'll last a lifetime while being comfortable in your hand, even after hours of cooking.
Here are the silicone kitchen utensils you'll find in this Miusco kitchen set:
Spoon
Spoonula
Turner
Slotted spoon
I feel like it's one of the most comfortable kitchen sets. Because it uses acacia hardwood with a rustic finish, your hand won't hurt.
The weight of these utensils is also balanced. So unlike other spatulas, if it rests in the pan, it won't balance on the handle, preventing the handle from heating up and burning your hand.
You'll find it in different colors like:
Gray
Black
Midnight blue
Red
The silicone is heat resistant up to 464 degrees Fahrenheit. So it doesn't matter what you're cooking; this set can handle the heat. You might think Miusco uses chemicals to make its silicone resistant to high temperatures. But it's all-natural and BPA-free.
Pros
The silicone ends are heat resistant up to 464 degrees Fahrenheit
It's BPA-free, so you aren't damaging your health
The set comes in different colors like midnight blue and red
It's rustic finish ensures a comfortable cooking experience
Cons
It isn't dishwasher friendly
Oannao 14-Piece Silicone Cooking Utensil Set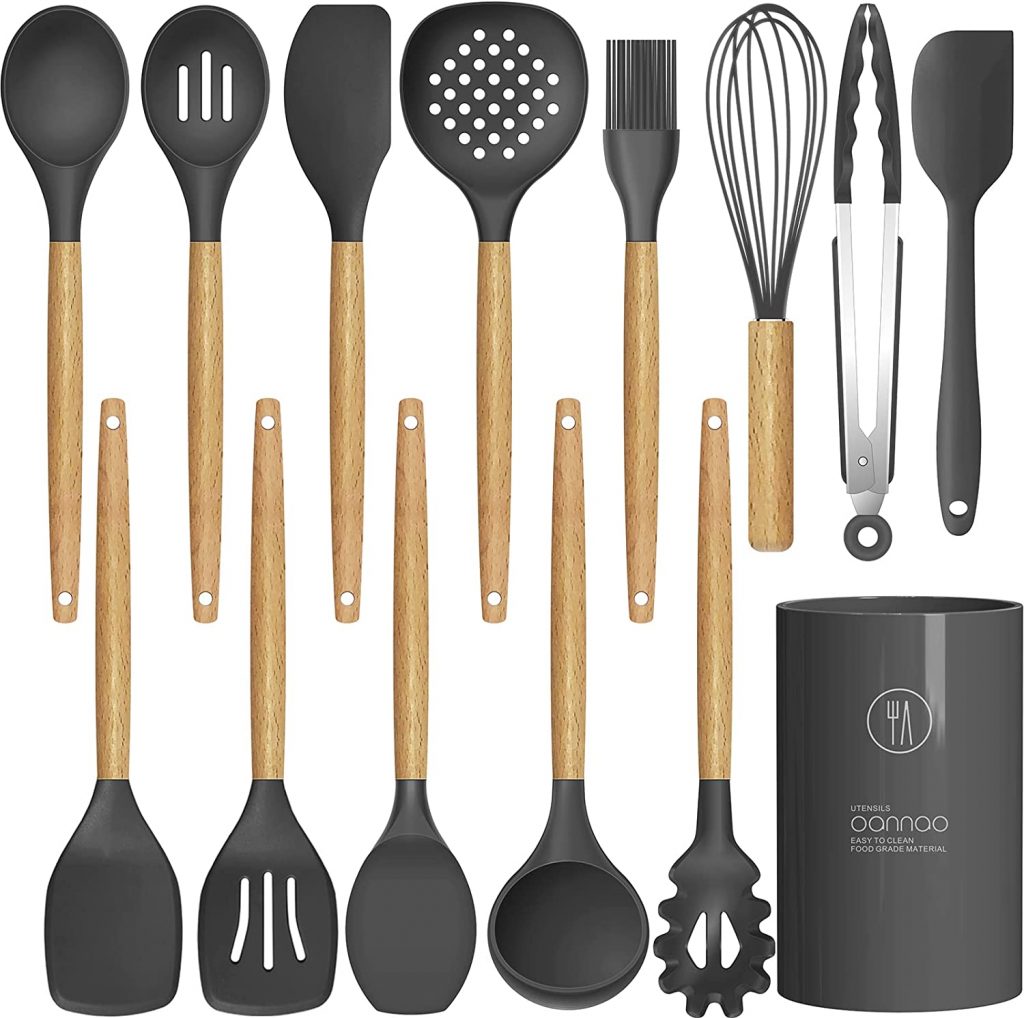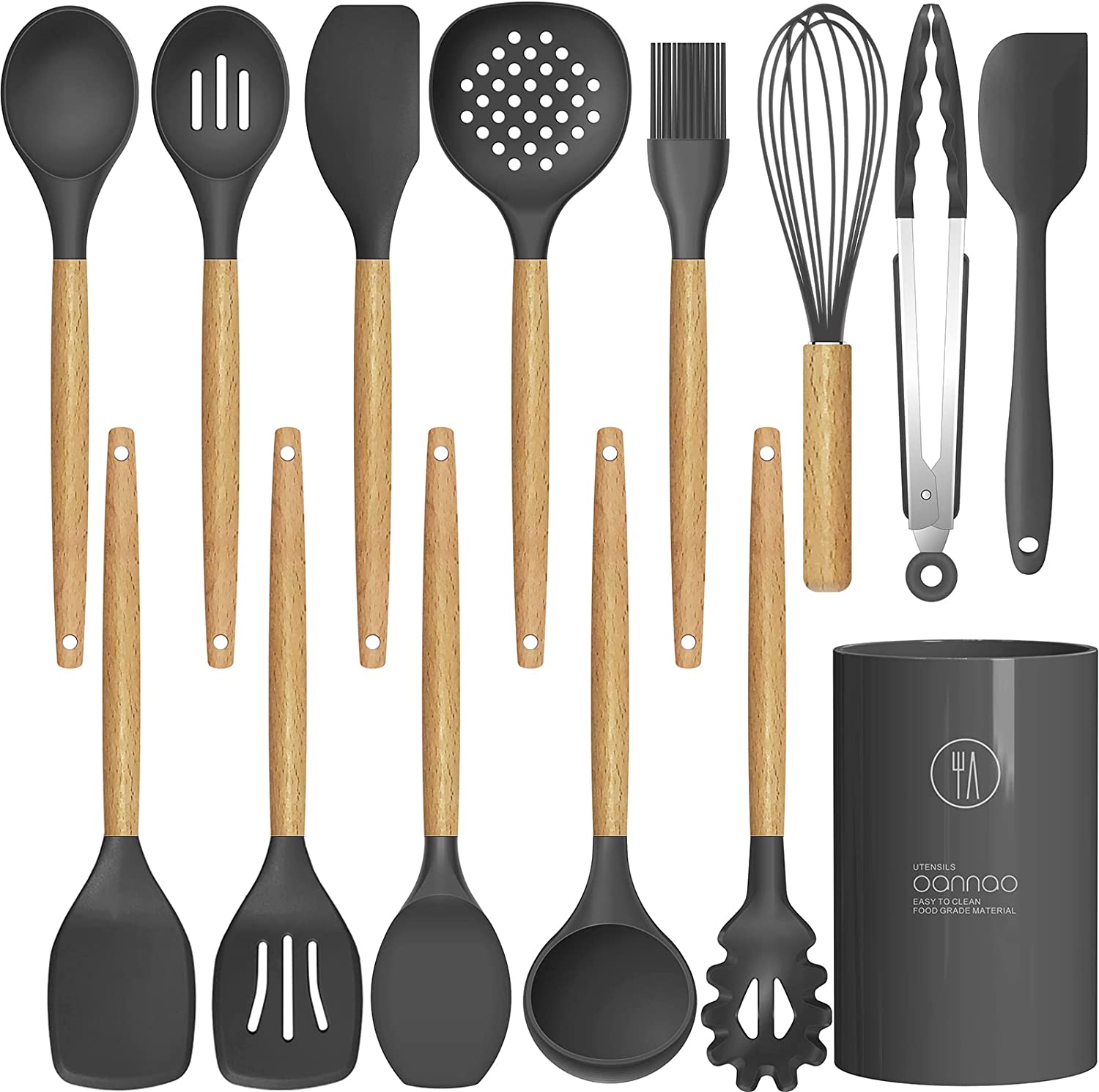 Best For: Home cooks who want spatulas and spoons reinforced with stainless steel so it doesn't warp.
Alongside the Umite Chef, this Oannao set is one of the most comprehensive kitchen sets available. It contains food-grade silicone resistant to over 446 degrees Fahrenheit, so it won't melt or smoke.
The Oannao 14 piece silicone set is my personal favorite for those on a budget looking for good quality kitchen utensils.
Here are the utensils you'll find in this set:
Measuring spoons
Two slotted spoons
Four different types of spatulas for foods like pizza, eggs and cake
Brush
Whisk
Tongs
Soup spoons
Pasta turner
You'll notice that all Oannao pieces have a wooden handle. These handles block heat transfer from the silicone, preventing burnt hands.
The Oannao set is BPA-free, so you can cook with it on high heat and have peace of mind knowing no chemicals are entering your food. It offers nine cooking and four baking utensils with a large utensil holder. So it's a good starting point for both cooks and bakers.
But what sets these kitchen utensils apart is they're reinforced with stainless steel. This keeps the original shape of your tools even after heavy use and high heat. Say goodbye to warped spatulas and spoons.
You'll find it in different colors like:
Pro tip: Before using the Oannoa set for the first time, soak it in hot water for 30 minutes and let it sit in open air for another three hours to eliminate the silica gel smell.
I also noticed Oannoa has one of the quickest responding customer service teams. If you find this set isn't for you, simply contact customer service, and they'll send a refund within 12 hours.
Pros
It contains almost everything you need to cook and bake
The set comes in colors like gray, teal and yellow
It's heat resistant up to 446 degrees Fahrenheit
The wooden handle prevents heat transfer and burnt hands
The customer service team is fast
Cons
It isn't dishwasher-friendly
It's hard to clean
You may also like our guide to the best kitchen timers!
NAYAHOSE Kitchen Utensils Set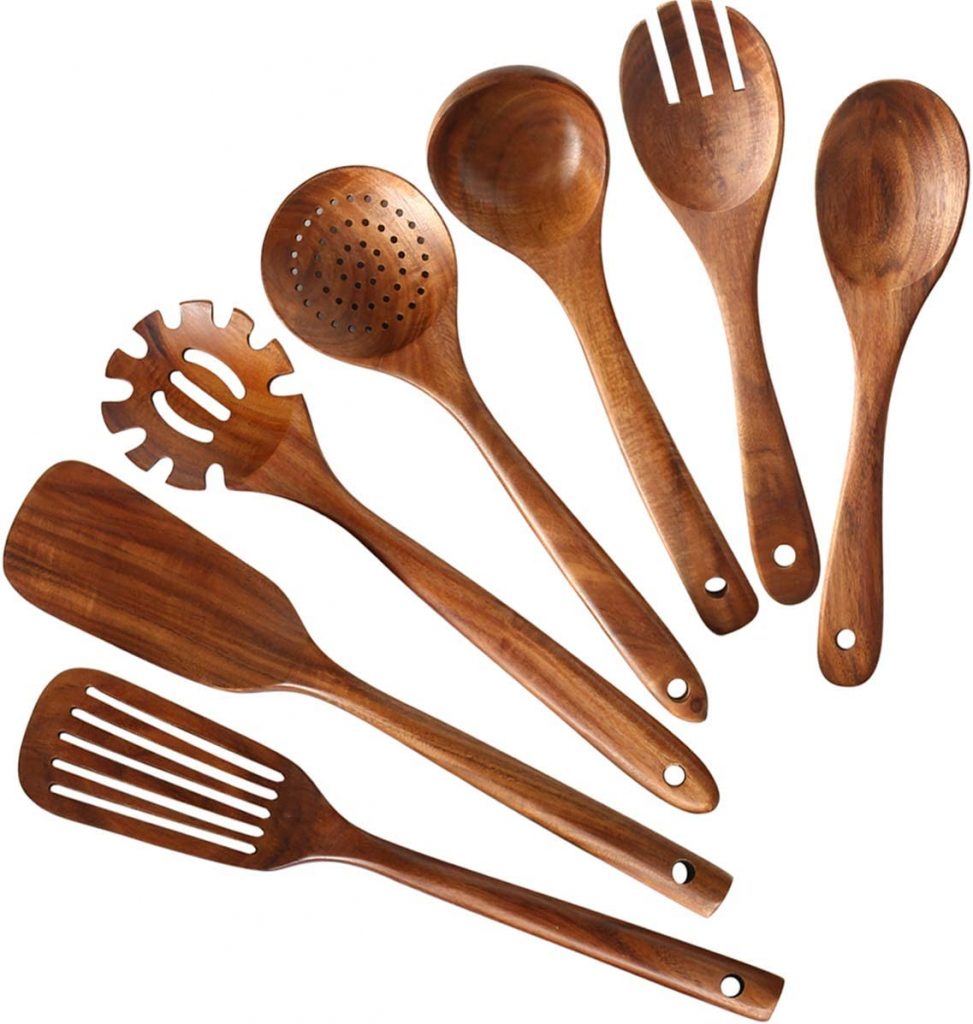 Best For: Those looking for a natural kitchen set that also offers a utensil holder for easy storage.
The seven-piece NAYAHOSE set comes with the option of a large wooden holder. I'd suggest getting this holder because it's only a few dollars extra, and it ensures your set lasts longer since it's stored properly.
It comes with utensils like:
Solid spoon
Slotted spoon
Soupspoon
Pasta turner
Spatula
Cake turner
Utensil holder
NAYAHOSE doesn't use machines when manufacturing this kitchen set. All utensils are handmade with natural wood. So it's friendly to the environment and positively impacts your health because you aren't consuming toxic ingredients like BPA.
It's made from wood, so it won't scratch your kitchenware. This is helpful if you're a cast iron enthusiast. The wood offers another advantage; it can handle almost any heat and won't deposit chemicals into your food.
But I did notice a few drawbacks. First, it stains easily, especially if you're making sauces and soups. These stains are hard to remove, so you'll need to scrub for a few minutes. You can't put it in the dishwasher since it isn't compatible.
It's also prone to wearing and cracking quicker than other options on this list.
Pros
It's perfect for cast iron enthusiasts since it won't damage your cookware
NAYAHOSE uses all-natural wood, so you aren't consuming chemicals
It's environmentally friendly
The hardwood utensil holder makes for easy storage
Cons
It's not available in different colors
You can't pop it in the dishwasher
It doesn't offer many baking utensils
Umite Chef 8-Piece Silicone Cooking Utensil Set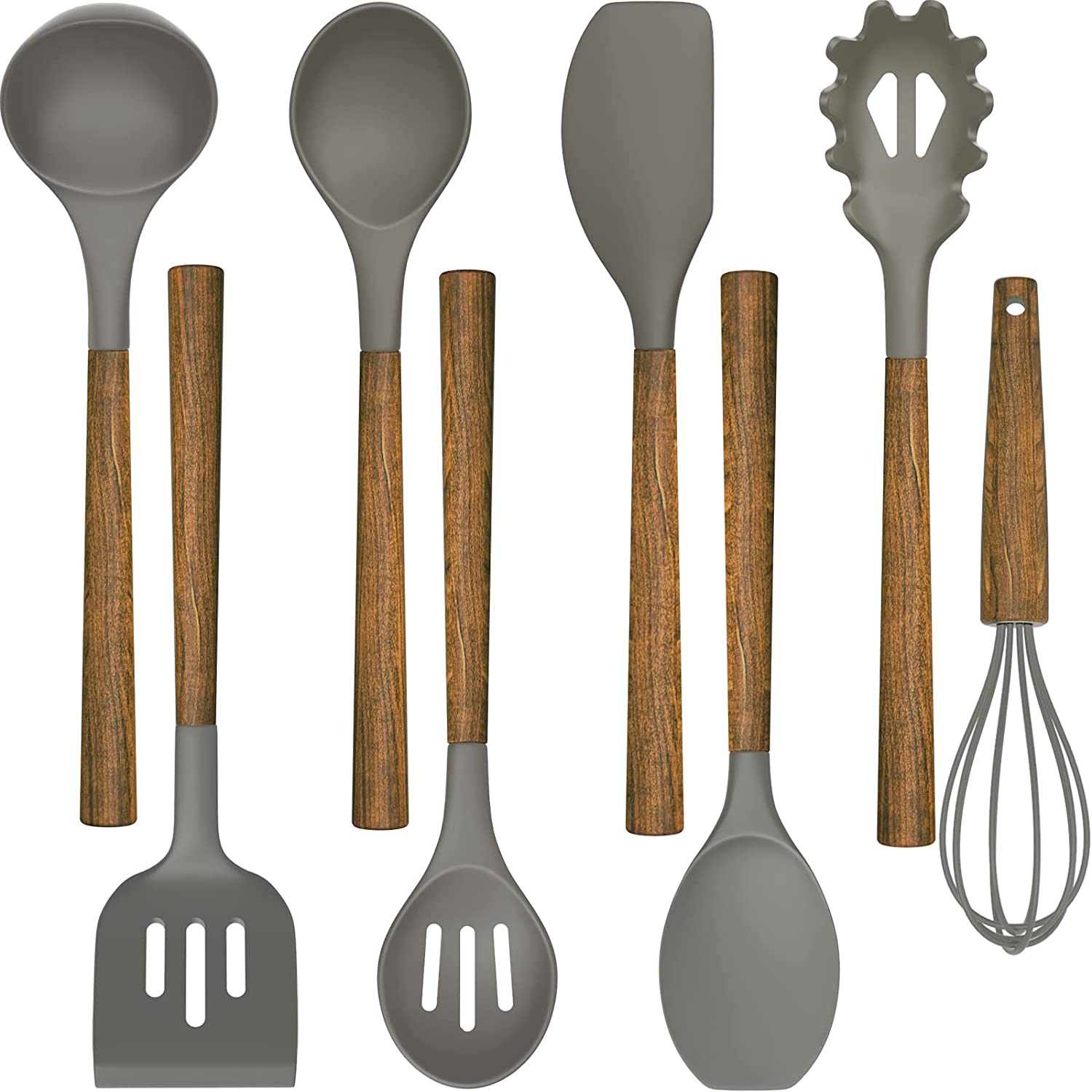 Best For: Cooks who'd like to choose between different colored utensils that match with the rest of their kitchen.
Made with top-shelf acacia hardwood, this Umite Chef set comes with eight pieces. These include:
Ladle
Two serving spoons
Angled spatula
Spaghetti server
Whisk
Soupspoon
Slotted spoon
Because Umite Chef makes this set with acacia hardwood, it'll last longer than regular wooden utensils. Umite Chef even claims it can last over 40 years with proper care and cleaning. So this is potentially the last kitchen set you'll need to buy.
It's available in colors like:
This set won't break or bend under high heat since it's resistant to over 446 degrees Fahrenheit.
With the added silicone, the heads of your spatulas and spoons provide extra softness, making them perfect for preparing scrambled eggs.
The silicone also protects your pan because it won't scratch any non-stick coating.
Pros
The hardwood can last over 40 years
It comes in colors like khaki, gray, black and green
The silicone head protects your cast iron and non-stick cookware
It's heat resistant up to 446 degrees Fahrenheit
Cons
It doesn't offer many baking utensils
What To Look For When Shopping For A Kitchen Utensil Set
Here are some essential factors to consider before buying a kitchen utensil set:
Variety of utensils
Quality of materials
Health profile
Variety Of Utensils
The most crucial factor to consider is the variety of utensils. Before buying a kitchen set, write down what utensils you need the most. For example, if you barbeque regularly, you'll want a set containing tongs. Or, if you're opening canned foods, opt for a can opener.
This way, you won't need to go shopping for additional pieces of utensils.
Quality Of Materials
Next, look at the quality of materials used. Materials react to heat differently. For example, if you have a silicone, metal or wooden kitchen set, feel free to cook on high heat because your utensils won't melt or smoke.
But avoid plastic and nylon kitchenware. They are quick to melt and break. Also, if you're a cast iron enthusiast, you might want to avoid metal spatulas since they can chip your kitchenware.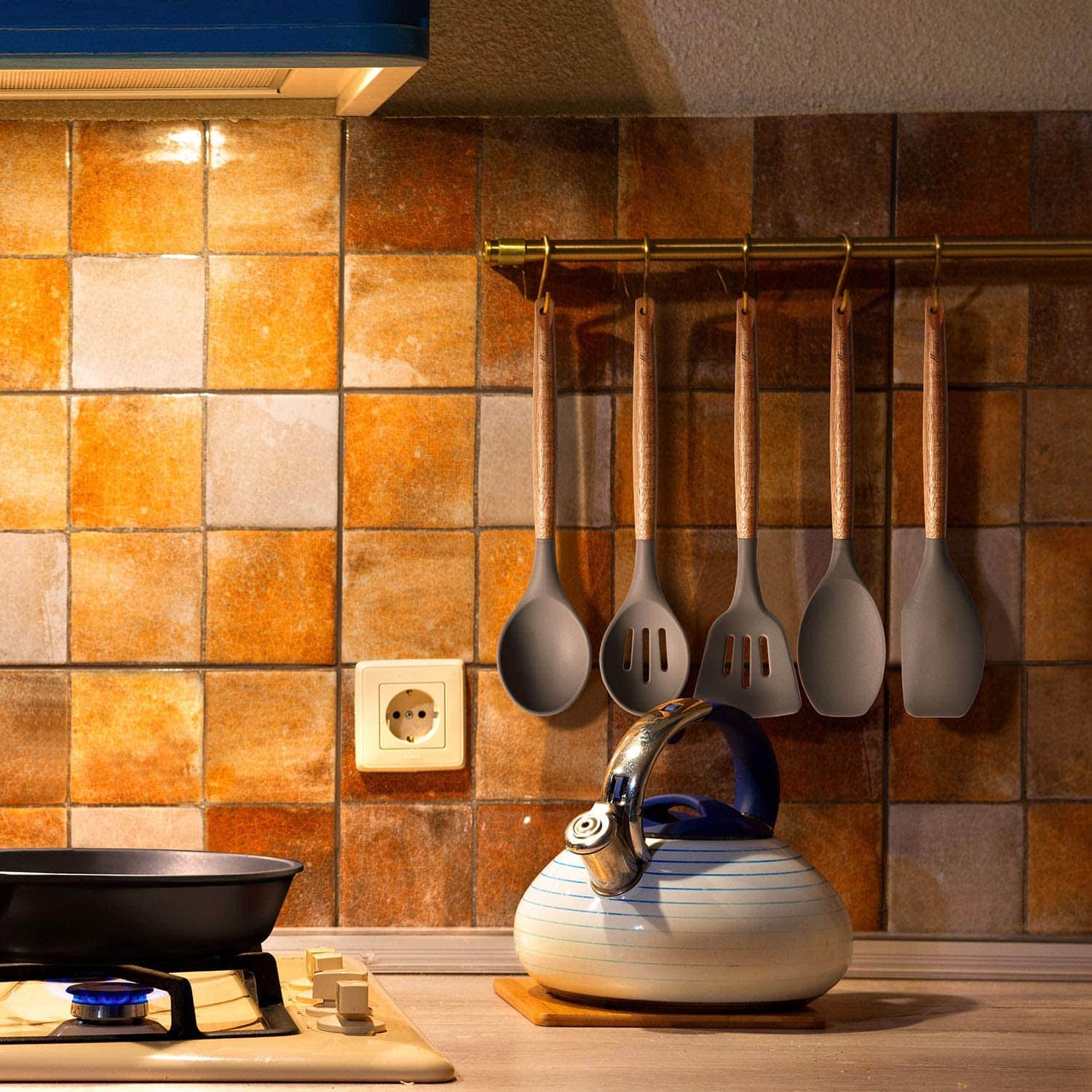 Health Profile
Another essential factor to consider is the health profile. Is your set all-natural, or does it contain BPA and other toxic ingredients? Avoid any brand that uses chemicals to manufacture kitchenware because it harms your health and the environment.
What Are The Benefits Of Using A Kitchen Utensil Set?
Here are some pros to kitchen utensil sets:
Buying a set is cheaper than buying individual utensils
It gives you the confidence knowing you can prepare any meal
Kitchen utensil sets are often easier to clean
It lets you match your utensil set to the rest of your kitchen
You're not consuming chemicals, which improves your health
What Is The Best Material For Kitchen Utensils?
When shopping for kitchen utensils, look for these materials since they are heat resistant and last long:
Wood
Silicone
Stainless steel
You want to avoid utensils that use aluminum, plastic and nylon.
With aluminum, as you use it, it degrades, and your food starts absorbing a small amount of it. Although your kidneys can filter most of this aluminum easily, it'll negatively impact the taste of your food.
Also, stay away from plastic and nylon because they aren't resistant to heat and melt quickly.
Final Thoughts On The Best Kitchen Utensil Set
A good kitchen utensil set lasts for decades, won't break your non-stick or cast iron equipment and doesn't contain BPA or other toxic ingredients.
If you're currently shopping for a kitchen set, opt for the Umite Chef, AIUHI, Miusco, Oannoa or NAYAHOSE sets. They last long due to the high-quality materials and won't adversely affect your health.
Written By