Coffee cake is the perfect breakfast and dessert food. You may be unfamiliar with Drake's Coffee Cakes, but they are mini muffin coffee cakes and filled my childhood with joy! I wanted to relive my childhood favorite with an adulthood favorite twist, which is how we created this carrot cake Keto Coffee Cake. It's perfect for breakfast, a midday snack or even the holidays!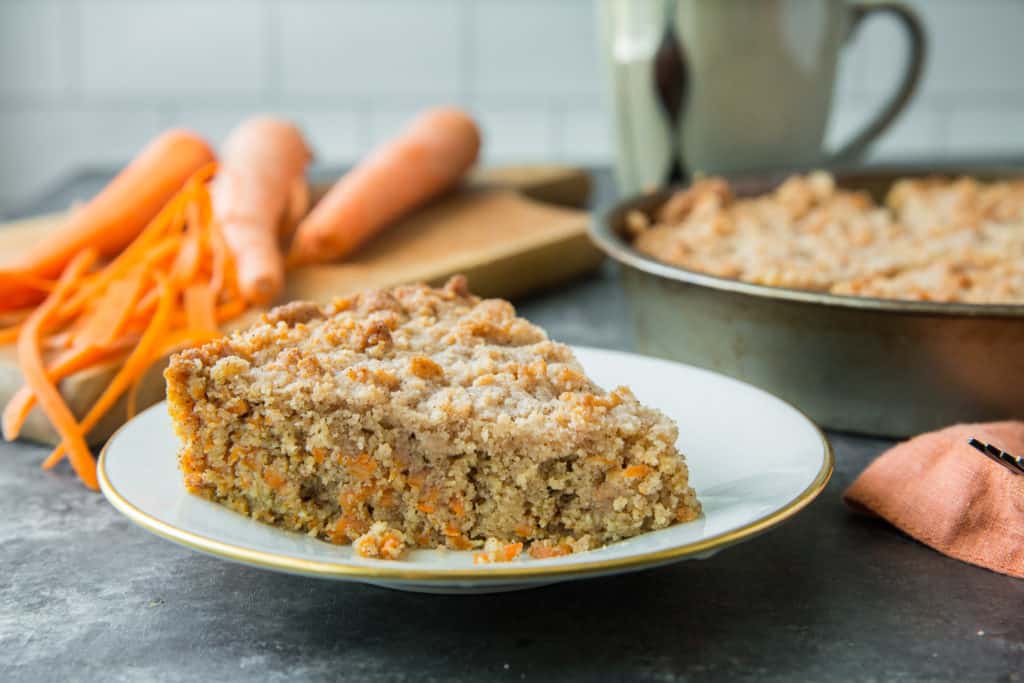 Low Carb Desserts
A lot of people ask us why we make so many dessert recipes, and truth be told we've found over the past several years that is what the people want! Of course, sticking to whole foods and cutting out anything processed or easy to over indulge in, such as desserts is likely ideal, it's not always possible or sustainable.
You want this to be an enjoyable, life long way of living, and including desserts is okay. Some of our favorites are:
Make A Moist Cake Every Time
The combination of almond flour and coconut flour is what gives you a perfectly balanced, moist every time, cake. The ratio is usually 4 to 1 as the small amount of coconut flour is just enough to make the cake dense and prevent it from falling apart. As you work more with low carb flours you'll learn the perfect ratio and when to use which one.
Coffee cake should always be as moist and dense as possible, which is what makes a higher almond flour to coconut flour ratio perfect for this recipe. This cake is right around a 6 to 1 ratio which is preferable for cake, whereas a bread loaf like our Keto Garlic Bread is closer to a 4 to 1 ratio. Don't be afraid to play around with your ingredients!
The Crumble
When your baking something with a topping like this recipe or our low carb pumpkin crisp, keeping an eye on the topping when baking is essential. Burnt almond flour can ruin a perfectly dessert, so here are a couple tips:
Bake at a lower temperature for more time. And, make sure you keep an eye on it so it doesn't burn.
Don't overwork the topping. You want to end up with a sand-like consistency, but overworking it could lead to melted butter and a paste-like consistency.
Get creative with your topping. We've given you the perfect base, but feel free to add in chopped pecans or walnuts for a little crunch.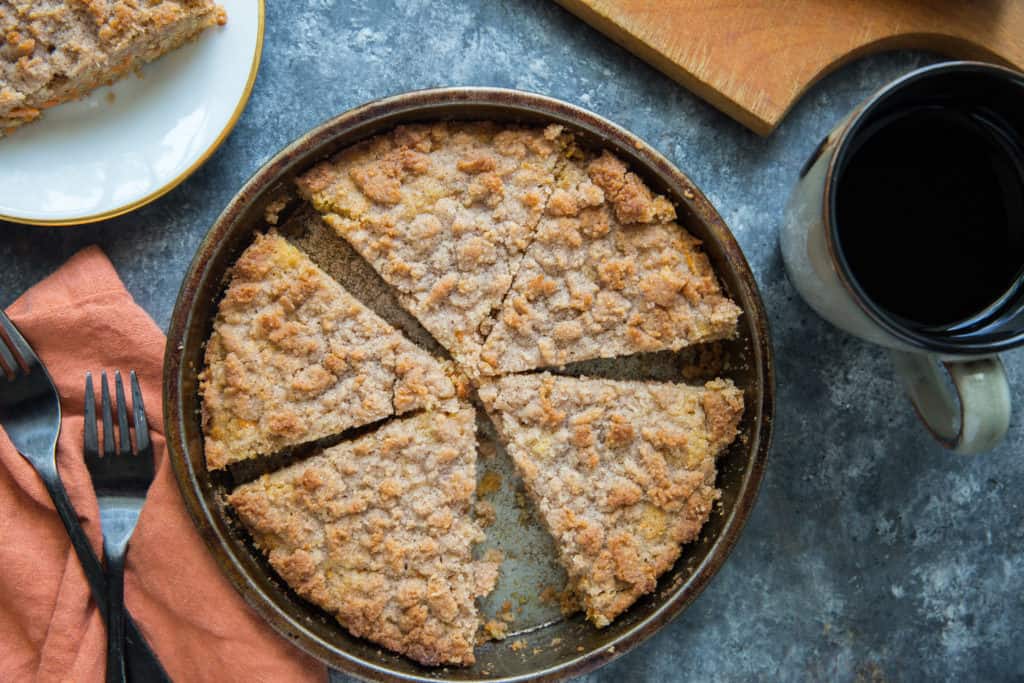 Let It Cool
Allowing your dessert to cool prior to removing or transferring is essential to baking keto desserts. We learned pretty early on that if a keto dessert doesn't properly cool it will crumble and break apart, including this keto coffee cake. For anything large in size, like a cake or loaf, you wan't to give it at least 15-20 minutes to rest prior to transferring and serving. If you are making smaller portions, like cookies or muffins, you get a little more leeway because 5-10 minutes of resting should do the trick!
Keto Coffee Cake For Breakfast!
Eggs are always the go to for breakfast because they are easy and filling, but what about when you get tired of eating the same old thing? Well, you need a change up and this keto coffee cake is the perfect way to make that happen. You can bake one on Sunday and have it prepped for the week ahead. Maybe even make two and freeze one or bring it to work to share!
Our Favorite Holiday Recipes
This keto coffee cake would be perfect for any holiday of the year. The first that comes to mind is Easter, but I would probably make this for Thanksgiving and Christmas – it's that good! Looking for more
Thanksgiving:
Christmas:
Be sure to check out our desserts section on our food blog for more recipes!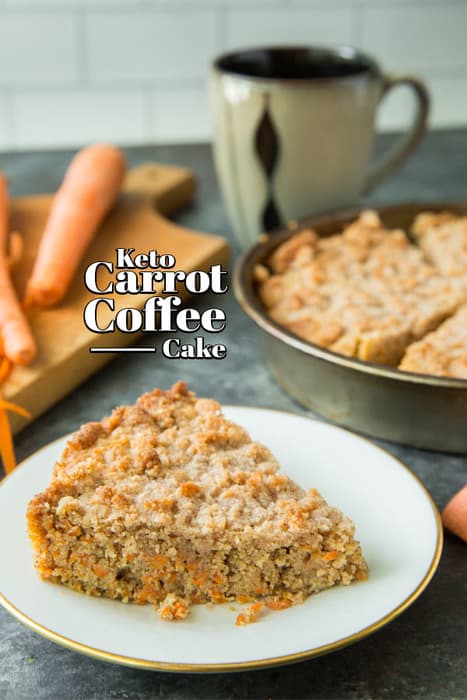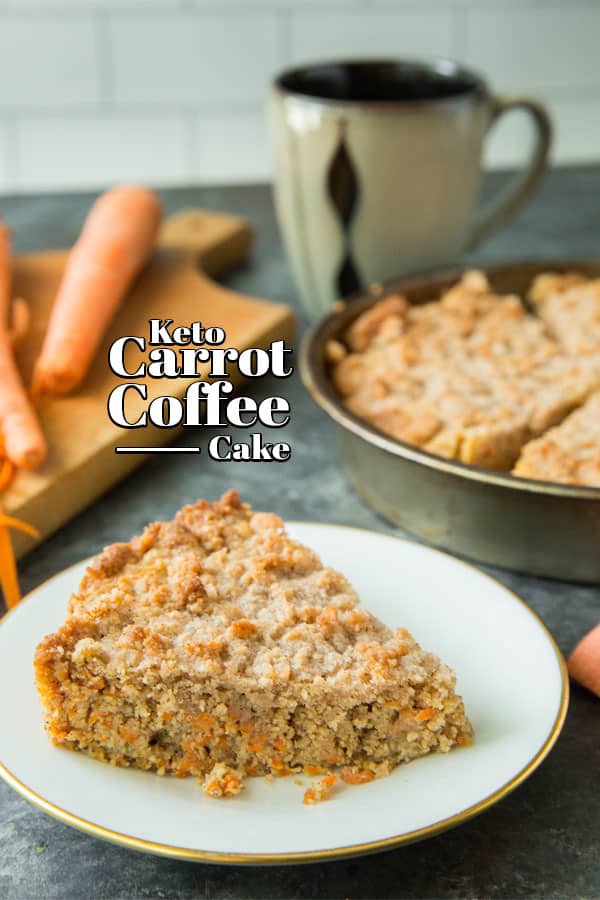 Recipe can be quickly added to MyFitnessPal – Search "KetoConnect – Keto Coffee Cake"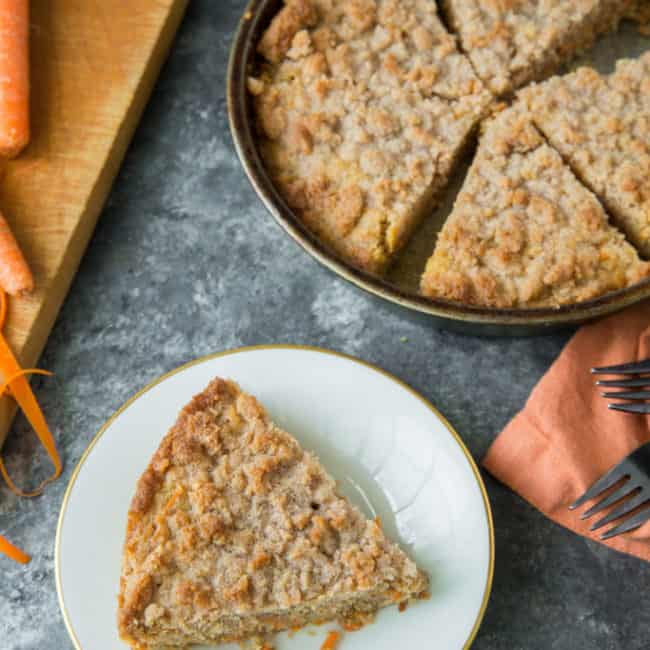 Keto Coffee Cake
Cinnamon Carrot cake topped with a buttery cookie crumble.
Servings 8 Slices
Calories per serving 282kcal
Prep Time: 10 minutes
Resting Time: 15 minutes
Cook Time: 35 minutes
Instructions:
Preheat your oven to 350°F and grease an 8-inch round cake pan with coconut oil spray or line with parchment paper.

Shred the carrot and set aside.

In a large bowl add erythritol, stevia, melted butter, and eggs. Combine using a whisk.

Add in the shredded carrot, almond flour, coconut flour, cinnamon, baking soda, and salt, and combine one more.

Spoon the batter into the greased or parchment lined round 8 inch round cake pan and set aside while you make the topping.

Make the topping by adding all the ingredients to a mixing bowl and combining with a spoon or your hands.

Sprinkle the topping over the batter and bake for 30-35 minutes.

Use a toothpick to test doneness. Allow to cool for 15-20 minutes prior to transferring and slicing.

Best stored in an air tight container int he fridge up to 10 days.
Notes
Net Carbs (per slice): 3g Serving Size: 1 slice Yields: 8 slices
Nutrition Facts
Keto Coffee Cake
Amount Per Serving
Calories 282 Calories from Fat 243
% Daily Value*
Fat 27g42%
Carbohydrates 6g2%
Fiber 3g12%
Protein 6g12%
* Percent Daily Values are based on a 2000 calorie diet.
Written By