The holiday season is getting closer, which means it's time to try out new dessert recipes to please your guests and family! This easy to make keto low carb pumpkin bread has all the things you love about pumpkin pie, with a rich and creamy cheesecake going through the center.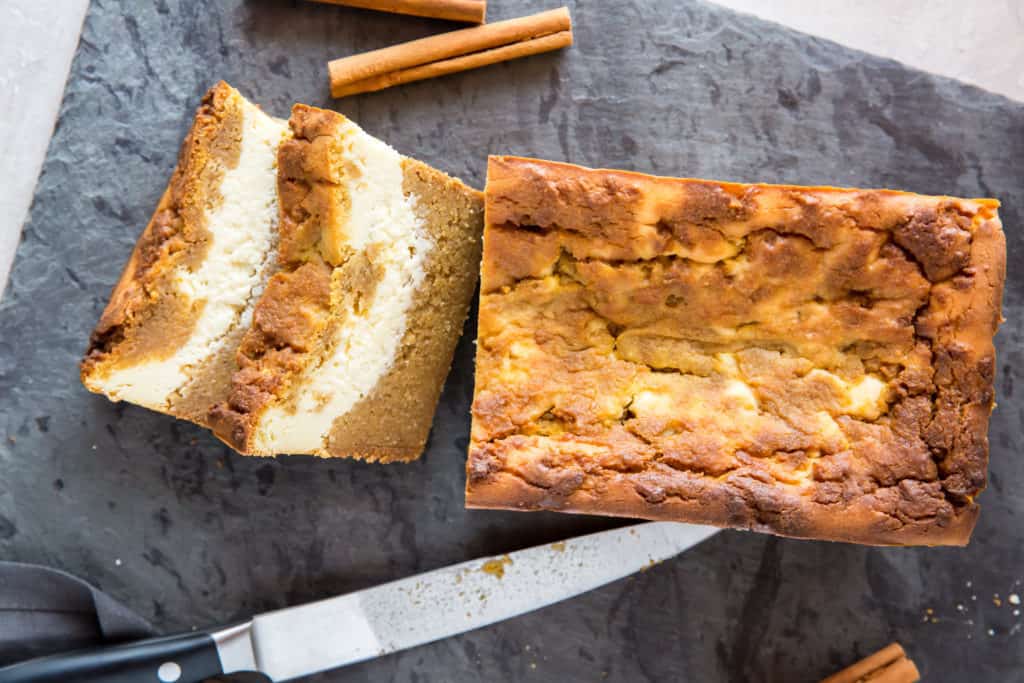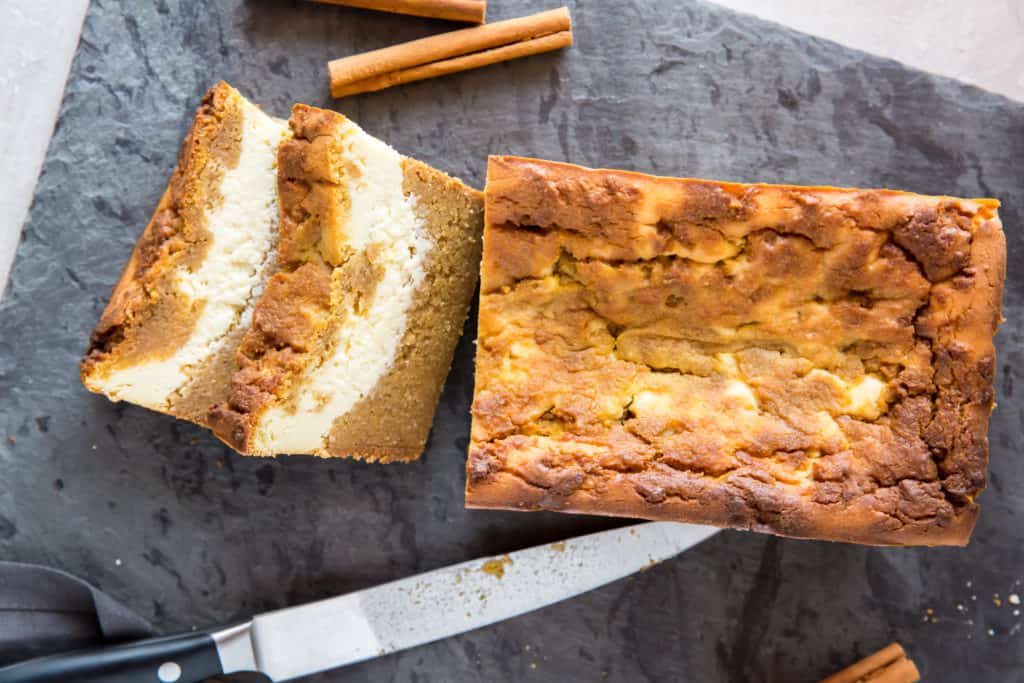 This recipe also uses a flour mixture of almond flour and coconut flour so it's gluten-free, which means that all your family members can enjoy it regardless of their keto meal plans. This pumpkin bread recipe will quickly become a family favorite! They will thank you so much for showing them this creative keto pumpkin bread.
The Best Keto Pumpkin Bread
What separates this pumpkin bread recipe from all the others? Well for one, it has a smooth cheesecake center that adds a great contrast to the keto pumpkin bread. But that's not the only thing that makes it special, as this recipe uses almond flour and coconut flour in place of regular flour, making it gluten-free.
Additionally, this recipe calls for stevia to act as the sweetener to make sure that it's sugar-free as well. With the one cup pumpkin puree and pumpkin spice flavor in the keto bread, you can get the pumpkin flavor of fall in one easy to make keto dessert! It's like two recipes in one, plus you can add chocolate chips to the cheesecake portion, although that will mean it's not sugar-free anymore unless you get special chocolate chips.
More Keto Bread Recipes
It's useful to have a few keto low carb recipes on hand for both sweet and savory dishes, and we got all the recipes you need. All you need is a loaf pan and the options are limitless to start keto baking. Our Best Keto Bread recipe uses almond flour and baking powder to get a nice rise, and it uses stevia as a sweetener so it's also sugar-free. You could also use monk fruit as a sweetener, but the results may vary. Just put a little almond butter on it and you're guaranteed to be satisfied.
If you want bread with a little more flavor, you can try our savory Keto Coconut Flour Bread, which uses rosemary plus onion and garlic powder to give it an extra kick. This bread recipe is one of our favorite keto bread recipes and goes great on its own or it can be used for sandwiches. For something a little sweeter, maybe try our Keto-Friendly Cream Cheese Bread, which would go great with cream cheese frosting.
Another sweet option is our Chocolate Chip Zucchini Bread recipe, which would also go great with low carb cream cheese frosting. Next time you make this recipe, if you modify some of the ingredients, you could even turn it into a banana bread recipe. All our low carb recipes use almond flour and coconut flour with baking powder so you can stick to your low carb keto diet. They also pack a healthy portion of butter to make each dessert cuisine rich and flavorful.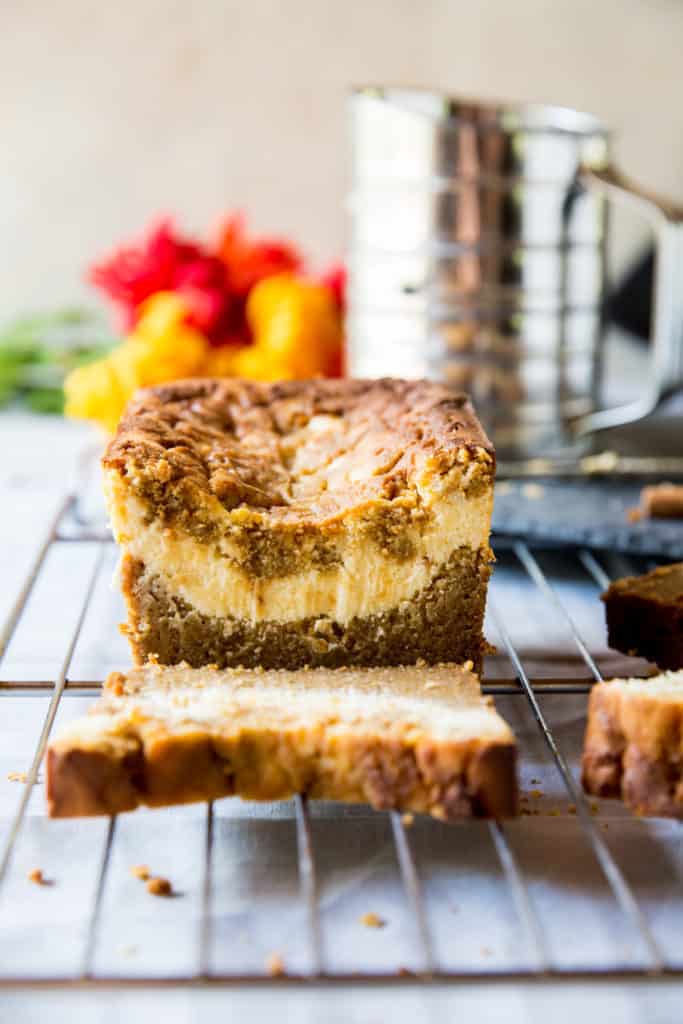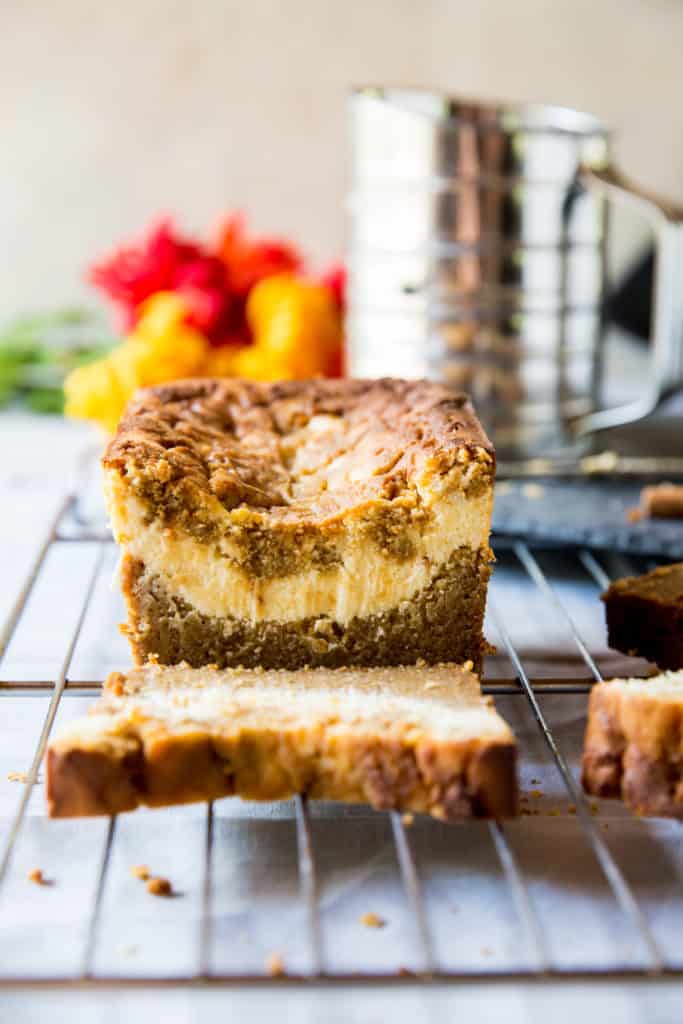 Is Pumpkin Really Keto-Friendly?
Although canned pumpkin puree has some carbs, it can still be considered keto if it's in moderation. A cup of pumpkin puree has around 7g of carbs, which isn't horrible across an entire dessert and will be relatively low carb per serving. The net carbs in this are relatively low, so you can still stick to your keto meal plan Make sure to use plenty of pumpkin pie spice to give this keto pumpkin bread recipe plenty of pumpkin flavor.
Also, make sure that you are using pumpkin puree and not pumpkin pie filling, which has a ton of added sugars. You can add ingredients like stevia or erythritol sweetener if you want it to be just as sweet, and the pumpkin pie spice will give it all the added flavor it needs. Plus, there's enough butter to give it that rich taste that everyone wants in a keto pumpkin bread recipe.
Sweeteners to Use in Place of Sugar
There are a lot of sweeteners you can use in this gluten-free easy keto pumpkin bread recipe. Stevia, monk fruit, coconut sugar, and erythritol are all fine options, but not all grocery stores will carry them. We have a more comprehensive list of artificial sweeteners to use in your keto-friendly recipes if you want more information. The important thing is that you avoid sugar, as sugar has a ton of carbs that isn't very helpful for keto baking.
Need More Keto Pumpkin Recipes?
Since fall is here, you may want more keto pumpkin recipes to go along with your low carb keto pumpkin bread. Most of them use either pumpkin puree or pumpkin spice to achieve the desired fall flavor. And all these recipes use almond flour or almond meal so they are gluten-free as well.
It's easy to stick with keto meal plans with these recipes that are low in net carbs, so try these keto recipes out next time you want to bake something with that pumpkin/Autumn flavor. In some of these recipes, you can substitute the almond flour or coconut flour for sunflower seed flour, but this is usually more difficult to find. The pumpkin spice latte is a perfect addition to any breakfast.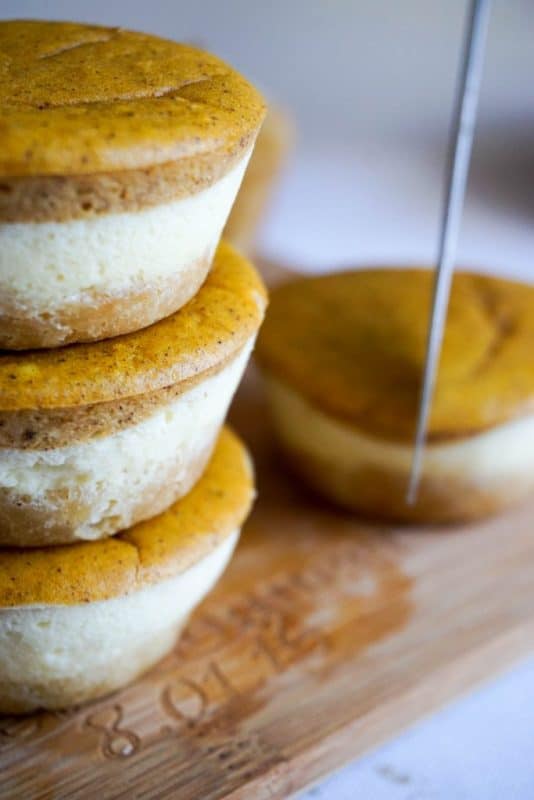 An Autumn Favorite
Pumpkin bread was a family favorite of ours every Autumn, but it was never low carb keto bread. Grandma always loved putting pumpkin puree into a lot of things she baked, and pumpkin bread was one of them. She had several bread recipes for all sorts of desserts like zucchini bread, banana bread, and more, but she always used a ton of sugar so it was never low carb (although it was, admittedly, delicious). Her bread recipes also contained gluten, as this was long before the gluten-free trend began.
I don't even think grandma knew that coconut flour existed, and perhaps it didn't back then. Although she did always go heavy-handed with the pumpkin pie spice and butter so her bread was always packed with flavor. I do give thanks for the recipe card she handed down to me, but a good bit of work has to go into it to transform them into keto recipes.
I remember sitting at the table as a kid, as the array of aromas would waft out of the kitchen. Back then, I had almost no baking experience so everything was new and exciting. Neighbors from across the street used to come over just to have some of grandma's famous pumpkin bread. Of course, I always got a few smacks from grandma as I tried to open the oven door and peek inside.
"You're letting all the heat out! It will never bake at this rate!" grandma would say. And right she was, but of course, a child doesn't have the patience necessary to wait for the delightful smelling creations. Lucky for me, it was easy to get distracted by all the other things going on in the kitchen as she prepared the rest of the meal.
The whirs of a mixer, the sizzle of a frying pan, and the kneading of doughs were all plenty exciting enough to make the time go by quickly. Next thing you know, 15 minutes would pass and grandma moved on to work on another part of the meal. Another 15 minutes would pass, and then another, and another, and before you even know it the food would be ready.
After a few hours would pass, it was always amazing to see the ensemble of different foods all set up on the table and ready to be eaten. As a symphony of aromas and spices filled the air, the excitement for the meal was visible on everyone's faces. We had all been waiting the entire year for this one ephemeral moment. The meal would only last for an hour or so, but it contained enough flavor to create a memory that would last forever.
Now you can take grandma's delicious pumpkin bread and give it an upgrade by adding a cheesecake center. Move over zucchini bread, because there's a new favorite dessert in town!
Recipe Tips
Although this keto pumpkin bread recipe is easy to make, to make this keto pumpkin bread you need to make sure you have the right equipment, First off, you're going to want a mixer to blend the cheesecake filling as well as the gluten-free bread mixture. You can blend the almond flour, coconut flour, pumpkin spice, and other ingredients by hand, but a mixer will save you a lot of time and effort when you blend it.
You'll also want to make sure the cheese is at room temperature before mixing so that it's more pliable. Although the recipe doesn't call for it, you can also add a 1/2 tsp vanilla extract to the cheesecake mixture. Vanilla extract will give it a hint of vanilla flavor, so it may be an ingredient you'll want to use.
You'll also need one loaf pan, but you may need an additional loaf pan if you want to make two of them (and trust me, your guests will want several pumpkin bread servings so this may be a good idea. It Is also recommended that you line the loaf pan with parchment paper so that it comes out clean. If you don't have parchment paper, make sure you grease the loaf pan with 2 tsp of coconut oil or butter so the keto pumpkin bread comes out clean.
You could also try to make easy keto pumpkin muffins by using a muffin tin instead of a loaf pan, but parchment paper won't be easy to use to line the tray so use 1/2 cup coconut oil or butter depending on how many pumpkin muffins you want to make. If you're only making a few, then use less than 1/2 cup coconut oil and only use as much that is needed to lightly grease the tins. This might be a better option for you if you are baking out of a toaster oven as muffin tins are smaller.
If the top of the keto pumpkin bread begins to brown too quickly in the oven, cover it with aluminum foil. Aluminum foil will absorb some of the direct heat, so the energy will be dispersed and lessen browning
After you're done with baking, you should let the keto pumpkin bread rest for 1.5 hours to allow it to cool completely to room temperature before cutting into it. If you don't let it cool completely, it is likely to fall apart when you serve it, and time 1 hr should be good, but you may want to wait an extra 30 minutes just to be safe.
Step-by-Step Keto Pumpkin Bread Recipe Guide
To start with, you're going to preheat your oven to 325 degrees Fahrenheit. 325 is a relatively cooler heat when it comes to baking, and it is important to bake at this temperature so that the inside bakes evenly before the outside gets too hot.
You will also want to make sure that your oven rack is in the bottom third portion of your oven. This may seem trivial, but it is the coolest part of the oven and it will help to prevent the crust from browning too quickly. As your oven is preheating, you can begin prepping the rest of the ingredients.
You're going to want to start the cheesecake mixture before the rest of the pumpkin bread. For this step, all you have to do is combine all the ingredients in the cheesecake portion of the recipe (cream cheese, egg, erythritol, 1/4 cup sour cream, and stevia).
To make this easier, you should set out your cream cheese a few hours beforehand to let it soften. I personally set out the cheese overnight so that it is as soft as possible, but this is not completely necessary to get it soft enough. If it isn't soft, then it will be much harder to mix it and incorporate all of the ingredients. Once your mixture is finished, set it aside so you can begin working on the keto pumpkin bread.
You are then going to want to spray a 9-by-5-inch loaf pan with coconut oil or butter. You can use parchment paper to help get the loaf out easier once it is finished baking, but you don't have to. Plus, using parchment paper may make the crust a little softer and you may want the crust to be crispy.
This choice is up to you, and it will not severely affect the quality of the keto pumpkin loaf. Either way, you will absolutely need to grease the pan to ensure the bread doesn't stick to the sides. If the loaf sticks to the pan, it may fall apart as you attempt to pull it out and all your hard work will be for nothing.
Then, you will need to whisk together all the dry ingredients in their own bowl. This includes the 3/4 cup almond and 1/3 cup coconut flour, pumpkin spice, Himalayan pink salt, and baking powder. If you want to switch the proportions of the 3/4 cup almond and 1/3 cup coconut flour you can, but it isn't likely to affect the final result.
Also double-check that you are using baking powder and not baking soda. Although similar in name, baking soda and baking powder have vastly different properties, and using baking soda will affect the final result of the bread.
It is important to mix the dry ingredients on their own first to ensure they are thoroughly mixed, otherwise, you might end up with clumps of certain ingredients that can affect the taste and quality of the bread. Nobody wants a big clump of salt in a bread that is supposed to be sweet.
Next, you will want to whisk together all the wet ingredients in a separate bowl for the same reason that we mix the dry ingredients separately – to ensure thorough mixing. First, start with the canned pumpkin puree and erythritol to ensure that the erythritol is properly blended. Double-check that you are using pumpkin puree and not pie filling, as the pie filling has tons of sugar in it and will add too many net carbs to the bread and it will no longer be keto-friendly.
Once those two ingredients are properly mixed, add the 1/2 cup butter, stevia, vanilla, and egg. You will want to melt the butter first so that it is easier to mix with the other ingredients and to get the right texture for the batter.
After the wet and dry ingredients are thoroughly mixed, it is time to combine them. Start this process by adding a little bit of the flour mixture into the wet mixture at a time. Once each portion of the dry mixture is completely mixed, add the next one until both mixtures are completely incorporated.
Stop mixing the wet and dry ingredients as soon as they are thoroughly mixed. If you continue to mix them, you run the risk of over-mixing the batter. An over-mixed batter will result in a flatter bread.
When you over-mix the batter, you are adding small amounts of air into it. Because there is so much air in the batter, the bread will rise too quickly, and as the air escapes, the bread will flatten more than it should. To get the perfect bread, it is crucial to stop mixing as soon as all the ingredients are thoroughly blended together.
Once you have the keto pumpkin batter completely mixed together, set aside 1 cup of it. This will be for going on top of the cheesecake mixture. Take the rest of the batter and lay it in the greased bread pan. Cover the entire bottom of the pan, and ensure that there are no spaces left between the pan and the batter (which should be easy, as the keto batter has a liquid-like consistency).
After the batter is in the pan, spoon the cheesecake mixture on top of the batter. You shouldn't press down on the cheesecake mixture as you want it to remain as close to the center of the loaf as possible so it can act as a filling. You don't have to do any baking to the cheesecake mixture beforehand as it will cook as the batter cooks.
You also won't have to use a bain-marie as you cook the bread. When you are cooking cheesecake, you are supposed to use a bain-marie to ensure that the cheesecake cooks evenly. The moisture from the water also helps to prevent the top of the cheesecake from cracking. Since the cheesecake will be cooking inside the batter, this step is not necessary.
Once all the cheesecake mixture is spooned onto the keto pumpkin batter, take the remaining cup of the batter and put it on top of the cheesecake mixture. Again, check for air pockets and fill them with batter so that there is no unnecessary air in the mixture, as this will cause the bread to flatten the same way it does when over-mixed. After the remaining batter is placed on top of the cheesecake mixture, the loaf is ready to go in the oven.
Place the loaf on the rack and set a kitchen timer for time 1 hr. The bread will ultimately require 70 to 80 minutes to finish baking, but you'll want to check it after an hour to ensure the top isn't browning too much. If it is, place some foil over it and the browning should lessen.
After 70 minutes pass, the top of the bread will start cracking and this is a good indicator that the bread is finished. Stick a toothpick in the center of the loaf and pull it back out. If there is any residue from the batter, then it needs a little bit longer. You may get some residue from the cheesecake portion, and this is normal as the cheesecake filling will need to set as the loaf cools.
If the toothpick comes out dry, then it is time to pull the keto bread out of the oven. Set the loaf on a cooling rack so that it can cool quickly. You should let it cool for at least 1.5 hours so that the cheesecake center can set. After the bread is completely cooled off, you are ready to begin slicing.
Keto Pumpkin Bread for Autumn and Winter!
This unique dessert will be an instant hit with your guests so you may want to write it on a recipe card or two to hand out to people. It has the warm Autumn flavors that satisfy you as the weather starts to cool down, and the nutrition serving sizes are small enough that you can get second helpings. This gluten-free bread is low in net carbs so nobody will have an excuse not to try it! Try this keto recipe out next time you need an impressive dessert that everybody will love.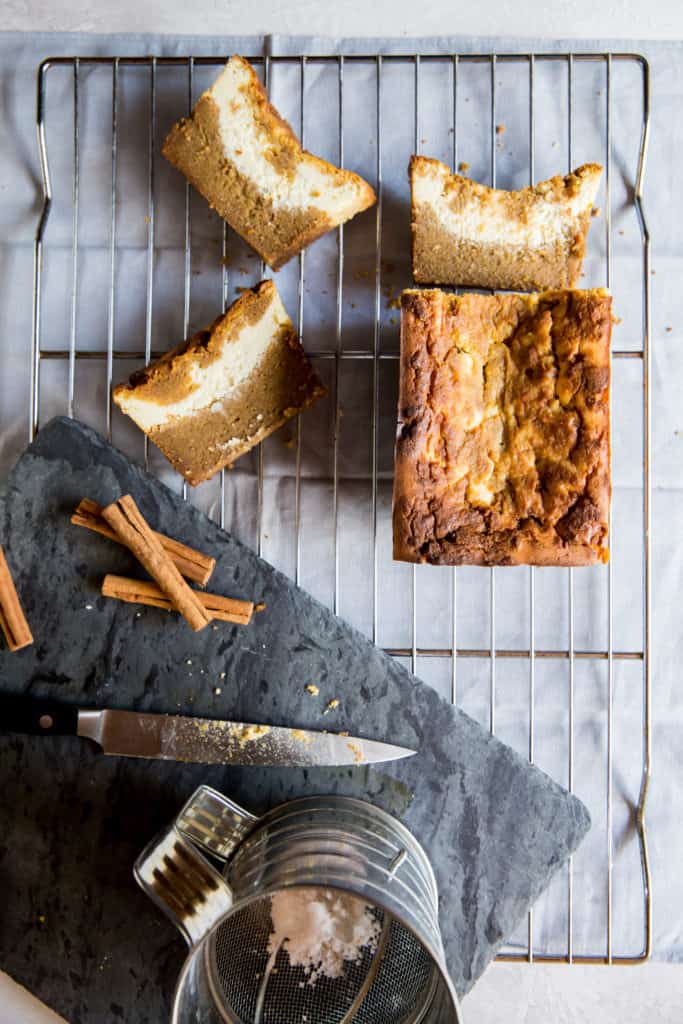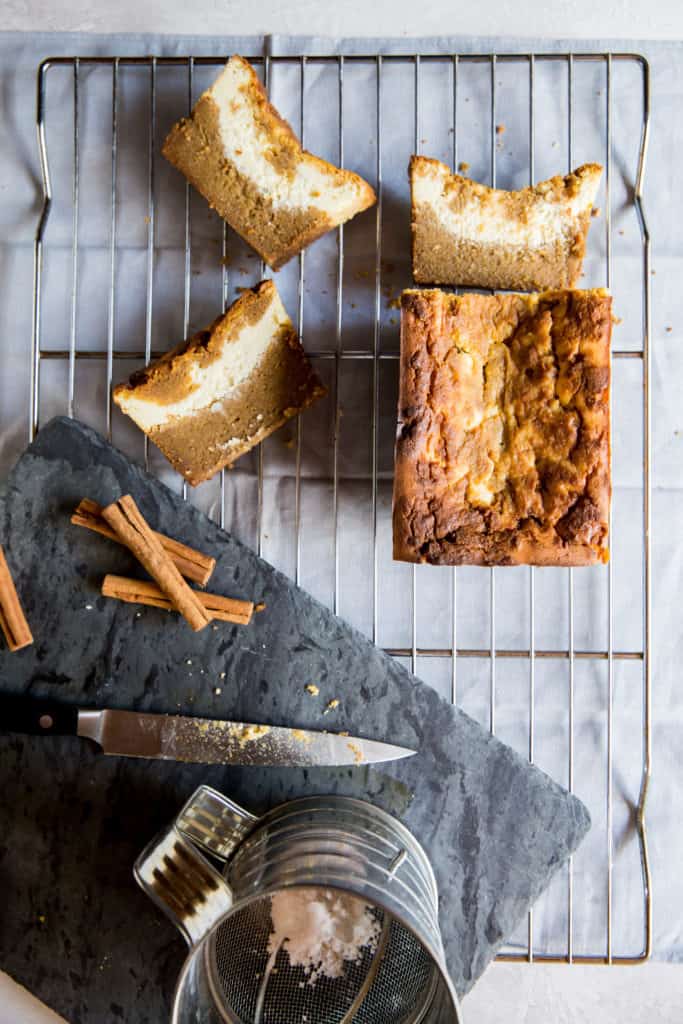 Recipe can be quickly added to MyFitnessPal – Search "KetoConnect – Low Carb Pumpkin Bread"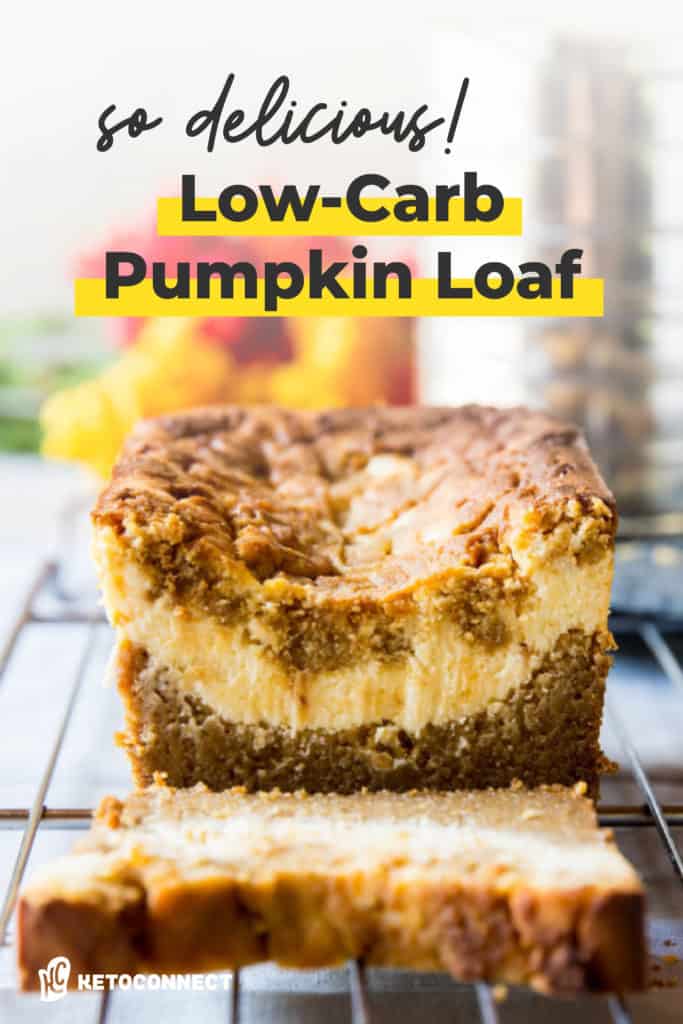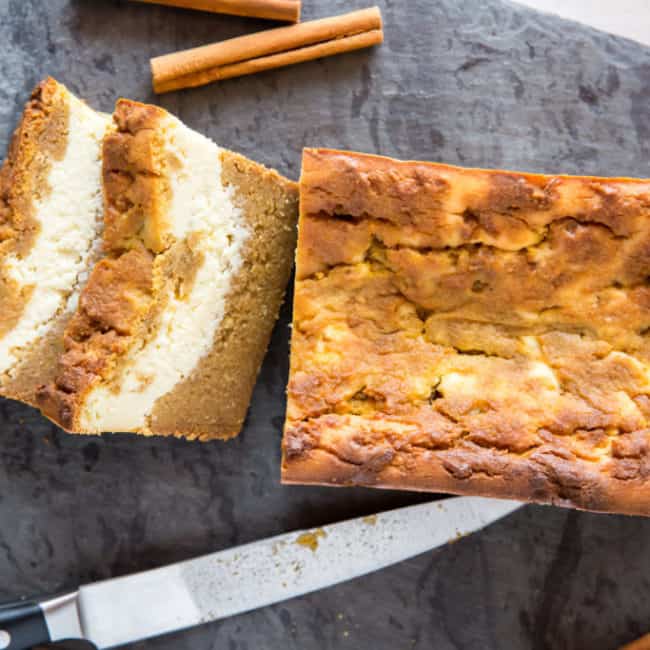 Low Carb Pumpkin Bread
Low carb pumpkin bread filled with a dense cream cheese filling. Perfect for fall time.
Total Time 2 hours 55 minutes
Servings 10
Calories per serving 285kcal
Prep Time: 15 minutes
Resting Time: 1 hour 30 minutes
Cook Time: 1 hour 10 minutes
Instructions:
Cheesecake Layer
Position an oven rack in the bottom third of the oven and preheat the oven to 325 degrees F.

Combine the cream cheese, erythritol, sour cream and egg in a large bowl and beat with a mixer until well combined; set aside.

Pumpkin Bread
Generously spray a 9-by-5-inch loaf pan with nonstick coconut spray.

Whisk together the flours, pumpkin spice, baking powder, salt in a medium bowl and set aside.

Whisk together the pumpkin puree and erythritol in a large bowl, then whisk in the melted butter, stevia, vanilla and egg.

Whisk in the flour mixture until just combined.

Reserve 1 cup of the pumpkin batter. Spread the remaining batter in the bottom of the prepared loaf pan.

Spoon the cream cheese mixture over the pumpkin batter, then put the reserved cup of pumpkin batter on top of the cheesecake layer.

Bake until the top is cracked and a cake tester inserted in the center comes out clean, 70-80 minutes. Cool on a wire rack for 20-30 minutes until cheesecake layer is set, then carefully invert onto a platter or cake stand and flip upright.

Let cool completely, at least 1 1/2 hours.

NOTE: Make sure to check on the bread starting at 60 minutes to make sure any cheesecake layer the settled at the top isn't burning. Slightly browned is fine!
Notes
Net Carbs: 5g
Serving Size: 1/10 Loaf
Nutrition Facts
Low Carb Pumpkin Bread
Amount Per Serving
Calories 285 Calories from Fat 234
% Daily Value*
Fat 26g40%
Carbohydrates 8g3%
Fiber 3g12%
Protein 5g10%
* Percent Daily Values are based on a 2000 calorie diet.
Written By