Matt nailed this recipe and even Paula Deen would be proud of this Keto Butter Cake! Maybe it's not as traditionally obey gooey, but the low carb aspect and simple, buttery flavor makes up for that. This butter cake will be the new obsession of your household, guaranteed!
Feel Good About This Butter Cake
I can almost promise that you won't take issue with the fact that this may not be the same exact butter cake you ate growing up, but I can also promise you that that cake did more harm to your body than the taste could make up for. We've done our best to replace this classic cake without the added negative side effects:
No more long lasting spike in blood glucose and insulin!
No more sluggish feeling/food coma!
No more mental guilt for eating that second piece of high carb, high fat cake!
Now, if I can eat something that tastes just as good without all the above side effects, then I'm a happy girl.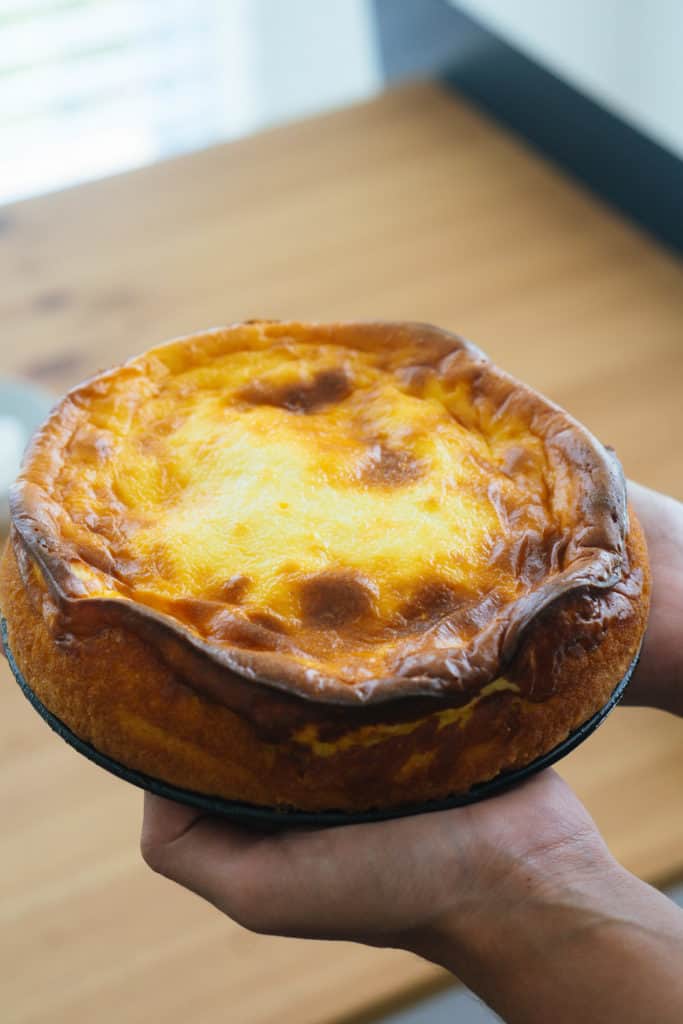 For The Love Of Keto Cakes!
I used to be a lover of all cakes, carrot cake in particular, until I started keto. I found it hard to replace a good flour based cake, which is why we have been on a quest to create a lot of great low carb cake options. My personal favorite, this keto butter cake aside, has to be our protein cakes! They are light, guilt free, and super delicious. We also have lots of mug cakes, like our blueberry mug cake and pumpkin mug cake, and of course our simple bundt cake you can put your own flare on!
Ooey Gooey Keto Butter Cake
This cake is perfect for birthdays, holidays, or to pair alongside your morning or afternoon coffee. It's versatile, always delicious (even right out of the fridge) and can be jazzed up with add-ons, such as berries and cream, or some glaze and chopped up nuts. This keto butter cake recipe is one those recipes you will have memorized soon enough and be turning to for every cake occasion!

Recipe can be quickly added to MyFitnessPal – Search "KetoConnect – Keto Butter Cake"
Keto Butter Cake
Layers of moist vanilla cake and tangy cheesecake, perfect for birthdays and celebrations.
Servings 10 Slices
Calories per serving 279kcal
Prep Time: 25 minutes
Cook Time: 35 minutes
Instructions:
Preheat your oven to 350 degrees and grease an 8-inch spring form pan with coconut oil spray.
Bottom Layer
Add the butter, vanilla extract and eggs into a large mixing bowl and combine using a hand mixer.

Add the coconut flour, erythritol, baking powder and optionally the gelatin, and combine using a spatula.

Set aside.
Top Layer
In a large mixing bowl, cream together the butter and cream cheese using a hand mixer.

Add in the vanilla extract, erythritol, stevia and eggs, and combine with the hand mixer until smooth.
Cake
Form the bottom layer (crust) into the bottom of the spring form pan using your hands.

Pour the top layer on top of the crust layer and give it a few taps to release the air bubbles.

Bake in the oven for 30-35 minutes. It's ready to be taken out once the edges start to brown. Allow to cool for 15-20 minutes. Depending on the quality of your spring form pan, the butter may leak out of the bottom when baking. Place a cookie sheet on the rack below to catch the butter and avoid making a mess of your oven.

Tip: Our preferred method of serving is after it has cooled for 2 hours bringing it to room temperature!
Nutrition Facts
Keto Butter Cake
Amount Per Serving
Calories 279 Calories from Fat 252
% Daily Value*
Fat 28g43%
Carbohydrates 2g1%
Protein 4g8%
* Percent Daily Values are based on a 2000 calorie diet.
Written By