Holy moly, these blueberry muffin top coconut flour cookies are going to be your new favorite dessert! Unless, you aren't a muffin person (which I highly doubt) then you're going to absolutely fall in love with this recipe. The best part of a muffin is ALWAYS the top so why not forget about the bottoms and just make the tops. Genius, we know.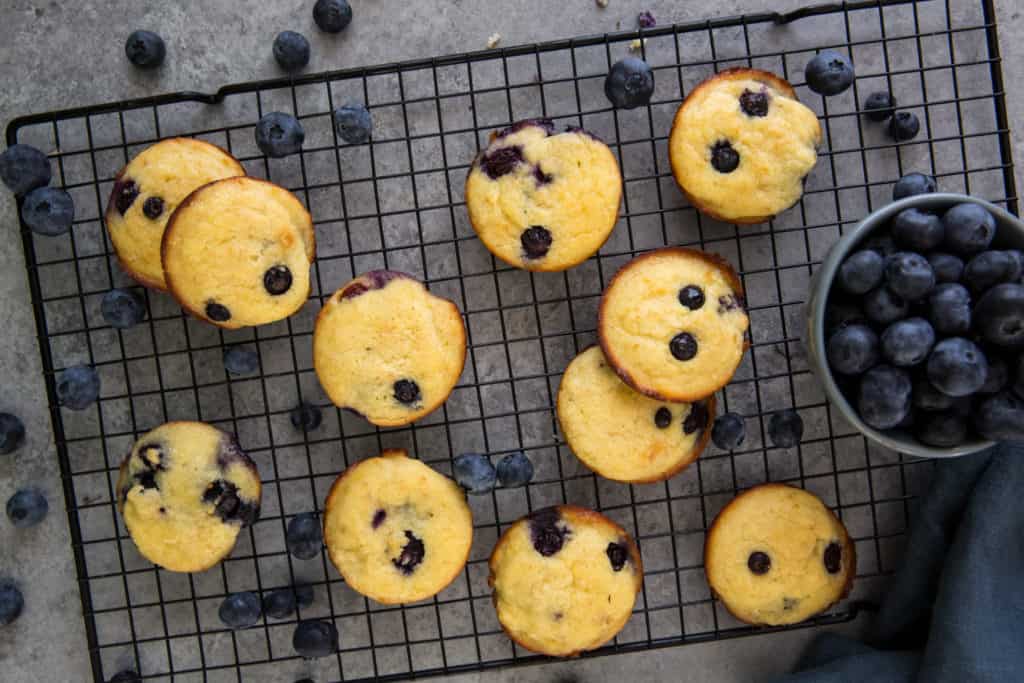 More Keto Nut Free Desserts
We've got you covered! There was a two year span where i was misdiagnosed with a tree nut allergy so anything almond flour went out the window. This put me on a journey to create as many nut free desserts as possible so that I didn't have to miss out while Matt enjoyed everything in sight. Some of my favorites are:
Still need more? Check out our food blog and search for nut free desserts! The list goes on and on 🙂
Is Coconut Flour Good For Baking?
Coconut flour is my absolute favorite low carb flour for baking. It definitely yields a denser baked good, and takes a little more preciseness compared to almond flour, but you ultimately need less of it resulting in lower carbs and calories! Those reasons, plus the fact that it is nut free and digestive-ly feels a lot better when consuming in bulk (it happens to the best of us!) make coconut flour our go to for baked goods.
Coconuts are naturally high in fat and have a great, subtly sweet taste. We not only love using coconut flour, but we've recently become huge fans of using canned unsweetened canned coconut milk in our morning bulletproof coffee and in dinner recipes.
Some of our favorites are: coconut curry chicken, keto salmon curry, low carb shrimp curry!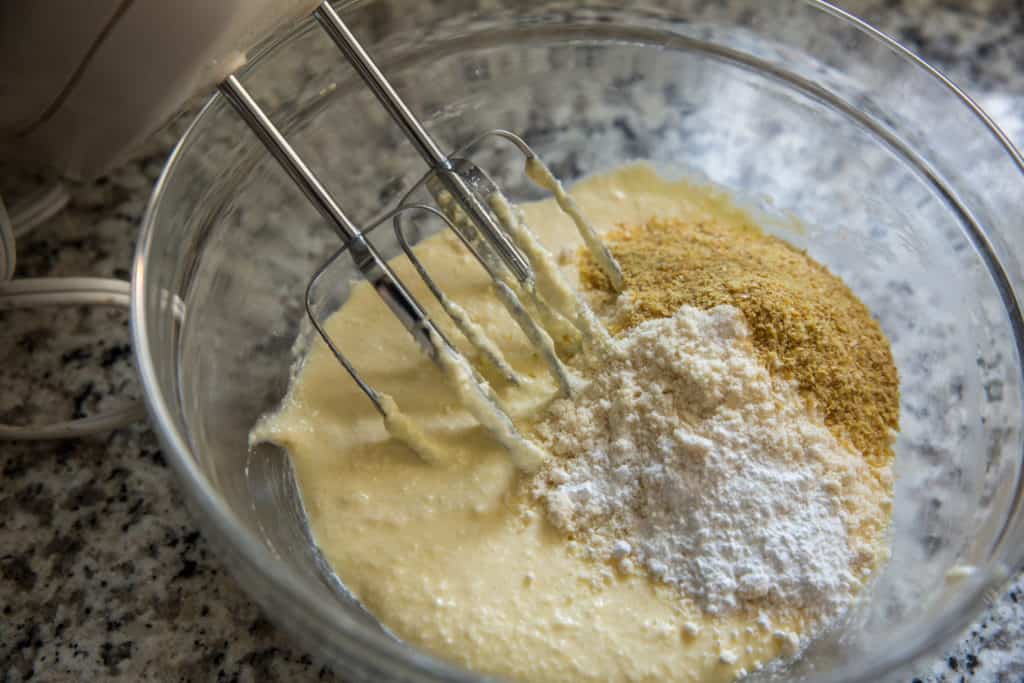 Can I Substitute Coconut Flour For Regular Flour In Cookies?
Unfortunately, it's not that simple. It actually takes a bit of practice to get a handle on keto baking because the results will vary drastically depending on what low carb flour you use and how much of it you use.
I've had hundreds of failed recipes when trying to convert coconut flour or almond flour at a 1 to 1 ratio with regular flour when recreating high carb desserts. We do have a flour conversion chart you can find on our membership site in the Baking 101 course! It'll be a game changer when baking with keto flours.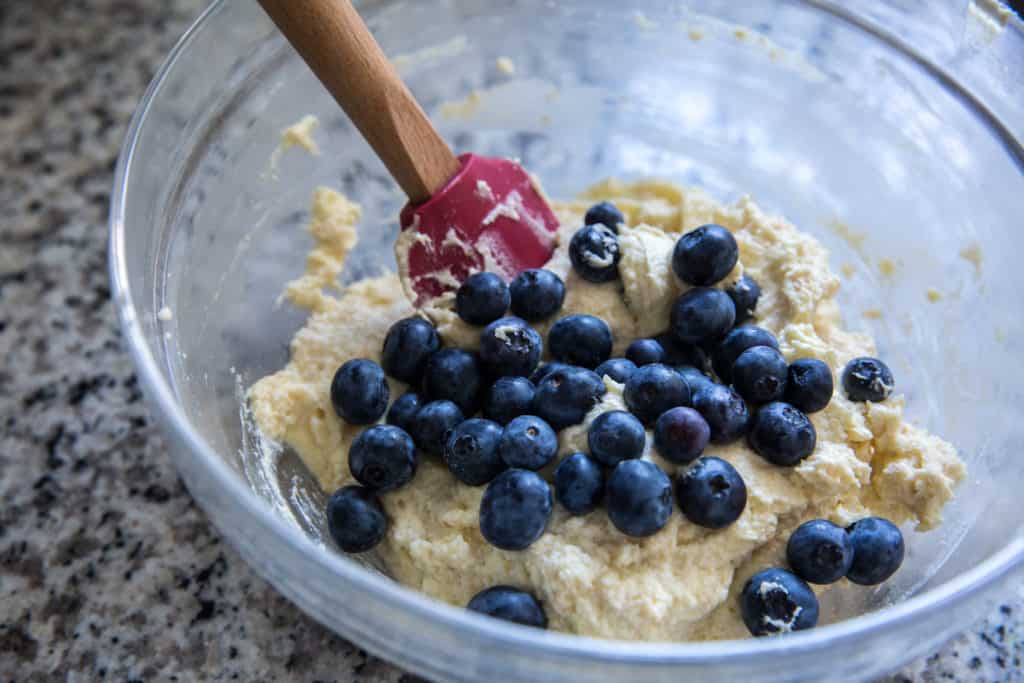 Make Moist Cookies
Often times, issues that arise from low carb baking have to do with an overly dry and crumbly baked good or a baked good that is too soft and won't hold its shape. The goal, of course, is to find a middle ground while yielding a moist, cooked through baked good so we have to look at the wet ingredients.
Eggs are always a good starting ground since they add moisture as well as act as a binding ingredient. Then, of course, you have your liquids like heavy cream, nut milks and water. The secret ingredient, however, that makes this recipe possible is the sour cream.
When working with a highly absorbent and dry flour like coconut flour the contrast of the creamy texture of sour cream will provide a lot more moistness than milk or water would. It adds a lot of moisture without thinning out the batter!
Muffin Top Coconut Flour Cookies
The combination of coconut flour and flax seed meal create the perfect balance of nutty and toasty flavors, but without the nuts! Then you mix in some creamy sour cream and fresh blueberries and you are left with the perfect coconut flour cookies for a quick dessert any night of the week!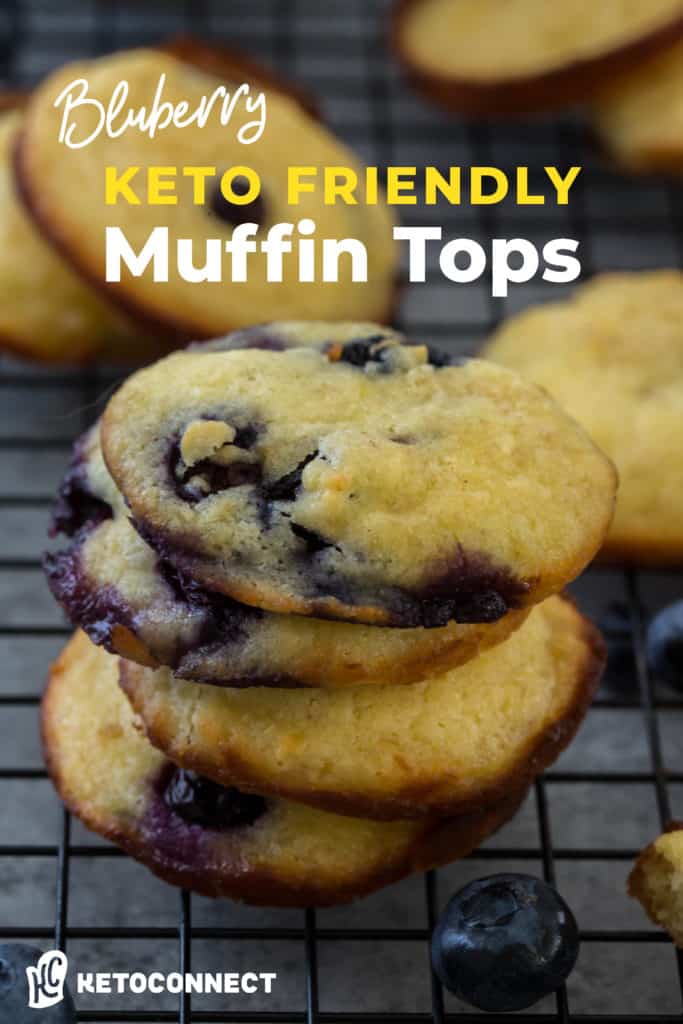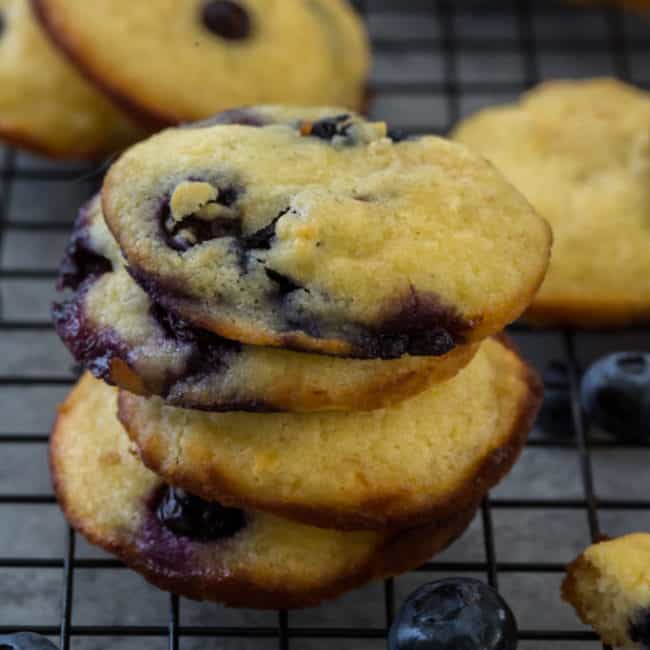 Coconut Flour Cookies | Blueberry Muffin Tops!
These blueberry muffin top coconut flour cookies are soft, dense and packed with fresh blueberries for the perfect summertime dessert!
Total Time 40 minutes
Servings 12 muffin tops
Calories per serving 131kcal
Prep Time: 10 minutes
Resting Time: 15 minutes
Cook Time: 15 minutes
Instructions:
Preheat oven to 350°F and grease a muffin tin with coconut oil spray.

In a medium bowl add butter, erythritol, stevia and vanilla extract. With a hand mixer, mix until creamy.

Next add eggs and sour cream, and whisk until fully incorporated.

Add the coconut flour, flax seed, baking powder, and salt. Mix until just combined. Using a spatula, fold in the blueberries.

Chill the cookie dough for at least 30 minutes.

With a cookie scoop, scoop out 1 heaping scoop of dough, roughly 2 tbsp and place in each muffin hole for a total of twelve.

Bake cookies for 15-18 minutes until golden brown around the edges.

Allow to cool for 15 minutes prior to handling.

Best stored in an air tight container in the fridge up to one week.
Notes
Net Carbs: 3g
Serving Size: 1 Muffin Top
Yields: 12 Muffin Tops
Nutrition Facts
Coconut Flour Cookies | Blueberry Muffin Tops!
Amount Per Serving
Calories 131 Calories from Fat 108
% Daily Value*
Fat 12g18%
Carbohydrates 5g2%
Fiber 2g8%
Protein 2g4%
* Percent Daily Values are based on a 2000 calorie diet.
Written By