Keto coconut cream pie is fluffy, fresh, and perfect for making you feel like you're on a tropical vacation.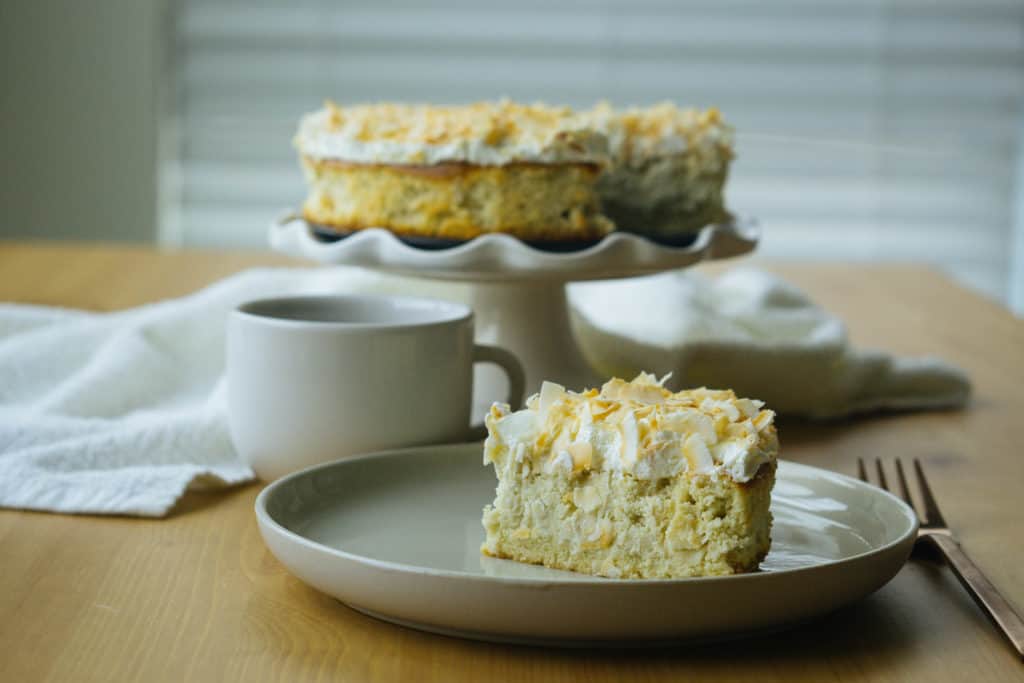 This recipe is so good you should plan on having other people over to enjoy it, or else you might just eat the entire pie in one night! There are quite a few steps that go into this recipe, but don't be intimidated. Matt will show you how to make it step by step in the recipe video below.
You can even omit certain parts if you feel like it's too much coconut, but we suggest you make this exactly how we did for maximum pie enjoyment. It really isn't low carb coconut cream pie without copious amounts of toasted coconut flakes!
Does Coconut Cream Have Carbs in it?
Coconut cream is totally keto friendly, but it does still have some carbs to look out for. Each serving of coconut cream (2 tbsp) has <1 of carbs and <1 of sugar.
Coconut is rich in MCT's which is very beneficial on keto thanks to it's blood sugar stabilizing properties and quick energy.
How Many Carbs are in Coconut Cream Pie?
Each serving of this keto coconut cream pie have 7.2 grams of carbs, 3.6 grams of fiber, 4 grams of protein, and 30 grams of fat. That means each slice only has 3.6 grams of net carbs.
A typical slice of coconut cream pie has around 42 grams of carbs with 26 of them being sugar. 26 grams of sugar is equivalent to almost 7 teaspoons of sugar in one piece of pie.
The Best Coconut Cream Pie Recipe
Matt worked long and hard to get this recipe perfect, and it's finally ready to share! There are three distinct layers, which means a lot more preparation than you were hoping for, but we assure you it's more than worth it!
What makes an even better keto coconut cream pie? Knowing it doesn't have bad ingredients! Everything from the crust up to the whipped cream topping is gluten free, sugar free, and low carb.
Why we Use a Springform Pan
You may be wondering why we choose to use a springform pan instead of a pie plate. Well, we firmly believe the filling is the best part of a coconut cream pie. Rather than using a traditional pie shell that will spread out the filling, we wanted a tall thick layer of coconut filling.
The coconut custard is rich, creamy, and refreshing, so we want as much stacked into each slice of this delicious pie as possible.
Nut Free Coconut Cream Pie
While this recipe may be made with coconut, most people with standard tree nut allergies can still eat coconut recipes because it is a seed rather than a traditional nut.
Having been unable to eat nuts in the past I understand the struggle of finding a good keto dessert without any almond flour or nuts.
How to Make Dairy Free Coconut Cream Pie
This is pretty tricky when trying to make creamy coconut pie without whipped cream. You can sub the heavy whipping cream for full fat coconut milk that has been separated through refrigeration to use just the cream.
You can also just buy canned coconut cream to make a coconut whipped cream topping. Whipped coconut cream will create a similar texture to regular coconut cream pie whipped cream.
As for the heavy cream in the filling you will also want to replace it for a 1/2 cup of canned coconut cream. We don't recommend using the standard refrigerated coconut milk that comes in half gallons, because it is too thin and won't provide the creaminess needed.
If you don't want to make the coconut whipped cream you can buy premade vegan options, however they will often have a low quality cream mixture full of gums and fillers.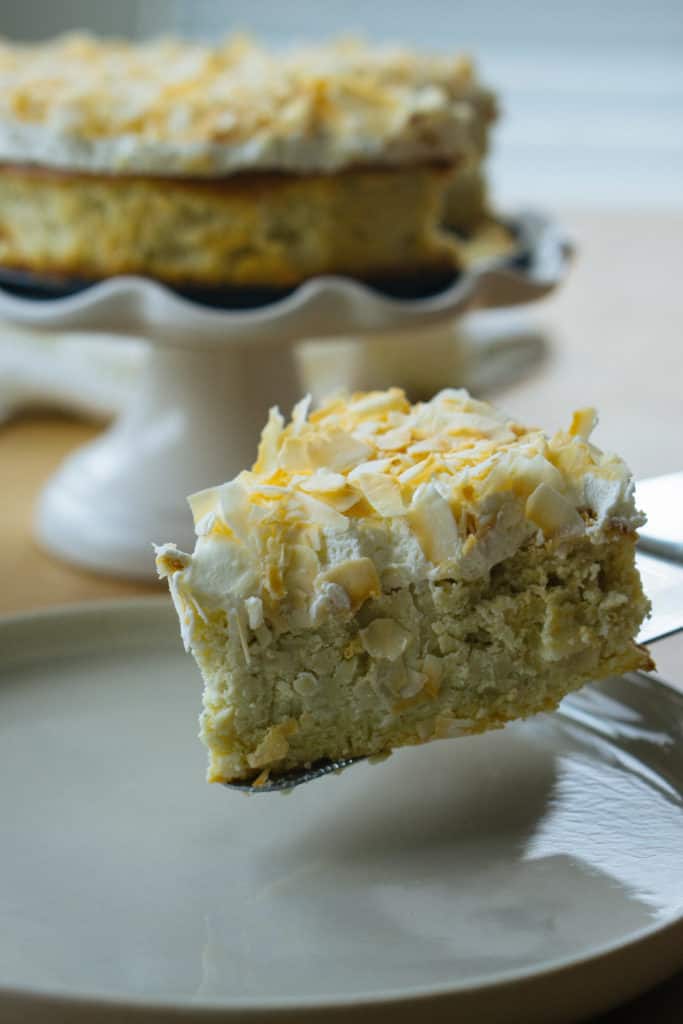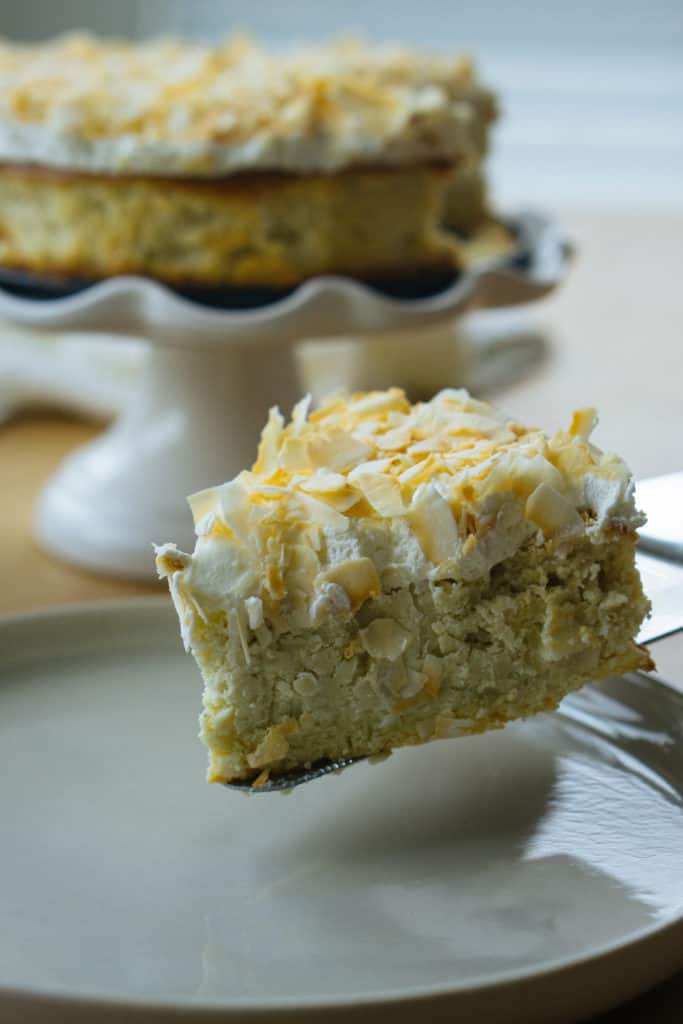 How to Make Keto Coconut Cream Pie
This keto coconut cream pie is an absolute showstopper. It's even coconut extract free so you use only the most natural ingredients possible.
Ingredients
To make this coconut cream pie there are three layers we have to make. To make the pie crust you will need coconut flour, butter, low carb sugar substitute, and 1 large egg.
For the coconut cream filling that goes inside the pie crust you will need canned coconut milk that has been refrigerated to separate the cream. You will also need heavy whipping cream, low carb sweetener, eggs, coconut flour, liquid stevia, vanilla extract, and unsweetened coconut flakes.
Finally to prepare the whipped cream topping you will need heavy whipping cream, liquid stevia, and coconut flakes.
This recipe uses vanilla extract instead of coconut extract. We like the pure vanilla flavor much more than an artificial coconut flavor. Plus most coconut extracts are overpowering so we instead use coconut in lots of other ways like toasted coconut in the topping and filling.
If you don't have coconut flour and would prefer to make this gluten free coconut cream pie with almond flour you can use our keto almond flour crust recipe. As for the filling you will need to triple the amount of almond flour compared to coconut flour for the same texture. We don't recommend this as coconut is the main flavor of the dish, but adding almond flour for the crust is an option.
Making Keto Coconut Cream Pie
To make this sugar free coconut cream pie recipe begin by preheating the oven to 350 degrees and lining a baking sheet with parchment paper.
Preparing the Keto Pie Crust
Next make the easy keto coconut pie crust by combining the coconut flour and powdered sweetener in a medium bowl. To this you can add the melted butter and egg, combining with a spatula.
Once the pie crust dough forms together transfer it into an 8inch spring form pan and flatten it out to cover the bottom of the pan. We press the dough around and shape it into an even thickness with the pads of our fingers.
Poke holes in the pie crust to make sure it doesn't inflate and explode in the oven. Put the pan onto your baking sheet and spread the coconut flakes reserved for topping on the side to toast.
Bake the pie crust for 15 minutes. Within those 15 minutes the coconut flakes will be toasting, remove the shredded coconut at around the 5 minute mark as they will be golden brown before the crust has finished baking. Allow the pie crust to bake the last 10 minutes.
Mixing Together the Pie filling
To make the coconut custard filling combine the coconut cream from your refrigerated jar of coconut milk with the heavy cream, vanilla extract, liquid stevia, and powdered sweetener.
Once creamed together with a hand mixer add in the eggs, coconut flour, and 1/2 cup of toasted shredded coconut flakes. We use the whole egg rather than just egg yolks for optimal fluffiness.
We actually don't cook this filling ahead of time like most recipes so you don't have to worry about making a tempered egg mixture.
Now that the crust has baked grease the sides of the spring form pan and pour the cream filling onto the cooled pie crust. Bake the pie filling for 70 minutes and then let the baked pie crust and filling cool for 30 minutes before placing the sugar free coconut cream pie in the fridge for an hour.
DO NOT PLACE THE WHIPPED CREAM ON A HOT PIE. Hot heavy whipping cream will melt down the sides and pool at the bottom.
Prepping the Coconut Cream Keto Pie Topping
We want the ultimate coconut flavor in this dish so prepare the coconut topping by whipping the heavy cream into stiff peaks.
Now add the stevia into the whipped cream. Optionally you can add vanilla extract or a drop of coconut extract if desired. The whipped cream is very light and slightly sweet alone. Place the prepared whipped cream into the fridge to chill.
Assembling the Coconut Cream Pie
Remove the chilled pie from the fridge, checking to ensure it has fully cooled. Top the cream pie with the whipped cream, spreading it around evenly.
Sprinkle the remaining shredded coconut that has been toasted on top of the whipped cream. Gently press it into the cream to ensure it stays. Refrigerate for another hour before serving.
How to Store Leftover Coconut Cream Pie
Any leftover coconut cream pie should be stored in the fridge. Heavy cream must be refrigerated to ensure freshness.
We cover the remaining cream pie with plastic wrap, or place leftover slices into an airtight container. The custard filling holds up really well, and actually develops more flavor into the whipped topping as it sits.
Store in the fridge for up to a week. We'll be amazed if you don't eat pie everyday though and finish it before then.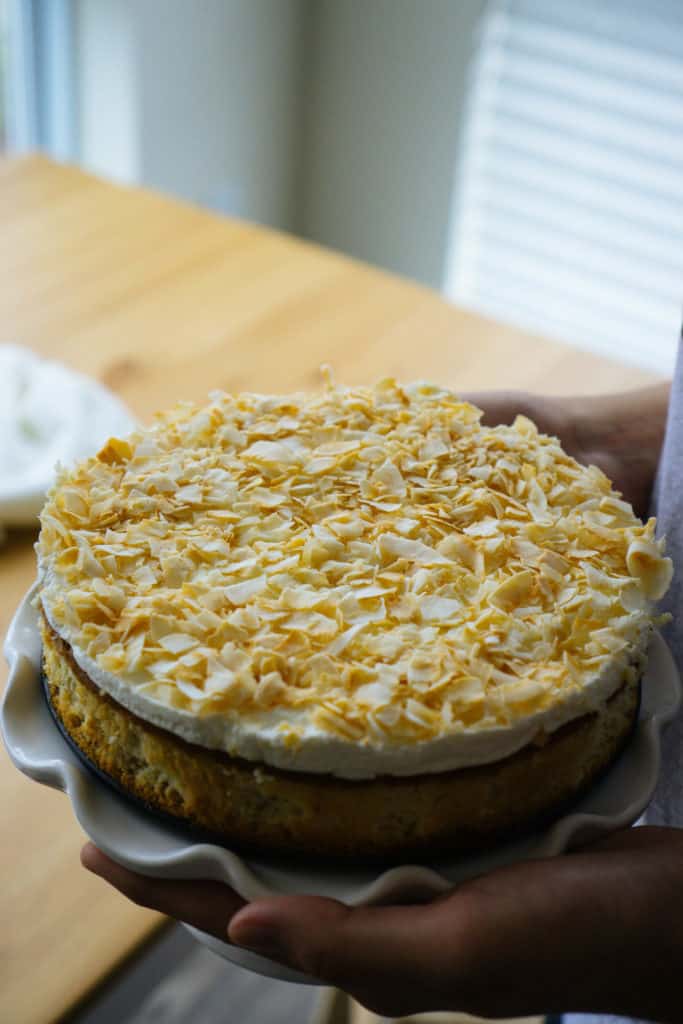 More Nut Free Recipes
We care about making sure everyone can be and more importantly enjoy keto. That's why we've made a ton of healthy nut free keto recipes. Our site has an entire nut free section with everything from sweet to savory recipes.
Some of our favorite nut free recipes are our:
These are just a few nut and sugar free recipes that are perfect for those who avoid tree nuts. There are plenty more healthy recipes all over our site for you to enjoy.
Keto Coconut Cream Pie
There aren't many words that can describe how happy you'll be enjoying this delicious keto coconut cream pie. It will truly give you an out of body experience trying to understand how a keto dessert can be this good.
For all you coconut lovers out there, and we know there are a lot of you, this ones for you! Make it for your birthday cake, a special occasion such as an anniversary or graduation, or simply because you love coconut.
Either way, this low carb coconut cream pie is going to become your new favorite KetoConnect recipe!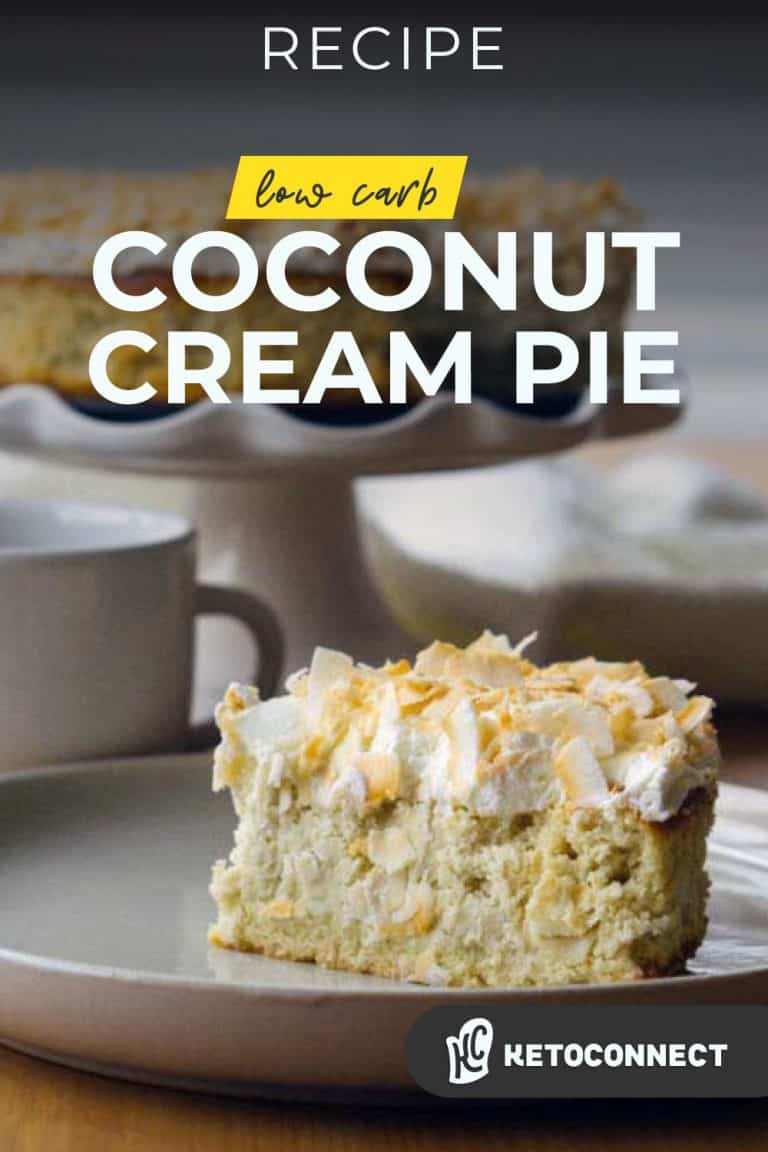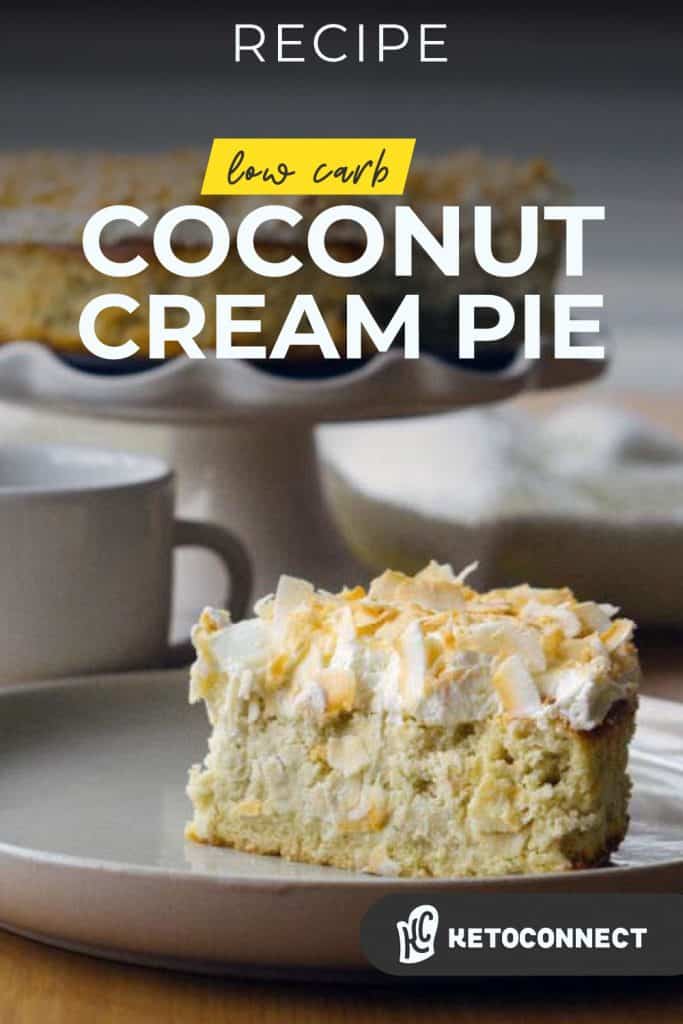 Recipe can be quickly added to MyFitnessPal – Search "KetoConnect – Coconut Cream Pie"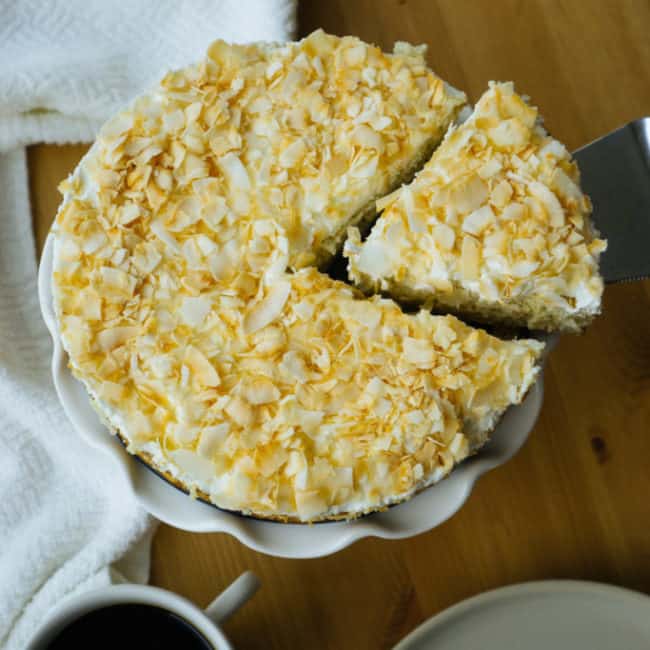 Low Carb Coconut Cream Pie
This keto coconut cream pie is fluffy, fresh, and perfect for making you feel like you're on a tropical vacation!
Total Time 3 hours 35 minutes
Servings 8 servings
Calories per serving 324kcal
Prep Time: 10 minutes
Cook Time: 1 hour 25 minutes
Ingredients:
Instructions:
Preheat the oven to 350 degrees and line a baking sheet with parchment paper or a silicone mat.

Make the crust: Combine the coconut flour and powdered erythritol in medium sized bowl.

Add the melted butter and combine. Add the egg and combine using a spatula.

The crust should come together as a dough. Transfer dough to a 8 inch spring form pan and flatten it out to cover the bottom of the pan evenly.

Poke several holes in the crust with a fork and place on the lined baking sheet. On the other half of the baking sheet place the 3/4 cup of unsweetened coconut flakes to toast (used in filling and topping).

Place the baking sheet in the oven and bake for 15 minutes. At the 5 point mark remove the flakes and set aside in a bowl – they should have browned – and place the crust back in the oven for the remaining 10 minutes.

Set the crust aside to cool and lower the oven temp to 300 degrees.

Make the filling: In a large bowl combine the coconut cream of an entire can (13.66 oz), heavy cream, vanilla extract, liquid stevia and powdered erythritol. Combine using a hand mixer.

Add the eggs, coconut flour and 1/2 cup of the toasted coconut flakes and combine once more.

Grease the sides of the spring form pan (we like to use coconut oil spray) with the cooled crust and poor the filling onto the crust.

Bake for 70 minutes.

Let the pie cool for 30 minutes and then place in the fridge for 1 hour to set.

Make the topping: Whip the heavy cream into stiff peaks.

Add the stevia and combine. Place in the fridge alongside the pie.

Make the pie: Top the chilled pie with the heavy cream topping and spread evenly. Top the cream with the remaining (1/4 cup) toasted coconut flakes and gently press into the cream. Refrigerate for another hour prior to serving.

Coconut Milk Tip: Place the coconut milk can in the freezer for 5 minutes prior to using in the filling. This will separate the hardened cream from the liquid. The liquid contains all of the sugars.
Nutrition Facts
Low Carb Coconut Cream Pie
Amount Per Serving
Calories 324 Calories from Fat 270
% Daily Value*
Fat 30g46%
Carbohydrates 7.2g2%
Fiber 3.6g14%
Protein 4g8%
* Percent Daily Values are based on a 2000 calorie diet.