If you've ever been a fan of banana bread or a moist dessert, this chocolate chip zucchini bread is going to blow your mind! With a golden brown, crisp exterior and a warm, moist interior we've created the perfect low carb breakfast or dessert without sacrificing any of the experience!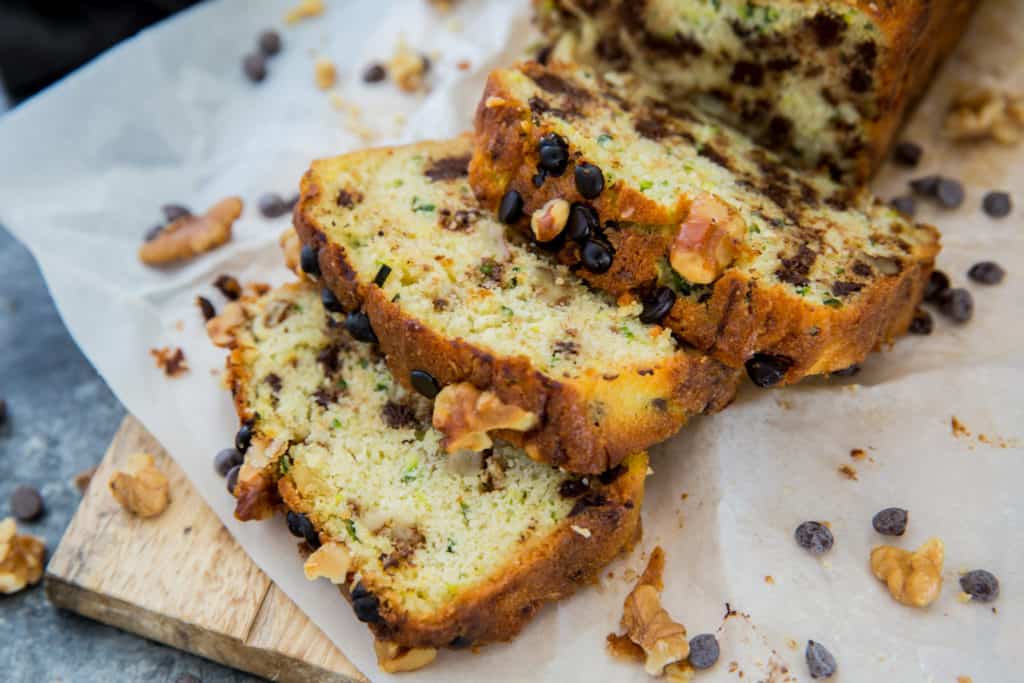 Keto Bread Loaves
Bread is probably the number one most missed food on a ketogenic diet, and for good reason. You need it for sandwiches, french toast, and my favorite snack, peanut butter spread on bread! Whether you like it savory or sweet we have all the keto breads you will need in one place. Here are our favorites:
Savory:
Best Keto Bread
Cheesy Garlic Bread (Megha's Favorite)
Coconut Flour Bread (if you're nut free!)
Sweet:
Blueberry Pound Cake
Low Carb Pumpkin Bread
Cinnamon Ricotta Cake (can easily be turned into a loaf!)
Gingerbread Loaf
Make It Moist
Keto baking can be tricky, but if you're someone who loves to bake and wants to learn we have a great Keto Baking 101 course offered on JoinTheCurve.com.
It took us a while to master it, but once you a get a feel for keto flours, sweeteners and the right ratios it's a breeze! I'll share a couple tips that will make this loaf the perfect moistness.
Combining almond flour and coconut flour gives the final product just the right texture. Not too crumbly and not so moist that it doesn't cook all the way through.
Zucchini drained and squeezed to add an extra level of moistness without any extra wet ingredients. If you don't squeeze out the zucchini enough it can leave you with a soggy loaf.
Enough baking powder to give this loaf rise. Too little will leave you with a flat, under cooked loaf and too much will leave a bad after taste in the final product!
Bake It Just Right
Bake time can also be a tricky thing to figure out not only because all oven temps vary highly, but because keto flours can easily burn. This chocolate chip zucchini bread in particular bakes best at a lower temp for a longer period of time. If you wanted to crank the heat up to save time you would end up with a burnt top and uncooked middle.
With the extra moisture from the drained and squeezed zucchini low and slow is the way to achieve a moist, perfectly cooked loaf. Make sure you keep an eye on the loaf starting at about 40 minutes to ensure it isn't burning.
Tip: no matter what you are baking the toothpick test is always a sure way to make sure you're baked good isn't under cooked. Stick a clean toothpick into the center and if it comes out clean you are good to pull it out!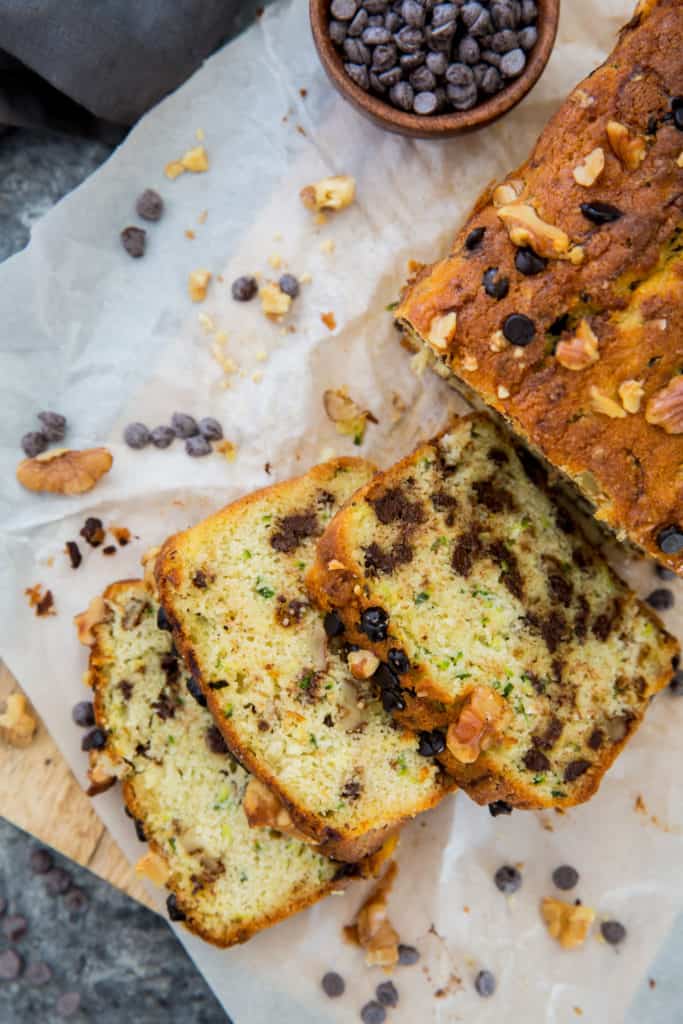 Cool And Slice
Any baked good, especially keto ones need enough time to cool before transferring and slicing. Why? Because they crumble easily straight from the oven. The key to this chocolate chip zucchini bread is to let it cool all the way or for at least 20 minutes before flipping it out and serving it up! Any sooner and it will fall apart.
Walnut Chocolate Chip Zucchini Bread
If you like you're dessert loaves on the sweeter side we would highly recommend you up the sweetener on this recipe! Instead of 2 tbsp of erythritol, I would use 1/3 cup. If you are like us, however, and enjoy a subtly sweet dessert then we've given you the perfect ratio of erythritol to stevia. This chocolate chip zucchini loaf is sweet, moist and will allow you to relive you pre-keto dessert days in all of its glory!
Want More Healthy Desserts?
Healthy and desserts only make sense when we are talking low carb! We've got a whole section on our food blog dedicated to healthy versions of your old favorites, including pecan pie, whoopie pies, and you won't believe it, but soft and doughy cinnamon rolls!
Make them all and let us know what you think by tagging us on Instagram so we can re-share it on our stories!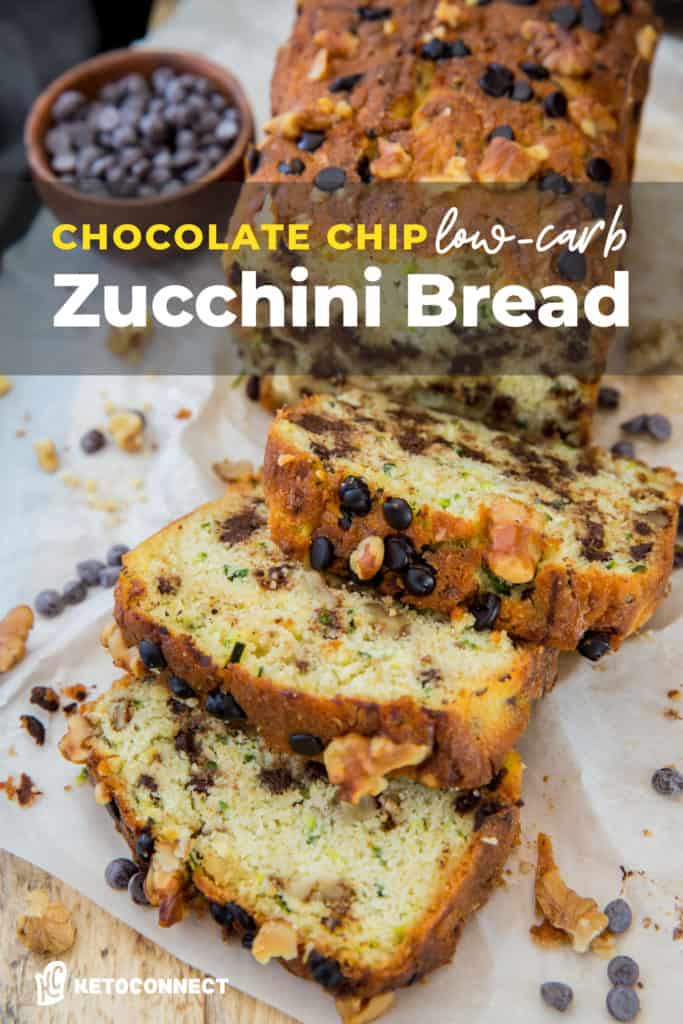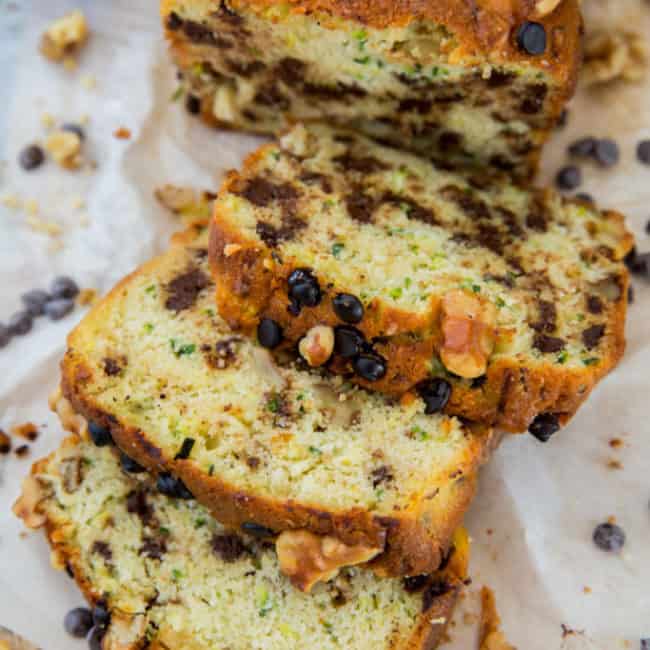 Chocolate Chip Zucchini Bread
A low-Carb take on banana bread. Made moist and dense thanks to grated zucchini and topped with sweet chocolate chips.
Servings 12 slices
Calories per serving 208kcal
Prep Time: 10 minutes
Resting Time: 20 minutes
Cook Time: 50 minutes
Instructions:
Preheat the oven to 325 degrees F. Line a 9×5-inch loaf pan with parchment paper or grease with coconut oil spray.

In a large bowl, beat together the butter and erythritol until fluffy. Whisk in the eggs, stevia and vanilla extract until fully incorporated.

Whisk in the almond flour, coconut flour, baking powder, and salt.

Grate the zucchini (as shown in the video) and wrap the grated zucchini in cheesecloth or several layers of sturdy paper towels. Squeeze over the sink to release as much moisture as possible.

Fold the grated zucchini into the bowl, and mix well. Fold the chocolate chips and walnuts into the batter.

Transfer the batter to the prepared pan. Smooth the top with the back of the spatula and bake for 50-60 minutes, until an inserted toothpick comes out clean.

Cool completely in the pan prior to flipping out and slicing into 12 pieces.

Note: oven temperatures vary highly and the loaf can easily burn so keep an eye on it starting at 40 minutes. If the top and edges brown too much, check it with a toothpick – it is most likely done at that point! If you need to keep it in longer but the edges are starting to burn you can cover just the edges with foil to help prevent further burning.
Notes
Net Carbs: 4g
Serving Size: 1 slice
Yields: 12 slices
Nutrition Facts
Chocolate Chip Zucchini Bread
Amount Per Serving
Calories 208 Calories from Fat 189
% Daily Value*
Fat 21g32%
Carbohydrates 7g2%
Fiber 3g12%
Protein 6g12%
* Percent Daily Values are based on a 2000 calorie diet.