These Keto Cinnamon Rolls are three years in the making. It was one of the first recipes we attempted when we launched our food blog in 2016, but all the trial and error has finally paid off! Say goodbye to fathead dough cinnamon rolls and hello to your new favorite dessert recipe.
Better Than Fathead Dough!
If you've ever searched for a low carb cinnamon roll then you know most, if not all, highly rated ones are made using fathead dough. While those will suffice any cinnamon roll craving we think it's overused. Mozzarella cheese, cream cheese and almond flour should not be the main ingredients for cinnamon rolls! However, if you are a fan of fathead dough we have some great recipes you should try:
Fathead dough works great when you need to recreate you're favorite high carb recipes, but we think you are doing yourself a disservice if you go the fathead route for cinnamon rolls!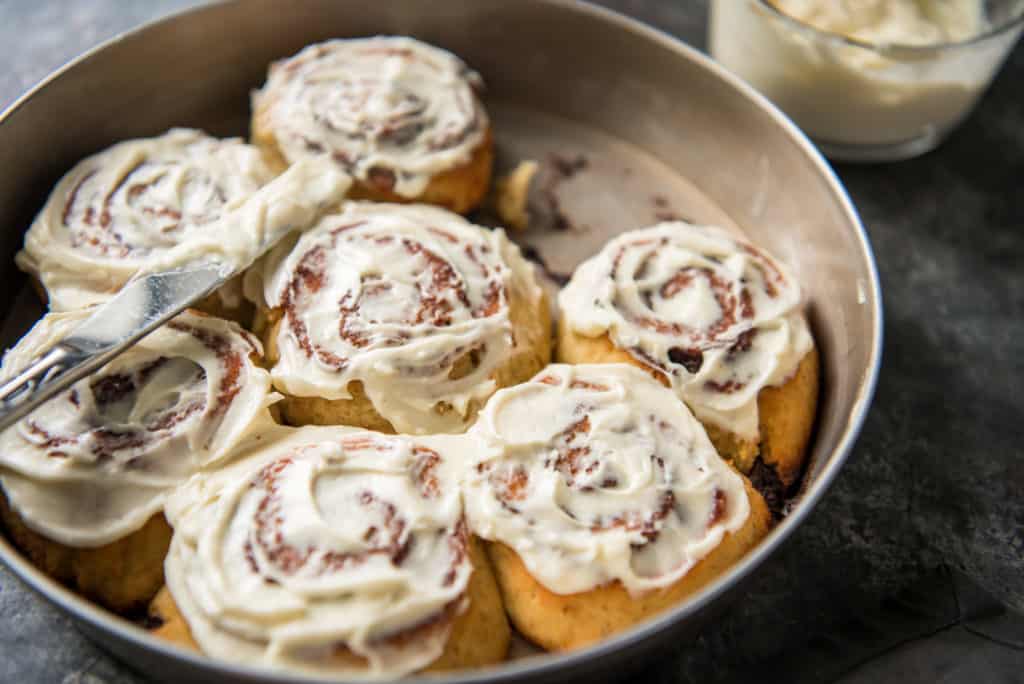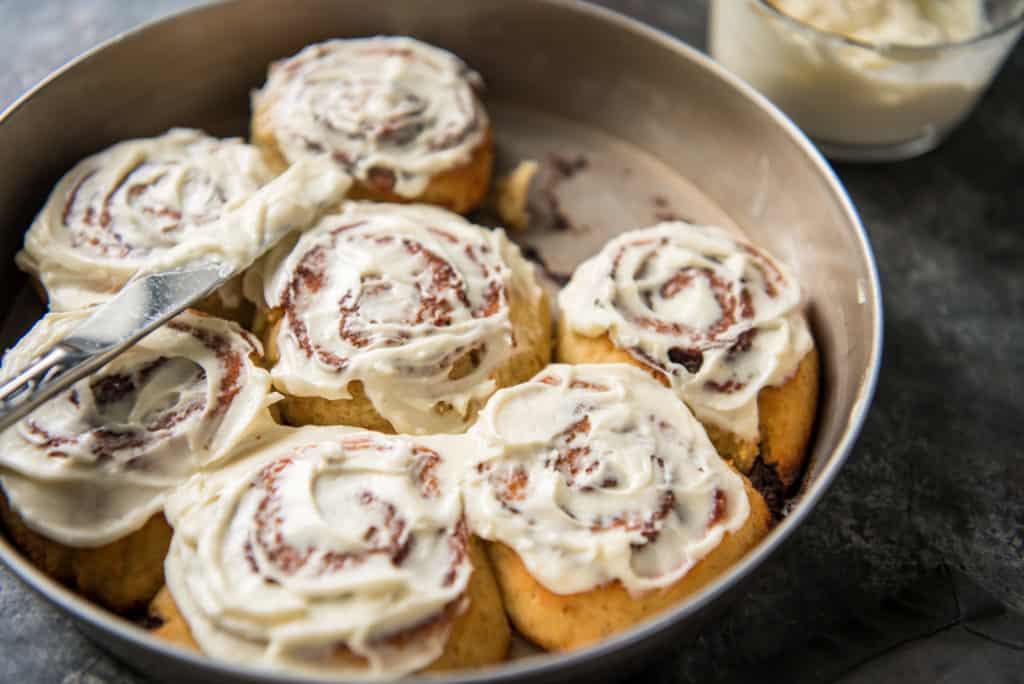 Soft And Dense Dough
When I think about eating cinnamon rolls my mind goes to the days I would devour Cinnabon with my entire family. I expect the dough to be soft, yet dense. Slightly sweet and indulgent. Over the years of trying we always came away with hard or under cooked rolls so we couldn't share those with you.
What makes this recipe the perfect dough is the combination of almond flour, coconut flour and ground flax meal. It may sound like a lot, but if you want the perfect cinnamon roll dough you have to go the extra mile! Using all three allows for the rolls to spread in the oven to give you the big, dense rolls you are used to eating.
Simple Cinnamon Filling
We kept the filling super simple for this cinnamon roll recipe. A little goes a long way when you're working with cinnamon, sweetener and butter. If I were making these rolls for a family brunch or a bake sale I would double the filling recipe or even change up the spices. Pumpkin pie spice would be great for a fun fall twist on this recipe! If you like you're rolls very sweet you can drop the liquid stevia and double the amount of erythritol in the filling!
Must Have Cream Cheese Frosting
Again, this frosting is another simple component to the recipe. When you have the perfect cinnamon rolls you want a simple topping to complement them like this frosting.
It's easy to go wrong when making frosting. The two biggest mistakes I find people do is:
Forget to use room temperature ingredients: if everything is too cold it won't blend together in a smooth fashion, and if you have to microwave them you'll get a saucy consistency.
Use granular erythritol: unless you like your frosting grainy in texture you are definitely going to want to use powdered erythritol.
Tip: Don't have powdered erythritol? Pulse some granular erythritol up in a coffee or spice grinder!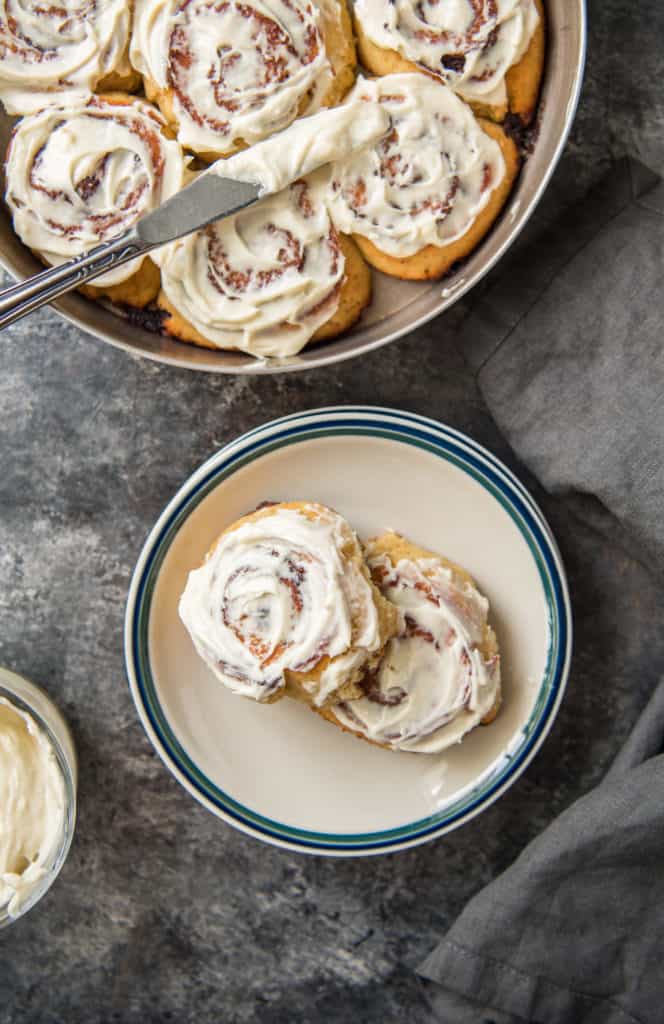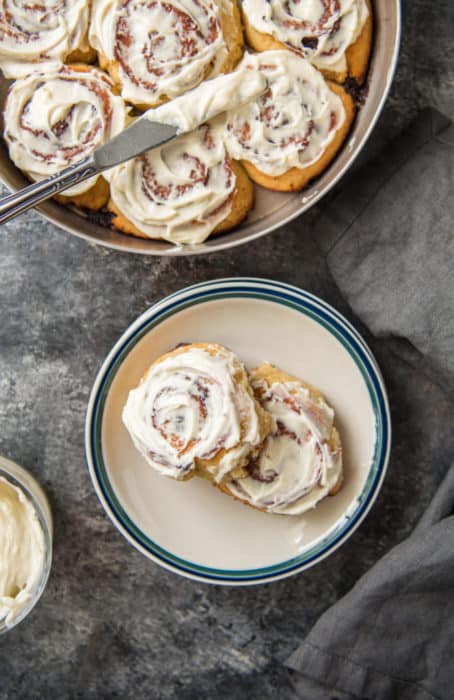 The Best Low Carb Cinnamon Rolls
When I'm making a low carb recipe to share with my non-keto friends and family or that I will soon be making for our son, Theo, I don't want it to be jammed full of cheese and erythritol.
Cutting out all the cheese and cutting down on the use of erythritol by subbing it with liquid stevia makes this recipe more friendly for people not used to eating a keto diet. What makes this the best low carb cinnamon roll recipe is not only the ingredients and taste, but the minimal impact on your gut. If you don't believe us give this recipe a try and comment below or tag us on Instagram to let us know what you really think!
Recipe can be quickly added to MyFitnessPal – Search "KetoConnect – Keto Cinnamon Rolls"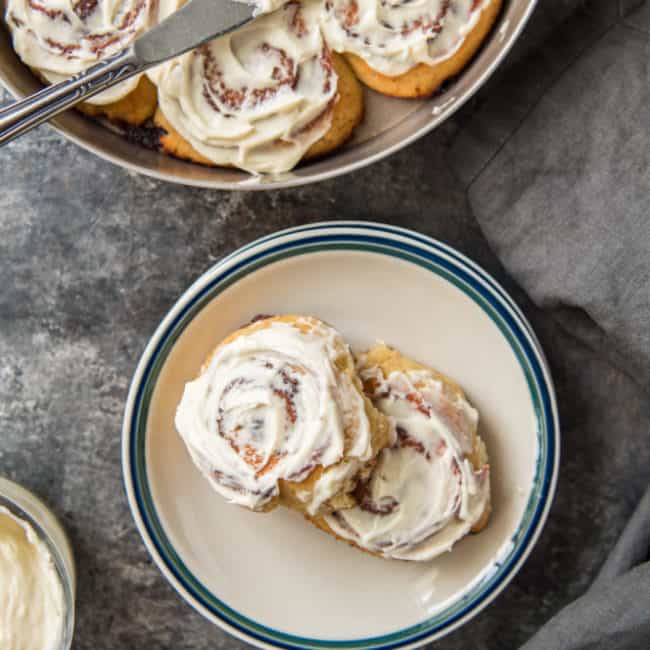 Keto Cinnamon Rolls
Soft cinnamon rolls topped with cream cheese frosting.
Servings 9 Servings
Calories per serving 295kcal
Prep: 20 minutes
Cook: 20 minutes
Ingredients:
Instructions:
Preheat oven to 400°F and grease an 8-inch round cake pan with cooking spray or line with parchment paper.

In a large bowl, whisk together the almond flour, coconut flour, erythritol, flaxseed, baking powder, xanthan gum, and salt.

Add in the eggs, cream, melted butter, vinegar, vanilla and water into the dry ingredients and whisk well until combined using a hand mixer. Rest for 5 minutes. The dough will be very sticky.

While the dough rests, mix Cinnamon Filling ingredients together in a small bowl. Set aside.

With oiled hands, shape the dough into a ball. Place the ball between 2 large pieces of parchment paper and roll it into a rectangle to desired thinness. Spread the cinnamon filling onto the dough, leaving a 1-inch margin at the top empty.

Using the parchment as an aid, roll the dough (towards the empty inch) up into a tight log. Seal the edge with wet fingertips.

Cut the log crosswise into 9 equal pieces and transfer rolls to the prepared round cake pan.

Bake for 5 minutes, then reduce oven temperature to 350 degrees F and continue baking for another 15-20 minutes until golden brown. If necessary, cover loosely with foil to prevent burning.

Meanwhile, make the frosting by combining cream cheese, butter and erythritol in a mixing bowl. Use a hand mixer to whip until light and fluffy. Mix in vanilla and stevia; add cream 1 tablespoon at a time until a thick, spreadable icing comes together.

Cool rolls before spreading frosting on them. Alternatively, you can spread frosting on immediately from the oven if you like more of a glaze.

Best stored in an air tight container in the fridge up to 7 days or on the counter up to 2 days.
Notes
Net Carbs: 5g Serving Size: 1 Cinnamon Roll with Cream Cheese Frosting Yields: 9 Cinnamon Rolls
Nutrition Facts
Keto Cinnamon Rolls
Amount Per Serving
Calories 295 Calories from Fat 234
% Daily Value*
Fat 26g40%
Carbohydrates 10g3%
Fiber 5g20%
Protein 7g14%
* Percent Daily Values are based on a 2000 calorie diet.