If you grew up in the northeast you are very familiar with whoopie pies! Originating in Pennsylvania (my home state), and close to my heart I've recreated these delicious childhood desserts into low carb chocolate whoopie pies!
Favorite Childhood Desserts
Growing up in the nineties in a family that wasn't big on health I had my fair share of desserts and treats! We've recreated quite a few including this chocolate whoopie pie recipe that I'd love for you to remake with your family.
Those are just a few of my personal favorites, but we've got plenty more in the desserts section of our food blog!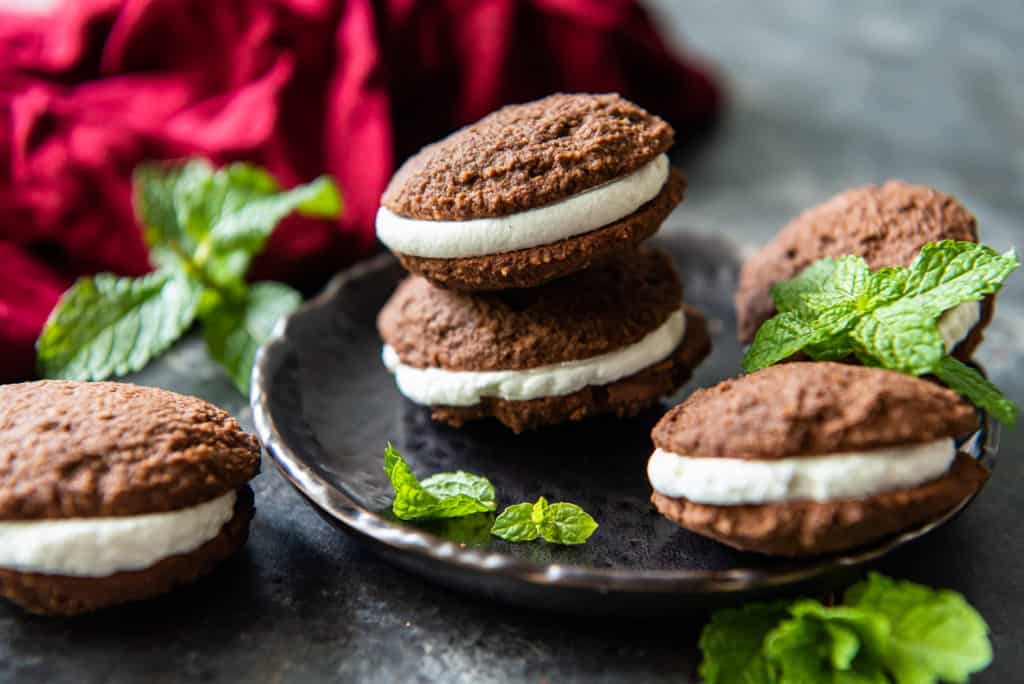 Cakey, Not Crisp!
If you've ever had whoopie pies you know that the cookie part is never crisp. It's soft and cakey from start to finish! The key to making the cookies cakey and muffin top shaped is to let the dough sit and firm up and leave them in mound form on the baking sheet prior to baking!
Letting the dough sit for 5-7 minutes prior to scooping into mounds will transform the batter form wet and loose to thick and firm in texture. It will be easier to scoop, and hold it's shape when baked.
The Secret Ingredient
The secret ingredient is used in the filling of these chocolate whoopie pies, and a necessary component in our opinion. If you've ever had one you know that the filling is thick and fluffy like cool whip, but when using only heavy whipping cream to make it you need a little something extra to make it thick and stiff in texture. The secret ingredient for the perfect whoopie pie filling is gelatin powder!
Low Carb Chocolate Whoopie Pies
To go the extra festive mile we made these whoopie pies chocolate peppermint by adding peppermint extract to the filling. It's a simple ingredient that you can find in any grocery store baking aisle and you only need a little to add a lot of flavor! You can leave it out or even change up the flavor of the filling by using flavored stevia drops.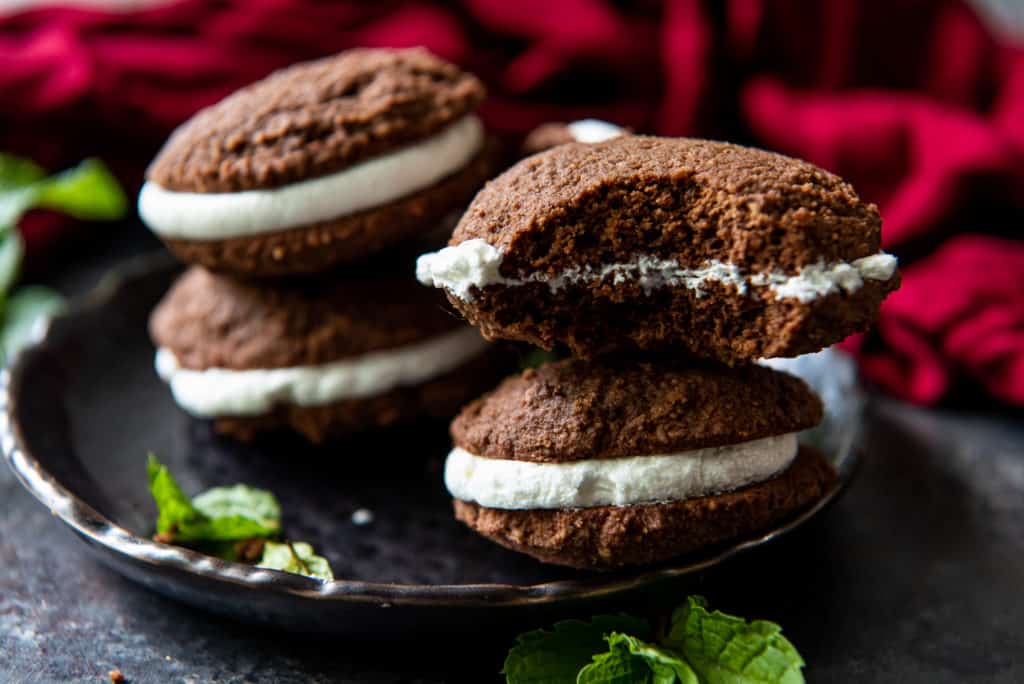 More Holiday Desserts
With Thanksgiving and Christmas right around the corner you want to be prepared with some low carb treats. Staying on track doesn't have to be impossible this year. Make some of our favorites:
What more do you need this holiday season? A tip to stay on track all season long is to make a couple batches of your favorite cookies and freeze them so you always have a treat to turn to at the end of day.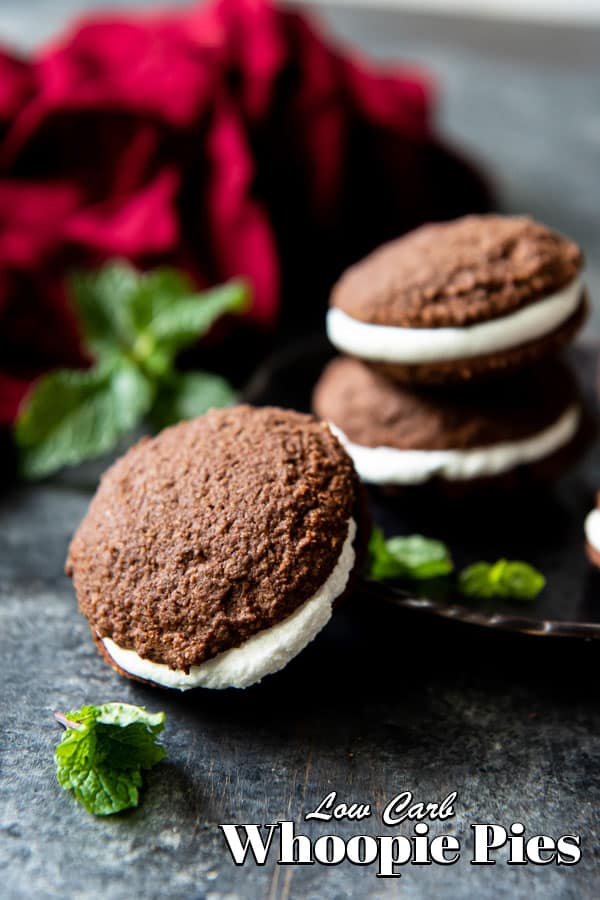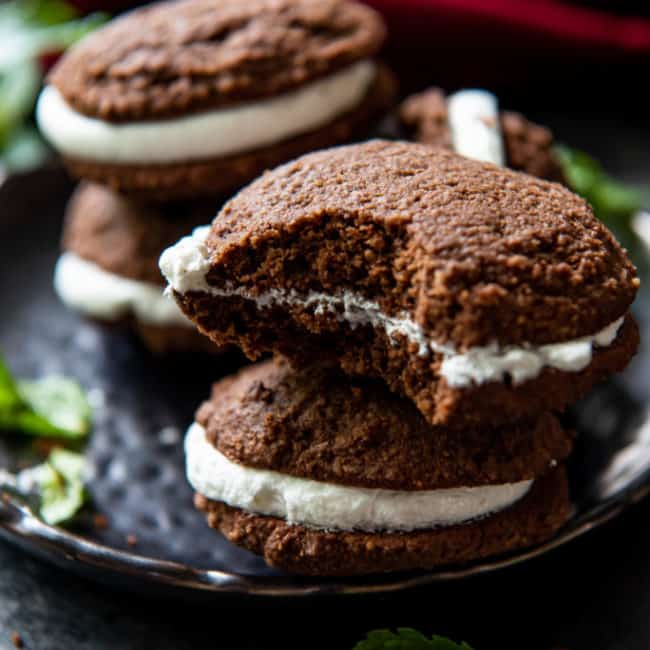 Peppermint Chocolate Whoopie Pies
Peppermint whipped cream filling sandwiched between two chocolate keto cookies.
Servings 8 Whoopie Pies
Calories per serving 309kcal
Prep Time: 15 minutes
Cook Time: 10 minutes
Instructions:
CHOCOLATE COOKIES
Preheat oven to 350 degrees F. Line 2 rimmed baking sheets with parchment paper and set aside.

In a small bowl, whisk together almond flour, coconut flour, cocoa powder, baking powder, and salt.

In a large bowl, blend together butter and erythritol. Add the egg, vanilla extract, stevia, and water, and blend well. Add dry ingredients to bowl with the wet ingredients. Whisk until batter is well combined.

Allow batter to rest for 5 minutes.

Use a cookie scoop to portion 1 1/2 tablespoon-sized mounds of batter 2 inches apart on the prepared pans, pressing each down to an even thickness. Bake for 8-10 minutes, until puffy and the surface springs back when tapped. Transfer with a metal spatula to a rack to cool completely.
PEPPERMINT WHIPPED CREAM
Place cold water in a small, microwave-safe bowl. Sprinkle gelatin over water and let bloom for 5 minutes. Place bowl in microwave and melt for 5-7 seconds.

In a cold mixing bowl, whip heavy cream to soft peaks. Add stevia and peppermint extract. With mixer on low speed, drizzle in gelatin and mix until stiff peaks form.

Spread a rounded tablespoon of Peppermint Whipped Cream on flat sides of half the cookies, then sandwich with remaining cookies.

Best stored in an air tight container in the fridge up to 7 days.
Notes
Net Carbs: 4g
Serving Size: 1 Whoopie Pie
Yields: 8 Whoopie Pies Note: nutrition reflects use of all the filling. Feel free to use less filling per whoopie pie for fewer calories per serving.
Nutrition Facts
Peppermint Chocolate Whoopie Pies
Amount Per Serving
Calories 309 Calories from Fat 279
% Daily Value*
Fat 31g48%
Carbohydrates 7g2%
Fiber 3g12%
Protein 5g10%
* Percent Daily Values are based on a 2000 calorie diet.