We recently just invested in a new, 5.8 qt air fryer and it has probably been one of the best decisions we've made in a while! When we cook dinner we make big portions of meat and veggies so the small one just wasn't cutting it. So, of course we had to break it in with these delicious Air Fryer Avocado Fries! It was my first time trying warm avocado and I was a little skeptical, but I'm officially a convert.
Easy Air Fryer Recipes
If it's been a long day or I'm in charge of our seven month old son during dinner time, I always turn to the air fryer for easy cooking and clean up. I have some sure winners that I always turn to:
Or if we're felling a little naughty we whip up a giant Air Fryer Cookie!
Not Too Ripe
Since your avocado slices are going to be crisped up like fries you don't want them to be soggy. In order to prevent soggy or over ripened fries the best avocados for this recipe are ones that are on the verge of perfect ripeness. A little hard is okay so, use up those avocados that are sitting on the counter waiting to get ripe by make some air fryer avocado fries!
Simple Breading
Keto breading never requires three bowls like you need in traditional high carb breading. We omit the first bowl of flour and go straight to the egg wash. Next, and most importantly we have a mixture of almond flour and grated Parmesan, plus any seasonings you want, which will result in a perfectly crisp and salty coating.
You can use this same two step coating for any meat or veggies you want to air fry or bake and you'll always yield a perfectly crisp, and delicious product.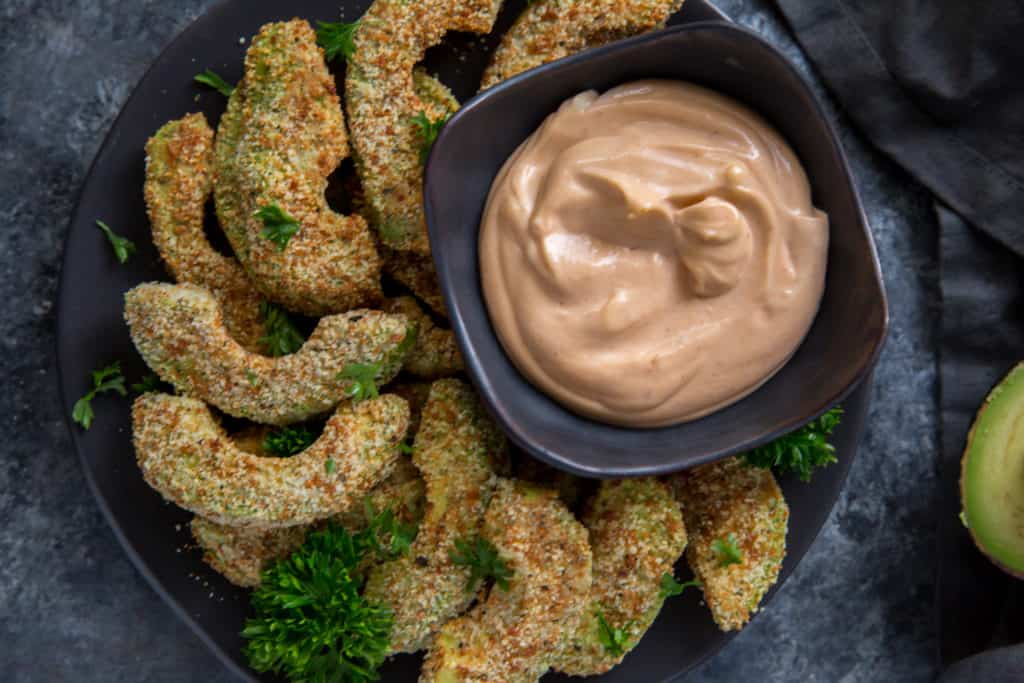 Crispy Not Burnt
As mentioned in the video, all air fryers vary in cook time. We know this for a fact from owning two very different ones. Our first air fryer, which we loved dearly, ran a bit hot so things cooked quickly. Now, our current air fryer, taking into consideration the large size of the basket, takes a little longer to get to the same cook point.
For this sole purpose, you want to keep an eye on the air fryer avocado fries. Never set the temp and time according to the post and walk away until done, unless you have the same air fryer as us! You might just end up with burnt avocado fries.
Air Fryer Avocado Fries
These air fryer avocado fries are the perfect side dish or appetizer to whip up for family and friends. We love to make them on movie nights to complement the sweet snacks we'll be eating. If you're a fan of avocado and fries, you will absolutely love these air fryer avocado fries!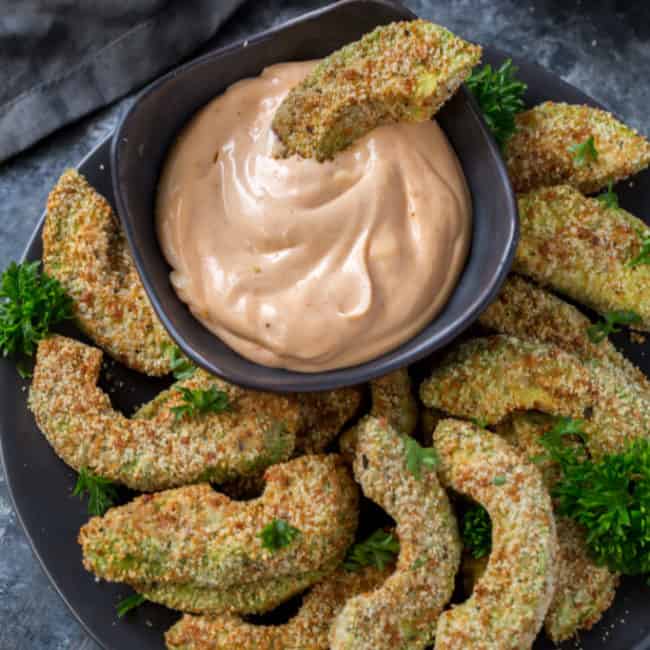 Air Fryer Avocado Fries
Avocado Fries coated in a blend of almond flour & parmesan cheese then crisped up in the air fryer.
Servings 4 servings
Calories per serving 262kcal
Prep Time: 10 minutes
0 minutes
Cook Time: 8 minutes
Instructions:
First slice the avocados, making about 4-5 thick slices per half of avocado (shown in video). Set aside.

In one shallow bowl mix the almond flour, Parmesan cheese, and seasonings.

In another shallow bowl add the egg and water and mix until you make an egg bath all foamy/fluffy.

Dredge the avocado carefully into the egg mixture and then into the flour/cheese mixture. Set aside on a plate and repeat for all slices.

Set the air fryer to 400°F and allow to preheat for 2-3 minutes.

Spray the preheated air fryer with some coconut oil spray and place the slices in the air fryer basket in a single layer.

Cook for 4 minutes and turn over and cook for an additional 2-3 minutes.
Notes
Net Carbs: 3g
Serving Size: 4-5 fries
Yields: 4 servings
Nutrition Facts
Air Fryer Avocado Fries
Amount Per Serving
Calories 262 Calories from Fat 207
% Daily Value*
Fat 23g35%
Carbohydrates 11g4%
Fiber 8g32%
Protein 8g16%
* Percent Daily Values are based on a 2000 calorie diet.
Written By