If you've been looking for what is definitively the best keto bread recipe on the internet, then you've come to the right place. How do I know it's the best? Well, I've tried just about every keto bread recipe over the past three years and decided that nothing tasted like regular bread. There's a couple that are good, but I wanted perfection!
The best part about this recipe is that it's simple, and once you have it down, you can replicate this keto friendly bread any time you want. I've been making a low carb loaf every Sunday for the past few weeks and would recommend that to anyone. It's so nice to have a loaf of bread at your disposal when you're on a low carb diet. It almost feels like cheating. Check out this recipe and start making the best keto bread you've ever tried today!
A Healthy Low Carb Bread Recipe
The secret step in this recipe that takes this carb-free bread from good to great is the separation of the eggs. You're going to want to separate the yolks and the whites. The reason for this is that we're going to whip the egg whites until they are fluffy. We're looking for soft peaks. This will add some volume to the otherwise dense keto bread.
Beating the egg whites is the answer to the denseness that comes with making an almond flour bread. I've made countless baked goods using almond flour and the main problem I've encountered is how dense the finished product is. The fluffy egg whites in unison with the high dosage of baking powder do a good job of getting this loaf nice and fluffy and adding some air pockets into the loaf. This makes for a better tasting bread.
Some people are fine with the popular keto cloud bread recipes out there, but we wanted something more dense and filling. By adding the almond flour to the fluffy egg mixture, you add more fat, protein, and calories making for a satiating meal. Plus, the texture and flavor is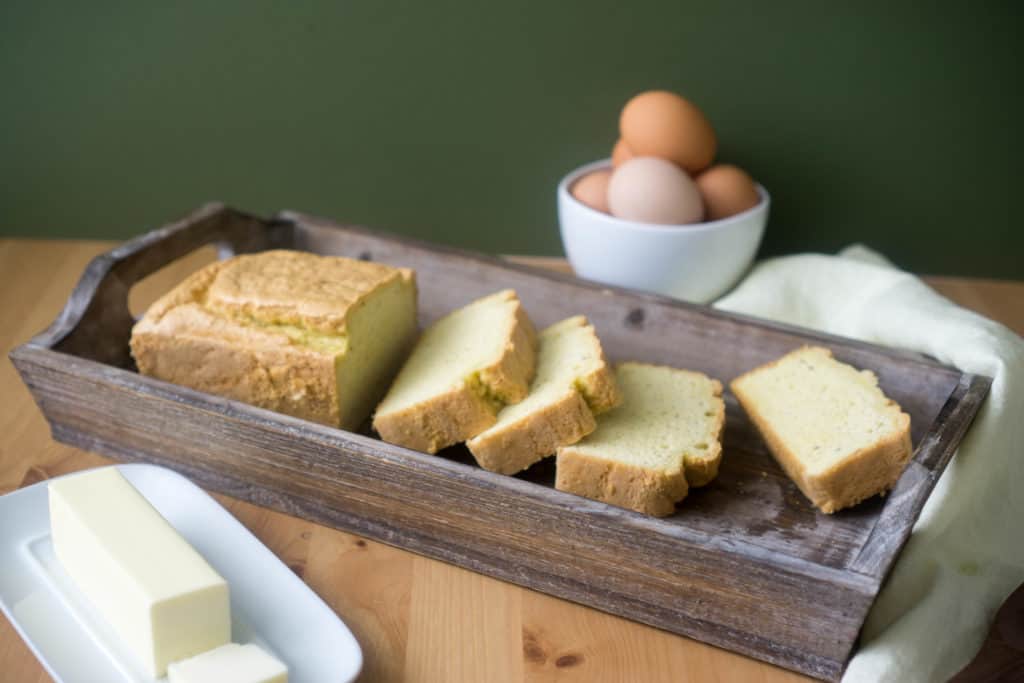 What makes this the best keto bread recipe is the fact that you can use it the same way you use regular bread. Sounds crazy right? If you search for keto bread on Pinterest, or the internet you'll find a different recipe for everything you might want to make.
How will you eat bread again?
You can do it all with this keto bread recipe. You can even get crazy and throw this bread in a food processor and use it as Italian bread crumbs. The possibilities are endless.
Your Low Carb Bread Replacement Has Arrived
The best part about this bread is that it makes it so much easier to eat a low carb diet. Yes, there are some savage beasts (joking) that don't miss bread at all and are happy to just eat bacon seven times a day, but if you're anything like me, bread was a staple of your diet growing up and you still have a look of yearning in your eyes when they drop that bread basket in the middle of the table at family dinner. I feel your pain. This low carb bread recipe is your shoulder to cry on.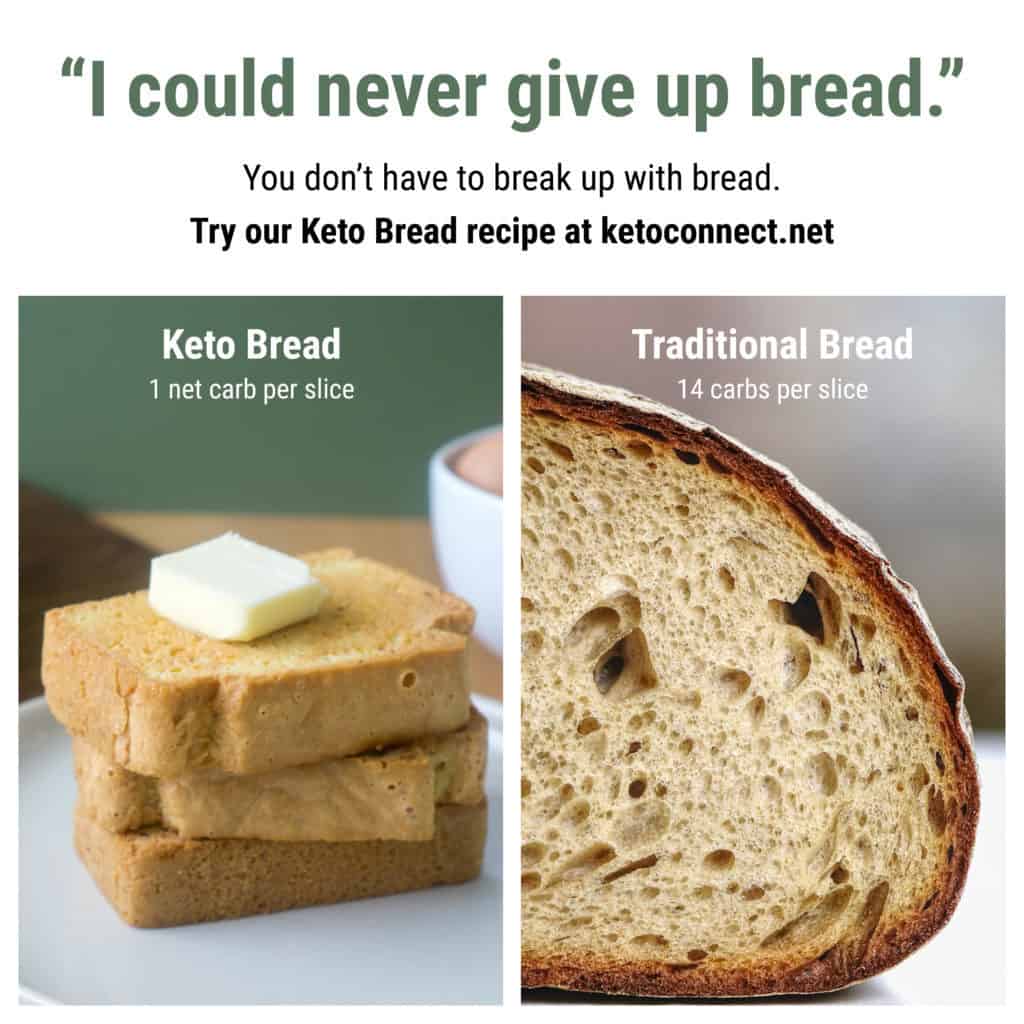 Frequently Asked Questions
Can I use coconut flour instead of almond flour?
There's no need to try making this recipe using coconut flour when we've created this amazing coconut flour bread recipe for you. It's a slight variation on this recipe and is the perfect coconut flour loaf for those of you with nut allergies or if you just hate almonds.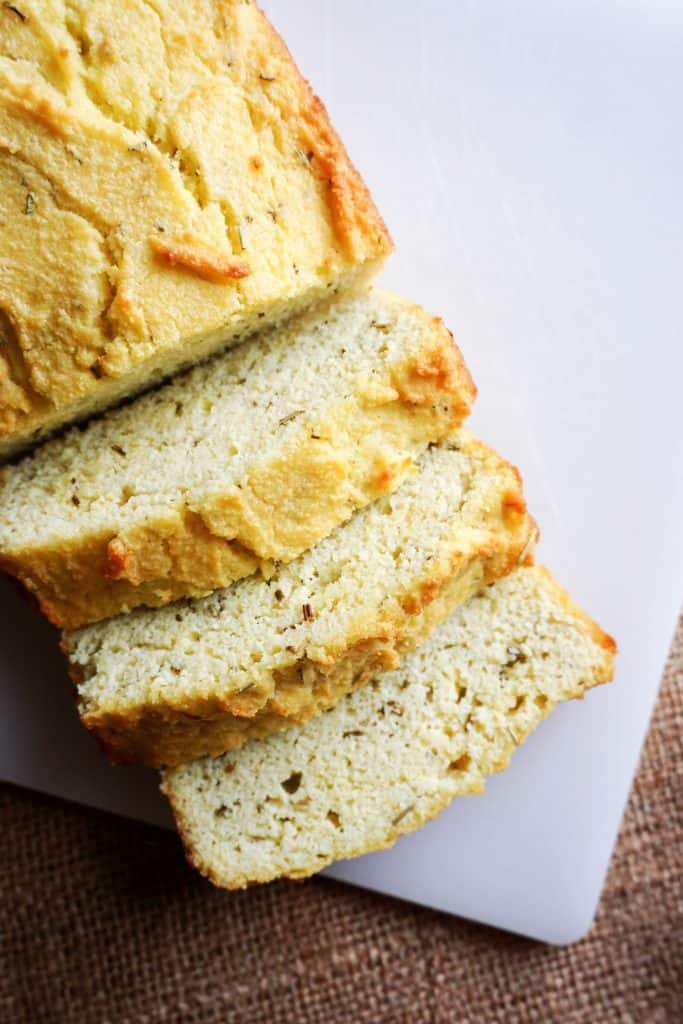 How do I get rid of the eggy taste?
There is a mild eggy taste to this bread, which we happen to love, but some people don't like it. We've tested a couple of different ways to eliminate it and here is what we've come up with:
Stevia – It might sound crazy, but adding a few drops of stevia to this recipe is the best way to eliminate the eggy taste. Just a few drops will do! We typically use 6 drops of stevia. That amount will not make the bread sweet to the taste at all, but it will greatly reduce the eggy taste.
Yeast – Adding a tablespoon of Active Dry Yeast to this recipe can result in a more traditional bread flavor. The yeast won't make the bread rise or anything since we're not using sugar or gluten, but the flavor will still come through.
Butter – This might be the best way 🙂 Just add some delicious butter to the top of a slice and you will think you're eating traditional bread!
Is the keto bread dairy-free?
This recipe calls for melted butter, but you can swap that out for whatever kind of dairy-free fat you like best. Ghee, coconut oil, or avocado oil would all be great options. Let us know if you try the swap and how your bread turns out.
Is the recipe gluten-free?
Yes! This keto bread recipe and all of our other keto recipes are gluten free. The bread is made with finely ground almond flour instead of wheat flour, which means you and your gluten-free friends can enjoy a slice.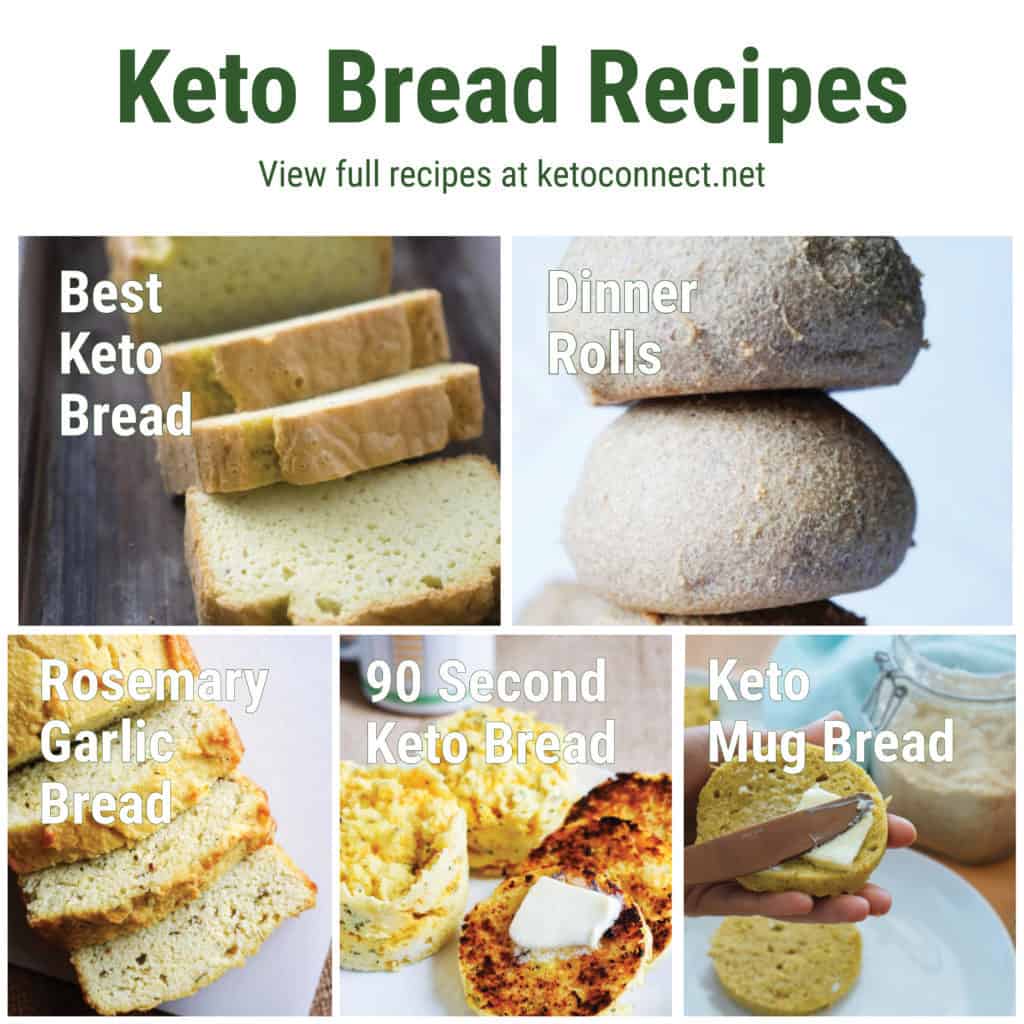 How do I store Keto Bread?
Slicing to order is going to be your best bet from a shelf life standpoint. We pop the entire loaf in the fridge, either in a Tupperware container or a Ziploc bag and cut off slices as we eat it. It will last in the fridge for 7-10 days.
How do I get my loaf to be taller and fluffier?
The two major issues that will lead to a flat loaf is not whipping the egg whites and gently folding them in OR using almond meal instead of a finely ground almond flour. If you've tried everything and they don't seem to be working for you, the next best option will be to make a larger recipe. Try making 1.5x this recipe (it's easy to do using the servings slide bar) and you'll have a much larger loaf.
Where to buy Keto Bread near me?
If you're not a fan of baking but you're a fan of eating bread, there are places to get keto friendly bread these days. If you're lucky, you may be able to find a loaf of "Paleo Bread" in the freezer section at Whole Foods Market. This bread is going to cost you over $10 per loaf, but it is made of good ingredients and is a few grams of carbs per slice. There's also rumors of ALDI carrying a new Zero-Carb bread, but it sells out fast and we haven't been able to review it. Hopefully in the near future there will be more local buying options for low carb bread, but for now, those are your only options.
Where to buy Keto Bread online?
If you're willing to order online there are a number of good options to choose from. We haven't tried all the options available but a few of our favorites are: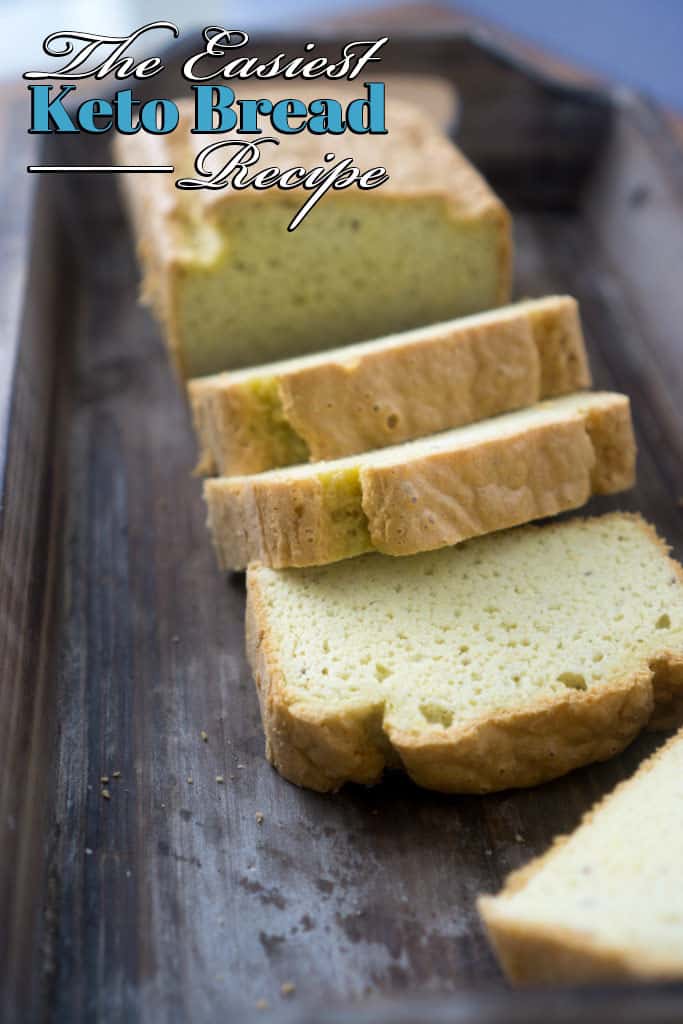 Our Best Low Carb Bread Recipes
If you're looking for a keto traditional dinner roll that tastes good then look no further. This is the softest and fluffiest keto bread recipe we have on the site. This one is also nut free!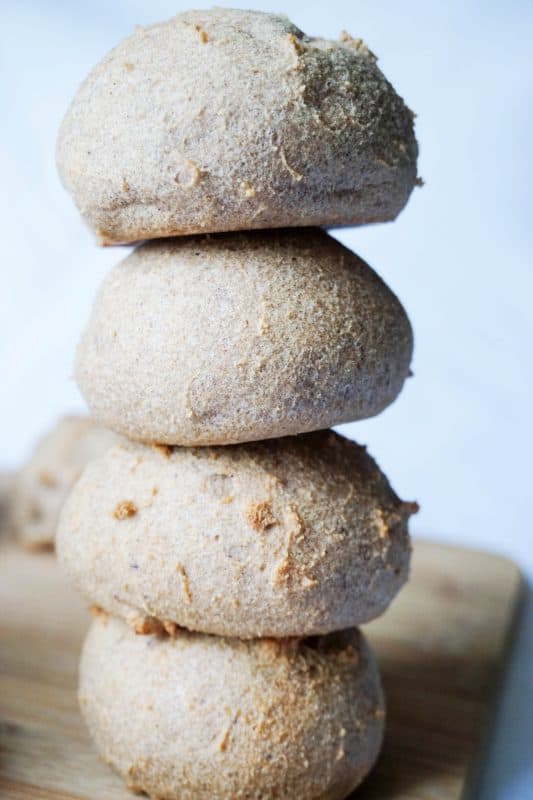 ---
Sometimes we just want to throw something in the microwave after a long day at work, and this is the perfect recipe for those occasions. This microwave keto bread is packed with flavor and can be cut into 5 or 6 slices and used the way you would use an english muffin. Perfect any time of the day!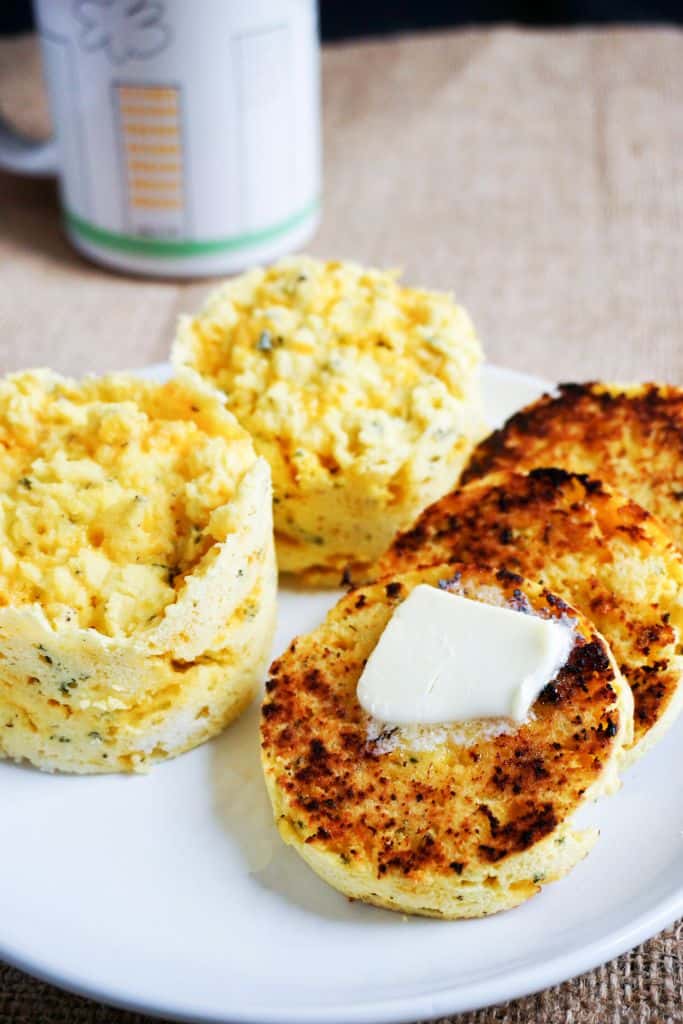 ---
This is our coconut flour bread loaf recipe. Very similar to our Best Keto Bread recipe, but we've eliminated the nuts and replaced it with coconut flour. The resulting bread is more soft and moist, but can be a bit more crumbly. We alternate between these recipes regularly and still can't decide which one is our favorite.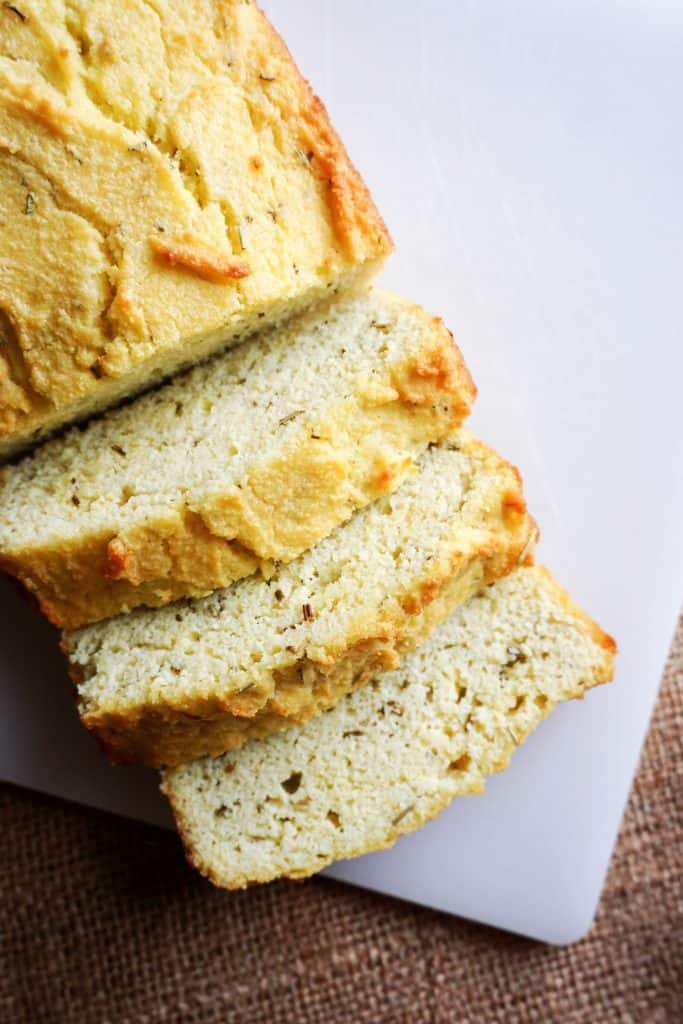 ---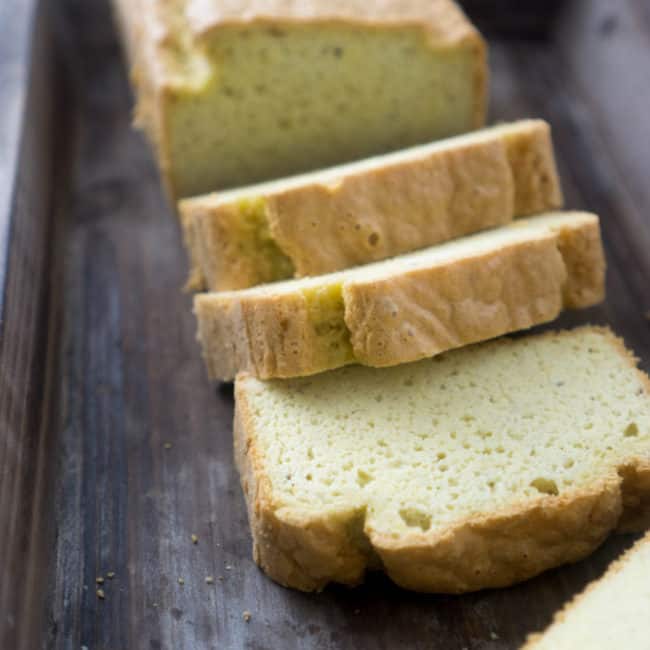 Best Keto Bread
Total Time 40 minutes
Servings 20 Slices
Calories per serving 90kcal
Prep: 10 minutes
Cook: 30 minutes
Instructions:
Preheat oven to 375.

Separate the egg whites from the yolks. Add Cream of Tartar to the whites and beat until soft peaks are achieved.

In a food processor combine the egg yolks, 1/3 of the beaten egg whites, melted butter, almond flour, baking powder and salt (Adding ~6 drops of liquid stevia to the batter can help reduce the mild egg taste). Mix until combined. This will be a lumpy thick dough until the whites are added.

Add the remaining 2/3 of the egg whites and gently process until fully incorporated. Be careful not to overmix as this is what gives the bread it's volume!

Pour mixture into a buttered 8x4 loaf pan. Bake for 30 minutes. Check with a toothpick to ensure the bread is cooked through. Enjoy! 1 loaf makes 20 slices.
Nutrition Facts
Best Keto Bread
Amount Per Serving (25 g)
Calories 90 Calories from Fat 63
% Daily Value*
Fat 7g11%
Carbohydrates 2g1%
Fiber 0.75g3%
Protein 3g6%
* Percent Daily Values are based on a 2000 calorie diet.