Breakfast sandwiches are Matt's all-time favorite food. When we first started dating we would make them every weekend. We would shop for some fresh ingredients on Saturday morning, including some freshly baked sourdough bread and make the ultimate breakfast sandwiches! Going keto has not stopped that tradition for us. We have created a perfect, yet Easy Keto Breakfast Sandwich for you to indulge in this weekend.
What are Keto Breakfast Sandwiches?
Ever have a craving for something comforting, hot, savory and of course breakfast-appropriate? This skillet bread recipe might be what you're looking for.
Keto-Friendly
You don't need to miss out on sandwiches on a keto diet. Unlike conventional high-carb recipes, this low carb breakfast is gluten free, suitable for a keto diet and is made with coconut flour, which is usually cheaper to buy than almond flour.
Easy to Make
Don't worry – this recipe is just as delicious as the original and super easy to make, with a cook time of only 12 minutes total time. You'll have no excuse to skip breakfast now! Plus, you can even make the bread in the microwave. It doesn't get easier than that.
So Many Flavor Possibilities
While we offer suggestions for toppings in our recipe, you can even customize your own fillings, including sausage patties, extra egg and of course, cheese.
Sweet or savory? It's up to you – why not add berries and whipped cream for a high tea experience?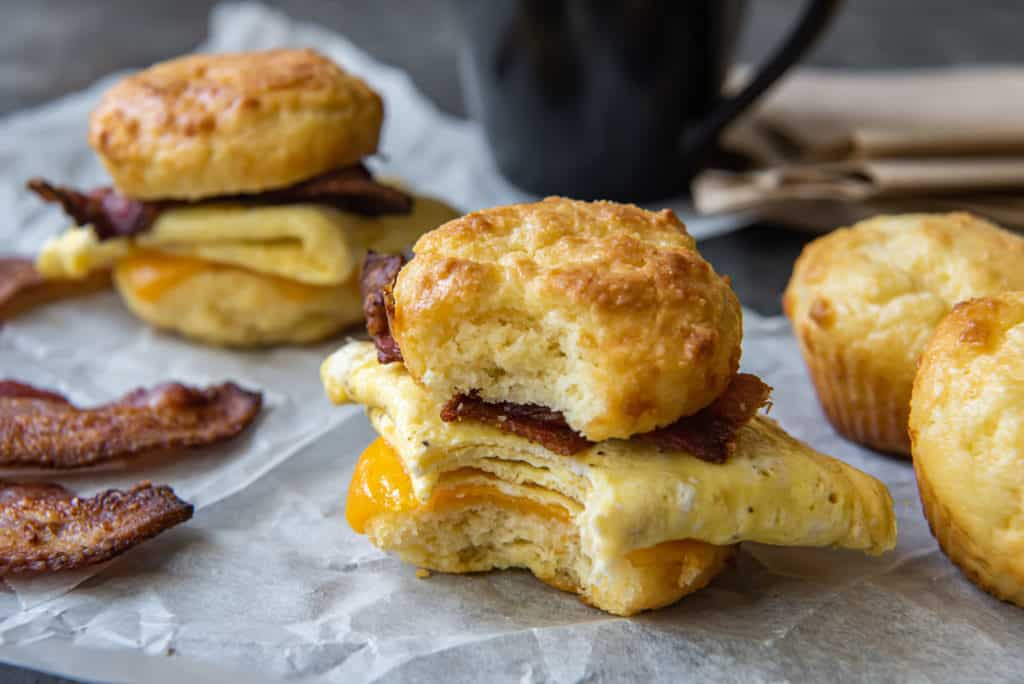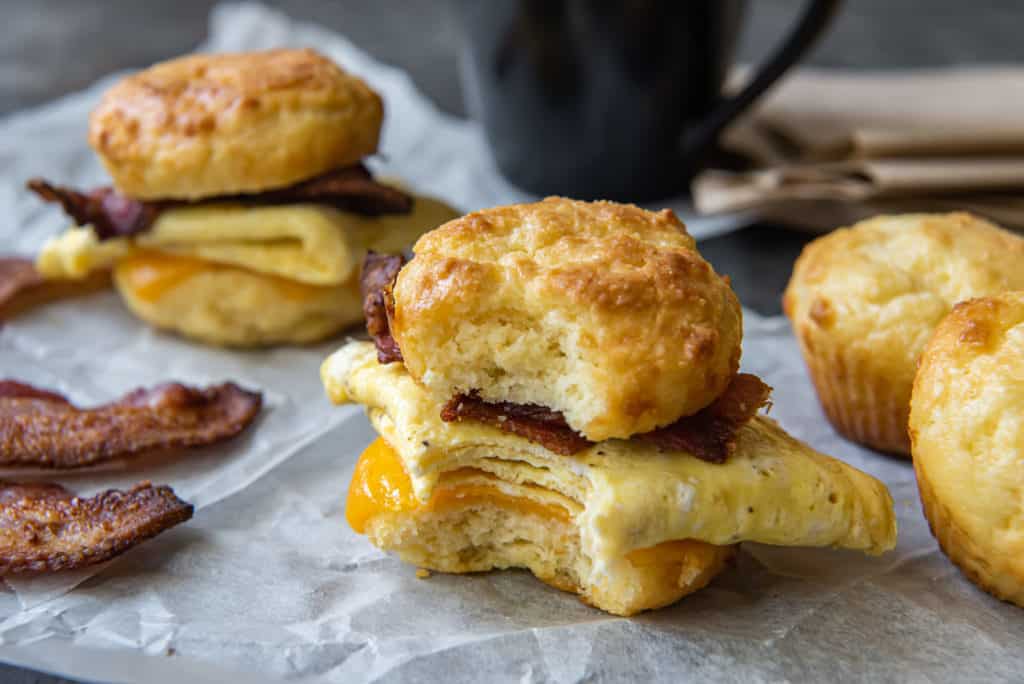 Nutritional Information
This recipe is a low carb keto favorite not just because of the flavor, but the amazing nutrition. You just can't beat this for a delicious gluten free bread that's low in carbs and high in protein!
The nutritional information for this recipe is as follows:
923 calories
57 g protein
71 g fat
12 g carbohydrates
5 g fiber
Who knew a bread recipe could be so low carb?
Modifying to Suit Your Diet
This recipe can easily be tweaked based on your preferences and requirements. If you want to increase the protein and fat you can add fillings like egg, sausage and cheddar cheese.
If the calories are a bit high, you can always have just one egg as a topping, or even go for one slice over two without worrying that you'll miss the egg sandwich experience altogether.
Got nut allergies? No problem – this recipe doesn't use any almond flour, but they're still nice and fluffy like bread thanks to the baking powder. However, if you don't use baking powder, your slices may be more flat and dense.
Low Carb Bread Options
While many recipes (including this one) include a skillet option, Matt loves to start his keto breakfast sandwich off with an easy mug bread. Less hassle and clean up. However, my preferred route would be baking a fresh loaf of keto bread, slicing it up and toasting some to get the sandwich ball rolling.
If you like to do things like me, we've got some great low carb bread recipes for you to try:
Cheesy Keto Garlic Bread (Megha's personal fav!)
The best part about baking a keto friendly loaf of bread is you can pre-slice it and store it in the fridge for up to one week or in the freezer for up to one month, making keto breakfast sandwiches an every-meal possibility!
Fillings
The best part about this recipe is the flavor combinations are endless. From eggs to cheese, there are a tonne of different keto-friendly additions to the bread base that not only taste delicious but will keep those net carbs low. You can even bring the heat by adding some hot sauce!
Keep It Simple
Matt is a simple guy. Nothing wrong with that, just his style. From clothing to sandwiches, he's minimal in how he presents it. If you want to keep it simple like Matt (or you could also say classic), all you really need to complete this delicious keto breakfast sandwich is a couple of layers of bacon, egg and cheese. You can even drizzle on some low-carb maple syrup and have yourself a homemade McDonalds McGriddle minus the carbs and processed ingredients!
Get A Little Wild
This section is dedicated to my "over the top" low carb keto sandwich lovers, and who better than to write this than me. As a lover of extra toppings and fillings, I must say: going simple just doesn't make sense to me.
Your Keto Breakfast Sandwich already has the basics: bacon, eggs and cheese. But what if you could increase flavor, texture and the degree to how satisfying this low carb bread sandwich could be? No one's going to say no to that.
If you want to get just a little wild you could opt for some sliced avocado, tomato and onion. This is a great option for lunch, especially one that's portable and can be eaten on the go. Personally, I like to go crazy so I would definitely spread some mayo on my toasted bread and use a couple of different kinds of cheese (especially cheddar cheese). Now, that's a low carb masterpiece.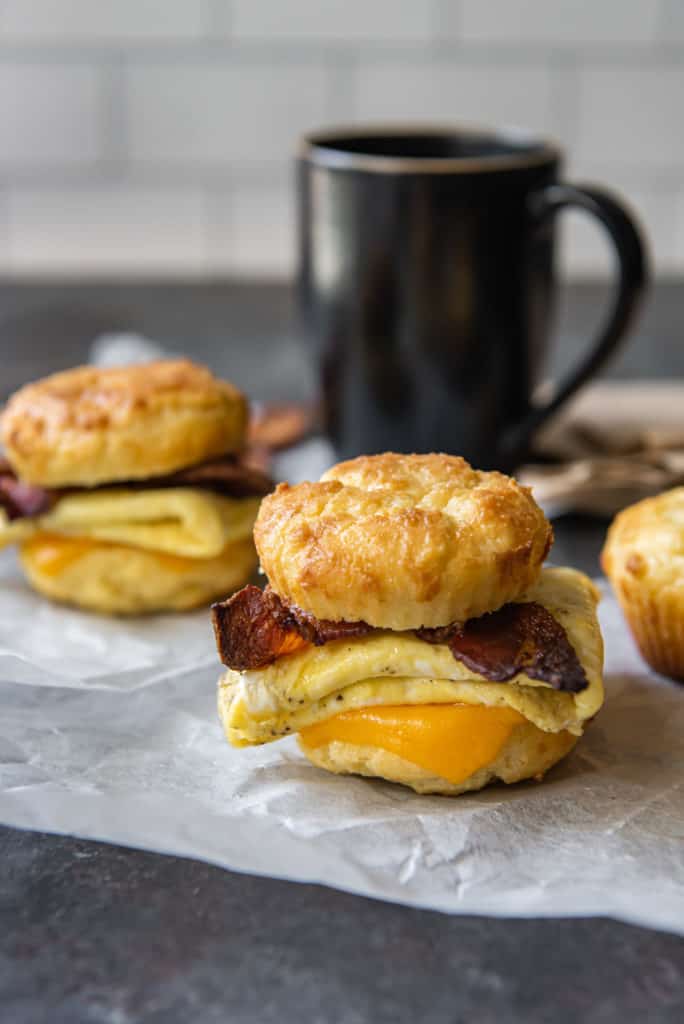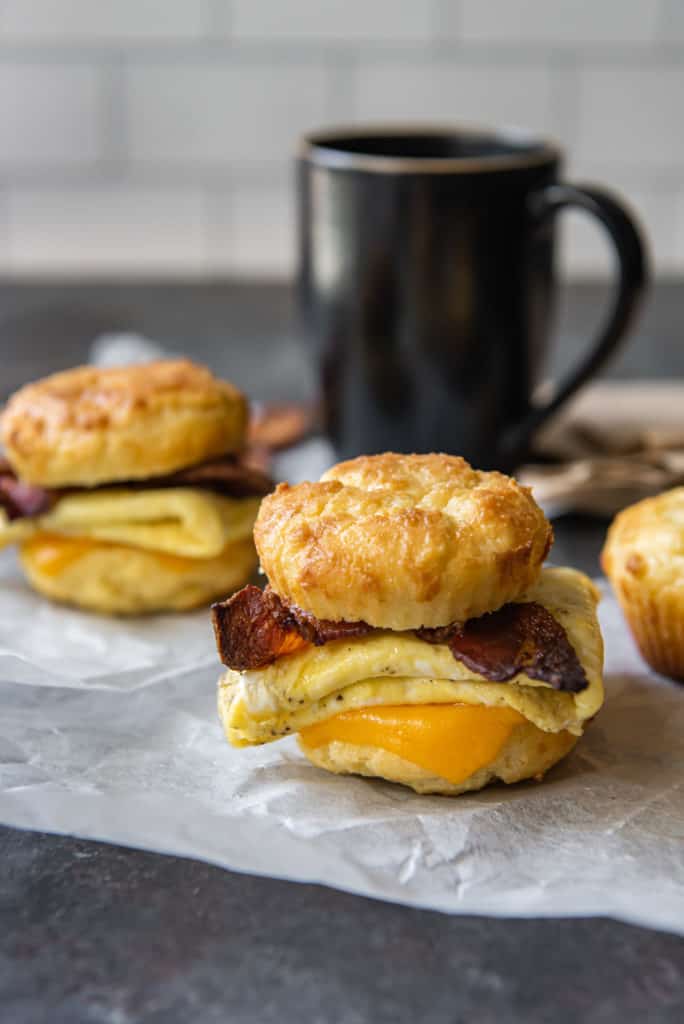 Keto Breakfast Sandwich Sunday Club!
Join the club! We make skillet Keto Breakfast Sandwich recipes every Sunday because there is no better way to start the day off than with a healthy keto meal that ticks all the nutrition boxes.
You can have all the ingredients (like egg and sausage patties) prepped and cooked before the rest of the family wakes up and surprise them with a mini sandwich bar. It's a great way to make healthy food and cooking a fun part of the day. With a cook time of around 10 minutes, you can't go wrong.
Did you make this recipe? Let us know what your favorite toppings are for this easy Keto Breakfast Sandwich by tagging us on Instagram with your family, and of course, the sandwiches! Do you prefer savory fillings like sausage or do you go for sweet?
Looking For More Breakfast Options?
It's hard to think of a better egg breakfast once you've made the breakfast sandwich keto. But if you're looking for some additional cooked options with low net carbs, some of our favorite low carb and keto recipes are:
Egg Loaf (great for meal prep!)
Keto Coffee Carrot Cake (for the sweet breakfast lovers out there)
Check out the rest of our recipes on our food blog and don't miss out on a new recipe every week!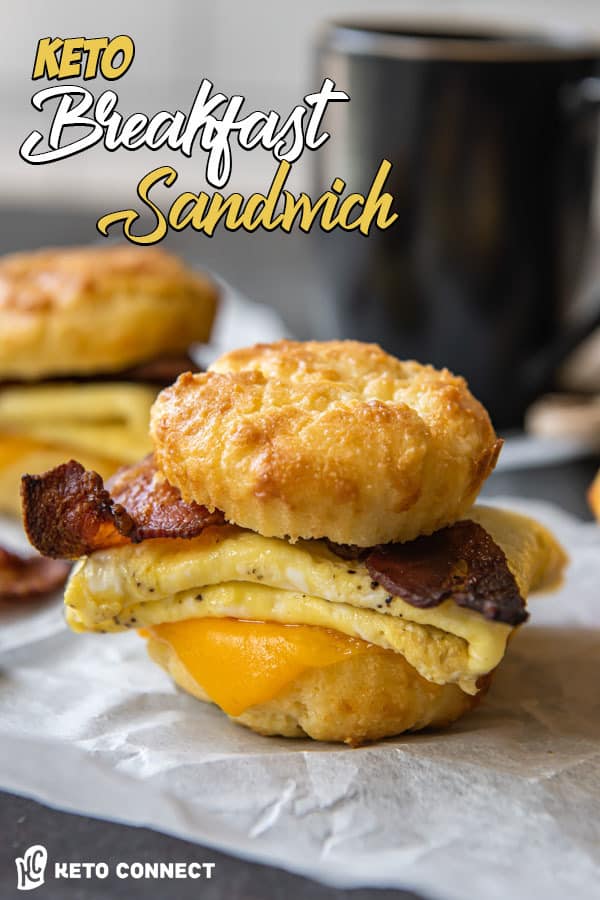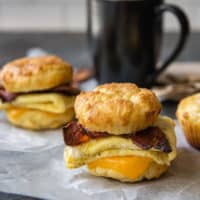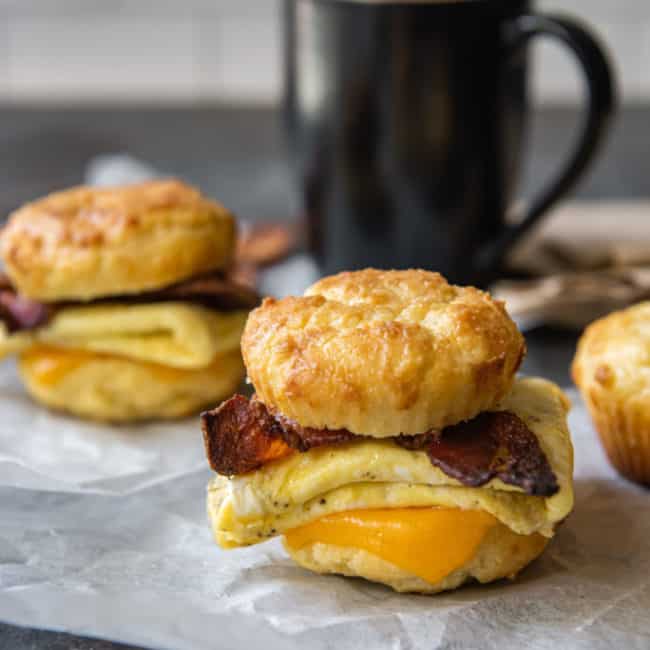 Keto Breakfast Sandiwch
A savory breakfast sandwich filled with fried egg, salty bacon, and melted cheese.
Servings 1 serving
Calories per serving 923kcal
Prep Time: 5 minutes
Cook Time: 12 minutes
Ingredients:
Sandwich
4 slices bacon
2 large eggs
2 slices cheddar cheese
Instructions:
Mug Bread
Place butter in a large mug and melt in the microwave on high for 30 seconds.

Add the remaining ingredients and whisk together using a fork. Microwave on high for 90 seconds to 2 minutes until fully cooked through.

Allow to cool and then remove to a cutting board. Slice in half and set aside as you cook the remaining ingredients.
Sandwich
Cook bacon in a large skillet over medium-high heat and then transfer to a paper towel lined plate to drain.

Turn the heat down to medium and crack two eggs into the skillet. Cook until desired done-ness (we recommend over medium).

Assemble sandwich: Place one slice of cheese on one half of bread, top with two slices of bacon, one egg, the remaining bacon and egg and finally the second slice of cheese.

Serve immediately.

Note: You can use the biscuit recipe provided above and in the recipe video or try our Keto Air Fryer Biscuits as seen in the photos. Feel free to make two sandwiches out of this recipe! Matt likes to make "big boy" sandwiches and double the ingredients called for in one sandwich!
Notes
Net Carbs: 7g Serving Size: 1 serving  
Nutrition Facts
Keto Breakfast Sandiwch
Amount Per Serving
Calories 923 Calories from Fat 639
% Daily Value*
Fat 71g109%
Carbohydrates 12g4%
Fiber 5g20%
Protein 57g114%
* Percent Daily Values are based on a 2000 calorie diet.
Written By