We've done it again with this Keto Dark Chocolate Pie recipe. Filled with crunchy pecans, a sweet moist crust, and a dense and creamy dark chocolate filling this tart recipe is going to be the hit at your holiday parties! Serve it up along with some cold whipped cream or vanilla ice cream and let your guests fall into a chocolate trance!
Our Favorite Keto Dessert Recipes!
I love all dessert recipes lately. Not only because I'm 34 weeks pregnant, but because there is always something unique whether it's the textures, the flavor combinations or the intricacy of making it. And, some of my sneaky favorites are the following:
Keto Butter Cake: Each layer has its own buttery and rich flavor to it and your non-keto guests won't know the difference.
Keto Blueberry Muffins: These muffins are dense and moist every time and you can easily swap out the blueberries for your favorite add-in!
Low Carb Chocolate Mousse: It's really easy to whip up in a pinch, always hits the chocolate spot and is completely guilt free so you can eat it every night!
Keto Chocolate Options
We personally love the taste of 100% dark chocolate and it can easily be used in dessert recipes if supplementing with some stevia or erythritol to balance out the bitterness. However, there are several other options on the market. Lily's chocolate bars are a great option for some low carb keto chocolate as well as their chocolate chips, which work great in our chewy chocolate chip cookie recipe! If 100% is too intense for you, but you are a fan of dark chocolate, my favorite is the 92% Ghiradelli dark chocolate!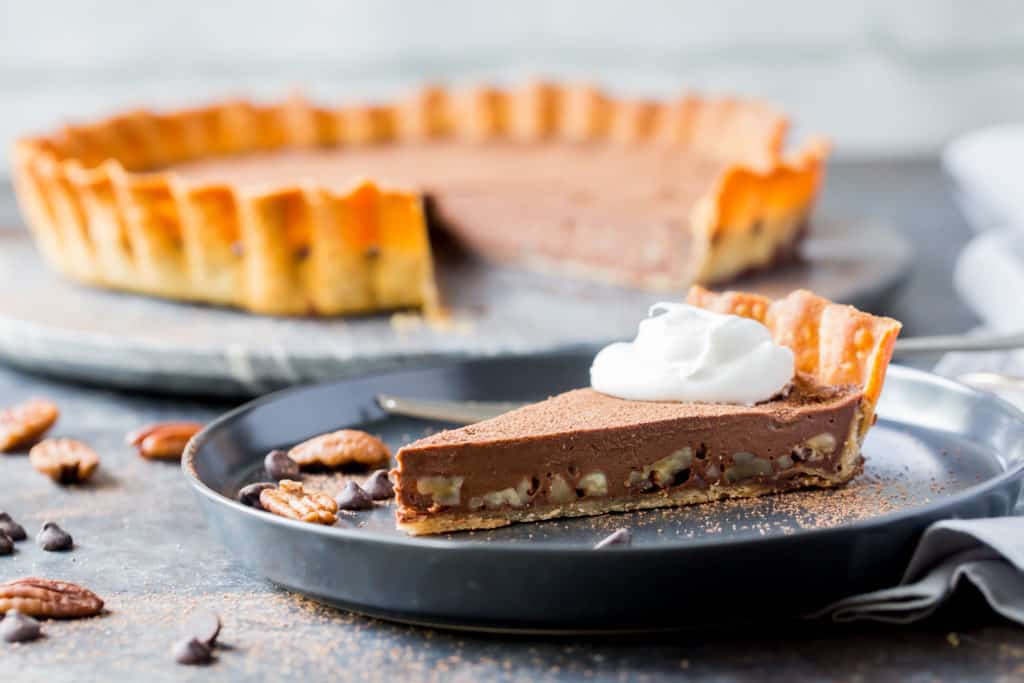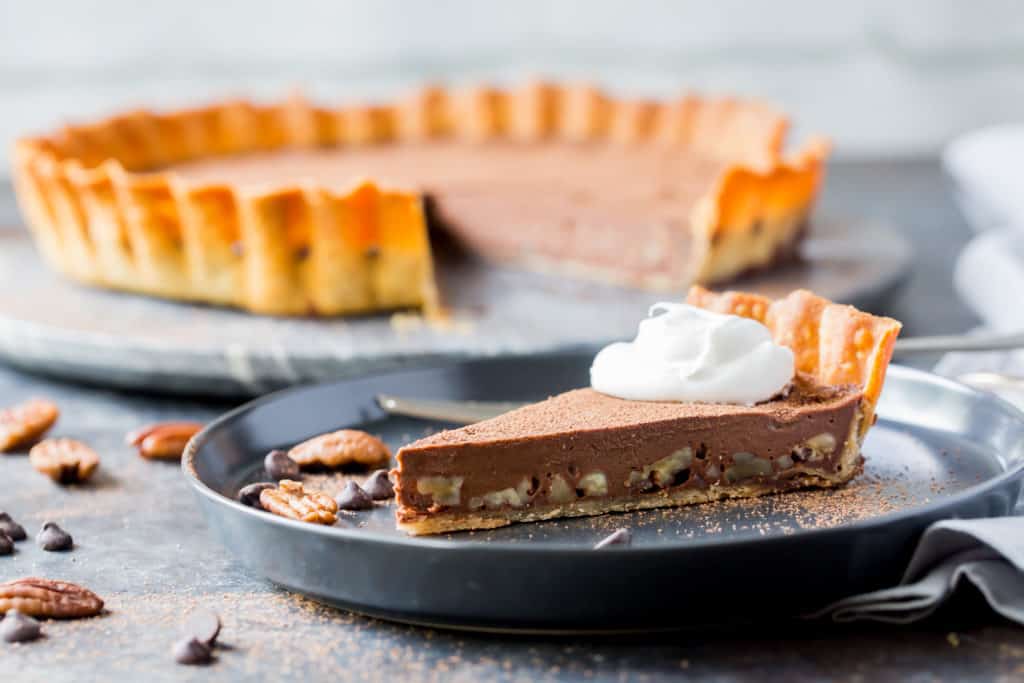 Tempering
When learning how to bake tempering is one of those things you should understand to make your life a little easier. Adding eggs to hot liquids can quickly turn into a disaster and leave you with cooked eggs and chocolate. No one wants that.
In this recipe we bring cream and butter to a boil which without a doubt would cook raw eggs when added. To prevent this from happening you can either allow the hot mixture to cool or use the technique of tempering. Add some of the hot liquid to your whisked eggs slowly as you mix and then add the eggs to the hot mixture (directions below). No disasters today!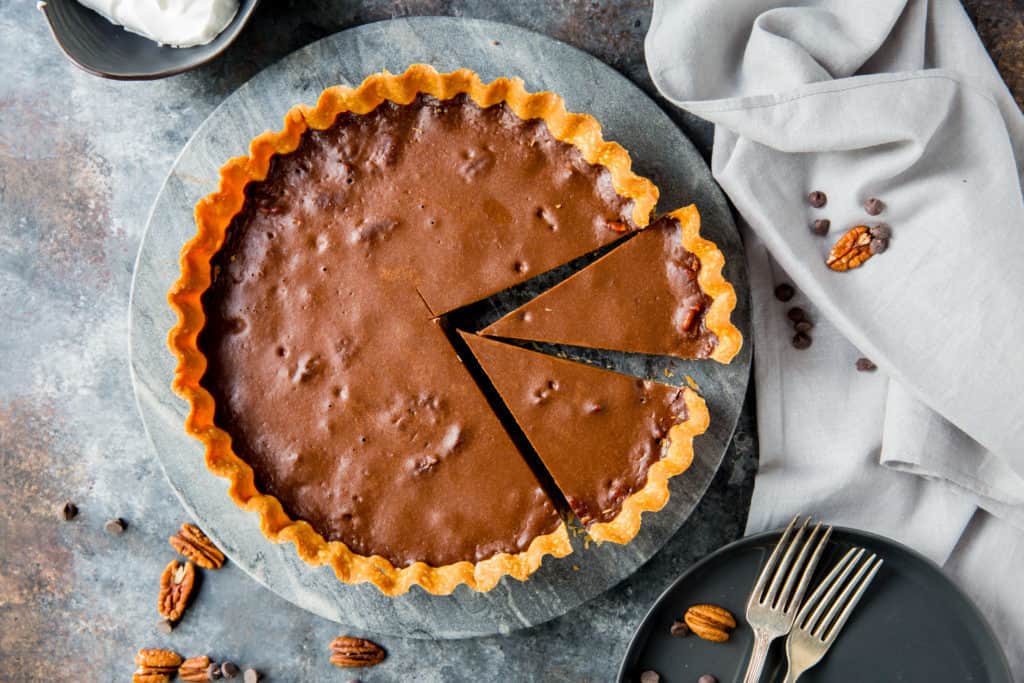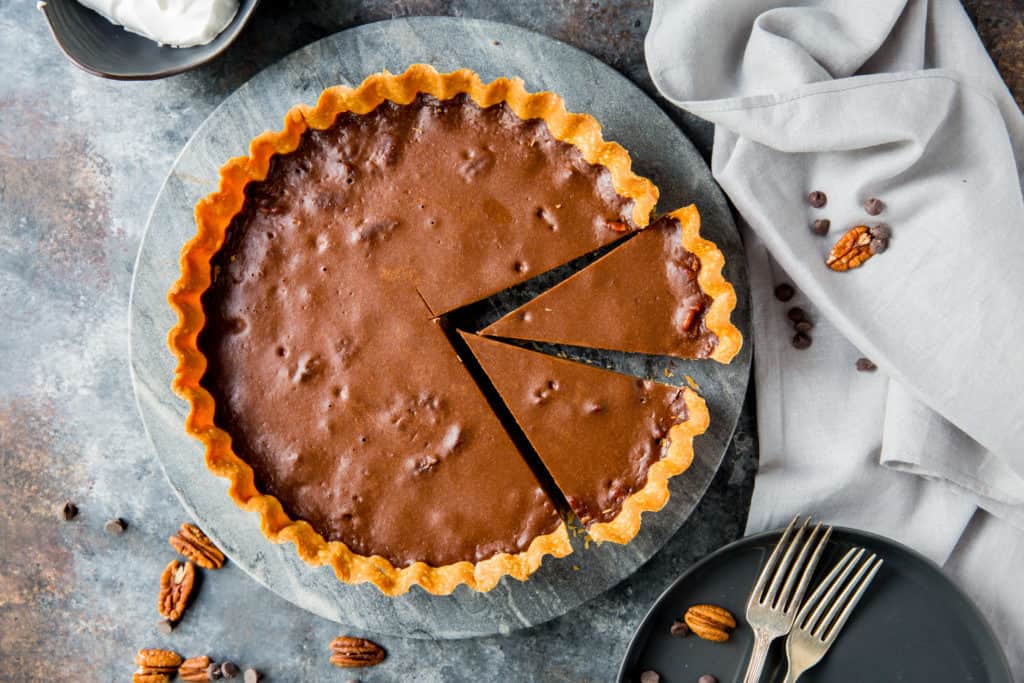 Keto Dark Chocolate Tart
No matter the time of year or holiday upon us, this dessert tart is going to be the perfect way to celebrate. It's rich in flavor, creamy and crunchy in texture and the perfect way to end your night! Make this keto dark chocolate pie filled with crunchy pecans and thank us later.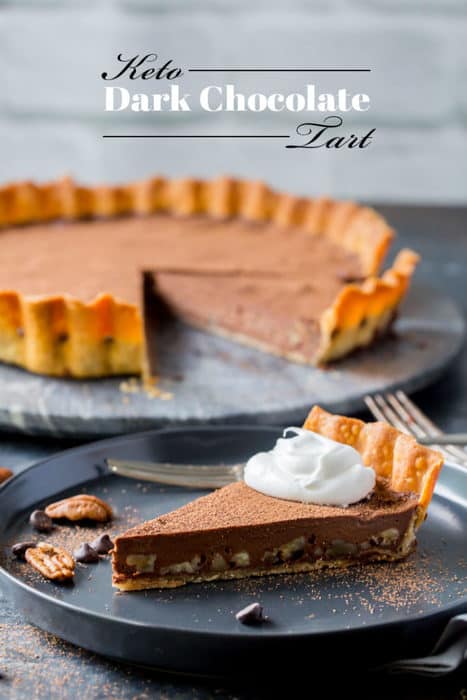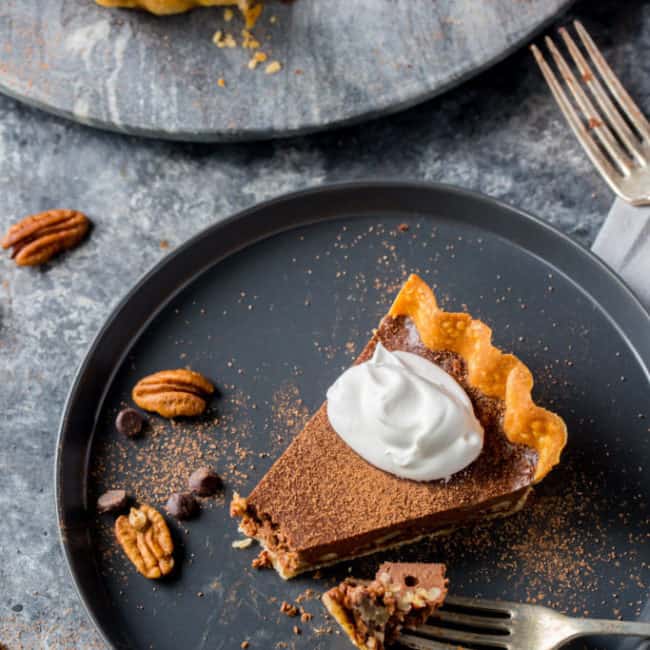 Keto Dark Chocolate Pie
A sweet and silky chocolate pie filled with crunchy pecans.
Servings 8 servings
Calories per serving 504kcal
Prep Time: 20 minutes
Chill Time: 1 hour
Cook Time: 50 minutes
Instructions:
Crust
Roll the pie dough into a 12-inch round. Transfer it to a 10-inch tart pan and press it into the corners and up the sides of the pan. Trim the top edge of the pastry so it's even with the tart pan. Chill for 30 minutes.

Preheat oven to 375° degrees F. Place the tart pan on a baking sheet.

Lay a piece of parchment over the tart, and gently mold it into the edges of the pan. Fill with pie weights, rice, or dried beans and bake for 10-15 minutes, or until the edges start to brown.

Remove the parchment and bake an additional 4-5 minutes more. Allow to cool while making the filling.
Filling
Sprinkle the chopped pecans in an even layer in the bottom of the crust.

Heat the heavy cream and butter in a saucepan set over medium-low heat until it melts and begins to simmer. Remove from the heat and add the chocolate and stir until melted and smooth.

Add the erythritol, stevia, vanilla, and salt and whisk until well incorporated. Beat the eggs in a small bowl until blended and slowly add them to the chocolate mixture, whisking until completely blended.

Pour the filling into the cooled tart shell. Bake for 15-25 minutes until the filling is set and slightly puffy.

Let tart cool completely, and sprinkle with cocoa powder or powdered erythritol, if desired, prior to serving.
Notes
Net Carbs: 4g Serving Size: 1 slice Yields: 8 slices **Feel free to decrease the amount of pecans or omit them completely for a less calorically dense chocolate pie!
Nutrition Facts
Keto Dark Chocolate Pie
Amount Per Serving
Calories 504 Calories from Fat 441
% Daily Value*
Fat 49g75%
Carbohydrates 11g4%
Fiber 7g28%
Protein 11g22%
* Percent Daily Values are based on a 2000 calorie diet.
Written By