​​​​​What makes these Mini Cream Puffs a part of our dessert every night series? Well, we only use stevia as the sweetener, and they are super light in texture and in your belly. You won't feel that double fudge sundae guilt after these nor will you feel weighed down. The puff almost melts in your mouth while the filling is sweet, creamy and rich just like it should be. This is definitely a dessert to make every night or at least once in a while for your entire family to enjoy!
Easy Cream Puff Filling Recipe
For our cream puffs we used coconut milk for a rich coconut cream filling because, why not? Coconut milk is a perfect dairy free option, but also perfectly counters the light, slightly sweet puff! We also added in coconut flakes for a little crunch. The best part about a filling whether you are piping the puffs or topping them is you can add in whatever additions you want, such as nuts, or chocolate chips. You can also make it out of heavy whipping cream if you don't have any coconut milk on hand!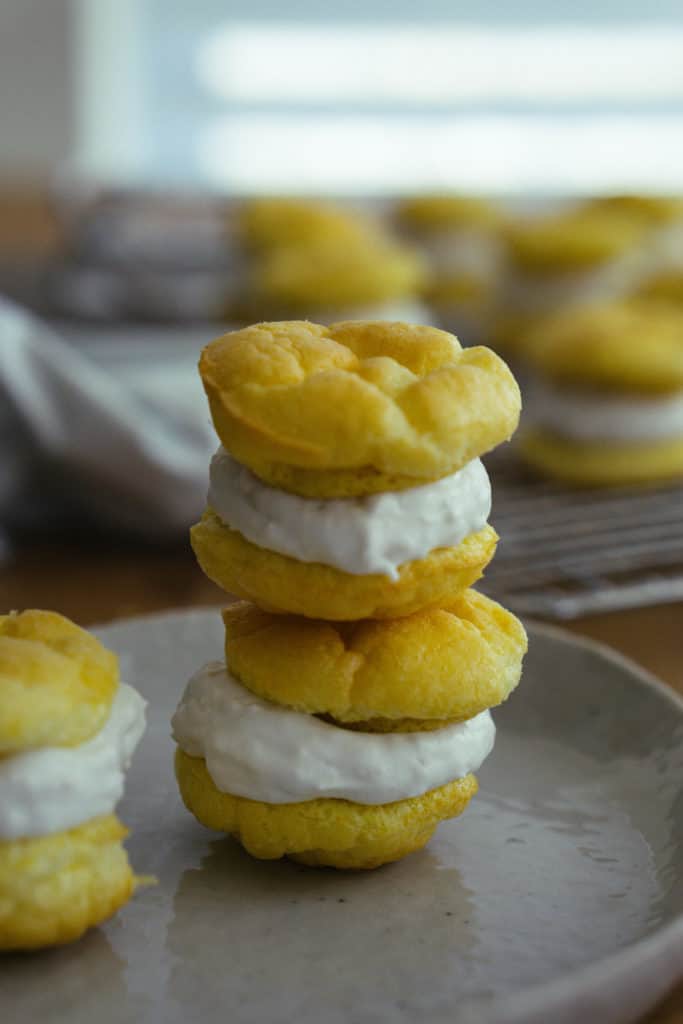 One Of Our Low Carb, Healthy Dessert Ideas!
We are always coming up with crazy, decadent dessert ideas, but honestly, some of our best ones are the healthy ones, like these mini cream puffs. It's simple in terms of ingredients, really easy to make and guilt-free enough to eat multiple times a week. We prefer to make these kinds of desserts for you guys because we can 100% stand behind you guys indulging in them as mush as we do. We love recipes like our Low Carb Coconut Cream Pie, but it's more like a masterpiece and not something we would eat every night or want to take the time to make after a long work day.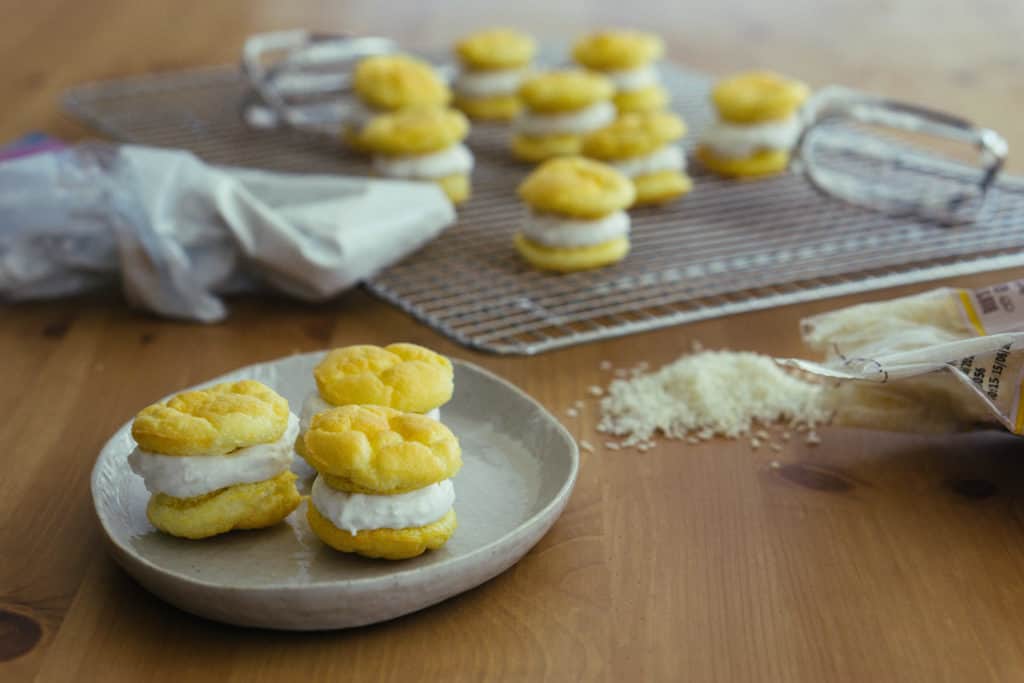 Keto Mini Cream Puffs
If you're not a fan of mini things (shame on you) then go ahead and make these bad boys as big as you want. If I were to remake these using our cupcake mold I would definitely pipe them with the filling so I get a surprise every time I bite into it! I might also make a chocolate filling for something a little more indulgent. Go ahead and make these mini cream puffs with your entire family and let them decide what goes into the filling!This is the Silicon Mold we used to make the puffs for this dessert! It is also great for making fat bombs.​Note: We did not use all the filling in the recipe video, but the nutrition below includes using all of the filling!

Recipe can be quickly added to MyFitnessPal – Search "KetoConnect – Low Carb Mini Cream Puffs"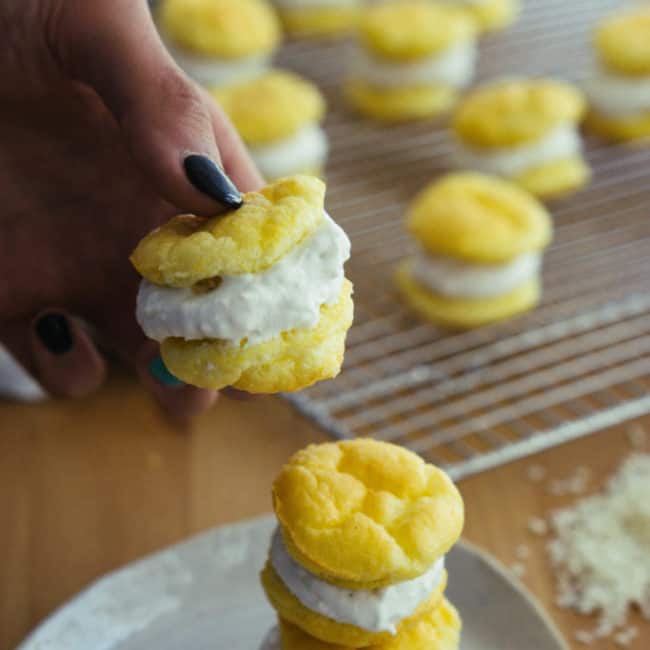 Low Carb Mini Cream Puffs
Total Time 25 minutes
Servings 4 cream puffs
Calories per serving 95kcal
Prep Time: 10 minutes
Cook Time: 15 minutes
Instructions:
Preheat the oven to 300 degrees.

Make the puffs: In a large mixing bowl add the cream cheese and the egg yolks - separate the whites out and add to another medium mixing bowl.

Add cream of tartar to the whites and beat the egg whites to stiff peaks - set aside.

Add 20 drops liquid stevia and 1 tsp vanilla extract to the cream cheese and yolk bowl, and beat using a hand mixer until combined.

Fold the whites into the cream cheese mixture with a spatula until fully combined.

Distribute the puff mixture into a 24 cup silicone mold (linked in the blog post above). You can also use a larger mold such as a cupcake mold, but you will have larger cream puffs.

Bake for 25 minutes. If using a larger mold bake for 30-35 minutes. Allow to cool for 20 minutes.

Make the filling: remove all the hardened coconut milk from the can and transfer to a large bowl. Whip it up until smooth in consistency.

Add in 30 drops liquid stevia and the coconut flakes and combine.

Fill a ziploc bag with the cream, cut the tip and pipe it onto half of the puffs. Top all the creamed puffs with the other halves. Enjoy!
Notes
Net Carbs (per cream puff): 0.7g
Nutrition Facts
Low Carb Mini Cream Puffs
Amount Per Serving
Calories 95 Calories from Fat 81
% Daily Value*
Fat 9g14%
Carbohydrates 0.9g0%
Fiber 0.2g1%
Protein 1.5g3%
* Percent Daily Values are based on a 2000 calorie diet.