One thing we I think we can all agree on is that risotto is delicious. It's also a rare find these days unless you hit up a fancy restaurant.
Something so good and rich shouldn't be a once in a while enjoyment so we replicated risotto with this cauliflower risotto recipe so you can enjoy it anytime you want and keep it keto!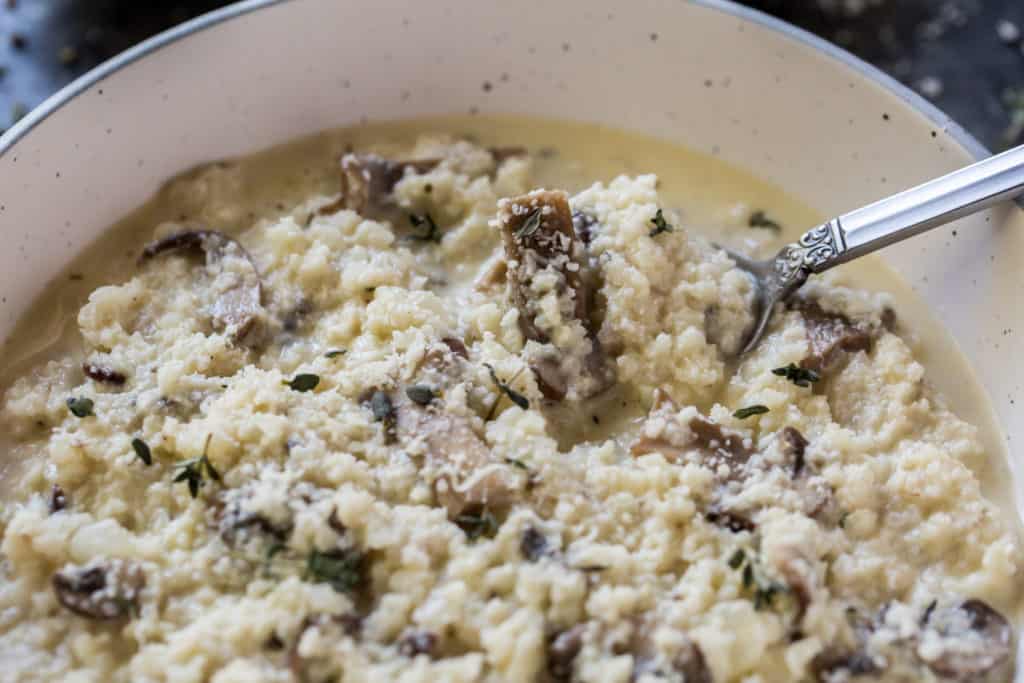 Restaurant Remake Recipes!
Cooking at home can not only be a fun family activity, but it can save you money and time. However, eating out has it's perks, the main one being delicious foods that you do't know how to make at home. If you are in this boat then we have you covered with a lot of remakes on our food blog. Some of the favorites are:
Butter Chicken (Indian classic you can make with our keto naan!)
Pizza (this is a zero carb pizza crust you can top with your favorites)
Make It Creamy
If you can't tell from the pictures you'll be able to quickly tell from looking at the recipe that this dish is packed with creamy ingredients from the grated parmesan to the fatty cream.
What we've given you below in the ingredients section is the perfect balance of butter to cream to cheese, however, you can always double any of the ingredients if you want a creamier, soupier version of this recipe. Personally, I would up the butter and cheese and top it with some pan seared chicken thigh for a perfect winter comfort meal.
Note: here is an article about making risotto and how simple it can be. Obviously, ignore the part about using rice 🙂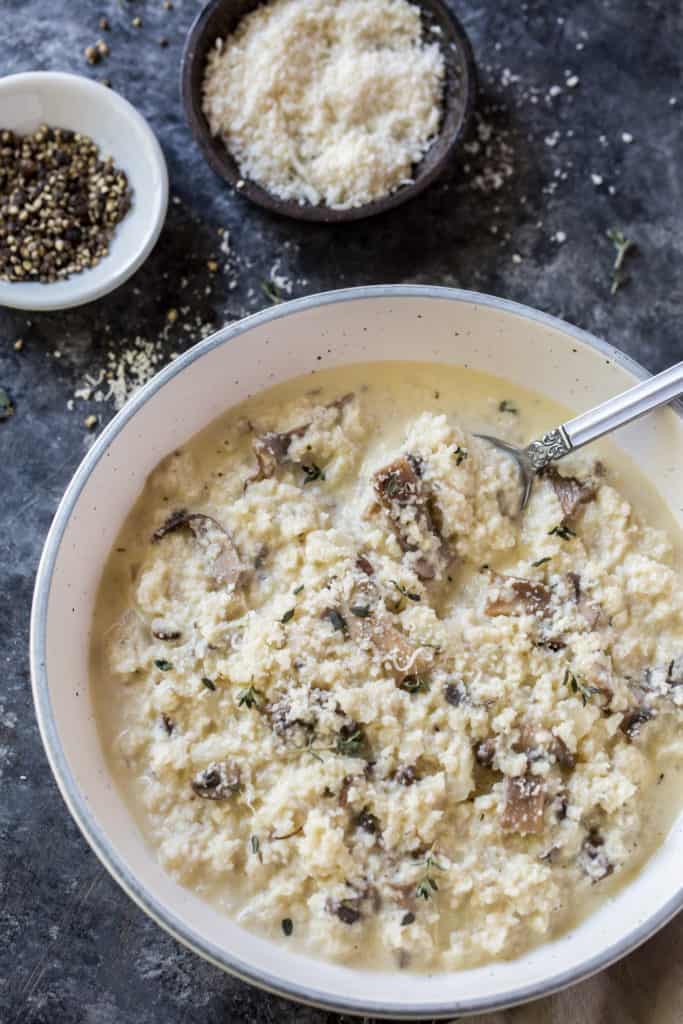 Get Creative
We kept this recipe pretty basic with cauliflower, cheese, butter and some mushrooms for a little texture and flavor. But, don't feel limited to just the basics that we've given you here. Get wild with the fillings and toppings. Some great options that would add nice flavors/textures are asparagus, different types of cheeses (my favorite would be fontina) and seasonings.
A great way to finish off this recipe to make it a complete meal would be a simple grilled or blackened protein on top like chicken thighs or shrimp!
Easy Cauliflower Risotto
Not sold on a risotto remake using cauliflower? I get it. To be honest, I didn't have high expectations for this dish. Sometimes rice just can't be replaced, but I can assure you that for this dish in particular cauliflower does a great job replacing the rice. Using fatty, creamy ingredients and reducing the riced cauliflower down in chicken broth transforms bland, boring cauliflower to a flavorful risotto dish!
Want More 30 Minute Dinners?
Well, we've got just the e-book for you! Our Dinner In 30 e-book has thirty quick family meals to get you through the busy work week. They all use simple ingredients and pack a ton of flavor so you'll never get bored.
Let us know if you make this easy cauliflower risotto dish at home and how you get creative in the comments section below!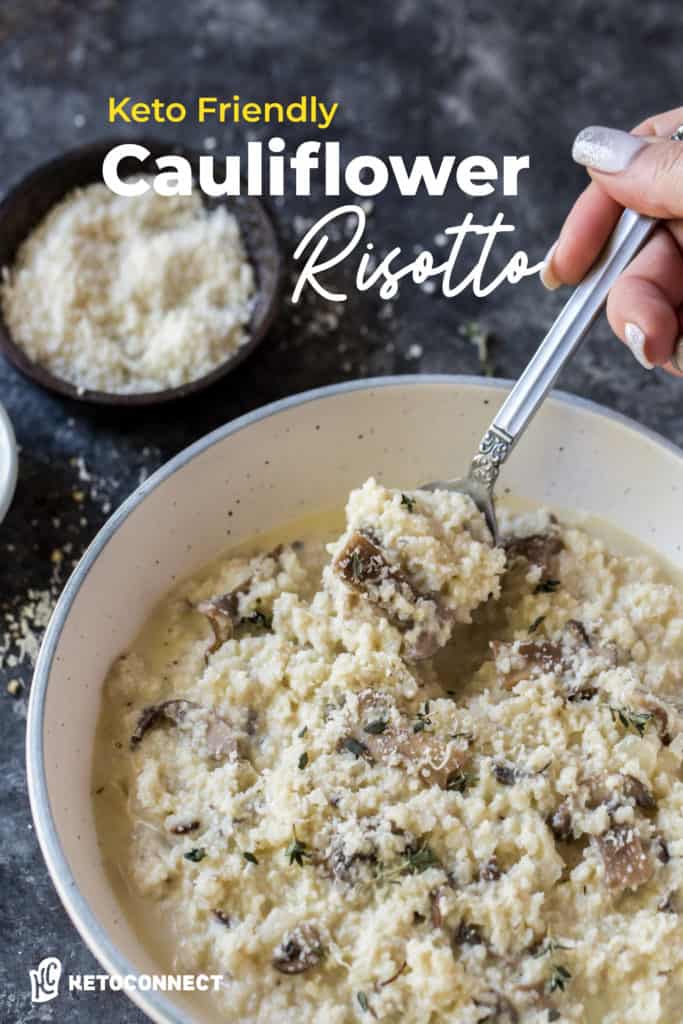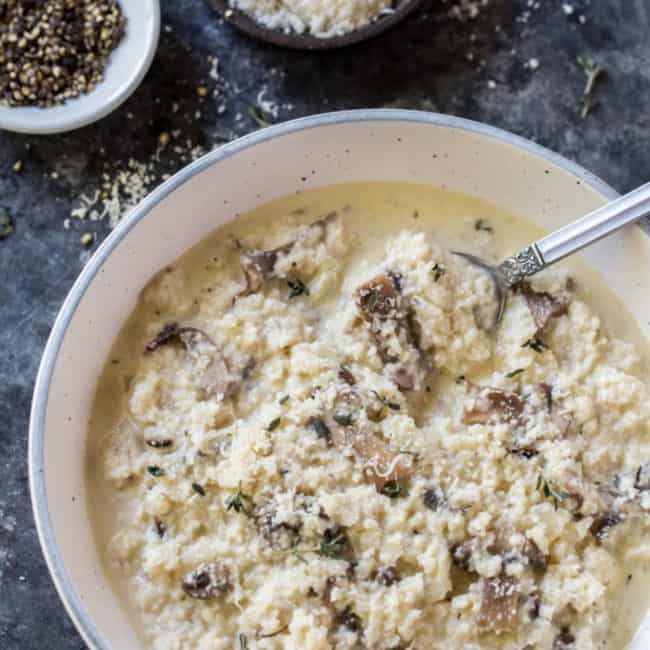 Cauliflower Risotto
Traditional Creamy Risotto made with cauliflower to cut the carbs.
Servings 4 servings
Calories per serving 342kcal
Prep Time: 5 minutes
Cooling Time: 5 minutes
Cook Time: 20 minutes
Instructions:
Add the cauliflower florets to a food processor and pulse until riced stopping to push down large chunks using a spatula as needed. Set aside.

Melt butter in a skillet over medium heat.

Add onion and garlic; cook until tender, about 3 minutes.

Stir in riced cauliflower; cook for 3 minutes more. Add mushrooms and cook until tender, about 3 minutes.


Stir in chicken broth and reduce down for about 5-6 minutes until it is absorbed, stirring frequently.

Stir heavy cream, Parmesan cheese, salt, pepper, and thyme into the skillet; cook over medium heat until creamy and thickened, about 5-6 minutes.

Remove from heat and allow to cool and thicken slightly for a few minutes before serving.

Best stored in an air tight container in the fridge 3-5 days.

Tip: complete this dish by topping it with some grilled or blackened chicken thighs or shrimp!
Notes
Net Carbs: 6g
Serving Size: 1/4th recipe
Nutrition Facts
Cauliflower Risotto
Amount Per Serving
Calories 342 Calories from Fat 270
% Daily Value*
Fat 30g46%
Carbohydrates 8g3%
Fiber 2g8%
Protein 13g26%
* Percent Daily Values are based on a 2000 calorie diet.
Written By