Want to know an easy, low-calorie sweet treat that you can make at home – with limited ingredients? One word: jello! Since the packet mix and ready-made cups at the grocery store might not be suitable for your low-carb diet, we've made Sugar Free Jello keto so you can whip up a batch whenever those candy cravings hit.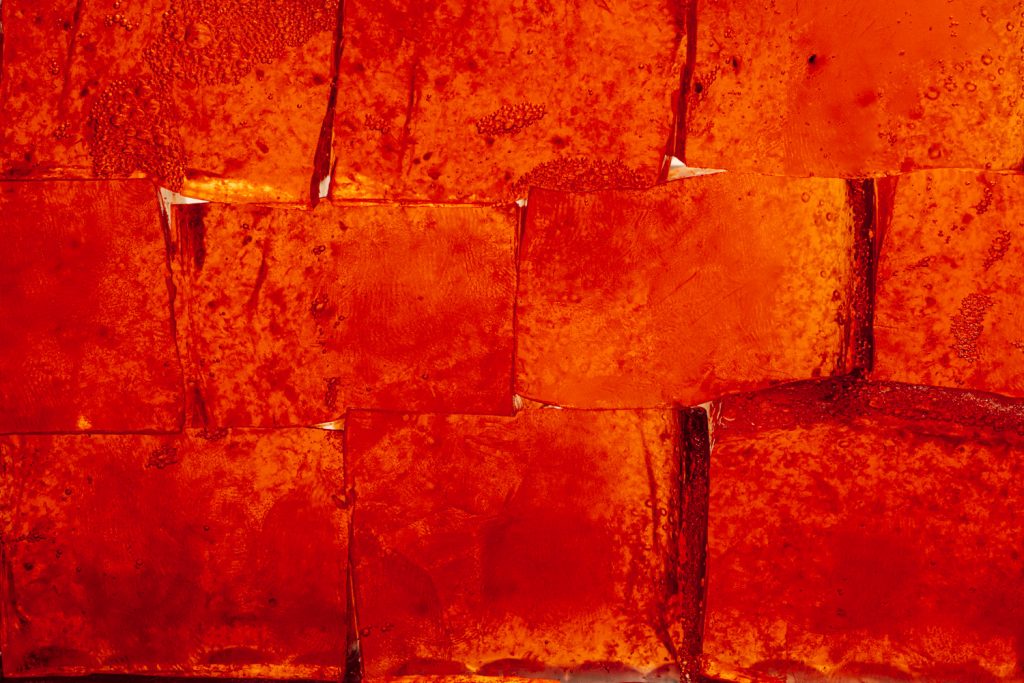 What You'll Need
The best part about this Sugar-Free Jello recipe? It can be made entirely by hand – no machines or gadgets required.
Here's what you're going to need:
A small bowl
A mixing bowl
A knife
A cooking pot
A measuring cup or jug
A tablespoon
A whisk
A mesh strainer or sieve
An 8×8 dish
Parchment paper
A spoon
If you really want to have some fun with this Sugar-Free Jello recipe, you could use different chocolate molds to create your own "candy"! Simply pour your keto jello mixture into a silicone mold rather than an 8×8 dish.
How to Make Sugar-Free Jello
The hardest part of this keto sugar-free jello recipe is waiting for it to set so you can finally eat it! You know what that means – you'd better start now and so you can enjoy it sooner rather than later.
1. Prepare the Strawberries
Using a knife, remove the stems of the strawberries and cut them into quarters. Add to a pot along with ¾ cup of cold water.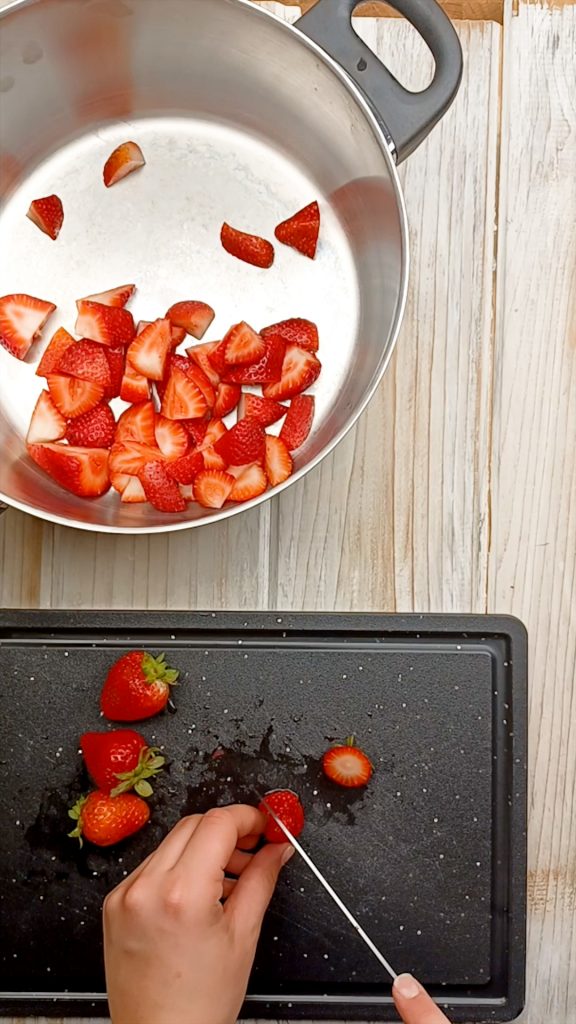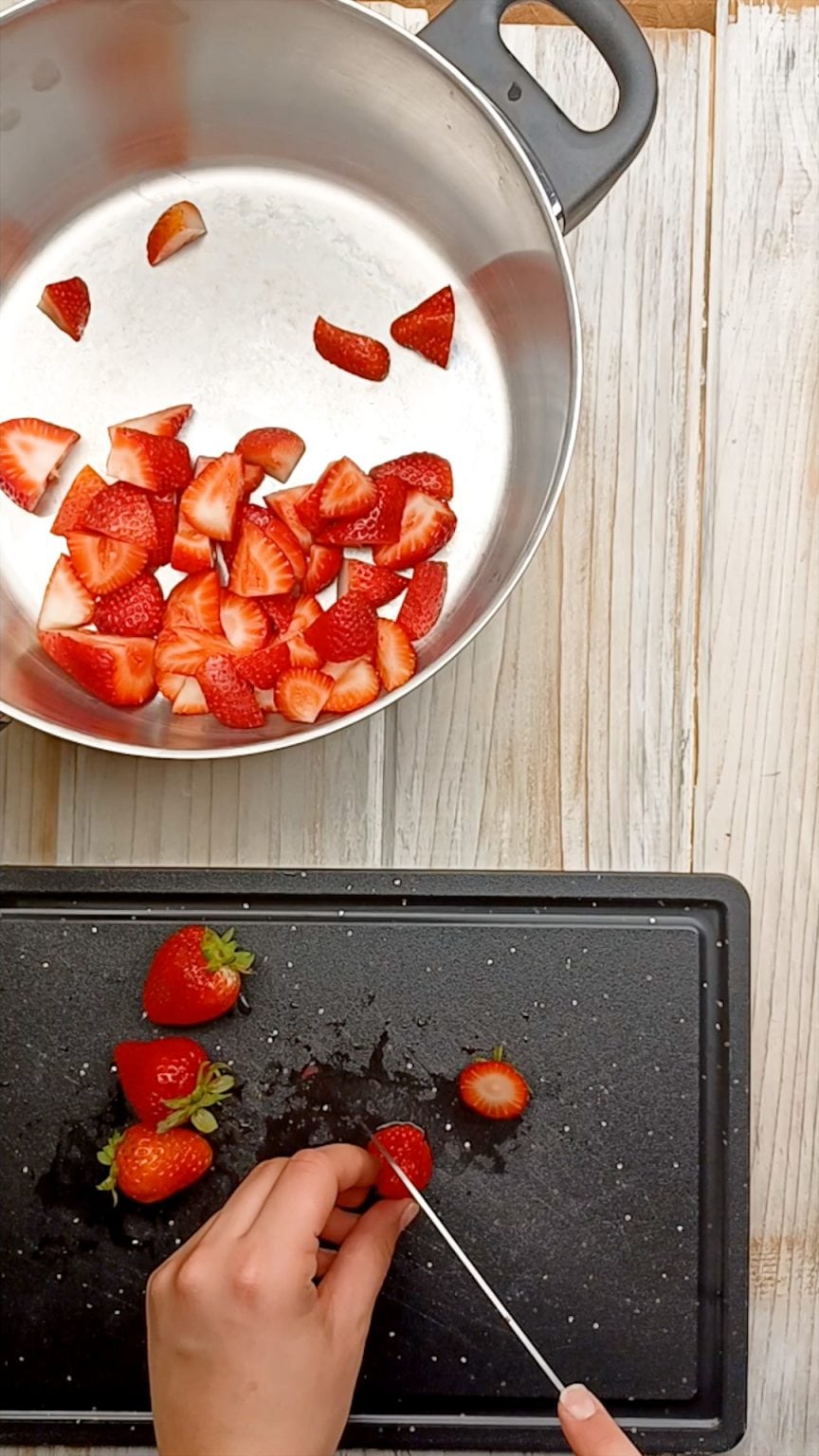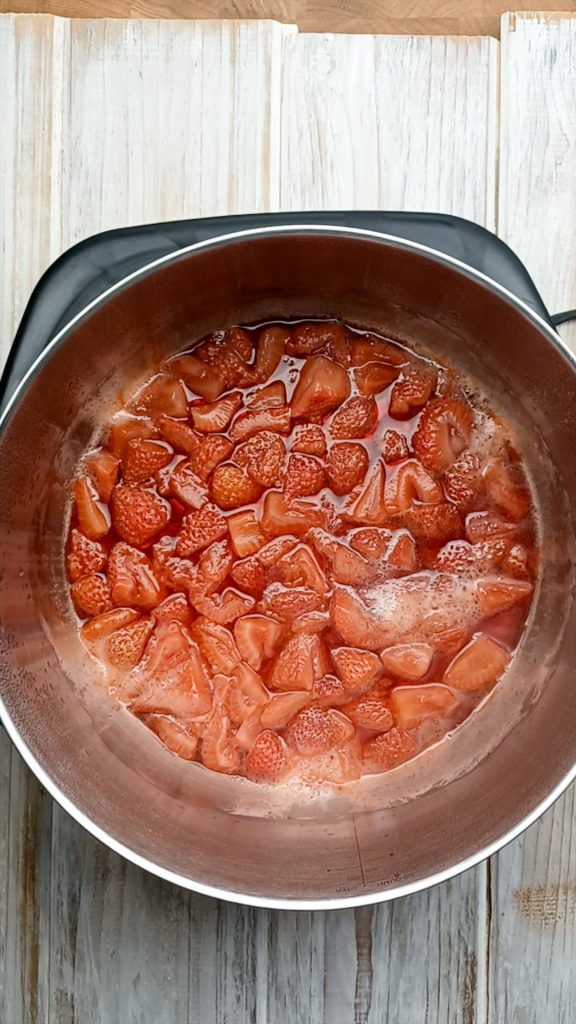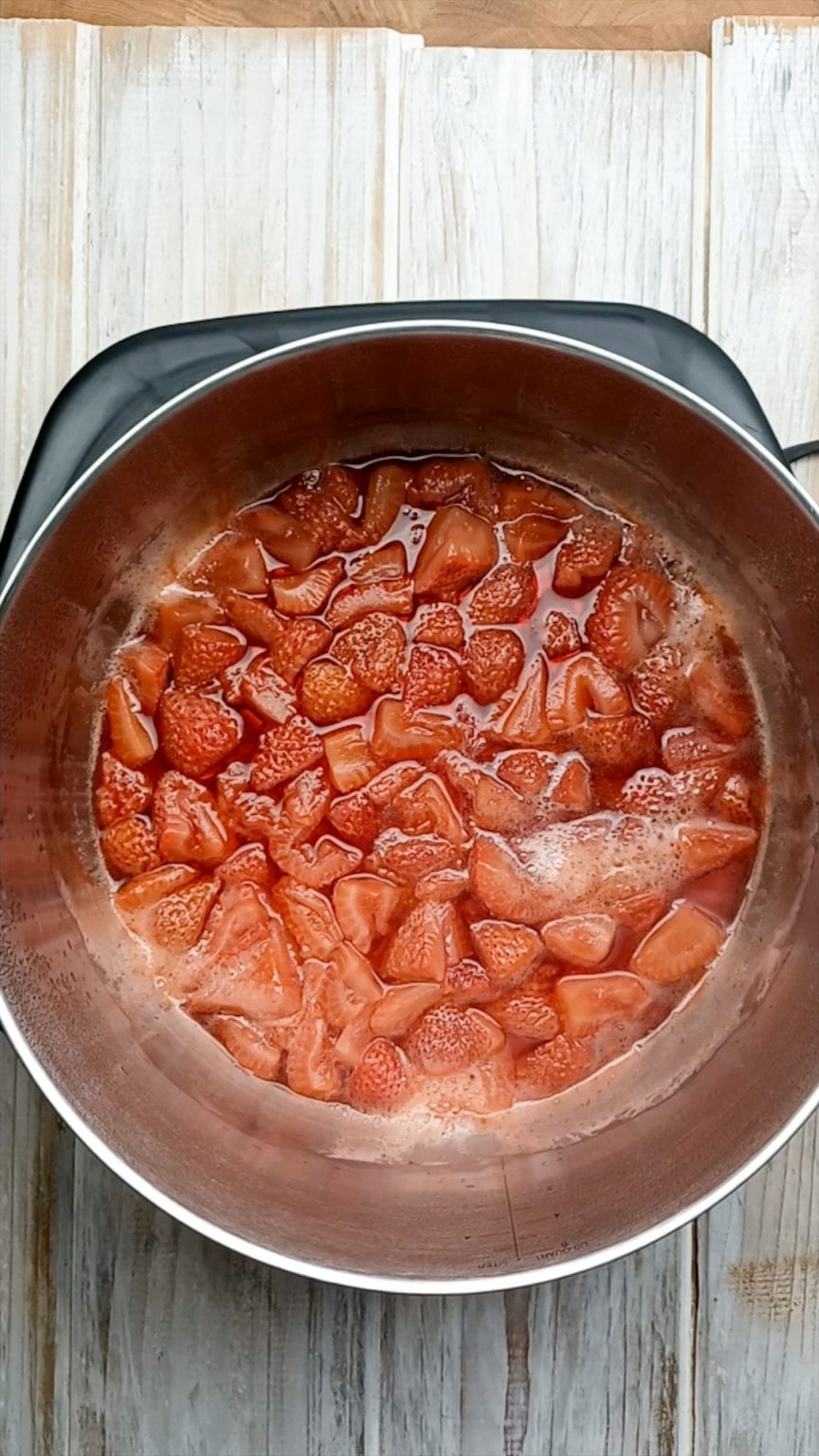 2: Cook the Strawberries
Cook over a medium heat for 10-12 minutes, stirring occasionally. The strawberries will begin to break down into a thick sauce.
3. Bloom the Gelatin
Add ¾ cup of cold water to a small bowl. Sprinkle the gelatin over and leave to "bloom" for around three minutes. The gelatin will absorb the water and thicken into a rubbery paste.
4. Strain the Mixture
Strain the strawberry mixture through your mesh strainer, using the back of a spoon to press it against the mesh to push the liquid through. Transfer the strawberry juice back to the pot and add enough water to equal around 3 cups of total liquid.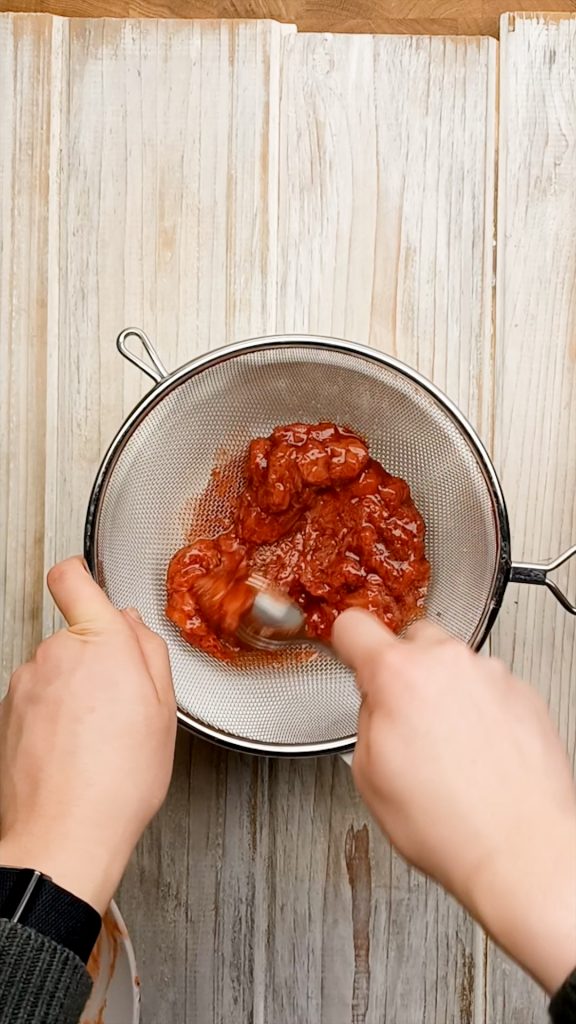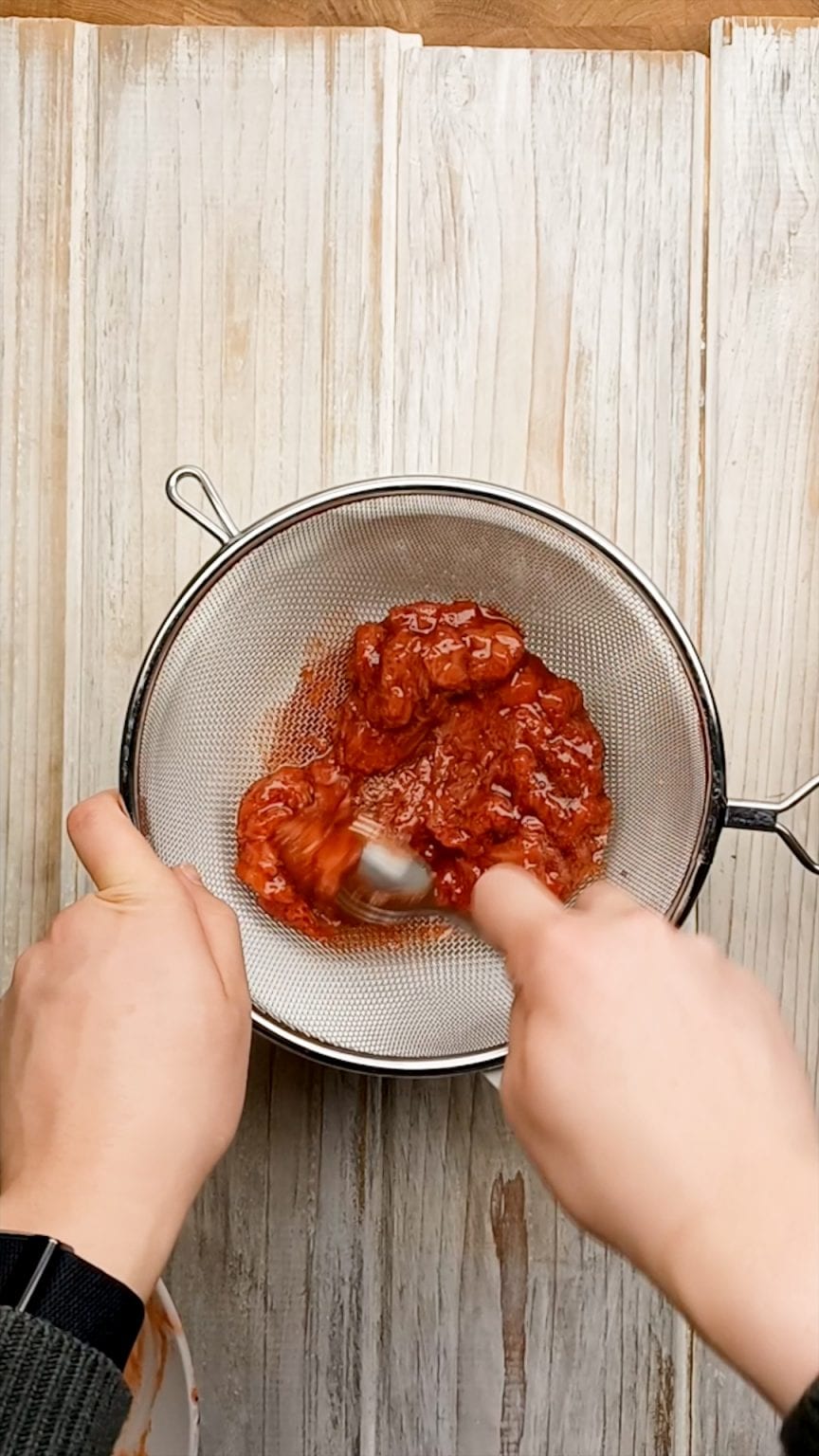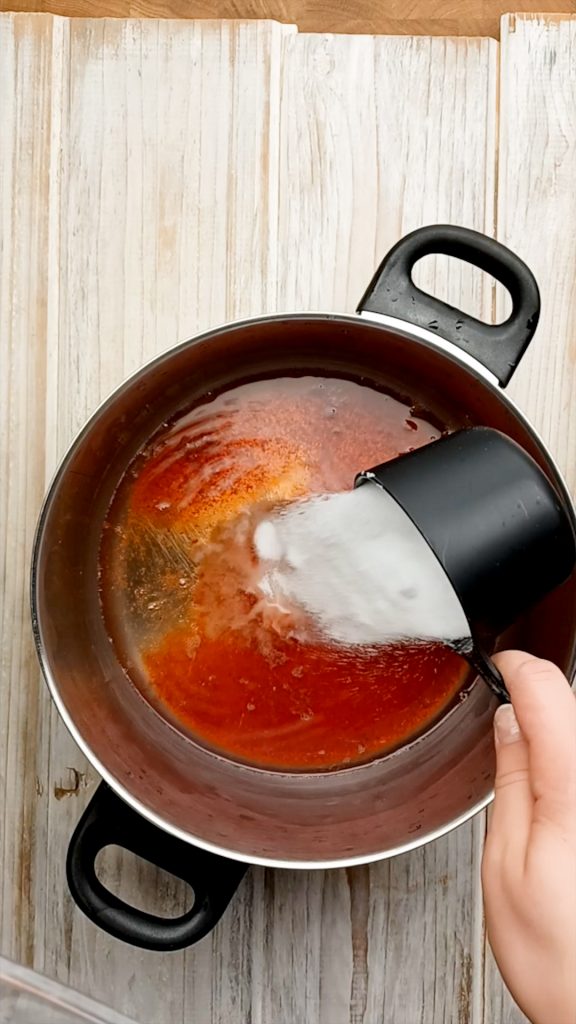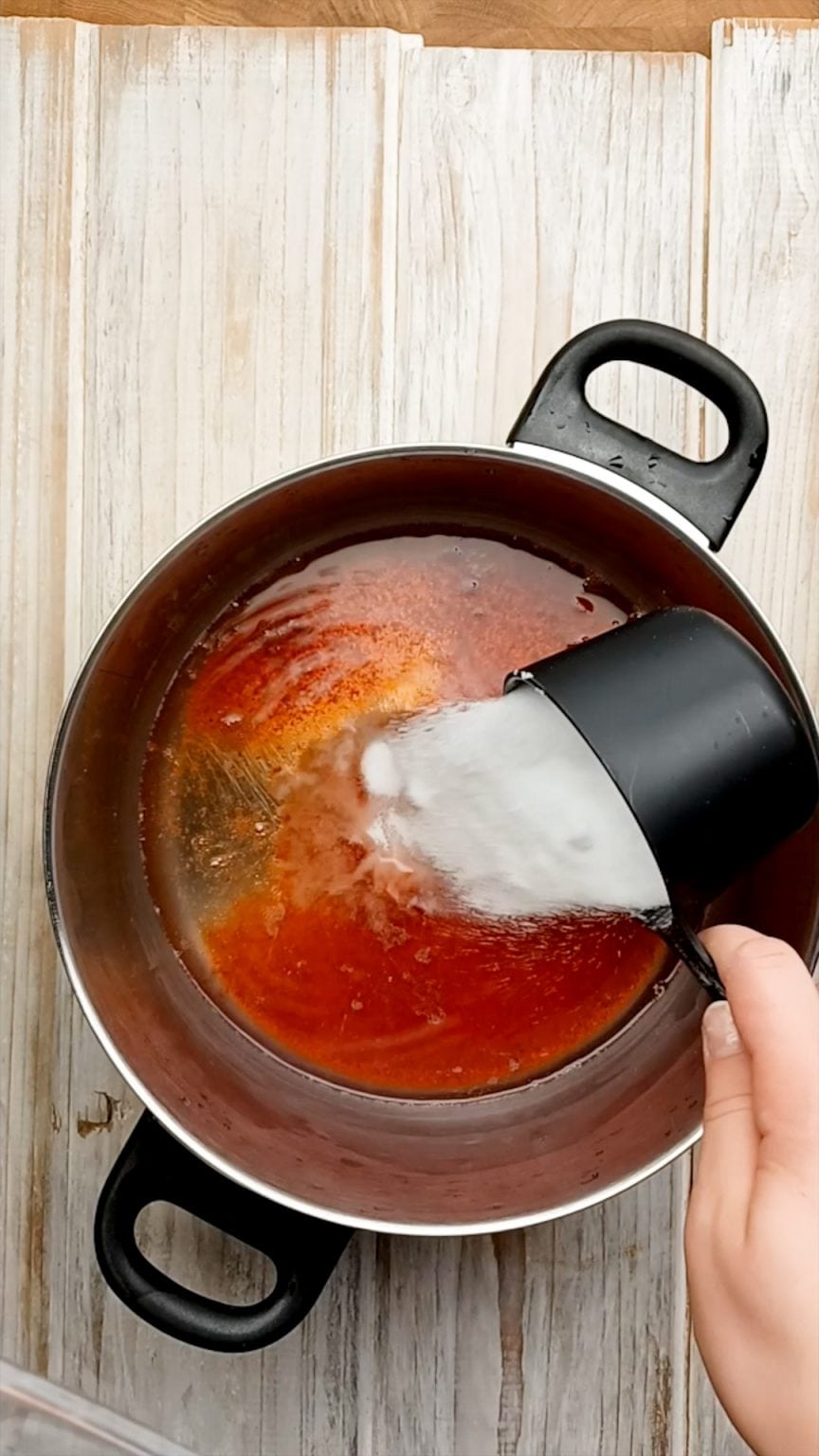 5. Cook the Strawberry Juice
Simmer the strawberry mixture over medium heat. Add in your keto sweetener and whisk to dissolve.
6. Add the Gelatin
As the berries are still cooking, add the bloomed gelatin and immediately whisk to combine. Mix thoroughly to prevent any clumps from forming in the mixture. Reduce the heat to low and continue to whisk for 2-3 minutes.
7. Pour Into a Dish
Pour your jello mixture into an 8×8 dish lined with parchment paper. Using a spoon, scrape off the top "bubble" layer and discard.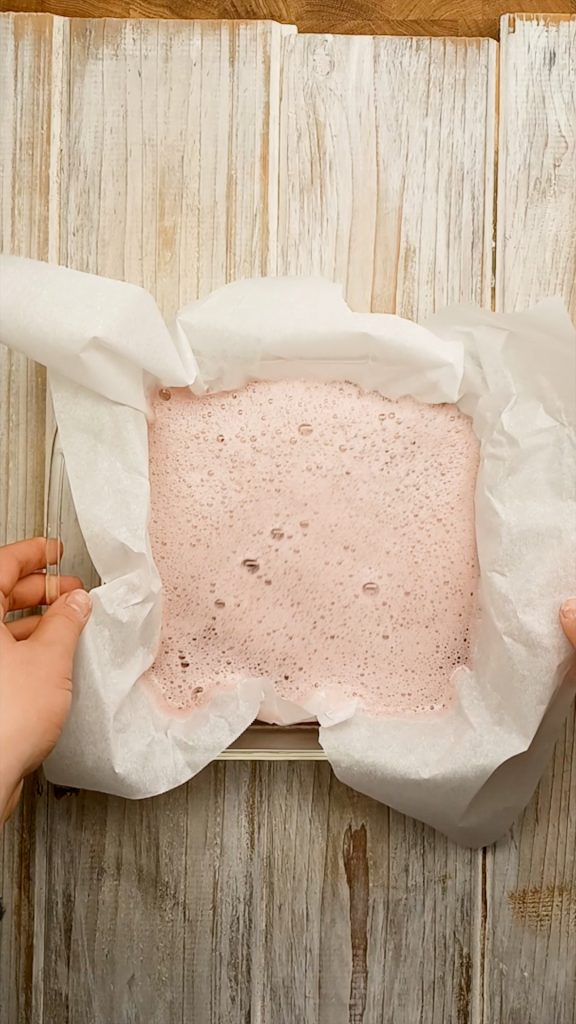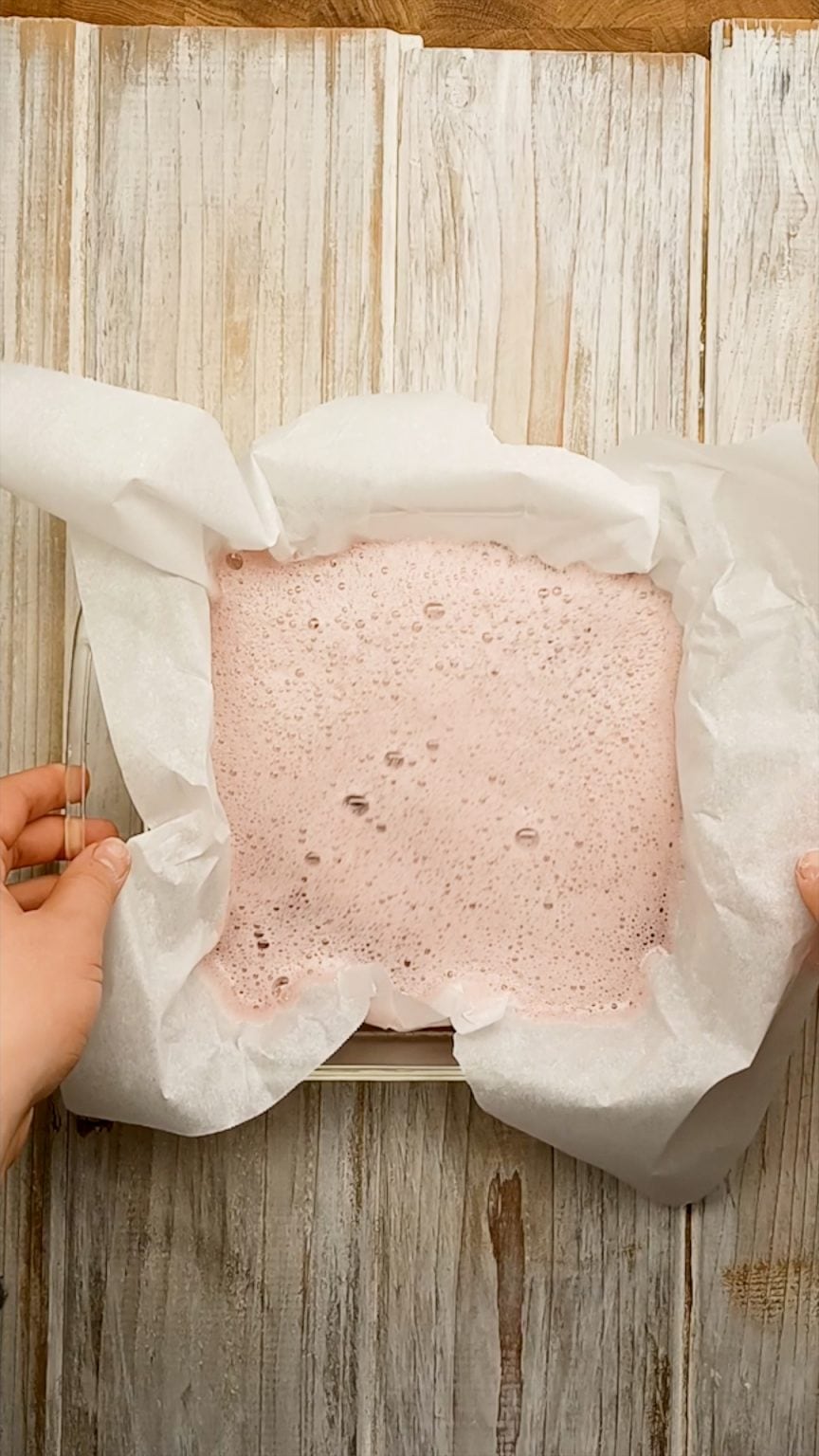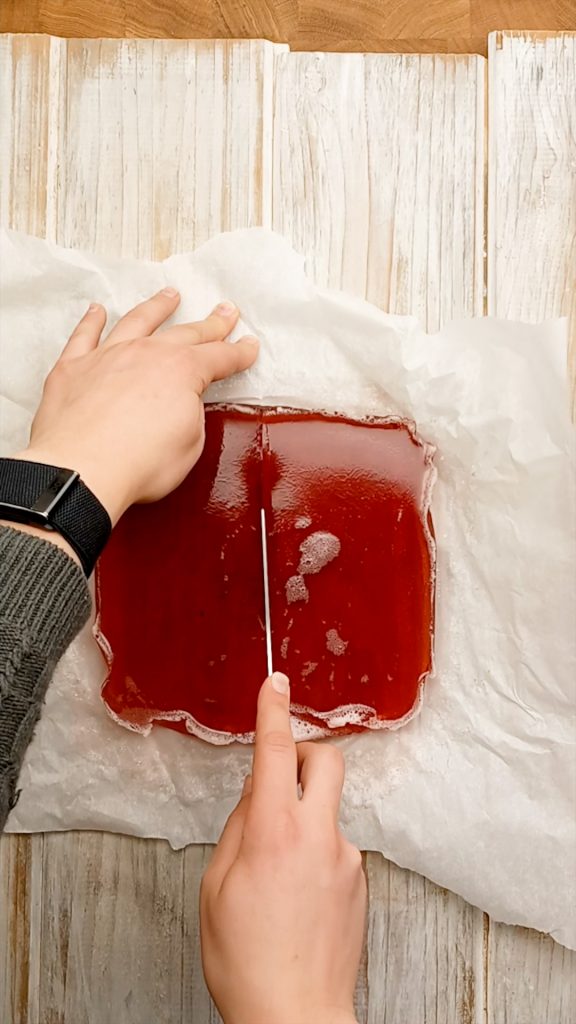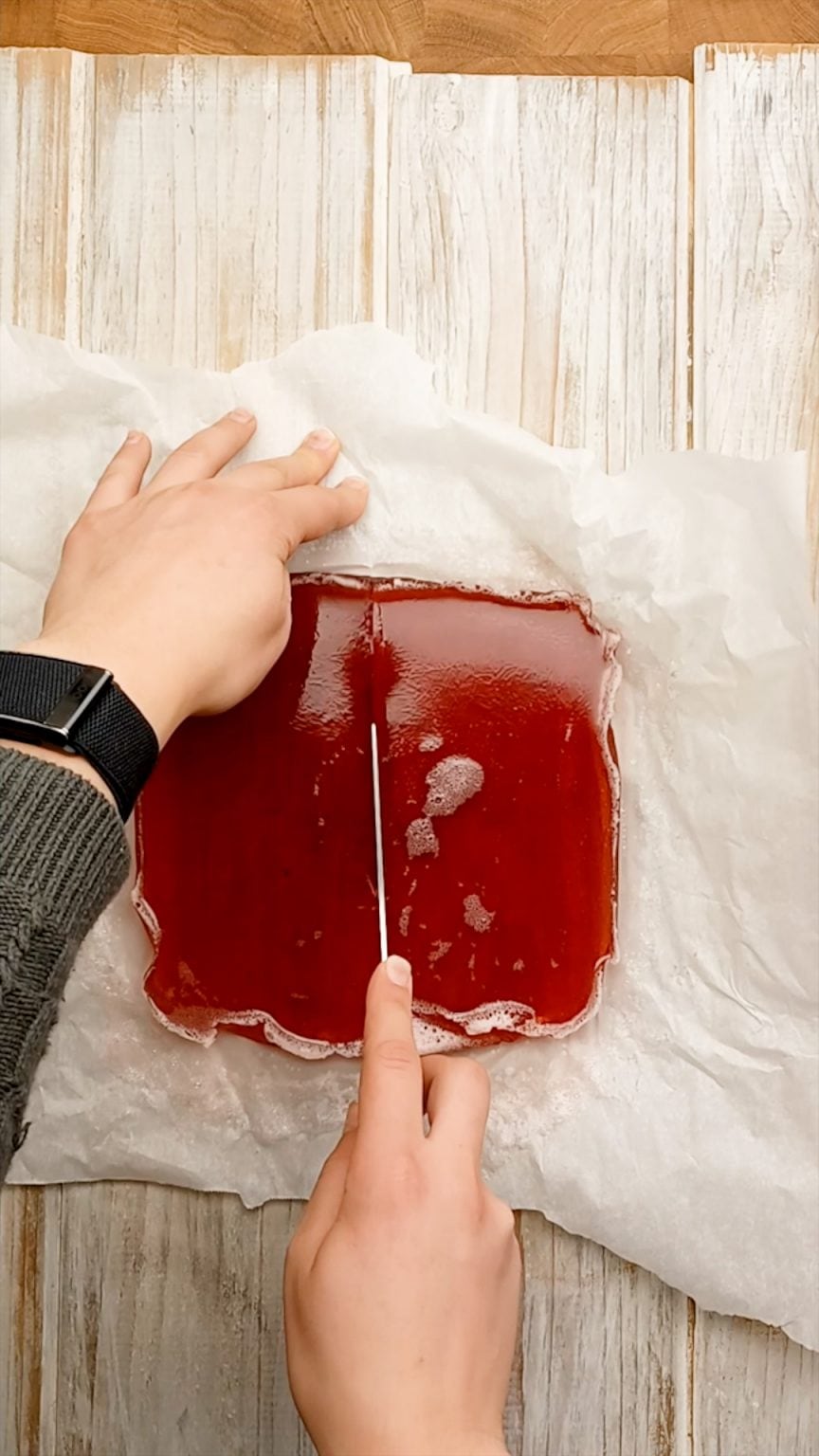 8. Leave to Set
Allow the mixture to sit in the fridge for 4-8 hours, or until set. Once your jello is ready, cut into cubes and serve your keto-friendly Sugar-Free Jello right away.
Common Questions
While your Sugar-Free Jello sets in the fridge, let's jump into some commonly asked questions.
Why Does My Jello Have Lumps?
If your jello has lumps, you might not have whisked it properly when adding to the berry mixture. Don't worry – you might still be able to save it!
Return your Sugar-Free Jello to a pot and heat over low heat until it dissolves. Whisk thoroughly to remove any lumps. You may want to use an electric whisk for this step.
Pour back into a lined tray and leave to set in the fridge.
Why Didn't My Sugar-Free Jello Set?
Did you leave your keto jello for long enough? While it may set in as little as four hours, it may take up to eight hours for your homemade jello to set all the way through.
If your keto jello is firm on the outside but still runny in the center, you probably need to leave it for longer.
If you've waited the full eight hours and your jello is still runny, you might have used a little too much liquid. All you have to do is add in a little extra gelatin.
Return the jello to the stove and heat over low to dissolve. Bloom around two tablespoons of gelatin and add to your mixture, whisking thoroughly to combine.
Transfer your homemade jello to a lined tray and leave to set again in the fridge for up to eight hours.
Why Is My Keto-Friendly Jello Gritty?
A gritty texture probably means your sweetener didn't dissolve. You might not have stirred it enough when adding to the strawberry mixture, or maybe the temperature was too low.
To avoid this problem in the future, make sure to stir the sweetener thoroughly until dissolved before transferring the mixture to the fridge.
You might also want to use a powdered sweetener. If you can't find any powdered keto sweetener, just blitz any granulated sweetener in a blender for a few seconds.
Is Sugar-Free Jello Keto?
The Sugar-Free Jello you can buy in a packet is usually keto-friendly, as it's made with sweeteners that don't spike blood sugar. These are usually artificial sweeteners like aspartame and acesulfame K.
However, many people choose to avoid these sweeteners on a keto diet due to health concerns.
Studies like this one from 2021 have shown aspartame may be linked to cancer in rodents. However, other studies – and evaluations of multiple studies over time – have suggested that there is no reason to believe aspartame could cause cancer in humans.
Since these sweeteners are used in other sugar-free foods, it's difficult to answer questions like, "can I eat sugar-free pudding on keto?" and "can you have sugar-free Cool Whip on keto?".
While the aspartame in these packaged foods won't kick you out of ketosis, you may feel more comfortable making your own versions with more keto-friendly sweeteners. Luckily, we've got enough keto recipes to replace just about anything!
Which Sweetener Should I Use?
While store-bought Sugar-Free Jello is usually made with artificial sweeteners like aspartame, we recommend using a keto-friendly sweetener like erythritol or allulose.
If you're using a concentrated sweetener, such as pure stevia or monk fruit, make sure to adjust the dose as per the instructions on the packet. To make things easier, try to choose a sweetener that can be used on a one-to-one ratio with sugar.
Check out our extensive guide here for more information on how different sweeteners affect ketosis, as well as the ones we prefer using.
Can I Use Frozen Fruit?
Frozen fruit will work fine for this recipe.
Can I Use Gelatin Sheets?
Sure. Just make sure to get the measurements right. There's around one tablespoon of gelatin in three to four gelatin sheets.
How Should I Serve My Sugar-Free Jello?
The fresh strawberries used in this recipe make it super satisfying to eat on its own. But that doesn't mean you can't get a little creative!
Try this healthy Sugar-Free Jello with our famous homemade Keto Cool Whip. It's sugar-free and is super easy to make. Top with fresh-cut strawberries for a simple but delicious dessert.
Or, add a little heavy cream during the cooking process to create a creamy pudding.
And of course, feel free to set your sugar-free keto jello in fun silicon molds for a bite-sized healthy treat. That means your Sugar-Free Jello will turn out looking like homemade candy so you won't be tempted by the real deal!
Can I Use Different Fruit?
You can definitely try experimenting with flavors by using different fruits instead of strawberries.
Some low-carb fruit suggestions include:
Blueberries
Blackberries
Raspberries
Lemon or lime
Want a flavor that's a little closer to the boxed variety? Try using flavored kombucha instead of water!
You could also use higher-sugar fruits, but the above suggestions will make this Sugar-Free Jello recipe suitable for a low-carb keto diet.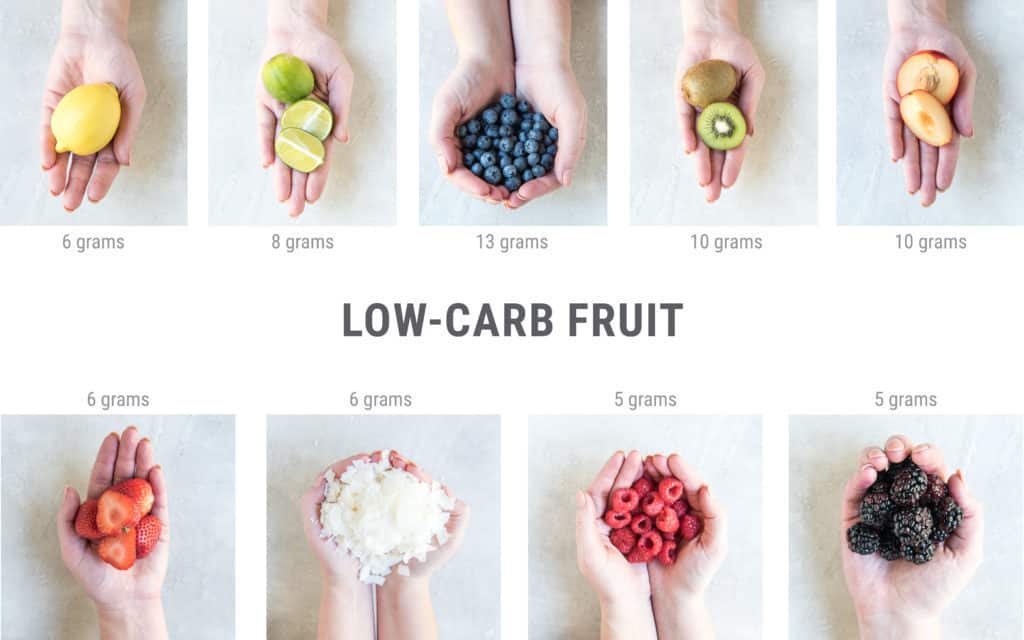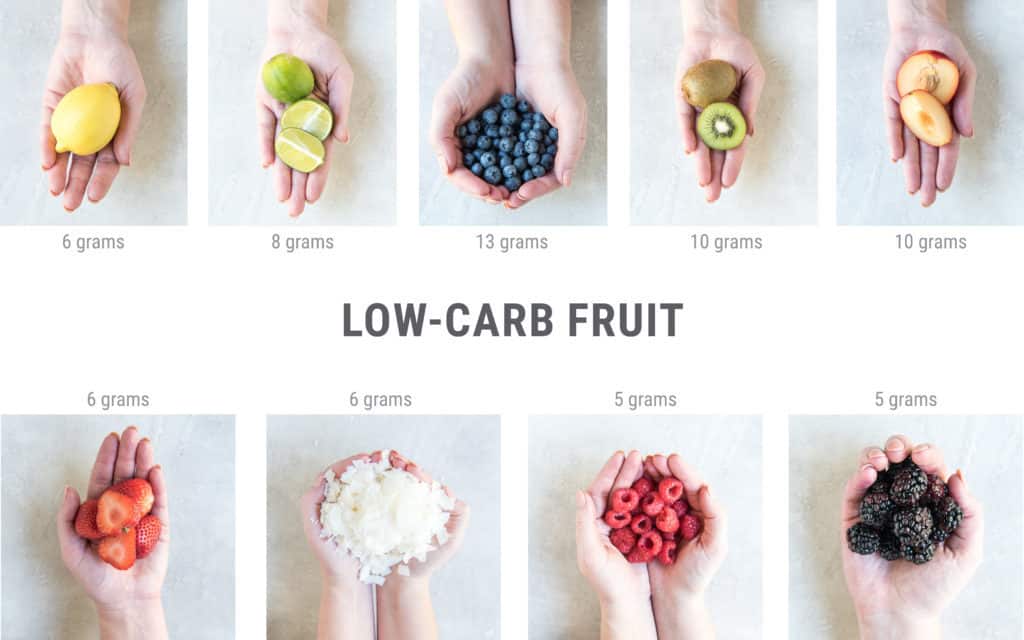 Is Sugar-Free Jello Healthy?
This recipe isn't just low in sugar. It's also rich in loads of other nutrients thanks to one magical ingredient: gelatin!
Gelatin has a ton of amazing health benefits. It's high in protein and is full of amino acids. That high protein content also helps you to feel full, which makes this a great sweet snack if you're looking for something light but satisfying.
Store-bought Sugar-Free Jello often contains lots of added ingredients such as thickeners and preservatives which you might choose to avoid for health reasons. These include:
Maltodextrin
Artificial colors
Artificial flavors
Added acids (such as Adipic Acid)
Our healthy recipe uses only clean ingredients without any unnecessary additives.
Is This Recipe Vegetarian or Vegan?
No. Jello is made using gelatin, which is usually sourced from beef.
How to Store Your Sugar-Free Jello
Once you've sliced up your Sugar-Free Jello, store the cubes in a sealed container and refrigerate for up to seven days.
We wouldn't recommend freezing your Sugar-Free Jello, as it may take on a strange consistency. Plus, one batch is so light that you might find yourself finishing it off too fast to store for later!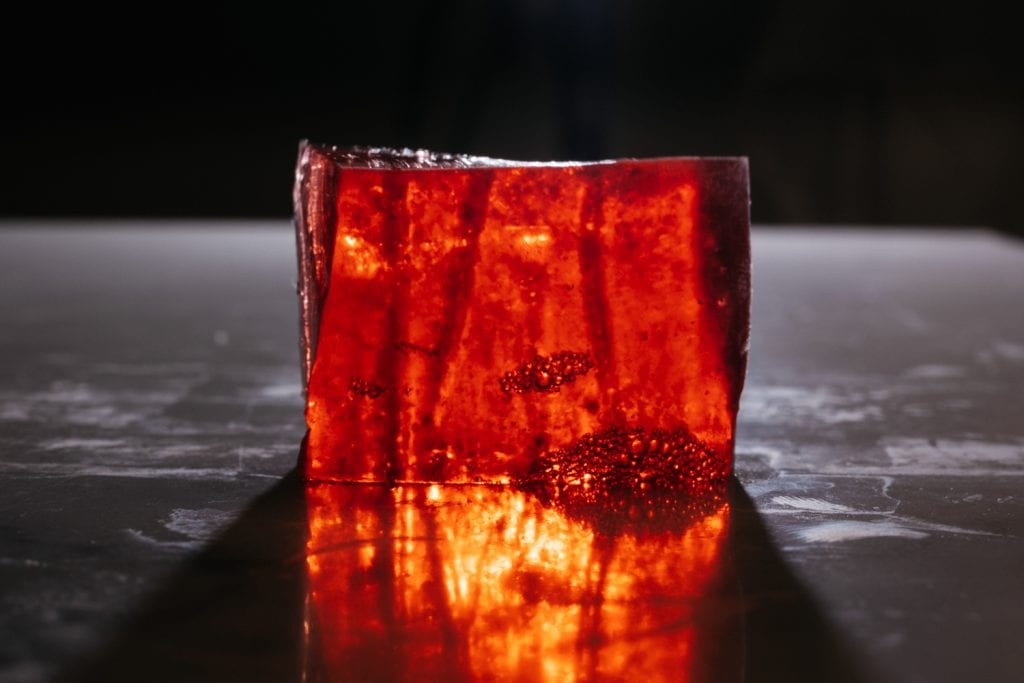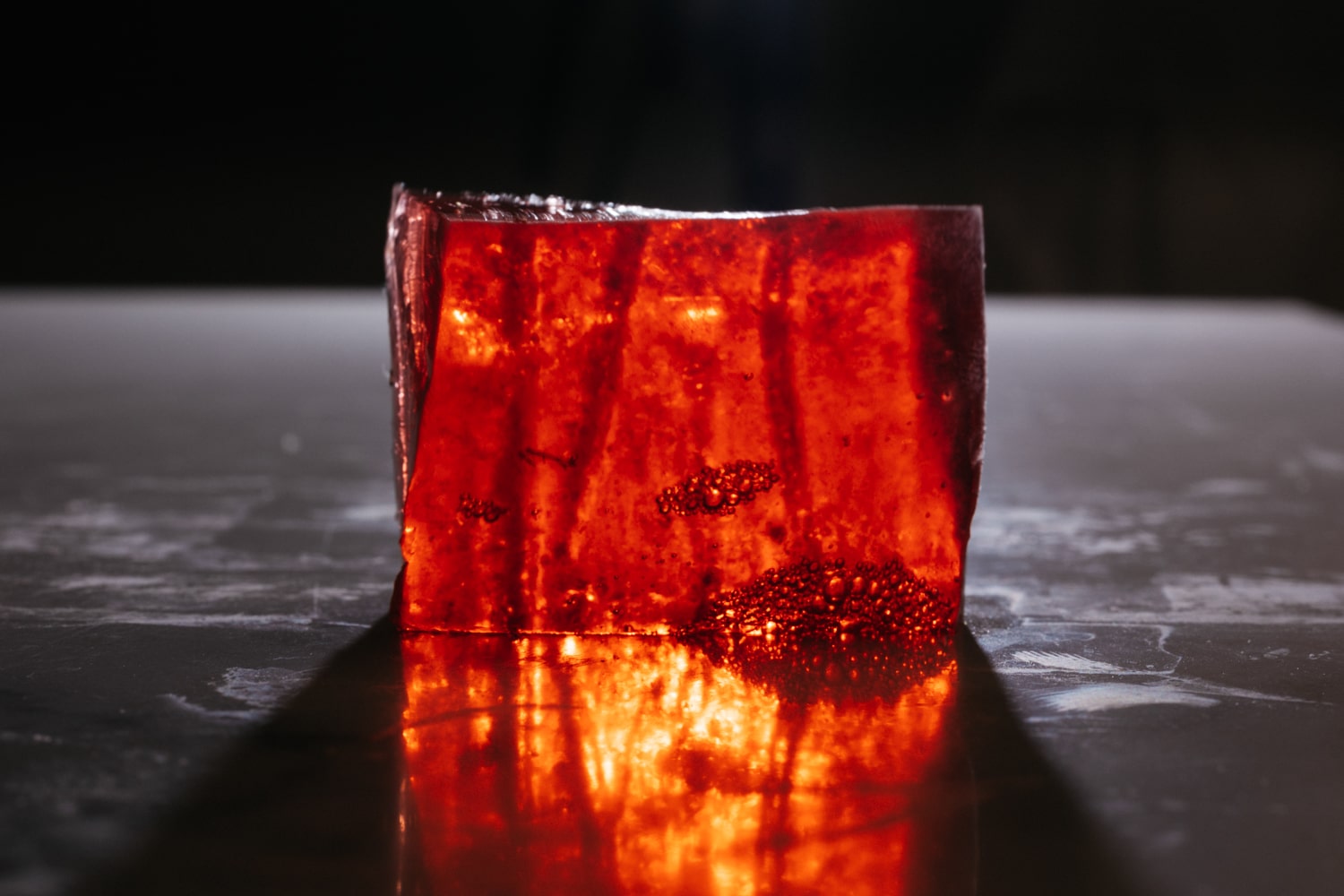 More Keto Recipes Like This
We've got plenty of sugar-free keto recipes to satisfy your dessert cravings on a keto diet – and use up the rest of that gelatin, too!
Check out these similar keto recipes:
In the mood for something savory? We've even used gelatin to create the perfect homemade Keto Pasta! These three-ingredient noodles have that perfect pasta texture, without all the carbs.
Conclusion
Following a low-carb keto diet might mean giving up sugar, but that doesn't mean foregoing the treats altogether. Sweet keto-friendly recipes like our Sugar-Free Jello prove that you can definitely still enjoy delicious desserts whenever the craving hits!
We get it – you might not always feel like a rich keto dessert, or maybe you'd prefer a lower-calorie option. When a homemade fat bomb won't quite hit the spit, we know a square of fresh, fruity Low-Sugar Jello will.
Have you made this recipe, or tried a variation with different low-carb berries? Be sure to comment below, and tag us in your creations on social media!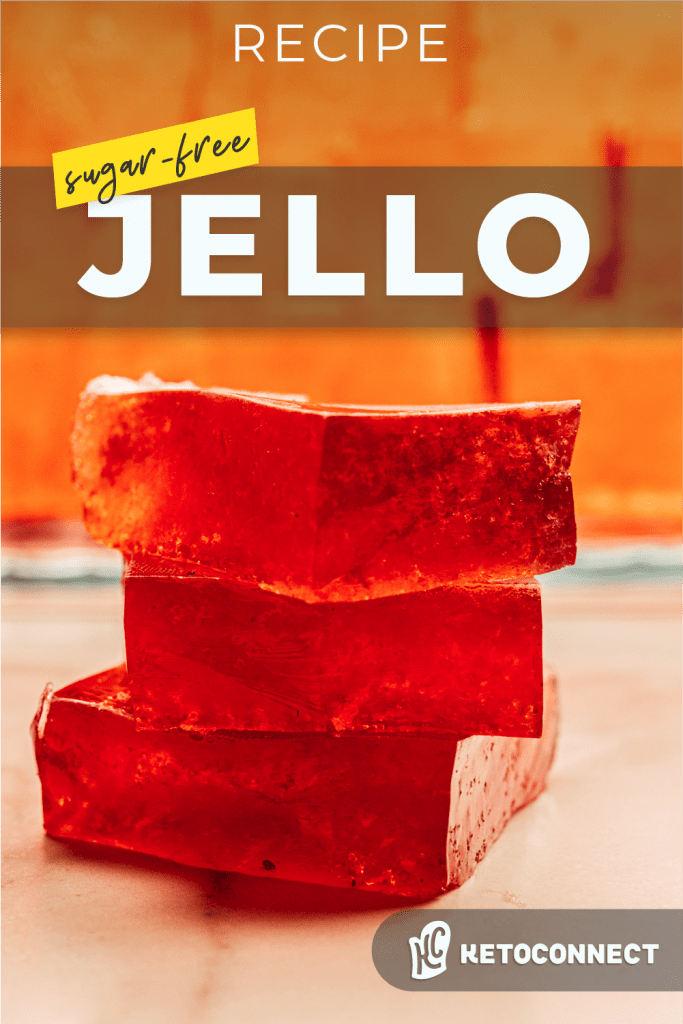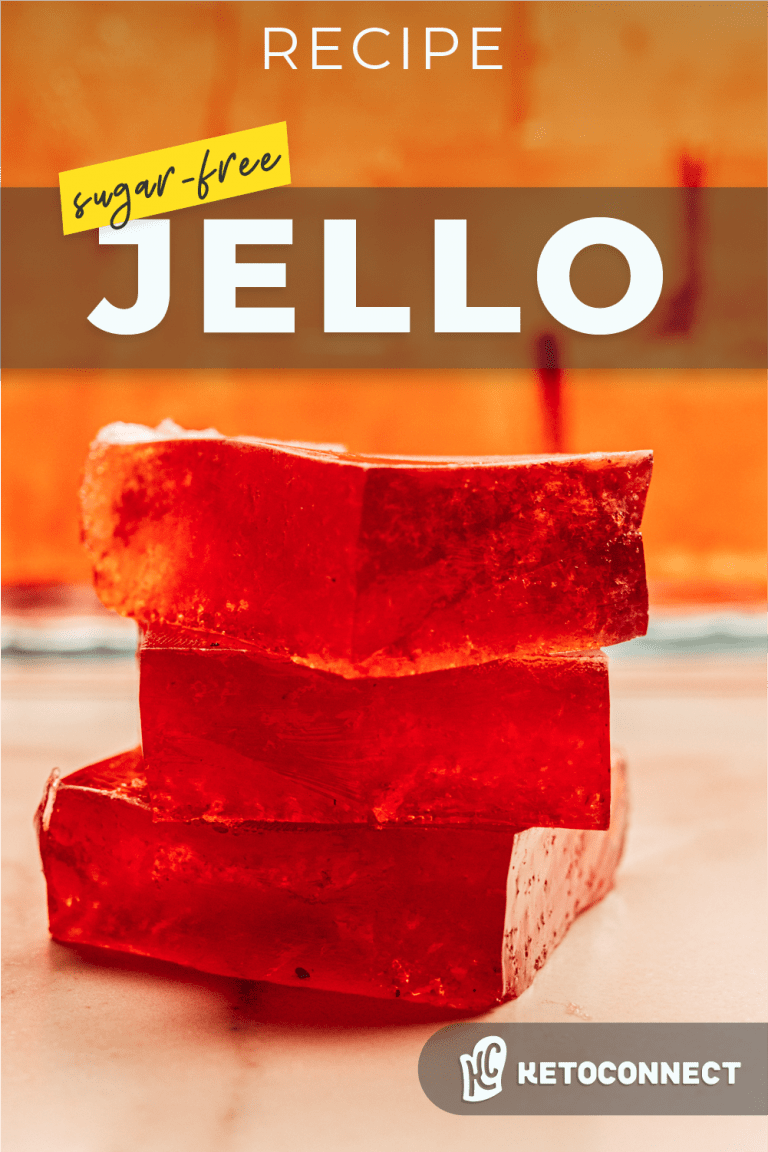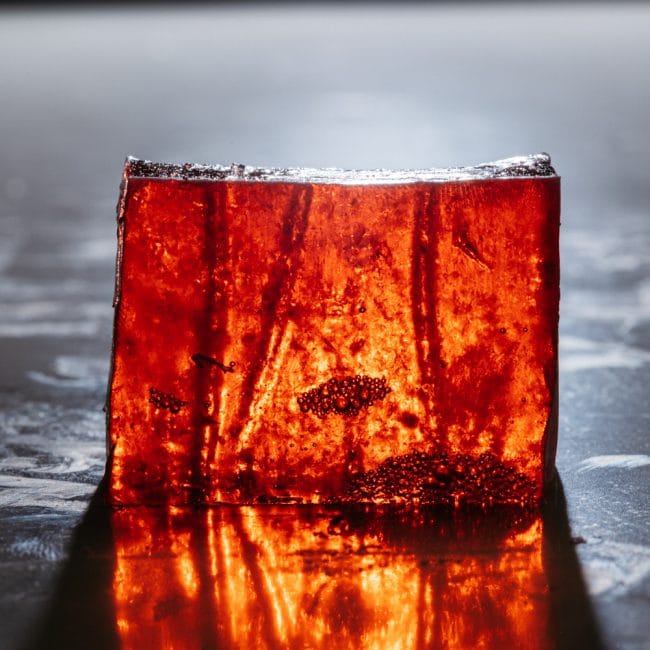 Sugar Free Jello Keto Recipe
Delicious keto jello that's sweet, fruity, and bouncy just like the jello you remember growing up
Servings 9 Servings
Calories per serving 40kcal
Prep Time: 10 minutes
Resting Time: 5 hours
Cook Time: 20 minutes
Ingredients:
2 lb Strawberries (Washed and quartered without stems)
3/4 cup Water
3 tbsp Gelatin +3/4 cup warm water
Instructions:
Quarter the strawberries and add them to a pot with 3/4 cup of water.

Cook on medium heat until the strawberries have broken down (10-12 minutes).

While the berries cook combine the 3/4 cup warm water and gelatin. Whisk immediately to ensure there is no clumping.

Once cooked, strain the strawberry juice from the skin with a mesh strainer. Add the juice back into the pot with enough water to equal 3 cups of total liquid.

Simmer on medium and dissolve the keto sweetener.

Once dissolved add in the gelatin mixture and whisk well over low heat for 2-3 minutes.

Pour into an 8×8 dish lined with parchment paper and use a spoon to scrape of the top layer of bubbles.

Chill for 4-8 hours to set. Cut and then serve.
Nutrition Facts
Sugar Free Jello Keto Recipe
Amount Per Serving
Calories 40 Calories from Fat 9
% Daily Value*
Fat 1g2%
Saturated Fat 1g5%
Polyunsaturated Fat 1g
Monounsaturated Fat 1g
Sodium 7mg0%
Potassium 155mg4%
Carbohydrates 8g3%
Fiber 2g8%
Sugar 5g6%
Protein 3g6%
Vitamin A 12IU0%
Vitamin C 59mg72%
Calcium 18mg2%
Iron 1mg6%
* Percent Daily Values are based on a 2000 calorie diet.
Written By