Learn how to make keto pumpkin pancakes with quality ingredients that taste as good as the local diner. In this recipe we pack in as much pumpkin flavor as possible while eliminating all the refined grains and sugars that are usually used in fall recipes. You can feel good about serving these low carb pumpkin pancakes to the whole family each autumn.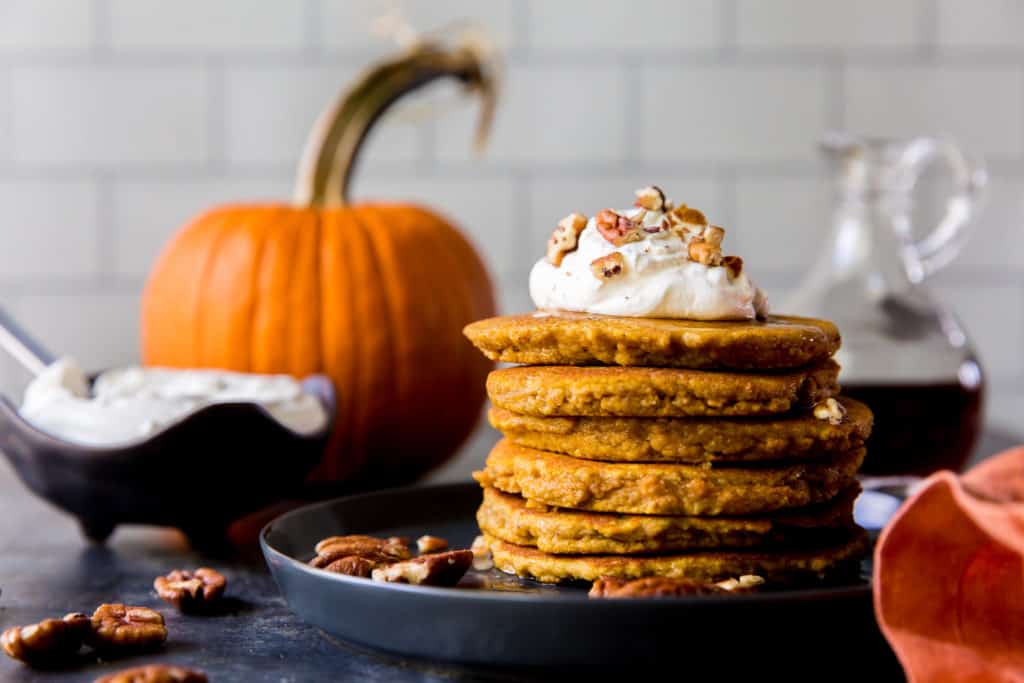 Is Pumpkin Keto?
Pumpkin, as well as most fall and winter squash are perfectly acceptable on a keto diet. A typical 1/2 cup serving of pumpkin puree contains around 10 grams of carbs, and 3 grams of fiber which results in 7 grams of net carbs. While this is more than most fruits and vegetables that are typically considered keto friendly, you can use pumpkin to flavor different keto recipes while keeping the total carb count relatively low.
Pumpkin also has a number of benefits to immunity, eye health, and health skin.
How to Find Pumpkin Puree That's Keto Friendly
It's pretty easy really. Most items that are labeled Pumpkin Puree are good for a low carb keto diet. What you want to look out for is anything labeled as Pumpkin Pie Filling or Pumpkin Pie Mix. These are usually found right next to the canned pumpkin puree and are used for making pumpkin pie. These contain over 20 grams of carbs per serving and should be avoided on a ketogenic diet.
Theses cans will last for a long time in your pantry so as soon as I see them hit the store shelves each year I like to stock up on them. Sometimes there will be shortages when you really need them around Thanksgiving time.
How Do You Make Pumpkin Pancakes Keto?
The Ingredients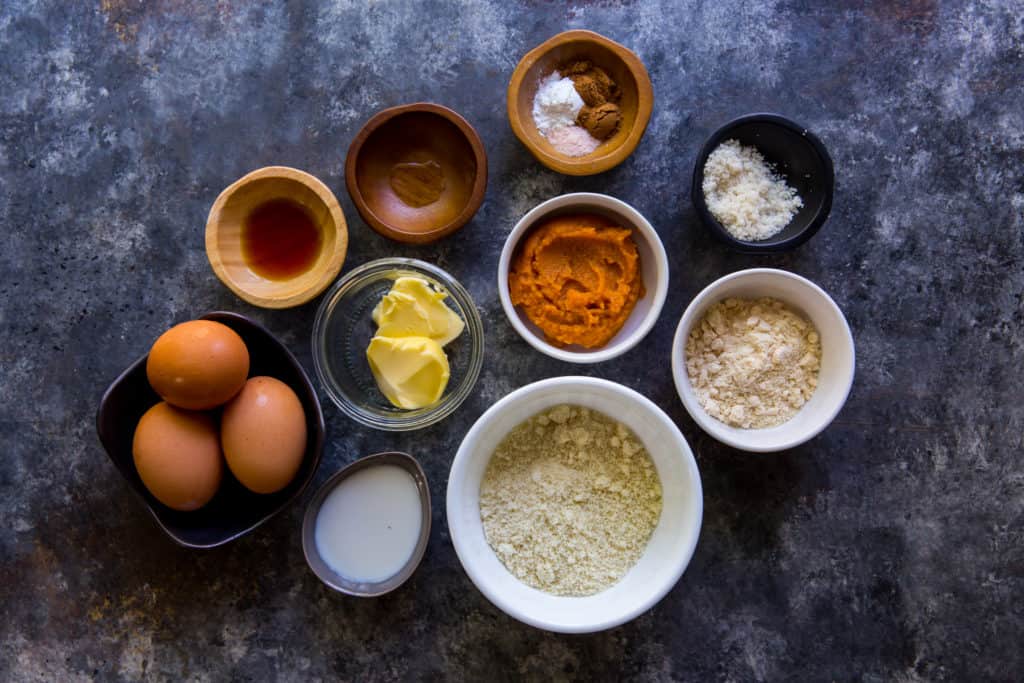 Try Different Flavors and Additions
Recipes like this one are great because you can change up the flavors each time you make it. We are always trying to come up with interesting new additions for this pancake recipe. Here are a few of our favorites so far:
Storage and Freezing
If you're going to the trouble of making pancakes you might as well make a bigger batch and store some for leftovers. Store pumpkin pancakes in the refrigerator for up to a week and tightly wrapped in the freezer for up to a month. To warm your pumpkin pancakes just take them out of the freezer and microwave them for 60 seconds, or warm them in a pan with a little butter.
Tricks for Making the Best Keto Pumpkin Pancakes
Pancakes are definitely more of an art than a science. Especially keto pancakes because they can sometimes be tough to flip without the gluten used to bind together traditional pancakes. When preparing comfort foods that are gluten free, sugar free and low carb there are some extra precautions needed to create something really tasty.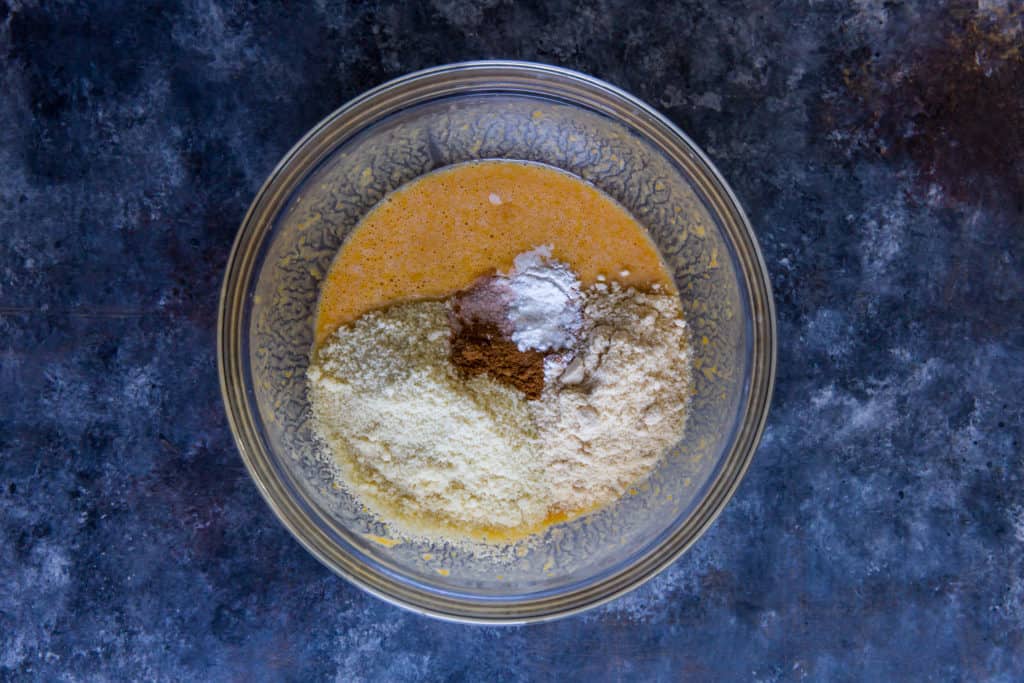 Use an Egg White to Make Fluffy Pumpkin Pancakes
This is a trick we use in all of our keto pancake recipes. By whisking an egg white and gently folding it in to the batter you will make fluffy pancakes. This is important because keto ingredients tend to be more dense and heavy than traditional pancake ingredients. Beating and egg white to achieve stiff peaks, and then folding it into the batter with a spatula will add some height and fluff to your keto breakfast.
Use Stevia and Erythritol for Sweetness
For sugar free cooking keto cooking we love using a combination of stevia and erythritol. The combination is important because if you only use one type of sweetener for your sweet keto recipes then you will start to detect an unpleasant aftertaste. We always use one highly concentrated sweetener like stevia, and a granular sweetener like erythritol. If you're confused by your options for sweeteners on a keto diet then read our comprehensive post on keto sweeteners before making your next sweet keto treat.
Add Pumpkin Pie Spice for More Pumpkin Flavor
If you add too much pumpkin puree to your recipe you will end up with lots of carbs in this dish. For that reason we like to add a healthy dose of pumpkin pie spice to our batter. This amps up the pumpkin flavor without increasing the carbs in these keto pancakes. This magical pumpkin spice blend is a combination of cinnamon, ginger, nutmeg, and allspice. It is what you think of when you dream about fall flavors.
For even more pumpkin flavor you can add pumpkin extract to this keto recipes, but we have found it to be unnecessary.
Use Almond Flour and Coconut Flour
There are certain recipes that just need both coconut flour and almond flour to come out great and this is one of them. Each gluten free flour option has its own pros and cons. Coconut flour is highly absorbent and creates wonderful bread-like textures, but it can often result in dry and crumbly recipes. Almond flour has a toasty flavor and is very low carb, but it is calorie dense and not very absorbent.
The keto pancake batter uses just a bit of coconut flour to help things come together and create a fluffy and bready texture.
Know When to Flip
This is something that takes a minute to learn and a lifetime to master. The typical advice on flipping pancakes is to wait until you start seeing air bubbles on the surface of the pancake. This means the base has solidified and you will be able to easily flip your pancakes. This isn't always the case for these keto pumpkin pancakes. When you start seeing bubbles on the surface of your low carb pumpkin pancakes you will want to wait another minute or two. Keto pancakes do not hold together as well as traditional ones so you need to be cautious.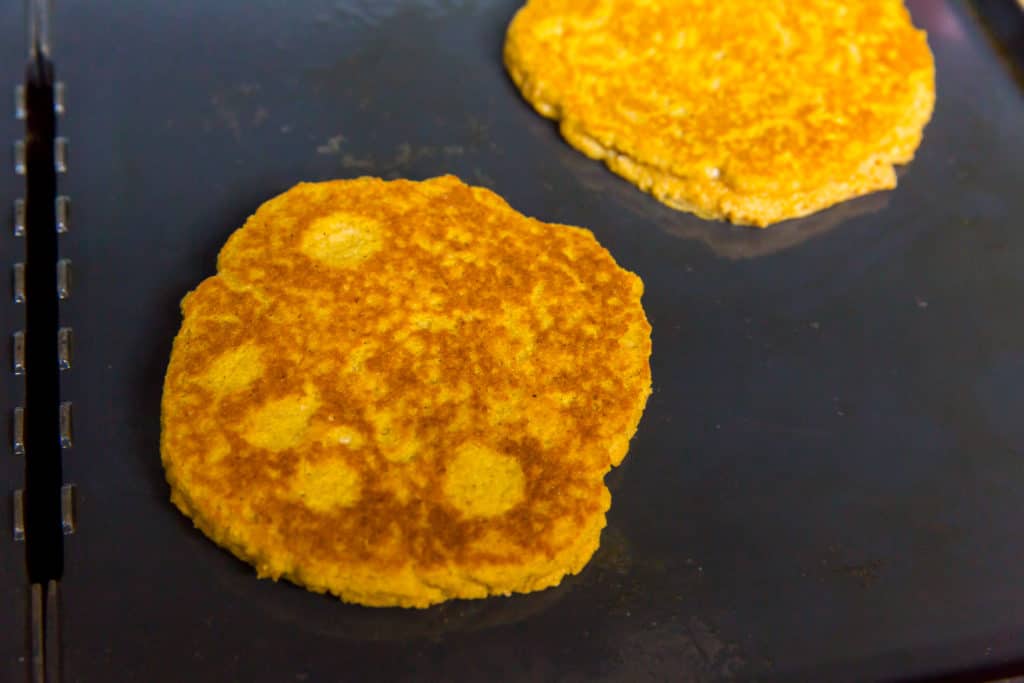 If you have trouble flipping the pancakes try this
If your batter is too dry you can add a few more splashes of unsweetened almond milk, or whichever milk option you are using for this recipe.
If your batter is too wet you can add a few teaspoons of coconut flour to help thicken it.
Put a lid on the pan while you are cooking the keto pumpkin pancakes. This will help cook them through faster by recirculating some of the steam that is being released. This will make it easier to flip when the time comes.
Make smaller pancakes if none of the above options have worked for you. That's the easiest fix of all. The smaller your keto pumpkin pancakes are, the easier they will be to flip.
Serve with Butter, Syrup or Whipped Cream
Now for the tough decisions – What are you going to top your keto pumpkin pancakes with? I'm a big fan of using as many quality ingredients as possible so I like to top mine with some good quality butter and maybe even some homemade whipped cream. If you think it is blasphemy to eat pancakes without syrup then you have some options to choose from for a good pancake syrup.
There are a number of sugar free pancake syrup options available these days. Here are a few of our favorites:
One other thing I like to do is make a flavored and sweetened butter spread. You can do this by either melting butter and adding some sweetener and spices to it, or you can whip room temperature butter with a hand mixer and add sweetener and spices. My personal favorite is some cinnamon and stevia. This makes for a nice pancake topping and replaces the need for syrup.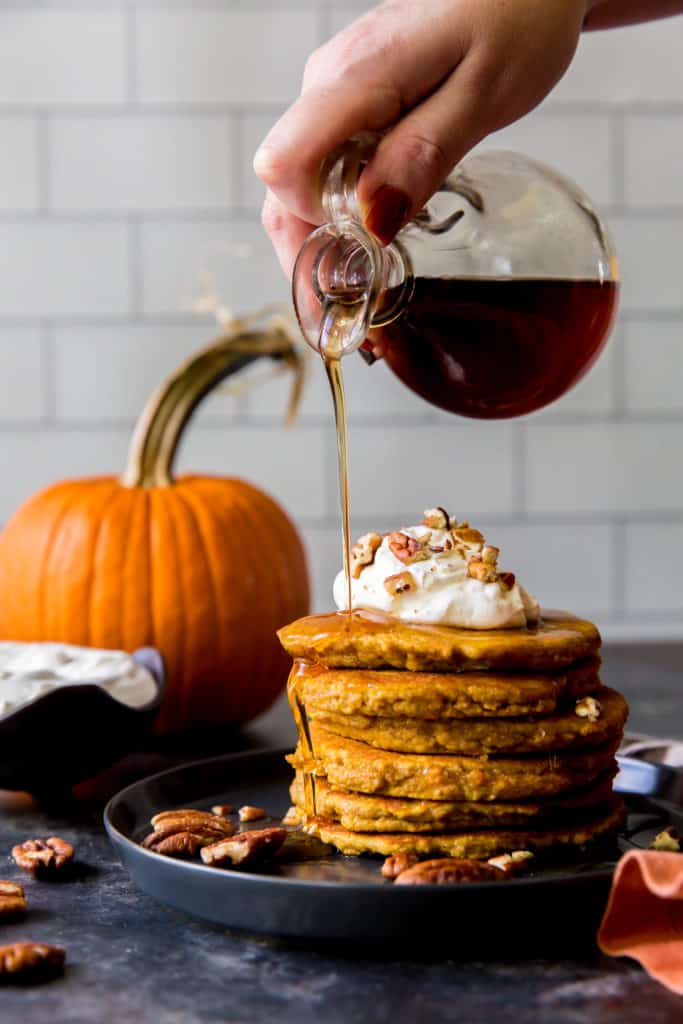 More Pumpkin Recipes
Once you make one pumpkin recipe it is only natural to start looking for more. Each year on our food blog we publish a few new keto pumpkin recipes. Listed below are some of our all time favorite ideas for satisfying our keto pumpkin cravings.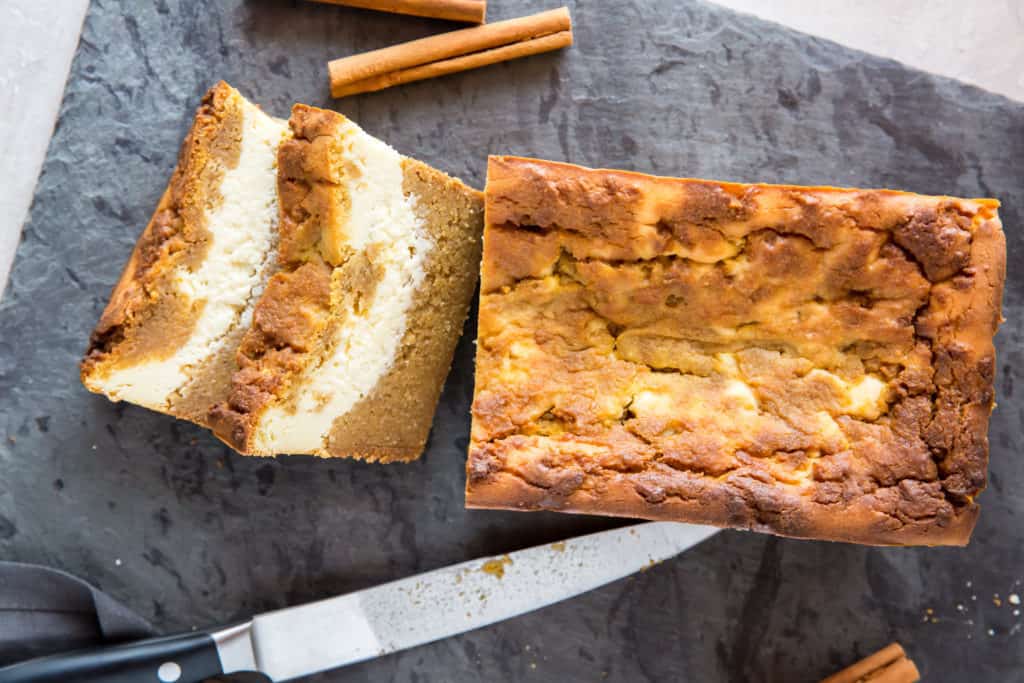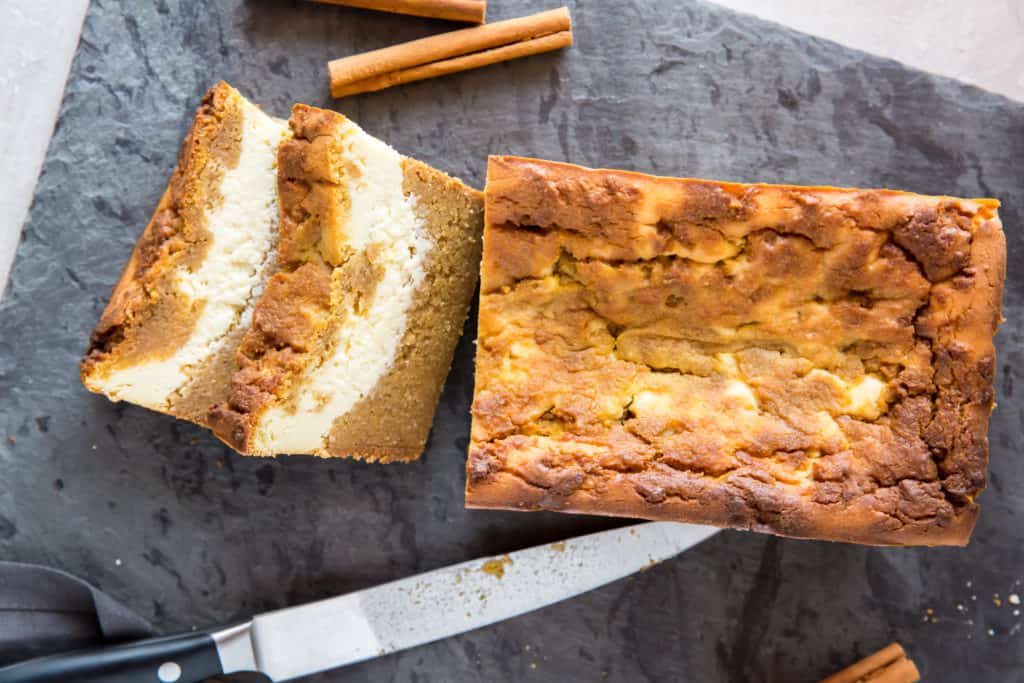 More Pancake Recipes
If you're looking for more pancakes then we have you covered there as well. Pancakes are one of our favorite foods and something we often make as a family on the weekends. We have a handful of really good pumpkin recipes you can try and all of them are gluten free, sugar free, and low carb. We even have some nut free and dairy free options if you're looking for those.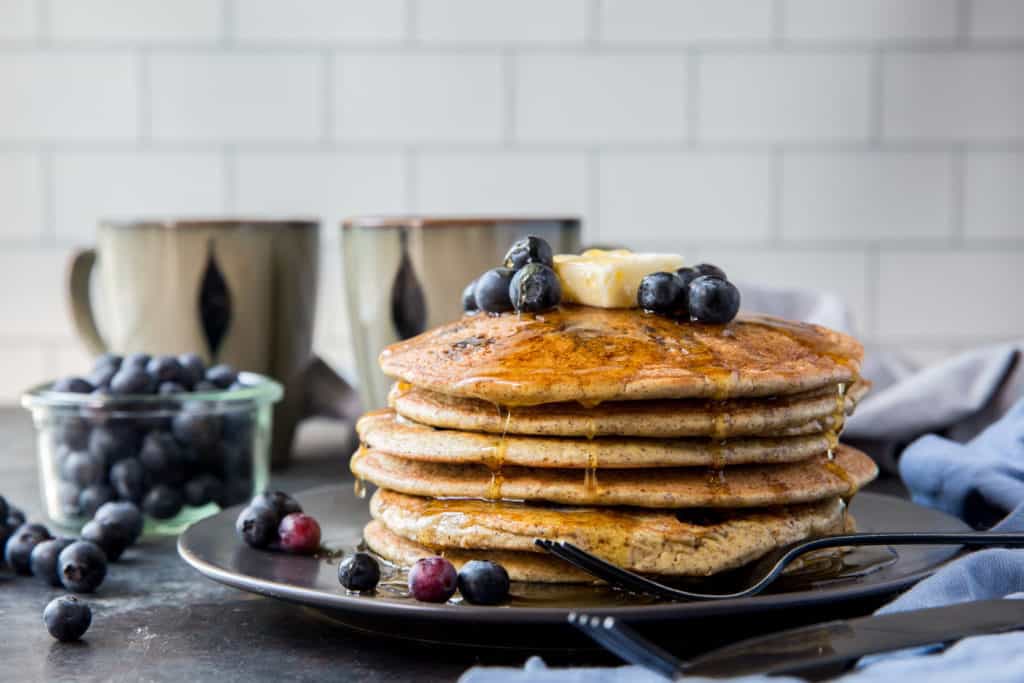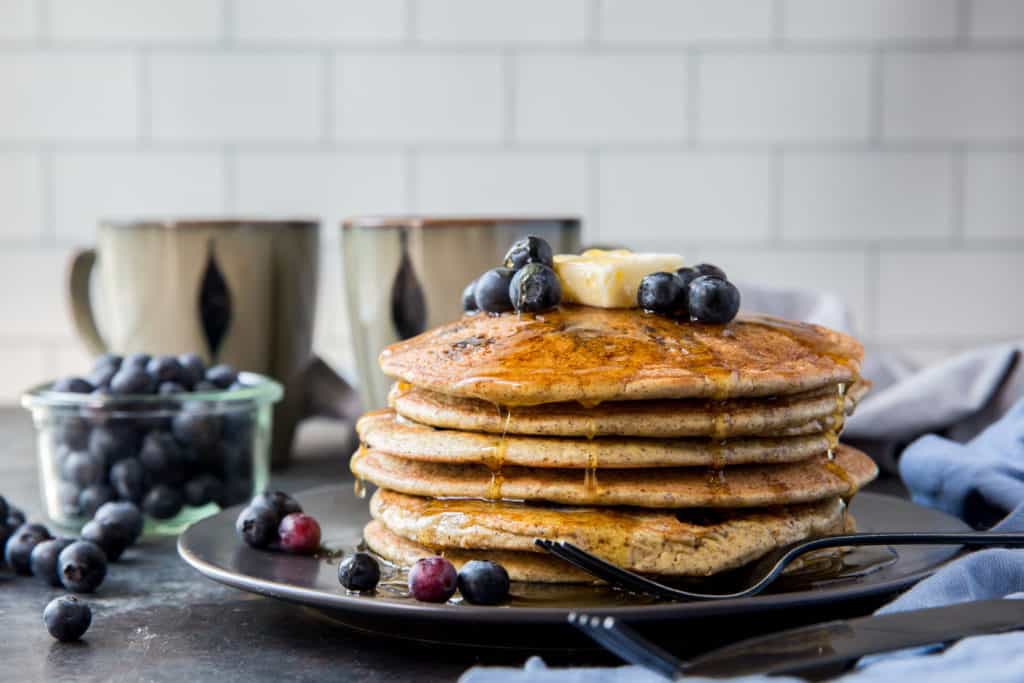 Thanks so much for checking out our food blog. If you make any of our recipes be sure to share it with us on social media. We love to see which recipes of ours you are enjoying the most.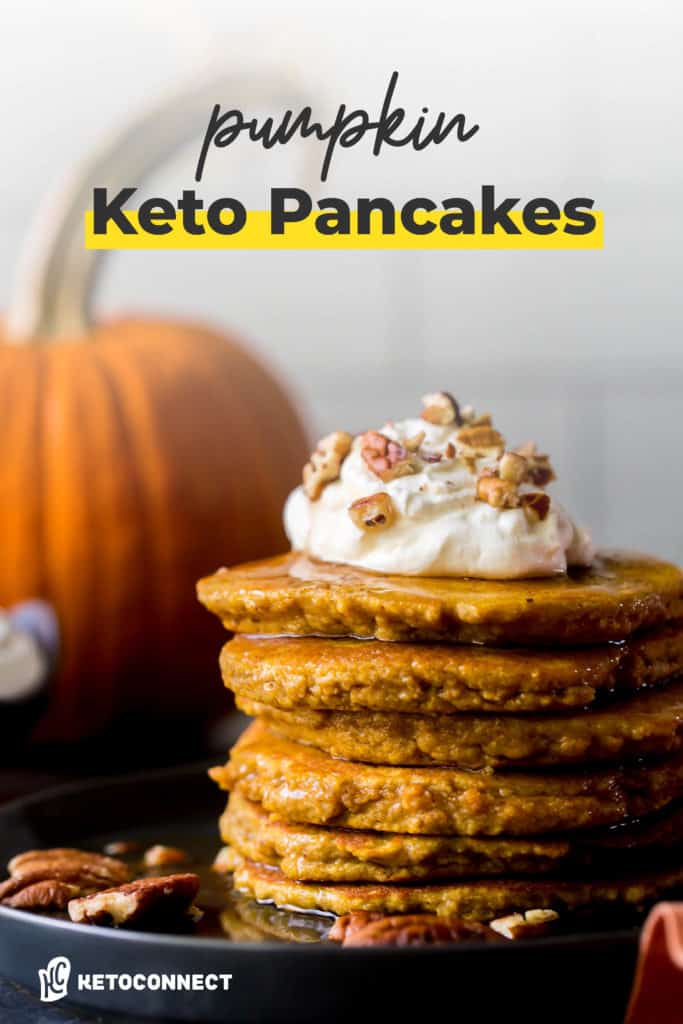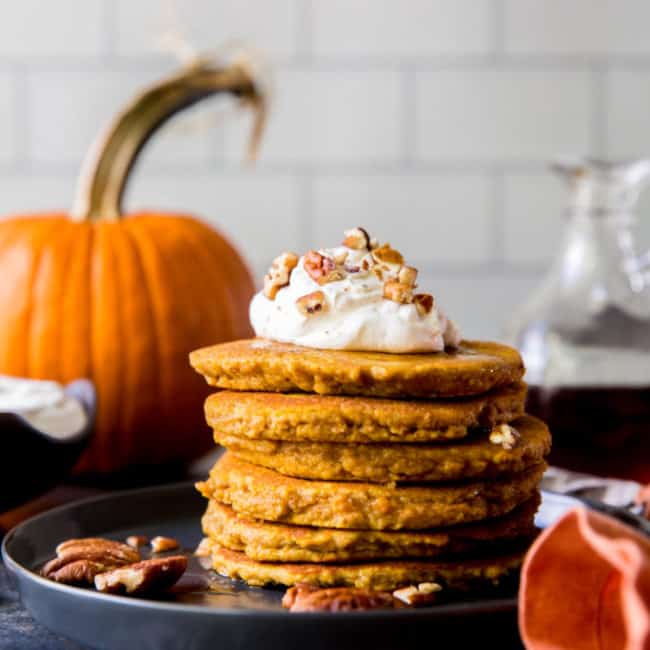 Keto Pumpkin Pancakes Recipe
This easy keto pumpkin pancakes recipe is perfect for a cool autumn day. We'll show you how to reduce the carb count in all of your favorite comfort foods.
Total Time 15 minutes
Servings 6 pancakes
Calories per serving 153kcal
Prep Time: 5 minutes
Cook Time: 10 minutes
What You Need:
Electric Hand Mixer

Stovetop
Instructions:
In a large bowl, beat eggs until combined (save the egg white for a later step), then whisk in pumpkin, cooled butter, erythritol, stevia, milk and vanilla. Mix until smooth.

Add almond flour, coconut flour, baking powder, pumpkin pie spice, and salt, stirring until batter is combined.

In a separate bowl, whip the egg white to stiff peaks, then gently fold into the batter. Allow batter to rest for 3-5 minutes. This helps the batter thicken.

Meanwhile, preheat a griddle or a large skillet on medium-low heat. Spray cooking surface generously with oil cooking spray or butter.

Drop about 1/4 cup of batter onto the griddle. Cook 3-5 minutes, until edges are golden brown and bubbles form on the top. GENTLY flip and cook another 2-4 minutes or until golden brown and the middle is cooked through.

Serve with fresh whipped cream, butter, sugar free syrup, toasted pecans, or your desired toppings.
Notes
If you have trouble flipping the pancakes or getting the right batter consistency read the tips highlighted in the blog post above. Net Carbs: 3g Servings: 6
Nutrition Facts
Keto Pumpkin Pancakes Recipe
Amount Per Serving
Calories 153 Calories from Fat 117
% Daily Value*
Fat 13g20%
Saturated Fat 5g25%
Cholesterol 77mg26%
Sodium 198mg8%
Potassium 120mg3%
Carbohydrates 6g2%
Fiber 3g12%
Sugar 1g1%
Protein 5g10%
Vitamin A 1854IU37%
Vitamin C 1mg1%
Calcium 73mg7%
Iron 1mg6%
* Percent Daily Values are based on a 2000 calorie diet.
Written By