Layers of creamy cheese, juicy meat, and tomato sauce make for a delicious and hearty meal. This low carb lasagna is true comfort food, perfect for the whole family. We invented Keto Lasagna for our readers, but quickly realized that we were also making it for ourselves…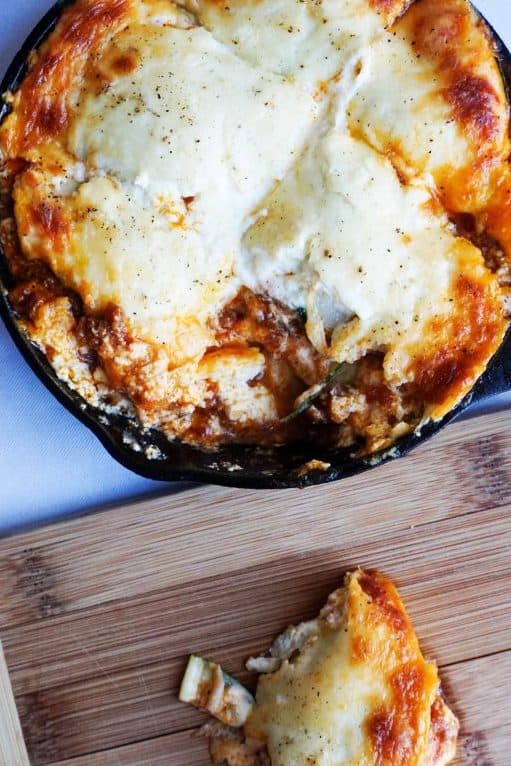 Low Carb Dinner Ideas
Lasagna was never really something we ate before or during keto. It wasn't until we created this recipe that we started wondering why we had never ordered it at Italian restaurants! We came away with a new recipe and a new love for a food. If Italian food is your favorite we have you covered. Check out some of our other Italian keto recipes:
We are full of low-carb dinner recipes, but we have to say that this keto lasagna takes the cake… pie… lasagna… A serving of this will leave you feeling as full as if you had the carb-o load of noodles, but without the feeling that you have to run a marathon to justify it.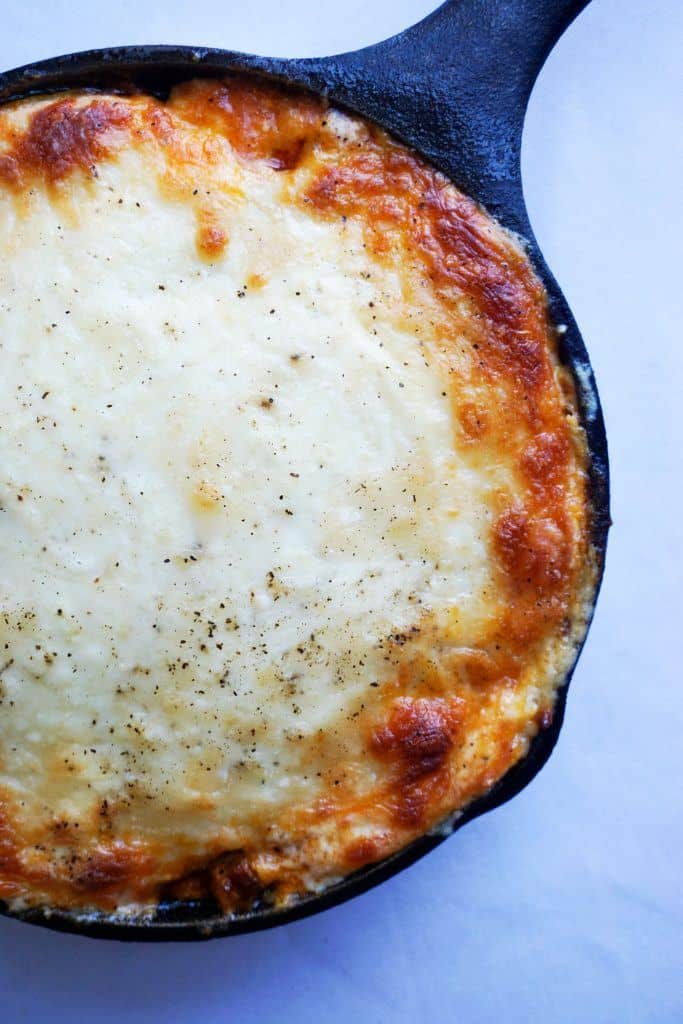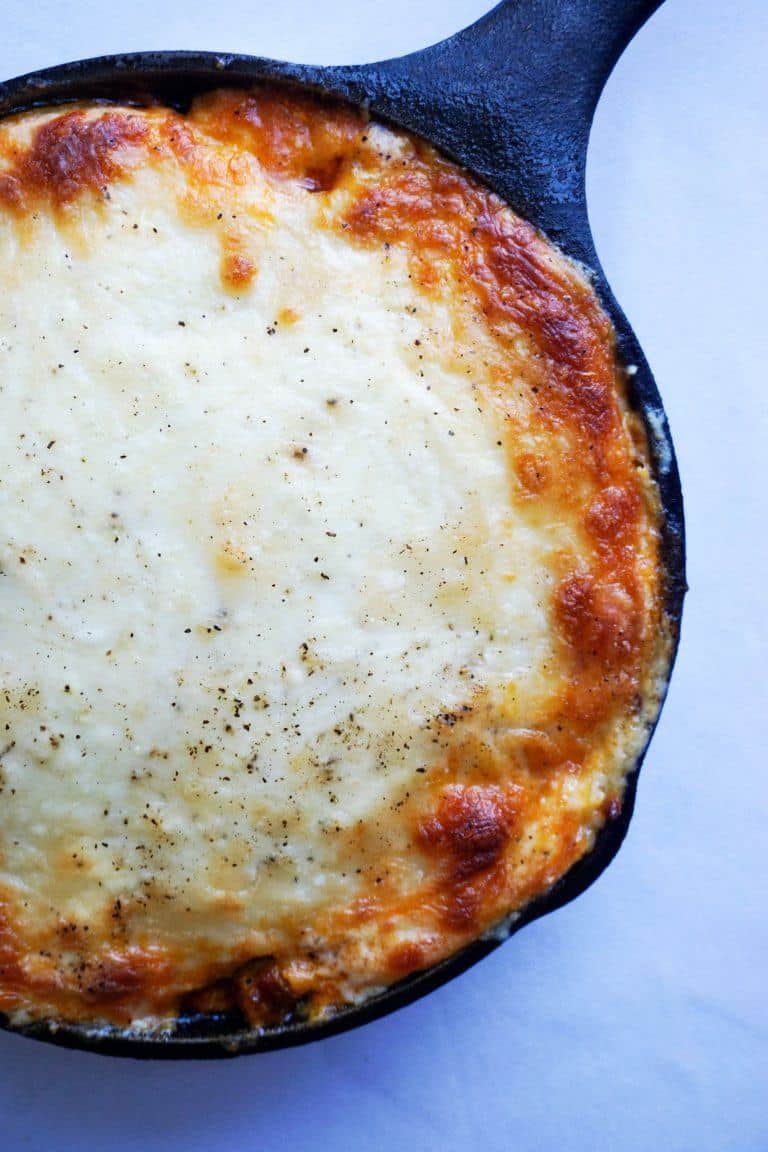 How to Make Keto Lasagna
Making the perfect lasagna is simple and easy. No need to fret over having the perfect ingredients or spending hours in the kitchen. This meal whips up in under an hour so you have more time to enjoy with your family.
How to Make Low Carb Lasagna Noodles?
What makes this lasagna keto? The noodles. We used zucchini to create the perfect illusion of a hearty, cheesy lasagna! There are many ways to prepare the noodles. We ended up slicing ours thin and using them raw because they create more of a bite this way. Some other noodle preparation techniques are:
Heating on the Grill or Stove- A great way to cook off excess water and add a bit of char is to heat them on the grill or in a pan as seen here
Slicing Thin Rounds- If you don't have a mandolin you can always just slice thin rounds out of your zucchini. This is more time consuming, but it will give you the same overall texture as doing thin sheets.
If you don't have zucchini or don't like the texture you can sub yellow squash, eggplant, or even turkey slices for it.
Is Tomato Sauce Keto?
There is a lot of controversy with whether or not marinara sauce should be consumed on keto. In this recipe we only use a 1/2 cup of marinara sauce between 4 servings. That is about 2 tbsp per serving and approx. 1.25 carbs if you use our favorite sauce Rao's. This alone tells you marinara sauce can fit in great on a keto diet!
Another option when doing low carb cooking is to use fresh cherry tomatoes broken down as a sauce. You can also try crushed canned tomatoes which would be sugar free and lower in carbs. Using a high quality sauce or a fresh homemade sauce really elevates this lasagna. Our low carb meat sauce is sugar free, packed with ground beef, and stuffed with herbs. The key is just making sure whatever sauce you chose has low net carbs (carbs-fiber=net carbs). Get this by picking a lower sugar sauce in stores.
Putting Together Low Carb Lasagne
This is an easy to make meal that will have all your non keto guests and whole family surprised with just how good keto food can be. The trick to making any good keto lasagna taste like the real thing is knowing how to evenly layer. There should be an even ratio of ground beef, low carb noodles, tomato sauce, and the parmesan cheese mixture. With a total time of under an hour and only 20 minutes hands on, there's no reason to wait on making this lasagna! To make the low carb lasagna:
Preheat the oven to 350 degrees F- Do this ahead of time so you can just pop the skillet in after prepping
Add coconut oil to a medium high heat pan and cook the ground beef. Add your sauces of choice to the ground beef and combine. After about 2 minutes remove and set aside.- Check above to see our favorite low carb tomato sauces and pick the one that's right for you!
Using a mandolin slicer, slice the zucchini into as many thin slices as possible and set aside.- If you don't have a mandolin you can also thinly slice rounds just know you may not get that same large noodle feel.
Add the ricotta, Parmesan, garlic cloves, salt, pepper, and egg to a food processor and blend until fully combined.- This is going to be the flavorful base that really adds a punch to this keto lasagna
Using cooking spray spritz a light coating of oil on an oven safe skillet or casserole dish. Begin by making a layer of the ground beef.
Next place two layers of the zucchini criss cross.- Layering like this will allow for even cooking and noodles to cover the full dish.
Add a generous layer of the ricotta mixture on top.
Sprinkle on some of the shredded mozzarella.
Repeat this layering a second time (we made two full layers in our 6 inch skillet). Make sure this next time the last layer is mozzarella cheese.
Bake in a 350 degree oven for 30 minutes or until cheese is browned.- If the cheese has not browned enough feel free to put it on low broil for 2-3 minutes (DON'T EXCEED 5 Minutes). 5 Minutes will probably burn the top. It's best to place it on broil and sit to watch the cheese brown.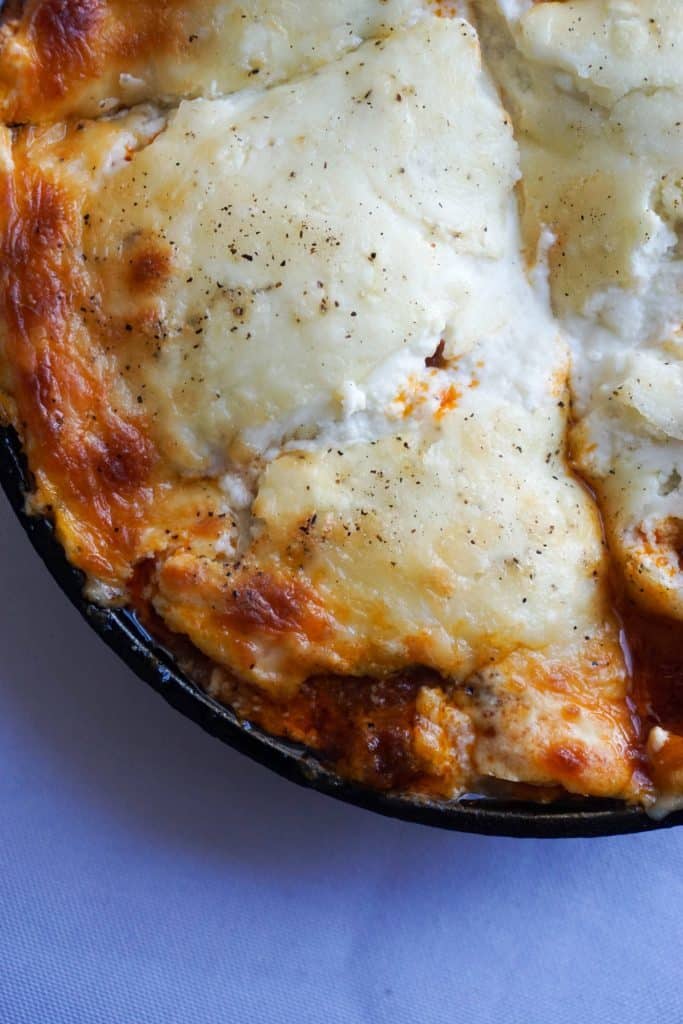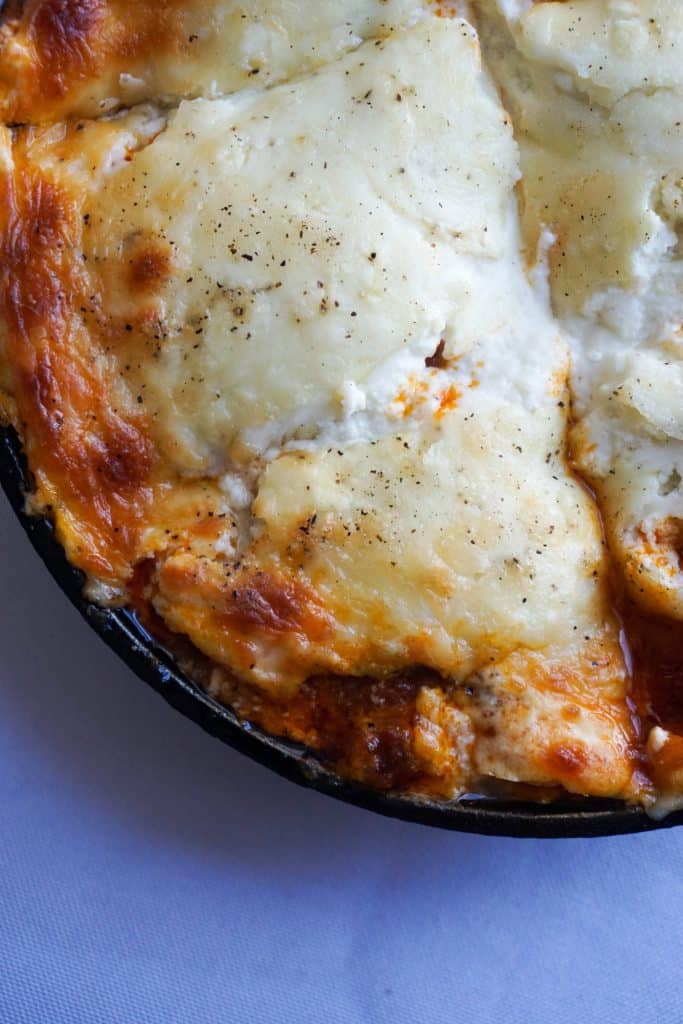 Custom Lasagna – A World of "Pasta-Bilities"
Making specialty Lasagna is equally fun and delicious! There are a few tasty swaps that can be made in keto lasagna to elevate the flavor. Whether you want a traditional style keto lasagna, or a fancy meal these suggestions will set you up for success.
Getting Saucy
The pasta sauce is a crucial step to any Italian dish. Here are some swaps based on the flavor profile you want:
Rich and Flavorful- Try a olive oil based sauce like Raos. Low carb and packed full of garlic, Italian seasoning, and fresh peeled tomatoes the differences in this sauce versus others are night and day!
Rustic and Easy- A quick homemade sauce can be made by sautéing a bit of oil and garlic and then adding in fresh cherry tomatoes. Blister the tomatoes and allow them to break down a bit, add in salt and pepper. You will have an easy fresh sauce with chunks of the tomato
Options for Lasagna Noodles
When making low carb lasagna that tastes just like the original, extra care needs to be given to the noodles. There are a variety of noodle subs you can use, but these are our favorites:
Yellow Squash- It looks and acts just like zucchini but it's bright yellow
Thinly Sliced Turkey- Believe it or not, thinly sliced turkey tastes just like regular noodles! For a lasagna like the real thing try layering super thin slices of turkey in between the shredded mozzarella cheese and meat sauce.
Some "Grate" Cheese Options!
Cheese is the name of the game in Italian cooking. Low carb and keto friendly, we recommend loading up on the cheese in this great recipe. Our original recipe has mozzarella, ricotta, and grated parmesan cheese. Some other low carb cheese options included by each keto recipe style:
Fancy Low Carb Lasagna- If you have a more refined palate we recommend a blend of aged Manchego, mozzarella cheese, and ricotta cheese for a good mix of creamy and salty.
Fresh and Rustic- Try a mix of ricotta cheese and fresh chunks of mozzarella cheese. This type of mozzarella is normally found in balls, but can also be found in a large log. Just pull apart chunks of this fresh cheese for an extra gooey bite.
What Meat Should I use in Lasagna?
Most should work well for this low carb recipe as any ground meat is pretty much keto so long as it's not pre-seasoned. I know it's tempting to buy ground Italian sausage from your local meat counter, but don't! Often times they actually put corn syrup solids or maltodextrin inside of their pre-seasoned meats. And yes, that is for seasoned ground meats too, not just their pre-seasoned sausages. So what meats work best?
Ground Beef: We love 80/20 ground beef because it has a ton of fat which helps it stay juicy while cooking. The original recipe calls for ground beef, but feel free to try a different substitution below.
Ground Pork- This is going to be most authentic as the real thing normally has 80/20 ground pork sausage. Plus since we add Italian seasoning you have a flavorful punch in every bite!
Ground Chicken/ Turkey- We group poultry together as it is a bit drier when cooking normally. However, because it will be sitting in layers of sauce and mozzarella cheese it should work just fine for this lasagna recipe!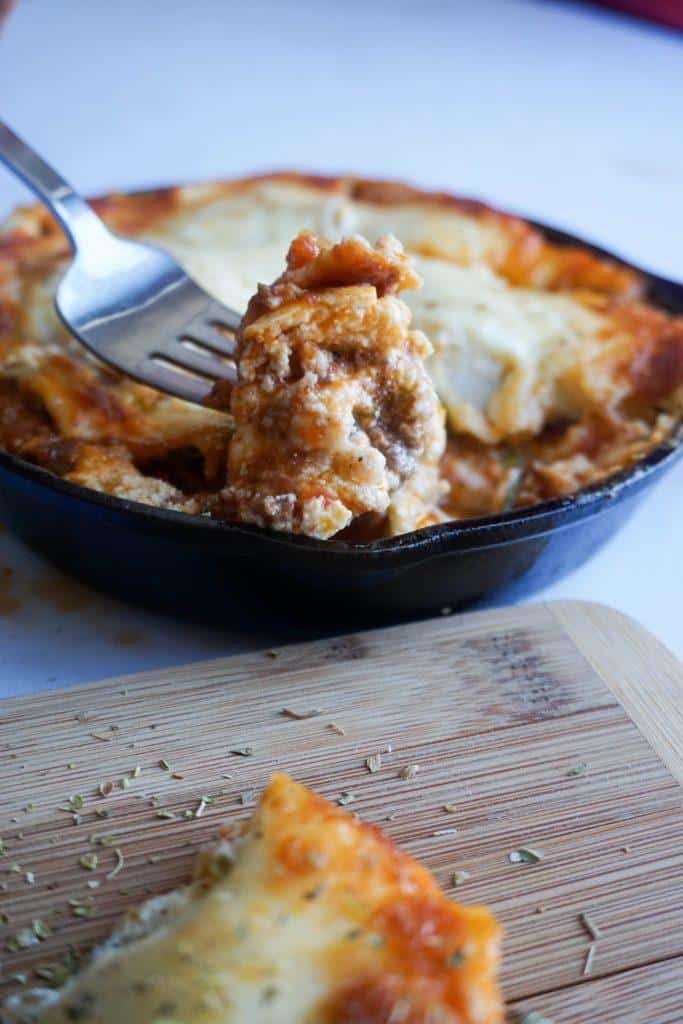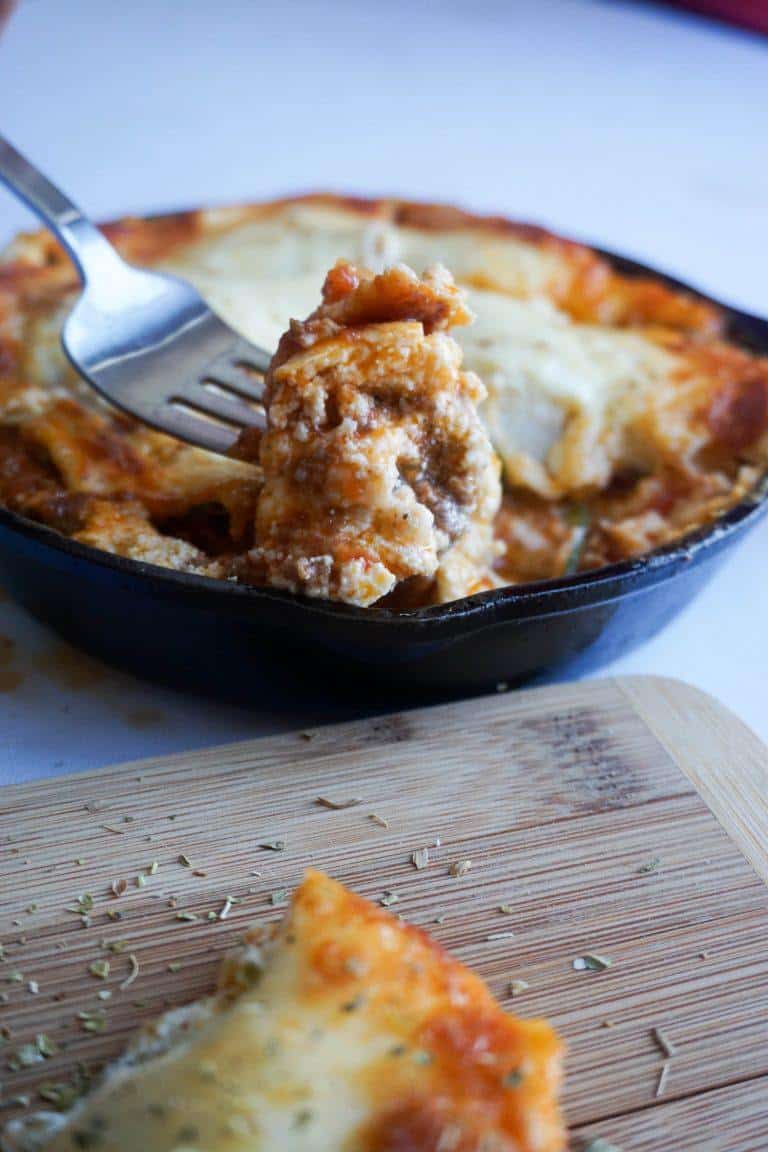 FAQS
"Can I use Cream Cheese?"– Rather than trying to sub cream cheese for ricotta, you can sub a small curdle cottage cheese. We do recommend blending cottage cheese a bit first though so it isn't as chunky. Ricotta cheese is normally quite smooth but has little curds here and there. Cream cheese is just too tangy and smooth for this recipe.
"Why is my Keto Lasagna Watery?"– Zucchini has a very high water content. When cooked too much it releases all the water stored inside. To prevent this follow the instructions of this recipe carefully so it doesn't overcook. If it is still too watery for your liking try subbing the zucchini for thinly sliced turkey.
"Does Keto Lasagna Taste Like the Real Thing?"– We worked hard to make this recipe as accurate as possible. Don't fear the zucchini because once it is covered with tomato sauce, ground beef, parmesan cheese and packed in a cast iron or baking dish you won't be able to tell a difference!
"Can I Make Low Carb Lasagna Ahead of Time?"– Yes! We've made this recipe ahead of time and stored it in the fridge. It lasts for 1 week cooked in the fridge. Just make sure to store it in an airtight container after cooling in the baking dish or cast iron.
"Is Low Carb Lasagne Gluten Free?" This warming comfort food is 100% gluten free. Thanks to subbing zucchini out for regular wheat noodles we are able to make this recipe grain and gluten free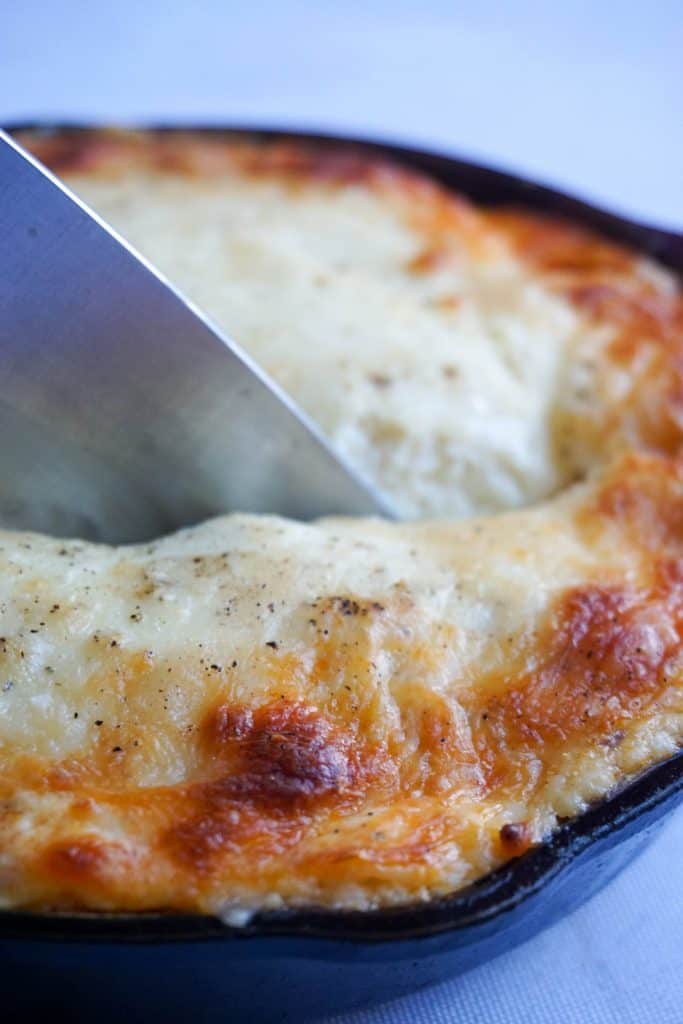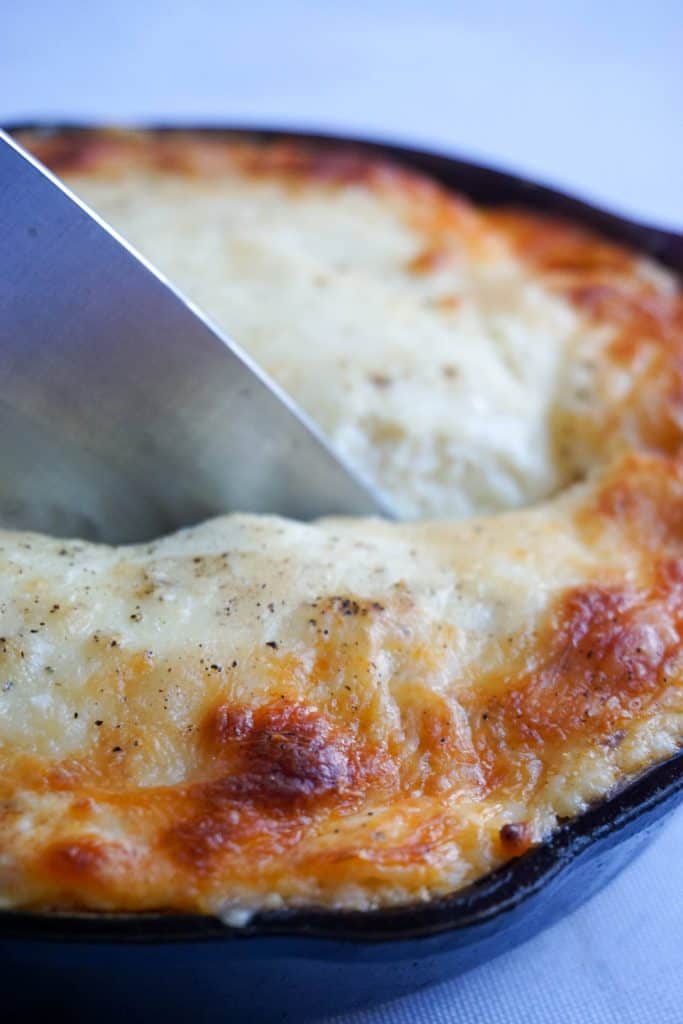 Storing and Freezing Keto Lasagna
If make ahead meals are your thing look no further. This keto lasagna stores great in the fridge or freezer for the perfect adition to this weeks meal prep. Plus with just a few extra steps you can reheat it to taste just like new!
Storing– Keeping lasagna fresh is pretty simple and straightforward. Once it has cooled from cooking transfer leftovers into an airtight container and place in the fridge. It lasts refrigerated for up to a week.
Freezing – Freezing low carb lasagna isn't much different from normal lasagna. You'll want to follow a few simple steps to ensure it freezes and reheats as best as possible:
Allow lasagna to cool once it has fully cooked
Portion and wrap around carefully with a piece of parchment paper. Parchment paper will prevent it freezing to the bag. Next place the parchment paper wrapped lasagna into a ziplock bag. Place on a baking sheet and freeze until solid
Lasts for 1 month in freezer
Reheating From Frozen
Preheat oven to 350 degrees. Remove frozen lasagna from ziplock bag. Unwrap it from the parchment paper. If it is sticking place it into the microwave for 20-30 seconds, just enough to loosen the paper. Bake for 20 minutes or until the center is hot.
Keto Lasagna
We went overboard on the cheese in this keto lasagna recipe, but is that ever a bad thing? We utilized three unique cheeses, ricotta, Parmesan and mozzarella to create the perfect creamy balance. This isn't our only recipe that goes overboard on the cheese though! We also have a Keto Pizza recipe and a Keto Strawberry Cheesecake recipe. So if your favorite keto dishes seem to contain ridiculous amounts of cheese we've got you covered! ?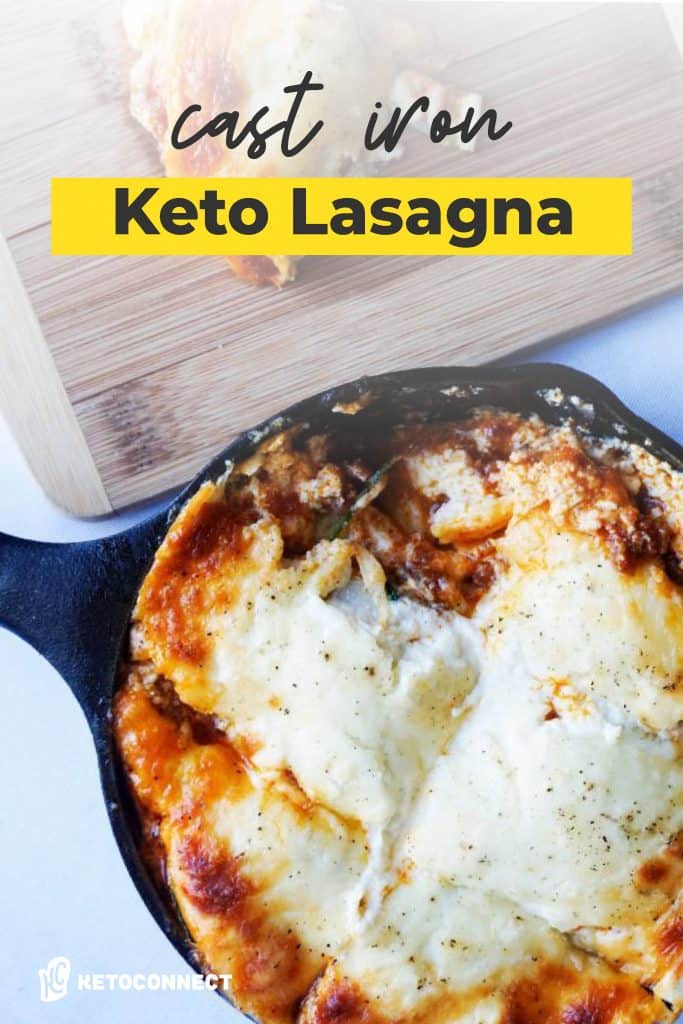 Nutrition Calories: 329 Fat: 25g Protein: 22g Carbs: 5.5g Fiber: 1.25g Net Carbs: 4.25g
Recipe can be quickly added to MyFitnessPal – Search "KetoConnect – Keto Lasagna"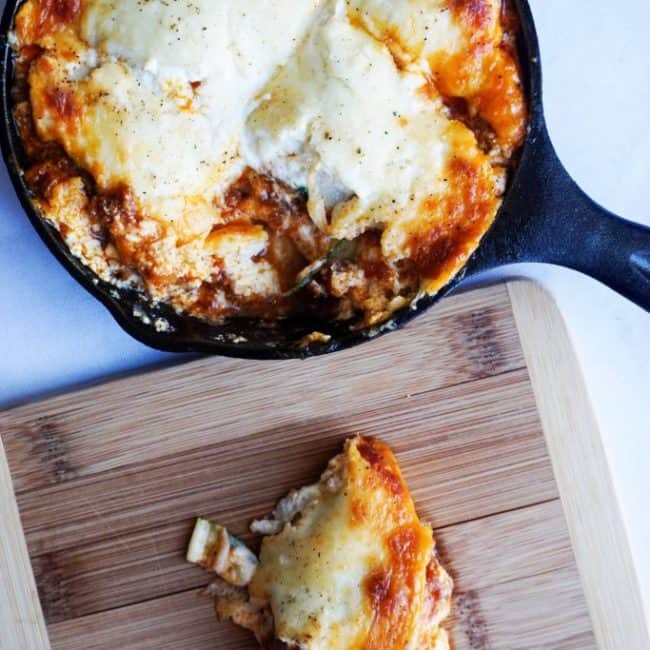 Keto Lasagna
Rich and Hearty low carb lasagna perfect for when Italian food cravings come in!
Total Time 50 minutes
Servings 4 servings
Calories per serving 339kcal
Prep Time: 20 minutes
Cook Time: 30 minutes
Instructions:
Add coconut oil to a medium high heat pan and cook the ground beef. Add the tomato sauce to the ground beef and combine. Set aside.

Using a mandolin slicer, slice the zucchini into as many thin slices as possible and set aside.

Add the ricotta, Parmesan, garlic cloves, salt, pepper, and egg to a processor and blend until fully combined.

In an oven safe skillet or casserole dish, make the first layer of ground beef.

Next top with two layers of the zucchini criss crossing each other.

Add a generous layer of the ricotta mixture.

Sprinkle on some of the shredded mozzarella.

Repeat this a second time (we made two full layers in our 6 inch skillet). The last layer should be mozzarella cheese on top.

Bake in a 350 degree oven for 30 minutes or until cheese is browned.
Nutrition Facts
Keto Lasagna
Amount Per Serving
Calories 339 Calories from Fat 225
% Daily Value*
Fat 25g38%
Saturated Fat 13g65%
Cholesterol 124mg41%
Sodium 713mg30%
Potassium 538mg15%
Carbohydrates 7g2%
Fiber 1g4%
Sugar 4g4%
Protein 23g46%
Vitamin A 679IU14%
Vitamin C 17mg21%
Calcium 254mg25%
Iron 2mg11%
* Percent Daily Values are based on a 2000 calorie diet.
Written By