What's better than the smell of freshly baked cookies? The smell of Keto Pumpkin Chocolate Chip Cookies, of course! We've taken everything you love about this classic fall recipe and made it low-carb and sugar-free so you and enjoy a sweet treat without the usual sugar hit.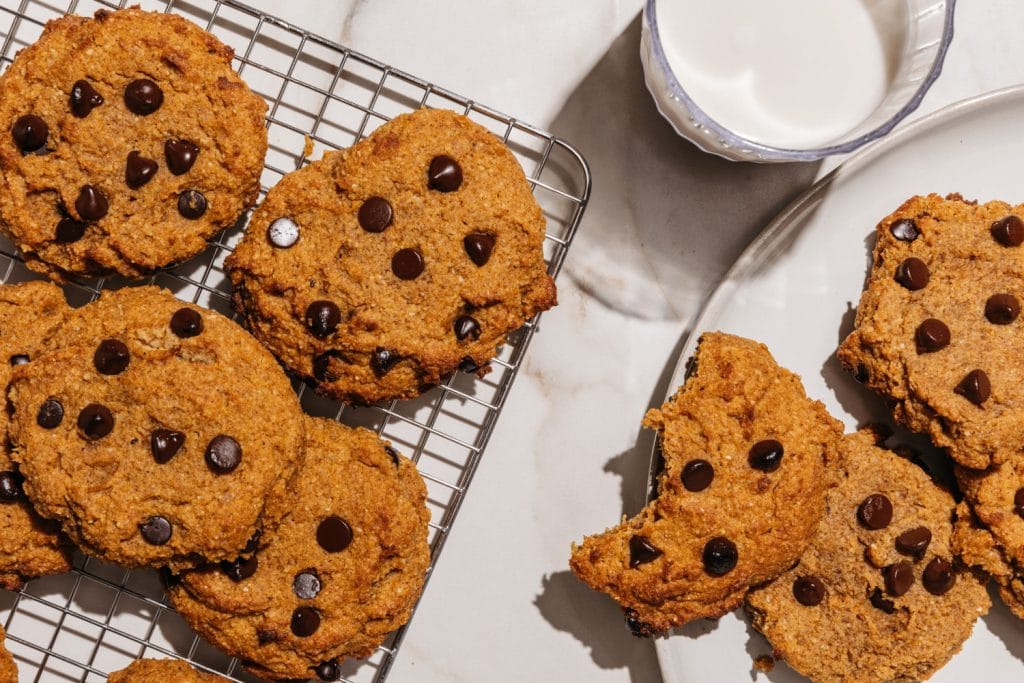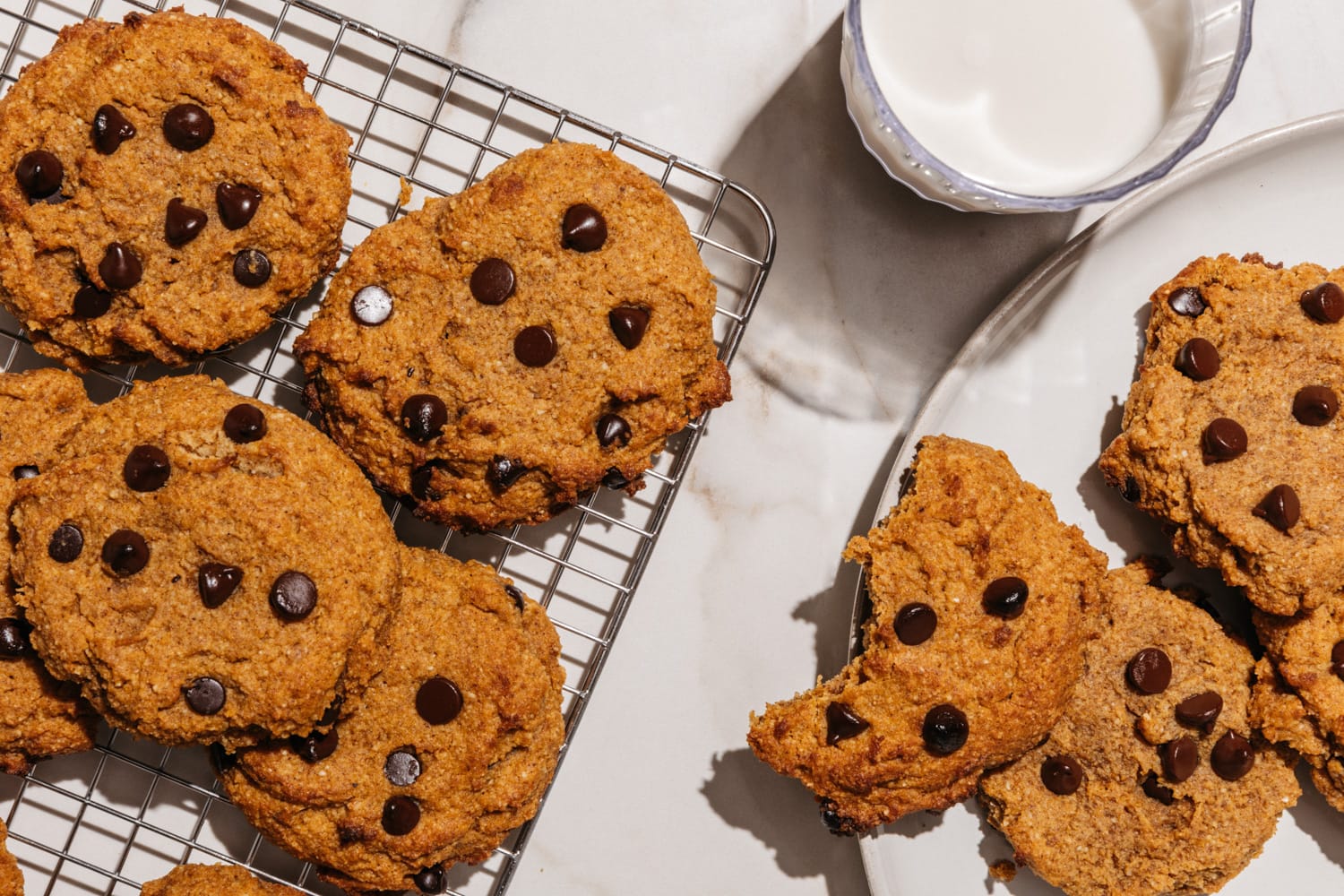 These chewy, delicious cookies are literally a low-carb pumpkin spice latte in edible form – and with chocolate chips. Is your mouth watering yet?
What You Will Need
This low-carb Keto Pumpkin Chocolate Chip Cookies recipe is easy as (pumpkin) pie to make! Here's what you'll need:
A large mixing bowl
A wooden spoon
A whisk or electric beaters (such as hand-beaters or a standing mixer)
A baking tray. You might need two trays to bake all the cookies at once.
You can also use baking paper if you're afraid your low-carb pumpkin cookies might stick to the tray while baking, but this is totally optional.
You might want to use a blender or food processor if you're making fresh pumpkin puree instead of canned.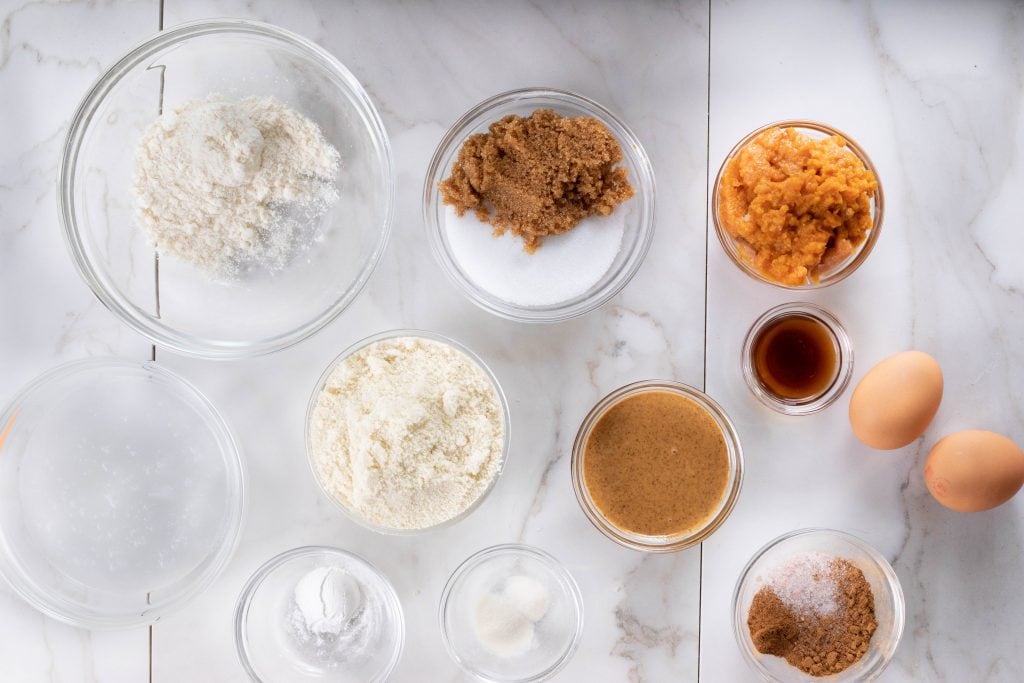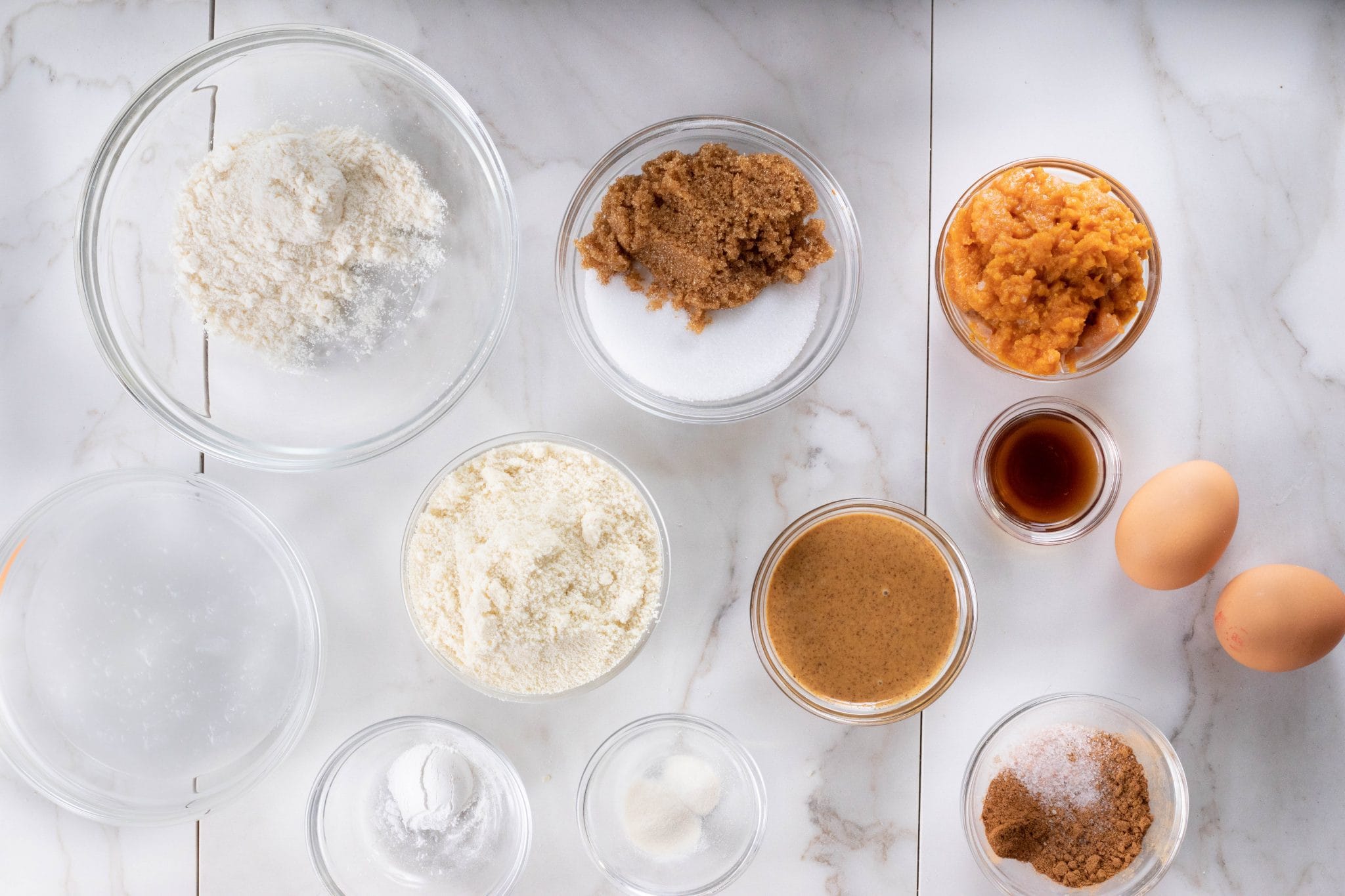 How to Make Keto Pumpkin Chocolate Chip Cookies
We hope you like spending time in the kitchen, because once it smells like these freshly baked, low-carb Keto Pumpkin Chocolate Chip Cookies you'll never want to leave! Let's get started.
Preheat the Oven
Preheat your oven to 350 degrees.
Mix the Wet Ingredients
Add the coconut oil, pumpkin, almond butter and eggs to a bowl. Mix well until combined. This step will be easier if you melt the coconut oil first.
Add the Sweetener
Add your sweetener and beat with a whisk or mixer to combine. Make sure everything is thoroughly mixed through with no lumps of coconut oil left.
Add Dry Ingredients
Mix in your dry ingredients using a spoon – or your hands! Pay special care so the pumpkin spice mix is evenly mixed through the dough.
Form Your Pumpkin Cookies
Scoop the dough into balls using your hands or an ice cream scoop. Place on your baking tray and flatten into discs. Making sure the pumpkin cookies are evenly spaced so they don't melt together in the oven.
Bake
Bake for 8-14 minutes, checking to see if they're done at the 8-minute mark. They should be cooked and "set" on top, but not fully dry. You want them to be a little moist so they go soft and chewy and not crunchy.
Allow to Cool
Your Keto Pumpkin Chocolate Chip Cookies may be a little delicate straight out of the oven. Leave them to rest on the tray or a cooling rack before eating, as they'll become firmer and chewy out of the oven. Enjoy with a glass of low-carb, keto-friendly almond or coconut milk.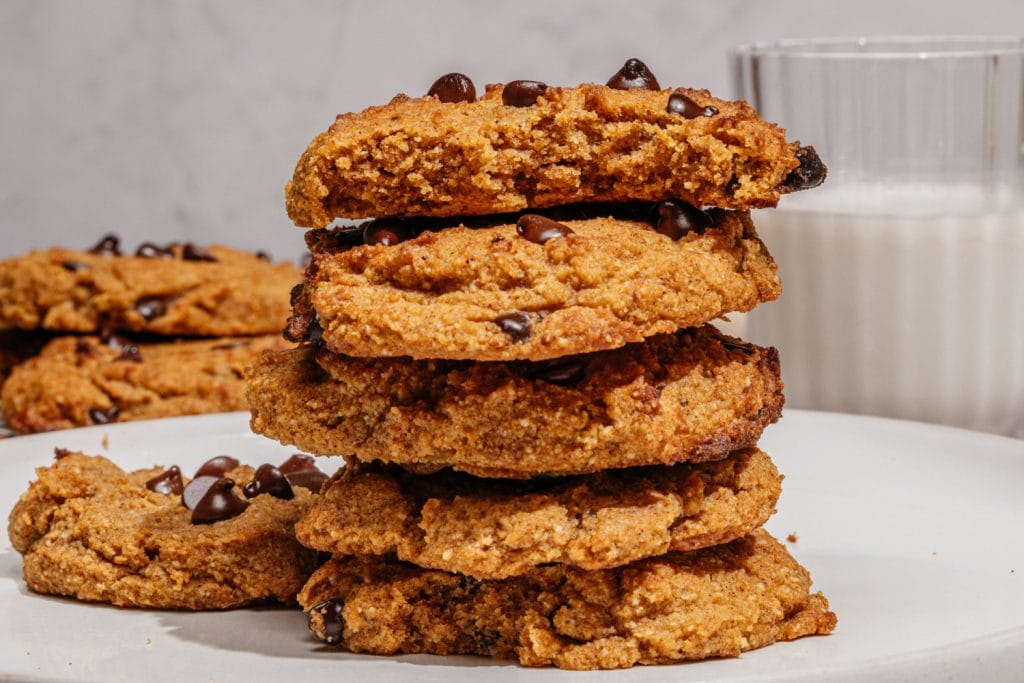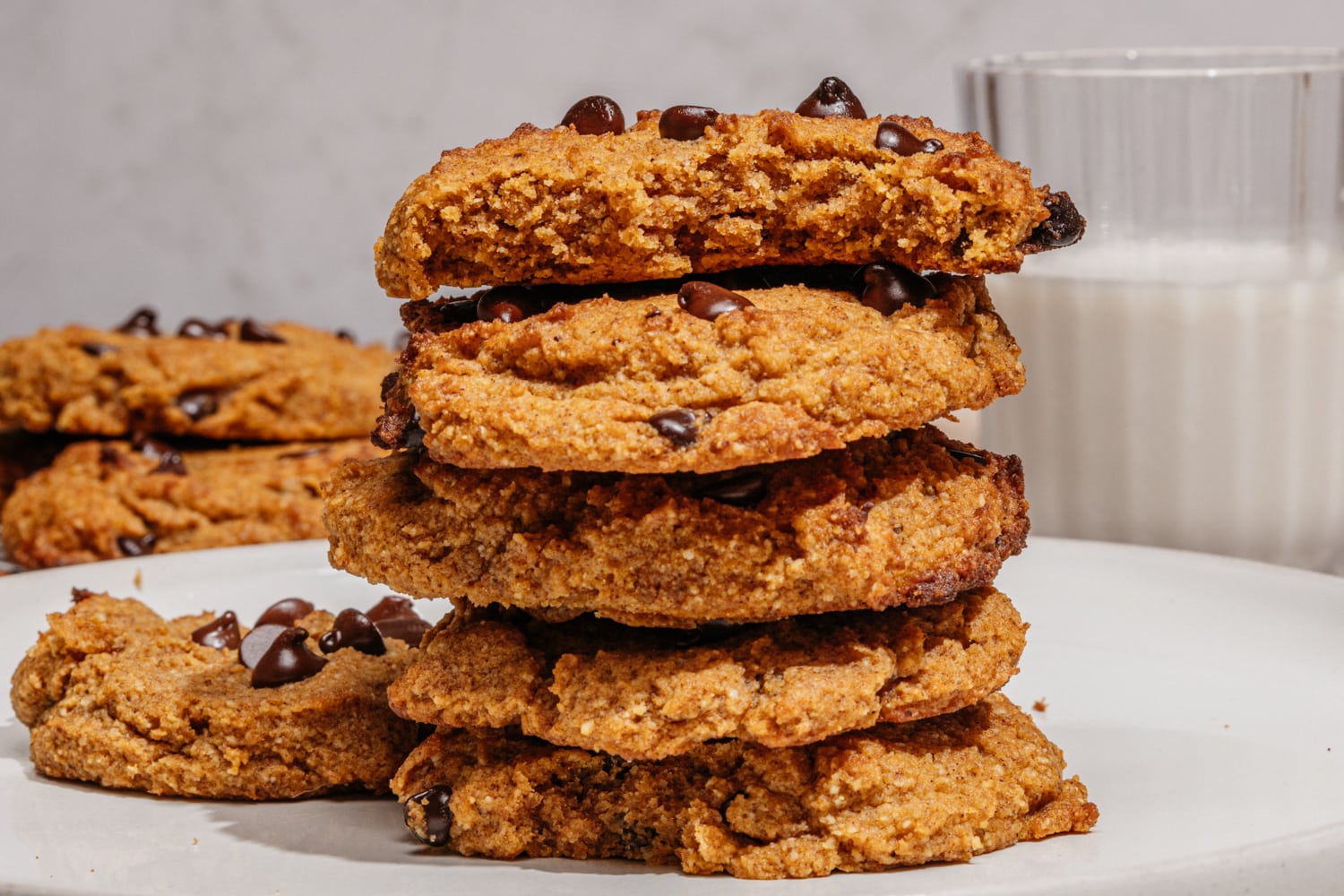 Common Questions
This sugar-free Keto Pumpkin Chocolate Chip Cookies recipe is super simple to make. But chances are you might have a few questions on how to make them even better – if that's even possible.
Let's get into the nitty-gritty of all things pumpkin cookies texture, ingredient substitutions and eating pumpkin on a low-carb or keto diet.
Are These Cookies Chewy?
Yes! These gluten-free Keto Pumpkin Chocolate Chip Cookies are made with almond flour and are super soft and chewy, just like any chocolate chip cookie should be.
That's all thanks to the xanthan gum. This low-carb keto ingredient isn't just great at thickening sauces, but creates that chewy mouth-feel that's usually only possible by using high-carb wheat flour.
What Sweetener Should I Use?
This low-carb Keto Pumpkin Chocolate Chip Cookies recipe recommends using both a regular sweetener and a brown sugar sweetener.
The keto-friendly brown sugar sweetener will create that perfect caramelized color and flavor. But if you can't find any brown sugar sweetener, regular will work fine.
You can find a list of our recommended sugar substitutes in our guide. Make sure to use a sweetener that can be substituted one-for-one with regular sugar, such as erythritol, allulose or xylitol.
Can I Substitute the Coconut Flour?
This recipe uses a combination of coconut and almond flour for a reason. We don't recommend substituting the coconut flour in this recipe with another low-carb flour.
Coconut flour behaves very differently from other flours, such as almond flour. It absorbs a LOT of moisture, which means it's great at soaking up the excess liquid from the pumpkin.
It's also amazing at creating a perfectly soft and chewy gluten-free cookie!
Is Pumpkin Keto?
While pumpkin is a starchy, higher-carb vegetable, it can still be enjoyed on a low-carb or even keto diet.
It really comes down to the amount you use. Pumpkin has a low glycemic load, meaning it doesn't spike your blood sugar very high in small amounts.
Plus, pumpkin has a lot of health benefits! Did you know pumpkin has been shown to reduce inflammation in the body?
Can I Use Canned Pumpkin?
Canned pumpkin will work just fine for this low-carb Keto Pumpkin Chocolate Chip Cookies recipe.
Make sure to use real canned pumpkin with no sugar added. You might want to avoid pumpkin pie mix, as this can have added sugar and isn't suitable for a low-carb or keto diet.
Pumpkin pie mix can also be too watery which will affect the final result.
If you're using fresh pumpkin, make sure to cook it first by roasting, boiling or steaming, and blend thoroughly into pumpkin puree before using it in your cookie dough.
What If I Don't Have Any Pumpkin Pie Spice?
Make your own! All you need is cinnamon, ginger, nutmeg and allspice.
Not only are these spices delicious, but they're also super nutritious.
Nutmeg in particular is a rich source of antioxidants and can protect against signs of aging.
What Chocolate Chips Should I Use?
We recommend using low-sugar or sugar-free chocolate chips, such as Lily's Chocolate Chips.
You can also simply smash up a block of dark chocolate and use this instead! Try to choose a low-sugar variety that's 85% cacao or higher.
How Do I Store My Pumpkin Cookies?
Make sure to store your gluten-free Keto Pumpkin Chocolate Chip Cookies in a sealed container in the fridge. This will also help them to become even chewier!
These pumpkin cookies will taste best if eaten within two weeks – if they can last that long in your house, of course.
You can also freeze your sugar-free cookies, or even the cookie dough itself, for up to three months. This might just be a great way to implement some portion control!
If you're freezing your cookies, make sure to store them flat or with baking paper between them so they don't stick together.
You may want to portion your cookie dough into smaller amounts, too.
How Should I Serve These Cookies?
You probably don't need us to tell you how to enjoy a cookie! But we do have a couple of tips to make them the best pumpkin cookies you've ever had.
Enjoy your Keto Pumpkin Chocolate Chip Cookies with a tall glass of unsweetened low-carb milk. We love almond or coconut milk – extra points if it's vanilla flavored!
These pumpkin cookies are also great heated up. Simply zap in the microwave for 20 seconds and get that just-out-of-the-oven experience.
And if you're feeling extra decadent, add a little smear of nut butter. Almond butter is great, but macadamia butter is extra low-carb and seriously irresistible.
Warning: this may impair your ability to moderate your cookie intake!
Related Recipes
Fall is definitely pumpkin spice season. Be sure to check out all of our keto pumpkin recipes if you're in the mood. But in our home, it's always cookie season! Satisfy your sweet tooth with some of our favorite sweet recipes just like this one:
Time to start baking!
These Keto Pumpkin Chocolate Chip Cookies are the perfect treat for anyone who loves pumpkin spice. Plus, they're so easy to make you can turn up that fall feeling any day of the year.
We love making sugar-free treats that taste just as good as the real deal. Not to mention they're a great Halloween treat. Want to dial back the kids' Halloween candy intake this year? Swap in a few of these homemade pumpkin cookies filled with sweet chocolate chips – we promise they won't complain!
Leave a comment below to let us know how your pumpkin cookies turned out. Did you manage to avoid eating the entire tray? Are you addicted to pumpkin spice? Interested in more fall recipes? We want to know!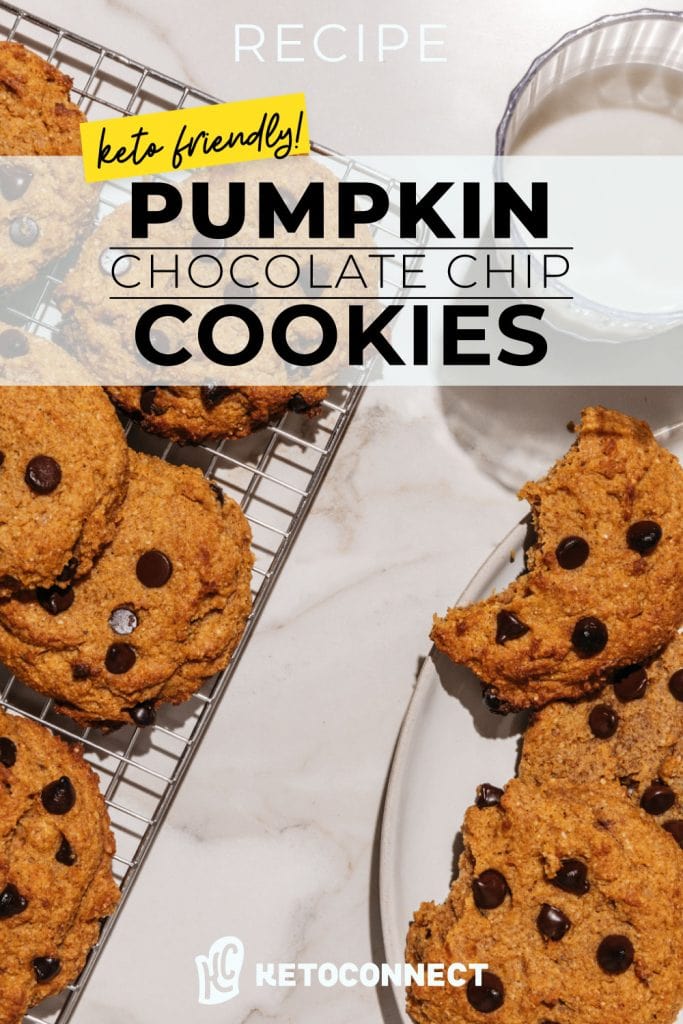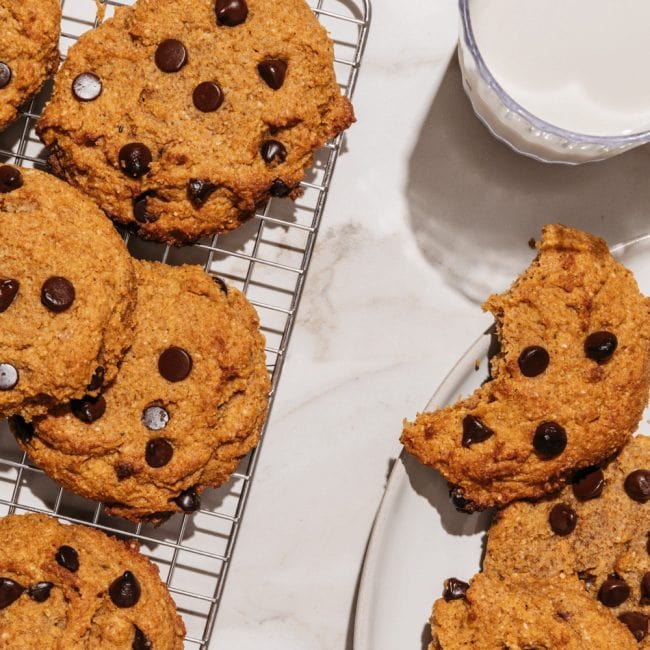 Keto Pumpkin Chocolate Chip Cookies Recipe
These soft and flavorful pumpkin cookies are the perfect dessert dish to serve up during the fall. Add some sugar free chocolate chips for the perfect contrast in flavors.
Total Time 15 minutes
Servings 12 cookies
Calories per serving 223kcal
Prep Time: 5 minutes
Cook Time: 10 minutes
Instructions:
Preheat oven to 350 degrees

Combine the coconut oil, pumpkin, almond butter and eggs in a bowl. Mix until combined.

Add sweetener and continue mixing until combined.

In a separate bowl add the remaining dry ingredients and mix together.

Add the dry ingredients to the wet ingredients and mix until fully combined.

Add chocolate chips and lightly mix until they are evenly distributed. Save 1/3 of the chocolate chips to add to the top of the cookies for better presentation.

Using a cookie scoop form 12 cookies on a greased baking sheet. Top with the reserved chocolate chips. Bake for 8-14 minutes. The cookies will be set, but not completely firm when they are finished. As the cool they will solidify.

Allow to cool for 20 minutes. Store in the fridge for 7-10 days or in the freezer for 1 month.
Notes
Reserve 1/3 of the chocolate chips for topping the cookies right before baking. This improves the presentation. Using ingredients at room temperature makes it easier for the batter to come together without clumps. The cookies will seem soft and crumbly when they come out of the oven but will become more firm as they cool.
Nutrition Facts
Keto Pumpkin Chocolate Chip Cookies Recipe
Amount Per Serving (1 cookie)
Calories 223 Calories from Fat 189
% Daily Value*
Fat 21g32%
Saturated Fat 12g60%
Trans Fat 1g
Polyunsaturated Fat 1g
Monounsaturated Fat 3g
Cholesterol 31mg10%
Sodium 71mg3%
Potassium 131mg4%
Carbohydrates 7g2%
Fiber 3g12%
Sugar 2g2%
Protein 5g10%
Vitamin A 3224IU64%
Vitamin C 1mg1%
Calcium 66mg7%
Iron 1mg6%
* Percent Daily Values are based on a 2000 calorie diet.
Written By