Fall is right around the corner; and you know what that means, it's pumpkin season! These keto pumpkin bars are sweet, fluffy, and topped with a smooth cream cheese frosting.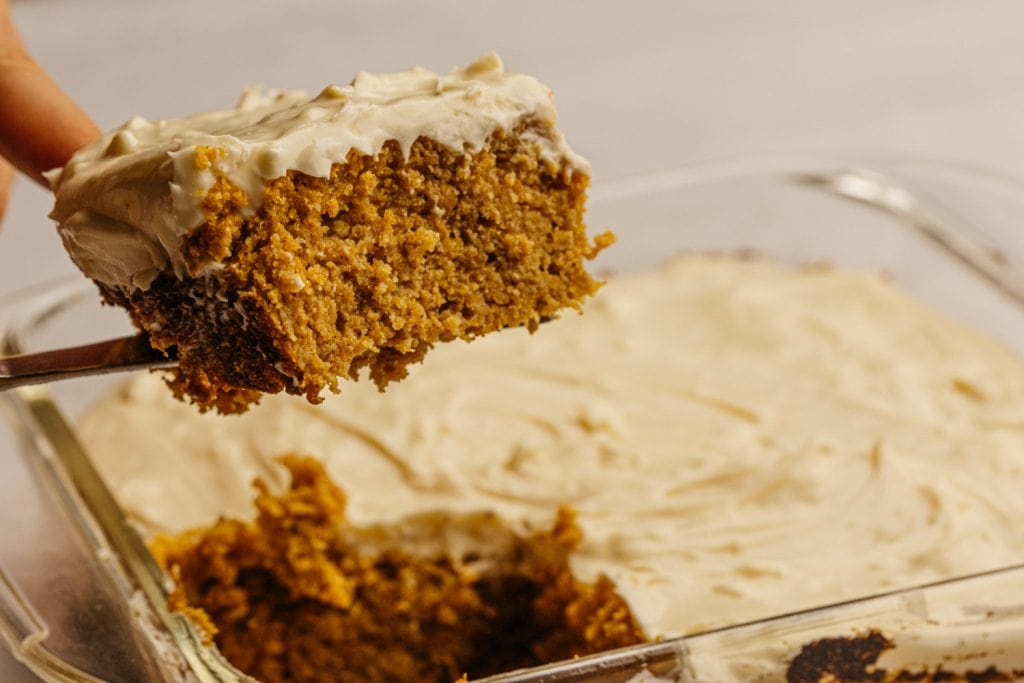 Keto pumpkin bars with cream cheese make a great dessert or snack; because unlike a typical bar these cake style bars are fluffy, but still filling.
What are Pumpkin Bars?
Unlike most common bars you know of such as monster bars or oatmeal bars, these pumpkin bars are closer to a thick slice of cake.
Low carb pumpkin bars are made just like the original, light and fluffy with lots of spices and a smooth cream cheese frosting that has a basic vanilla flavor to balance out all the spices.
Traditionally pumpkin bars are very popular in the midwest, but overtime they have become a more popular treat to people all over the country. Typically you will see them appearing around Halloween/ fall time.
Is Pumpkin Keto Friendly?
Pumpkin is technically a higher carb ingredient, however depending on the amount of pumpkin puree you use in a recipe you can lower the net carbs enough to make it keto.
A serving of canned pumpkin puree has 10 grams of carbs, 3 grams of fiber, 5 grams of natural sugar, 50 calories, 0.5g of fat, and 1 gram of protein. So, while you may not be able to eat full 1/2 cup servings of pumpkin puree at a time; you can certainly enjoy it inside of recipes in small amounts.
How to Find Pumpkin Puree That's Keto Friendly
It's pretty easy really. Most items that are labeled Pumpkin Puree are good for a low carb keto diet. What you want to look out for is anything labeled as Pumpkin Pie Filling or Pumpkin Pie Mix.
They are usually found right next to the canned pumpkin puree and are used for making pumpkin pie. Each one contains over 20 grams of carbs per serving and should be avoided on a ketogenic diet.
The pumpkin puree cans will last for a long time in your pantry, so as soon as I see them I hit the store shelves. I like to stock up on them, because sometimes there will be shortages when you really need them around Thanksgiving time.
Baking With Pumpkin Pie Spice
Pumpkin pie spice is by far our favorite fall spice. It's warming, flavorful, and super easy to use. Rather than buying 5 bottles of spices you can buy 1 and have it already perfectly blended.
Pumpkin pie spice consists of cinnamon, nutmeg, allspice, ginger, and cloves. It doesn't technically taste "like pumpkin", BUT all five spices are used in pumpkin pie, hence why it's called pumpkin pie spice.
Most grocery stores and amazon now sell this tasty holiday spice.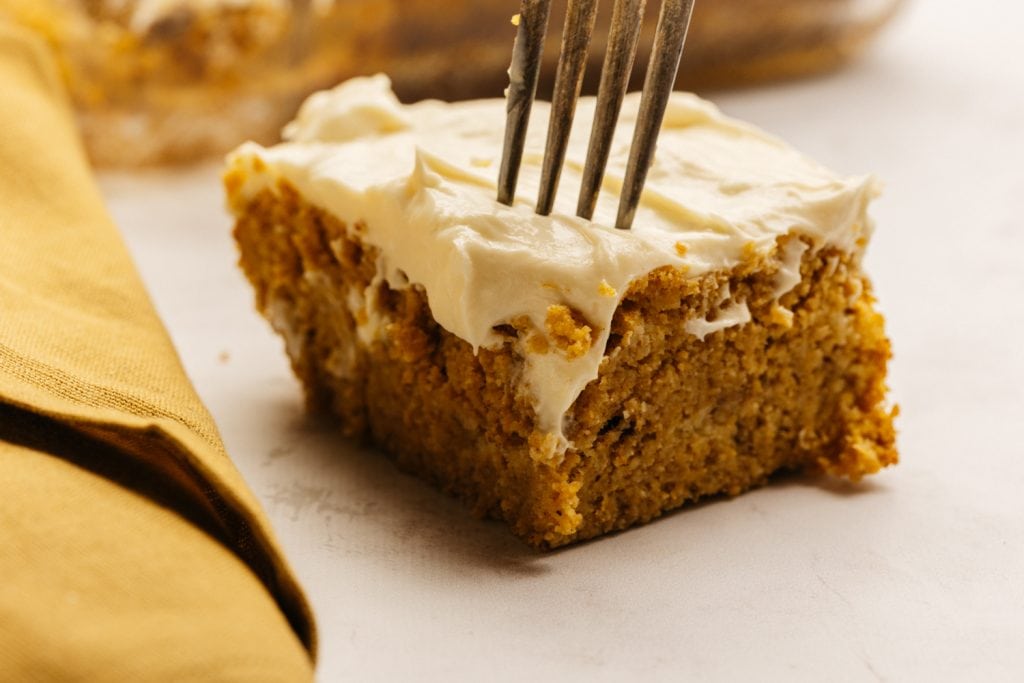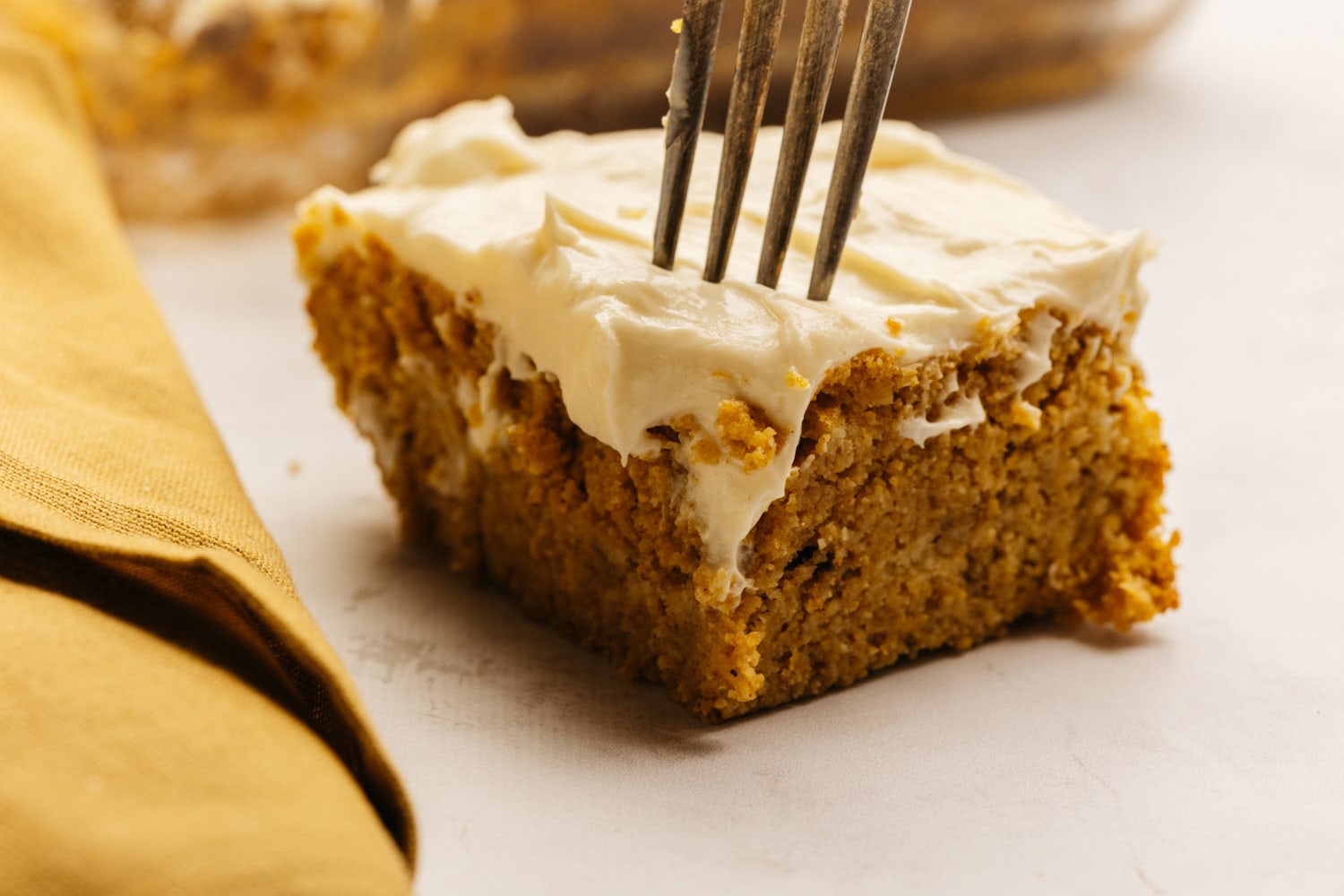 Gluten Free Pumpkin Bars
We made our keto pumpkin bars totally gluten free so you could enjoy the flavor of sweet and moist pumpkin without grains and an upset stomach later.
To do this we used almond flour. Almond flour is low in carbs and high in fat and fiber. The pumpkin puree in this recipe will provide moisture so you don't have to worry about the almond flour being dry.
Can I sub Almond Flour for Coconut Flour?
A question we always get asked is if you can substitute between these two keto friendly flours. Typically you are best served by not trying to make the swap because coconut flour is much more absorbent than almond flour.
While you can try it, it's really not recommended in this recipe. Try one of the many other coconut flour recipes on our site instead!
Almond Meal vs Almond Flour
Typically we use almond flour to make keto pumpkin bars. It's neutral flavor pairs well with the spices and vanilla extract, all while keeping the recipe keto.
Almond flour (what you see most commonly in keto recipes) is made by blanching almonds, removing the skins, and finely grinding the nuts into a powder.
Almond meal on the other hand still has the skins and is often a coarser grind. It will still work in most keto recipes, but will alter the texture a bit. When you add pumpkin and spices into this easy to make recipe you won't even care about the denser texture, because the flavor alone is so good!
Homemade Cream Cheese Frosting
Low carb pumpkin bars wouldn't taste so similar to the real thing if it wasn't for this creamy cream cheese frosting.
The best keto pumpkin bars need a creamy element to bind together all the flavors which is why we made this three ingredient frosting.
To make the frosting you will need a block of cream cheese, keto friendly sweetener, and vanilla. Trust us your are going to be so glad you chose to make these keto pumpkin bars with cream cheese frosting instead of leaving them plain!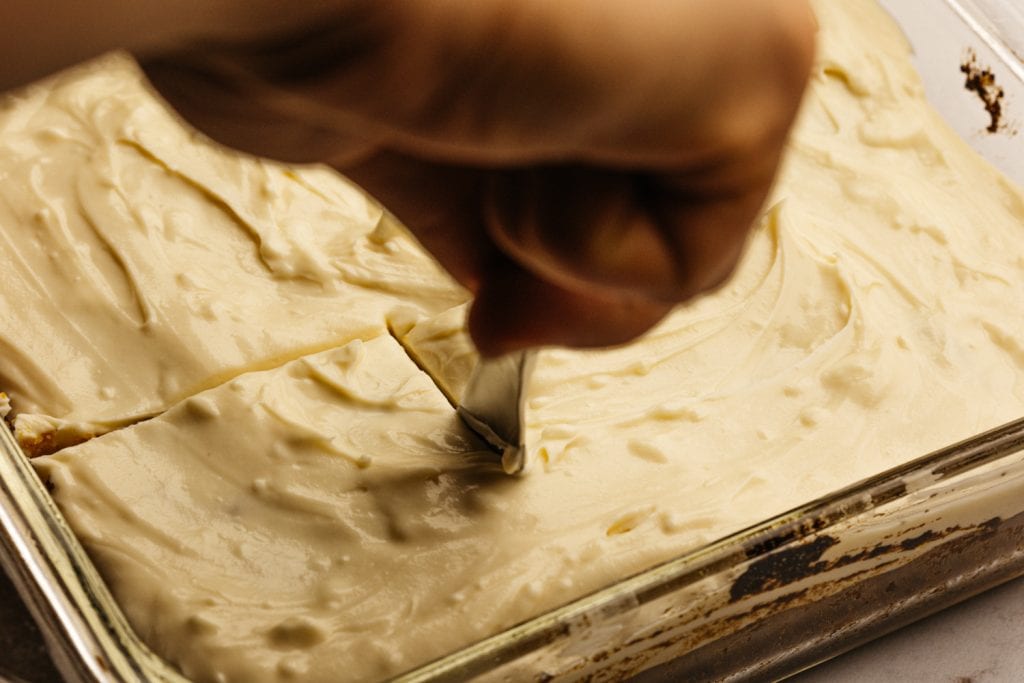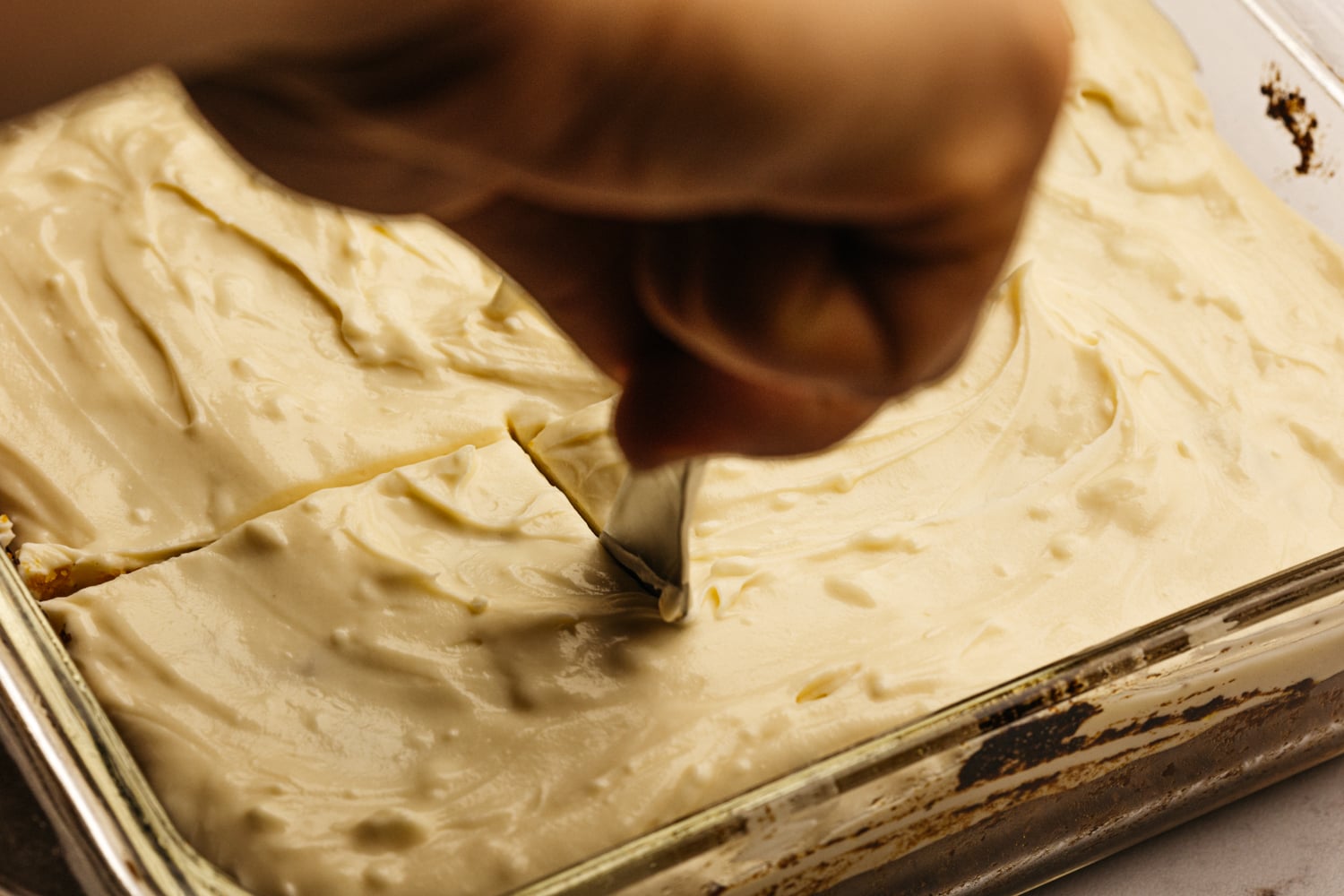 Can I Make a Dairy Free Pumpkin Bar?
This low carb keto pumpkin bars recipe is made best with butter and cream cheese (softened), but there are a few substitutions you can make if you want it dairy free.
To make the bars themselves dairy free you will need coconut oil to add fat and moisture. It won't change the pumpkin spice flavor too much, more just prevent the bars from having that delicious buttery flavor.
The cream cheese frosting will be harder to sub because you can't just use coconut oil in place of a dairy product like cream cheese.
You can try a dairy free or vegan cream cheese in place of regular varieties and then just add a little melted coconut oil to help it harden up. If you don't have melted coconut oil and vegan cream cheese you may just want to leave the bars plain for this recipe.
Don't worry though, we promise they will still taste super delicious!
How to Make Keto Pumpkin Bars
Ready to make this delicious pumpkin bars recipe? With just 5 net carbs per piece you're going to demolish the whole tray before tomorrow, so let's get started.
Ingredients for This Pumpkin Bar Recipe
To make these pumpkin bars you will need almond flour, baking powder, pumpkin pie spice, keto friendly sweetener, and salt as the dry ingredients.
For the wet ingredients you will need butter, eggs, 100% pumpkin puree, and vanilla extract. It's important to buy 100% pure pumpkin or it won't be sugar free. The pumpkin pie filling cans look about the same as their plain pumpkin counterparts.
If you are new to buying pumpkin pie spice, welcome to a wonderful new addiction! We love pumpkin pie spice because it is the perfect blend all in one so you don't have to buy 4 different bottles of spices. Just make sure it's sugar free and not bulked with things like cane sugar and maltodextrin.
Making Keto Pumpkin Bars With Cream Cheese Frosting
To make these pumpkin bars begin by preheating the oven to 375 degrees.
Next, in a large bowl mix the pumpkin, butter, sweetener, vanilla, and eggs. Beat until everything is thoroughly creamed together.
Once mixed add in the almond flour, baking powder, salt, and pumpkin pie spice. Mix well to break apart any clumps.
Pour the gluten free batter into your greased baking dish and bake for 40-50 minutes. Or, cook until these sugar free pumpkin bars have set and a toothpick comes out clean.
Let it cool before icing. To make the icing combine all cream cheese frosting ingredients in a large bowl. Using a hand mixer, beat the cream cheese frosting together.
Ice the cooled keto pumpkin bars recipe with this sweet cream cheese frosting, then dig in!
Storing the Best Keto Pumpkin Bars
To store these keto pumpkin bars cover the baking dish with plastic wrap or aluminum foil and store in the fridge.
They can also be stored in an airtight container in the fridge. We wouldn't recommend leaving them out for more than a day, or the cream cheese icing may spoil.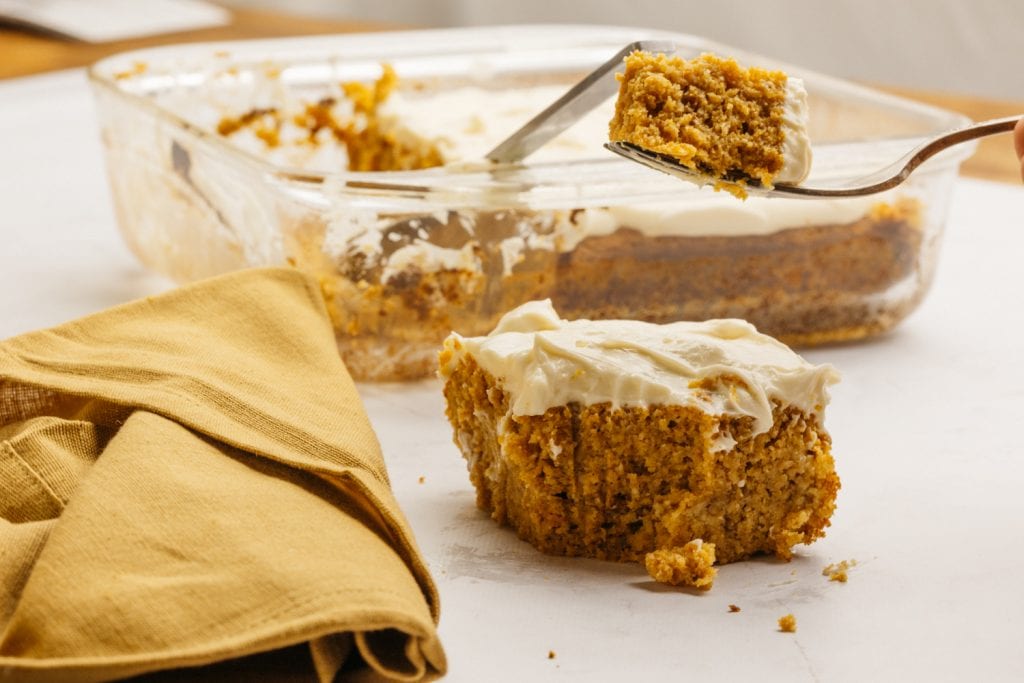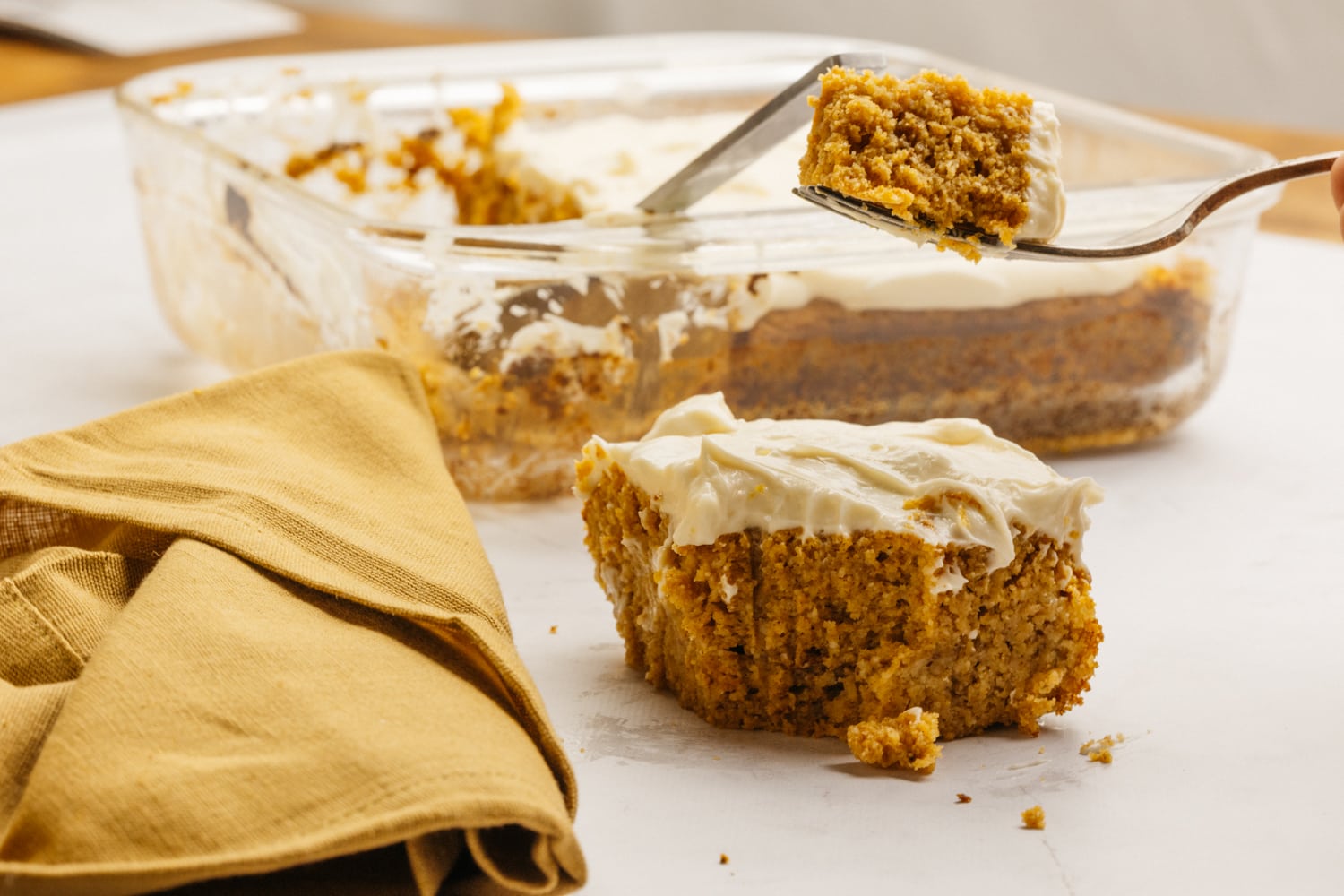 More Keto Pumpkin Recipes
Want to make even more keto pumpkin recipes? We've got you covered with tons of low carb treats that are packed with pumpkin pie spice and flavor. Try our:
Enjoy any of these low carb pumpkin recipes as a tasty fall treat. They are also all great uses of any leftover pumpkin puree you might have.
Be sure to show off your culinary talent with our keto pumpkin bars recipe and then wow them with even more sugar free pumpkin treats.
Keto Pumpkin Bars
Congratulations you just made pumpkin bars keto! This sugar free treat loaded with pumpkin spice is sure to fall into your holiday rotation.
They are sweet and fluffy, plus they only have 5 net carbs a bar! The next time you make keto pumpkin bars you'll want to make a double batch because they are just too addictive!
Enjoy your low carb pumpkin bars and be sure to keep your eyes peeled for our other pumpkin themed recipes on the way!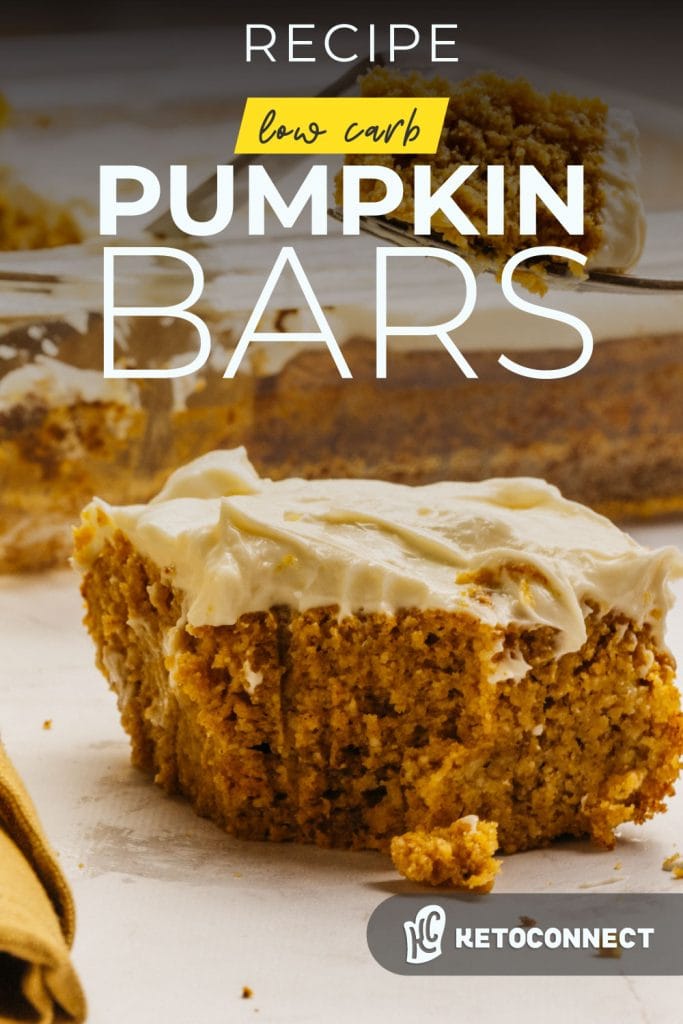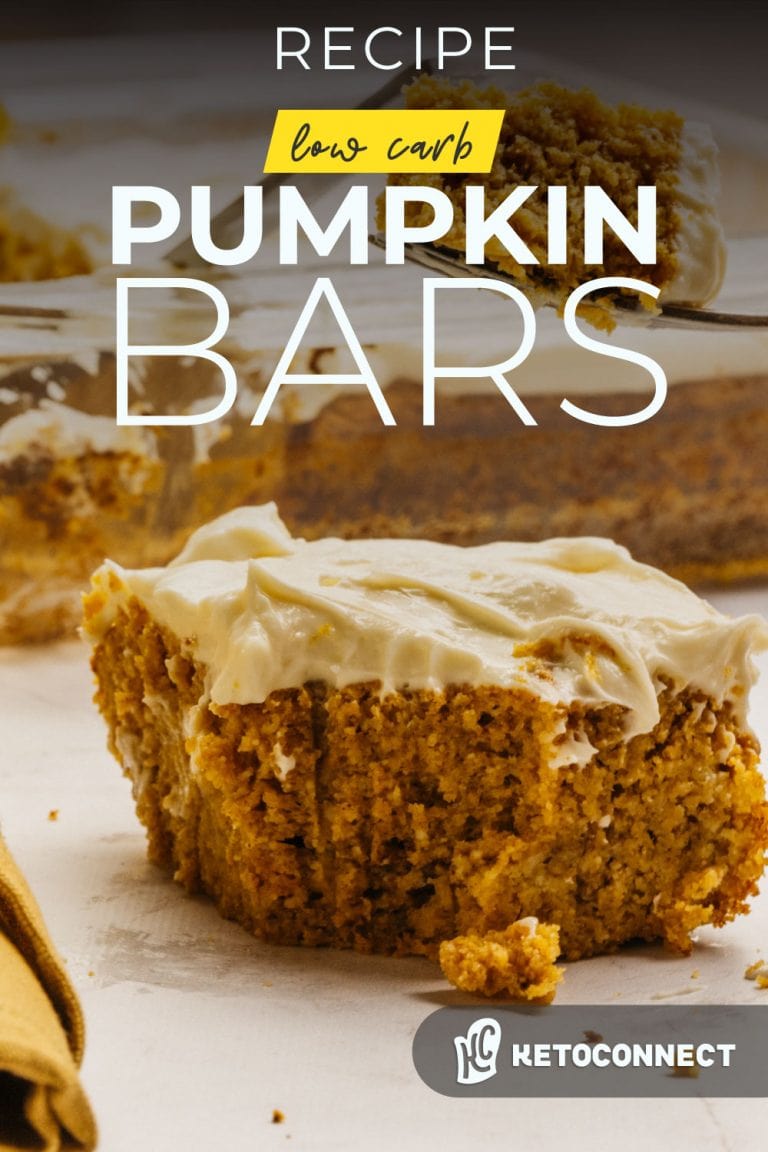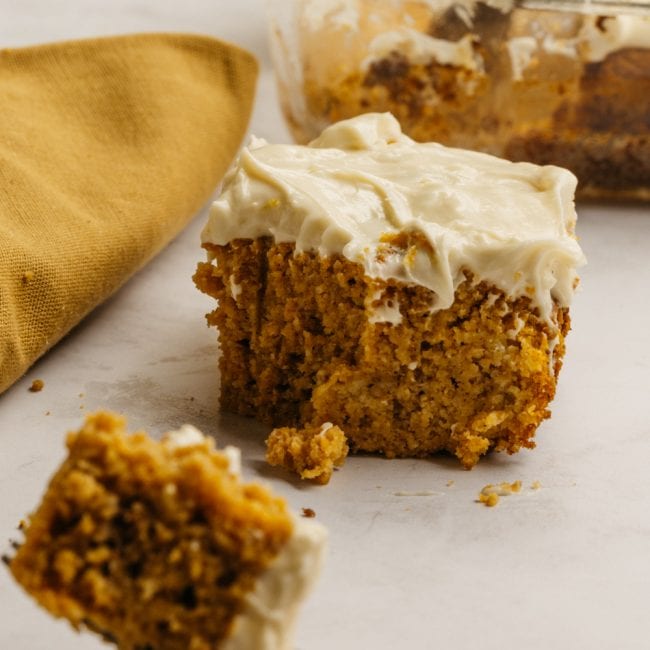 Keto Pumpkin Bars Recipe | Gluten Free
Fluffy and sweet pumpkin bars make the perfect mid- day pick me up with a cup of coffee.
Total Time 50 minutes
Servings 9
Calories per serving 319kcal
Prep Time: 10 minutes
Cook Time: 40 minutes
Ingredients:
Cream Cheese Frosting
8 oz Cream Cheese room temperature
1/2 cup Powdered sweetener
1 tsp Vanilla extract
Instructions:
Pumpkin Bars
Preheat oven to 375

In a bowl beat together the pumpkin, butter, sweetener, vanilla, and eggs using a hand mixer or whisk.

Once mixed add in the almond flour, baking powder, pumpkin pie spice, and salt then stir well to break apart any clumps.

Pour into a greased 8×8 dish and bake for 40-50 minutes, or until a toothpick comes out clean.

Allow to cool before icing
Cream Cheese Icing
Mix together the softened cream cheese, vanilla, and sweetener.

Frost the cooled pumpkin bars and serve immediately, or store in the fridge.
Nutrition Facts
Keto Pumpkin Bars Recipe | Gluten Free
Amount Per Serving
Calories 319 Calories from Fat 252
% Daily Value*
Fat 28g43%
Saturated Fat 10g50%
Trans Fat 1g
Polyunsaturated Fat 1g
Monounsaturated Fat 4g
Cholesterol 124mg41%
Sodium 224mg9%
Potassium 163mg5%
Carbohydrates 9g3%
Fiber 4g16%
Sugar 3g3%
Protein 10g20%
Vitamin A 4854IU97%
Vitamin C 1mg1%
Calcium 117mg12%
Iron 2mg11%
* Percent Daily Values are based on a 2000 calorie diet.
Written By