Thanksgiving is nothing without turkey, pie and Low Carb Stuffing! We know how important it is to all attendees that the basics be out on the table, and your diet or lifestyle shouldn't dictate what you can eat. We vowed to make all the necessary sides this year to ensure you wouldn't be missing out. Whether or not you're on a low carb diet, this low carb stuffing recipe will hit the spot and leave you enough room to back to seconds on all the desserts.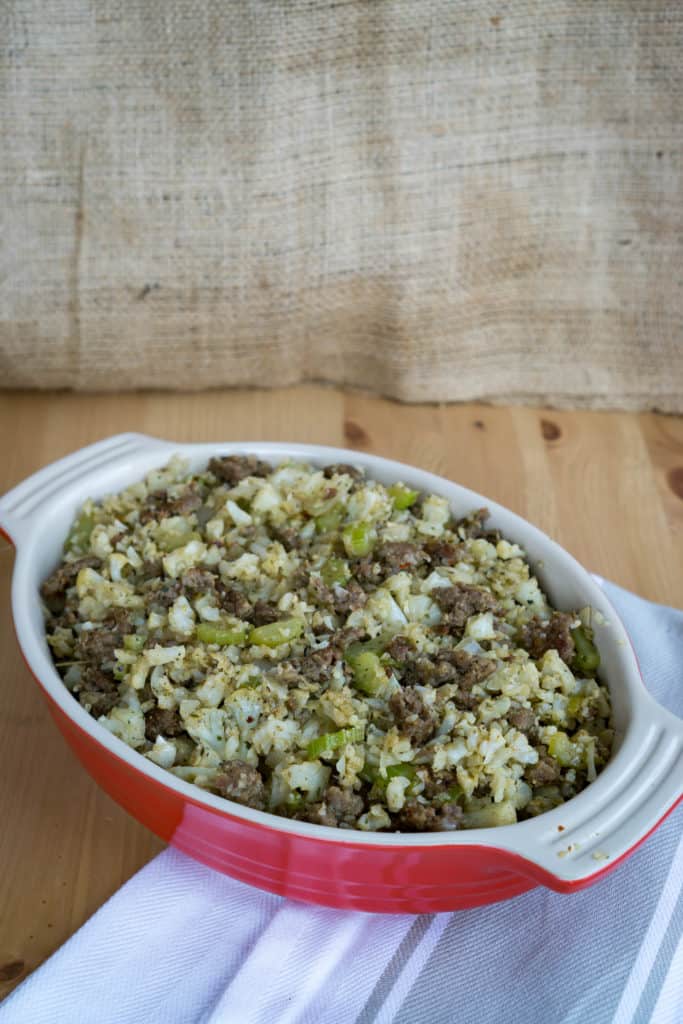 We All Need An Easy Stuffing Recipe
Stuffing has always been the dish I look most forward to at Thanksgiving dinner. I even opted to make it one year (pre-keto) to ensure it was moist to my liking! Meat, bread and veggies all in one dish.. could it get better? Well, yes it can. When its low carb and still packed with meat and veggies, you get to eat double and triple servings at dinner. Not only are you less stuffed, to fill up on extra dessert, but this recipe is just as delicious as any carb-filled stuffing. It's also extremely easy and quick to make, along with always being moist and flavorful, so there is one less thing to stress about on the big day.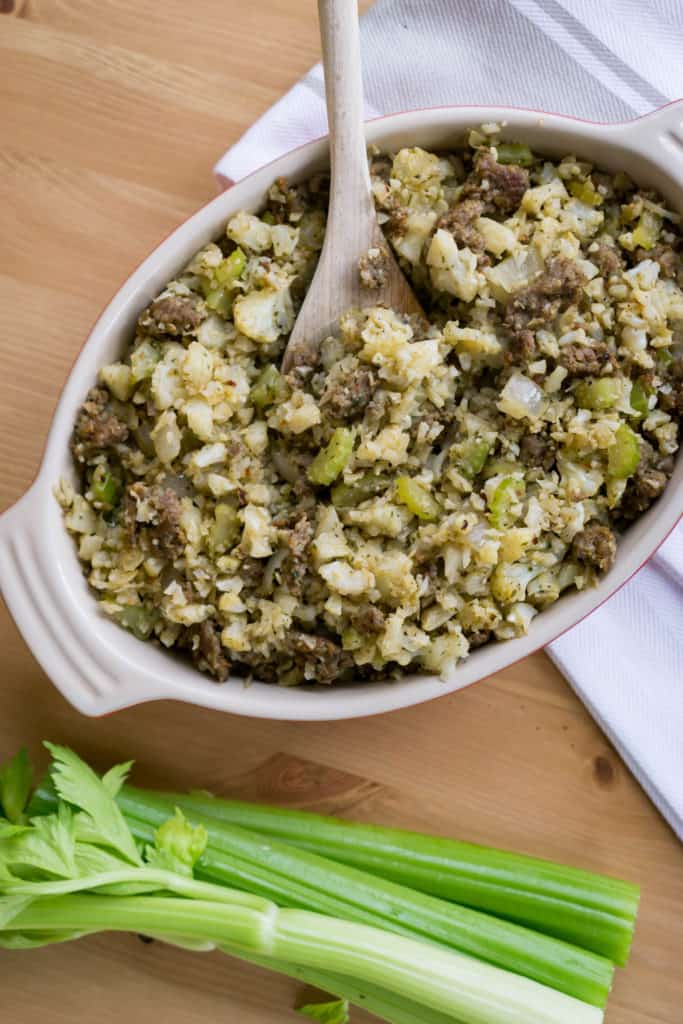 Our Favorite Low Carb Thanksgiving Recipes!
I'm someone who needs to try everything when I'm at dinner whether it be in my own house or at a restaurant. I want a little of this and a little of that, so that I can properly decide what is my favorite and go back for seconds! This goes for the main dish, side dishes and desserts. In case you're going full keto this year, we've got you covered from stuffing to cornbread, to sweet potato casserole and all the desserts you can imagine. We've got pumpkin fudge, pecan pie and cookies galore, chewy chocolate chip being my favorite!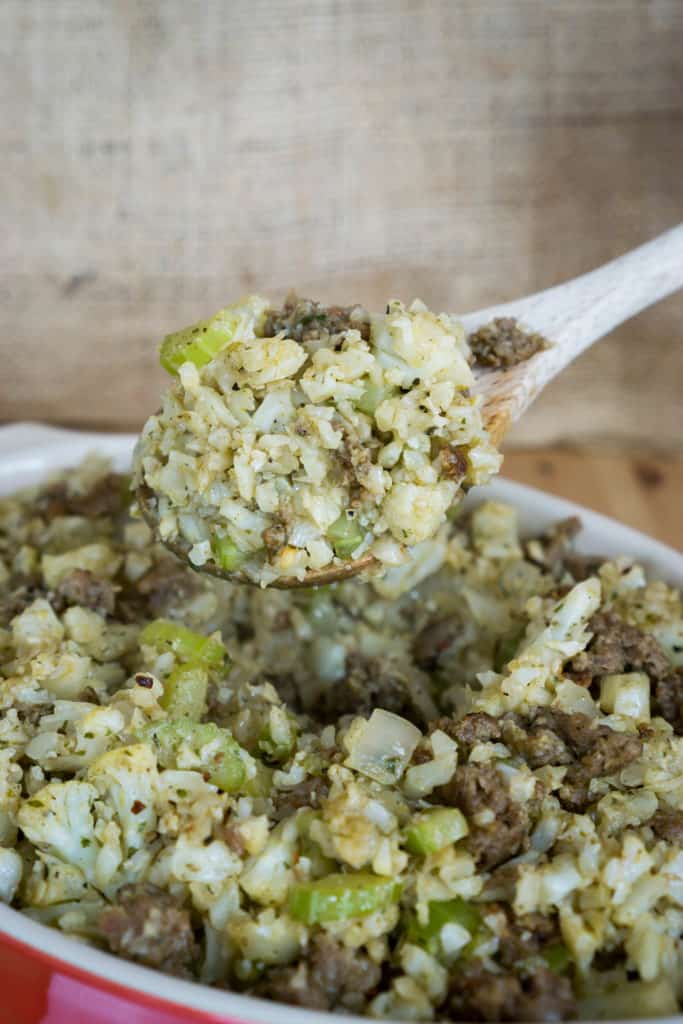 Cauliflower And Sausage Low Carb Stuffing
If this years recipes don't make your Thanksgiving dinner a little easier than we haven't succeeded in our job. That being said, we know we did our job, and did it well. You're night will undoubtedly start with meats, and cheeses and some wine, and end with pies and cookies. But, the middle is just as important, and if you're having turkey you should also be enjoying this low carb stuffing!

​Recipe can be quickly added to MyFitnessPal – Search "Ketoconnect – Low Carb Stuffing"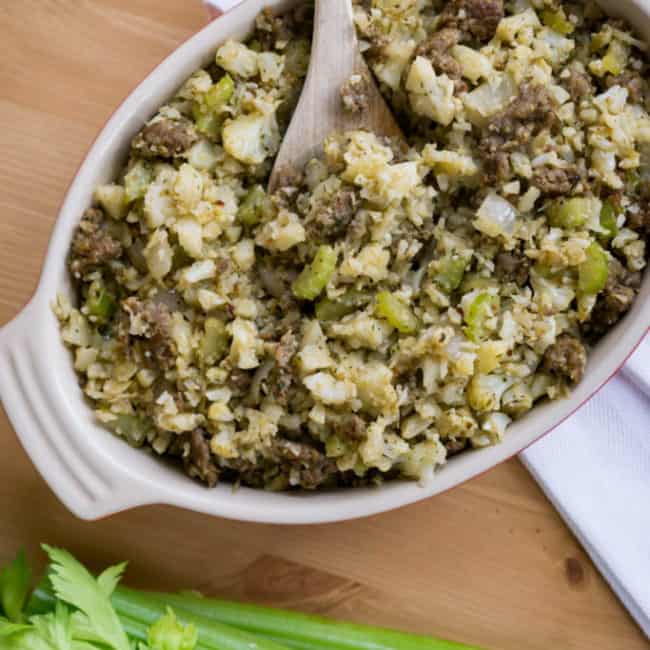 Low Carb Stuffing
Total Time 25 minutes
Servings 8 servings
Calories per serving 133kcal
Prep: 5 minutes
Cook: 20 minutes
Instructions:
Break the cauliflower up into chunks and add it to a food processor. Pulse a couple times to break down the cauliflower into smaller chunks, but do not rice it. Transfer to a bowl a set aside.

Heat a large skillet or large saucepan to medium-high heat and add the ground sausage. Add the sausage spices and combine using a spoon. Ensure the sausage in all broken up.

Once fully cooked through, transfer to a bowl and set aside.

Turn down the skillet to medium heat and add the butter. Add in the celery, onion, and garlic and saute for 2-3 minutes until tender.

Add in the pulsed cauliflower and cook for 2 minutes, stirring continuously. Add the the remaining seasoning and the broth. Combine with a spoon and cover with a lid for five minutes.

Remove the lid, add the sausage back in and cook through for an additional 3-5 minutes. The cauliflower should be tender.

Taste test and add additional salt and pepper as desired. Serve warm and enjoy!
Nutrition Facts
Low Carb Stuffing
Amount Per Serving
Calories 133 Calories from Fat 86
% Daily Value*
Fat 9.5g15%
Carbohydrates 5.6g2%
Fiber 1.8g7%
Protein 6.9g14%
* Percent Daily Values are based on a 2000 calorie diet.