If you're unfamiliar with energy balls from It's Always Sunny In Philadelphia, you are not only missing out on a good show, but a great recipe. Well, maybe not exactly the great recipe part because the Keto Energy Balls we've made below are low carb, keto friendly snack balls that will keep you full and satisfied! Whip up a triple batch and store them in the fridge for as long as it takes you to eat them up!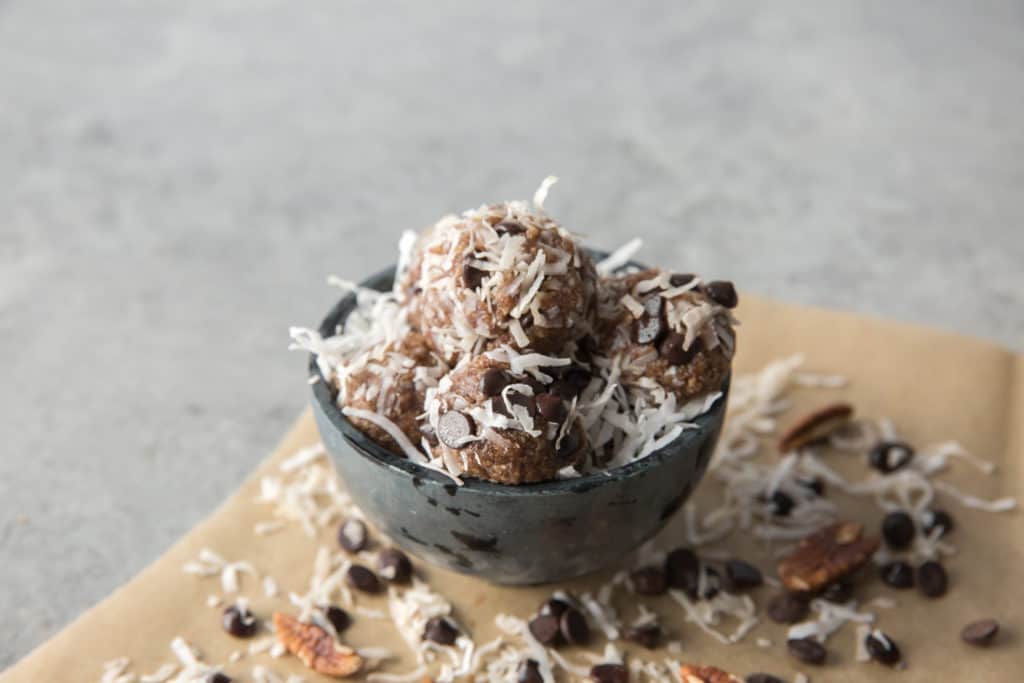 Keto Products We Love!
In case you didn't know we have a section on our food blog that features all the products we use and love. This keto energy balls recipe was inspired by one of them called Creation Nation Protein Bar Mix. It's been a must have in our house until now (because we have a home made version)! Some of our other favorite keto products are:
What Energy Drink Is Keto Friendly?
I know what you're thinking – "these are energy balls so why are we talking about drinks all of a sudden?" Well, energy comes in many forms and the one we are most familiar with is drinks whether is be from big a cup of coffee or sweetened energy drinks.
When it comes to drinks one thing to note is that some have up to as much as 300mg of caffeine. Now, that is a lot! We like to stear clear of those because it's usually after having a cup of coffee which on average contains 150mg per cup. So what drinks do we like in particular? Our favorite energy drinks are made by Zevia, and our second favorites are Red Bull Sugar Free and Monster Zero!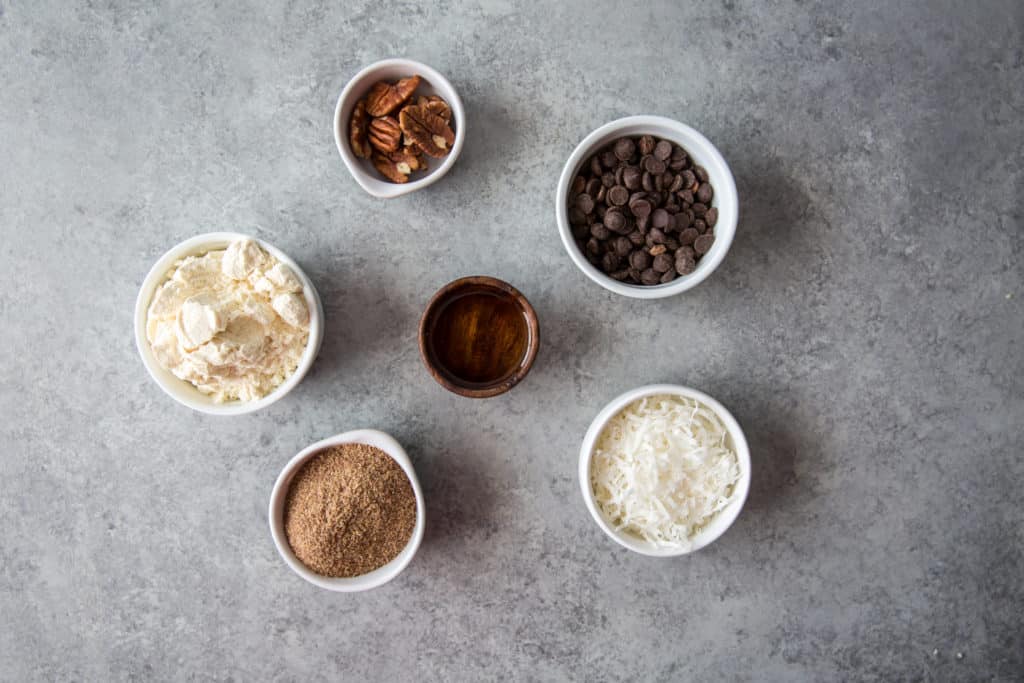 Now let's talk about these keto energy balls. The "energy" aspect comes from how satiating and packed with protein and fat they are. It's a great snack on the go and will keep you full for hours with sustained energy.
Is Peanut Butter Ok On Keto?
Some of you may disagree, but short answer is yes, you can totally eat peanut butter on a keto diet. And, for a peanut butter addict like me this is great news.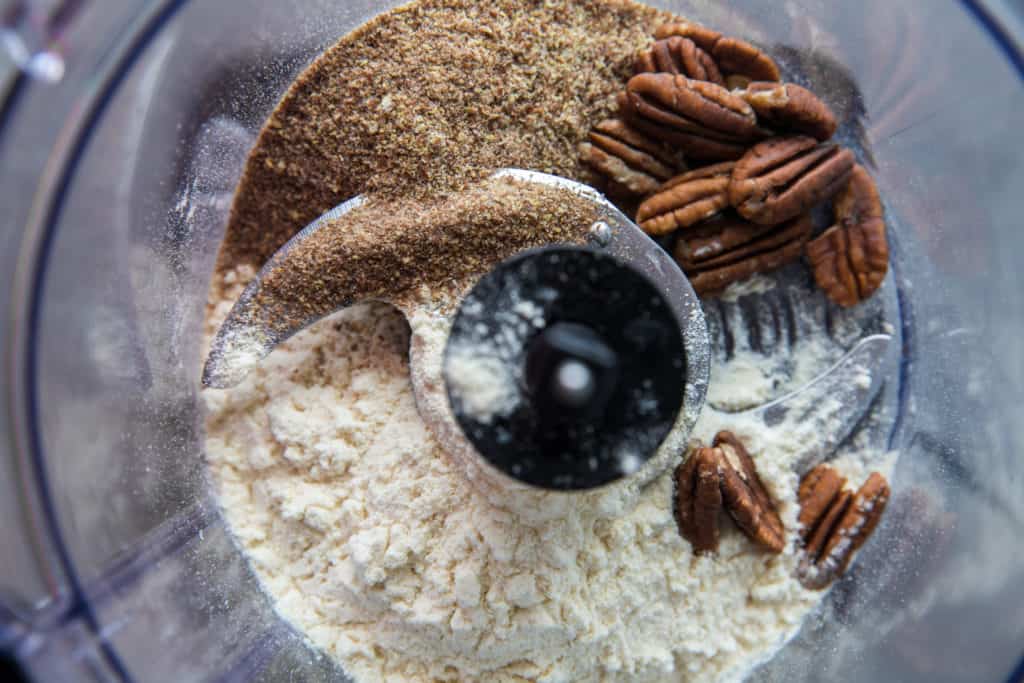 If you don't have any coconut oil on hand, peanut butter, or any nut butter could make for a great replacement. Let us know if you give it a try!
Energy Ball Swaps
We recently made these using golden flax seed meal, and normally that is our go to, but we found that it didn't work well with this recipe. So for taste purposes we would recommend sticking with standard ground flax meal.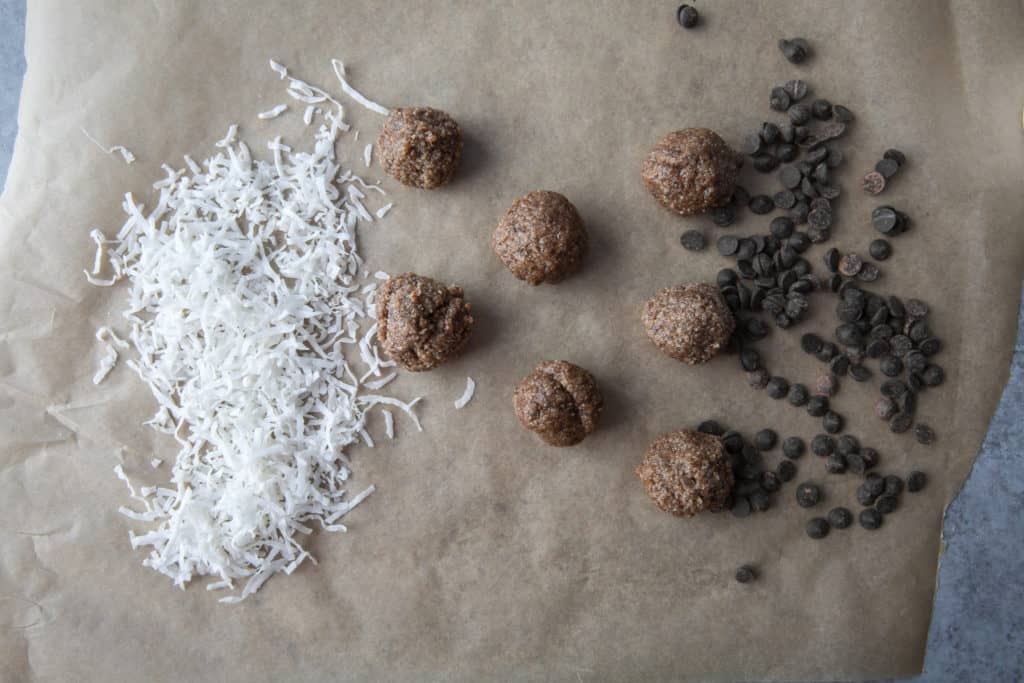 You can always swap out pecans for any nuts on hand, walnuts and almonds would work great!
You can even even swap the unflavored protein powder for some flavored protein powder like this one! Just remember whatever protein flavor you use will come through in these keto energy balls. If you stick with unflavored, definitely add some liquid stevia for sweetness!
Keto Energy Balls
This has become Matt's new favorite snack recipe. It's filling, convenient for long work days and chewy beyond belief! A chewy texture is my favorite kind and these keto energy balls bring me back to my days of eating caramel.
Keto Energy Balls Recipe – No Bake
These Keto Energy Balls are chewy and slightly sweet perfect for an on the go breakfast or snack!
Total Time 30 minutes
Servings 8 Balls
Calories per serving 110kcal
Prep Time: 10 minutes
Chill Time: 20 minutes
Instructions:
In a food processor add the flax meal, protein powder and pecan halves. Blend until pecans become powder.

Next add in melted shredded coconut, coconut oil and 2 tbsp of almond milk. Blend until it starts to stick to itself. If this does not happen add the remaining 1 tbsp of almond milk.

Pour the mixture out into a mixing bowl and fold in the chocolate chips. Using a cookie scooper, scoop out 8 even sized balls and roll using your hands.

Place balls onto a plate and refrigerate for 20 minutes prior to serving.

Best stored in the refrigerator up to 3 weeks.
Notes
Net Carbs: .5 per ball Yields: 8 balls
Nutrition Facts
Keto Energy Balls Recipe – No Bake
Amount Per Serving
Calories 110 Calories from Fat 99
% Daily Value*
Fat 11g17%
Potassium 90mg3%
Carbohydrates 1g0%
Fiber 0.5g2%
Protein 2g4%
* Percent Daily Values are based on a 2000 calorie diet.
Written By