Our Keto Pumpkin Spice Latte Recipe will allow you to cut the costs of all those Starbucks trips and also stay on track with your keto diet. Make a batch of this low-carb pumpkin spice syrup and add it to your morning cup of bulletproof coffee for a homemade fall drink.
Below, Matt will show you how to make the magical pumpkin spice syrup needed for this latte recipe.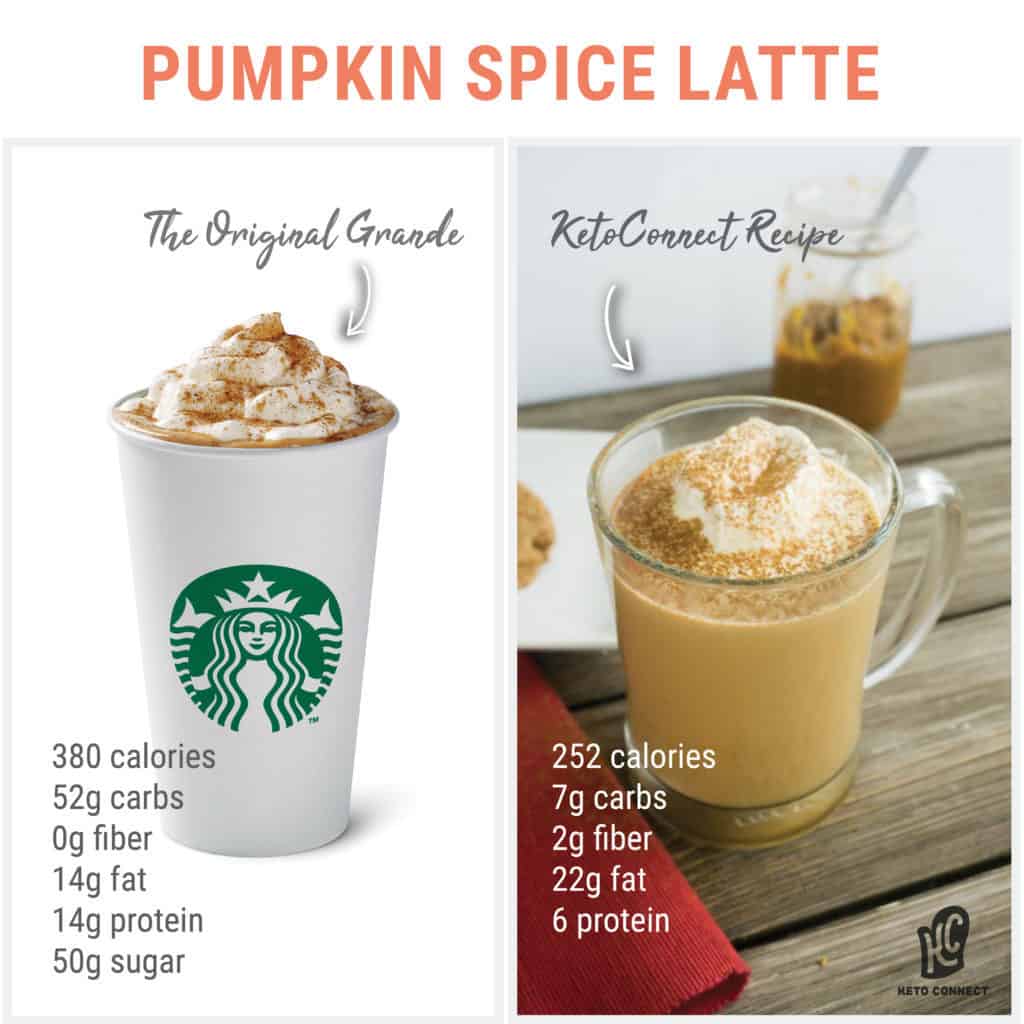 How many carbs are in a pumpkin spice latte?
The classic pumpkin spice latte served at Starbucks is very high in carbs. One grande (16oz) serving is 52 grams of carbs! This is why we created a keto version for only 5 grams of net carbs per serving. Check out our full list of Keto Starbucks drinks.
Homemade Pumpkin Spice Latte Syrup
This recipe is all about the pumpkin spice latte syrup. Matt out did himself with this recipe because the syrup tasty enough to drink on its own! We've had leftovers in the fridge since shooting the video and if I'm not squeezing it into my mouth, I'm topping all my foods with it, from keto bars to peanut butter. We used actual pumpkin puree along with pumpkin pie spice to create the intense, perfectly pumpkin flavored syrup!
Is Pumpkin Keto Friendly?
A 1/2 cup serving of of canned pumpkin has 6 grams of net carbs. While many people avoid starches altogether (potatoes, squash, carrots), you can include some pumpkin on your keto diet as long as your monitor your intake and serving size.
A standard keto diet allows 20-50 grams of carbs per day, so 6 grams of carbs can add up if you are eating pumpkin in abundance.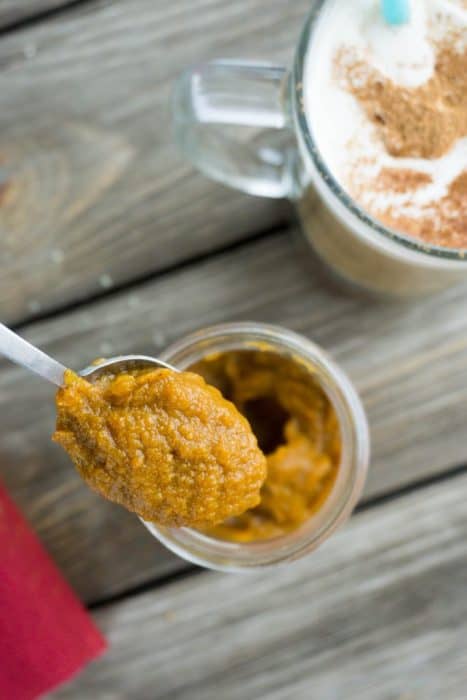 How To Make A Keto Pumpkin Spice Latte
We found that the best way to make a latte low-carb was to recreate the milk used in a normal latte with a 4:1 ratio of almond milk and heavy whipping cream! We even added some collagen peptides, which is entirely optional, to create the frothy texture you would normally get from a milk steamer.
Classically, this is a fall time drink, but who are we kidding? When it's low carb and has pumpkin spice in it, drinking it at all year long only seems right!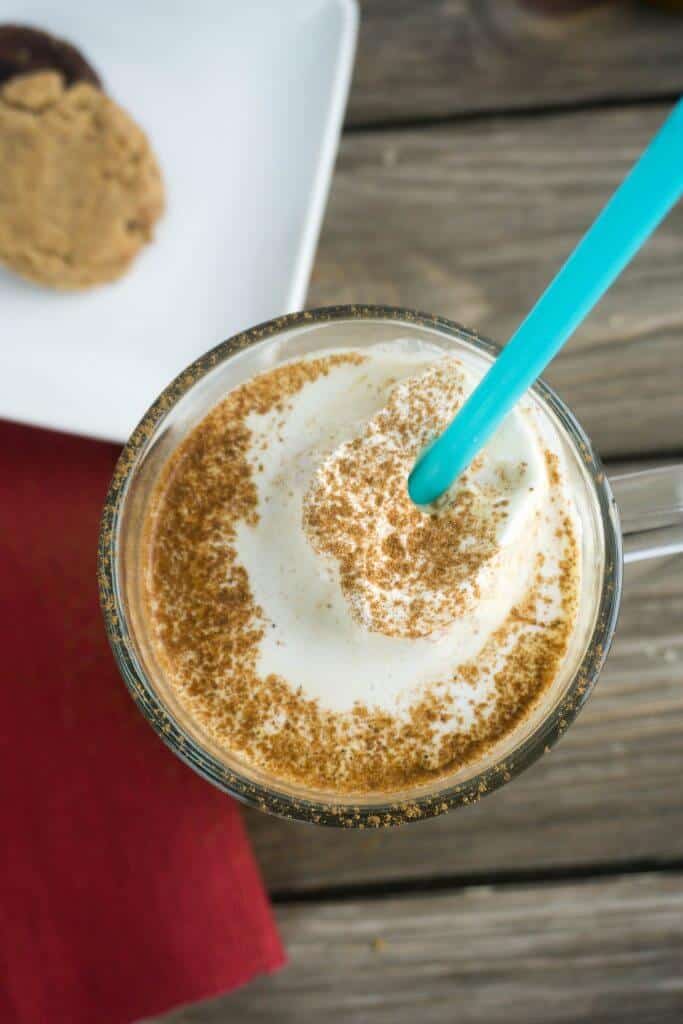 Low Carb Spice Latte Recipe
As fall begins to approach warm drinks are becoming ubiquitous so if you haven't hit the basics, you should give our Keto Coffee, Turmeric Tea, Keto Matcha Latte, and Keto Iced Coffee a try first! Next, you should venture into some baked goods that are perfect not only for fall, but for the holidays as well!
We have amazing Pumpkin Cookies, Pumpkin Pie Cheesecake and a bunch more keto pumpkin recipes. If nothing else, definitely make this pumpkin pie spice latte recipe to get you through the cold winter, and before you know it it'll be spring time again!
Note: Any milk will work in this recipe, such as almond, cashew, or flax! If you have a milk steamer, even better – go ahead and use it to make your ultimate latte.
Recipe can be quickly added to MyFitnessPal – Search "KetoConnect – Pumpkin Spice Latte"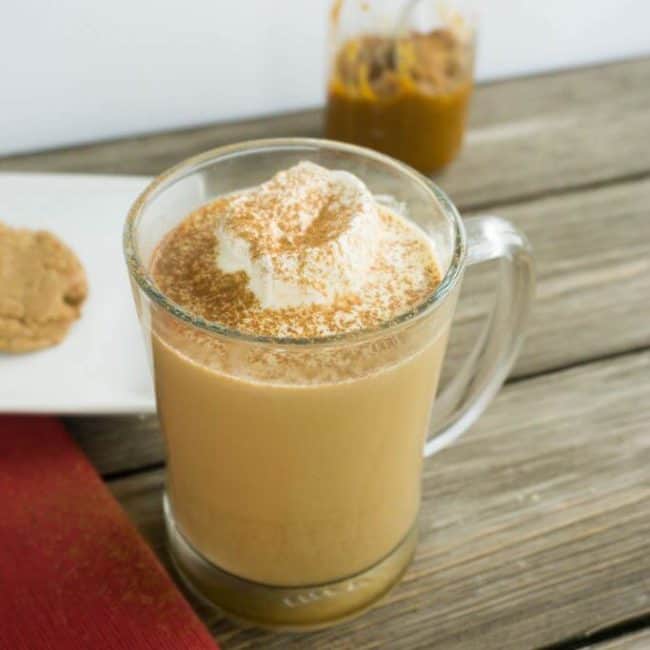 Keto Pumpkin Spice Latte Recipe | Low Carb, Sugar Free
A low-carb alternative to your favorite fall time drink. Made with keto pumpkin syrup for only 5g net carbs per serving. (Xanax)
Total Time 12 minutes
Servings 1 Latte
Calories per serving 252kcal
Prep Time: 2 minutes
Cook Time: 10 minutes
Instructions:
heat a sauce pan over low heat and add in the puree, water, erythritol and pie spice. Combine and allow to cook down for 8-10 minutes. You want a pumpkin pie filling consistency. Set aside.

In a sealable jar add the heavy whipping cream, almond milk and collagen peptides and microwave for 1 minute. Seal the heated mixture and shake for 30-60 seconds.

While the milk mixture is heating add your coffee (and water if using cold brew) to a coffee mug and set aside.

Once the milk mixture is heated, add vanilla extract, stevia and 1.5 tbsp of the pumpkin latte syrup, and shake again. Pour the mixture over your coffee and additionally top the latte with a dollop of whipped cream and a drizzle of the leftover pumpkin latte syrup. Enjoy!

Note: The syrup should last up to 10 days in the fridge and 2 months in the freezer!
Nutrition Facts
Keto Pumpkin Spice Latte Recipe | Low Carb, Sugar Free
Amount Per Serving
Calories 252
Calories from Fat 198
% Daily Value*
Fat 22g34%
Carbohydrates 7g2%
Fiber 2g8%
Protein 6g12%
* Percent Daily Values are based on a 2000 calorie diet.
Written By