As a couple that loves to snack, it was vital that we find a low carb cracker that fit our keto lifestyle. We wanted something that would be sturdy enough for dipping and also be able to hold a nice chunk of cheese atop it! If you are in search of the same thing, look no further because we have created the best low carb cracker just for you. It is made from parmesan, spinach and packs a ton of flavor from one of our favorite spices: cumin!
Best Low Carb Cracker – Inspiration
After looking for some inspiration we came across a recipe on Ketodietapp for "cheesy grain-free spinach crackers". It looked like a great recipe, and we knew with just a few alterations it would be our perfect keto crisp. We blended the spinach, but stopped short of making it a smooth puree. This makes the final product more rustic looking and changes the texture a bit as well. We upped the amount of cumin in the recipe and the result was better than we could have expected! The crisps taste fresh with a hearty feel, but are still light enough to eat a whole batch ? If you haven't worked with cumin yet we highly recommend it for your meats, stir frys, cauliflower rice or when making our parmesan spinach crisps!
Once we found our inspiration we worked to create the perfect crisp that could be paired with any cheese or dip. Heck, it's even a great snack all on its own! You can take them on the go or enjoy them while relaxing at home – we guarantee the whole family will love them too!!
FREE PRINTABLE: Keto Food List
Join 150,000 others to get a FREE keto food list and new recipes every week!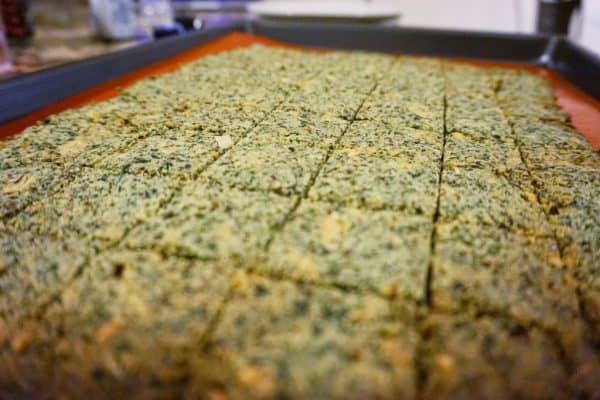 We know they are hard to resist right out of the oven, but if you let them sit over night they will be crispier the next day!
Now, excuse me as I go eat some from last nights batch…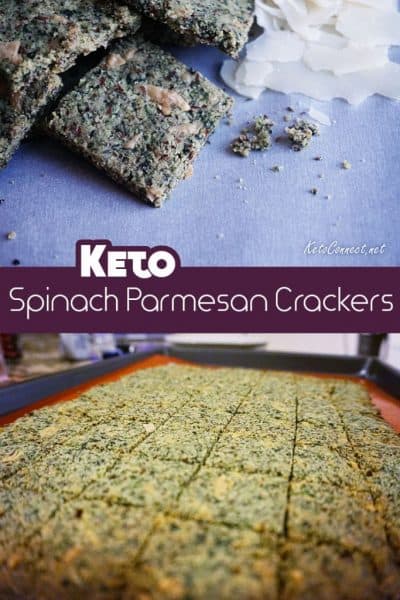 Yields 70 crackers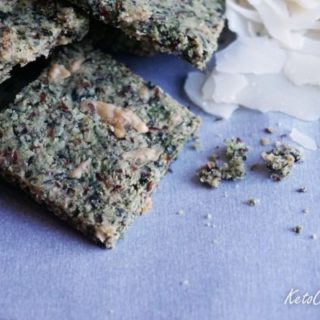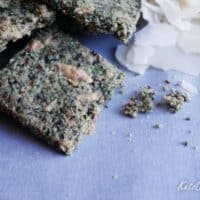 Best Low Carb Cracker (Parmesan Spinach Crisps)
Homemade keto crackers infused with spinach, cumin, chili, and garlic.
Total Time 1 hour 3 minutes
Servings 9 servings
Calories per serving 222kcal
Prep Time: 45 minutes
Cook Time: 18 minutes
Instructions:
Mix all the dry ingredients, ghee/coconut oil, parmesan and egg and set aside.

Thaw the spinach and remove any excess water (we microwaved it for thirty seconds with some water and rung it out using a colander - you can also use a cloth).

Once you have rung out the spinach place it in your food processor with 1/2 of the dry ingredient mixture.

Once fully combined - it may still look grainy (thats fine) - remove from the processor and combine with the rest of the dry ingredient mixture (we found using our hands worked best!).

Wrap dough in foil or plastic wrap and place in the freezer for 25-30 minutes.

Roll out dough onto parchment paper as thin as possible and place onto baking sheet (if you want the crackers crispier you can break the dough into two and roll them out separately for a thinner layer).

Use a knife to cut the dough into squares to the size of your preference and place in over at 400 degrees for 18 minutes.
Nutrition Facts
Best Low Carb Cracker (Parmesan Spinach Crisps)
Amount Per Serving
Calories 222 Calories from Fat 166
% Daily Value*
Fat 18.4g28%
Protein 7.65g15%
* Percent Daily Values are based on a 2000 calorie diet.