We've set the desserts aside on this one and hit the main dish recipe hard with our Apple Pork Chops. After the pork loin is cooked and resting we add bacon and apple cider vinegar to the pan drippings to create the ultimate pork loin chop topping. It's subtly sweet and acidic with a fatty bacon and onion flavor to cut through the moist pork loin. Watch Matt chef it up below!
[tcb-script src="https://apis.google.com/js/platform.js"][/tcb-script]
What is the Best Way to Cook Pork Chops?
In our opinion, any meat is best cooked by searing it on the stove top and then finished off in the oven, so the meat remains tender and moist. We use that exact method to cook these chops and you don't wont to do it any other way.
Achieving a crispy sear to the outside of any meat, be it chicken thighs, steak or pork loin chops is pretty essential to ensuring it's delicious. And, by finishing it off in the oven, you can be sure that the meat is fully cooked through to your liking.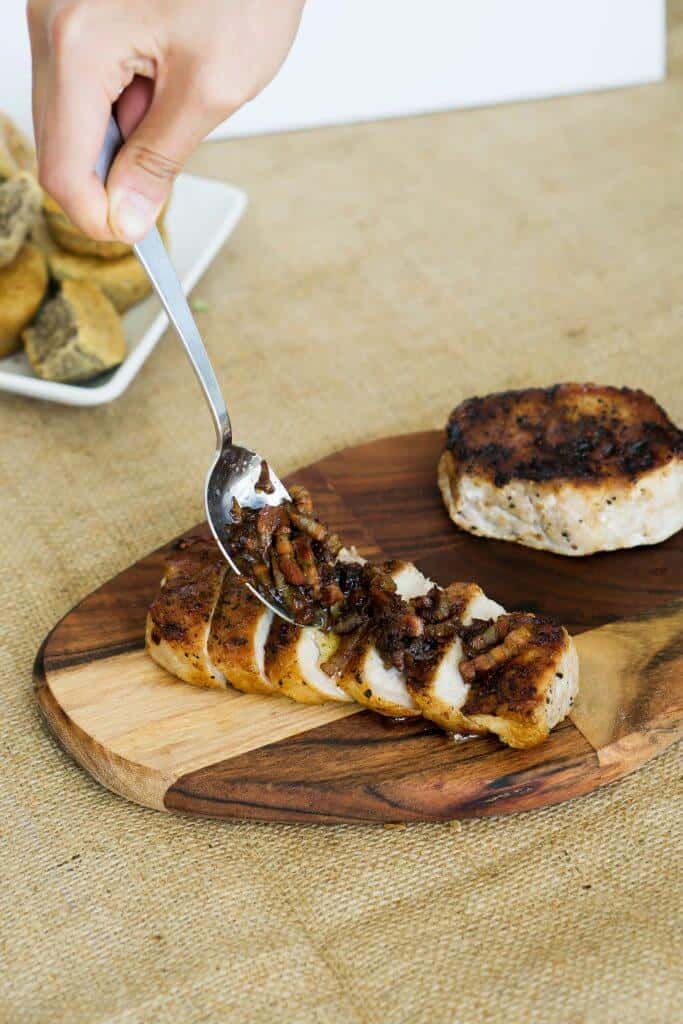 This is the Best Pork Chop Recipe
If we're being honest, when Matt tried this recipe the first time, he totally winged the pan drippings sauce to top the meat. The original plan was a red wine reduction, but that quickly changed to apple cider vinegar, bacon and cinnamon.
The first bite of the drippings and meat was indescribably good! My eyes widened, all my senses were awakened and I instantly felt nostalgia for the fall season. The combination of sweet cinnamon and acidic apple cider vinegar pairs perfectly with the mellow taste of pork loin. It's truly unbeatable.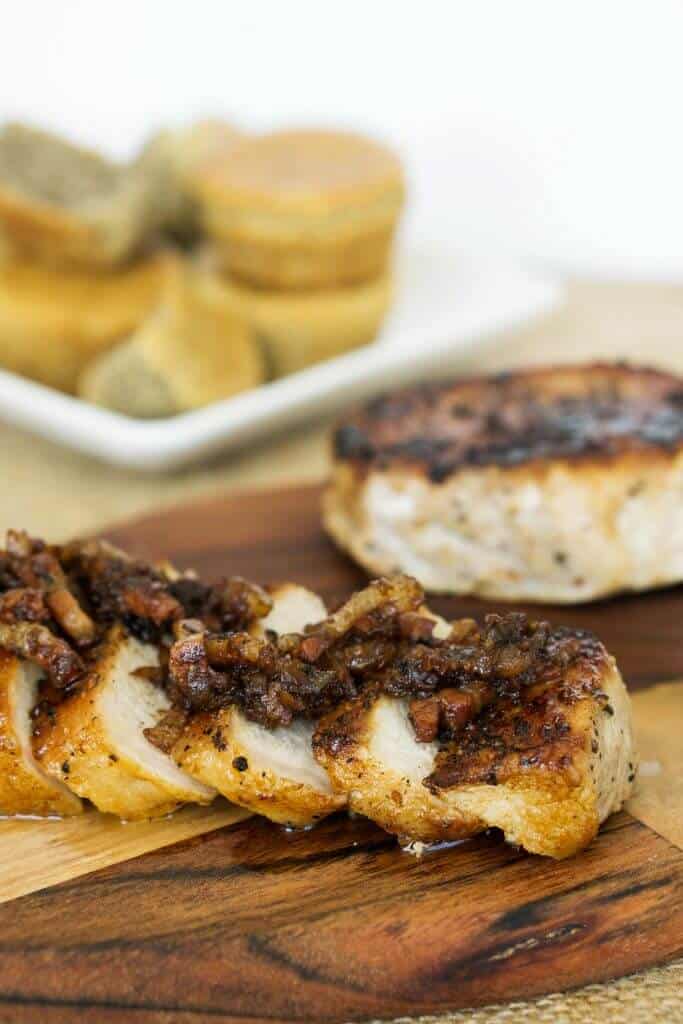 Pan Seared Apple Pork Chops
Our favorite way to cook meat, as mentioned above, is pan seared and then finished off in the oven, so you can imagine we have more recipes cooked in a similar fashion. This recipe is definitely Matt's favorite, while mine is our crispy chicken thighs. I could eat them everyday. However, with fall almost in full bloom, we would definitely recommend you give our apple pork chops a try to enjoy the season to its fullest.
Check out our Bacon Wrapped Pork Chops recipe!
Recipe can be quickly added to MyFitnessPal – Search "KetoConnect – Apple Pork Chops"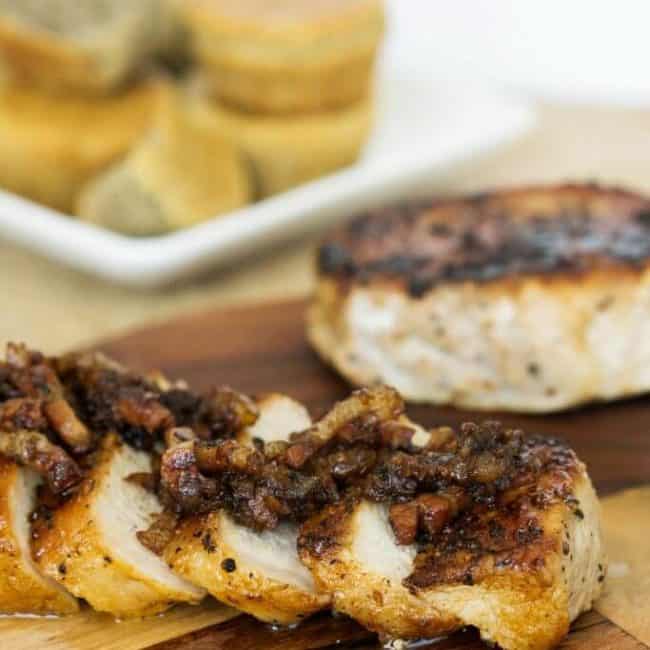 Apple Pork Chops | Bacon and Apple Cider Vinegar Sauce!
Fall in a meal! Our apple pork chops are next level delicious when topped with our bacon and apple cider vinegar sauce.
Total Time 40 minutes
Servings 2 servings
Calories per serving 609kcal
Prep Time: 5 minutes
Cook Time: 35 minutes
Instructions:
Season the pork chops with salt and pepper and pat them dry.

Heat a pan to medium high heat and add ghee. Once the pan is hot and the ghee is glistening add in the pork chops. After three minutes flip them and allow them to continue to sear for another three minutes. Turn the chops onto their side if there is a strip of fat to crisp it up.

Place the pork chops in a 400 degree oven for 15-20 minutes. Once they are cooked set them aside to rest.

Place the pan that has all the drippings back onto the stove top and scrape up the drippings on medium high heat. Add 1 slice of bacon and allow it cook almost fully. Once the bacon is cooked add in the onion and ginger and let it cook down a couple minutes. Season with salt and pepper

Add 1/2 cup apple cider vinegar to the pan along with the liquid stevia and cinnamon. Allow it to reduce on high heat until you get a sticky, thick sauce. When sauce is fully reduced, add 2 tbsp of butter and allow the sauce to cook for an additional 2 minutes.

Serve each chop warm with half the sauce on top. Enjoy!
Nutrition Facts
Apple Pork Chops | Bacon and Apple Cider Vinegar Sauce!
Amount Per Serving
Calories 609 Calories from Fat 387
% Daily Value*
Fat 43g66%
Carbohydrates 1g0%
Protein 60g120%
* Percent Daily Values are based on a 2000 calorie diet.
Written By