Scones are one of the best keto breakfast options because keto scones taste just as good as the high carb alternative. The fact that they are a dense pastry makes them well suited to being made with keto friendly flours and ingredients. Throw in some strawberries and a few simple techniques and you will come out with the perfect recipe for a lazy Sunday at home!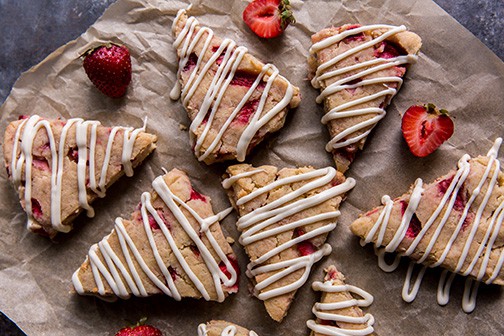 What is a Scone?
A scone is a baked good usually made of wheat or another type of grain and flavored with sugar and spices. This was a tasty way to eat wheat and oats, which were staples of European diets in the early 1500's. Fast forward 500 years and scones have been completely transformed, often using berries, chocolate chips and a variety of other additions to make them a sweet compliment to any breakfast or lunch.
The signature quality of a good scone is that it should be dense and satisfying. It is not like other breakfast pastries in that they are fluffy, and soft. This is perfect because baked goods made with almond flour tend to be on the denser side.
Are Scones Keto Friendly?
Scones are definitely not keto friendly. They traditionally use refined flour, refined sugar and a host of other ingredients you're probably trying to avoid. This recipe uses almond flour and keto friendly sweeteners to turn scones into a perfect breakfast for a low carb diet. This recipe is gluten free, sugar free, and is very easy to make. Coming in at just 5g of net carbs per scone it is a great alternative to your typical 60+ grams of carb scone.
Most recipes can be made keto friendly through substituting flour for low carb keto flours such as almond flour and coconut flour. For the sugar we use a combination of low carb sweeteners to replace the sweetness.
How to Make Low Carb Keto Scones
If you want to make keto scones just follow the steps below. This is one of the easier recipes you'll see and is great for a newcomer to keto baking that isn't used to working with almond flour.
Mix the Dry Ingredients
For the best result it is a good idea to separate the wet and dry ingredients before combining them to form the final dough. The dry ingredients in this case are almond flour, coconut flour, erythritol (a low carb sugar alternative), baking powder and salt. Make sure you get rid of any clumps in your dry ingredients by mixing them with a whisk or fork.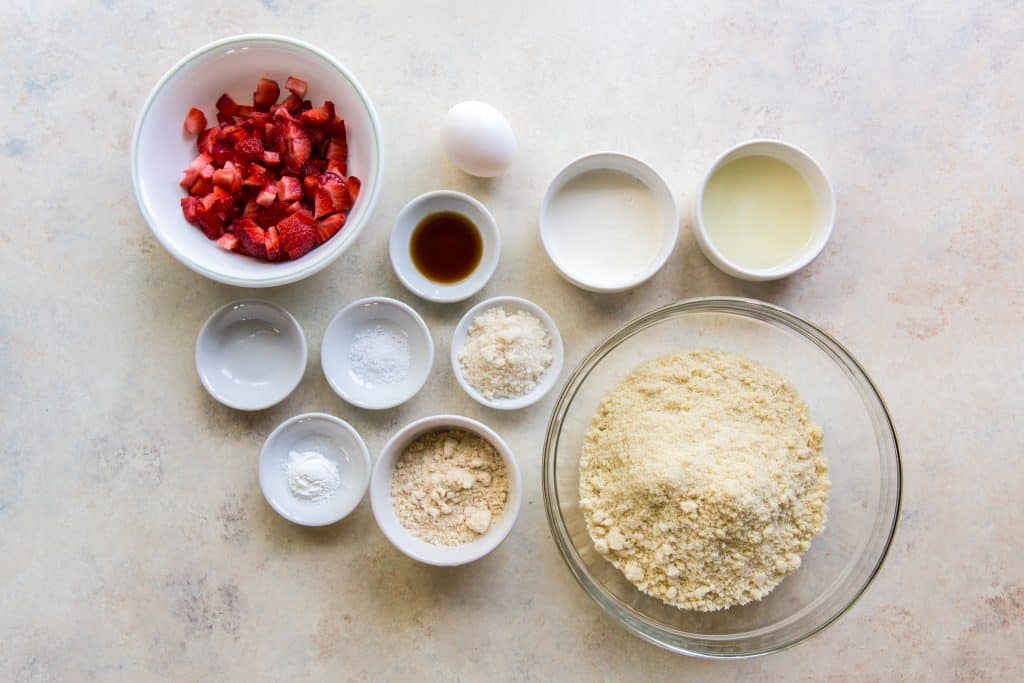 Mix the Wet Ingredients
Next we will mix together the melted coconut oil, heavy cream, vanilla extract, stevia and 1 large egg. Be sure that the mixture is not too warm when you add the egg or you run the risk of the egg cooking before it is mixed in. You may notice that the wet ingredients are very small in comparison to the dry ingredients. This is because the dough for keto scones is very firm and loosely held together. It is not a wet batter and is more of the consistency of a pasta dough.
Combine Wet and Dry
Now comes the fun part. Add the wet to the dry and begin mixing together. I like to use a firm spatula for this step. The dough will be very dry and have a sandy consistency. It WILL NOT combine easily and you will need to use some force when you form the scones to get the dough to come together. This is necessary to get that signature scone texture. If you are struggling with this step watch the video for an example of what the texture of the dough should be before you form it into keto scones.
Add in Berries
We're using strawberries for this recipe but any berry will work great with this recipe. We've made this exact recipe with blueberries, and raspberries and they both came out great. You could also add in some nuts, like pecans or walnuts, as well as some low carb keto chocolate chips. Whichever route you decide to go they will come out great. Once you add in your berries lightly mix them into the dough until they are evenly distributed.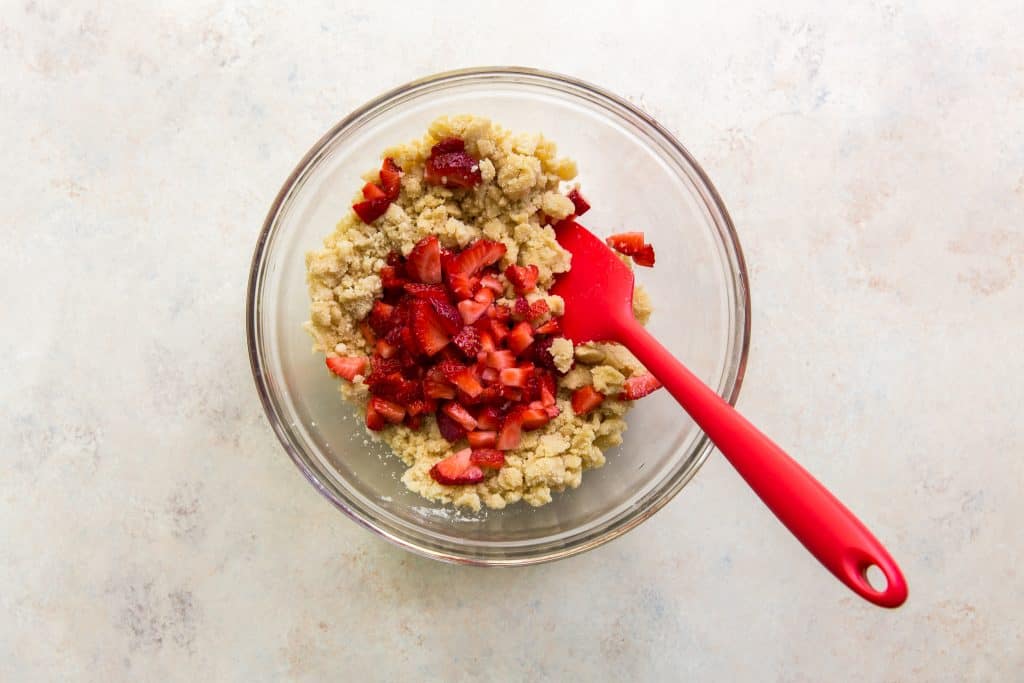 Form the Keto Scones
Once you've got your completed mixture it is time to form the keto scones. The easiest way to do this is first to form the dough into a tightly packed ball using your hands. The dough should not be every sticky and should be easy to shape with your hands. Once you have a ball place the dough into your cooking vessel. Either a skillet or a baking sheet will do. Flatten your ball of dough into a disk that is about 1 inch thick.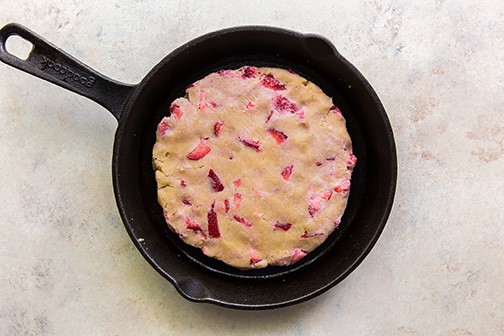 Next you will cut the dough into 8 equal sized triangles and separate them from one another slightly. Separating the keto scones from one another will allow for the entire exterior of each scone to brown and harden.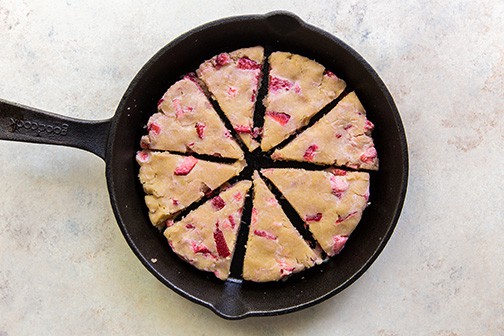 Bake and Top With Glaze
The keto scones will bake at 350 degrees for about 20-25 minutes depending on your oven. The easiest way to know they are done is once the scones become browned slightly on the outside and they are firm to the tough. Despite the baking powder in this keto scones recipe, they do not rise very much. Allow the keto scones to cool on a baking rack for 20 minutes before topping with the homemade glaze.
To make the glaze you will just need two ingredients – erythritol and heavy cream. Erythritol is a sweetener we commonly use in our keto recipes. You can learn more about what your best options are when it comes to keto sweeteners by reading our comprehensive keto sweetener guide. To the erythritol we just add a splash of heavy cream and whisk together. Add more or less heavy cream depending on how thick you want the glaze to be. Reference the recipe video for a visual guide of what to look for.
If you want an even thinner glaze you can use almond milk or coconut milk in place of the cream.
If you decide to skip the glaze you may want to add additional sweetener to the scone recipe. This recipe is designed to include the glaze to achieve the correct level of sweetness so the keto scones themselves may not be sweet enough for your liking without the addition of the glaze.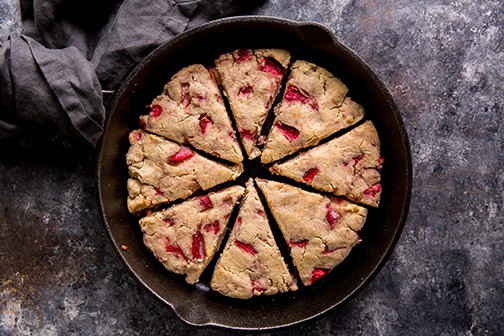 Making Scones With Almond Flour
When it comes to keto baking you usually have to decide between coconut flour and almond flour for your breads and pastries and making keto scones is no different. With scones the decision is quite easy. We use a 9 to 1 ratio of almond flour to coconut flour in this recipe in order to achieve the traditional texture and crumble of a scone. This is one of those recipe that cannot be made with only coconut flour because the texture will be off. Stick to our almond flour ratio and you'll come out with a perfectly tasty scone recipe.
Can I Only Use Almond Flour?
Yes you can, but it isn't recommended. Almond flour scones are good but that little bit of coconut flour is what provides the softness and slight crumble. If you want to go with a fully almond flour scones recipe then you should add about 3/4 cup of additional almond flour and remove the 1/4 cup of coconut flour. Scones made with almond flour are very good but the tiny bit of coconut flour really takes them to the next level.
Can I Make Nut Free Scones?
You probably could make a recipe using only coconut flour but it would be very difficult and would definitely not be the same as this almond flour version. Almond flour is very important to this recipe and should not be omitted. If you do want to avoid nuts in your baked goods you could try some of the other keto breakfast recipes on our site. While this recipe is not nut free it is sugar free and gluten free.
Can I Make Dairy Free Scones?
Yes you can! The dairy in the recipe cones in the form of cream in both the dough and the glaze. To make scones that are dairy free you can simply use water, almond milk, or coconut milk in place of the cream in both instances. One thing to remember is that you will likely need a bit less of your substitute liquid because it will be thinner than cream is.
Tips for Making Low Carb Keto Scones
Here is a few tips to keep in mind to make sure your low carb scones come out as good as ours do.
Use finely ground almond flour. In just about every low carb recipe you're better off using flours that are finely ground. With almond flour you will often see "almond meal", "almond flour", and "finely ground almond flour". We always choose the most finely ground version we can.
Grease your knife before cutting the scones. Using coconut oil to coat the knife prior to cutting the scones will ensure they do not stick to the knife. This makes for an easier cutting process and guarantees your scones will come out nice and pretty.
Allow the scones to fully cool before adding the glaze. If the scones are still warm when you add the glaze it will become thin and run off of the scones. If you want the scones to hold onto the glaze let them fully cool and a cooling rack for 20-30 minutes prior to adding the glaze.
More From Our Keto Bakery
If low carb scones aren't your thing you should take a look at all of the other recipes we have to offer on our site. We have a long list of baked goods that would be perfect for a family gathering or a lazy weekend brunch before a big day of watching football. Here's some of our personal favorites.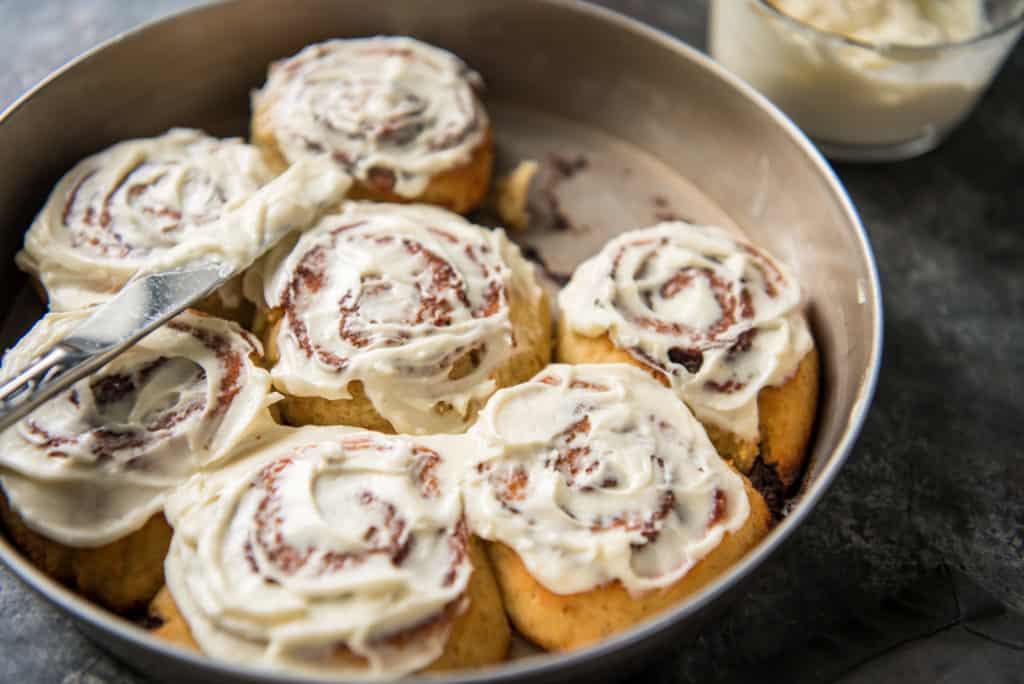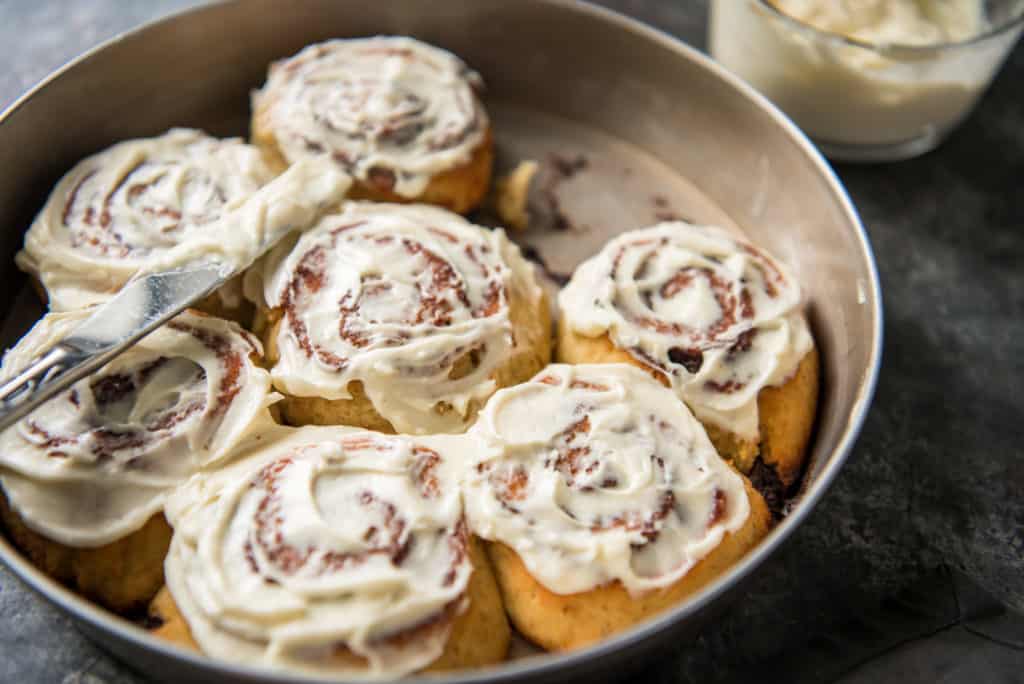 If you can't find a keto recipe you're looking for just leave us a comment below and we will try our best to come up with the recipe you're looking for.
Storing Strawberry Scones
With most keto low carb recipes storing them can be a bit of a challenge. You can't just keep these on the counter at room temperature like you can with traditional pastries. Scones made for a low carb diet will require refrigeration in order for them to stay good for up to a week. If you want them to last longer you can stick them in the freezer where they will last for up to a month.
The nice thing about scones is they taste just as good two weeks later as they did on the day you made them. I'll pull one out of the freezer and microwave it for 60 seconds, or place it in the oven for about 10 minutes and enjoy it with a cup of coffee in the morning.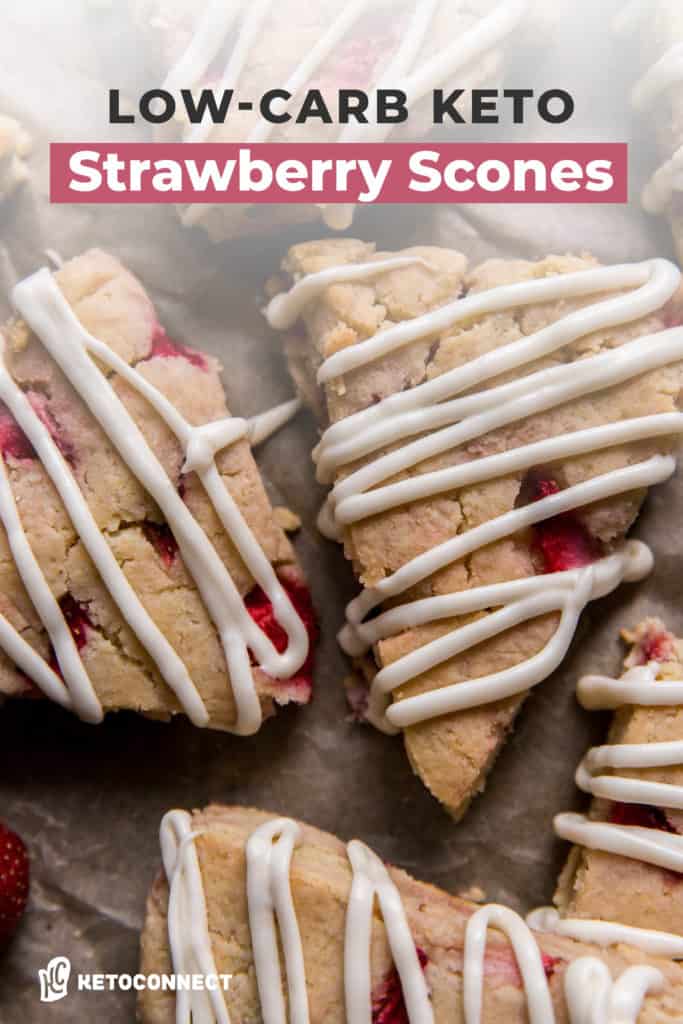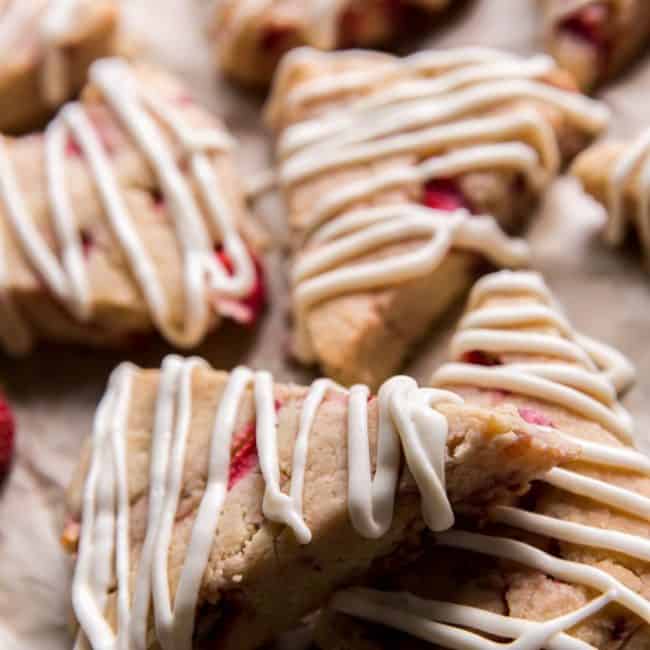 Keto Strawberry Scones
These Keto Scones are dense, crumbly and filled with fresh strawberries for the perfect start or end to you day!
Total Time 35 minutes
Servings 8 Scones
Calories per serving 265kcal
Prep Time: 10 minutes
Cook Time: 25 minutes
Instructions:
Strawberry Scones
Preheat your oven to 350°F and grease a 10.5" cast iron skillet with coconut oil or coconut oil spray.

In a large bowl mix together the dry ingredients using a spoon and in a small bowl whisk together the wet ingredients until fully incorporated.

Fold the wet into the dry using a spatula or your hands, and mix until just combined. Add strawberries and fold until evenly combined.

Knead the dough into a round circle and cut into 8 pieces. Carefully move them into the skillet leaving a little space between each scone.

Bake for 20-25 minutes until golden on all edges and a toothpick inserted into the center comes out clean.

Allow to cool in the skillet for 15 minutes and then carefully transfer to a cooling rack to finish cooling. While the scones or cooling make the glaze, if desired.
Glaze
Whisk together the erythritol and cream using a fork and store in the fridge until the scones are ready to be glazed.

Once the scones have fully cooled, drizzle the glaze using a spoon over the scones and serve.

Best stored in an air tight container in the fridge up to 7 days.
Notes
Net Carbs: 5g per scone
Yields: 8 Scones **Nutrition does not include glaze. If desired, swap out strawberries for a lower carb berry (blackberries) or leave them out for a lower carb scone!
Nutrition Facts
Keto Strawberry Scones
Amount Per Serving
Calories 265 Calories from Fat 207
% Daily Value*
Fat 23g35%
Saturated Fat 7g35%
Cholesterol 28mg9%
Sodium 91mg4%
Potassium 36mg1%
Carbohydrates 10g3%
Fiber 5g20%
Sugar 2g2%
Protein 8g16%
Vitamin A 89IU2%
Vitamin C 11mg13%
Calcium 75mg8%
Iron 1mg6%
* Percent Daily Values are based on a 2000 calorie diet.
Written By