Sweet, fluffy, and light high protein pancakes make the perfect low carb breakfast for a slow Sunday morning.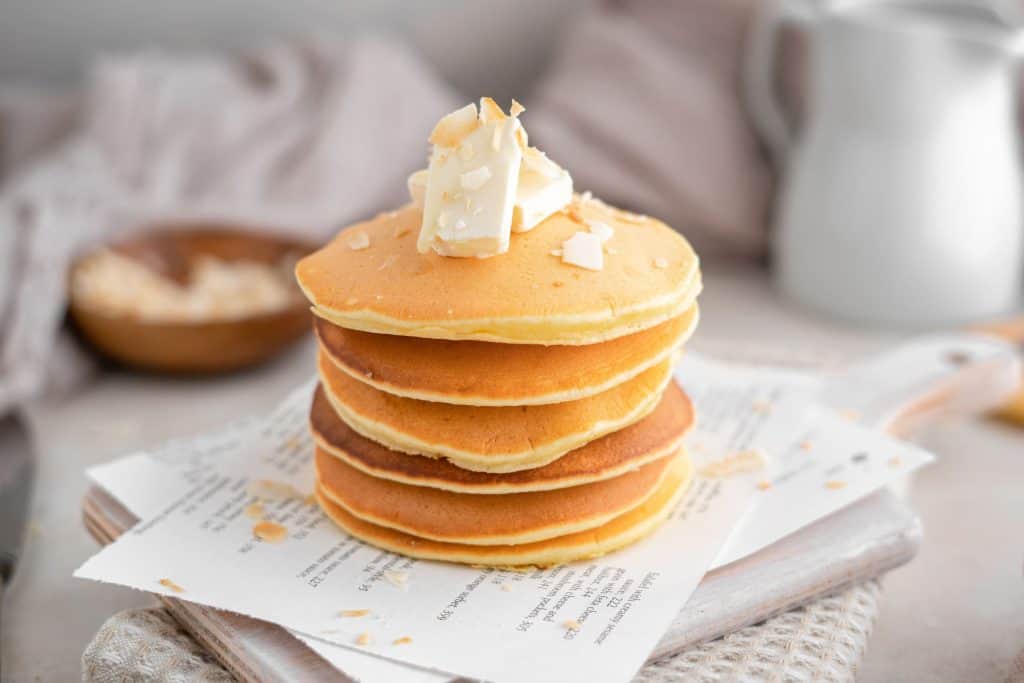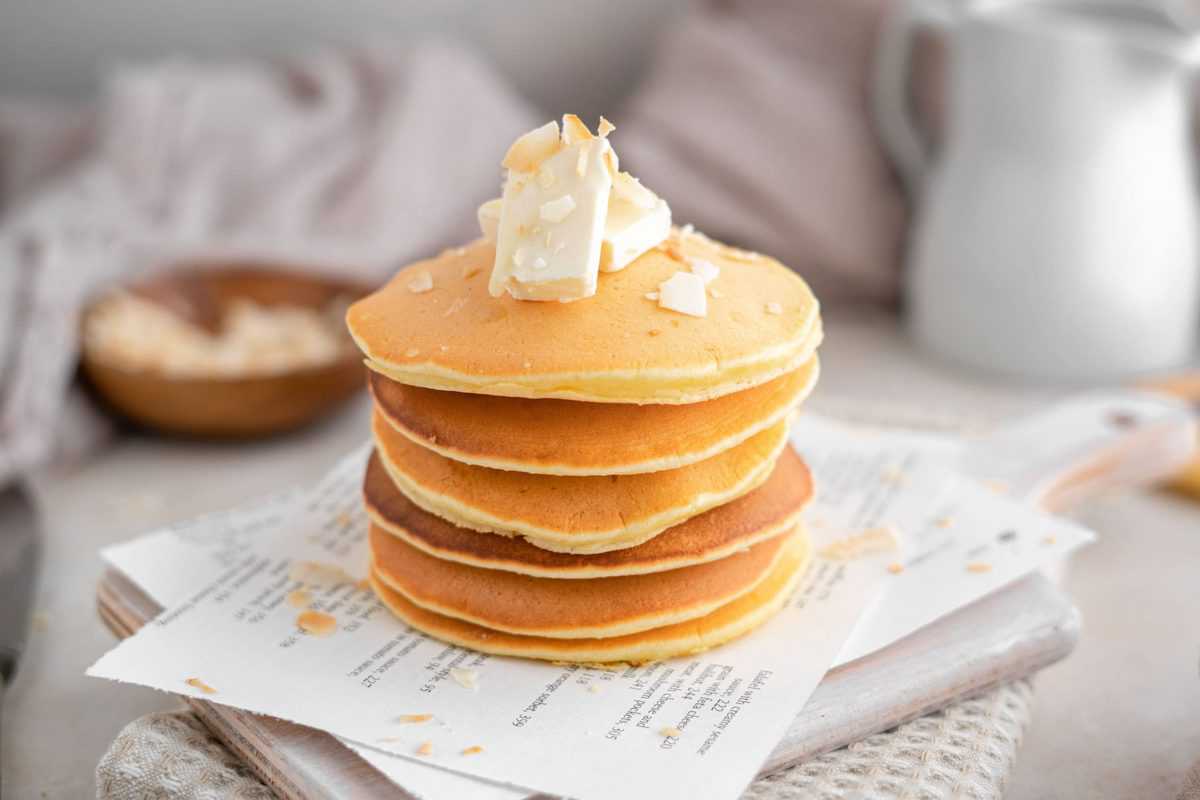 Is Protein Powder Keto?
Not all protein powders are created equal, however there are tons of protein powders on the market now that have great keto macros. There are a few ingredients to avoid in any protein powder though, so be diligent to pick a high quality one that will give you a nutrient dense meal. How to pick a protein powder:
Start with an animal based protein powder– Protein pancakes work best with a whey protein over a casein protein, and much much better than a plant protein. Plant based proteins tend to crumble and make for a dry hard pancake.
Avoid low quality sweeteners– Most protein powders on the market will either have a ton of sugar, or artificial sweeteners. If possible avoid sweeteners like sucralose, aspartame, and acesulfame potassium. Instead, try some with stevia, erythritol, or monk fruit.
Check the macros– This one sounds self explanatory, but you would be surprised just how many times we've assumed because something says keto, it's keto. This isn't always the case with protein powders that will sneak in cheap fibers, maltitol, hidden carbs, ect. Your best bet is to read the nutrition labels and check the macros on everything.
Obviously it can be very difficult to find a high quality protein powder that meets these standards, so just try to find something that covers a few of these main points; the most important being carb count.
Our Favorite Proteins
It can be very tricky to find proteins that check all our boxes, so just do the best you can with what's available! You can even try different proteins like chocolate protein, vanilla protein powder, or cinnamon protein powder for extra flavor.
Isopure Vanilla Whey Protein Powder– Isopure has been around for a while and is certainly popular in the keto community. Using a pure whey protein powder will result in a dryer pancake. Using a protein blend, like the following options is preferred for this recipe.
Quest Protein Powder– Quest is a super popular company and for good reason. They have the best tasting products by far when compared to any other brand. We recommend their cinnamon crunch or vanilla protein for this recipe, they tend to make the best protein pancakes.
These are just a few of our favorites, but feel free to do some digging in order to find your perfect keto protein powder.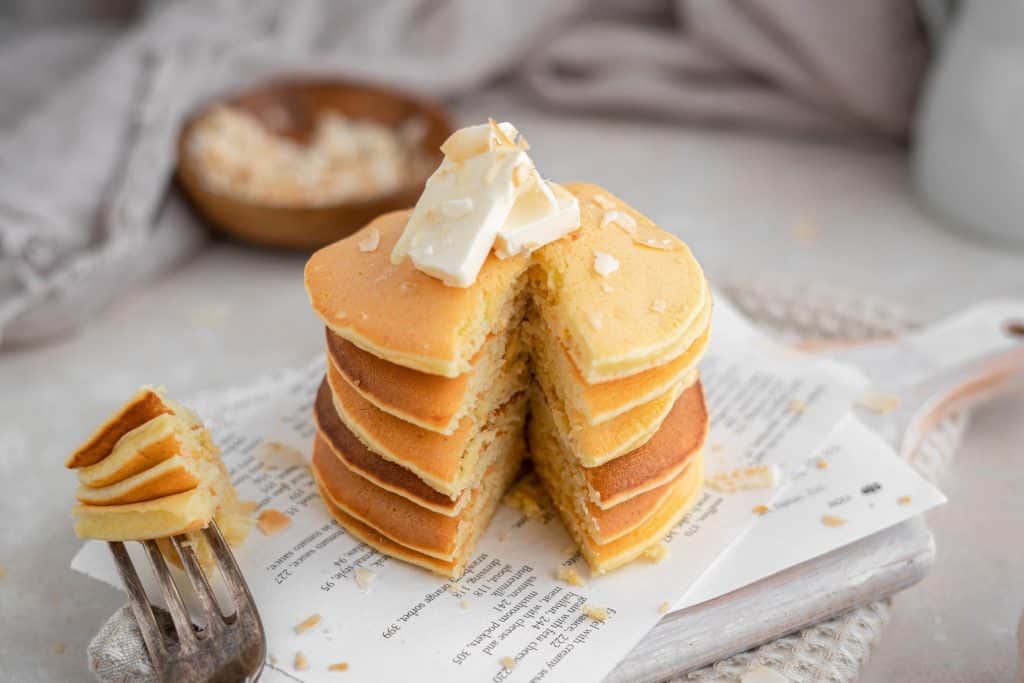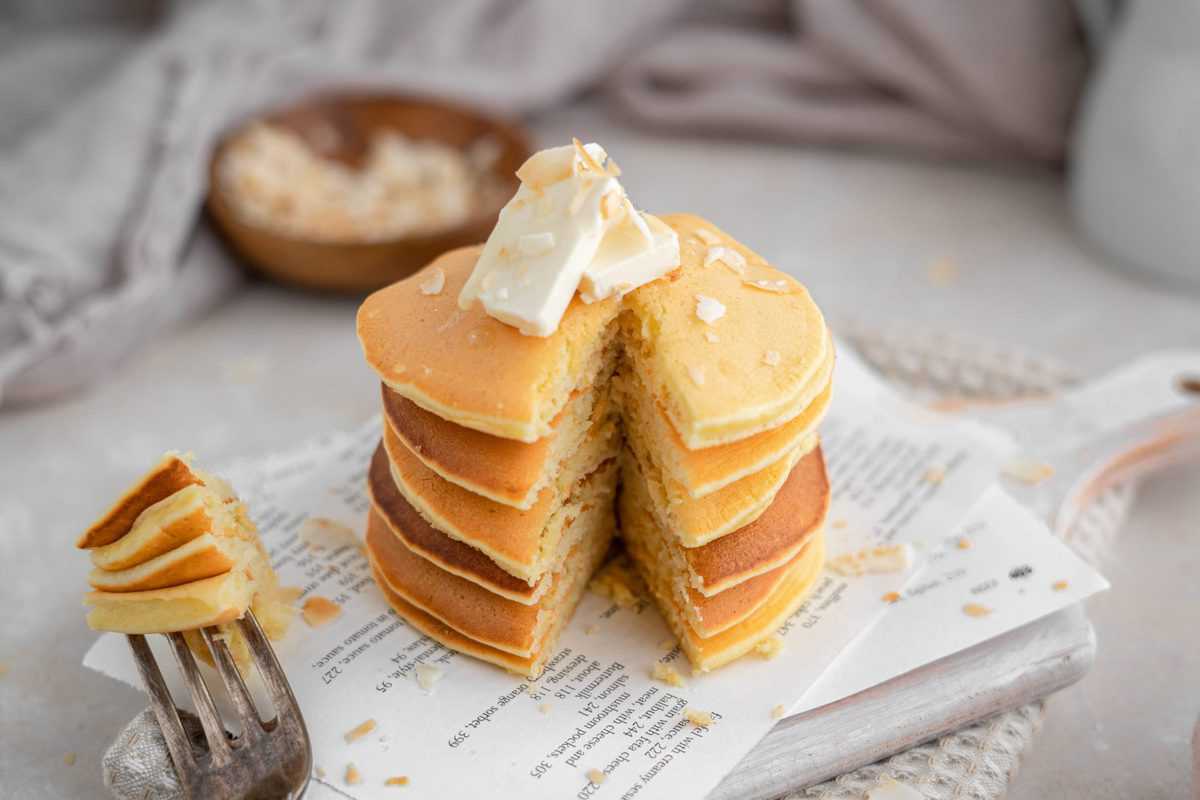 Perfect Protein Pancake Additions
You can't just eat plain protein pancakes! Even though this may be the perfect protein pancake recipe everyone knows pancakes need a side kick!
We compiled all our favorite sugar free keto friendly pancake toppings so we could create the best list out there!
Mix-in's
The kind of protein won't matter for this list, but your favorite mix-ins will! Here are our favorite keto friendly protein pancake mix-ins:
Blueberries– Blueberries are a classic diner pancake mix-in and are sure to make any pancake lover happy. They become warm, jammy, and sweet pairing; perfectly with the vanilla flavoring.
Spices & Flavorings
Spices and flavorings are definitely underrated when it comes to making pancakes. Banana protein pancakes? Try banana extract. Keto friendly maple syrup pancakes? Maple extract. Some of our favorite spices and flavors are:
Cinnamon– Super versatile because it works great in carrot cake pancakes, cinnamon pancakes, and cinnamon roll cakes.
Nutmeg– Another classic fall spice that really spices up breakfast
Vanilla extract– While you may already be using vanilla protein powder, vanilla extract is also a great addition to bring out the flavor in pancakes.
Zests– Like we said above any kind of citrus zest is perfect to brighten up the protein powder's flavor.
Get creative and try a ton of different extracts. They are low carb and low sugar meaning you can get a ton of flavor in a single serving. They allow your to make things like banana protein pancakes without any actual bananas, aka keto friendly.
Toppings
Toppings are really individual, but there are a few classics we will definitely include. I'll try not to do any repeats so be sure to check the mix-ins section too.
Berries– Topping protein powder pancakes with a few berries is a great low sugar way to bring sweetness and flavor.
Nut Butters– Any nut butter you like works perfect. We love peanut butter, almond butter, mixed nut butters, or sunflower butter for those with allergies.
Chocolate Shavings– There are quite a few keto chocolate bars out there now, but you can also just use 100% Bakers chocolate for a richer darker flavor.
Whipped Cream– Obviously a classic, whipped cream can be store bought or homemade. We always recommend homemade, but if you don't have time try to find a lower sugar option from the store.
Keto Chocolate Spread– Are you a nutella lover? Try the chocolate spread from Lakanto made with real chocolate and monkfruit.
Greek Yogurt– Low sugar greek yogurt can make a great option to top protein powder pancakes if you find they are on the drier side. Greek yogurt also comes in many flavors so you can even spice up the pancakes flavor profile along with it.
Get crazy with your toppings because everyone knows pancakes are just a boat for extras. If vanilla whey is just a little too, well vanilla whey, it doesn't hurt to spice it up!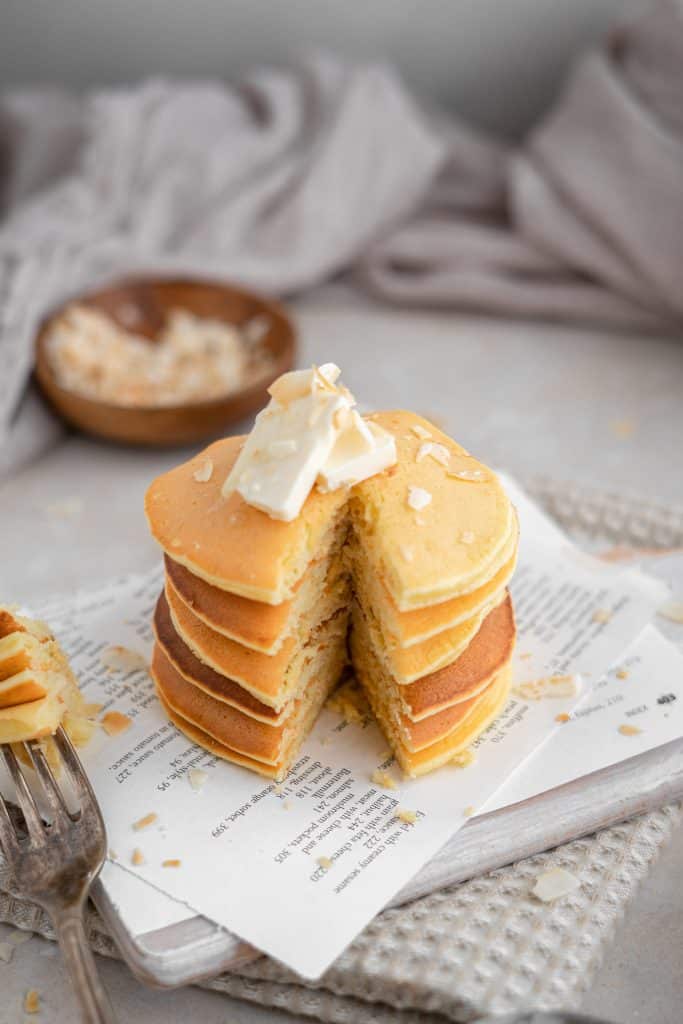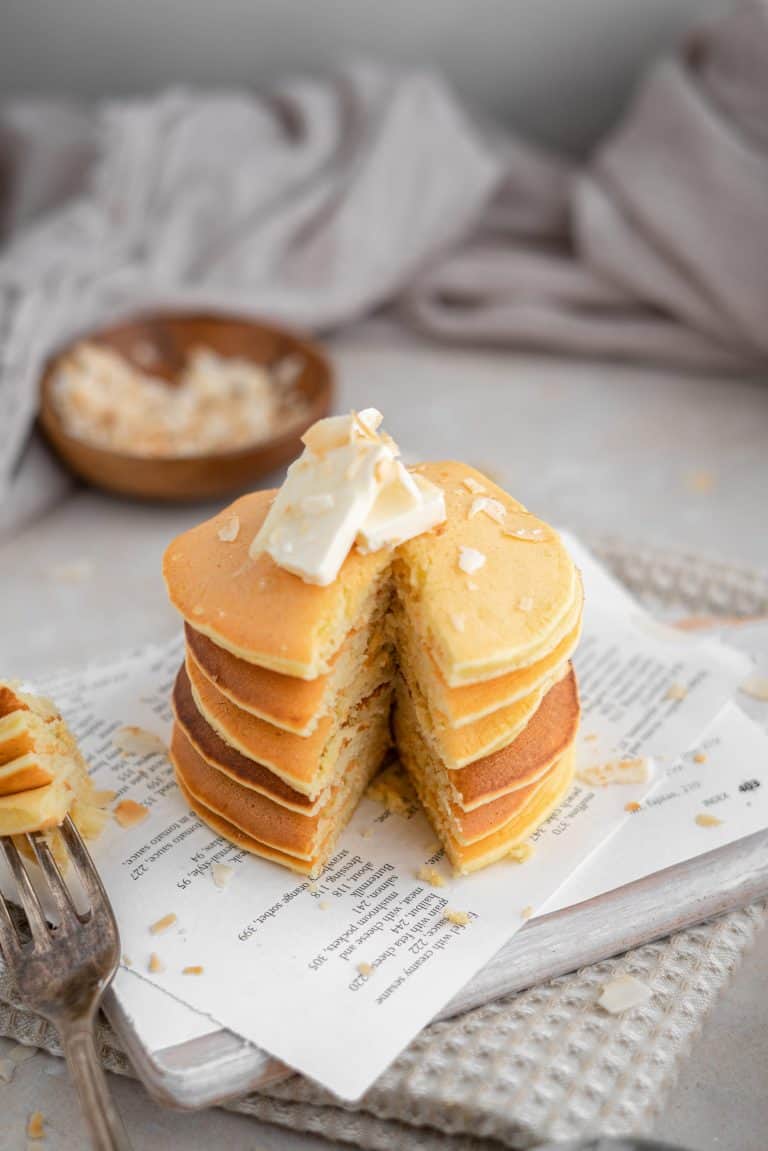 All About Maple Syrup
If you thought we forgot about maple syrup among the other toppings to these light fluffy protein powder pancakes think again! There are tons of maple syrup options our there, but like the protein there are different syrup qualities.
Try to find maple syrups that use keto sweeteners like erythritol, stevia, allulose, or monk fruit. Ones that are sweetened with sucralose, or worse Maltitol can tend to upset stomachs. Our favorites are:
If you aren't a syrup person you can always just enjoy butter or sugar free jam. The best part about this recipe is just how versatile it is.
How to Make Protein Pancakes
Now that you know just how many grams of protein and awesome mix-ins you can add it's time to get cooking.
Ingredients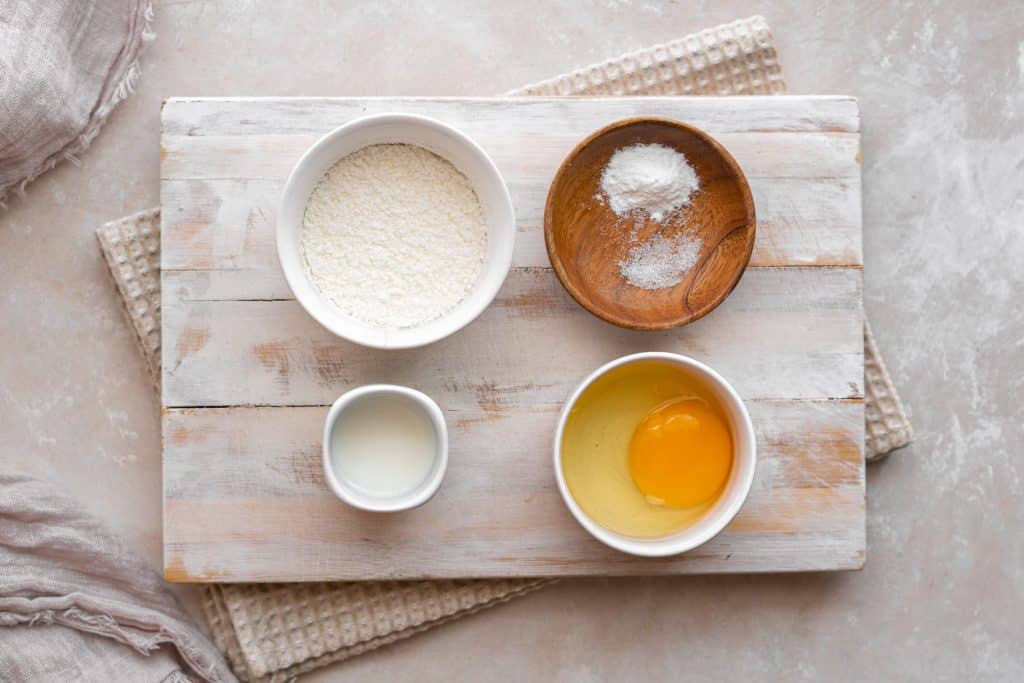 To make protein pancakes you will need protein powder, eggs (not egg whites), unsweetened almond milk, salt, and baking powder.
We do not recommend using only egg whites as they can make for a dry pancake. If you want to use egg whites you may need to add extra fat such as butter or coconut oil.
Make sure your almond milk is unsweetened so you aren't consuming excess sugar and carbs.
Making Protein Pancakes
To make this pancake recipe whisk together the egg and milk in a bowl.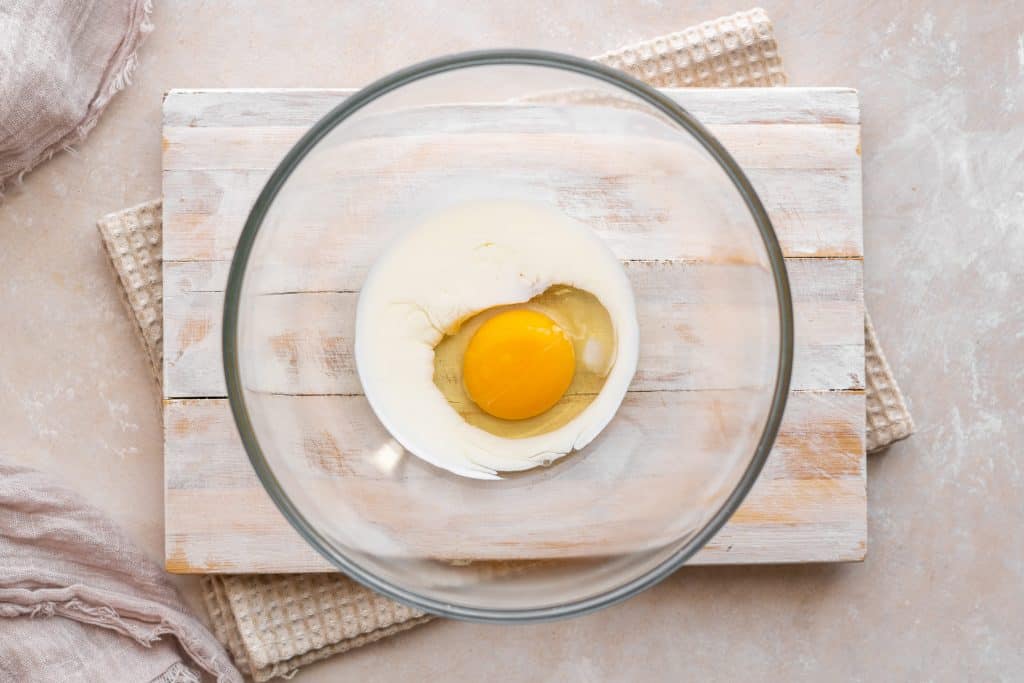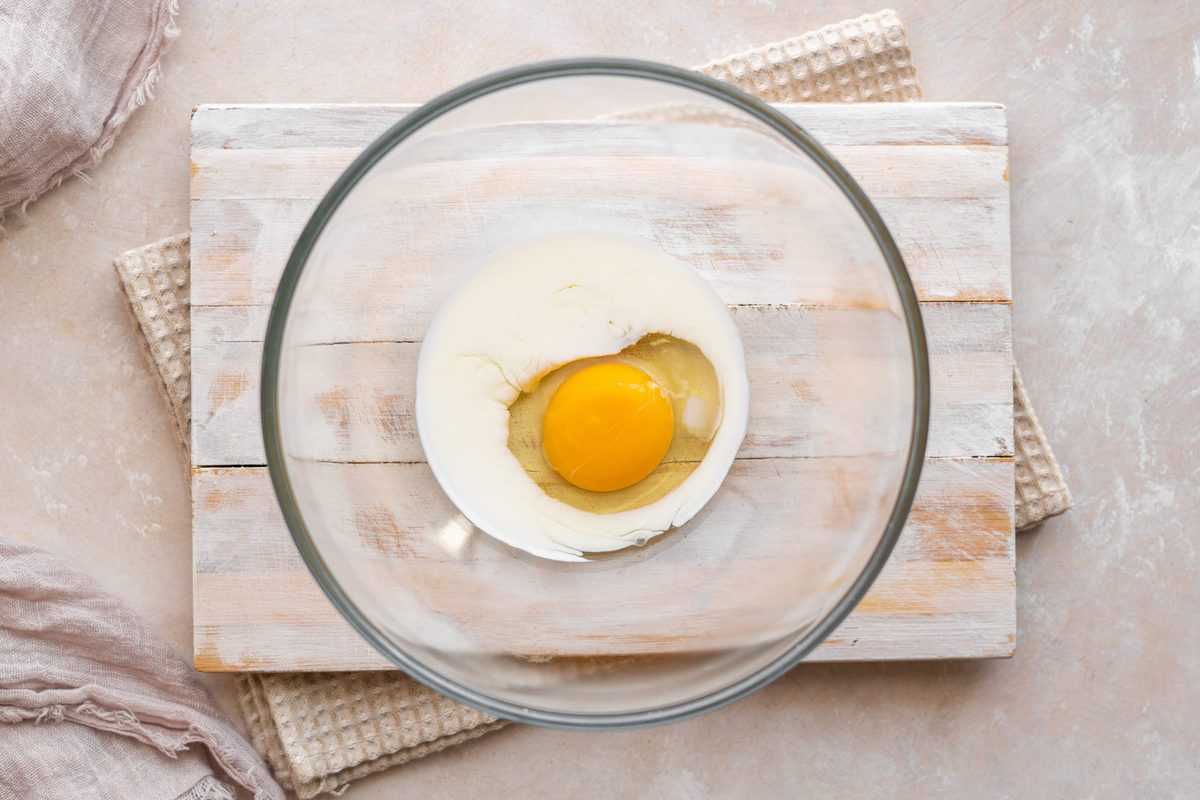 Next add your protein powder of choice, baking powder, and salt. You want to whisk well to make sure there are no remaining lumps. Blenders also work, but try not to over mix the batter. Nows the time to also add in any desired mix-ins.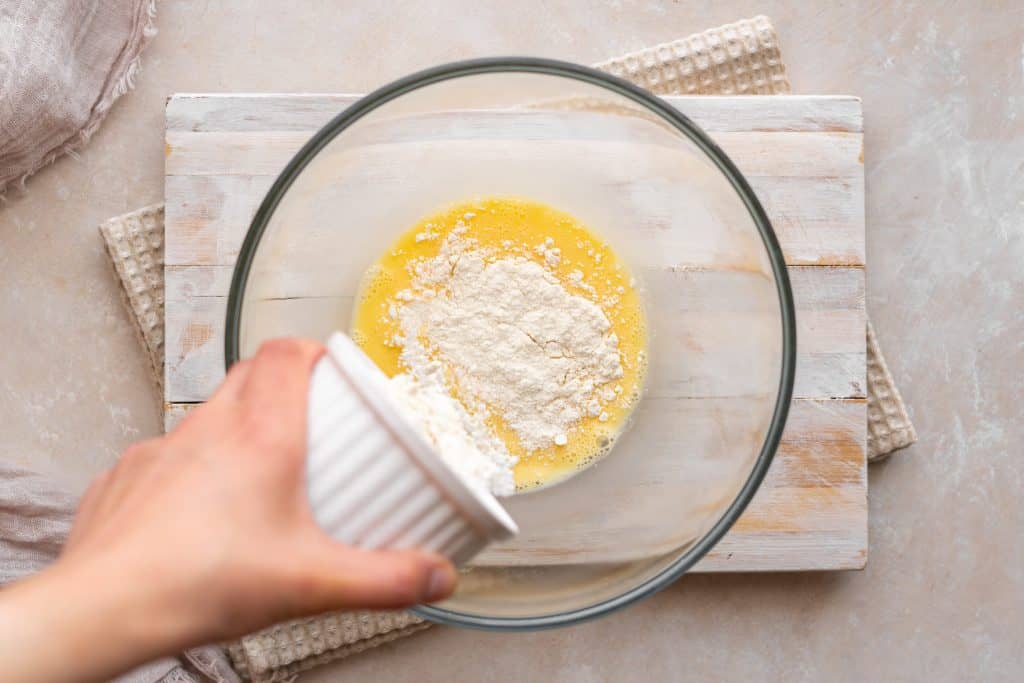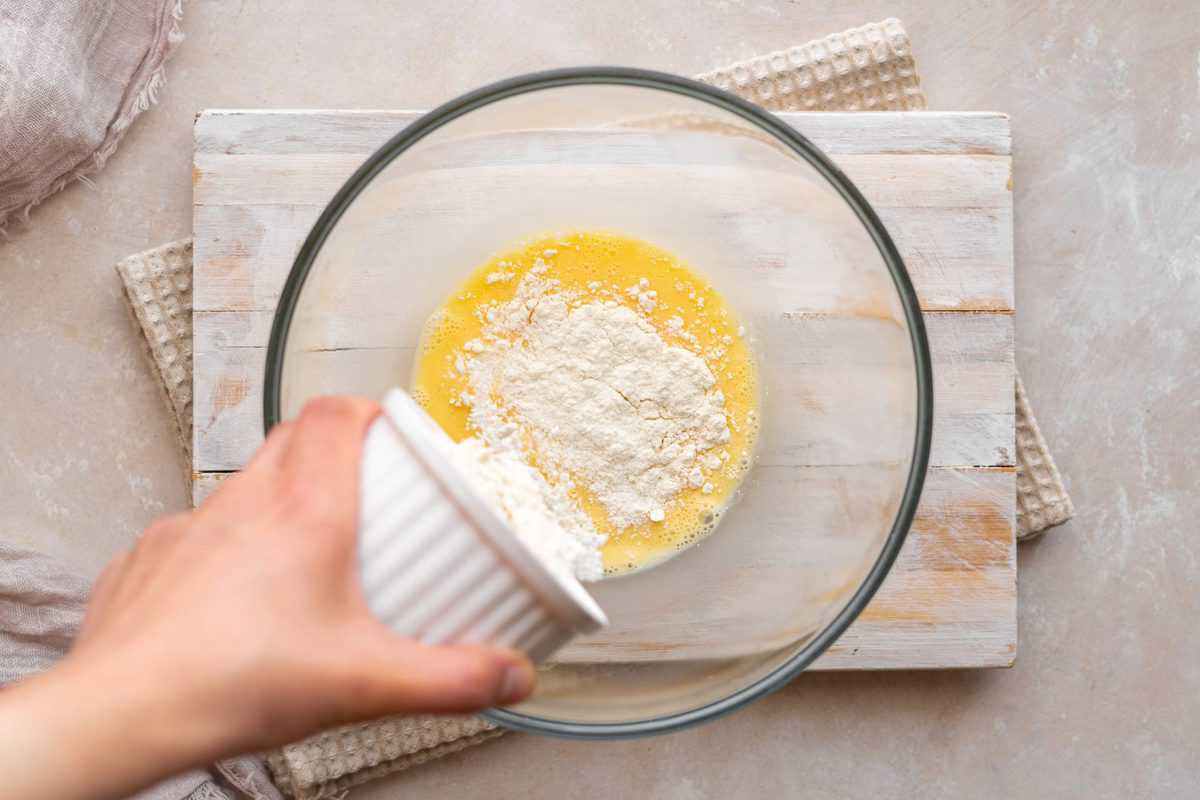 Spray your skillet with cooking spray and warm over medium heat. Using a 1/4 measuring cup pour your batter into the skillet. Cook for 30-45 seconds, or until the batter begins to bubble.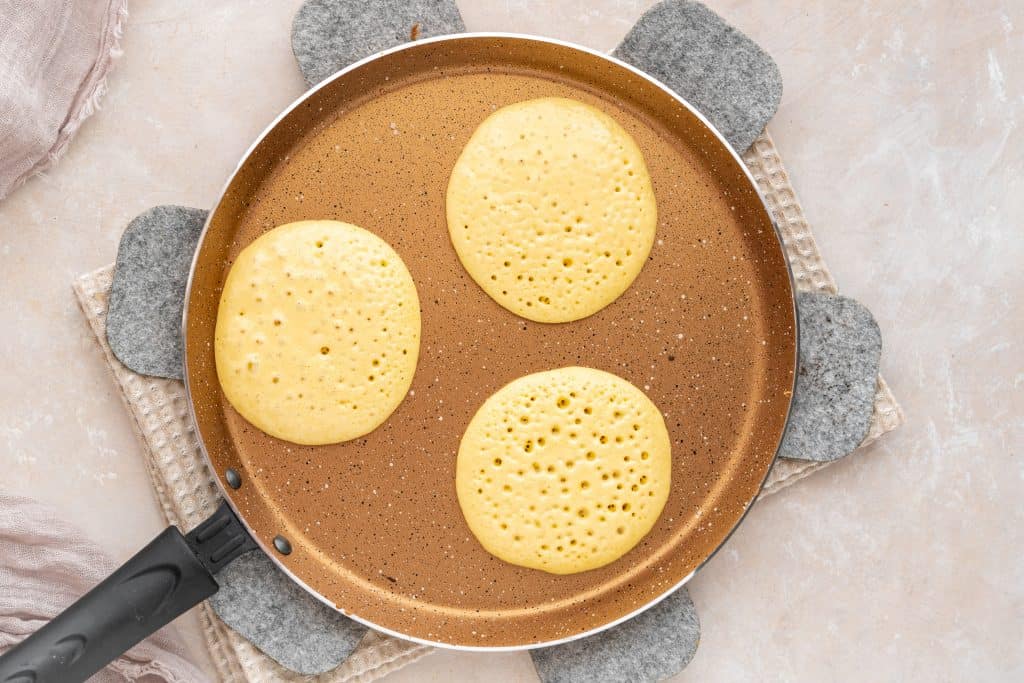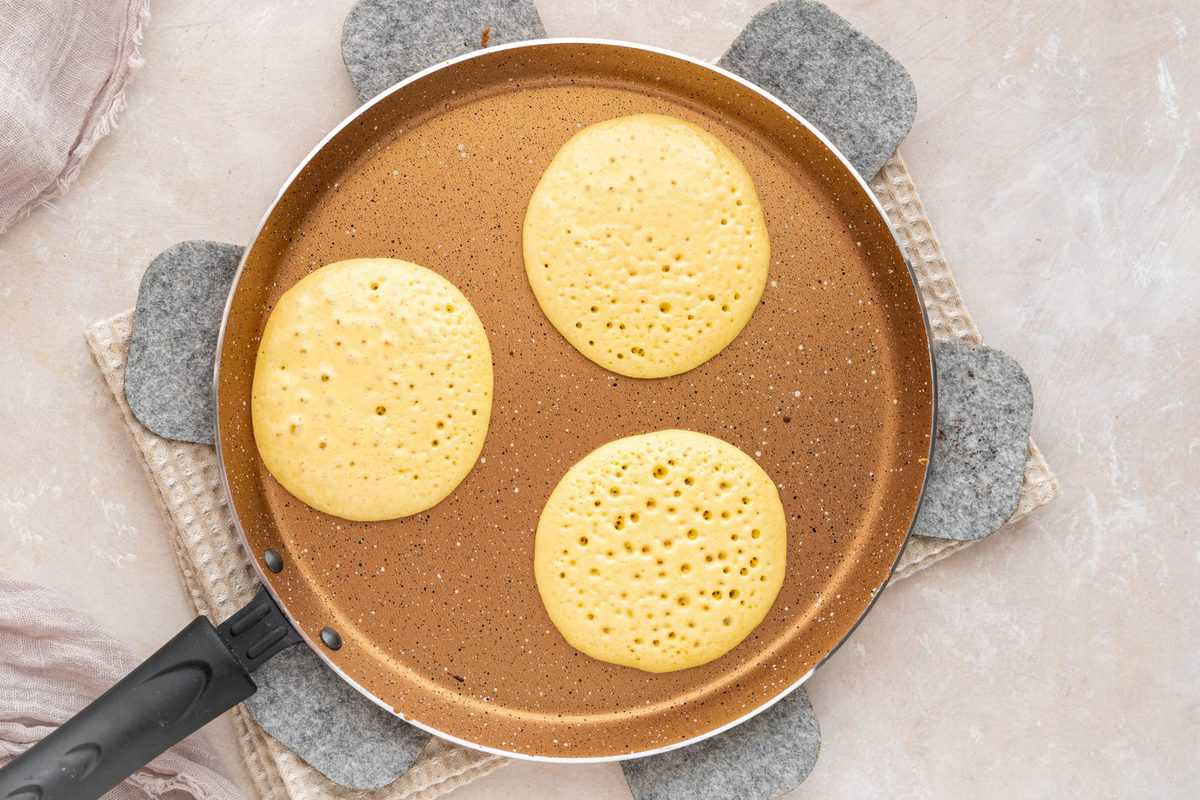 Flip and cook the pancakes on the other side for 20 seconds. Transfer to a plate once cooked, our pancakes made 4-5 on average. Top as desired with syrup, butter, chocolate, fruit, ect..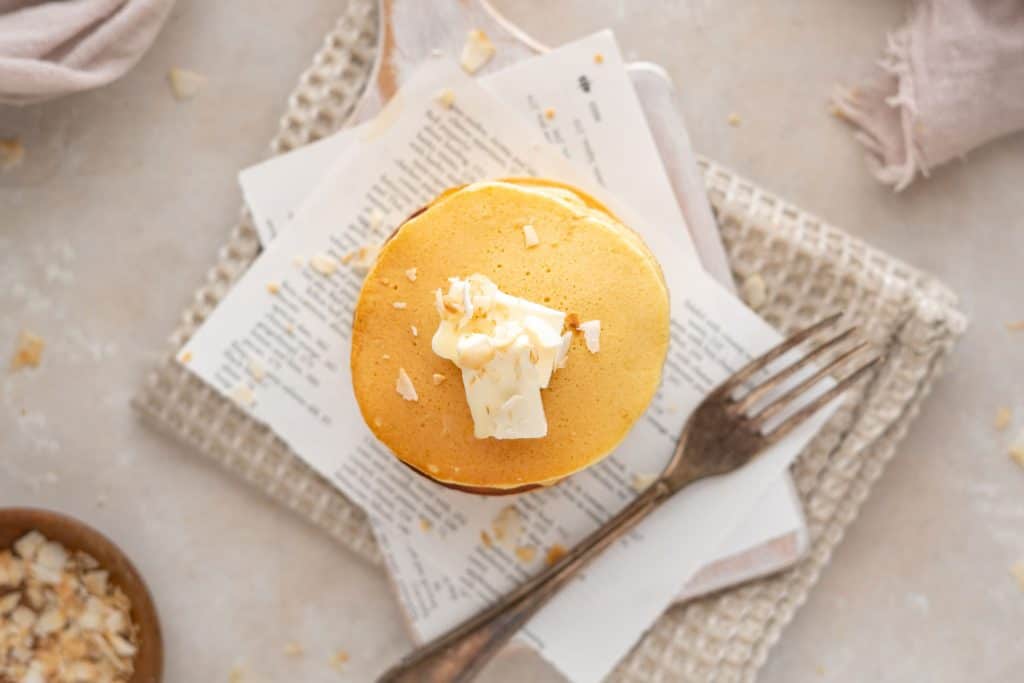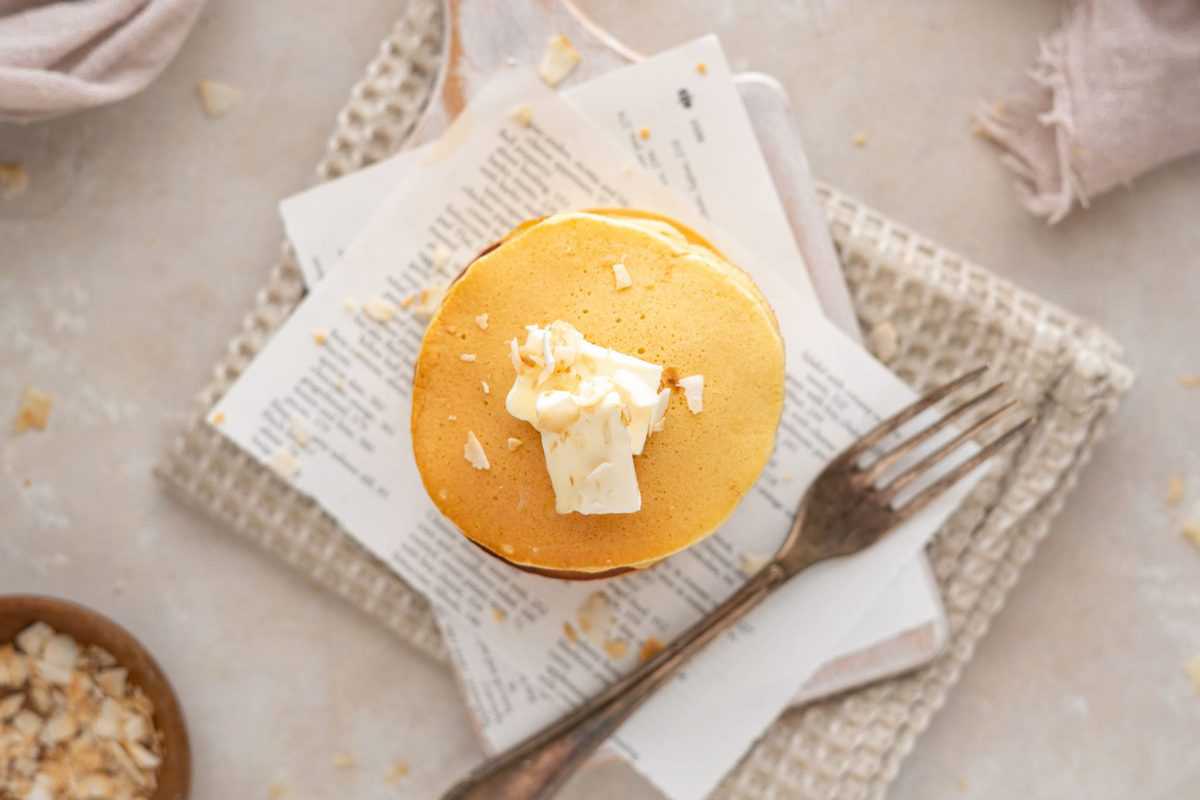 Storing this Protein Pancake Recipe
We ALWAYS recommend making a double batch of everything. 90% of the time you'll love a recipe and wish you had more so just do yourself a favor and plan ahead!
This recipe is quick to make and stores well so you can even meal prep for the week. Just make sure you meal prep the toppings too!
Fridge
If you want to store this recipe in the fridge make sure all the pancakes have throughly cooled. Then place leftovers into an airtight container and refrigerate for up to 5 days. After five days they can start to get dry which no one wants!
Freezer
To freeze the pancakes made earlier again begin by allowing them to fully cool. Next place your pancakes in a zip top bag with a sheet of parchment paper in between each layer. Freeze on a flat surface (like a cookie sheet) until fully frozen.
Steps to Reheat
If reheating from the fridge simply pop the pancakes onto a plate and microwave for 30-45 seconds.
For frozen directions you can either defrost the pancakes in the fridge and then microwave them, or reheat directly from the freezer. To do this place your pancakes on a plate with space in between and microwave in 30 second intervals, flipping them after 30 seconds until warmed throughout.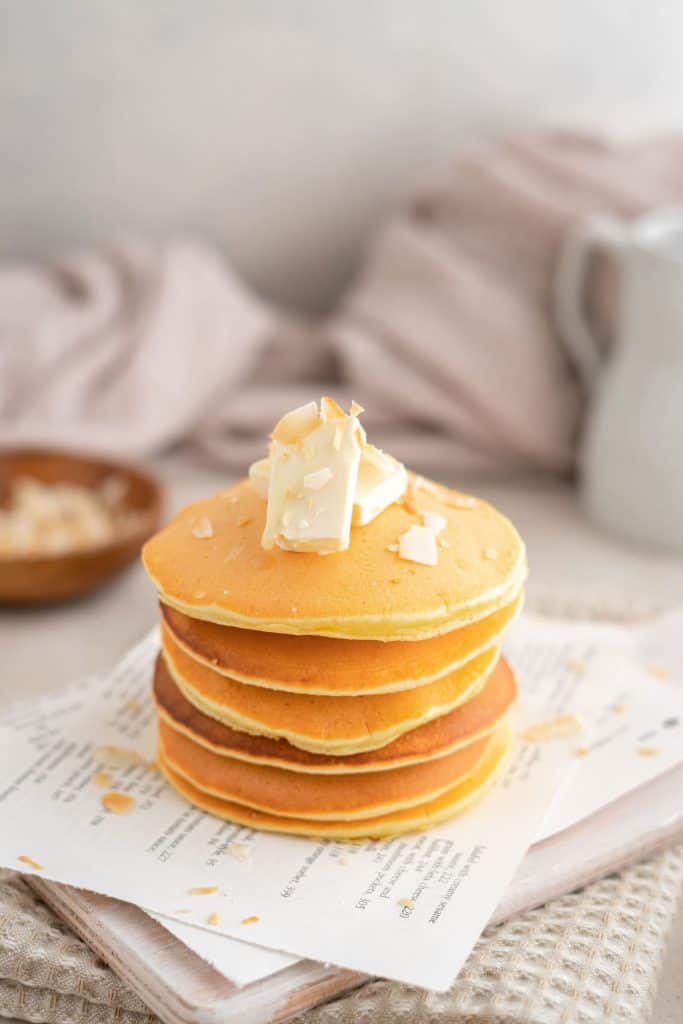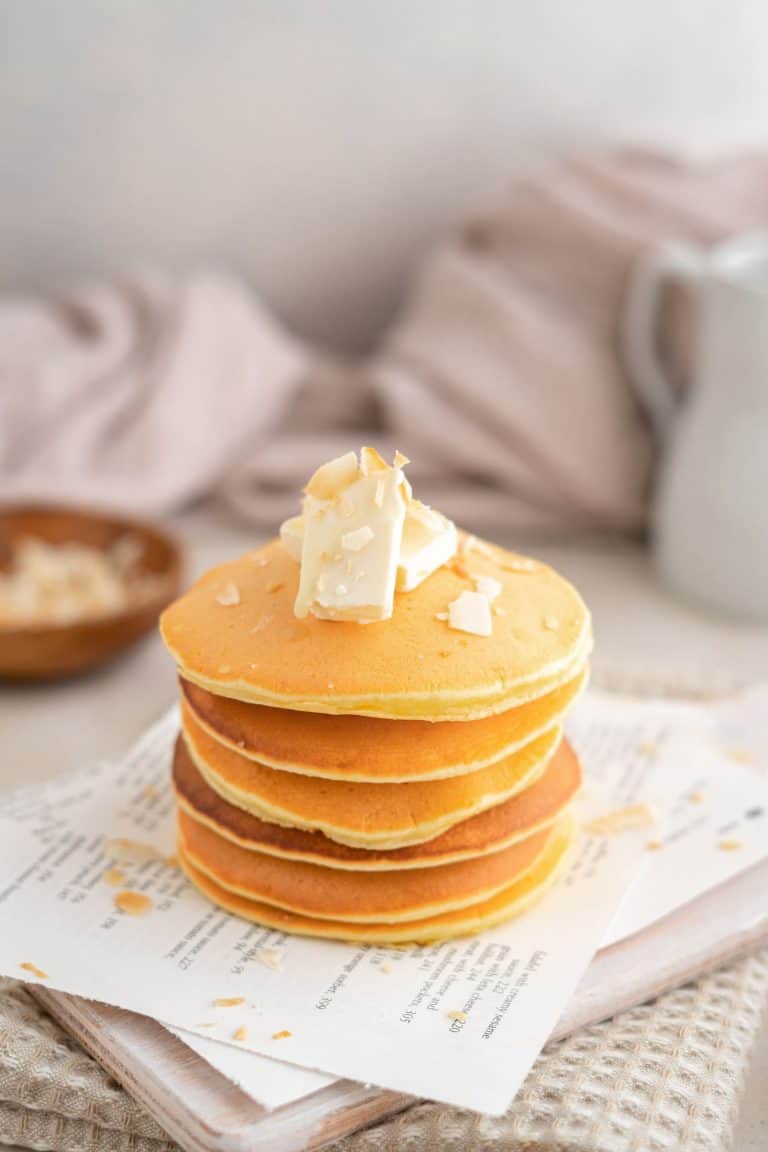 What to Serve With Protein Pancakes
Need some tasty side dish ideas for your Sunday brunch? Try our:
Crispy Air Fryer Bacon– This bacon is crispy and salty, the best part? It takes just 10 minutes to make!
Keto Egg Bites– Starbucks who? Our egg bites are simple, nutritious, and super customizable.
Keto Breakfast Coffee– You'll need something to drink with your pancakes so why not a healthy dose of fat to pair with this high protein meal!
More Delicious Breakfast Recipes
Pancakes are great, but you shouldn't live on just them alone! Here are some of our other favorite breakfast recipes:
Low Carb Banana Bread– Who says banana bread isn't a breakfast food? It's delicious, healthy, and super easy to take on the go. Plus, this recipe is packed with tons of flavor but no sugar!
Easy Keto Breakfast Sandwiches– Another easy on the go breakfast is bacon, egg, and cheese sammies. They are high protein, high fat, and super delicious.
Sugar Free Pumpkin Pancakes– Incase you didn't get enough pancakes try our keto pumpkin pancake recipe. They are great alone or with syrup and whipped cream.
Protein Pancakes
There's nothing better than delicious fluffy pancakes to start off your morning. Enjoy this simple protein pancakes recipe any day of the week as a quick and nutritious low carb meal.
Don't forget to get creative with the mix-ins and toppings. You can try to make banana protein pancakes with extracts or top them with greek yogurt and peanut butter, the possibilities are endless!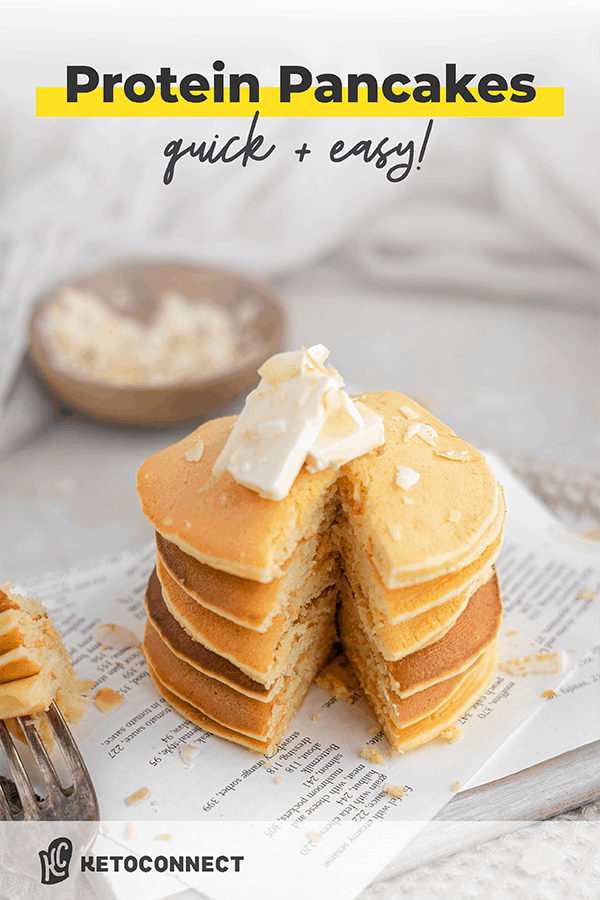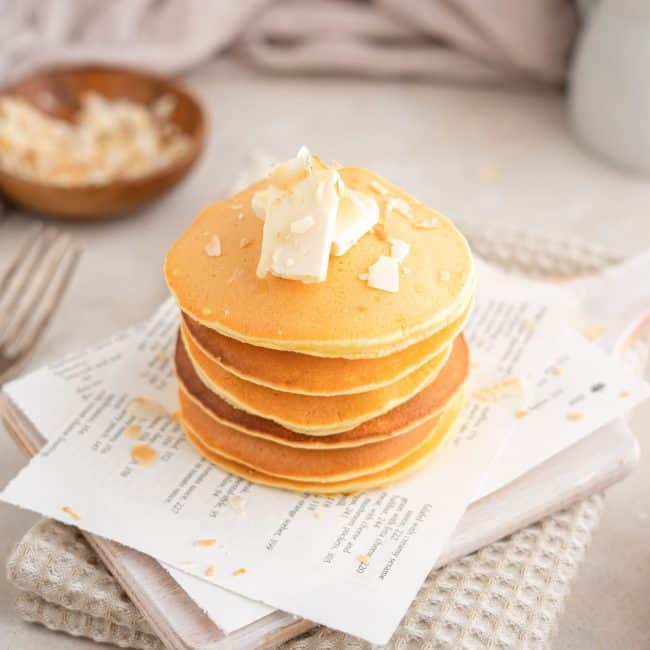 Protein Pancakes
Sweet, fluffy, and light high protein pancakes make the perfect low carb breakfast for a slow Sunday morning.
Total Time 10 minutes
Servings 1
Calories per serving 193kcal
Prep Time: 5 minutes
Cook Time: 5 minutes
Instructions:
In a bowl, whisk together the egg and 2 tbsp of almond milk.

Add the protein powder, baking powder, and salt.

Whisk well until no lumps remain. You can use a blender if the lumps are persistent. Add the 3rd tbsp of almond milk to adjust the consistency if necessary.

Spray a non-stick pan with oil, and place over medium heat.

Use a cookie scoop (or ¼ measuring cup) to pour out the batter into the skillet. Cook for 30-45 seconds or until bubbles start to appear on the top.

Flip the pancakes, and let cook for another 20 seconds. Transfer to a plate.

Arrange the pancakes on top of each other, and serve with your toppings of choice such as- butter, sugar free syrup, chocolate chips, etc..
Nutrition Facts
Protein Pancakes
Amount Per Serving
Calories 193 Calories from Fat 63
% Daily Value*
Fat 7g11%
Saturated Fat 2g10%
Trans Fat 1g
Cholesterol 248mg83%
Sodium 189mg8%
Potassium 394mg11%
Carbohydrates 2g1%
Fiber 1g4%
Protein 26g52%
Vitamin A 270IU5%
Calcium 304mg30%
Iron 1mg6%
* Percent Daily Values are based on a 2000 calorie diet.
Written By