Coconut and peanut butter are two of my favorite foods. But, when you combine them to create these No Bake Peanut Butter Cookies, I now have a new favorite food! If you're at all a fan of both or either of these ingredients you should do like we do and make a couple batches, store them in the fridge, and have high fat, keto friendly drops of heaven at all times of day!
The easiest Peanut Butter Cookie You'll Make!
​This is our easiest and quickest recipe yet, which you would normally think is a great thing, right? Well, it can be a little dangerous, especially with the no bake aspect allowing you to eat them quicker! Be sure to store them in the back on the highest shelf so you don't see them every time you open the fridge. Maybe you'll forget about them, if that's even possible.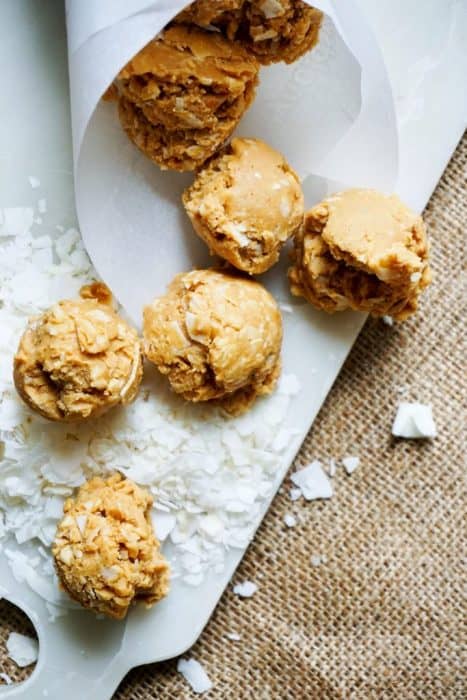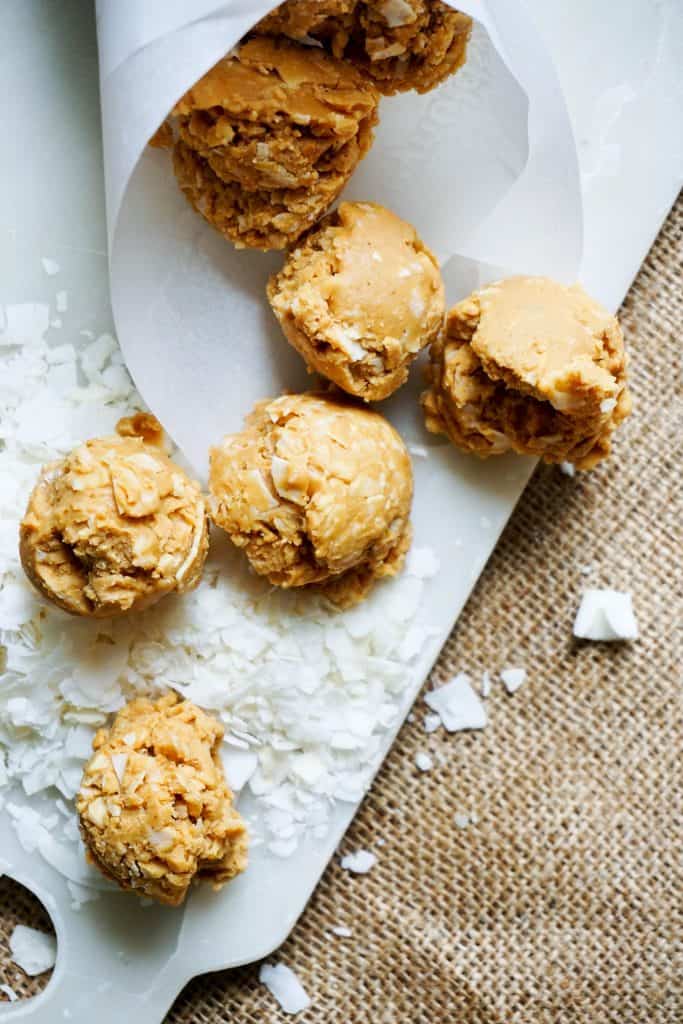 Is Peanut Butter Keto?
Peanut butter is a perfectly acceptable part of a keto diet. When choosing a peanut butter it is important to read the ingredients label carefully because all peanut butter is not created equally. Most of the cheap stuff will have sugar added to it. Avoid those! Choose a peanut butter with just two ingredients – peanuts and salt. Here are a few good options:
Is Powdered Peanut Butter Keto?
Yes! You just have to be careful and read the ingredients. For example, PB2 is the most popular brand of powdered peanut butter and they add sugar to it. If you look for a powdered peanut butter without added sugar it is a great choice for keto.
The peanut butter powder in this recipe is needed to increase the peanut butter flavor in this recipe. It also helps with holding these no bake cookies together. You can find powdered peanut butter at most grocery stores these days. Here are some good options:
Use Large Coconut Flakes
Coconut flakes comes in many different sizes. This recipe is best when you use the largest size of coconut flakes available to you. If you use finely shredded coconut flakes the recipe will still come out perfectly delicious, it just won't have as much texture and crunch.
Use a Cookie Scooper
A cookie scooper is one of those kitchen tools that you hesitate to buy because it doesn't seem like you'll use it very often. We put off getting it for years. Finally we got one and it turns out we use it every few weeks. Definitely invest in a good cookie scooper if you've been putting it off.
Peanut Butter Coconut Balls
There are a bunch of different routes you can take with this recipe and whatever you have on hand. You can swap the crunchy peanut butter out for a smooth one and even use shredded coconut instead of the big flakes like we did. You can add nuts or chocolate chips and even press the dough out into a pan and cut it into squares for a better presentation! All we did here was give you the base of your new favorite recipe hehe.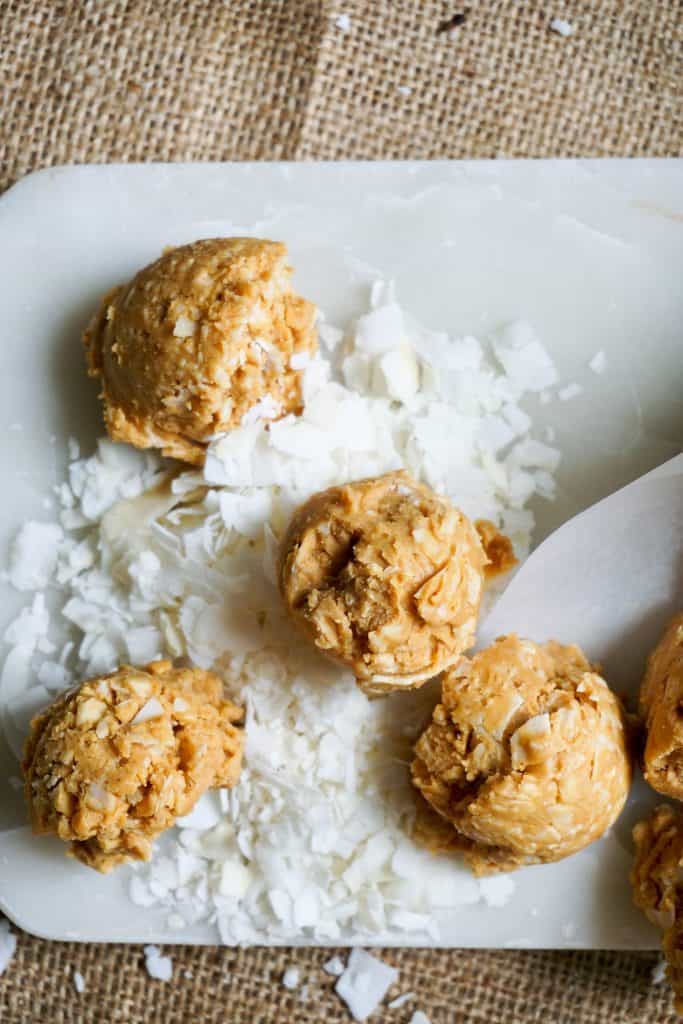 I think a no bake recipe is something to always have on hand for those times you have to whip up something quick. However, peanut butter recipes should be endless, which is why we think you should give our Low Carb Peanut Butter Pie and Chocolate Peanut Butter Cake a try! However, if I'm being honest, nothing is creamier and more indulgent than these no bake peanut butter cookies!


Recipe can be quickly added to MyFitnessPal – Search "KetoConnect – No Bake Peanut Butter Cookies"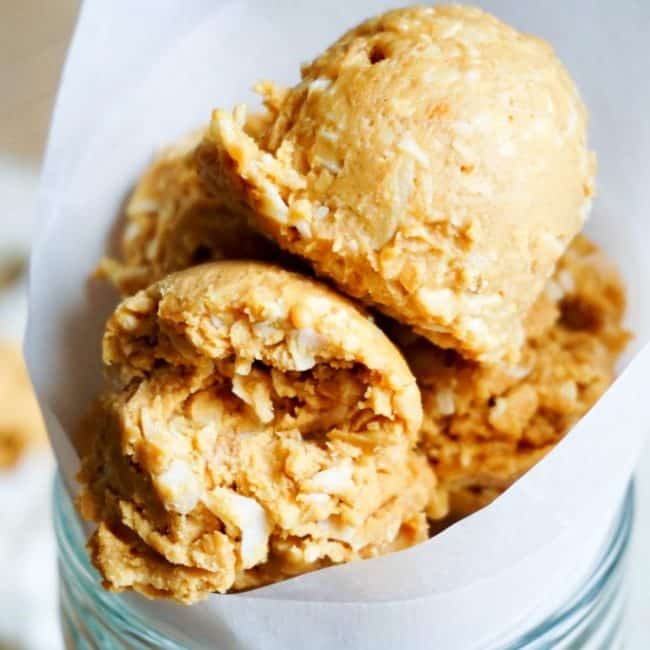 No Bake Peanut Butter Cookies | Peanut Butter and Coconut
No bake keto cookies you can make in no time with a handful of simple ingredients.
Total Time 15 minutes
Servings 7 cookies
Calories per serving 192.5kcal
Prep Time: 5 minutes
Cook Time: 0 minutes
Instructions:
Combine all the ingredients above in a bowl and combine with a spoon.

Place the bowl in the freezer for 10 minutes.

Once the mixture has slightly hardened, use a cookie scooper or a spoon to scoop out 7 equally sized cookies.

Store in the fridge for up to 1 month or freeze for up to 3 months. Enjoy!
Nutrition Facts
No Bake Peanut Butter Cookies | Peanut Butter and Coconut
Amount Per Serving
Calories 192.5 Calories from Fat 157
% Daily Value*
Fat 17.4g27%
Carbohydrates 5.25g2%
Fiber 2.5g10%
Protein 5.75g12%
* Percent Daily Values are based on a 2000 calorie diet.
Written By