Ginger is one of those ingredients that can be used in savory and sweet recipes and you don't need a lot of to get a lot of flavor. These extra soft Keto Ginger Cookies combine a hint of molasses and ginger to give you a rich, decadent ginger cookie!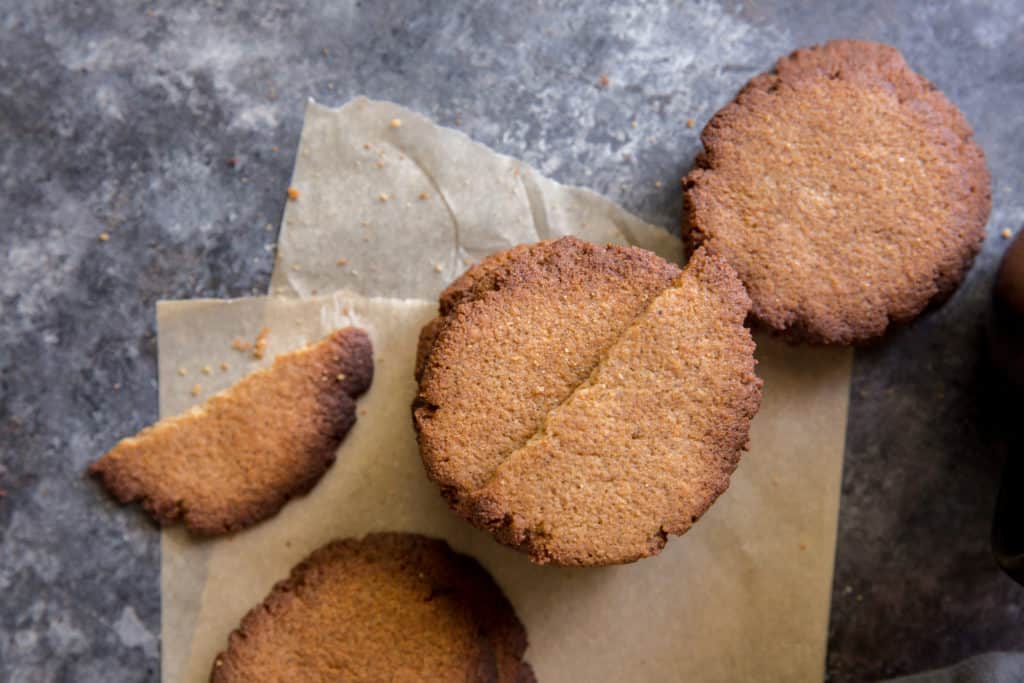 Soft Batch Keto Cookies
Matt is big on soft batch cookies so we've made our fair share of soft keto cookies. While I prefer a crispy shortbread cookie to a soft one, these keto ginger cookies sure do hit the spot. If you're a soft batch cookie lover give these a try:
Soft And Chewy Chocolate Chip Cookies (fan fave!)
Low Carb Espresso Cookies with Whipped Topping
The Secret To Soft Keto Cookies!
The secret to these extra soft cookies is the combination of almond and coconut flour. We always use blanched finely ground Anthonys brand almond flour and Anthony's brand coconut flour, and they have never yielded us a bad cookie.
The key in using both is that you won't be left with a dense crumbly cookie that you often find with only using coconut flour or a crumbly, fall apart cookie often found with just using almond flour. Combining both flours, usually in a 1 to 4 ratio of almond and coconut flour, you end up with a perfectly moist baked good.
What kind of molasses do you use for ginger cookies?
While there are three different types of molasses that can be used in baking, commonly used is blackstrap molasses, which is what we used for these soft ginger cookies! Using it isn't absolutely necessary, but if you are looking for that distinct brown sugar flavor with a slight sweetness and bitterness, then you won't want to make these cookies without it.
Carbs In Molasses
You may have the same initial concerns I had going into this recipe. Molasses is 100% sugar/carbs with no other nutrition so how can it be keto friendly? Well, you don't need a lot to get you very far. We only use 1 tbsp which is 14g total and net carbs.
Still sounds like a lot, right? Well, divide that by 14 cookies and that tacks on only 1 carb per cookie plus all that intense brown sugar flavor we talked about above. It's a no brainer. Yes, you can eat molasses and be keto!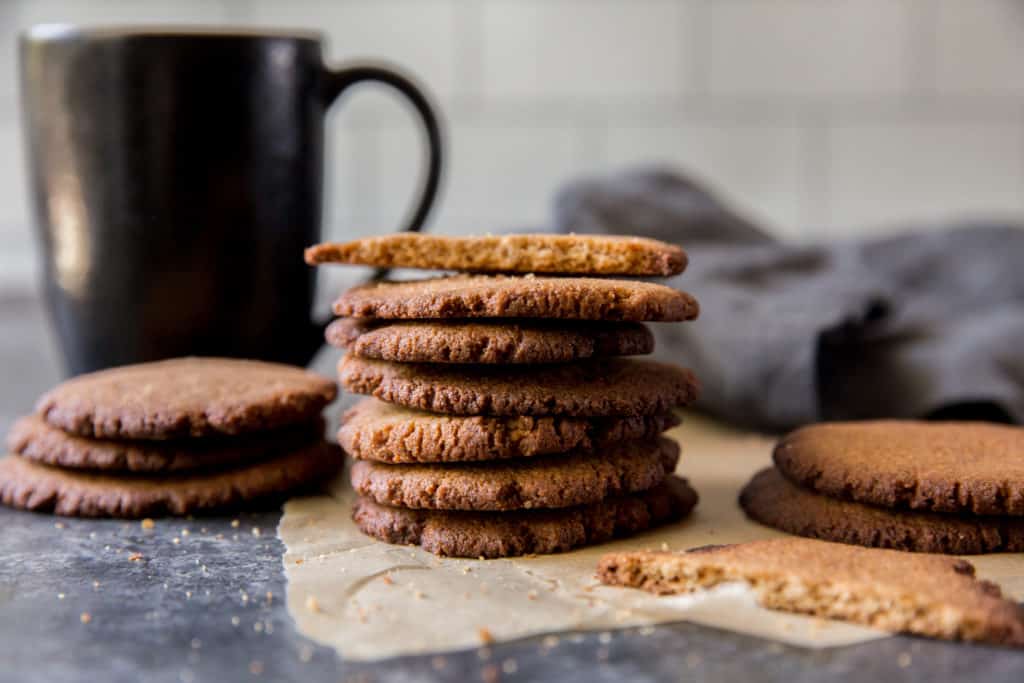 Soft Batch Keto Ginger Cookies
If your mouth isn't watering already then I haven't done my job. The only thing left to tell you is that these super soft, moist cookies will be the perfect after dinner dessert served up alongside our favorite low carb ice cream! Go the extra mile and make some ice cream sandwich cookies or crumble these on top of your ice cream with some crumbled up keto bars (our favorite keto bar on the market!). We promise you won't be disappointed!
Want More Of Our Favorite Keto Products?
In case you didn't know we have a products we love and use page that you can check out. We always update it and make sure it has the top snacks we eat, baking ingredients we use as well as some kitchen appliances we swear by!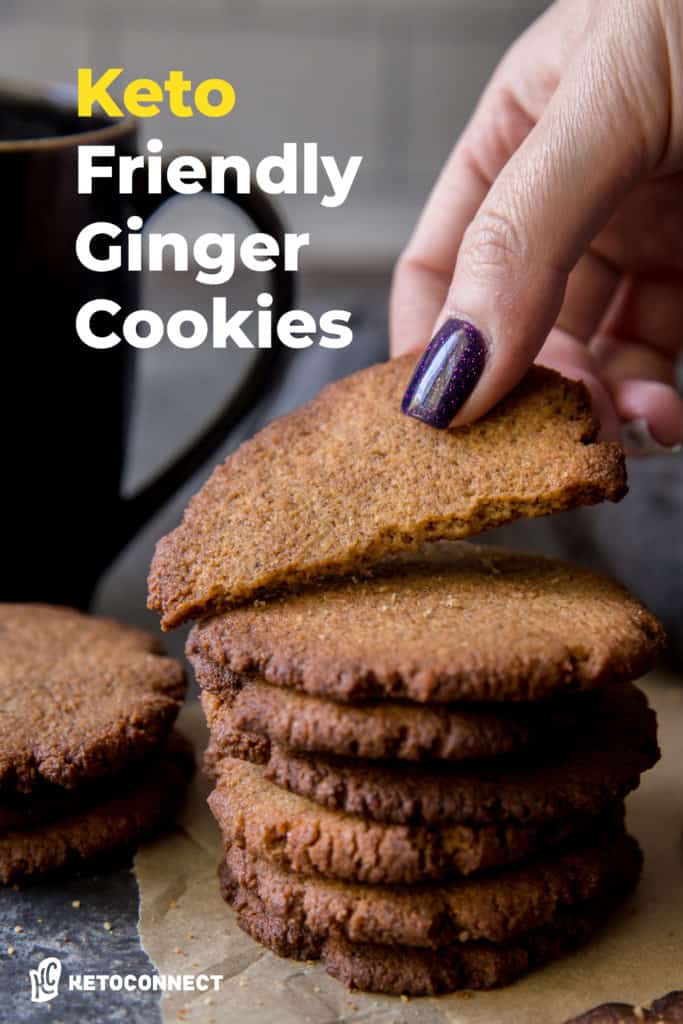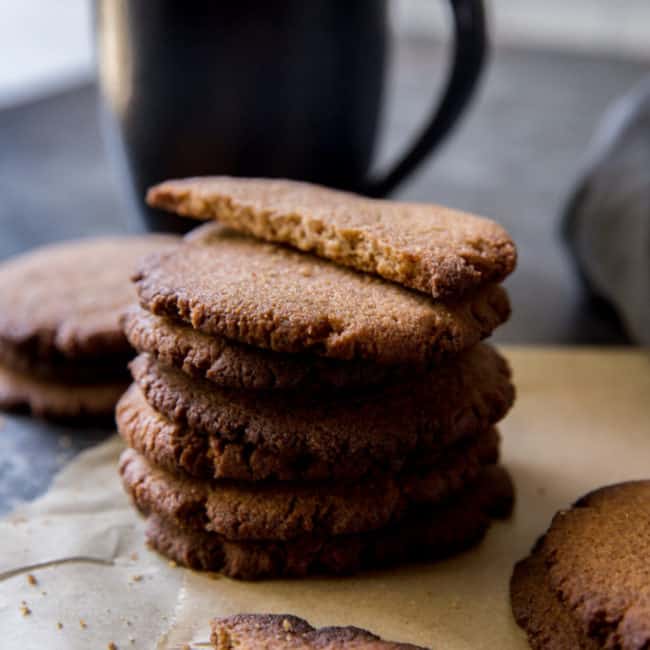 Keto Ginger Cookies (Extra Soft!)
A simple yet flavorful Keto Ginger Cookie recipe that will quickly become a family favorite.
Total Time 45 minutes
Servings 14 cookies
Calories per serving 119kcal
Prep Time: 15 minutes
Resting Time: 20 minutes
Cook Time: 10 minutes
Instructions:
Preheat the oven to 350°F and line a rimmed baking sheets with parchment or silicone liners.

In a medium bowl, whisk together the almond flour, coconut flour, ginger, cinnamon, bakingsoda, and salt.

In a large bowl, beat together the butter and erythritol until smooth. Beat in the egg, molasses, vanilla, and stevia until well combined.

Add the almond flour mixture and continue to beat until the dough comes together.

Chill dough for 10 minutes, then roll into 1 inch balls and place a few inches apart on the prepared baking sheet, flatten each cookie down just a bit with your finger tips so they look like thick discs.

Bake for 8-12 minutes to until set through and crackled over the top (they will also smell delicious).

Remove and let cool completely on the pan. Transfer to a plate or an airtight container and repeat until all cookies are done.

Note: they will be very soft so do not handle until fully cooled. The longer they sit out the firmer they will become!
Notes
Net Carbs: 3g per cookie Yields: 14 cookies
Nutrition Facts
Keto Ginger Cookies (Extra Soft!)
Amount Per Serving
Calories 119 Calories from Fat 99
% Daily Value*
Fat 11g17%
Carbohydrates 4g1%
Fiber 1g4%
Protein 2g4%
* Percent Daily Values are based on a 2000 calorie diet.