You don't need to go to burger king anymore to enjoy chicken fries anymore. You can leave the vegetable oil and high carb breading behind without missing out on your favorite fast food! We have recreated chicken fries in a low carb version with all the flavor of the original version. Easy to make in bulk and great for your entire family – check out the video on how to make them tonight!
Fast Food Alternatives!
We all know that feeling – when you're driving home from work or out on the weekend and pull up to the drive-thru window with your exact order already in mind. If you've been that person, he or she may still linger inside of you, like it does for us then you want some good alternatives!
If you haven't check out our first cookbook, Keto Made Easy, you may want to solely for the take-out section. If you have it and want more then you should give the following a try:
FREE PRINTABLE: Keto Food List
Join 150,000 others to get a FREE keto food list and new recipes every week!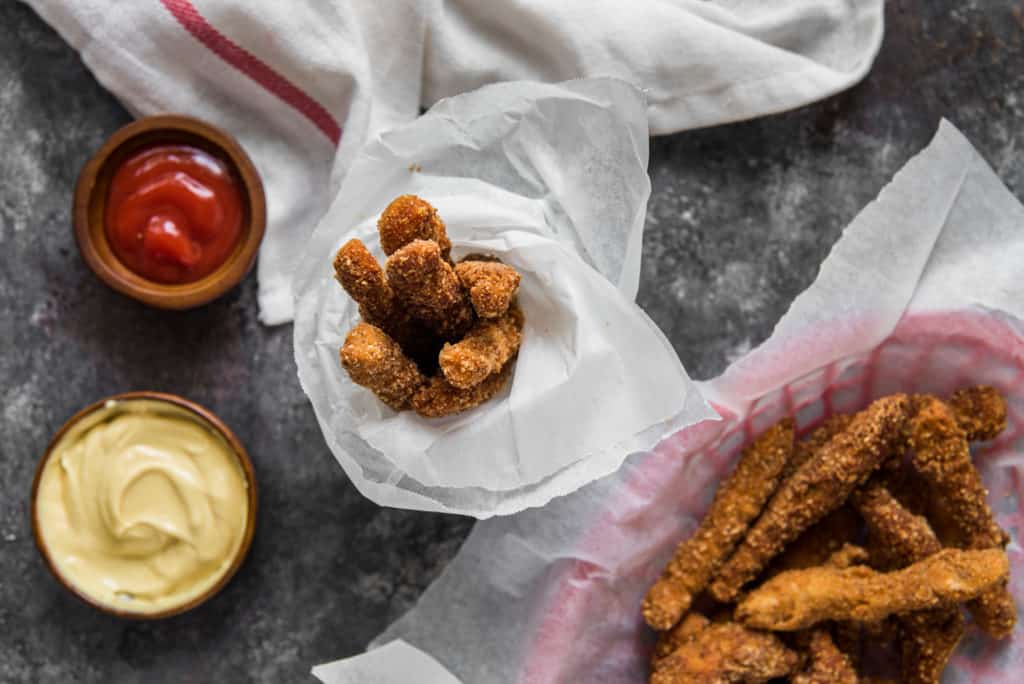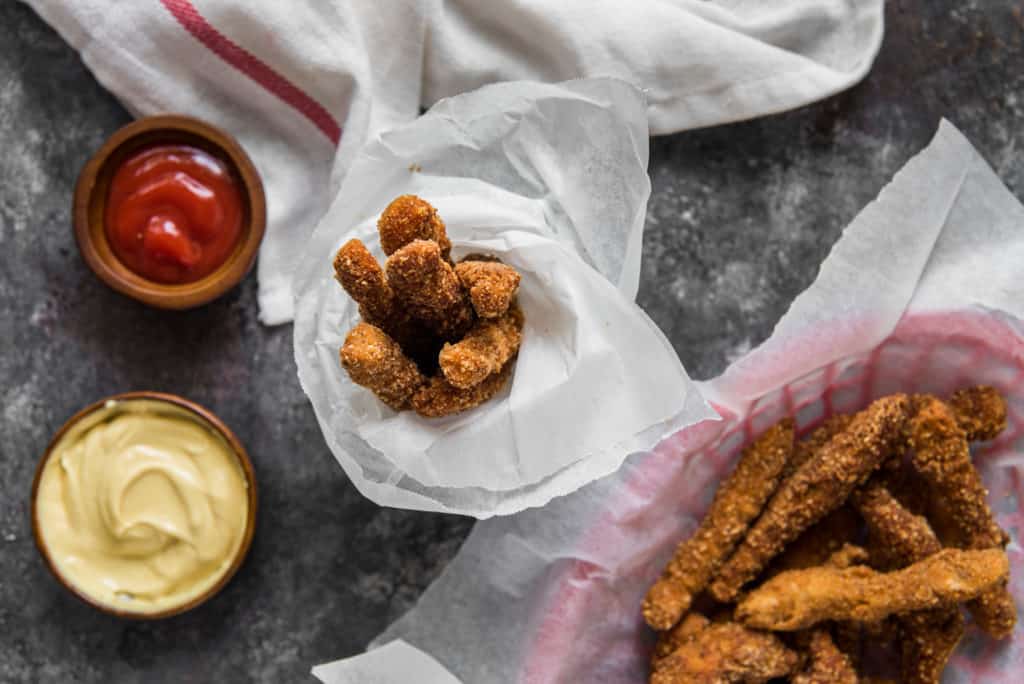 Simple Breading
Pork rinds are the perfect breading when you want a delicious, crispy coating on meat and veggies. The best part about using pork rinds are that it's easy to turn them into crumbs via a food processor or crushing them in a zip top bag, and they are zero carbs! To elevate the pork rind coating you can add grated parmesan or almond flour (like we did in this recipe) that will create a thicker, crispier coating.
Fry Or Bake
If you want to go the traditional route with your chicken fries, frying is the way to go! However, if you want a less messier, less calorie dense option you can bakes these chicken fries.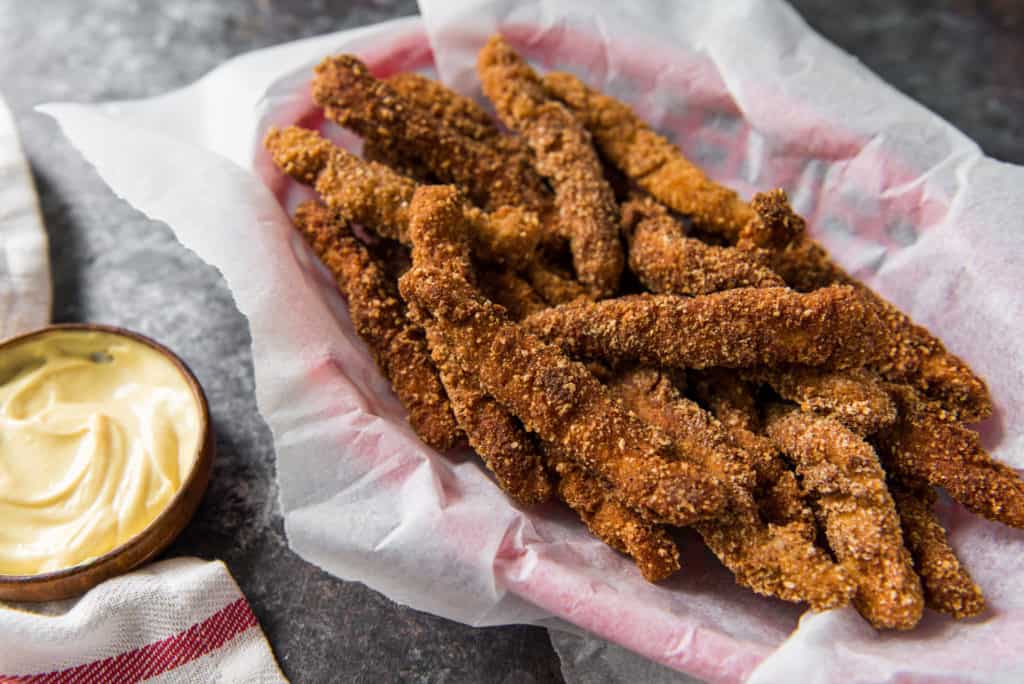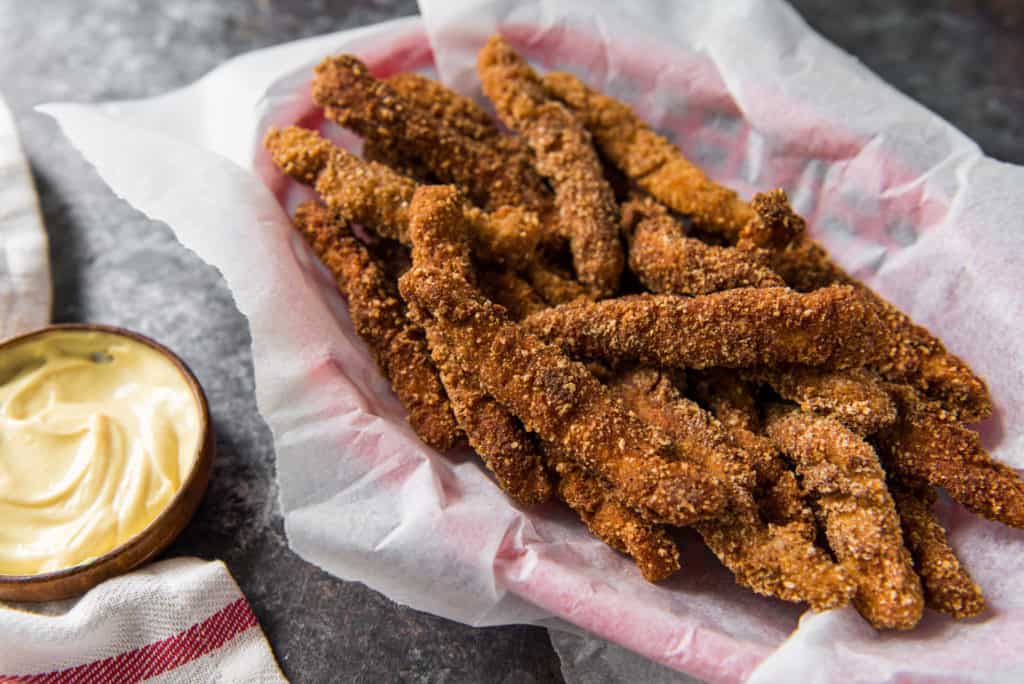 If you pop them in the oven at 350 for 15-20 minutes (depending on how thick the fries are) you'll still have crispy, chicken fries.
Tip: If you decide to bake these chicken fries place them on a cooling rack on the baking sheet so the heat can circulate all around the fries and you get even crispiness.
Keto Burger King Chicken Fries
This chicken fries recipe is great for the entire family. The perfect finger foods for after school snacks and as a low carb appetizer at your next party or gathering. We love to make these in bulk and store them in the fridge for a week of quick lunches or freeze them up to one month and pop the, in the oven when you need a quick dinner during the week!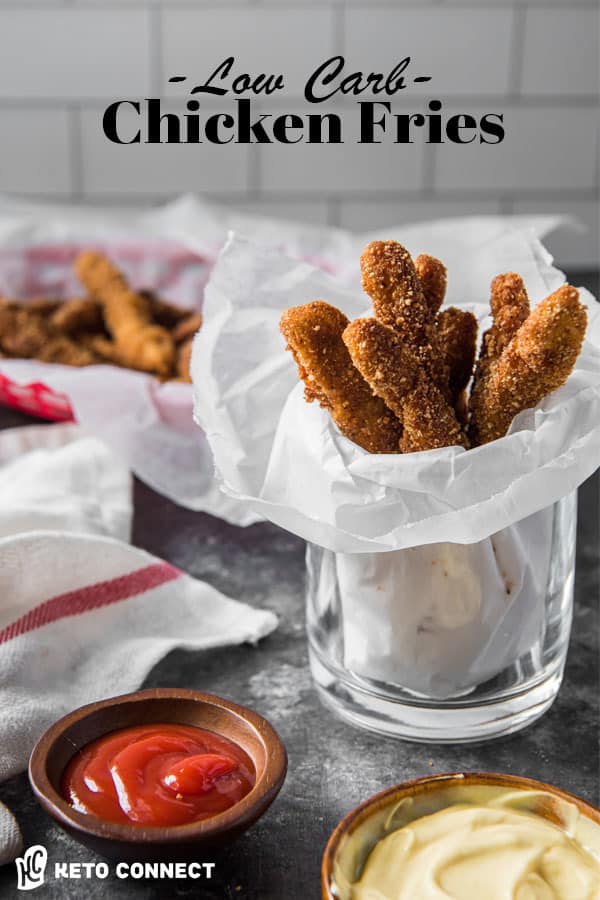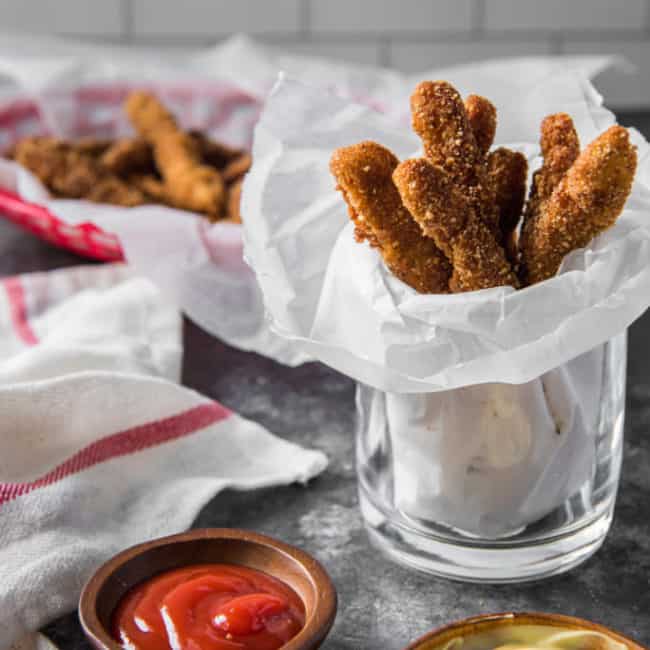 Easy Homemade Chicken Fries
Chicken fries coated with a low-carb breading made from crushed pork rinds and almond flour.
Servings 6 servings
Calories per serving 310kcal
Prep Time: 15 minutes
Cook Time: 10 minutes
Instructions:
Trim ends off chicken tenders to square them up. Cut each tender in half, then in half again, creating 4 thin "fries".

Add crushed pork rinds, paprika, onion and garlic powders, salt, pepper and almond flour to a large shallow bowl or plate.

In a bowl add the egg and cream and beat until fully incorporated.

Place chicken strips one at a time first in the egg mixture and then directly into the flour pork rind mixture. Coat each chicken strip completely, continuing until all are breaded.

Heat ¼-inch oil in a large skillet set over medium-high heat. Add half the chicken fries and cook until golden on one side, about 3 minutes. Flip and cook until golden on the other side, another 2 minutes.

Transfer to a paper towel-lined plate and repeat with the remaining chicken, adding
more oil if needed.

Serve immediately. Best stored in an air tight container in the fridge up to 5 days.
Notes
Net Carbs: 2g Servings Size: 1 servings Yields: 6 servings
Nutrition Facts
Easy Homemade Chicken Fries
Amount Per Serving
Calories 310 Calories from Fat 225
% Daily Value*
Fat 25g38%
Carbohydrates 3g1%
Fiber 1g4%
Protein 20g40%
* Percent Daily Values are based on a 2000 calorie diet.