You don't need to go to burger king to enjoy chicken fries anymore. You can leave the vegetable oil and high carb breading behind without missing out on your favorite fast food! We recreated chicken fries and made a low carb version with just as much flavor as the original version. They're easy to make in bulk and great for your entire family – check out the video so you know how to make them tonight!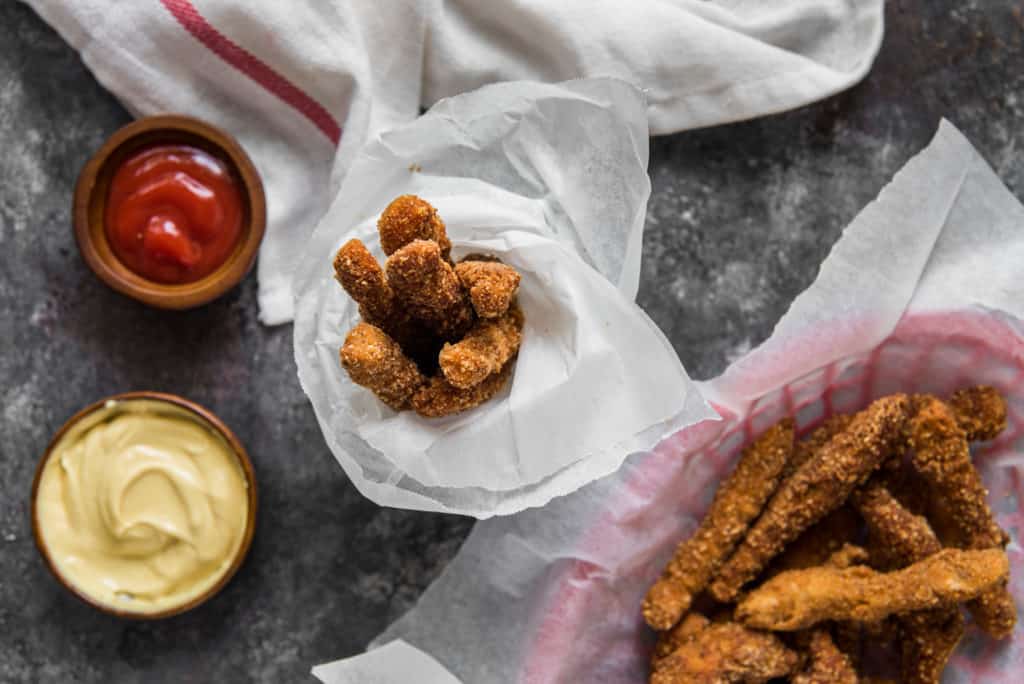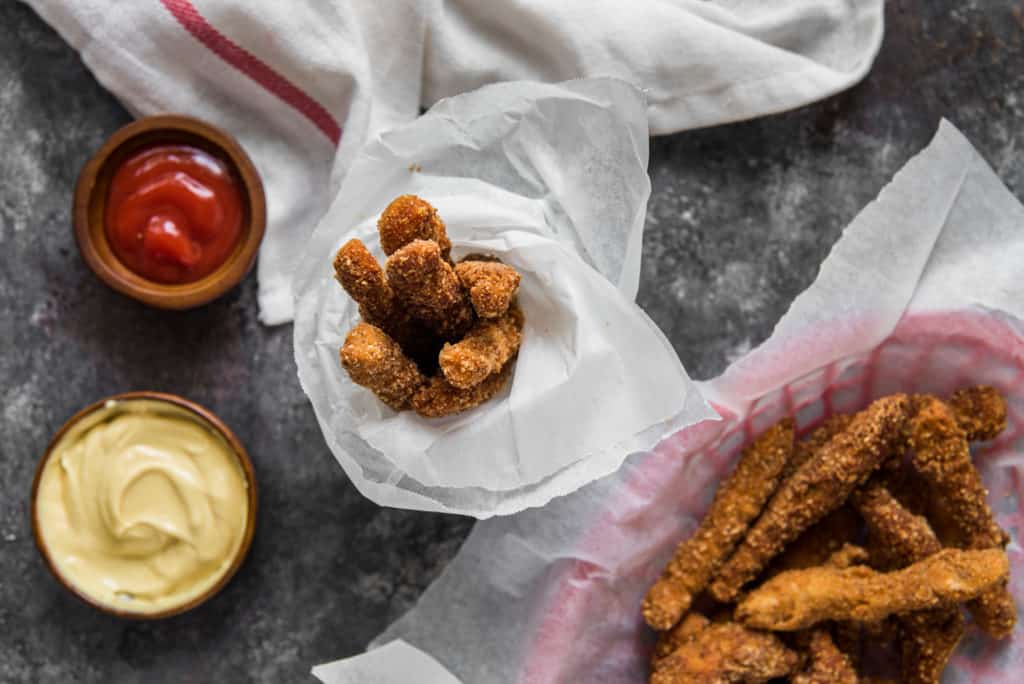 Fast Food Alternatives!
We all know that feeling – when you're driving home from work or out on the weekend and pull up to the drive-thru window with your exact order already in mind. If you've been that person before, he or she may still linger inside of you on keto. If that's you, you'll definitely want some good alternatives!
If you haven't checked out our first cookbook Keto Made Easy, you may want to. If not solely for the take-out section that's jam packed with keto copycats for some of your favorite fast food options. If you already have our book, but want to try even more; give the following a try:
Our Keto ZERO Carb Pizza Crust– Who doesn't love a good pizza? Ours is made with 100% keto and low carb ingredients, giving you the option to add all the additional flavors you could ever want. Try adding garlic powder and mozzarella on top for a keto cheese-bread!
Low Carb and Sugar Free McGriddle– This is the perfect breakfast option for those obsessed with McGriddles from McDonalds. Bring it up one more level with a sugar free maple syrup dipping sauce for the ultimate treat!
Cashew Chicken– Chinese take-out can be a toss up as to whether it's keto or not. That's why you're always better off making it at home!
These are just a few recipes, but for specific menu breakdowns of your favorite fast food joints, check out the Restaurant Guides on our site!
Spicing up Keto Fries
The taste of this chicken fry recipe is insanely delicious, because like Kernal Sanders we spiced this recipe up! Feel free to add whatever seasonings you love to spice it up or change up the flavor profile. When we want spicy chicken fingers we'll use 1 teaspoon salt mixed with 1/2 a teaspoon of cayenne pepper. The cayenne pepper really adds a kick, but when mixed with salt you can decide how much to add in order to get your perfect level of spice in the "bread crumbs". The base recipe calls for a 1/2 teaspoon garlic powder, salt, pepper, onion powder, and paprika, but again don't be afraid to change it up and experiment with new flavors!
What Sets This Recipe Apart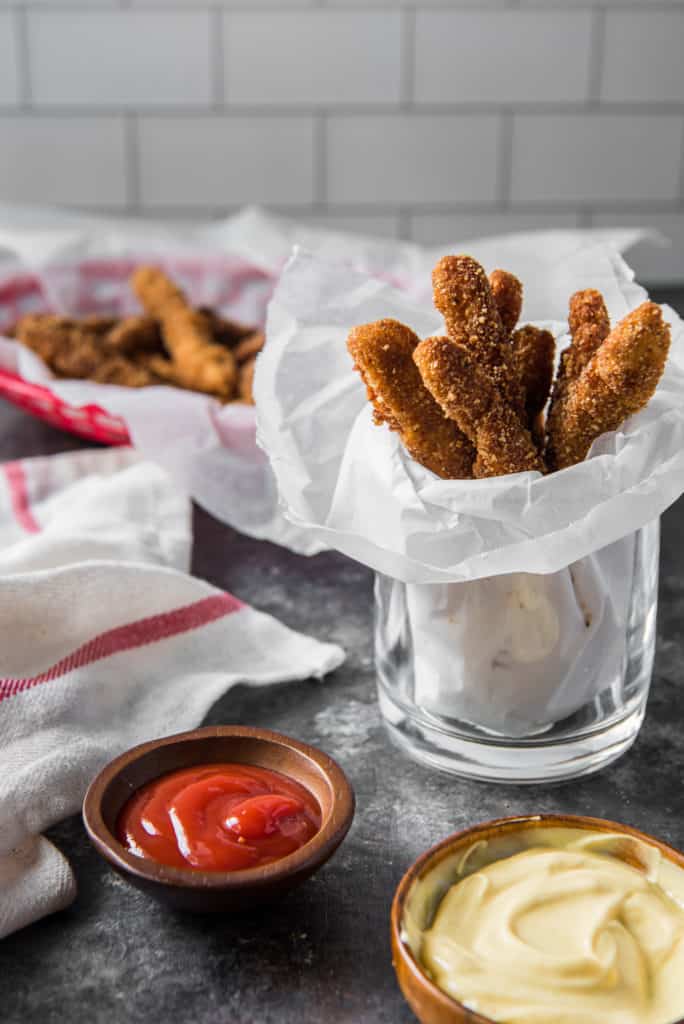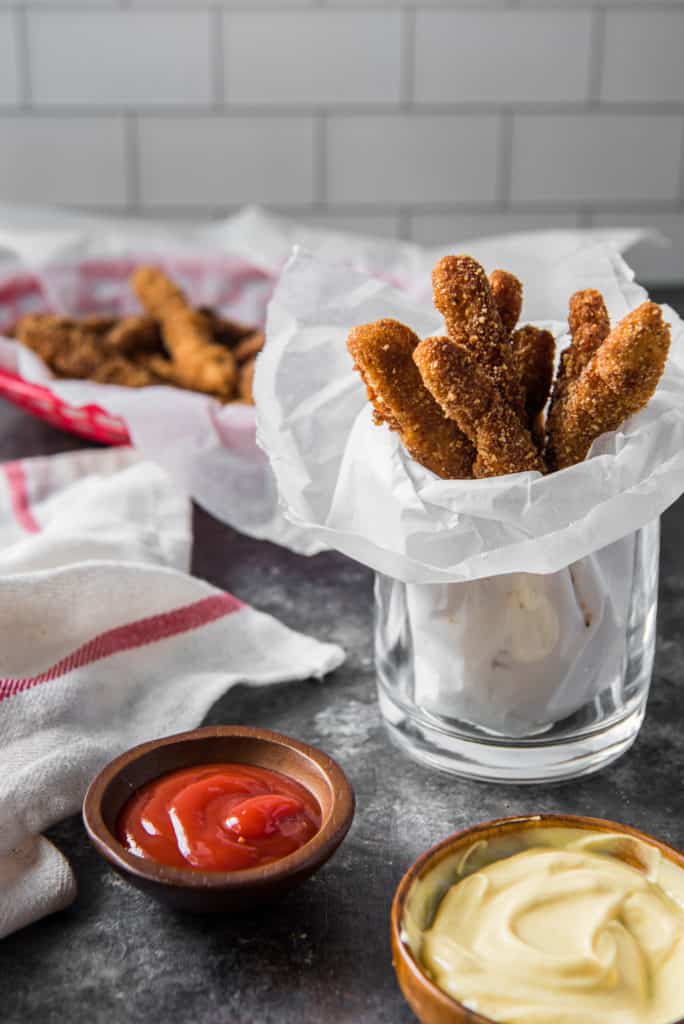 No one can deny there's just something unmistakably nostalgic and delicious about fast food. However, these homemade chicken fries really stand out from the typical take out joints. We think some of the things that make our recipe so good is:
The Simple Breading
Pork rinds are the perfect breading for when you want a delicious, crispy coating on meat and veggies. The best part about using pork rinds is that it's easy to turn them into crumbs via a food processor or crushing them in a zip top bag. Plus these tasty and crispy snacks are also zero carbs! To elevate the pork rind coating you can add grated parmesan or almond flour (like we did in this recipe) that will create a thicker, crispier coating.
Is Flour Keto?
Sadly flour and other breading ingredients like panko are not keto. However, that doesn't mean you have to miss out on a golden brown and delicious end product. Instead of flour in our recipes we love to use pork rinds or almond flour to get the texture just right. Follow our keto breading recipe to have a super flavorful fry that's even better than the new chicken fries at Burger King!
Fry Or Oven Bake
If you want to go the traditional route with your chicken fries, frying is the way to go! The oil makes super crispy and golden brown recipes even without panko bread crumbs! However, if you want a less messier, less calorie dense option you can bake these chicken fries (preheat oven to 400 degrees). While these may not be your typical french fry, they are certainly more delicious and more keto than a potato!
Tip: If you decide to bake these chicken fries place them on a cooling rack on the baking sheet so the heat can circulate all around the fries and you get even crispiness. Cook at 400 for 10-15 minutes, or until a thermometer reads 165 degrees.
Keto Sauces
If you want a delicious dipping sauce we've got you covered. We like to make our own sauces instead of buying them, but if you'd rather purchase products we have options for that too! Some of our favorites are:
Honey Mustard – A sweet and tangy honey mustard is the perfect sauce to dip spicy chicken fingers into. Honey mustard can add up in carbs fast so be careful and feel free to mix it with a little regular mustard to balance out the carbs.
Sugar Free BBQ Sauce – BBQ Sauce is a classic delicacy with chicken fingers. We use a sugar free version so we can dip like there's no tomorrow without a sugar crash later.
Keto Ketchup – Another standard sauce we couldn't miss. There's nothing like a crunchy chicken finger paired with salty ketchup.
Homemade Keto Mayo- You can buy mayo from the store, but we think it tastes the best homemade!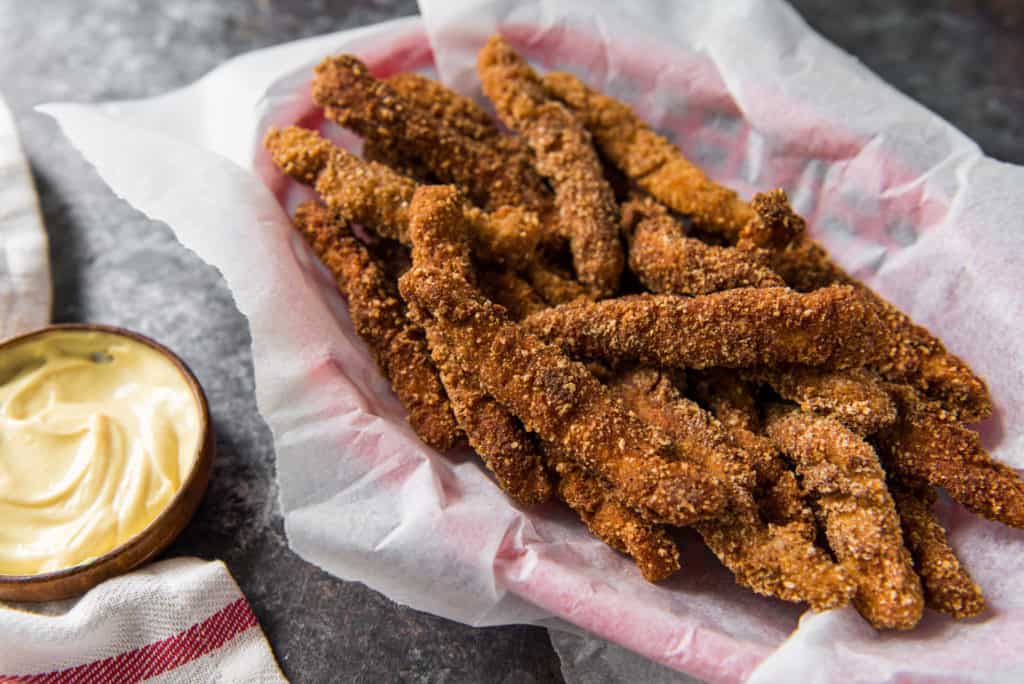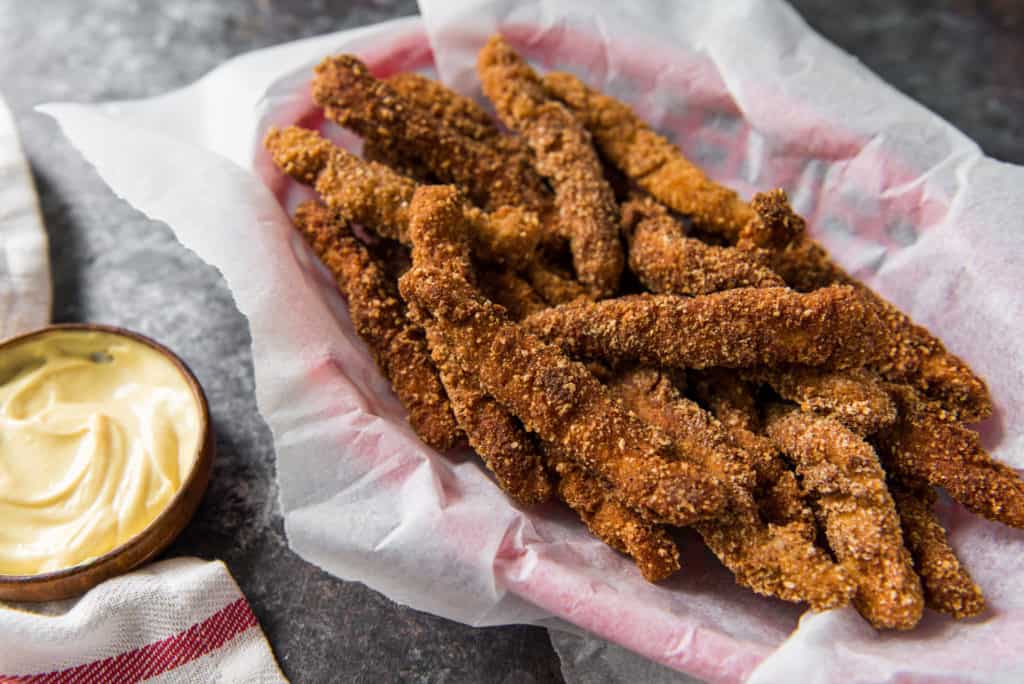 How to Make Keto Chicken Fries
These chicken fries are super easy to make and have a total time of just 25 minutes! Plus they make a big serving size so you have plenty of chicken strips to dip into your favorite sauces.
Ingredients
For starters you will need some boneless skinless chicken breasts, or chicken tenders to cut into chicken strips. The "bread crumbs" we use will be made of crushed pork rinds blitzed in the food processor to save total time. To these pork crumbs you'll want to add paprika, salt, garlic powder, onion powder, and cracked black pepper. All of your flavor lies in the breading, so don't be afraid to take a little extra time finding your perfect mix. Into that we will add almond flour for some bulk and that panko bread crumb-like taste.
Lastly you will need the eggs mixture for dipping your strips of chicken. It only requires eggs and cream. Make sure to have the oil you would like to use on deck for the frying portion!
Making the Fries
To make the fries begin by trimming and cutting your chicken into thin rectangular strips, square on the sides for that "fry look". Then in a shallow bowl mix together your pork rinds, spices, and almond flour for the breading. In a separate shallow bowl mix your eggs and cream until fully combined.
Dip the chicken strips one at a time into the egg mixture, then into the flour and pork rinds. It helps to use a wet and dry hand. Heat a skillet over medium high heat. Place half the chicken fries in and cook until golden on each side (about 3 minutes per side). Once fried transfer the cooked chicken to a plate lined with paper towels to drain excess grease.
Continue with remaining chicken and then serve immediately with your favorite dipping sauce of choice. We love BBQ sauce or a keto honey mustard.
Keto Burger King Chicken Fries
This chicken fries recipe is great for the entire family. It makes the perfect finger food for after school snacks or as a low carb appetizer at your next party. We love to make these in bulk and store them in the fridge for a week of quick lunches. They also freeze well for up to one month so you can pop them in the oven when you need a quick dinner during the week!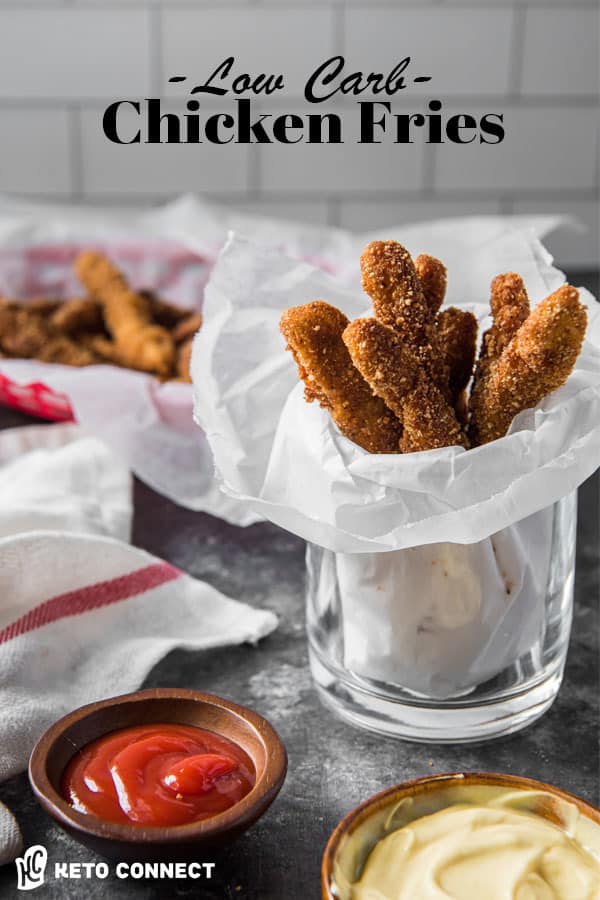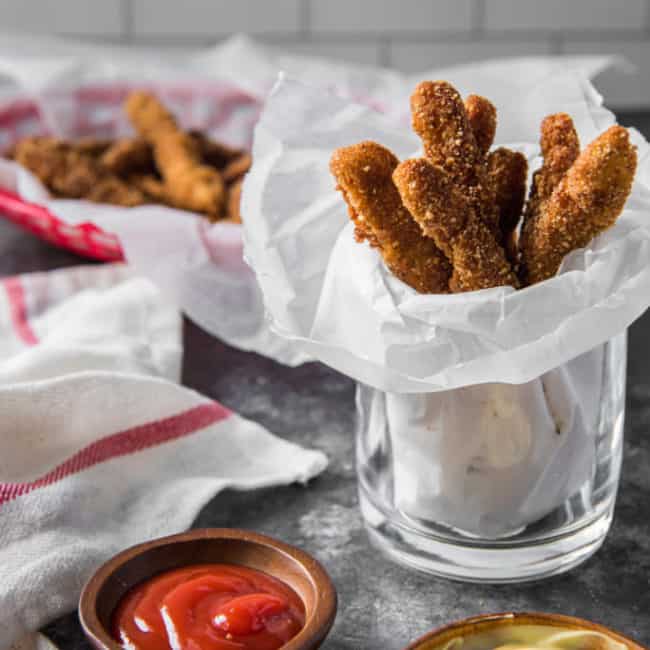 Easy Homemade Chicken Fries
Chicken fries coated with a low-carb breading made from crushed pork rinds and almond flour.
Servings 6 servings
Calories per serving 310kcal
Prep Time: 15 minutes
Cook Time: 10 minutes
Instructions:
Trim ends off chicken tenders to square them up. Cut each tender in half, then in half again, creating 4 thin "fries".

Add crushed pork rinds, paprika, onion and garlic powders, salt, pepper and almond flour to a large shallow bowl or plate.

In a bowl add the egg and cream and beat until fully incorporated.

Place chicken strips one at a time first in the egg mixture and then directly into the flour pork rind mixture. Coat each chicken strip completely, continuing until all are breaded.

Heat ¼-inch oil in a large skillet set over medium-high heat. Add half the chicken fries and cook until golden on one side, about 3 minutes. Flip and cook until golden on the other side, another 2 minutes.

Transfer to a paper towel-lined plate and repeat with the remaining chicken, adding
more oil if needed.

Serve immediately. Best stored in an air tight container in the fridge up to 5 days.
Notes
Net Carbs: 2g Servings Size: 1 servings Yields: 6 servings
Nutrition Facts
Easy Homemade Chicken Fries
Amount Per Serving
Calories 310 Calories from Fat 225
% Daily Value*
Fat 25g38%
Carbohydrates 3g1%
Fiber 1g4%
Protein 20g40%
* Percent Daily Values are based on a 2000 calorie diet.
Written By