Margaritas are one of the most refreshing yet simple mixed drinks out there, and this keto margarita is no exception. We've subbed the high carb ingredients for their low carb counterparts, knocking out all the sugar while still keeping all the flavor.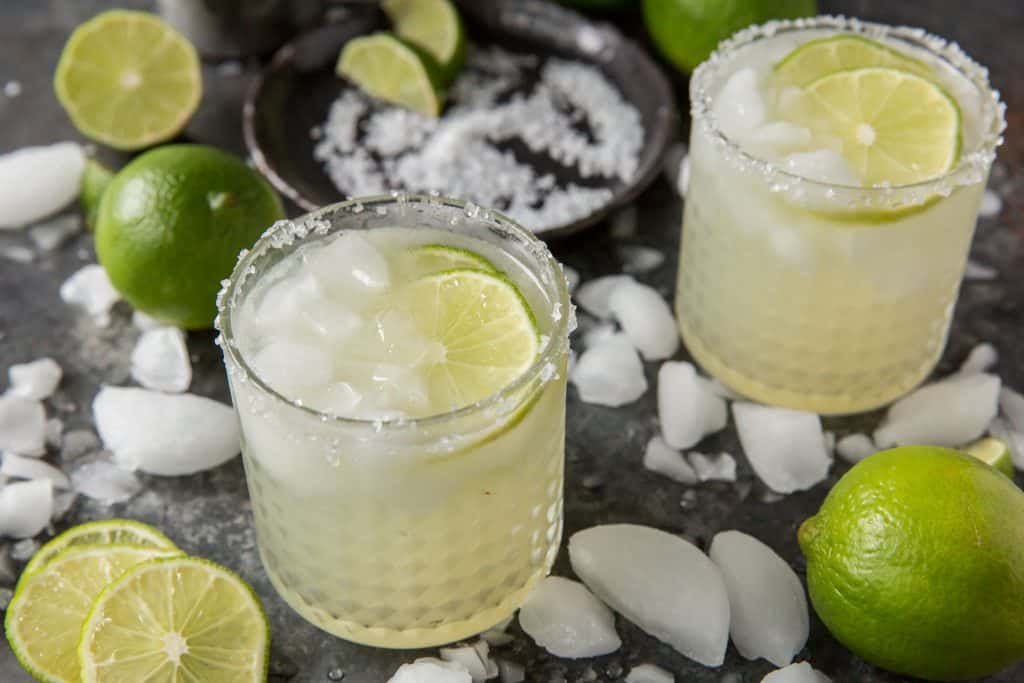 What Makes it a Skinny Margarita?
A skinny margarita is one that is lower in carbs, calories, and sugars than a traditional drink. This specific variation is not only "skinny", but also 100% keto and low carb approved. We removed the simple syrup and subbed triple sec for a low carb alternative, thus creating those authentic margarita flavors in a healthier way.
Are Keto Margaritas Sugar Free?
Like I said above this skinny margarita is totally sugar free. On a keto diet we try to avoid all sugar and refined carbs to stay in a state of ketosis. White sugar has a glycemic index of 65 that will spike your blood sugar and put a temporary pause on your fat burning state(1).
Instead we have chosen to use a low carb keto sweetener called erythritol. Unlike a regular margarita which has 16-24 grams of sugar per serving, erythritol is completely sugar free. Meaning our keto margarita will have just 1 gram of total sugar (coming from lime juice).
Sugar Free "Triple Sec"
Triple sec is a high sugar alcohol that adds a light orange flavor to margaritas. We knew the orange flavor shouldn't be ignored, but both the simple syrup and triple sec were going to have to be non-existent in our low carb margarita recipe. Instead of using triple sec we opted for a sparkling orange seltzer water. It has 0 net carbs while still adding a refreshing orange flavor.
If you don't want or can't find orange seltzer water, you can get away with sparkling water and a few drops of orange extract or orange zest. Make sure that the orange extract you buy is pure alcohol and orange oil rather than anything else. Companies will sometimes try to mix it with sugar or corn syrup as a cheaper option. Orange extract can also be used in future drinks and treats so it's always a good investment to have on hand. You get the orange flavor without any of the sugar.
How Many Carbs in a Skinny Margarita?
Our low carb keto margarita recipe only has 1 gram of net carbs. The carbs come from lime juice and erythritol, however erythritol is always subtracted from the total carbs to give you net carbs. Lime juice has a little bit of sugar, but it really isn't anything to worry about since it's only 1 gram per serving.
The total nutritional information based on these margarita ingredients is: 135 calories, 1 gram of fat, 1 gram of protein, and 1 gram of net carbs per serving.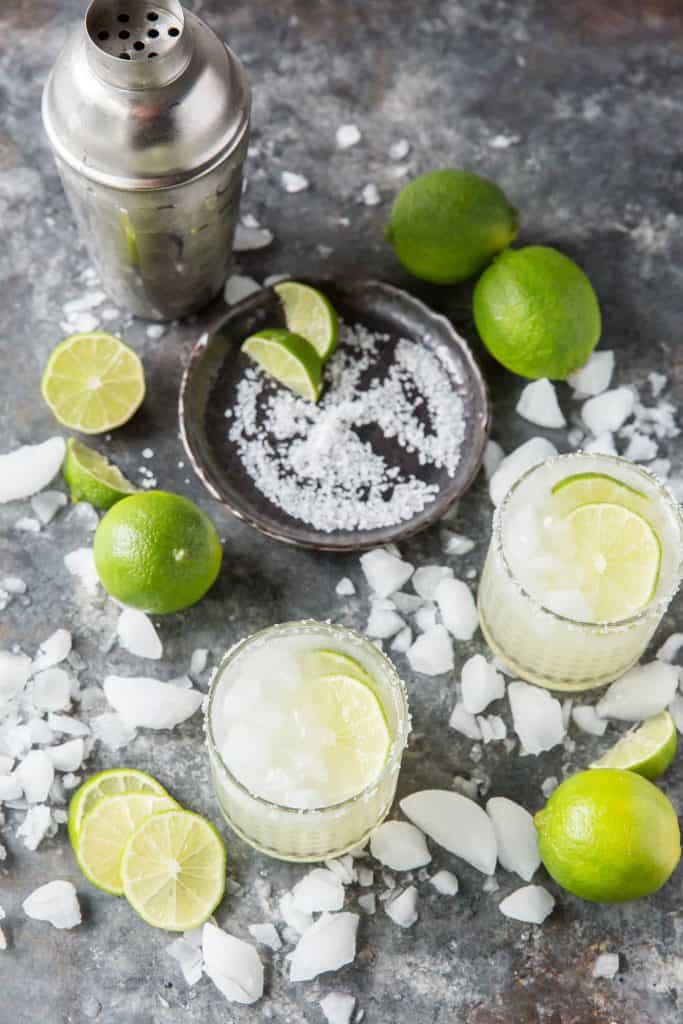 Quality Ingredients Matter
This isn't your typical margarita mix and simple syrup recipe. Our margarita recipe is made with quality ingredients for the best flavor and smoothest sip.
Picking a Tequila
Even if you choose to take your keto margarita frozen, you'll still be able to tell if the alcohol isn't smooth. Pick a high quality tequila to ensure it has that lovely semi -sweet taste that comes from the agave plant. This will also help to round out the flavor profiles of our drink without any added sugar or simple syrup. Whether you like an earthier or a brighter flavor profile is up to you, but pick the best tequila possible for a great low carb marg.
Getting That Orange Flavor
Skinny or not your margarita should pack a punch! That means well balanced flavors that are fun and refreshing for this Mexican delicacy. Oranges are not keto, however orange "flavored" things can be. Make sure you choose a good quality orange extract or orange sparkling water so your drink has that orange flavor without tasting artificial. We love La Croix sparkling orange water as well as McCormick orange extract that has all the flavor without a high carb count.
Fresh Lime Juice
Even though it is super easy to buy bottled lime juice, freshly squeezed lime juice is always the way to go. It's low carb, low sugar, and superior in flavor and quality when compared to bottled juices. Fresh lime juice is made by simply squeezing a few limes over a strainer, or making fresh squeezed juice in a juicer. Either way you choose to make it the flavor will always be better than the store bought version.
Sugar in Lime Juice
The nutrition information for 1 oz of lime juice is just 1/2 a gram of sugar. That means per serving it is only 0.25 grams of sugar. Lime juice is ESSENTIAL in this recipe and really shouldn't be traded or changed for anything else (flavor or seltzer water wise).
Taking it "on the Rocks" or Frozen
How someone likes their drink is always up to them, but this recipe makes it easy to adapt and change the delivery as you see fit. If you want your margarita on the rocks just stick to this traditional keto margarita recipe. If you prefer it frozen simply follow all measurements and ingredients, but then blend in a high power blender. This margarita recipe is good either way so go ahead and experiment to find your perfect drink.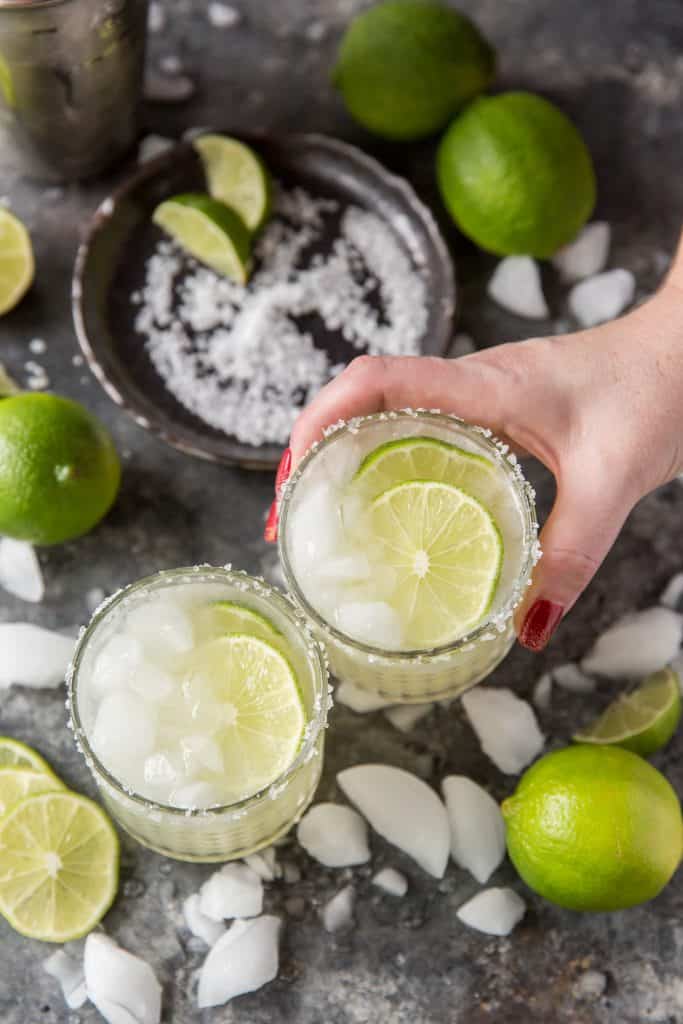 How to Make a Keto Margarita
Making a margarita keto is quick and easy with a total time of just 10 minutes. You will only need a few key ingredients and can customize your drink from there.
Equipment
There's really only one thing you need to make a good margarita and that's a cocktail shaker. Depending on whether you like a frozen marg, or a margarita on the rocks you will need a blender or cocktail shaker.
Ingredients
For starters you will need a high quality tequila and ice cubes as the base. You will also need a powdered sweetener like confectioners erythritol to add a standard margarita's level of sweetness. If you don't have a powdered sweetener you can always pulse the granular varieties in a coffee grinder. Finally you will need sparkling orange seltzer water and limes. Fresh lime juice is best, but you can use a high quality bottled version if needed.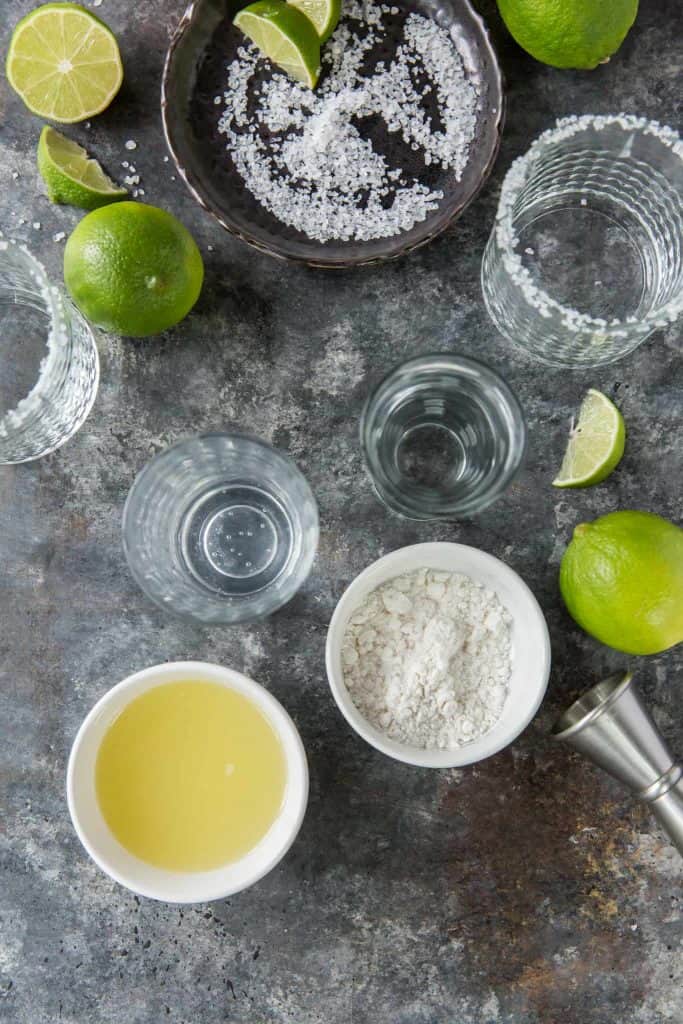 Making a Skinny Margarita
To make your easy keto margaritas begin by cutting a wedge of lime and running it around the rim of a margarita glass. Then pour coarse salt on to a plate and dip the rim of the glass into it.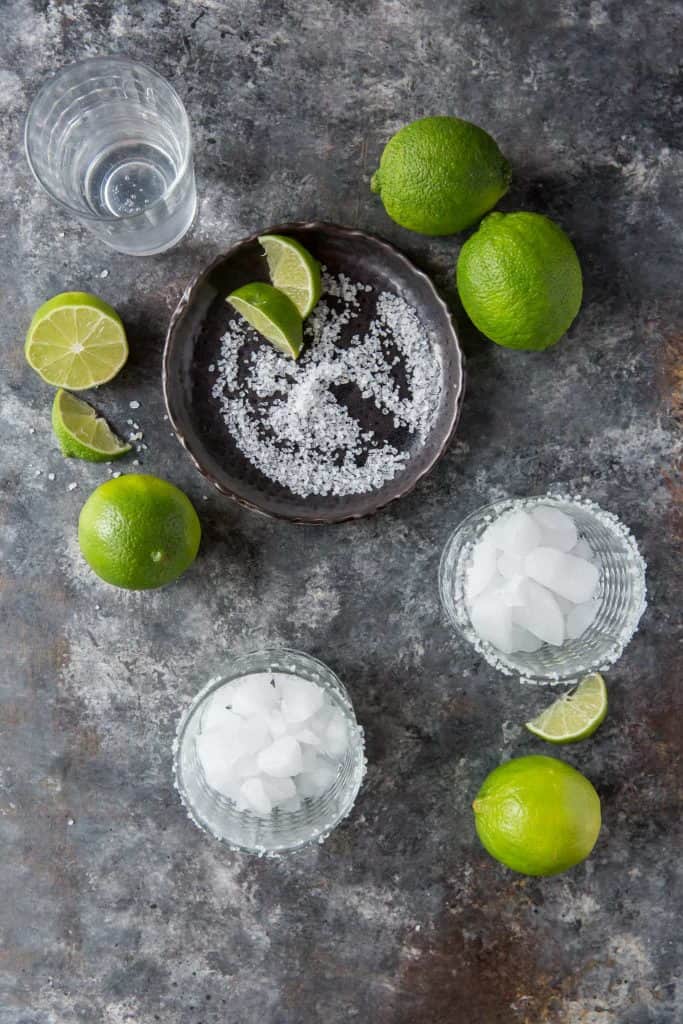 Next fill a cocktail shaker half-full with ice. The ice will cool your liquor fast, but if you prefer a blended marg follow all of these same steps in your blender. Now add tequila, lime juice, and Swerve(sweetener) to the shaker. Seal and shake well until outside is frosted, 10 to 15 seconds.
Now we're ready to serve. Fill your prepared glasses with ice and strain your margarita into it. Top with sparkling water and stir. You can garnish with a lime wedge for extra pizazz.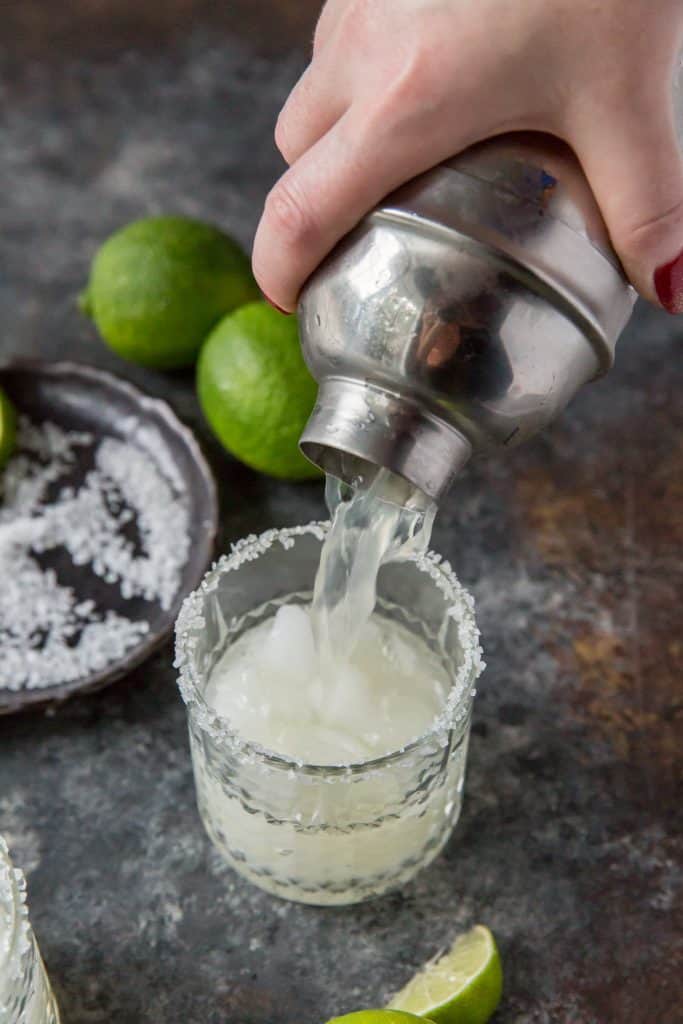 Extra Flavor Opportunities
This simple syrup free keto margarita is a great base for all your favorite refreshing flavors. Get creative with this recipe and add more than just a simple lime wedge and tequila. Some of our favorite additions are:
Jalapeños- Muddle a few jalapeños and then shake them in with the drink. Use pink salt on the rim instead of sea salt and you've got a whole new spicy tequila kick!
Fresh Herbs- Play around with some herbs in this margarita recipe. It is a Mexican drink so you can try fresh herbs like mint or rosemary to pair with the lime.
Cucumber- Adding cucumber is another way to make a fresh tasting margarita keto. It adds a light and delicate flavor when muddled into the recipe, but no extra carbs.
Strawberry- A strawberry lime margarita is the perfect sweet drink recipe to try. It's extra delicious blended with liquid sweetener for a spiked frozen strawberry limeade recipe!
No matter which recipe you choose to make, all of these ingredients are sure to bump up the delicious factor of your keto friendly margarita.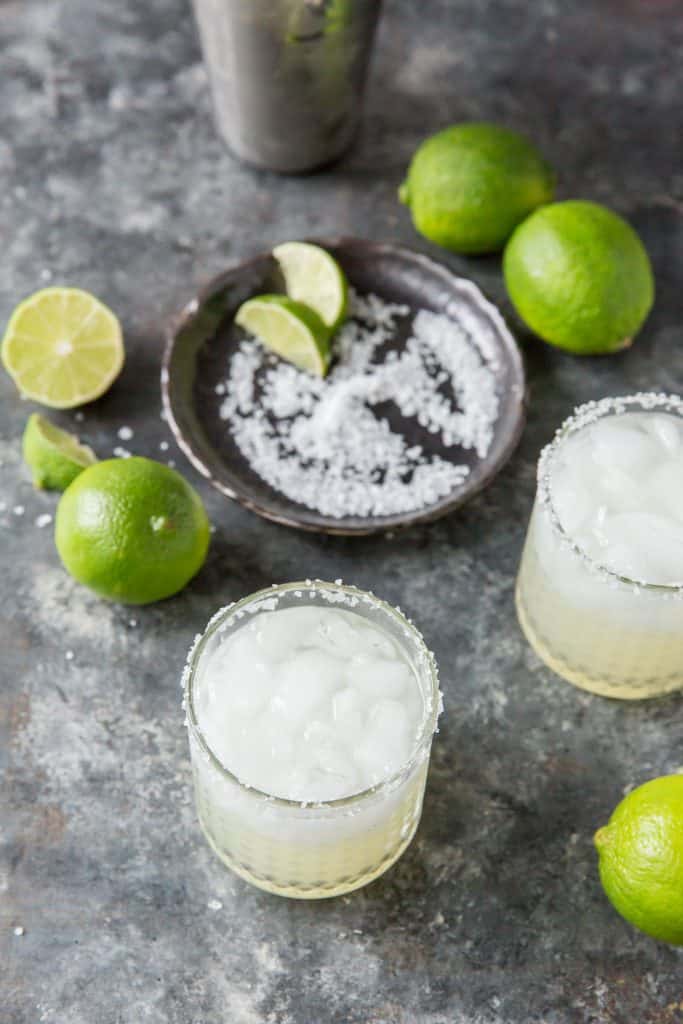 The Best Foods to Eat With a Keto Margarita
If you are looking for some delicious keto recipes feel free to keep reading. We have tons of tasty meal ideas perfect to pair with your full margarita glasses.
Keto Nachos – These tasty nachos can be made two different ways, but both are delicious! The pork rind nachos recipe is keto, gluten free, and perfect with a margarita.
Keto Fajitas – This is the best alternative to taco night. Make these flavorful fajitas with either chicken or steak to pair with your margarita.
Keto Stuffed Peppers – This recipe is for all those guys and gals who like a little heat in their food. In just 25 minutes total time you'll have drinks and appetizers covered for your next party.
All these recipes are simple and easy to make with a short total time so you can get back to the party. So go ahead and try some of these delicious Mexican recipes and make a keto margarita to go with it. Check out the best keto side dishes for BBQ season for more pairing ideas!
More Delicious Keto Drinks
While margaritas are amazing, there are plenty of other keto drink recipes on our site to mix up and try. Get creative with the recipes and step out of your comfort zone. Try adding something extra to the mix next time, because adventure always tastes better with a little tequila ? .
All these drinks take just 1o minutes total time, making them a great drink to elevate even the most basic meals. Make a few for your next keto dinner party and let us know your favorite! Learn more about how to enjoy alcohol on a keto diet.
Sugar Free Keto Margaritas
This keto friendly recipe is sure to knock your socks off. It has simple ingredients, it's refreshing, and it's super easy to make. Plus this skinny margarita is sugar free, but tastes like the original. The nutritional information speaks for itself with just 1 gram of net carbs. So what are you waiting for? Grab your ingredients and some keto chips and salsa, it's time for a fiesta!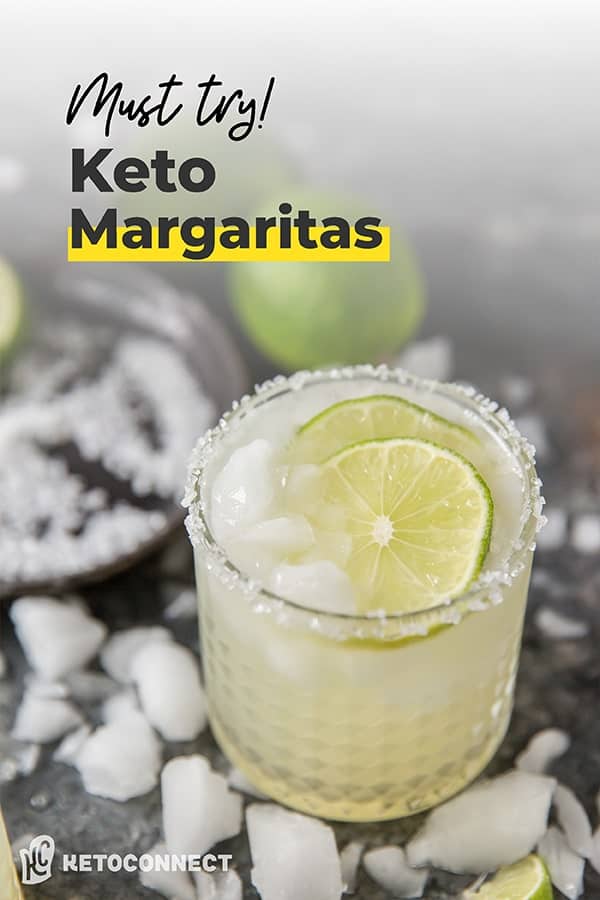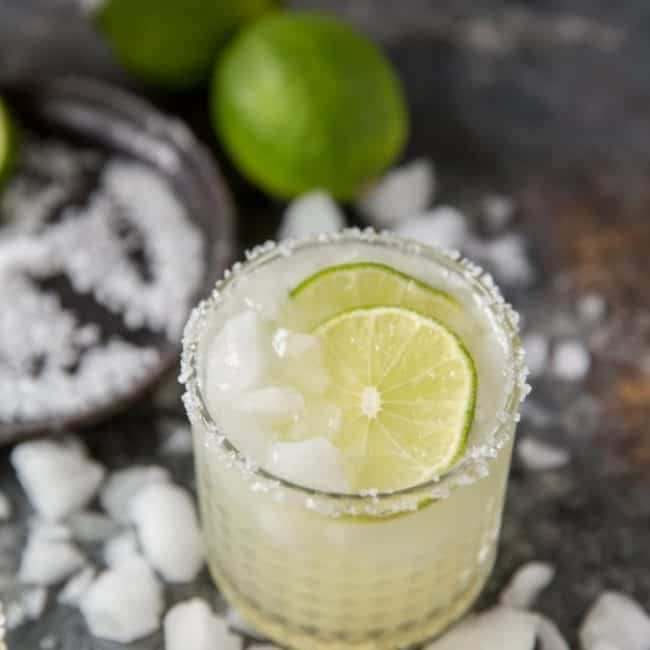 Keto Margarita
A delicious and refreshing keto drink you can enjoy all year long!
Total Time 5 minutes
Servings 1 Margarita
Calories per serving 135kcal
Instructions:
Cut a wedge of lime and run it around the rim of a margarita or low-ball glass. Pour coarse salt onto a plate and dip the rim of the glass in the salt.

Fill a cocktail shaker half-full with ice. Add tequila, lime juice, and Swerve to the shaker. Seal and shake well until outside is frosted, 10 to 15 seconds.

Add ice to the prepared glass, then strain margarita into it Top with sparkling water and stir. Garnish with a lime wedge.
Nutrition Facts
Keto Margarita
Amount Per Serving
Calories 135 Calories from Fat 9
% Daily Value*
Fat 1g2%
Sodium 1mg0%
Potassium 18mg1%
Carbohydrates 1g0%
Sugar 1g1%
Protein 1g2%
Vitamin A 7IU0%
Vitamin C 4mg5%
Calcium 2mg0%
Iron 1mg6%
* Percent Daily Values are based on a 2000 calorie diet.
Written By