One of the most requested cocktails is here! This Keto Pina Colada will make you feel as if you were on a tropical island, under the palm trees with your feet in the sand. All you need to do is grab a few ingredients, a cocktail shaker, a chilled glass and you're ready to go!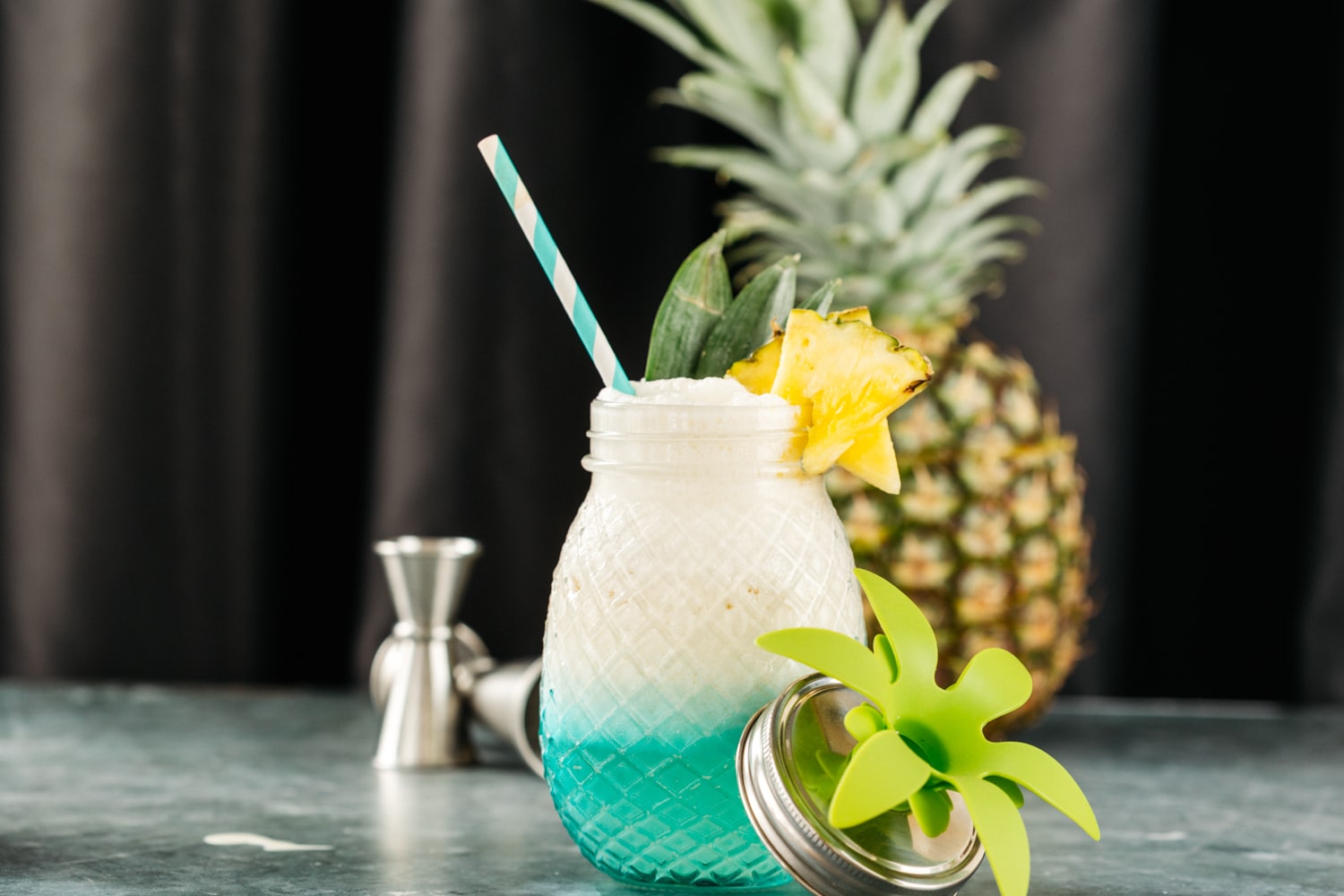 A pina colada is a classic drink that was invented in Puerto Rico in the 1950s and instantly became a hit among the country. It's even coined as Puerto Rico's national drink!
A traditional pina colada contains rum, cream of coconut, pineapple juice, frozen pineapple, lime juice or lemon juice and ice. Obviously, this version is not allowed on a keto or low carb diet due to the high carb count.
That's why we decided to create a low carb Keto Piña Colada recipe so you can enjoy your keto lifestyle without guilt. It's low in net carbs and sugar free!
Pineapple has 22g of carbs per cup. Even though it's a staple in a pina colada, you can easily substitute it with pineapple extract instead. It will give your keto piña colada that strong pineapple flavor you want.
Can I drink alcoholic beverages on keto?
You can drink any hard liquor such as vodka, whiskey, brandy, gin or cognac. They contain zero carbs and will not kick you our of ketosis.
However, remember that mixed drinks are oftentimes based on fruit juices and simple syrup so it's best if you substitute those with appropriate keto cocktails that are low in net carbs.
Drinking on keto and weight loss
Alcohol on keto is fine, but there's a catch. When you're in ketosis, your body switches from burning glucose as a source of energy and uses fat. That's the basic function of what the ketogenic diet is supposed to do.
The moment you grab your favorite drink, your body thinks of alcohol as a toxin and tries to get it out of the body first. Simply said, instead of burning fat you will be burning through alcohol first.
If your main goal on the keto diet is to lose weight, this is an issue and drinking can stall your progress. Therefore, moderation is key when it comes to consuming alcoholic beverages. If your weight stops going down, you should cut back on drinking or avoid it altogether.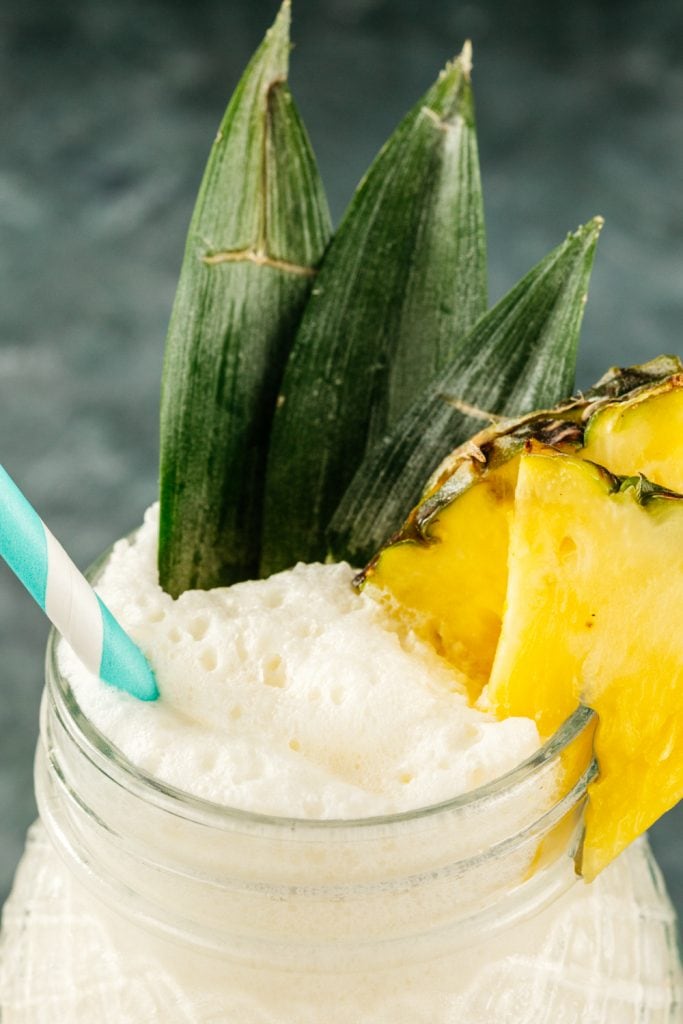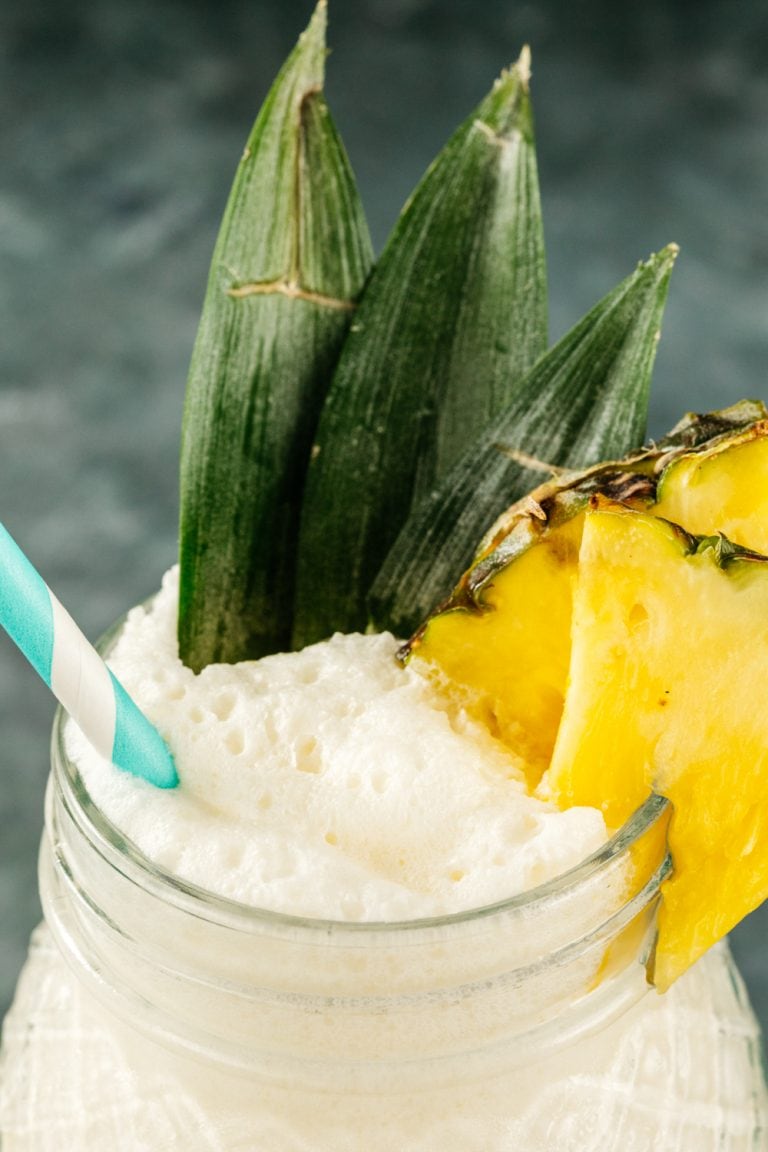 Keto Pina Colada Recipe Ingredients
A pina colada is one of those awesome slushy drinks that can take your taste buds straight to a remote, tropical island. While creating a Keto Pina Colada that will be close in taste and texture is not the easiest task, I can proudly say we managed to come up with an awesome version you'll definitely want to add to your keto recipes.
For more information on net carbs, scroll down to our recipe card to get the full nutrition facts.
Light Rum
Light rum is just another name for white rum. As opposed to its darker sibling, light rum is aged for less time. Then, it's distilled and filtered to avoid any impurities and give it a clear color.
This kind of rum is also oftentimes used in cocktails due to its milder, slightly sweet flavor.
Dark Rum
Very similar to the above type of rum, dark rum is also distilled and filtered but to give it a darker color and bolder flavor it goes through the process of ageing first. The more time the rum spends in wooden barrels, the darker and stronger it will be.
Heavy Cream
We used heavy whipping cream in our Keto Pina Colada recipe to give it that milky smoothness. However, you can substitute it for canned coconut cream or coconut milk if you prefer. I would even suggest a blend of both to mimic the texture of heavy cream.
Water
This will help thin out the keto cocktail just a bit. We didn't have any coconut water on hand when making this recipe, but you can definitely use it as well. As long as it's keto and low carb of course. Coconut milk in lieu of water will work here well as well.
Coconut or Pineapple Stur
Stur is simply an all-natural water enhancer. You can use it in drinks or regular water to flavor your liquids a bit. It doesn't have any sucralose or aspartame, so you can definitely use it on the keto diet. The flavor we chose resembles a fresh pineapple and coconut extract the most.
Ice cubes
You can use any type of ice here since it will be blended anyway.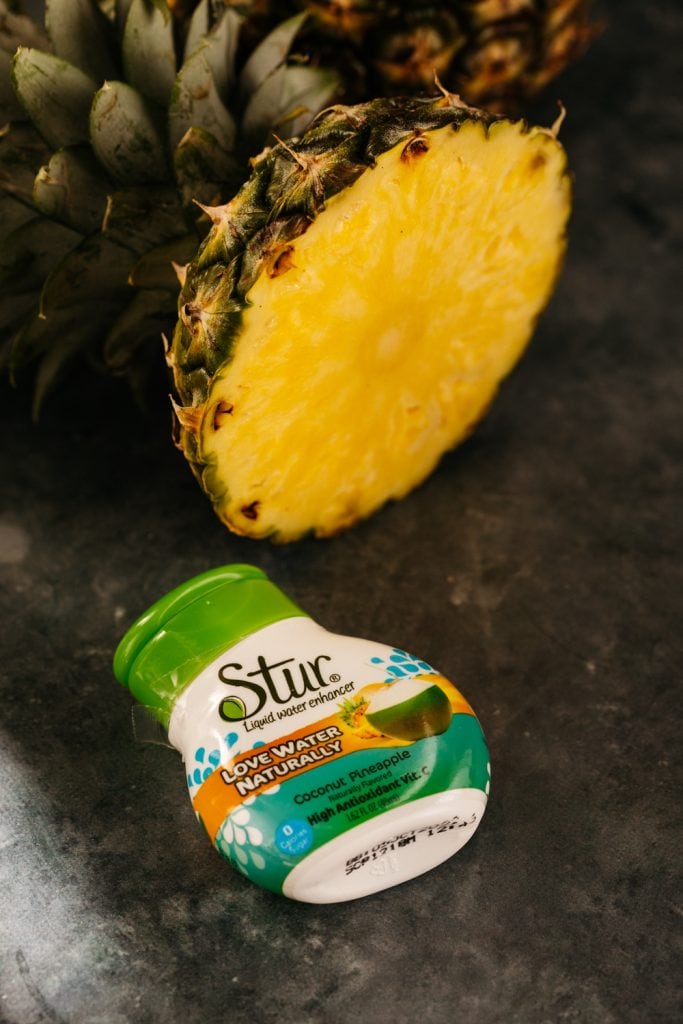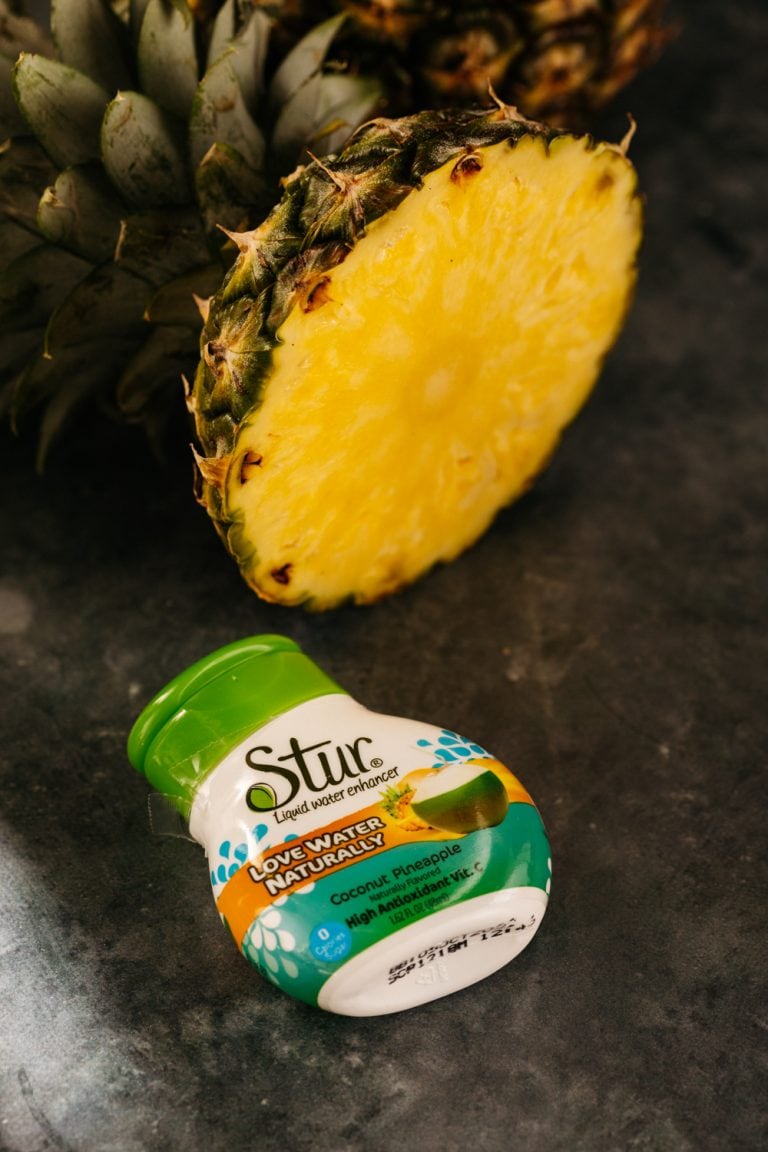 FAQs
Here are a few questions you might have while making our Keto Pina Colada. If your question isn't answer here, make sure to leave us a comment and we'll try to give you the best possible answer we can!
Can I use coconut cream or coconut milk instead of heavy cream?
Yes you can. We used heavy cream because we didn't want to add too much of the coconut flavor since we're already using Stur drops. If you're using coconut milk, make sure it's sugar free.
If you're using coconut cream, your Keto Pina Colada will probably be a bit thicker in consistency and you may have to add more water.
What can I use instead of coconut or pineapple Stur?
Getting that fresh pineapple taste is a bit challenging because pineapple juice is not keto friendly or low carb. Instead, we used a bit of Stur to give our Keto Pina Colada that tropical feel.
If you can't find it, try to get your hands on sugar free pineapple and coconut flavor drops. You can order them on Amazon and use them not only in drinks, but also in baking and other keto diet approved desserts.
Do I need to use rum?
You can make a keto virgin pina colada if you don't want any alcohol in it. However here, I'd substitute water with either coconut water or coconut milk.
On the other hand, if you're thinking about using, for example, vodka instead of rum I suggest you don't. Rum has distinct flavor and using any other hard alcohol instead may change the taste entirely. Stick to high quality rum instead.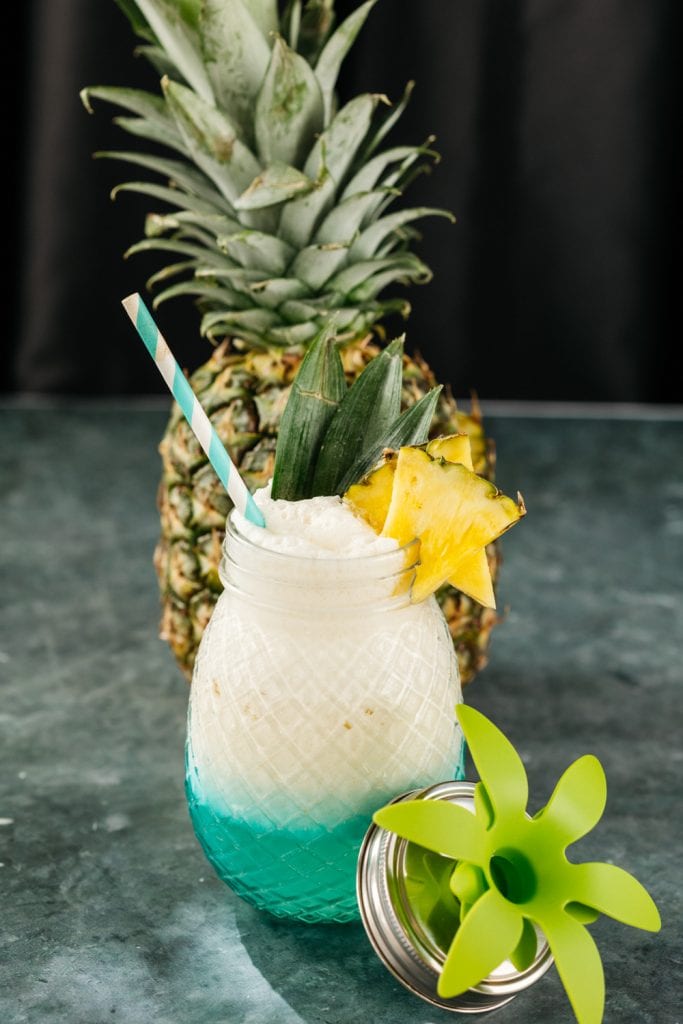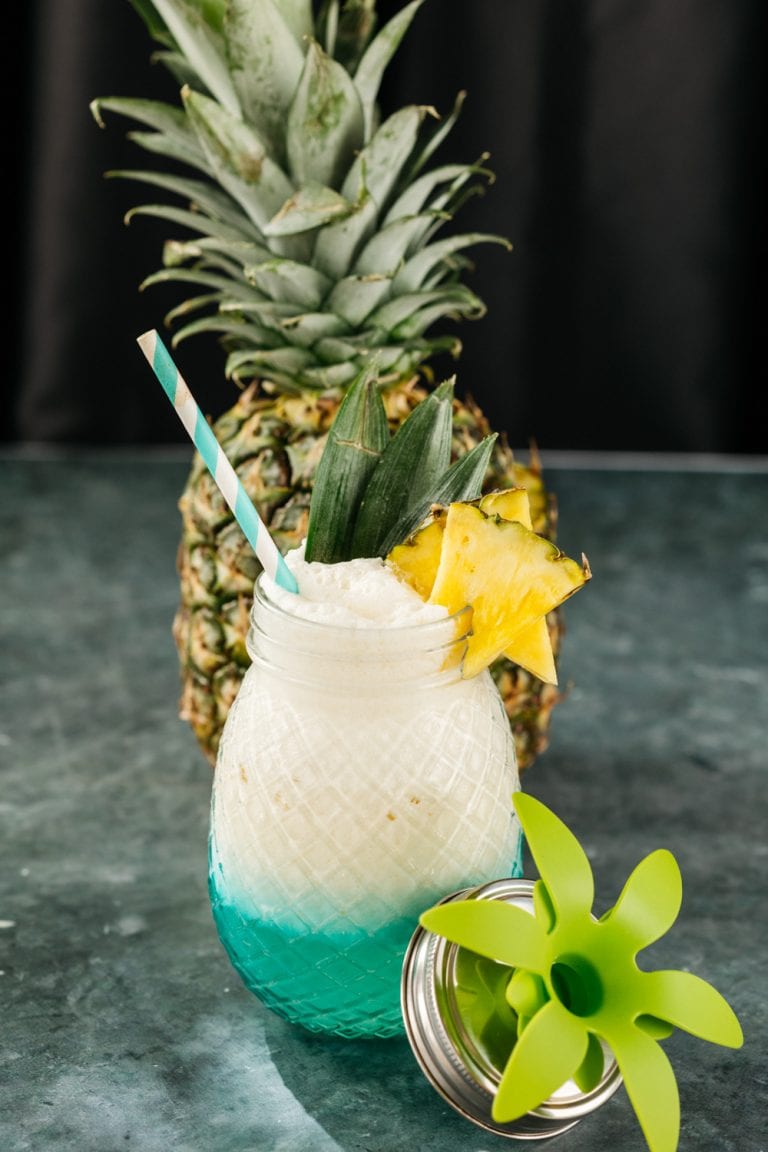 More keto cocktails
Love a fresh keto, low carb pina colada but in the mood for something else? Check out more of our sugar free, keto friendly cocktails you can enjoy:
To find more keto and low carb friendly alcohol options and what you can enjoy on the keto diet, take a look at our Keto Alcohol – Everything You Can & Cannot Drink article on our website. There, you'll find a comprehensive guide on what to drink instead of your favorite beer or sugary wine.
Let us know if you like our Keto Pina Colada!
Have you ever tried making a Keto Pina Colada? Was your recipe similar to ours? Drop a comment below if you have a favorite low carb version!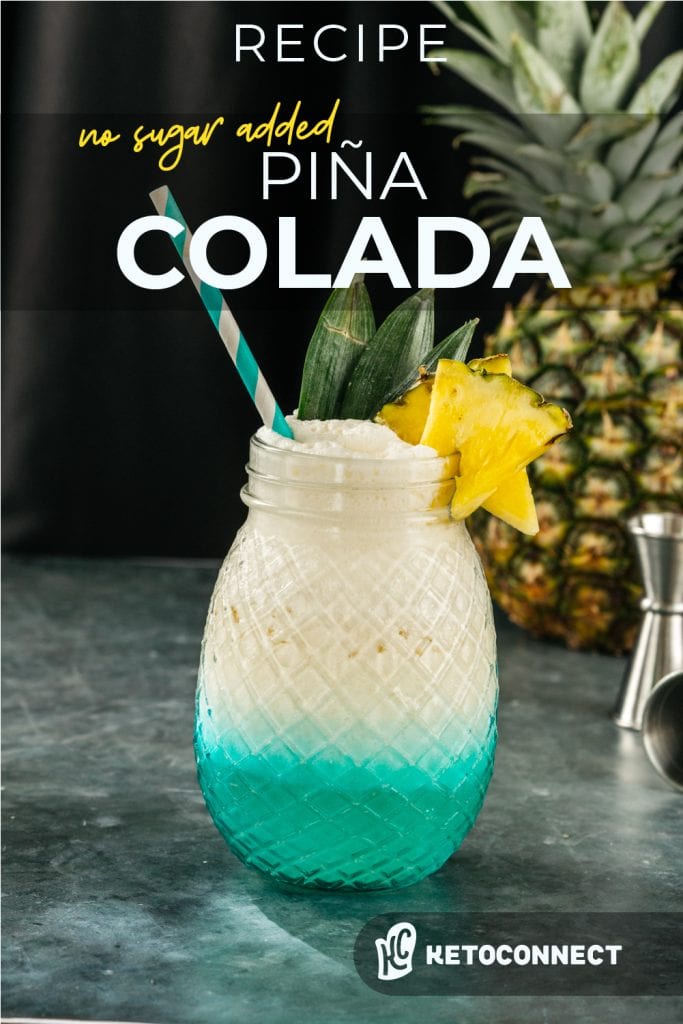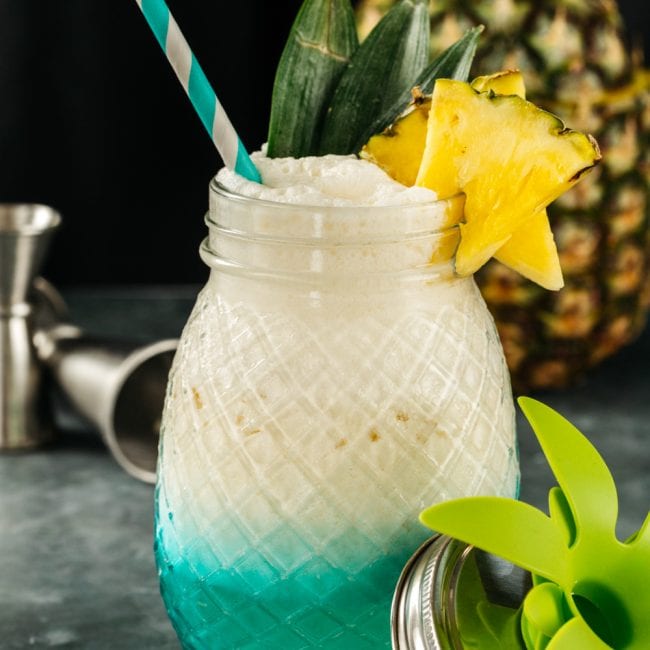 Keto Pina Colada Recipe
Enjoy your keto lifestyle without guilt with this sugar free Pina Colada recipe!
Total Time 5 minutes
Servings 1 serving
Calories per serving 916kcal
Ingredients:
1+1/2 oz Light Rum
1+1/2 oz Dark Rum
2 oz Heavy Cream
4 oz Water
1-2 tsp Coconut/pineapple STUR This is a type of flavored stevia. You can use normal stevia drops and coconut/pineapple extract instead.
6 oz Ice to blend
Instructions:
Add all ingredients to a blender. Blend until the desired consistency is achieved.

If your mixture is too thick you can add more water, and if it is too thin you can add more ice.

Pour into a glass and enjoy!
Nutrition Facts
Keto Pina Colada Recipe
Amount Per Serving
Calories 916 Calories from Fat 189
% Daily Value*
Fat 21g32%
Saturated Fat 13g65%
Polyunsaturated Fat 1g
Monounsaturated Fat 6g
Cholesterol 78mg26%
Sodium 39mg2%
Potassium 49mg1%
Carbohydrates 2g1%
Sugar 1g1%
Protein 1g2%
Vitamin A 833IU17%
Vitamin C 1mg1%
Calcium 45mg5%
Iron 1mg6%
* Percent Daily Values are based on a 2000 calorie diet.
Written By