While I'm not a huge drinker, I can't imagine brunch without a good Keto Bloody Mary on the side. Forget bellini's and store-bought Bloody Mary mixes with a high carb count, we've got a keto friendly classic cocktail recipe you're going to love!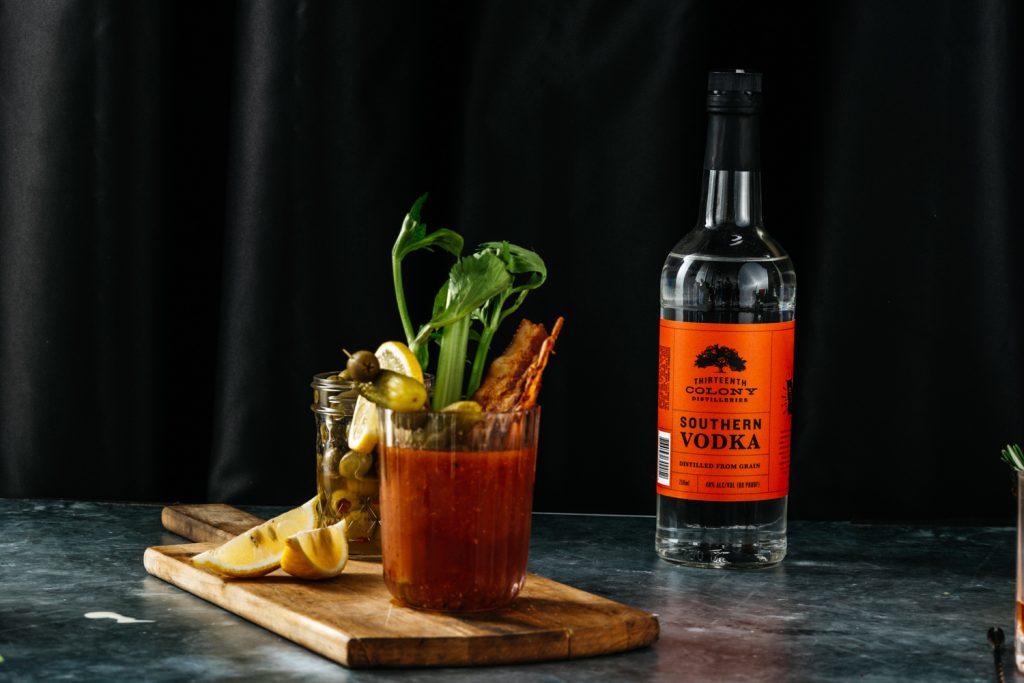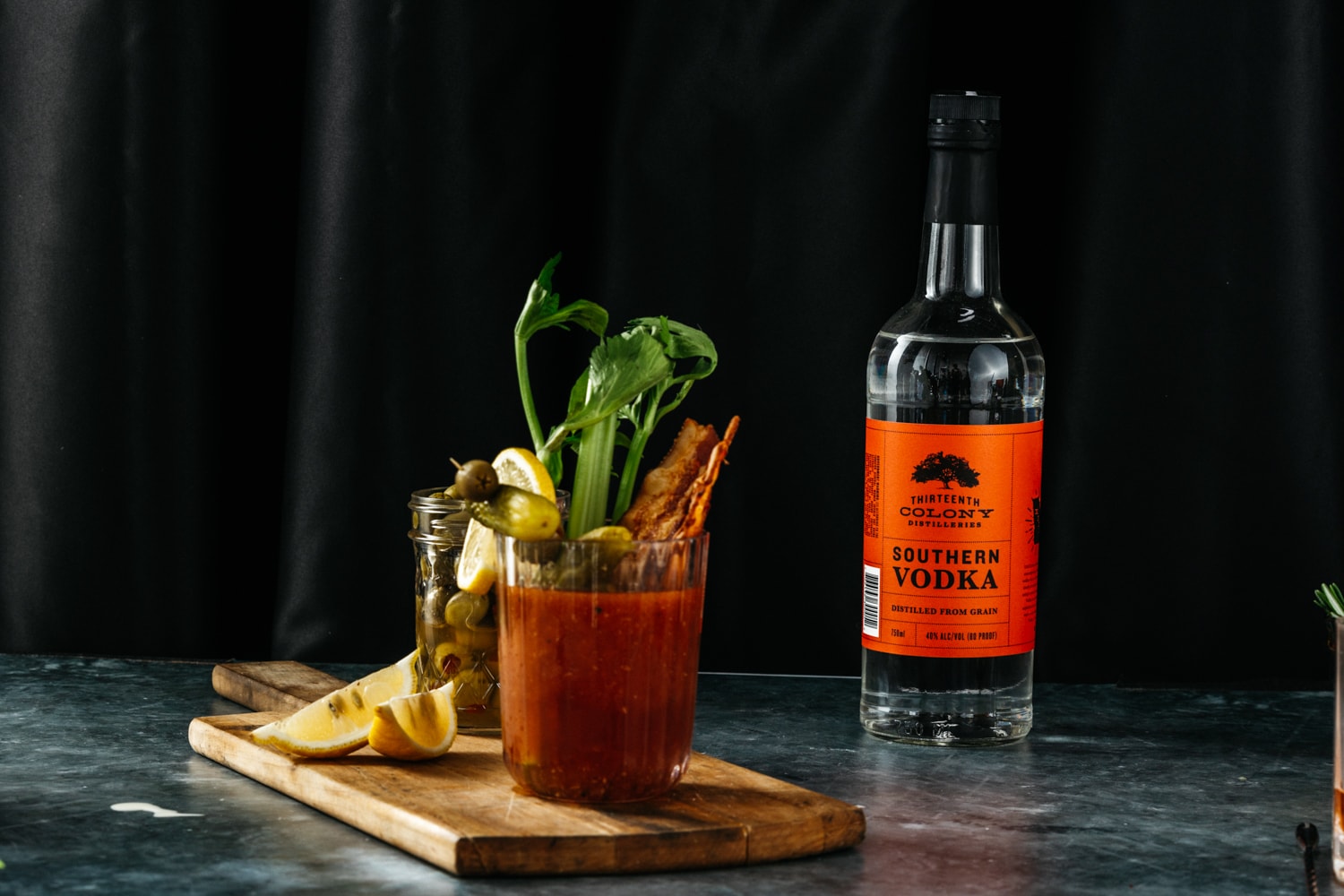 Can I Drink Alcohol on Keto?
While one ounce or two of vodka won't kick you out of ketosis, drinking while on keto can have different results for different people.
In simple terms, on the keto diet your body is in ketosis, which is a fat burning state. The moment you consume alcohol, your body will prioritize eliminating it from the body because it's a toxin. Therefore, if you're on keto to lose weight, frequent drinking will stall your progress.
Remember, you can't drink any alcohol you want either – some are low carb, but some are off limits. Read our guide on The Best Keto Alcohol Options for more keto diet liquor and cocktail options.
Our Keto Bloody Mary recipe contains vodka, which is acceptable on a low carb diet because hard liquor doesn't have carbs. On the other hand, even if your liquor is low carb it still has tons of calories! You may want to limit keto cocktails if your aim is weight loss.
Keto Bloody Mary Recipe
Brunch is absolutely one of my favorite meals on weekends. It's the perfect combo of low carb keto breakfast and lunch. On our website, we have a ton of delicious recipes you can use for brunch such as Keto Cauliflower Hash Browns, Keto Pancakes and Classic Keto Waffles just to mention a few.
Ingredients
Making a Keto Bloody Mary drink is quick and easy. You can also experiment by yourself with additional ingredients such as celery salt, lime juice, more black pepper, a decorative celery stalk or even a bit of cooked bacon on top. Here are the ingredients we used to make a Keto Bloody Mary: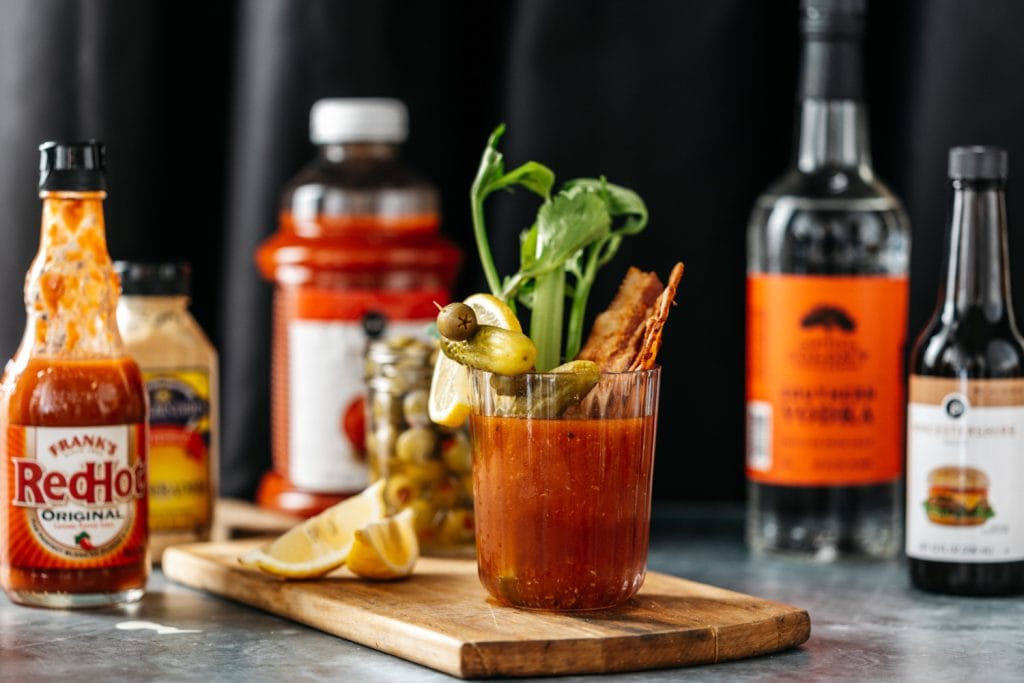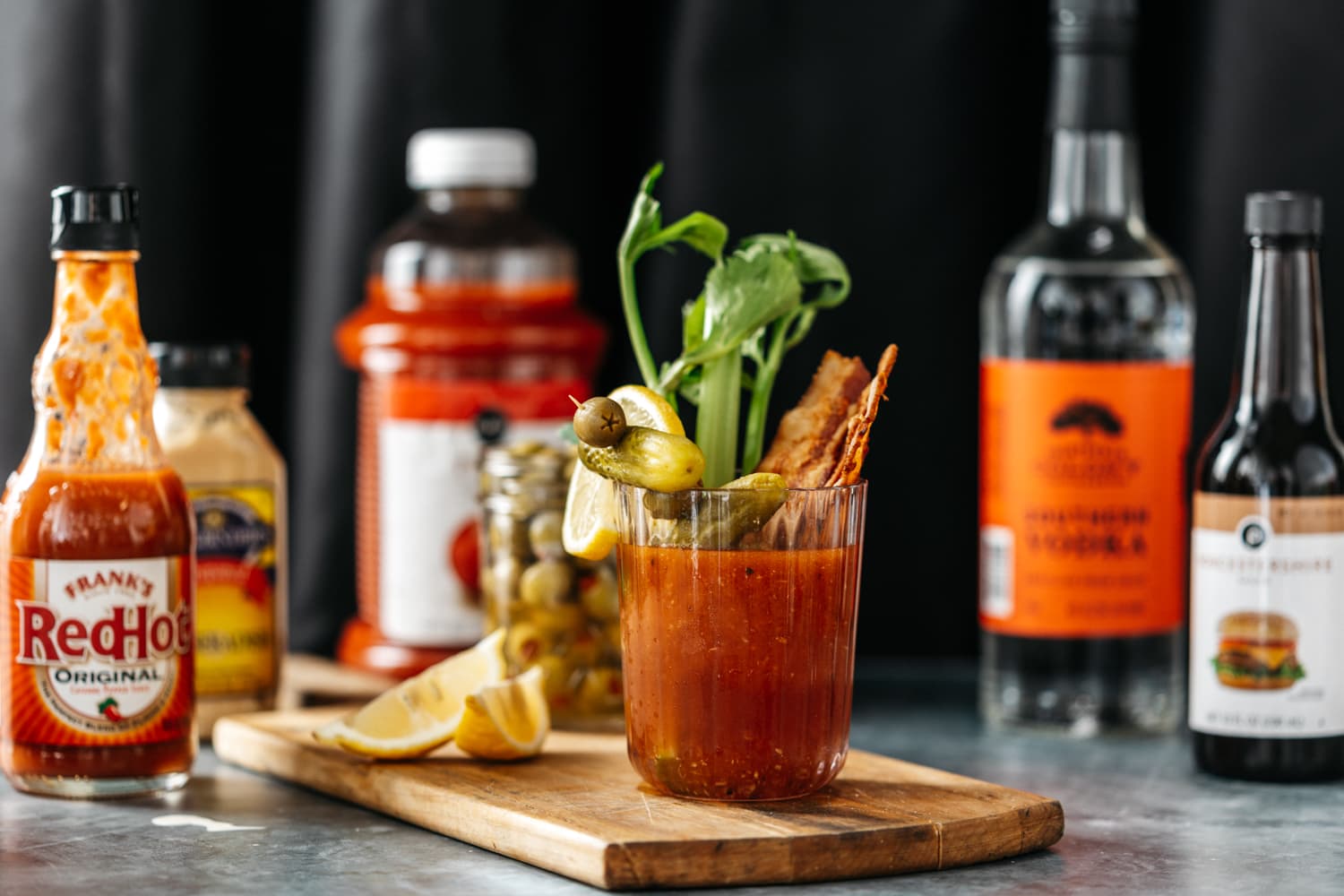 Lemon juice
Freshly squeezed lemon juice is the best! All you need to do is roll it to get the juices going, cut it in half and take out the juice. You can also buy it at your local grocery store, just make sure it has no added sugar so it's suitable for a low carb diet. As per net carbs, we only used 1/2 oz in this recipe which equals about 1g of carbs.
Worcestershire Sauce
Is Worcestershire sauce even keto? Since you don't need to use a lot of it, it will definitely fit into your macros. Don't omit this ingredient – it will give your Keto Bloody Mary that distinct umami taste, which comes from either anchovies or soy sauce. Every traditional Bloody Mary has it, so ours needs a splash as well!
Tomato Juice
What you want to use is essentially unsweetened tomato juice to prevent any unnecessary sugar in your Keto Bloody Mary. If you can't find one in the store, you can simply make your own by turning tomatoes into a mush and then force it through a sieve.
Vodka
All traditional Bloody Mary recipes contain vodka so we also used it in our low carb, Keto Bloody Mary. In this recipe we used 2oz of vodka, but you can use less if you're worried about calories. Also, I cannot stress this enough – never drink and drive!
Horseradish
Again, this is a root vegetable and by definition wouldn't be okay on keto if we were to eat a cup of it. But here we only need it to add a bit of spiciness and hotness to the drink.
Plus, I know this is a Keto Bloody Mary recipe and alcohol isn't healthy, but horseradish has tons of nutrients and health benefits. It helps to improve digestion, has anti-cancer properties, aids in weight loss and is also naturally antibacterial.
Hot Sauce
What's a Keto Bloody Mary without some hot sauce? Two to three dashes is completely fine, unless you're really into hot and spicy Bloody Mary's. Of course, adjust to your own taste but it's better to start out with less in the beginning and then add more if you want to.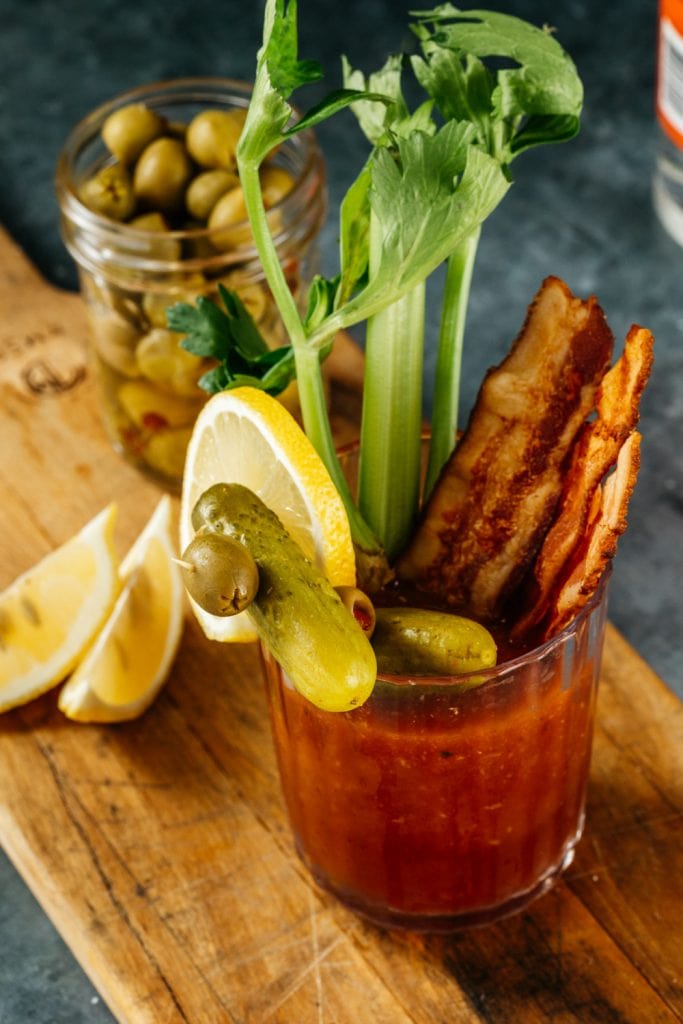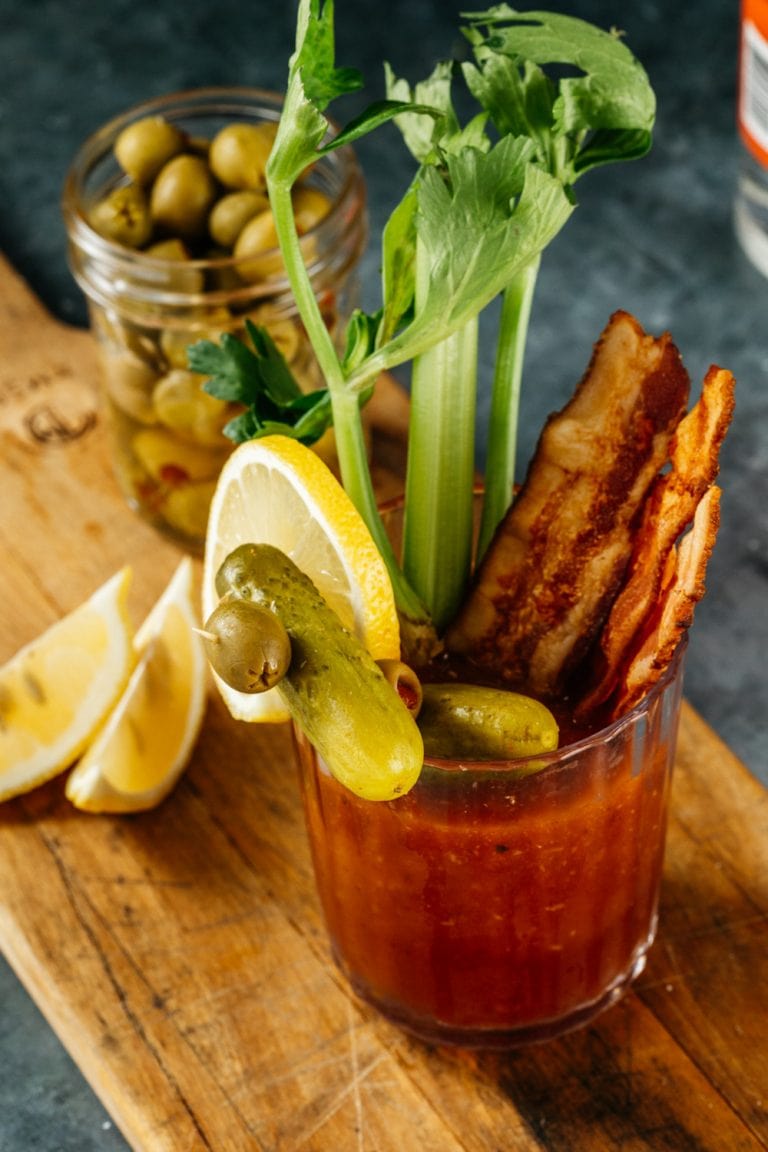 FAQs
Don't believe in your bartending skills? No worries, I didn't think I had it in me either until I decided to make our Keto Bloody Mary. Just in case you have any questions, check out these or as always, leave a comment below.
Is tomato juice keto?
Yes and no. But, let me explain – tomatoes are fruits, but for the most part they are low carb and keto friendly. This is why it's not uncommon for you to see keto recipes that ask for canned tomatoes, tomato paste and other tomato-based products.
However, you need to read labels carefully. Many, many of these products contain added sugars which will make your net carbs skyrocket in an instant. Tomato juice is keto as long as it doesn't have tablespoons on top of tablespoons of added sugar inside.
What you want to buy is essentially unsweetened tomato juice. If you can't find one, your best bet is to make it on your own.
Can I use a Bloody Mary mix?
There is no good Keto Bloody Mary Mix available out there, so we strongly advise you against it. On average, one serving includes about 4 to 7 grams of sugar and lots of artificial ingredients.
Low carb drinks are really easy and convenient to make when you're at home. If you're used to making keto recipes out of ready-to-eat or pre-prepared meals that's fine, but you'll always get the best nutrients if you make it by yourself from scratch.
More Keto Cocktail Recipes
Have you tried our Keto Bloody Mary?
Maybe you have your own variations you want to share with us? We'd love to see what other delicious recipes for Keto Bloody Mary's you've got up your sleeve!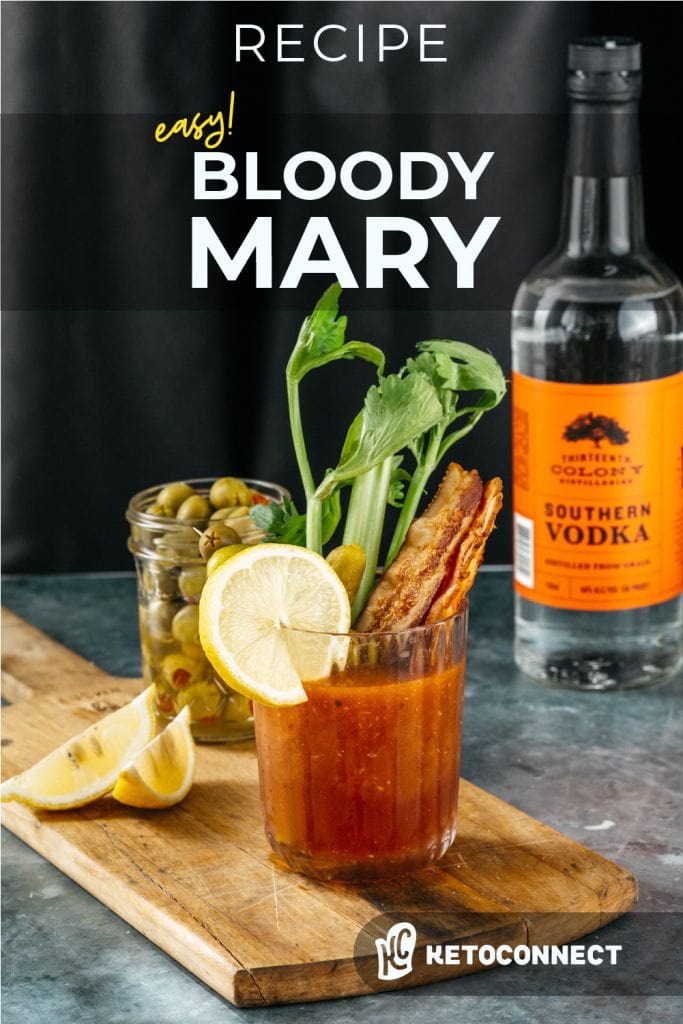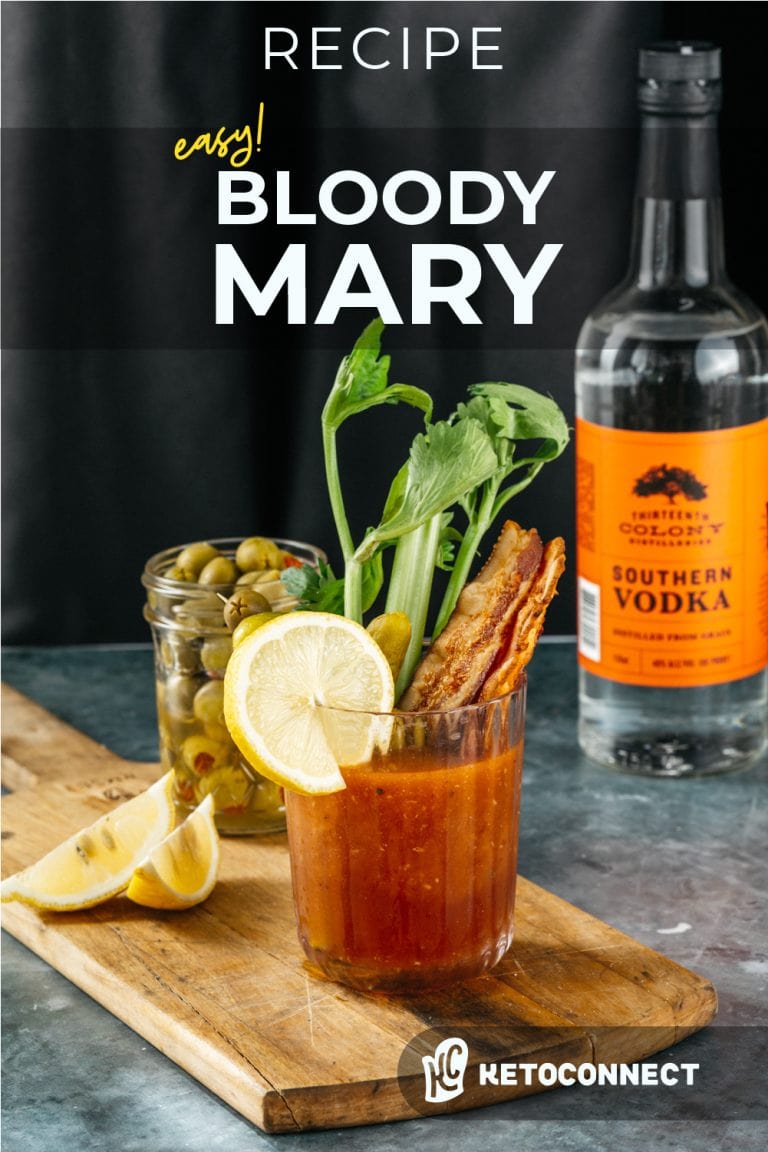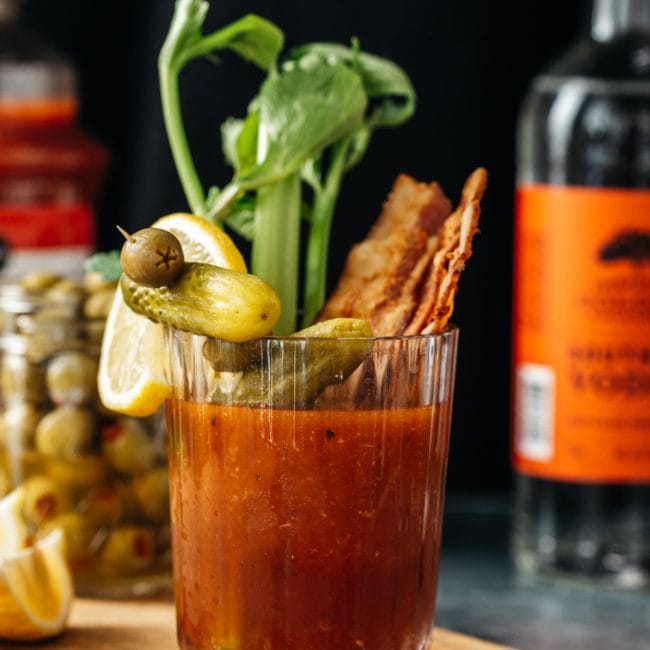 Keto Bloody Mary Recipe
Short Shake – Single Strain – Double Rocks GlassServe over Ice Cubes
Total Time 6 minutes
Servings 1 serving
Calories per serving 159kcal
Prep Time: 1 minute
Cook Time: 5 minutes
Instructions:
Add all ingredients to a cocktail shaker with a few ice cubes. Shake the mixture briefly to chill the drink and combine ingredients.

Strain into large cocktail glass and garnish with your favorite items.
Notes
Garnish with whatever you like!
Nutrition Facts
Keto Bloody Mary Recipe
Amount Per Serving
Calories 159 Calories from Fat 9
% Daily Value*
Fat 1g2%
Saturated Fat 1g5%
Polyunsaturated Fat 1g
Monounsaturated Fat 1g
Sodium 89mg4%
Potassium 333mg10%
Carbohydrates 7g2%
Fiber 1g4%
Sugar 5g6%
Protein 1g2%
Vitamin A 517IU10%
Vitamin C 27mg33%
Calcium 20mg2%
Iron 1mg6%
* Percent Daily Values are based on a 2000 calorie diet.
Written By