Cream cheese can spice up almost anything from desserts to appetizers and dinners.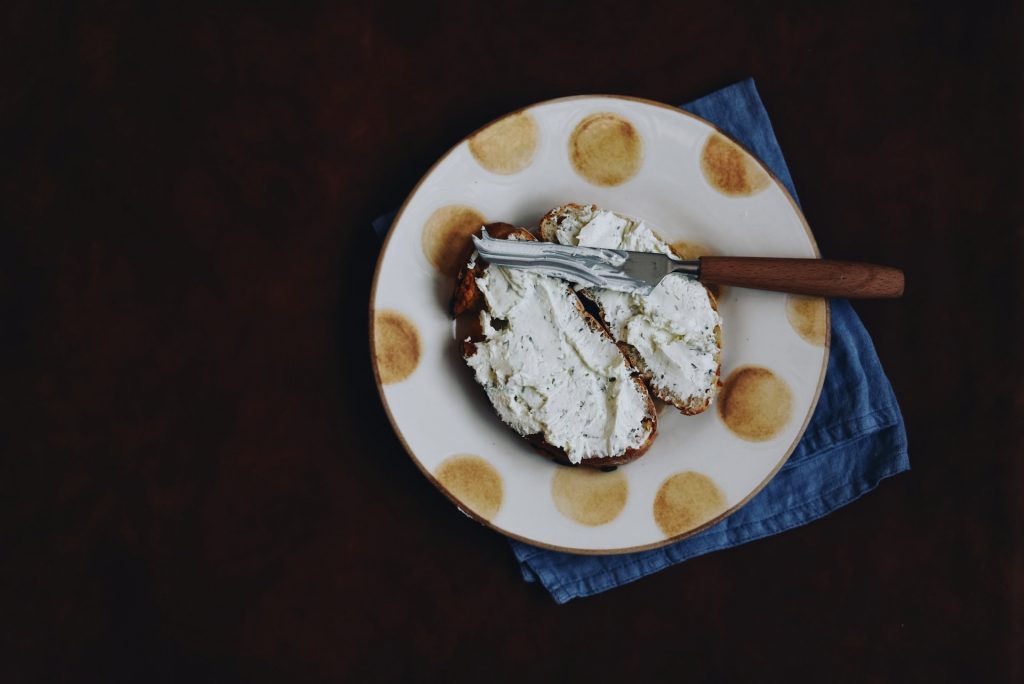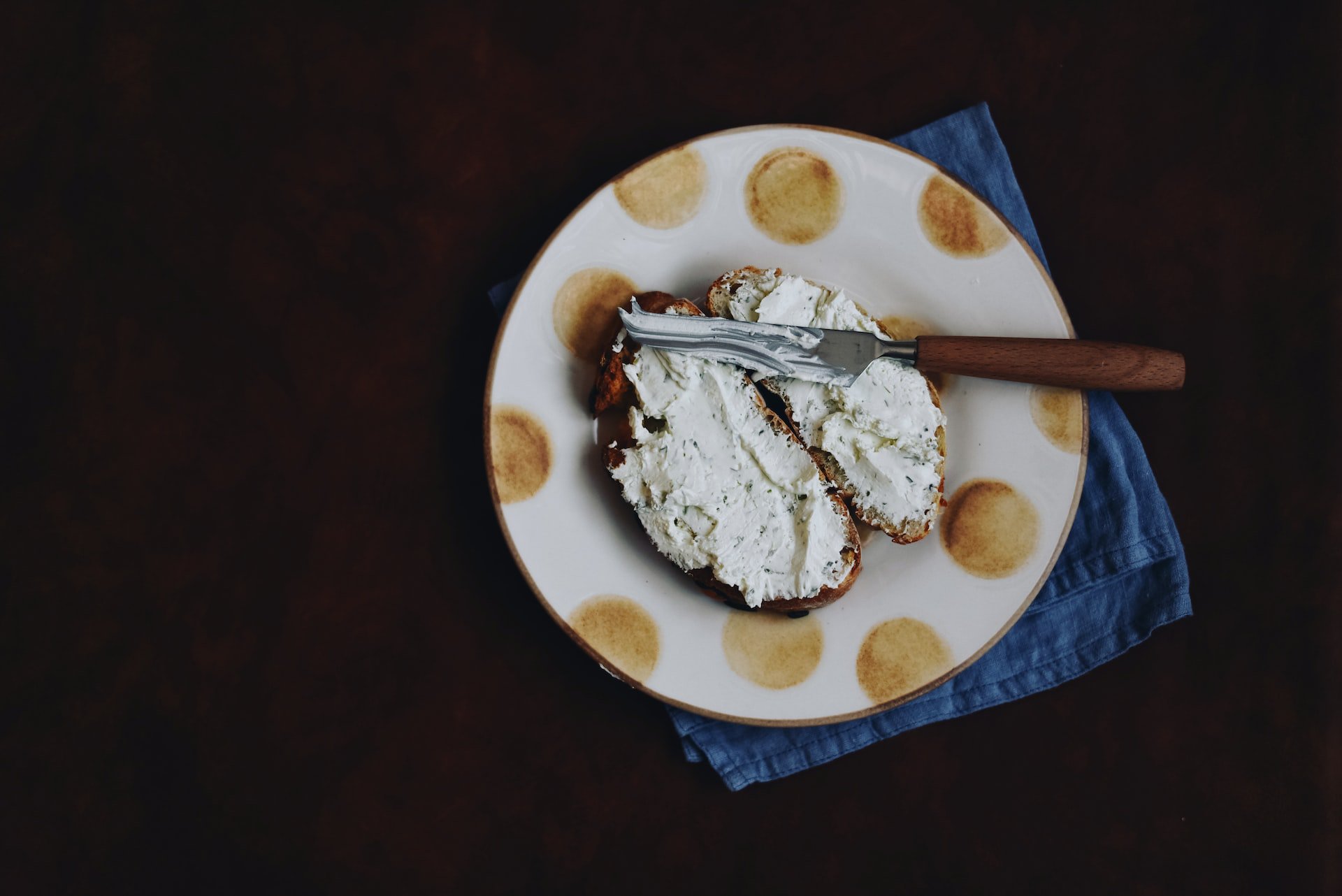 But is cream cheese keto?
Below, we'll go through everything you need to know about eating cream cheese on keto. We'll look at its carb content, some alternatives and healthy recipes.
Is Cream Cheese Keto-Friendly?
You can enjoy cream cheese on keto because an ounce only contains one gram of carb. Feel free to spread it on keto foods or use it as a dip, and there's no need for moderation.
The fat content can even help you meet your macros if your current protein and carb consumption is a bit high.
But what caught my eye was the surprisingly high nutrient density. Cream cheese provides your body with:
37 percent of your vitamin A requirements
18 percent of your daily recommended riboflavin intake
13 percent of your sodium requirements
Vitamin A is essential for clear skin, while riboflavin promotes healthy hair and sodium fights keto flu.
How Many Carbs Are in Philadelphia Cream Cheese?
One ounce of Philadelphia cream cheese has 1.2 grams of carbs, making it a low-carb option for keto dieters.
It uses healthy ingredients like whole milk, salt, vegetable gum and probiotics, so you won't have to worry about triggering inflammation.
Philadelphia cream cheese also has several flavors like:
Garlic and herb
Chive and onion
Garden vegetables
These flavors are keto, so you can switch things up if you don't feel like eating plain cream cheese all the time.
Plant-Based Substitutes for Cream Cheese (That Are Still Keto-Friendly)
If you're doing vegan keto and want to avoid dairy products, replace cream cheese with these alternatives:
Trader Joe's Vegan cream cheese
Vegan mascarpone
Hummus
Guacamole
Coconut yogurt
Trader Joe's Vegan Cream Cheese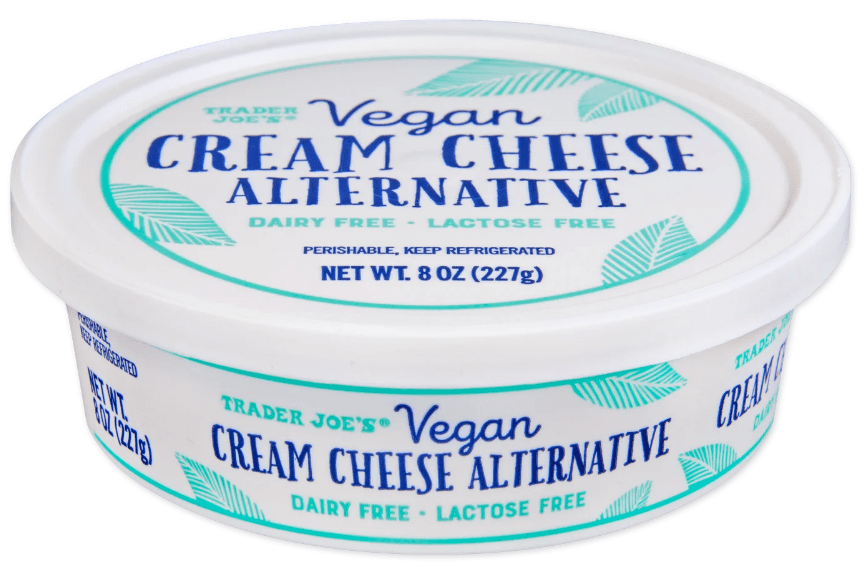 Two tablespoons of Trader Joe's vegan cream cheese has one gram of carb, so it won't knock you out of ketosis.
But I suggest you enjoy it in moderation. Even though the carb count is low, Trader Joe's uses cornstarch and sunflower oil which can trigger inflammation in high quantities.
Vegan Mascarpone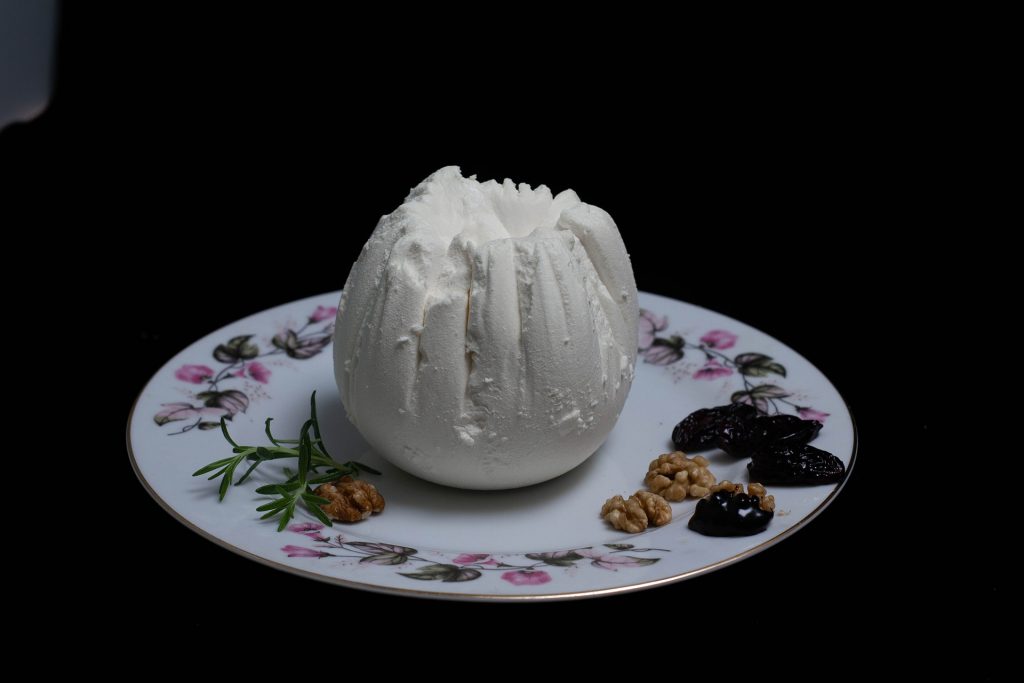 Vegan mascarpone doesn't taste like store-bought cream cheese, but it's delicious once you get used to it. I like to spread it on keto sandwiches and burgers, or dip chicken nuggets in it.
Two tablespoons contain 1.2 grams of carbs and 13 grams of fat. You'll also find high quantities of calcium, potassium and phosphorus.
Hummus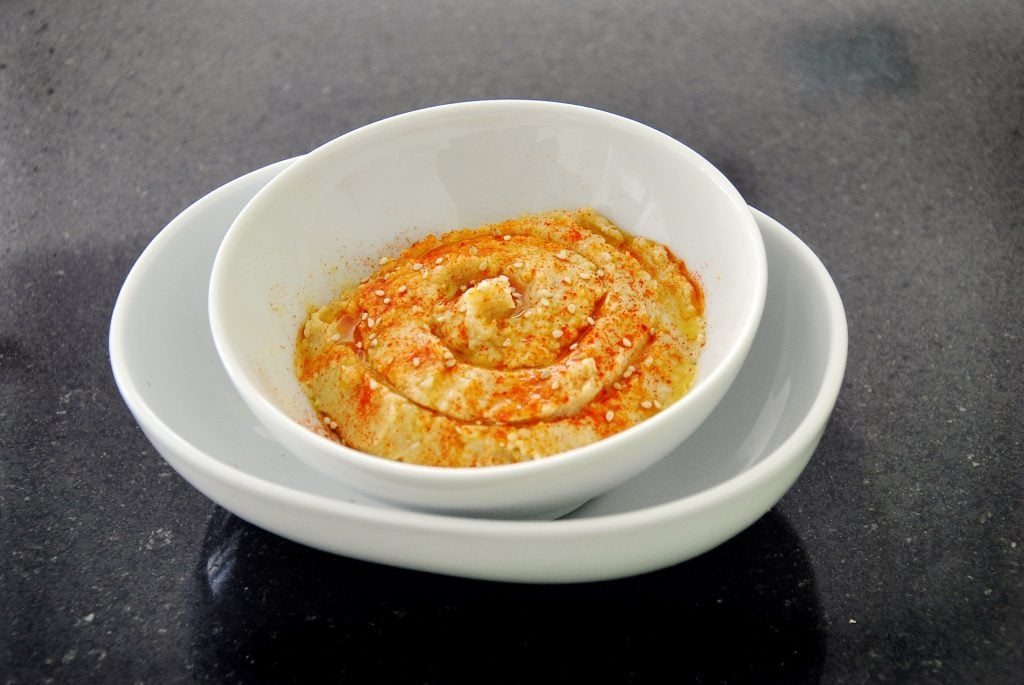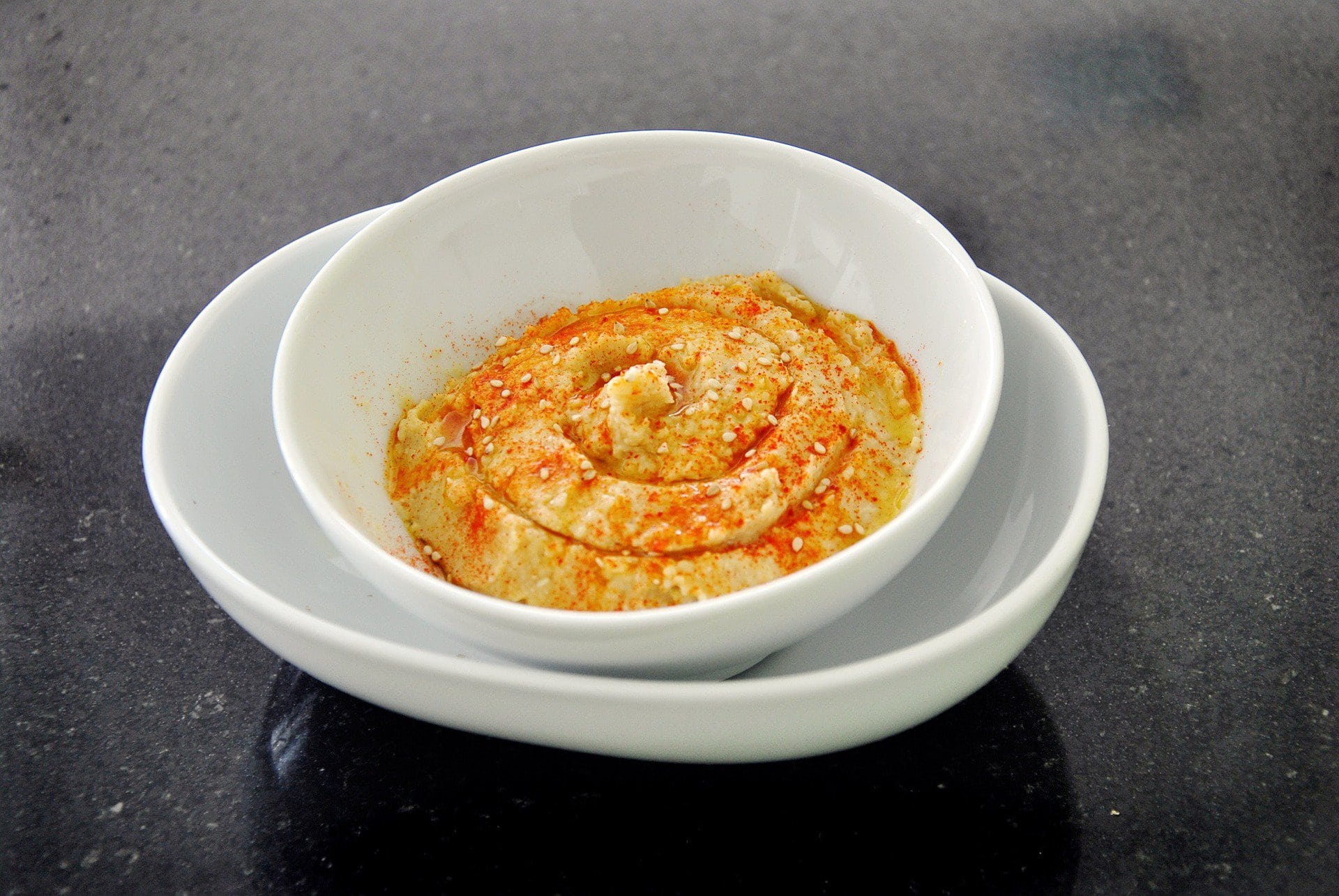 Hummus is a well-rounded health product with few carbs and a high concentration of nutrients. Studies show that hummus offers these unique benefits:
A two-tablespoon serving has four grams of net carbs and three grams of fat.
But it's important to read the label before buying hummus. Some brands add starch, sugar and dangerous oils that negatively impact your health. Buy hummus with whole food ingredients like chickpeas, garlic, tahini and olive oil.
Consider making your own if you can't find natural hummus at the grocery store. Our cauliflower and avocado hummus recipes are low-carb and nutritious, and you can pair them with anything.
Guacamole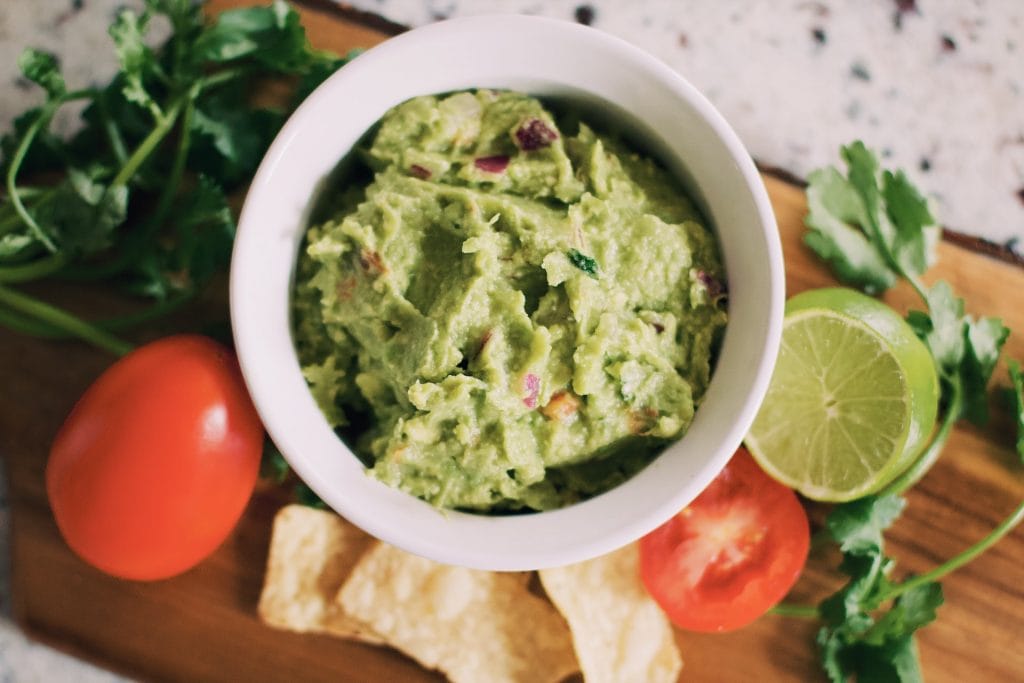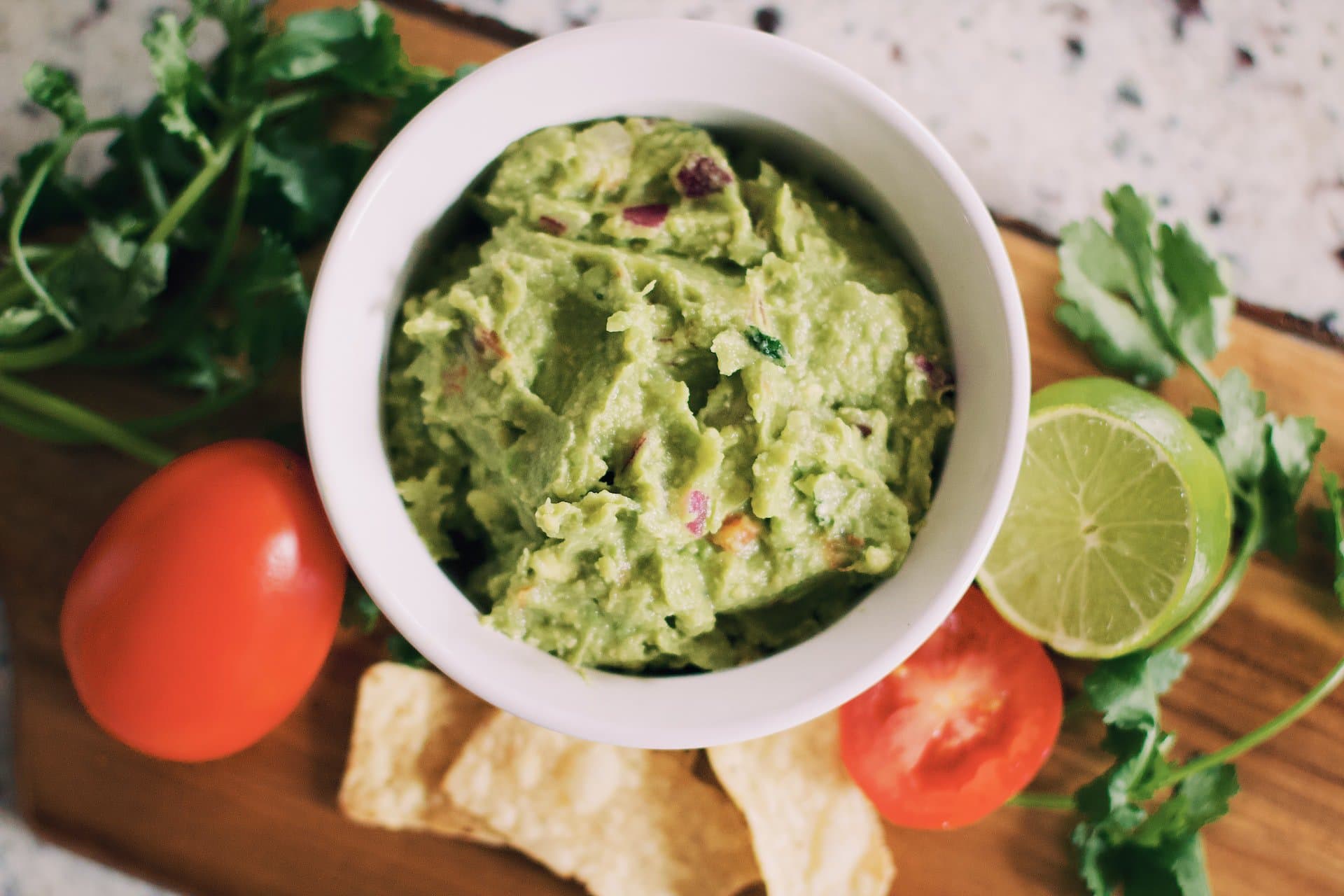 Guacamole is yummy and super easy to make. A whole avocado contains 2.8 grams of net carbs, so you can eat as much guacamole as you want.
I like dipping keto crisps or roasted vegetables in it to keep me going between meals. If you're looking to switch things up, use guacamole as an alternative to cream cheese.
Coconut Yogurt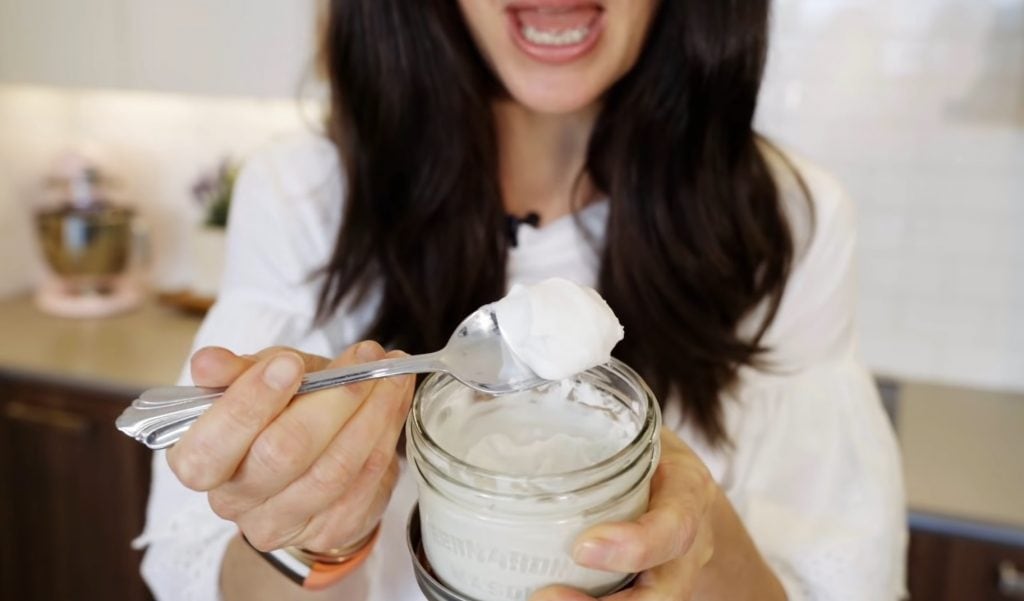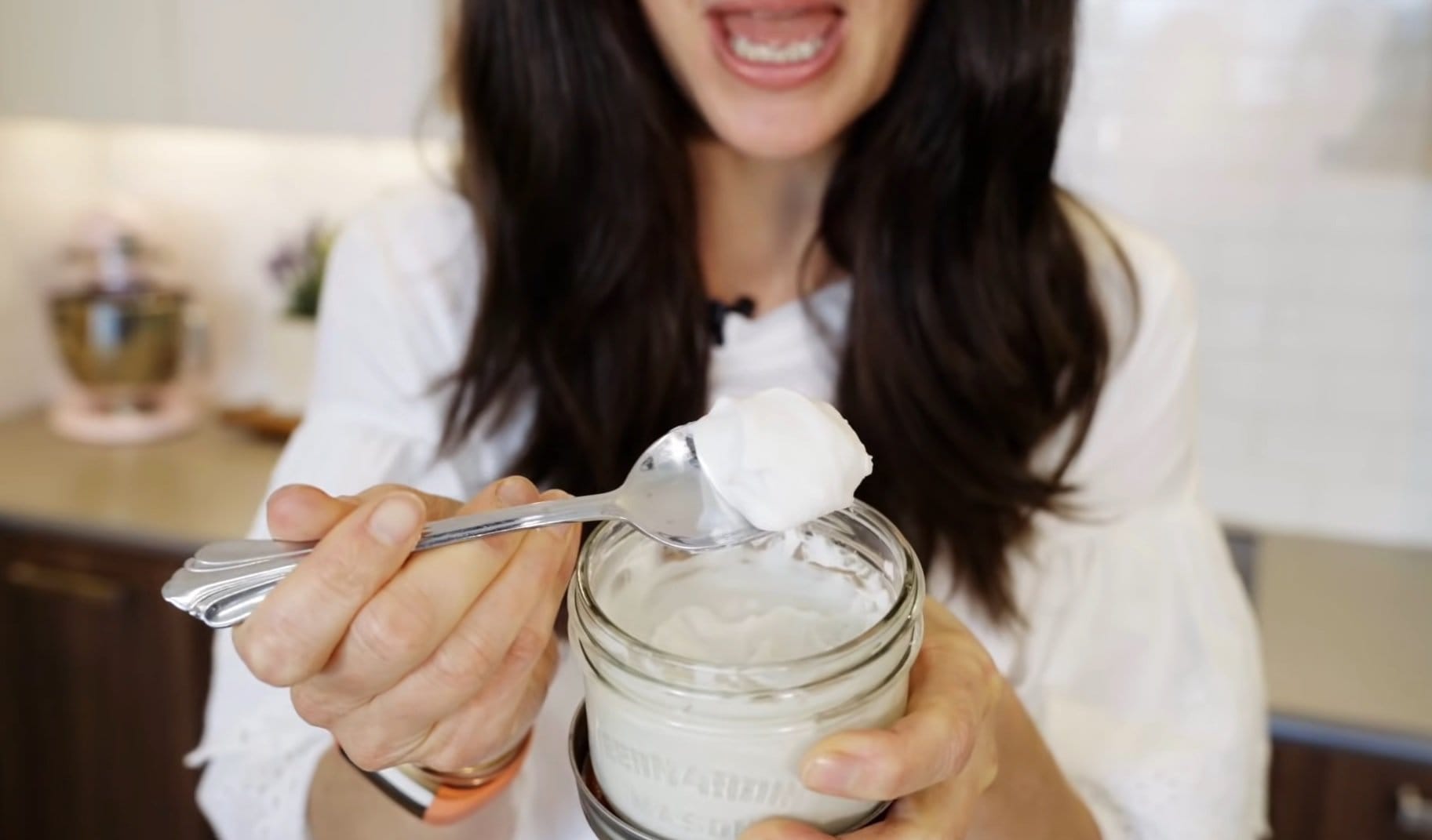 Coconut yogurt provides 2.8 grams of carbs and 10 grams of fat per serving, so you can enjoy it on a vegan keto diet.
But I'm a big fan of yogurt because it works well as a breakfast bowl. You can add any keto snack to yogurt, and it's a delicious breakfast.
Keto Cream Cheese Recipes
If you're looking for creative ways to introduce cream cheese into your diet, try these keto recipes:
Low-carb pumpkin bread
Cheesecake smoothie
Keto strawberry cheesecake
Cheesecake keto fat bombs
Keto popsicles
Low-Carb Pumpkin Bread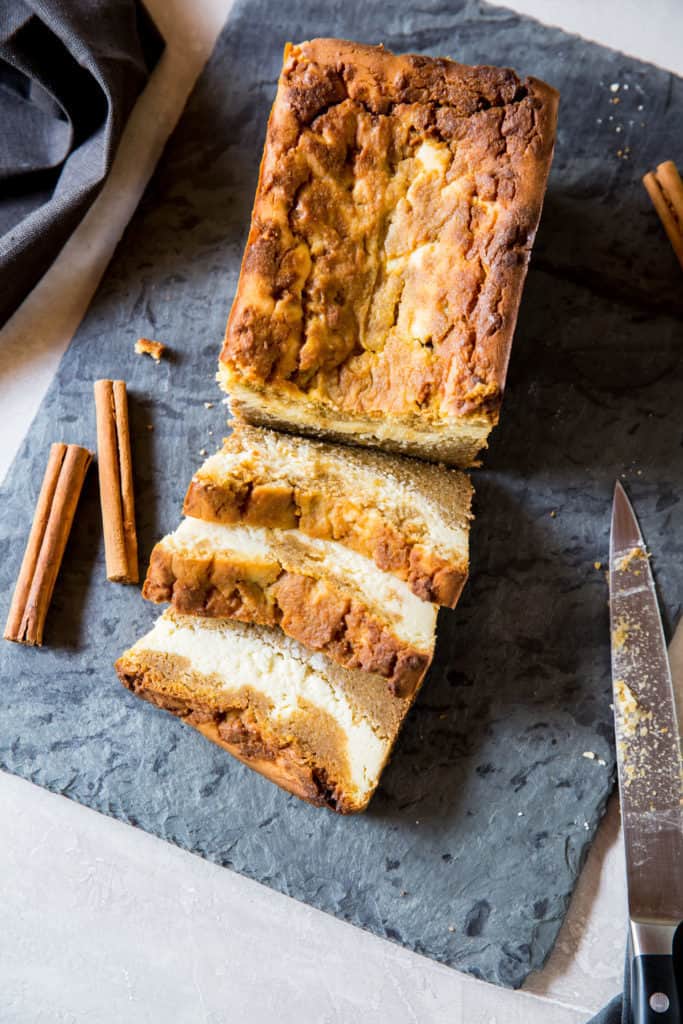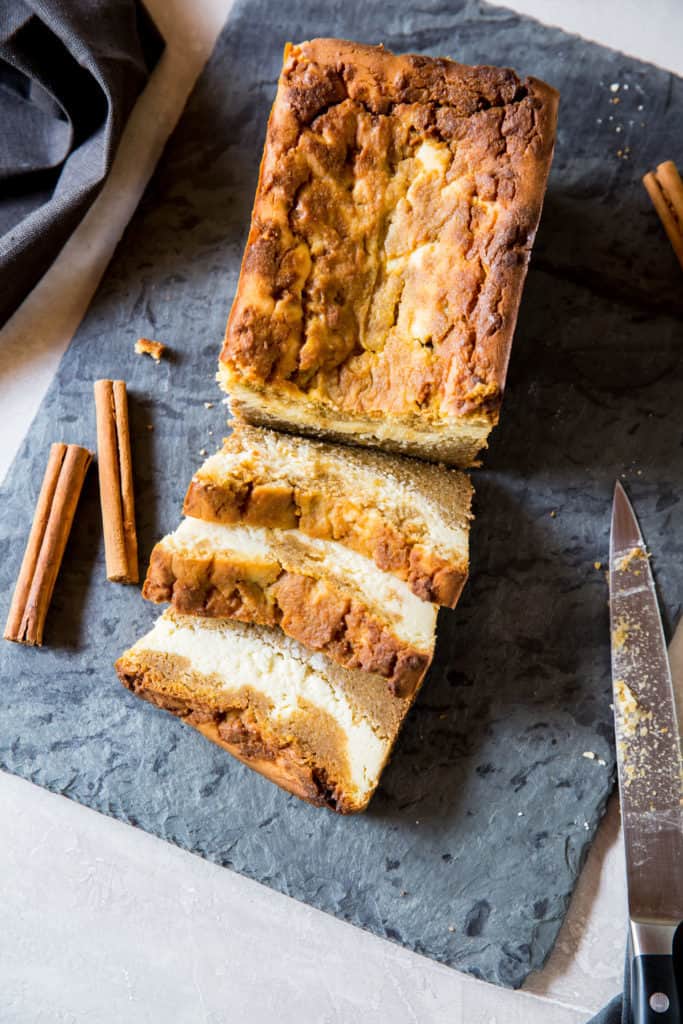 This low-carb pumpkin bread is perfect for the holiday season because you can invite friends and family to try out your new recipes.
It uses almond and coconut flour, so it's a good option if you have celiac disease. This recipe produces 10 servings, and for the cheesecake layer, you'll need:
Eight ounces of room temperature cream cheese
¼ cup of sour cream
A large egg
10 drops of liquid stevia
¼ cup of erythritol
To make your bread, grab these ingredients:
¾ cup of almond flour
⅓ cup of coconut flour
A half a teaspoon of baking powder
One teaspoon of pumpkin pie spice
A half a teaspoon of Pink Himalayan Salt
One cup of pumpkin puree
A half a cup of erythritol
20 drops of liquid stevia
⅔ cup of butter
One teaspoon of vanilla extract
A large egg
You'll first have to whip up the cheesecake layer, which will go in the middle of the loaf.
So pop your cream cheese, sour cream, egg, erythritol and stevia drops in a large bowl and whisk with an electric beater. Set this mixture aside for the time being.
For your bread, add your melted butter, erythritol, vanilla extract, stevia, salt, baking powder and pumpkin pie spice, and whisk in another large bowl.
After everything is nicely mixed, pour your pumpkin puree and whisk again.
The last ingredient to add is coconut and almond flour, and whisk for one last time.
Once your batter is nice and thick, pour it into a 9-by-5 loaf pan with nonstick coconut spray but leave one cup behind. Add your cream cheese over this base and use the remaining batter for the top.
Pop your loaf pan in the oven at 325 degrees Fahrenheit for 70 to 80 minutes. Let it cool for another one and a half hours when it's finished, and feel free to dig in.
Cheesecake Smoothie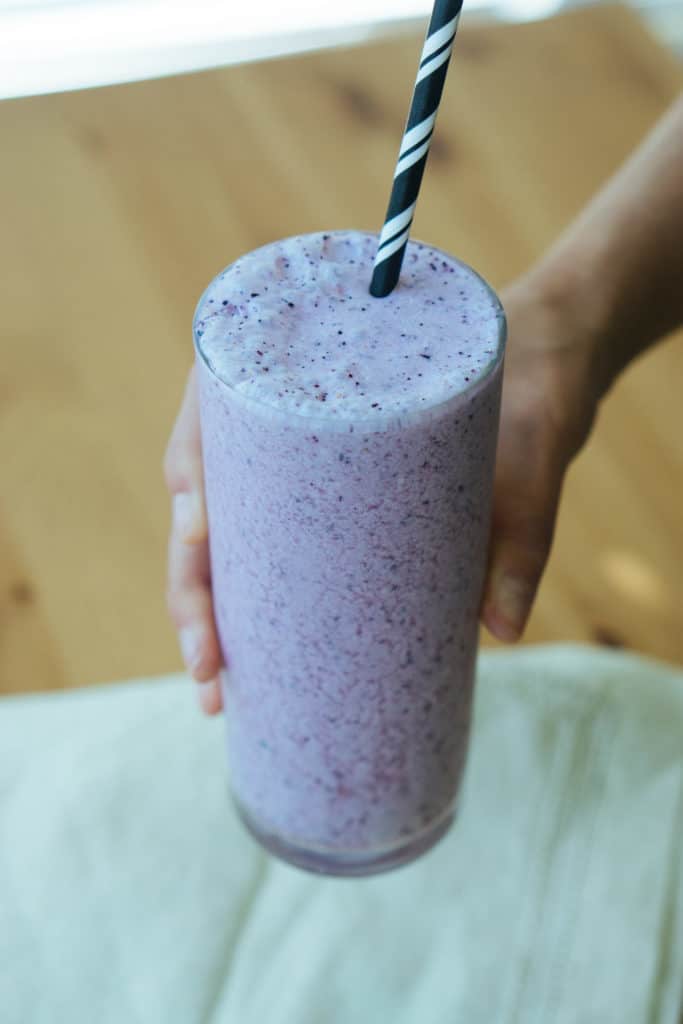 This cheesecake smoothie is practical for when you're on the go since it only takes five minutes to prepare and requires little ingredients:
One cup of flax milk (any milk alternative will work)
Two ounces of cream cheese
30 grams of blueberries
A scoop of vanilla protein powder
Five to 10 drops of liquid stevia
¼ teaspoon of vanilla extract
Five to seven ice cubes
All you have to do is combine the ingredients into a blender or food processor, blend until it's smooth, and enjoy!
Keto Strawberry Cheesecake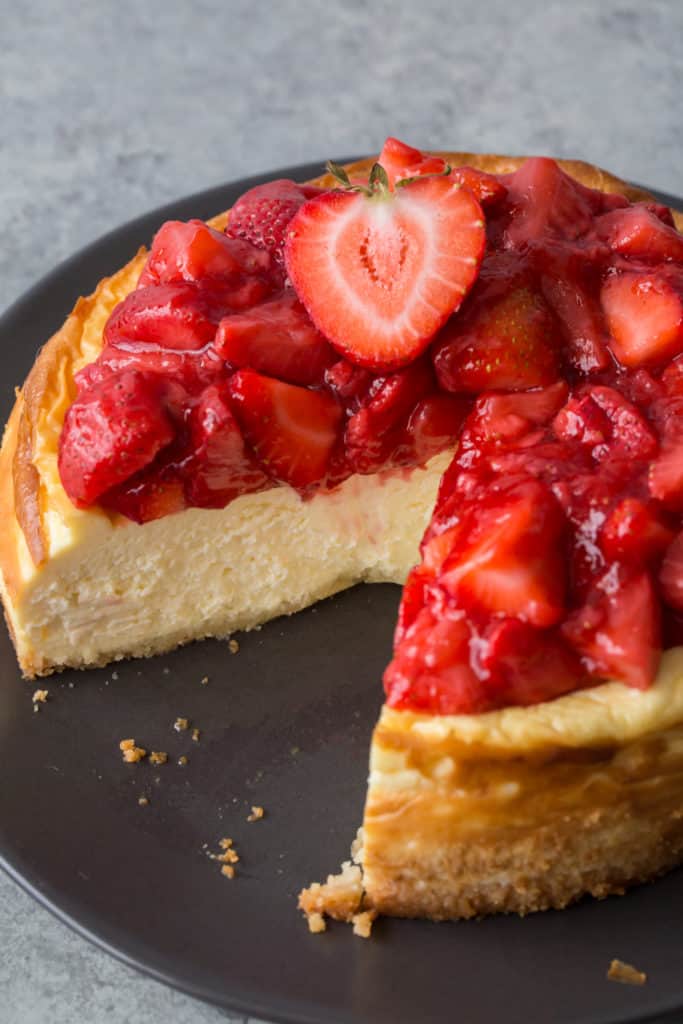 This keto strawberry cheesecake takes 10 minutes of your time, but it must rest for four hours. This is why I love making it the day before I have guests over because it can set overnight.
Gather the following ingredients for your crust:
A half a cup of pecan or almond meal
Two tablespoons of erythritol
Two tablespoons of butter
You'll also need these ingredients for your filling:
16 ounces of cream cheese
A half a cup of erythritol
Two large eggs
⅓ cup of sour cream
One teaspoon of lemon zest
Two teaspoons of vanilla extract
¼ teaspoon of liquid stevia
And for extra flavor, prepare a strawberry sauce topping with:
One cup of chopped strawberries
Three tablespoons of water
A half a tablespoon of lemon juice
One tablespoon of erythritol
¼ teaspoon of liquid stevia
A half a teaspoon of xanthan gum
Prepare your crust by adding nut meal, melted butter and erythritol to a bowl and mix well. Transfer this to your cheesecake pan and press down with a tablespoon so it's evenly spread. Refrigerate this crust for 20 minutes.
Next, beat your cream cheese and erythritol with an electric beater at low to medium speed until it's fluffy. Add your eggs one at a time while beating.
The last ingredients to add to your filling are lemon zest, vanilla extract and stevia and mix again. Pour this into your crust and bake for 45 to 50 minutes at 325 degrees Fahrenheit.
As your cheesecake is baking, prepare your strawberry sauce. Simply pop your strawberries, lemon juice, erythritol, stevia, xanthan gum and three tablespoons of water into a pot and let it simmer while stirring until it's thick.
Let your cheesecake cool for four hours after removing it from the oven, and you're good to go.
Cheesecake Keto Fat Bombs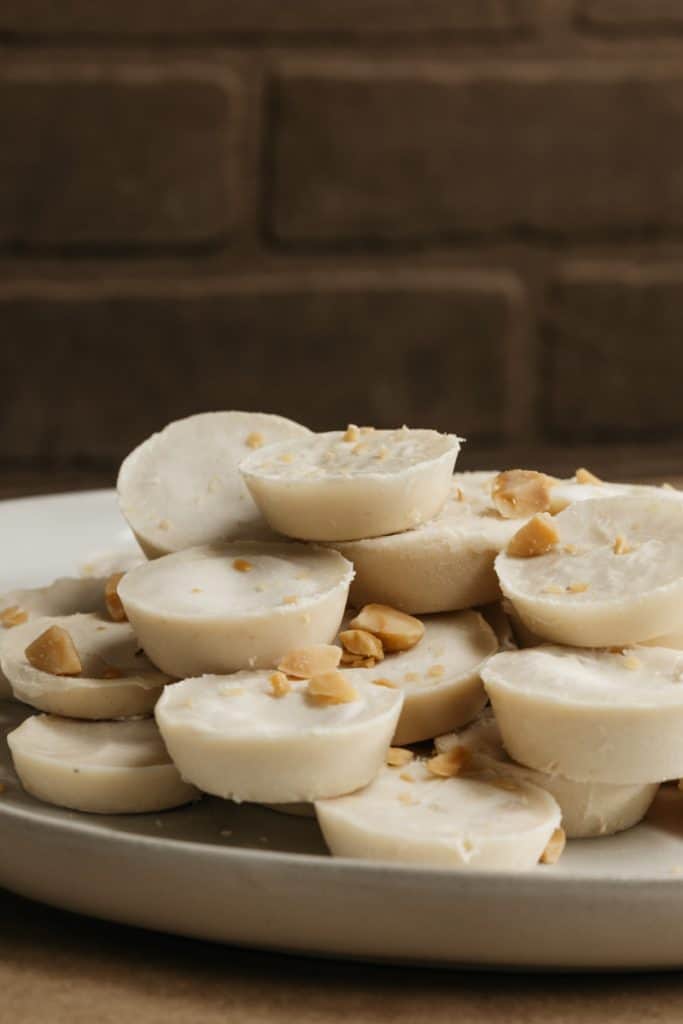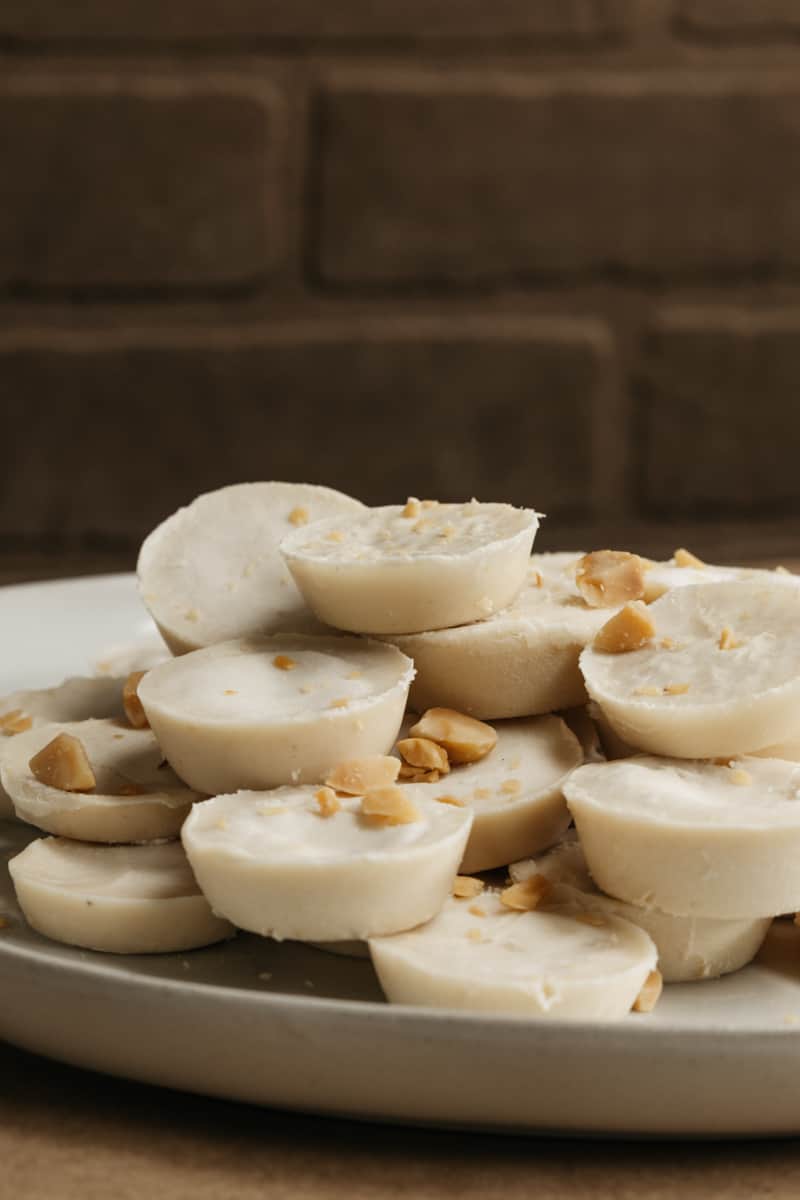 These fat bombs contain one net carb per serving, so it's a healthy way to snack between meals. The high fat content also makes adding fat to your diet super convenient, especially if you're starting out. You'll need:
A half a cup of regular cream cheese
¼ cup of unsalted butter
¼ cup of heavy whipping cream
Two to three tablespoons of erythritol
One teaspoon of vanilla extract
One teaspoon of lemon zest
Two tablespoons of sugar-free jam (optional)
Add four ounces of cream cheese, butter and powdered erythritol to a bowl and mix with an electric beater.
You could even add some sour cream or full-fat cottage cheese to give it extra flavor.
Once you've mixed everything, add your heavy cream, lemon zest and vanilla extract and beat again.
The last step is to place your fat bomb mixture on a tray using a cookie scooper, pop the tray in the freezer for one hour, and enjoy!
Keto Popsicles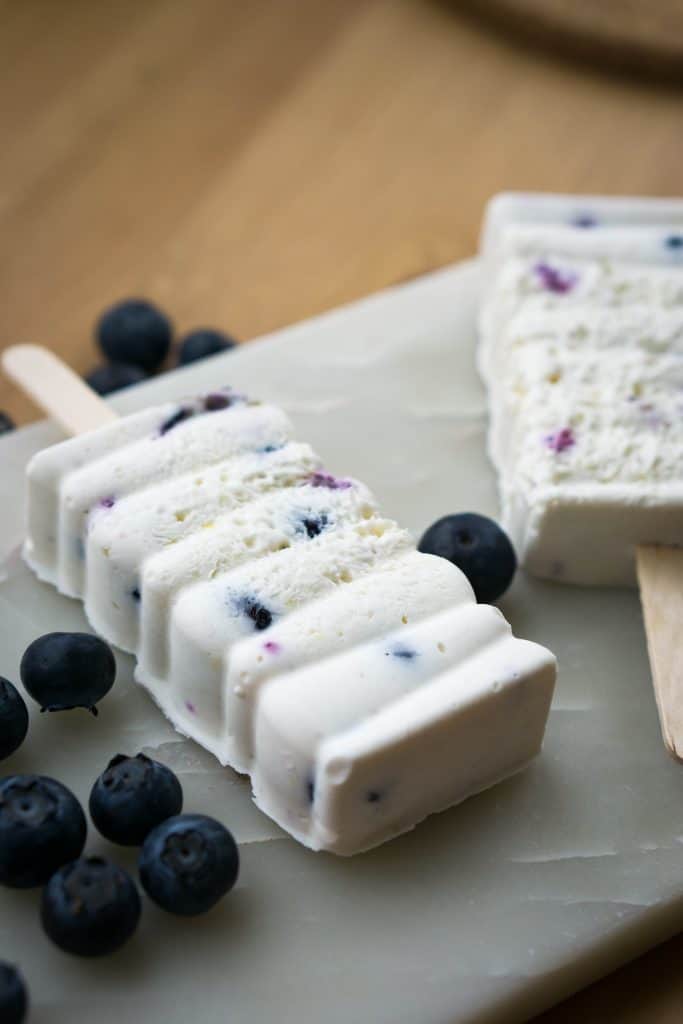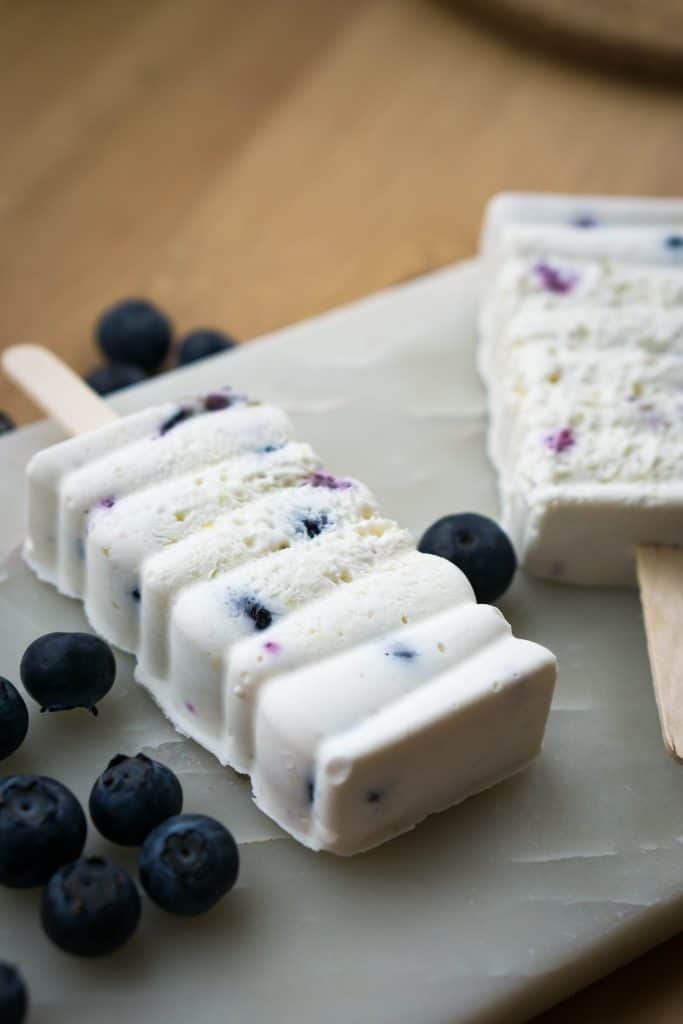 These keto popsicles are perfect for a hot summer day because it's low carb and tastes better than most store-bought popsicles. These are the ingredients you'll need:
Eight ounces of room temperature cream cheese
A half a cup of heavy whipping cream
¼ cup of sour cream
A half a cup of swerve confectioner
Three ounces of blueberries
One teaspoon of vanilla extract
15 drops of liquid stevia
One lemon zest
The juice of one lemon
Six popsicle silicone molds
Pop your room temperature cream cheese, sour cream and heavy cream into a large bowl and mix with a hand mixer. Next, add your stevia drops, lemon zest, vanilla extract, swerve and lemon juice and mix again.
Lastly, add half the blueberries to the mixture and smash them with a spoon. Pour the others whole and divide them between six popsicles. Freeze this for six hours, and serve!
Final Thoughts on Is Cream Cheese Keto
You can eat cream cheese on a low-carb diet because an ounce only has one gram of carb. It offers a mild and fresh cheese taste, popular among many health nuts.
If you're looking for vegan cream cheese alternatives, try Trader Joe's vegan cream cheese, mascarpone, hummus or coconut yogurt.
And if you're looking for new ways to implement cream cheese into your diet, consider our keto dessert recipes like tasty pumpkin bread, fat bombs, cheesecakes and popsicles.
Written By