These easy keto danish style butter cookies bring me back to my childhood. The original butter cookies right out of a blue tin were my favorite. Whether or not you remember these cookies from your childhood, you are in for a treat. They are simple, easy to make, and of course, buttery!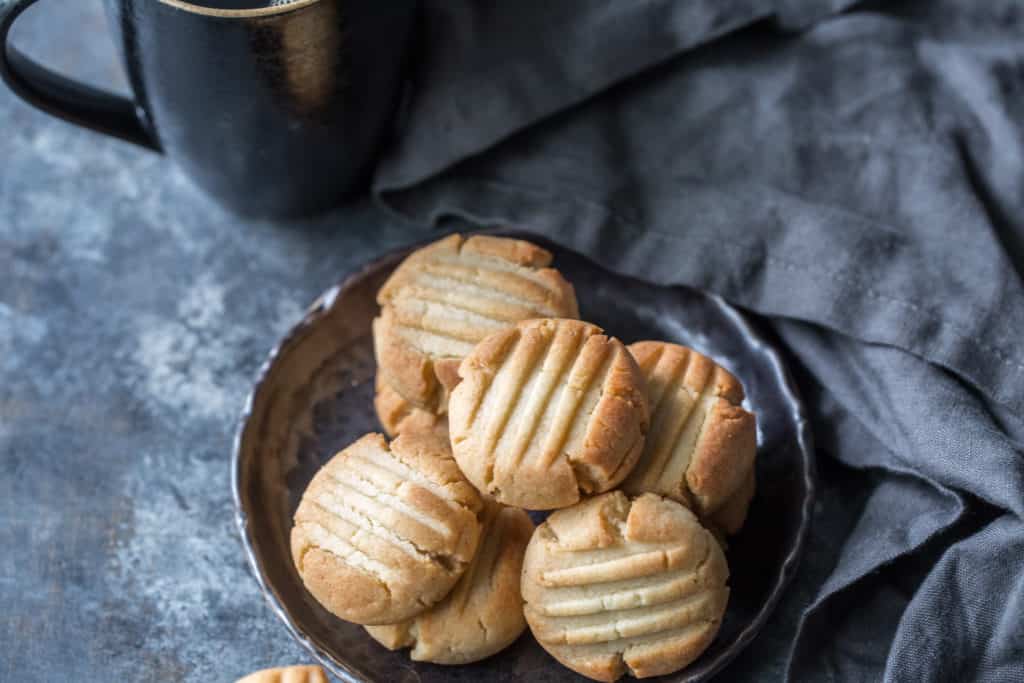 Are Shortbread Cookies The Same As Danish Cookies?
If you've had both shortbread and danish butter cookies, then you know the definitive answer is no, and here's why. Believe it or not, shortbread cookies have a higher ratio of butter to flour. I know, a bit confusing. However, if you've had both you'll know that the texture of a butter cookie compared to a shortbread cookie is a lot less crumbly. This helps them to hold their shape better.
Try Out a Good Shortbread!
If you try out the chocolate shortbread cookies from our new dessert ebook, you'll see that the instructions require you to chill the dough before slicing. This is the main way to prep that helps them keep their shape. Butter cookie dough, on the other hand, is a lot more firm. Aka a lot easier to work with!
Note: my personal favorite? Butter Cookies all the way! Matt on the other hand loves our recipe for a pecan sandies remake!
How to Make Keto Butter Cookies
The best part about this recipe is that it's easy to make, has minimal low carb ingredients, and uses coconut and almond flour for the best gluten free texture. With only 2 net carbs a serving you'll have to make sure this keto butter cookie recipe is on your holiday baking list!
Ingredients
We use only the best ingredients to make our keto butter cookies dough. Plus good ingredients not only taste good, but make you feel good too. These are some of our favorite low net carb ingredients for this recipe:
With such a simple list of ingredients this cookie dough will be one for the books. Now that we have the dough ingredients together, we're ready to get making our keto cookies!
Instructions:
Preheat the oven to 350°F. Now we can line a baking sheet with parchment paper or a silicone mat. Take the parchment paper lined baking sheet and set it aside.
In a mixing bowl, combine almond flour, coconut flour, erythritol, and baking powder. Make sure you mix it really well so there are no almond flour clumps. Sifting almond flour isn't necessary, however due to the high fat content in almond flour it's important to mix well since it likes to clump.
Now cut in the butter and vanilla extract to the almond flour mixture. Work it with your fingers until a cookie dough forms.
Remove from the mixing bowl and use your hands to roll out the almond flour cookie dough into 12 equal balls. Place the balls 2-inches apart on the prepared baking sheet(lined with parchment paper). Using a fork, flatten and create a striped pattern on the low carb butter cookies.
Place the baking sheet into the oven and bake the cookies for 11-14 minutes, or until browned around the edges. Transfer from the baking sheet to a wire rack to cool.
These low carb butter cookies are best stored in an air tight container or zip top bag in the fridge up to 10 days.
That's it! These easy keto butter cookies are definitely worth the effort. If you love this cookie recipe (and we know you will) let us know down below!
Storing Keto Recipes
Depending on the recipe different treats store best different ways. The recipe we use does not have preservatives unlike the blue tin cookies and cannot be left out on the counter for a month. We recommend for most keto recipes that you keep them in the fridge or don't leave them out for more than a day. It is best to use a zip top bag or airtight container for storage in the fridge.
Freezing Keto Cookies
You can also use this same technique to store them in the freezer. They will last about 10 days in the fridge or 1 month in the freezer. Just make sure you use a well sealed zip top back so they don't get freezer burn.
Tips for the Best Keto Butter Cookies
These low carb butter cookies are good already, I mean with ingredients this good and such a simple recipe you really can't lose! However, we totally understand wanting the best keto butter cookies ever. That's why we created a list of some of our favorite tips and tricks to make your baking even better.
Making the Outside Extra Crispy
If you love keto butter cookies that have a crispier outside this is the hack for you. After baking the keto butter cookies for a normal 13ish minutes, you'll want to remove them and set them aside. Turn off the oven and open the door slightly for a few minutes. This should drop the oven temperature a bit. Then, stick the cookie sheet back in and keep the door cracked with the oven off. The hot air will help them dry out even more without cooking them much. Once they're almost fully cooled remove them from the oven again and allow them to come to room temp.
Room Temperature (Softened Butter) Or Melted Butter?
I've always wondered whether the temperature of the butter makes a difference. Well, turns out it does and these cookies are the perfect example to explain why! It's simple, really. If the butter is room temperature (aka butter softened ahead of time) and combined with dry ingredients like done in this recipe, the cookies are less likely to spread in the oven.
And, as you know butter cookies hold their shape, so for this recipe we recommend you opt to take the extra step of putting your butter out a couple hours before you start to bake! Butter softened early is definitely worth it, we promise.
Sweetener Matters
In low carb baking there is a variety of ketogenic sweeteners you can use. However in this recipe powdered erythritol is essential to getting crispy keto butter cookies. Things like Allulose, BochaSweet, ect. tend to make a more cake-like low carb treat. We love Swerve confectioners or any erythritol based powder. They are all also low in net carbs which is good on keto macros.
I Love You a Choco-LOT
A good halfway chocolate dip is the perfect addition to these keto butter cookies! We love Lily's Chocolate Chips which are low carb and sugar free. They make the perfect smooth chocolate touch that adds a rich chocolate flavor to the buttery cookies. Just melt the chips with about a teaspoon of coconut oil and dip half the cookie. Place the dipped low carb cookies on a piece of parchment paper and let the chocolate set.
In Summary:
Now that you've got the insider scoop and know all the best tips, the next time you make these keto butter cookies will knock your socks off! Just remember use the right sweetener, softened butter, and of course get creative!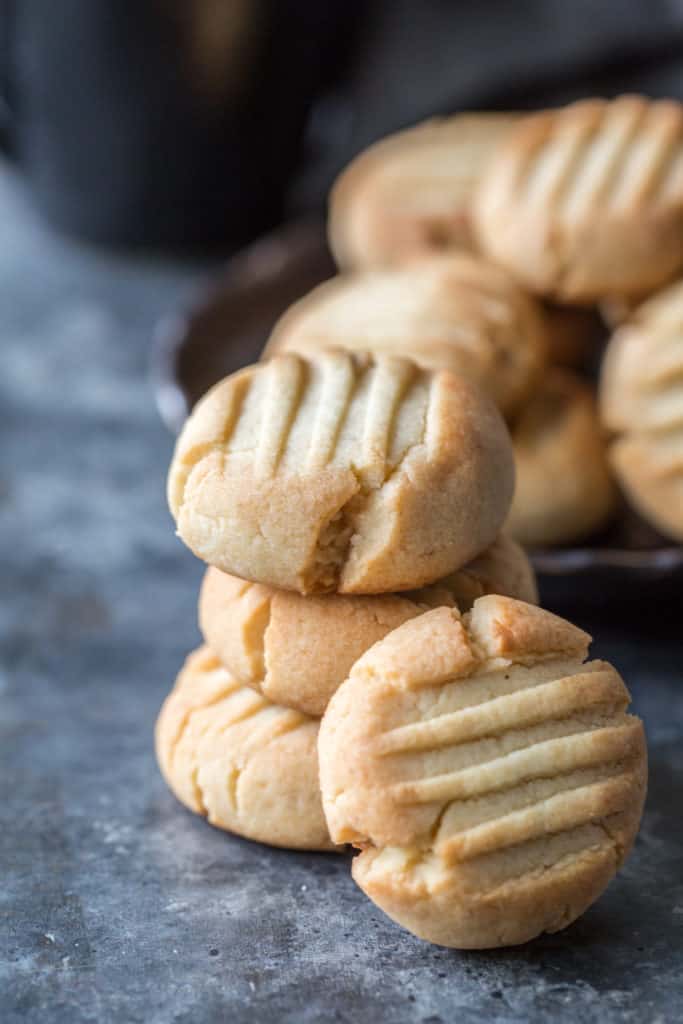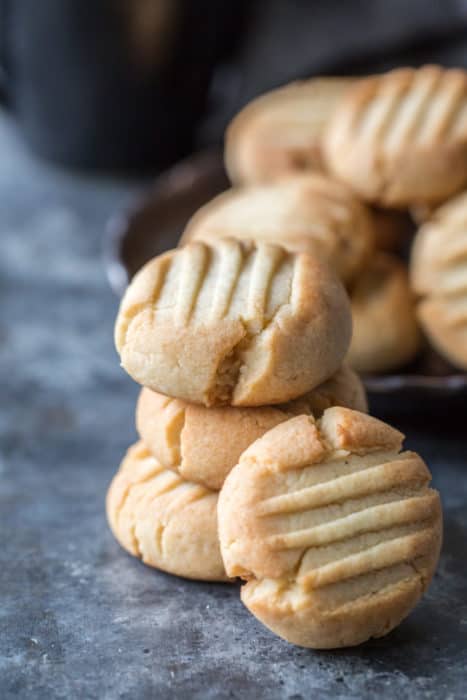 Crunchy Butter Cookies
I know there are a lot of you out there who love soft batched cookie recipe and a lot who love crunchy cookies. Personally, I'm a crunchy cookie person. Dipping a crunchy cookie in milk or coffee is far superior to a soft batched non dip-able cookie!
These cookies however, are crunchy on the outside and soft on the inside. We purposely left them thick and not spread so they would bake this way. If you want a crunchier danish butter cookie, just spread the cookie out a little more prior to baking! The more surface area baked will yield a crunchier result.
Easy Keto Cookies!
Who doesn't love cookies?! Pre keto, eating a sleeve of golden Oreos was my favorite treat, and my favorite pass time (haha). While my palate has matured, keto cookies are and always will be my favorite thing to make, and eat!
In order to not feel so restricted we started a food blog. We were able to begin sharing remakes, and keto cookies were at the top of the list! We like to keep the ingredients minimal and preparation easy for you. These are some of the best keto cookie recipes:
The Best Cookie Sidekicks
Everyone knows any story's hero needs a great sidekick. With cookies we love delicious beverages for dipping. Whether you want cookies for breakfast (they're low carb gluten free cookies so we won't judge), or cookies for a snack we've got the drink for you.
Drinks for Dipping
Bulletproof Coffee– If you want a pairing for your breakfast treat try our bulletproof coffee. A creamy high fat way to start the day that will keep you full for hours.
Hot Chocolate– For all my kiddos in the house. Serve keto cookies and hot chocolate this holiday season to keep your kids happy AND healthy.
Chai Tea Latte– Whether you like a dirty chai or and original tea latte we've got it! This is perfect for the person who wants a ton of flavor and spices.
Never Before Seen Desserts!
Trust us when we say we've done it all. There are only so many ways a keto cookie recipe and pie can be made, but we wracked our brains and created 30 never before eaten low carb desserts in our newest e-book, Sugar Free Treats! Not to brag, but this e-book really takes the cake.
An easy keto cookie recipe this simple requires a weekly baking session. Get your family involved this holiday season and make some delicious keto butter cookies to enjoy all Christmas long.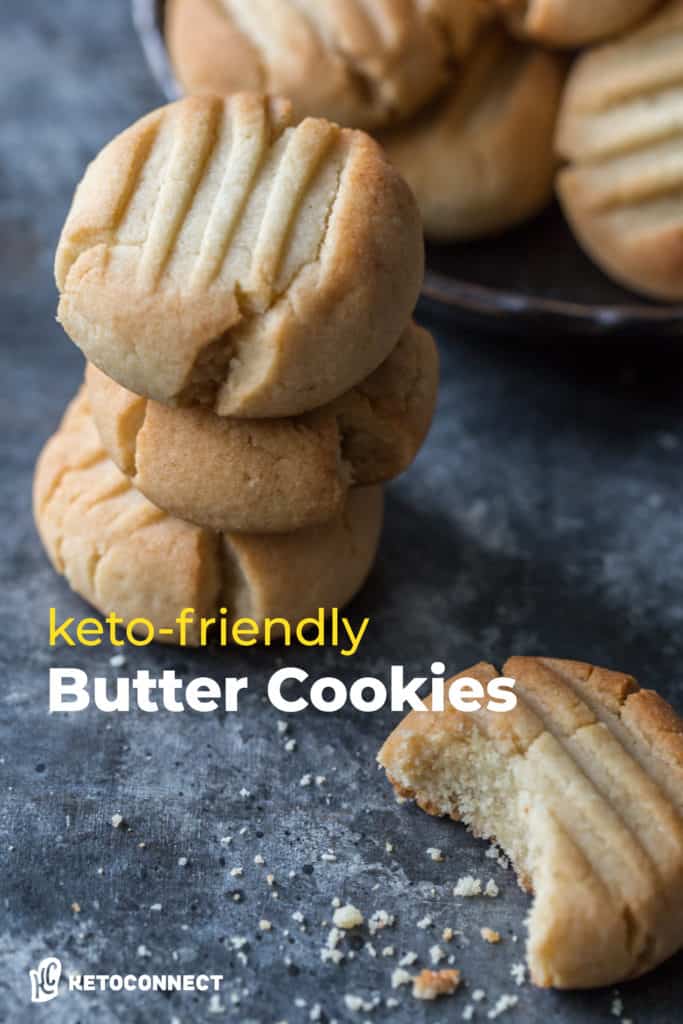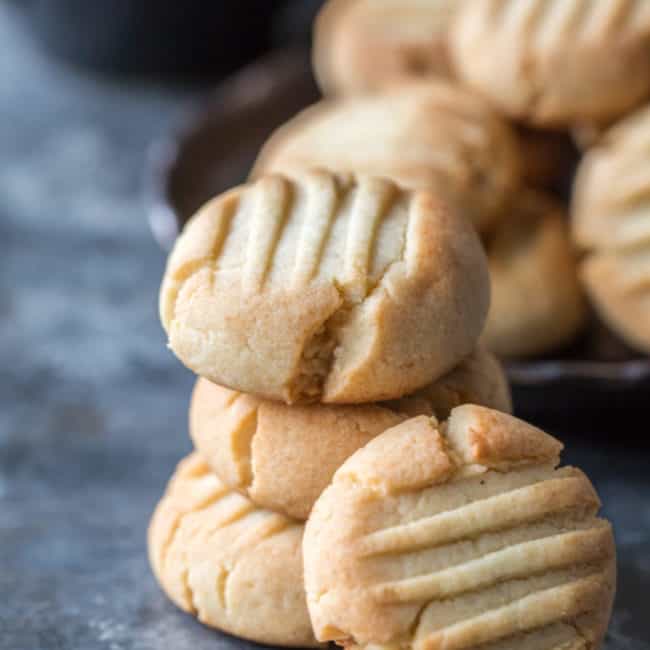 Danish Style Butter Cookies
These Danish Style Butter Cookies are soft on the inside, crunchy on the outside and super easy to whip up in under 30 minutes!
Total Time 22 minutes
Servings 12 Cookies
Calories per serving 128kcal
Prep Time: 10 minutes
Cook Time: 12 minutes
Instructions:
Preheat oven to 350°F and line a baking sheet with parchment paper or a silicone mat.

In a mixing bowl, combine almond flour, coconut flour, erythritol, and baking powder; mix well using a spoon.

Cut in the butter and vanilla and work it with your fingers until a dough forms.

Use your hands to roll the dough into 12 equal balls. Place the balls 2-inches apart on prepared baking sheet. Use a fork to flatten and create a striped pattern.

Bake the cookies for 11-14 minutes, or until browned around the edges. Transfer to wire rack to cool.

Best stored in an air tight container or zip top bag in the fridge up to 10 days.
Notes
Net Carbs: 2g per serving
Yields: 12 Cookies
Nutrition Facts
Danish Style Butter Cookies
Amount Per Serving
Calories 128 Calories from Fat 108
% Daily Value*
Fat 12g18%
Carbohydrates 4g1%
Fiber 2g8%
Protein 3g6%
* Percent Daily Values are based on a 2000 calorie diet.