Everyone's all time favorite, keto sugar cookies always steal the show at family and friend gatherings. If you've ever made these, you know why. If you've never had them, well now it's your time to find out what the hype is all about!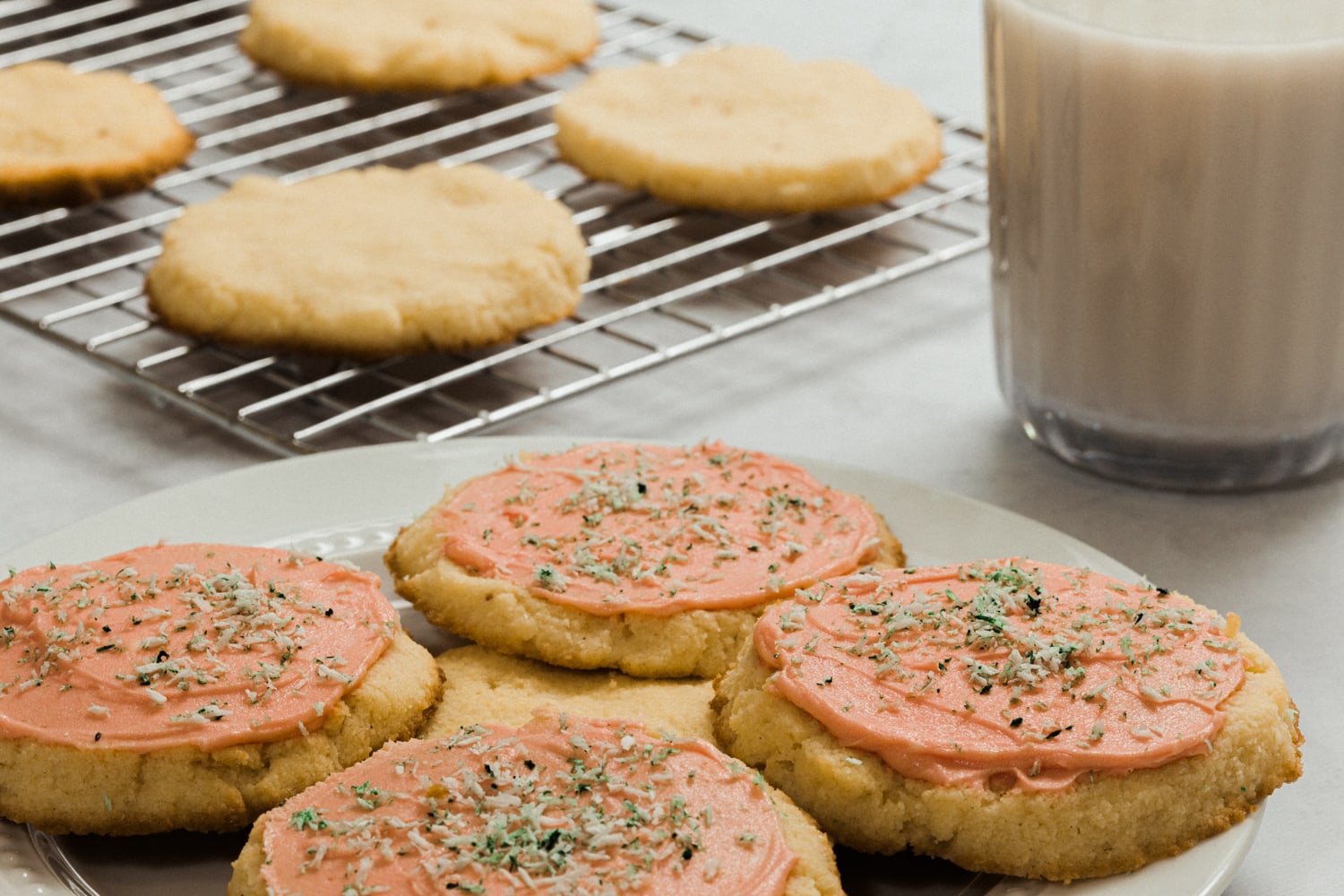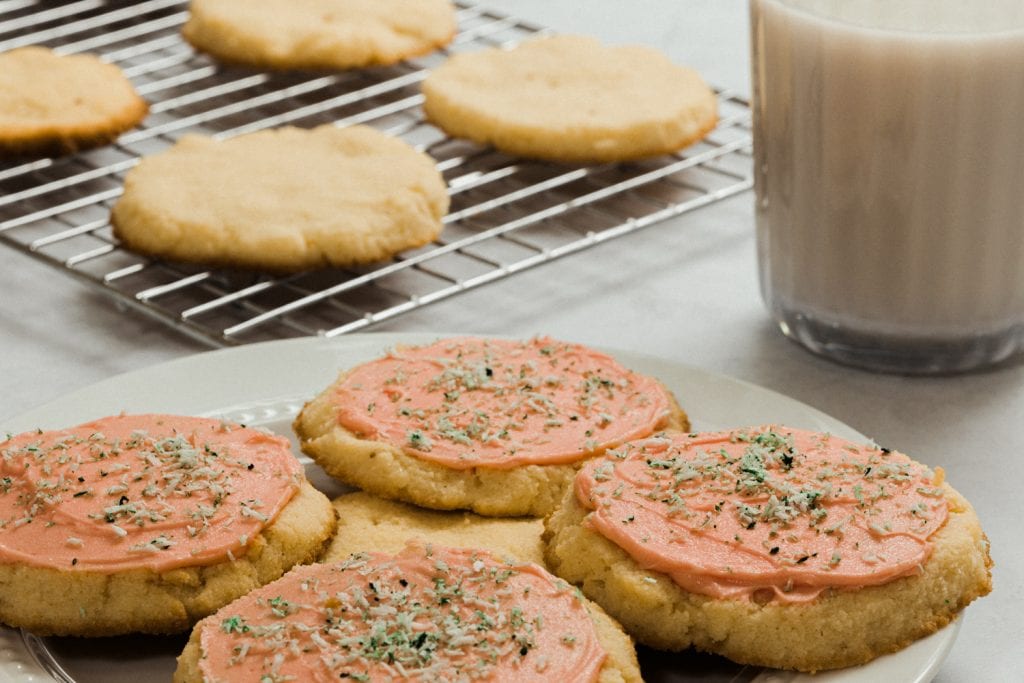 How to Make Keto Sugar Cookies?
There's no need for all purpose flour, harmful sugars or super complicated ingredients and they still taste like the real thing. It's actually one of my favorite keto recipes when it comes to keto Christmas sugar cookies.
If you like to bake cookies with your friends and family during the holidays, this is the perfect recipe to go for. Because they taste just like traditional sugar cookies, it's a win win for everyone!
Ingredients
All you need is 8 ingredients to make these sugar free cookies! Since both coconut and almond flour are by now low carb staples in every keto kitchen, you shouldn't have an issue with any of these necessary ingredients.
Always keep in mind to pick the healthiest, organic ingredients from known sources. Make sure to read labels because lots of companies are sneaky with their marketing and what they put on the front of the product doesn't always match what's in the back!
Butter
One of the star ingredients in this sugar cookie recipe, butter adds fat to the cookie dough and gives them flavor, tenderness and texture. We always choose the grass-fed kind and we don't use salted butter.
Almond flour
As one of the most common keto friendly flours, almond flour is full of fat and gives the cookie a softer texture. We came up with a mixture of both almond flour and coconut flour to resemble all purpose flour as much as we could.
Coconut flour
This ketogenic ingredient is super absorbent and a little goes a long way, so you don't really need much of it when you're baking. It also adds natural sweetness to any sugar cookies, which makes it perfect in sugar free baked goods.
Keto sweetener
Our keto sugar cookies recipe is tied together by a keto sweetener. It will add the taste you want without the carbs and harmful sugars. Since most keto sweeteners are sugar alcohols, they don't count in your daily carbohydrates!
Eggs
Coconut flour usually needs to be balanced out by lots of eggs, but in this recipe we were able to come up with a less eggy batter by incorporating more butter and also partly mixing it with almond flour.
Baking powder
Although it contains some carbs, we only use half of a teaspoon here to fluff up the cookies just a tad and let them rise by a tiny bit.
Vanilla extract
We added vanilla extract to the mix to give our low carb sugar cookies that wonderful, delicious flavor. You're more than welcome to use different ones if that's what you prefer, such as almond extract or caramel extract.
Salt
A little pinch of salt never hurt nobody, and if you ever wondered why people use salt in cookie dough it's because it enhances the flavor of other ingredients and balances out the sweetness of dessert cuisine.
Step by Step
Here's a more detailed guide on how to make these keto sugar cookies by creating the perfect cookie dough. Keto baking doesn't have to be difficult, even if you're using both coconut flour and almond flour with a bunch of other ingredients!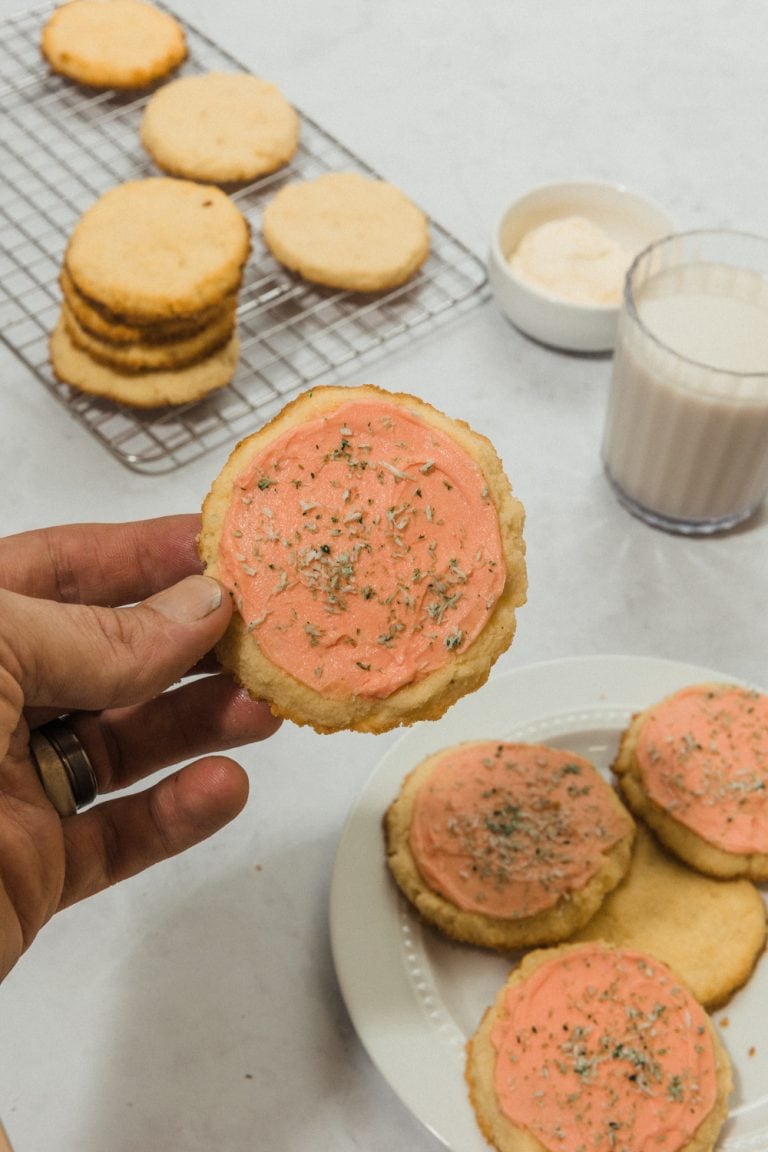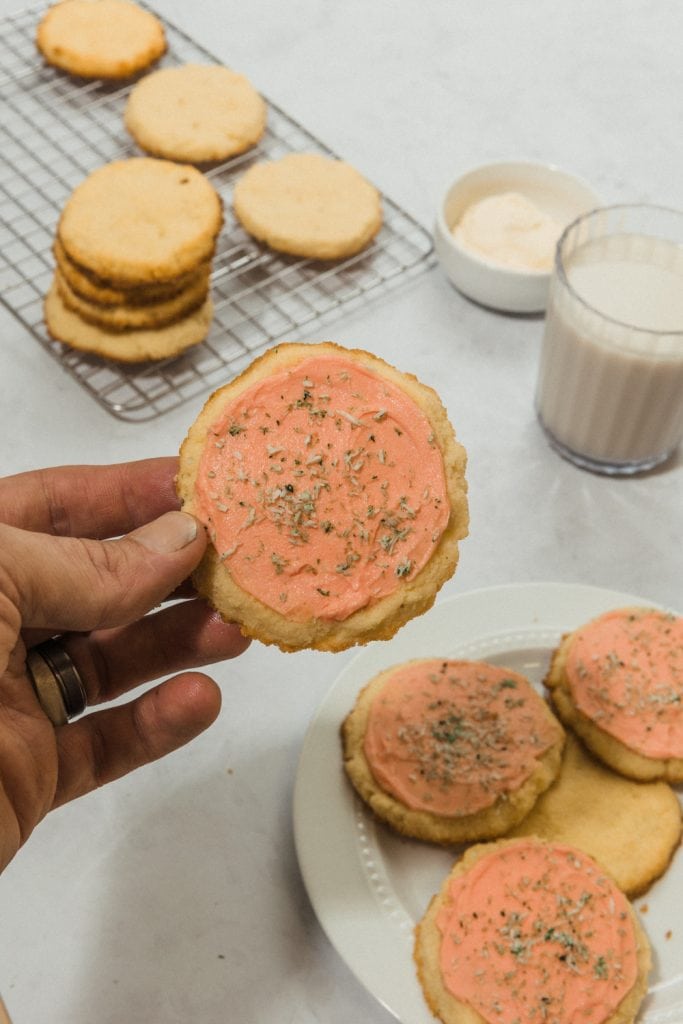 Step 1: Combining ingredients
Before you combine the ingredients actually, preheat the oven to 375F. Also, line a baking sheet with parchment paper. I'm smirking as I'm writing this actually because I always write it in my recipes and how important it is to do it before anything else, but sometimes forget to do it anyway.
The first step in making the best keto sugar cookies is to take a large mixing bowl and start on your sugar cookie dough. Mix together melted butter, keto sweetener (it can be powdered sweetener if you want to), vanilla extract and salt.
Cream it all together until it's well combined and slightly lighter in color. You can use a hand mixer to do this or a big wooden spoon, up to you.
Step 2: Working with the batter
Once your butter and keto sugar mixture is uniform and creamy, it's time to add in the eggs and mix again to create a smooth batter. Don't rush with this one – these keto sugar cookies need a little bit of love and patience! It's best you use a mixer for this step.
Step 3: Adding dry ingredients
In this keto sugar cookies recipe, we're adding dry to wet ingredients. Go ahead and stir in the almond flour, coconut flour, and baking powder until all in combined.
The secret to the tastiest keto sugar cookie dough is to make it as uniform in consistency as possible so you don't end up with crumbly cookies later on.
Step 4: Preparing keto cookies
Now it's time to get the keto sugar cookie dough going! Using a cookie dough scoop, place the mixture on a greased baking sheet. In this step you want to shape your keto sugar cookies and spread them as thick or thin as you'd like.
They're not the kind of cookies that spread as much as they can and at the end blend into one single sheet pan cake (we experiment a lot and I can't count how many times this has happened to me).
In actuality, these sugar cookies don't spread at all. So it's important you shape them with the end result in mind.
Step 5: Baking
Your keto sugar cookies are one step away from being finished! Now, all you need to do is simply bake for 6-9 minutes or until they're cooked through and slightly browned on the bottom.
I suggest the first time you make these just watch them closely. Not all oven's are equal and sometimes baking low carb sugar cookies even for a minute longer can result in them being a bit overdone.
Step 6: Almost done!
And you're finally here, at the finish line, with the best keto sugar cookies you've ever had! Don't forget about this last crucial step – let your cookies cool down before you move them off the cookie sheet.
You can also decorate them with keto frosting or keto icing, depending on the shape you come up with. I absolutely love dipping these in our 3 Minute Keto Frosting. Actually, for the holidays I might make the chocolate one and add a few peppermint extract drops to get into the holiday spirit.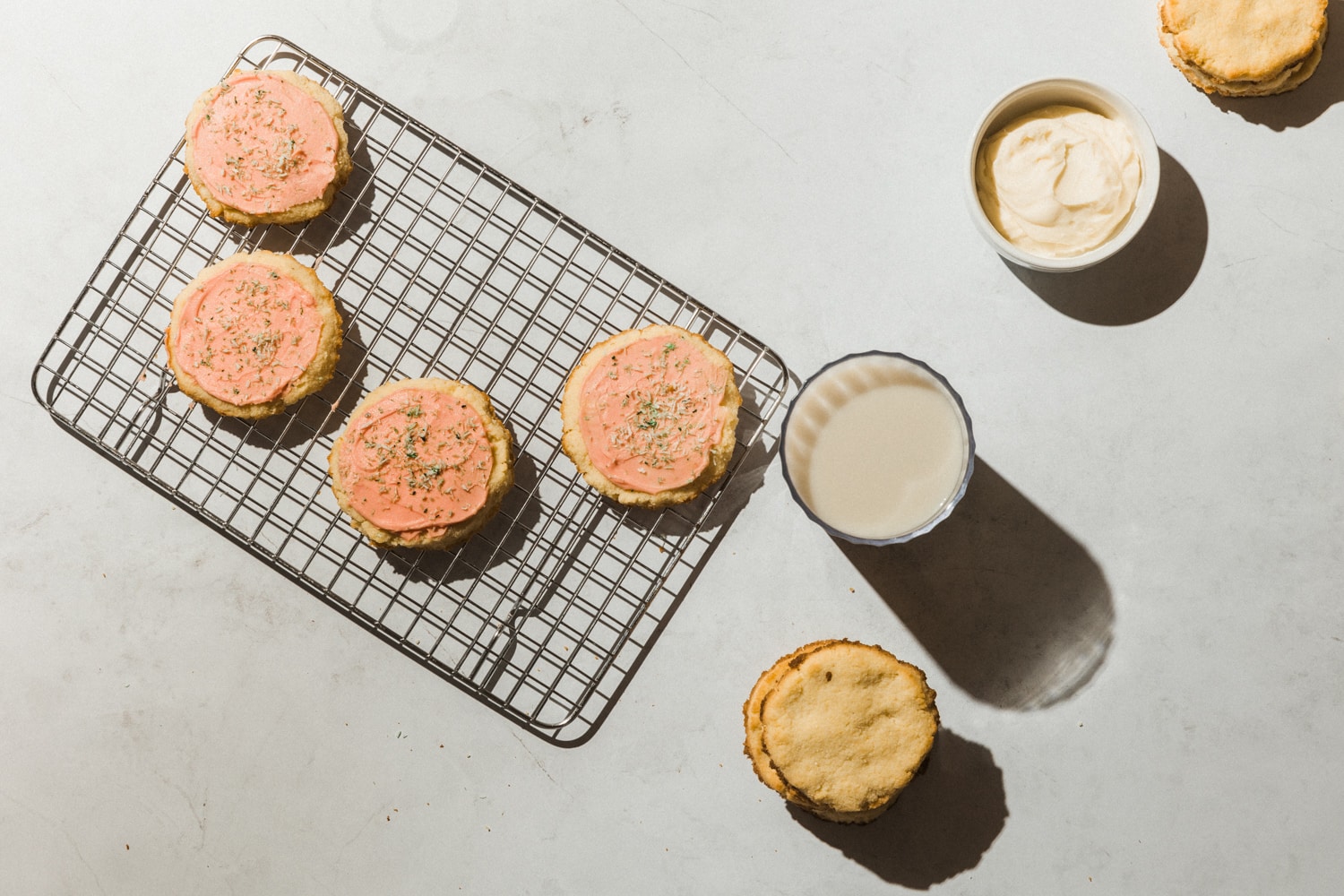 FAQs
Although this low carb, keto recipe is really easy to make, we've answered some of your questions below about ingredients, storage and more!
Can I use coconut oil instead of butter?
We personally haven't tried it but I assume it's possible since the butter needs to be melted here. If you do substitute it, let us know in the comments how it worked out for you.
Keep in mind that if you switch these ingredients, your sugar cookies may end up with a different texture. It's the joy of low carb recipes!
Here's a really good breakdown of the infamous battle of butter vs. coconut oil.
Do I need to use both almond flour and coconut flour?
In this recipe, yes. I find it important to follow recipe instructions, especially if you're making it for the first time. When it comes to playing around with almond flour and coconut flour, there isn't much wiggle room for you here.
We've combined both of the flours here to control the texture and let the flour mixture resemble all purpose flour as much as possible. It will give you the desired consistency and result in delicious and sweet cookies.
How can I store keto sugar cookies?
This keto sugar cookie recipe is convenient since you can keep these practically anywhere. You can keep them at room temperature for about a week and they will be perfectly fine, but we recommend you keep them covered so they don't dry out too much.
You can also keep them in the fridge for up to two weeks if you want to hold them for a bit longer. Because of the low temperature, these keto sugar cookies might become a little softer and more crumbly with time if you do keep them in the fridge.
If you want to freeze them, cool completely beforehand and put your keto sugar cookies in a ziplock bag. You can store them for up to six months.
If you'd like to freeze the cookie dough, you can do that as well. Simply shape the dough with cookie cutters, place on a baking sheet lined with parchment paper and freeze. Then, transfer to ziplock bags and take out whenever you're ready to pop them in the oven and eat them freshly baked.
Can I use sugar free icing on these?
I've seen sugar free keto royal icing and some of them have pretty decent nutrition facts and ingredients to be honest. If you can snag one online or at your grocery store, take a close look on what the label says and watch out for hidden sugars.
It's actually really easy to make your own low carb, keto icing right in the comfort of your own home. Simply mix butter and confectioners style keto sugar substitute together until uniform.
Heat it up in the microwave for like 5 seconds or less to spread it on your cookies and then let the cookies cool completely in the fridge. This will harden the icing.
More Keto Cookie Recipes:
Are Keto Sugar Cookies Your Favorite?
If you want to try the best keto sugar cookie recipe, give this one a shot and I promise you, you won't regret it. They're super easy to make, don't take a long time and taste just like the traditional sugar cookie.
Leave us a comment below with your feedback and thoughts!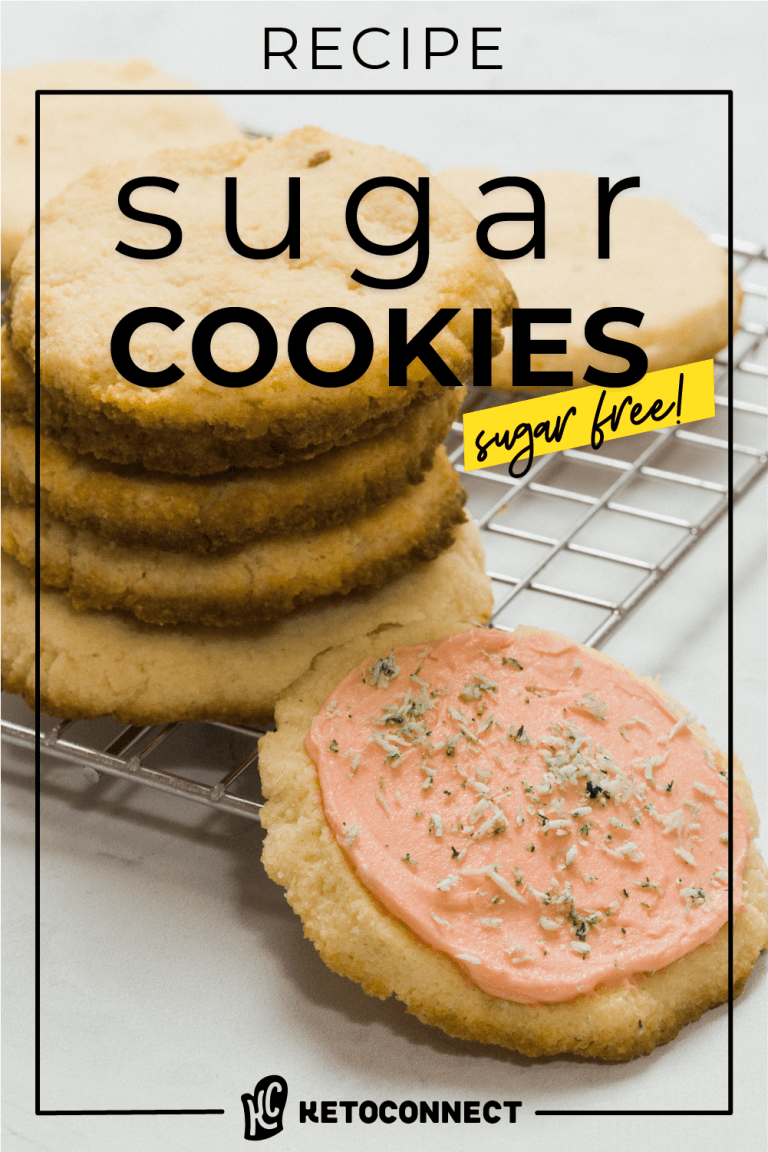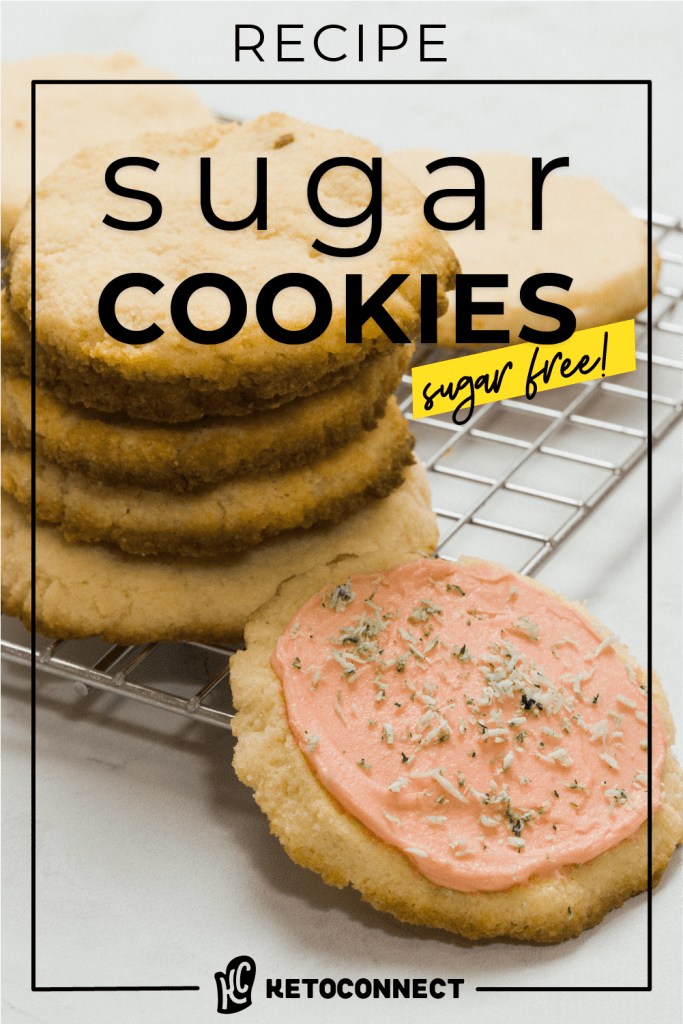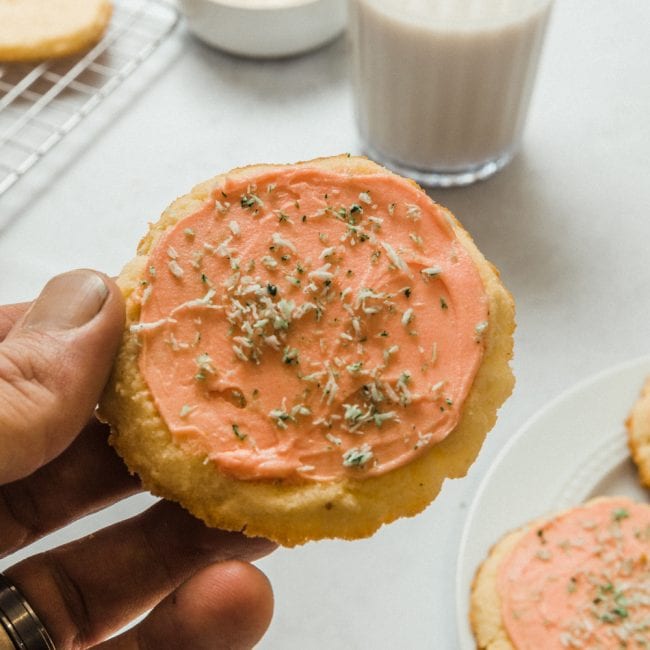 Keto Sugar Cookies Recipe
If you like to bake cookies with your friends and family during the holidays, this is the perfect recipe to go for!
Total Time 20 minutes
Servings 16 cookies
Calories per serving 88kcal
Prep Time: 11 minutes
Cook Time: 9 minutes
What You Need:
Parchment paper

Mixing Bowl

Hand mixer or big wooden spoon
Instructions:
Preheat the oven to 375. In a large bowl combine the melted butter, sweetener, vanilla, and salt. Cream until well combined and lighter in color

Add in the eggs and mix again to create a smooth batter.

Stir in the almond flour, coconut flour, and baking powder until incorporated into a cookie dough.

Using a cookie scoop place balls of cookie dough onto a greased baking sheet. Spread to desired size, they will not expand.

Bake for 6-9 minutes, or until the cookies are cooked through and lightly browned on the bottom.

Let cool before moving off the cookie sheet.
Notes
You can also decorate them with keto frosting or keto icing, depending on the shape you come up with. As for the holidays, you can make the chocolate one and add a few peppermint extract drops to get into the holiday spirit.
Nutrition Facts
Keto Sugar Cookies Recipe
Amount Per Serving
Calories 88 Calories from Fat 72
% Daily Value*
Fat 8g12%
Saturated Fat 3g15%
Trans Fat 1g
Polyunsaturated Fat 1g
Monounsaturated Fat 1g
Cholesterol 30mg10%
Sodium 61mg3%
Potassium 22mg1%
Carbohydrates 3g1%
Fiber 1g4%
Sugar 1g1%
Protein 2g4%
Vitamin A 139IU3%
Calcium 24mg2%
Iron 1mg6%
* Percent Daily Values are based on a 2000 calorie diet.