True or false: milk is okay to consume on a keto diet.
It's one of the big questions that comes up when people first switch to a keto diet. Whether you're a fan of milk in your cereal or a tad in your coffee, tea, or latte, what's one to do when milk gets put on the chopping block and the potential for eliminating it from your diet becomes real?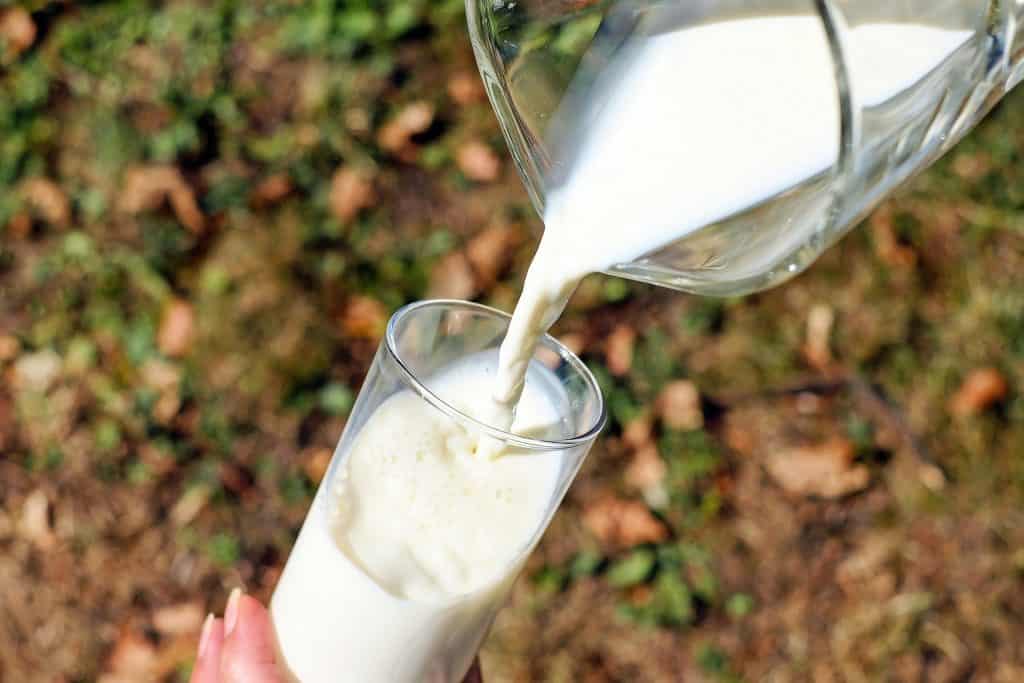 While the whole butter coffee trend has taken keto by storm and is totally safe to keep you in ketosis, not everyone is happy (and willing) to get on board with it.
So, if you're not a fan of black coffee or a cup loaded with butter and can't do milk, what're you to do?
The answer isn't as simple as a straight yes or no when it comes to can you have milk on keto; it's dependent on what you're consuming, how much you're consuming, and does it fit within your carb limit.
We're going to give you a rundown of if you can have milk on keto, why you should substitute for low carb milk alternatives, the best keto milk alternatives, and and how you can seamlessly make the transition to a low carb keto-friendly substitute.
What's keto and what's not?
First, let's back up for a minute.
Before we get too deep into how you can tell if a food is keto or not, let's first understand the basics of a ketogenic diet and how ketosis works.
The basics of ketosis
Carbohydrates are the primary source of energy for body tissues. When carb intake is reduced (less than 50g per day) and the body is deprived of carbohydrates, insulin secretion decreases significantly and the body enters a catabolic state whereby it starts breaking things down. Glycogen stores become depleted, forcing the body to make some metabolic adaptations.
When there is consistent low carb availability, two metabolic processes come into play: gluconeogenesis and ketogenesis.
Gluconeogenesis is the production of glucose from non-carbohydrate starting material (i.e. lactic acid, glycerol, and amino acids). When glucose levels drop further, endogenous production of glucose cannot keep up with the body's demands and ketogenesis takes over to provide an alternate source of fuel in the form of ketone bodies.
These ketone bodies then replace glucose as the primary energy source. Ketone bodies can be easily utilized for energy production by several tissues, including the heart, muscles, and the kidneys, but they are also able to cross the blood-brain barrier to provide an alternative energy source for the brain.
How do I know if what I'm eating is keto?
Following a keto diet largely comes down to keeping your net carb count under a certain pre-determined threshold. Unlike paleo, vegan, or other diets, there's no 'specific foods' you can or cannot eat on keto. It's more about your macros, or your carb threshold. If you're eating beyond it (i.e. too many carbs), you won't be able to enter ketosis or you'll get kicked out if you're already in it.
Your carb threshold, however, isn't an arbitrary number. It is dependent on factors like age, activity level, sex, and ultimately the goal(s) you're looking to achieve.
For the average person, the macro breakdown of keto is something like this:
70-80% fat
20-25% protein
5-10% carbs
By restricting your carb intake to 5-10% of calories, you force your body to rely on alternative sources of fuel, i.e. fat, via a process called ketosis, like we talked about above.
With that said, in terms of whether a food is keto-friendly or not, it's going to boil down to the first point we mentioned: carb count. If a food has too many carbs, your body is going to be receiving too much glucose to enter ketosis and start producing ketone bodies.
Is milk keto?
Now, on to the goods: can you drink milk on a keto diet.
Yes and no.
Depending on the type of milk you're drinking, it can be a relatively good source of protein and fat (mainly whole milk). However, where trouble can come in is that regardless of whether its whole milk or nonfat, the sugar content (and net-carb count) remains the same—around 12g per cup of milk.
Under normal circumstances, that 12g of carbs is nothing to sneeze at, but when you're following a keto diet, or even low-carb, and your net carb allotment for the day is only 25g, half of your intake is now taken up by a single glass of milk.
See where we're going?
Not only this, but the majority of people can't digest lactose, the main sugar in milk, because they lack sufficient amounts of the enzyme lactase, which is needed to digest it. As a result, all sorts of symptoms and gastric discomfort arise after consuming dairy products that range from mild gas and bloating to full on nausea and diarrhea.
Alternatively, if dairy is something that's tolerable for you, heavy cream (35% M.F.) or half and half (10% M.F.) are much safer choices. While the lactose may still present a problem for some people, the macro ratios are more keto-friendly; in one tablespoon of heavy cream (also known as whipping cream), there is 5g fat, 0g carbs, and 0g sugar.
Why you should substitute milk on keto
Here's a brief summary of why cow dairy may not earn such a gold star on keto:
1. Too many carbs and sugar
Net carbs are determined by taking the total carb amount and subtracting fiber (fiber does not get absorbed and therefore doesn't contribute to caloric or macro intake). Milk, however, does not contain fiber so the total carb content is the same as the net-carb content.
When you're sticking to a relatively low net carb intake, say around 25-30g, knocking back a cup or more of milk with a net carb count of 12g+ uses up a substantial amount of your daily carb intake and doesn't leave much room for carbs coming from things like vegetables or low-sugar fruit, for example.
In the context of keto, milk should be consumed sparingly. It's not to say that you can't add small amounts of milk to your coffee or tea if that's tolerable and you're eating low carb, but avoid consuming large quantities that eat into your daily carb count.
Alternatively, there is a wide range of keto-friendly milk substitutes like almond milk, cashew milk, and coconut milk that fit into your keto diet easier.
2. You may be sensitive to dairy
For anyone who's familiar with keto or even low-carb, they know it's largely reliant on high-fat dairy like whole cow's milk, heavy cream, butter, and the like, so cutting it out cold turkey due to a sensitivity may make keto seem a bit daunting.
But in reality, a large percentage of people are actually unable to digest diary due to a deficiency of the enzyme needed to digest lactose, the main carbohydrate in dairy. It's estimated that up to 15% of northern Europeans, up to 80% of blacks and Latinos, and up to 100% of American Indians and Asians possess a deficiency of the lactase enzyme.
While largely genetic, intolerances may also develop over time or as a result of certain conditions. Malabsorption of lactose in the small intestine results in gastrointestinal symptoms like bloating, excessive flatulence, nausea, loose stools, and abdominal pain. The symptoms experienced vary depending on the quantity of lactose ingested and the individual's ability to digest lactose.
3. You're looking to avoid an animal-heavy diet
If you're looking to decrease your animal product consumption due to health, environmental, or ethical reasons, eliminating dairy is generally the first route for most people. Plant-based keto or low-carb isn't the easiest thing to do, but know that it is possible and dairy-free milk alternatives are a great substitution.
And good news for you, there are loads of dairy-free alternatives that are still low-carb and keto-friendly to fill the void, starting with low-carb milk alternatives like almond milk or coconut milk. We'll explore some of the best options below.
Milk to avoid on keto
Unfortunately, on the keto diet there are some milk alternatives that need to be bypassed. Any milks made with carb-based ingredients like oat or rice are a no-go.
Here's why.
Case in point: one cup of unsweetened rice milk contains 22 grams of carbs, of which 12.7g of that is sugar and a mere 0.72g is fiber, leaving you with a net 21 grams of carbs. Unsweetened oat milk is slightly better with one cup providing around 12g net carbs.
And what about unsweetened soy milk? Even that's a bit of a gray area. While the nutritional profile of soy milk is similar to that of dairy, there are often concerns over soy milk with respect to GMOs and phytoestrogens.
We'll talk more about this later on.
The best keto and low-carb milk substitutes
So, what are your options?
If you're looking for the same creamy taste as regular milk with nearly a fraction of the carbs, nut or seeds milks are you best option, along with high-fat coconut alternatives. They're low carb and virtually sugar-free, making them the perfect substitute for dairy-based milks.
Here are our top 7 keto-friendly milk recommendations… Pair with some keto cereal for a healthier alternative to a high sugar breakfast.:
1. Almond Milk
Almond milk is one of the staple substitutes for dairy milk when following a keto lifestyle. Produced from nothing but almonds, Almond Breeze supplies 30 calories, 2.5g fat, and 0 grams of carbs per cup of milk. It's creamy, tastes, amazing, and can easily be substituted into any of your favorite recipes.
If you want to get creative try our Almond Milk Ice Cream recipe.
If you're not a fan of the vanilla flavor, they also offer original unsweetened almond milk or an unsweetened almond-coconut blend.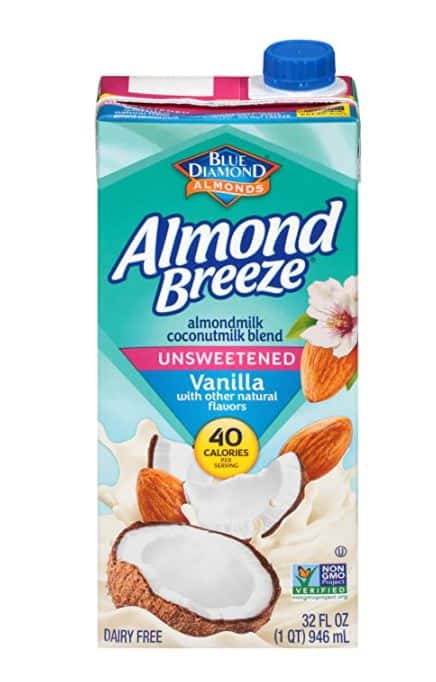 2. Macadamia Nut Milk
Macadamia nuts are the gold star of nuts when it comes to keto-friendly nuts. Per ounce, they offer a whopping 23g of fat and just a mere 1g net carbs.
Milkadamia Unsweetened Milk is the delicious, rich, and smooth milky taste you love without any of the sugar. It offers 3.5g fat per cup with 1g protein and 0 grams of carbohydrates. Whether you drink it alone, in a smoothie, or in your coffee, it's one of the best keto milk alternatives you can find.
If you have a bit of wiggle room with your carb count, Milkadamia also offers a Lightly Sweetened version of their traditional keto milk with a net carb count of 7g per cup or even a Milkadamia Vanilla Creamer for your coffee with just 1g net carbs per tablespoon.
The perfect keto-friendly addition to any recipe.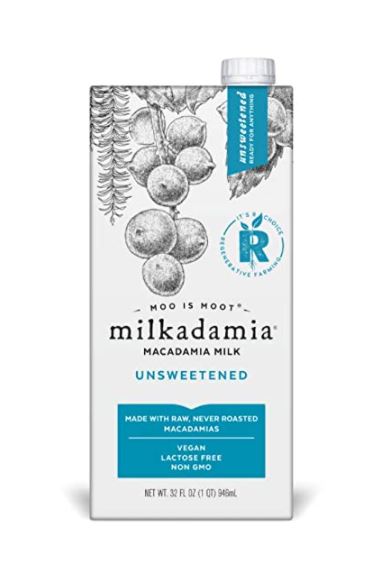 3. Coconut Milk
Silk offers a lot of different keto milk alternatives, but in terms of flavor, versatility, and nutritional profile, you can't go wrong with coconut milk. With 4g of naturally occurring fats from coconuts and no added sugar, Silk Unsweetened Coconut Milk is perfect for keto dieters or anyone following a low-carb diet.
It's creamy but not overly thick, with just the right amount of natural sweetness.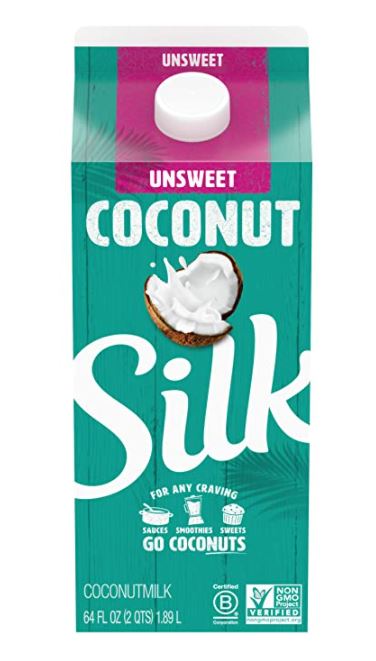 4. Cashew Milk
Silk offers another great option that is totally keto-friendly. Silk Unsweetened Cashew Milk provides the creamy and smooth milk-like taste, with a fraction of the carbs. With just 1g net carbs per cup, you won't need to work about being kicked out of ketosis
What's more, if you're looking to add a bit of oopmf to your coffee, the Unsweetened Vanilla Cashew Milk is also delicious with no added sugar and contains just 1g net carbs per 1 cup.
5. Walnut Milk
Looking for something besides the typical almond milk or coconut milk?
Elmhurst has created an Unsweetened Milked Walnuts beverage that will give even the best almond milk or coconut milk a run for its money. Made with just 2 ingredients—walnuts and water—it's completely free of additives, preservatives, and any other nasties found in some dairy-free milk alternatives.
And while the calorie content is almost 3 times that of other keto milk, it offers a whopping 11g of health fats, 3g protein, and just 1g net carbs. What's not to love about this beauty of a keto milk alternative? It's basically the best of the best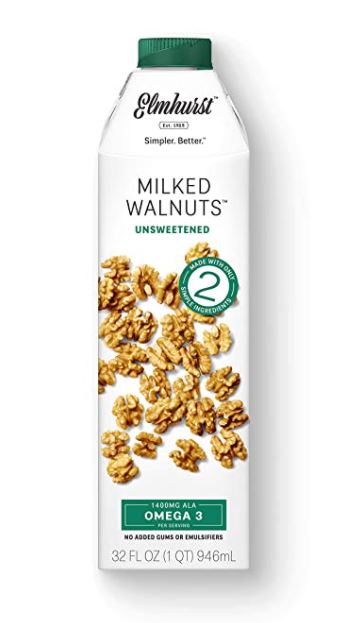 6. Flax Milk
Flax milk is a newcomer to the keto milk space, but it's definitely making its way to the top. It's equally as rich and creamy as any other milk alternative, but offers 1,200mg of essential omega-3 fatty acids.
If that wasn't enough, it offers the same great texture as coconut milk or cashew milk, but is allergen-free (no nuts), lighter, and more neutral in taste than other nut-based keto milk alternatives.
7. Other Plant Milks
Want to boost up your protein intake while still sticking to your carb count?
Ripple Foods has created an unsweetened plant-based keto milk with zero sugar, 50% more calcium than regular milk, 8g of pure pea protein, and more than twice as much iron as almond milk, cashew milk, or coconut milk. All of this with less than 1g of net carbs.
Check out their Unsweetened Vanilla Plant-Based Milk for the same great taste and texture with a hint of vanilla.
If you want to take it a step further, Ripple Foods also offers a non-dairy half & half that's rich, creamy, carb-free, and completely keto.
How to replace milk with a keto milk alternative
For the most part, a non-dairy keto milk alternative can be substituted 1:1 for any dairy beverage. However, depending on the fat content of the milk you were using, the texture may differ slightly. Whole milk, which is high in fat (3.24%) is going to have a thicker, richer taste than an unsweetened almond milk or coconut milk, but if it's the creaminess you're after, a full-fat coconut milk may be comparable.
It's really quite simple. Here are some delicious, keto-friendly recipes that you can sub your favorite keto milk alternative into.
Are you privy to a splash of coffee creamer in your morning brew? Many traditional creamers are full of thickening agents, sugar, and other nutritional nasties that you probably don't want to be consuming. Rather, why not make one that's super flavorful, budget-friendly, and uses simple, wholesome ingredients. This Homemade Keto Creamer is simply the best and most delicious swap to your store-bought favorite. What's more, if you want to make a dairy-free version, simply swap out heavy cream for full-fat canned coconut milk.
Want a pumpkin space latte hold the dairy, sugar, and the cost of Starbucks? Try this Keto Pumpkin Spice Latte. It's an easy, dairy-free (optional), delicious alternative that'll satisfy the sweet tooth without kicking you out of ketosis.
Everyone loves a yummy, warm, stick-to-your-ribs bowl of oatmeal in the morning, but oats aren't keto and they're usually made with milk. Not this version! This Keto Oatmeal can easily be made dairy-free by using your favorite keto milk. Whether you want pumpkin pie, maple walnut, or double chocolate, there's a delicious dairy-free totally keto version waiting for you to try.
Want more? How about this Keto Hot Chocolate (you can sub in coconut milk with a high fat content or even almond milk), dairy-free Macadamia Milk Coffee, or even a Dirty Chai Tea Latte! The possibilities are near endless when it comes to swapping out traditional dairy-milk for a keto milk alternative.
What to avoid in keto milks
If you're not going to make your own keto milk, there are plenty of store-bought options available for you. However, be mindful of a few things when you're looking:
1. Grain-based milks – Oat milk and rice milk are the two most common grain-based milks, which tend to have higher carb counts than dairy milk, even if they contain a relatively clean ingredient list. They're typically not considered keto.
2. Lactose-free milk – Just because it doesn't contain lactose doesn't mean it's exempt from sugar and carbs. Rather, the lactose is converted into sugars that are easier for the body to digest.
3. Sweetened milks – Make sure the milk you purchase is unsweetened and keto-friendly. If you see anything like cane sugar, cane syrup, cane juice, or the like, avoid it.
4. Flavored milk products – Flavoring usually equates to sugar. However, there are many unsweetened vanilla keto milk alternatives that don't contain sugar and are keto-friendly.
5. Additives, thickeners, and anything else artificial – Making dairy-free products affordable for consumers generally means adding a handful of cheap ingredients that mimic their natural counterparts. Although additives aren't likely to do harm in small amounts, they can cause digestive discomfort, so it's best to limit the number of ingredients on the product you buy.
Key Takeaways
When it comes to traditional dairy-based milk, keto usually advises opting for heavy cream, whole milk, or any other dairy beverage that's high in fat, but unfortunately this means it also contains lactose and a hefty carb count (regular milk especially), so they should be consumed sparingly.
Alternatively, there are plenty of delicious, keto-friendly alternatives available for you to choose from.
The best dairy-free keto milk alternatives:
Unsweetened almond milk
Unsweetened coconut milk
Unsweetened cashew milk
Unsweetened macadamia nut milk
Flaxmilk
Walnut milk
Plant-based milk blends
And if you're looking for a rich treat with a high fat content to sub in place of heavy cream, full-fat coconut milk is your go-to!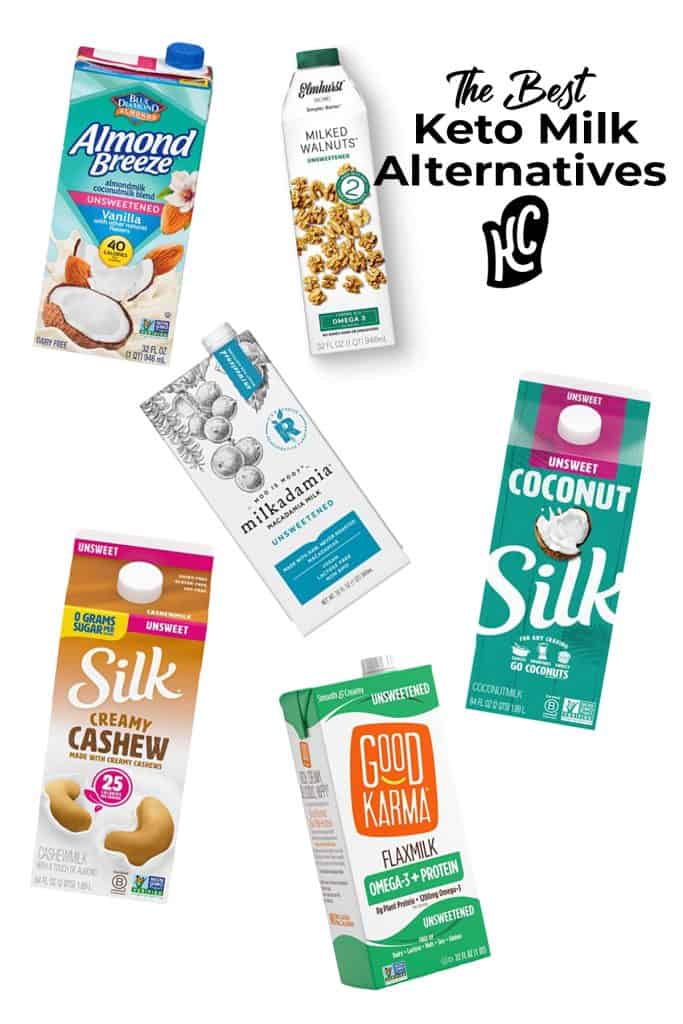 Written By