Keto oatmeal. Sounds like a bit of an oxymoron doesn't it? Well that's no longer the case as we have a wide array of different flavors of keto oatmeal powered by hemp hearts! Once you master this basic low carb oatmeal recipe the world is your oyster! You can test out all kinds of different flavor combos and decide what works best for you. We went ahead and tried out 7 flavors of our own. We'll let you in on what worked, what needs improvement, and what was a total disaster. Luckily there wasn't too many disasters! We've put together a video documenting all 7 flavors we tested out as well as a taste test. Check it out!
Hemp Hearts Benefits
I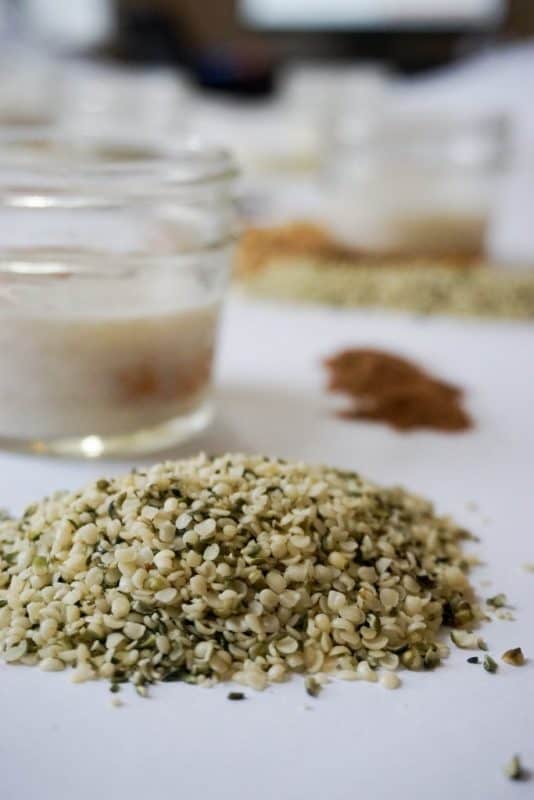 f you're not familiar with hemp seeds don't worry! We had only used them a handful of times before getting in depth with them and testing out all these different combinations. They're super easy to use! Before we get down and dirty with all of the amazing flavor and ingredient combos we tested, lets cover the proven health benefits of hemp seeds.
Where To Buy Hemp Hearts
We've had the unfortunate experience of going to the grocery store specifically to get hemp seeds. Big Mistake! We we're forced to pay over $15 fur a 16oz bag of this stuff. We've since found some better deals which allow us to keep our keto oatmeal budget under control. Here's what we've stumbled upon so far:
FREE PRINTABLE: Keto Food List
Join 150,000 others to get a FREE keto food list and new recipes every week!
Nutiva Hemp Seeds – Amazon: This is probably your best option. It's as cheap as you're likely to find them, especially if you're a prime member and choose to "subscribe and save".
Raw Shelled Hemp Seeds – Trader Joe's: If you're near a Trader Joe's then stop in and pick up their 8oz bag of hemp seeds. Perfect if you're not sure if you like them and just want to dip your toe in the keto oatmeal waters. Amazon mostly offers 16oz packages.
Just Hemp Foods – Amazon: This is an awesome price if you're looking to pick up a large amount. As usual, the more you buy the cheaper the price. "Just Hemp Foods" also offers lots of other hemp products if you take a liking to hemp seeds. I'm looking into tying a few more of they're offerings in the future.

Keto Oatmeal Ingredients
Let's run through the ingredients you're going to want in your pantry if you plan on becoming a keto oatmeal master. There's a handful of essentials and then a bunch of optional items. Let's run through the essentials in detail first:
Essentials
Hemp Hearts – If you're making keto oatmeal then hemp hearts are pretty much an essential.
Chia Seeds – While not absolutely essential, chia seeds definitely make for a tastier and more pudding like final product. In conjunction with almond milk they work really well. Chia seeds are less necessary if you use a thicker liquid like coconut milk or heavy cream. In addition to tasting great and helping with consistency, chia seeds also sport a host of proven benefits such as reducing the risk of type 2 diabetes.
Full Fat Coconut Milk – This isn't actually an essential either, but it is going to result in the best tasting keto oatmeal, especially if you're a coconut fan. There's other options that you can use as the liquid in your keto oatmeal, but this one takes the cake!
Nice To Have's
Shredded Coconut – Adds nice texture and flavor to your oats. This can easily be omitted if coconut isn't your thing.
Stevia Drops – Without some form of sweetness your keto oatmeal will be more of a grandpa-style oatmeal. Sure, your grandpa has no problem shoveling down his morning old fashioned oats and hot water, but if you want some sweetness in your life, liquid stevia is your best bet in this dish. A drop or 2 will do!
Heavy Cream – This is a close 2nd place to coconut milk. They are both similar consistencies and will get you a mousse like consistency. If coconut isn't your thing then this might be a good ingredient to turn to.
Optional Ingredients
Almond Milk – Or any other type of milk replacement are a good option if you're trying to keep calories low. Unfortunately they also keep deliciousness low… You can make an almond milk keto oatmeal quite tasty if you supplement it with chia seeds and extra sweetness, but it's a distant 3rd option to coconut milk and heavy cream in our house.
Protein Powder – If you want to turn your oats into BROats(explained later) then throw in some protein powder! If you want the protein but want to keep these dairy free you can opt for some veggie protein. If you want to get super crazy you can even use hemp protein! Of course you'll have to grow dreadlocks and rock a Bob Marley shirt before you pull that off, but it just might be worth it.
Add-Ins – This is where the magic happens. You can literally throw in anything and it will probably come out tasting delicious. Experiment with your favorite flavor combinations until you come up with a winner. That's what we did! We'll detail our experiments below.
Low Carb Oatmeal Recipe Testing
Trial and error is the funnest part of coming up with our recipes. It's so fun in fact, I would encourage you all to do some of your own. If you start making keto oatmeal and come up with some great flavor combo's be sure to comment below so we can give them a try. We love testing and tasting your creations! Time to get down to business though. Here's what works and what doesn't:
NOTE
Below is a recap of the keto oatmeal we tasted in the video at the top of this blog post. The recipe's listed at the bottom of this post are different than the ones referenced in the following section. The recipes at the bottom have been perfected based on what we learned in the testing process described below.
Pumpkin Pie Oatmeal
Flavor – This one has great flavor! Pumpkin Pie is a favorite of ours, so if you have similar feelings then this one's for you. The elements that give this it's signature flavor are the pumpkin puree, pumpkin pie spice and a few drops of stevia.
Consistency – The consistency on this one was definitely sub par. This one came out very thin and watery, not really what we're looking for in our keto oatmeal. We've improved it in the official recipe.
–What We Learned–If almond milk is used chia seeds are a must.
Almond Joy Oatmeal
Flavor – Incredible! This is one of the few that we nailed on our first attempt. I guess it's pretty easy when you throw together a bunch of delicious ingredients. This flavor is exactly like an almond joy!
Consistency – Very firm, but in a good way. I quite enjoyed the consistency of this one. While not that of a traditional oatmeal it was a pleasant, compact collection of delicious ingredients.
–What We Learned–Coconut milk results in a firm consistency if lots of add-ins are used.
Double Chocolate Oatmeal
Flavor – Kaboom! If you're a dark chocolate fan then this ones for you. It has an intense dark chocolate flavor from the cocoa powder and Lily's chocolate chips. Finishing this the next day with some sea salt is highly encouraged!
Consistency – The chia seeds in this helped achieve a mousse consistency which was great! Without the chia seeds this would have been much more dense and due to the heavy cream used.
–What We Learned–Even with a small amount of liquid chia seeds help achieve a good consistency
Maple Walnut Oatmeal
Flavor – Excellent flavor on this one. Good flavor isn't terrbile hard to achieve, it's getting the consistency down that can be tough. Maple walnut delivered one of our favorite flavor combos of the bunch.
Consistency – The consistency on this one was off. We had to resort to drinking half of it since it was too thin to be eaten with a spoon.
–What We Learned–Even with lesser amounts of almond milk chia seeds are needed or there is no thickness to the oatmeal.
Peanut Butter Oatmeal
Flavor – It's peanut butter… It tastes incredible, of course. The big surprise here was that only 1 tablespoon went a long way. The peanut butter flavor really penetrated every morsel of this keto oatmeal overnight.
Consistency – Almost perfect! Chia seeds and the natural peanut butter added the right amount of thickness to the final product. Just when we were ready to write off almond milk, peanut butter happened!
–What We Learned–Almond milk can be used with the right amount of chia seeds and additional thickening ingredients.
Broats!!
Flavor – I guess some explanation is needed here. BROats are oatmeal made to tailor specifically to the needs of "bros". That's why this one is loaded up with protein powder. The flavor was on point! It really depends what kind of protein powder you're using as that is the central source of flavor in this one.
Consistency – This was the best of the batch! The protein, chia seeds and heavy whipping cream came through perfectly to give this a thick and creamy consistency.
–What We Learned–Heavy cream and chia seeds combine to make a pudding-like consistency.
Turmeric Vanilla Oatmeal
Flavor – This was the lightning rod flavor of the bunch. I found it to be decent, Megha hated it. If you are a big fan of turmeric then give this one a go. If you're not, then run far away.
Consistency – I generally like to err on the side of a thicker consistency, but this one went too far in that direction. The combination of chia seeds and coconut milk resulted in a rock solid consistency. That can easily be fixed by adding more liquid, but the lesson was learned.
–What We Learned–Coconut milk and chia seeds result in an overly thick consistency.
Overnight Oats
We haven't mentioned it yet, but these are overnight oats! It's not completely mandatory to let these site overnight, but at least give them a few hours in the fridge to allow all the flavors to combine. We tend to make a batch of 5-10 at a time and let them sit in the fridge until we're ready. You really just need to be careful with the ingredients you use as that will dictate the shelf life. Using heavy cream will cut the shelf life down a tad bit in comparison to coconut milk or almond milk.
Porridge Storage
Storage for these delicious concoctions can be a little tricky. It's super nice to have the awesome mason jars we have shown in the pictures and they're found on Amazon. My advice would be to do a few test batches first. You can store them in anything really. Something with a lid is preferable so all of the flavors of your fridge aren't getting into your delicious keto oatmeal. Once you figure out if you have a taste for keto oatmeal then you can invest in those jars! I've found those jars to be a good size for this purpose. Filling one of those jars with delicious keto oatmeal will be somewhere between 200-600 calories depending on what ingredients you use. Point being, there isn't a need for the larger mason jars unless you're planning on filling them up with broats and firing off barbell curls in the squat rack.
The Endless Pursuit of Perfection
This has truly been a revolutionary discovery in our household! We make these all the time now. It's incredible how convenient, healthy, tasty and fun these are! There's nothing like popping open the top to a new batch of keto oatmeal and taste testing them. This is the type of dish that you can repeatedly make with little adjustments along the way until you achieve perfection.
If you couldn't find anything you liked in any of these 7 flavor combos, feel free to make up your own and comment below! Check out some of our other breakfast recipes that are great to make ahead and have available when you're in a rush. We've got these Keto Muffins and a few varieties of low carb quiche.
Keto Oatmeal
You can substitute heavy whipping cream, coconut milk, and almond into any recipe. Generally you will need 75% as much almond milk as you need coconut milk or heavy cream. It's recommended to use chia seeds whenever almond milk is used to create a thicker consistency.
Total Time 12 hours 2 minutes
Servings 1 serving
Calories per serving 310kcal
Ingredients:
Instructions:
Add all ingredients to a bowl or mason jar. Mix together thoroughly.

Place in the refrigerator over night, or a minimum of 4 hours. Open the next day and enjoy!
Nutrition Facts
Keto Oatmeal
Amount Per Serving
Calories 310 Calories from Fat 243
% Daily Value*
Fat 27g42%
Carbohydrates 6g2%
Fiber 3g12%
Protein 11g22%
* Percent Daily Values are based on a 2000 calorie diet.