Since the beginning of our relationship I have tried to convince Matthew to like the foods I love most; mayonnaise, sour cream, egg salad, and the list goes on. However, I didn't know until recently that Matt wasn't a fan of chili. How is this even possible?! Everyone is a fan of chili! This keto chili with bacon is the what converted him to a chili fan!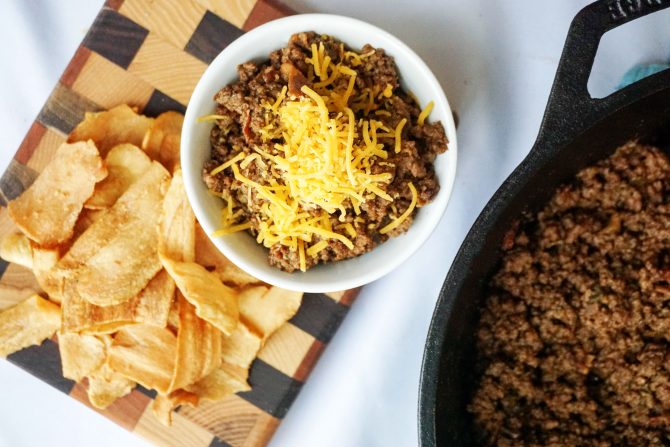 Chili With Bacon Made A Man Out Of Matthew
One Saturday afternoon we decided it was time to break in our new cast iron pot, and the only food I could think to do it justice was Keto Chili With Bacon. I pitched the idea to Matthew, and although he wasn't fully on board we decided to go with it. As soon as we cooked down the bacon and tossed in the ground beef he was hooked. Matthew was officially a chili man!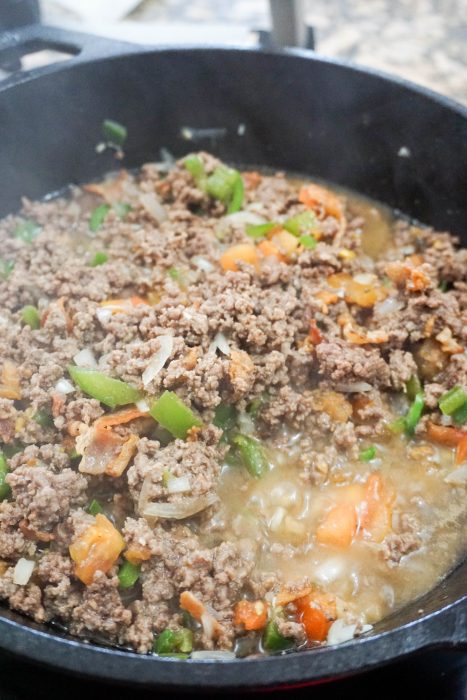 Keto Chili Recipe
The key to getting an extremely flavorful keto chili is the slow cooking process. We tossed in green bell peppers, onions, tomatoes and jalapeños in bite-size pieces, but after two hours of cooking and reducing on the stove everything was fully incorporated. All you could see was the glorious ground beef and bacon soaked in all the drippings. Does it get better??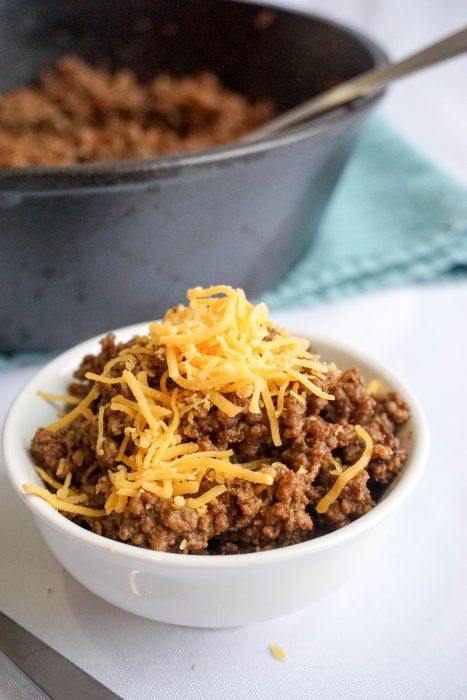 TIP: You don't necessarily have to slow cook it for as long as we did, but if you have the time it pulls all the flavors together really well. You can even top a bed of lettuce with this chili, and add some guacamole and cheese for an even more filling meal ?.
No Bean Chili!
There are a few keto bean options we could have turned to, but decided to go with a no bean chili here! Many keto chili recipes also use tomato sauce or paste to not only give it more substance, but to give it a more tomato-y flavor. We heavily considered our options and ultimately decided to go with a single roma tomato. We opted for the fruit instead of the canned stuff because it is significantly lower in carbs. Honestly, it didn't really seem like much of an option to us! You can go the more traditional route, but you seriously won't be missing out when you dig into this spice filled keto chili with bacon!
If you've already made a big batch of chili and are looking for your next hit recipe, try our mexican shredded chicken or our chicken saltimbocca!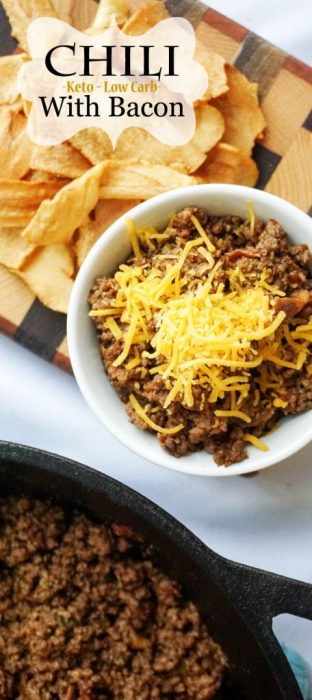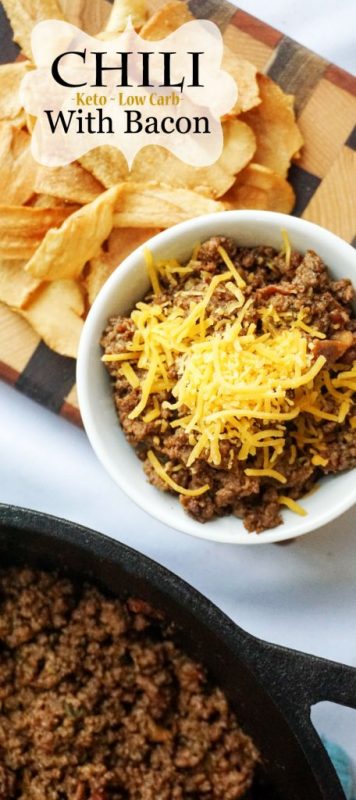 NUTRITION (per serving – 162.5grams)
Calories: 527.8cals
Fat: 36.6g
Carbs: 6.6g
Fiber: 1.8g
Protein: 50.6g
NET CARBS: 4.8g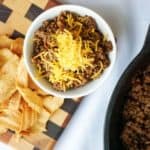 Servings

Prep Time

5

servings

20

minutes
Servings

Prep Time

5

servings

20

minutes
Servings

Prep Time

5

servings

20

minutes

Servings

Prep Time

5

servings

20

minutes
30

oz

80% lean ground beef

3/4

medium

white onion

1

small

Green Bell Pepper

1

medium

roma tomato

5

slices

bacon

1

tbsp

chili powder

We use this!

2

tsp

Cumin

We use this!

1/2

tsp

black pepper

1

tsp

salt

We use this!

1

tsp

Dried Oregano

We use this!

3

cloves

garlic

2

medium

jalapeno peppers

1

tsp

worcestershire sauce

We use this!

2

cups

Chicken/Beef Stock
Finely chop bacon and add to a large pot or large dutch oven.

Allow bacon to cook down until all fat is rendered and bacon is nearly done.

Add ground beef and allow if to cook down and get some color.

Finely chop garlic and jalapeno peppers. Rough chop tomato, bell pepper and onion.

Add remaining ingredients, along with 2 cups of chicken or beef stock and allow to simmer for 1-3 hours. The longer it goes the better it tastes! If you don't have stock on hand, water will be fine.

Near the end of cooking remove the lid and allow chili to cook uncovered until most of the liquid is evaporated. Enjoy!