Get ready for a keto, low carb diet friendly Keto White Chicken Chili recipe! It's creamy, flavorful and packs a powerful dose of fat and protein to keep you full for longer. If you love healthy recipes that can be easily turned into meal prep, you'll be amazed at how quick and easy this white chicken chili is.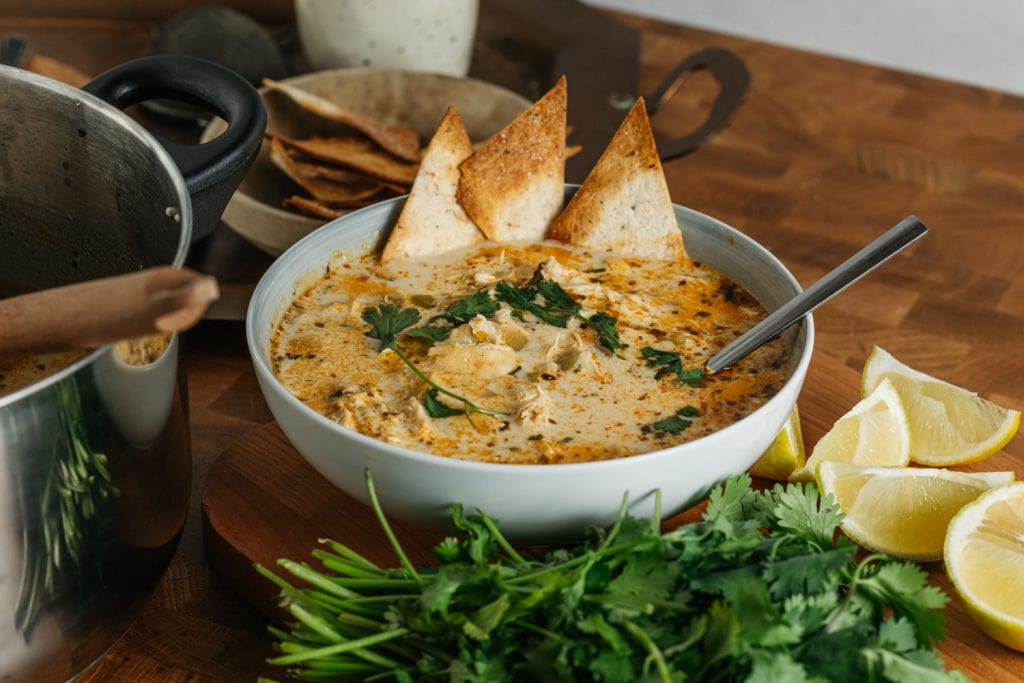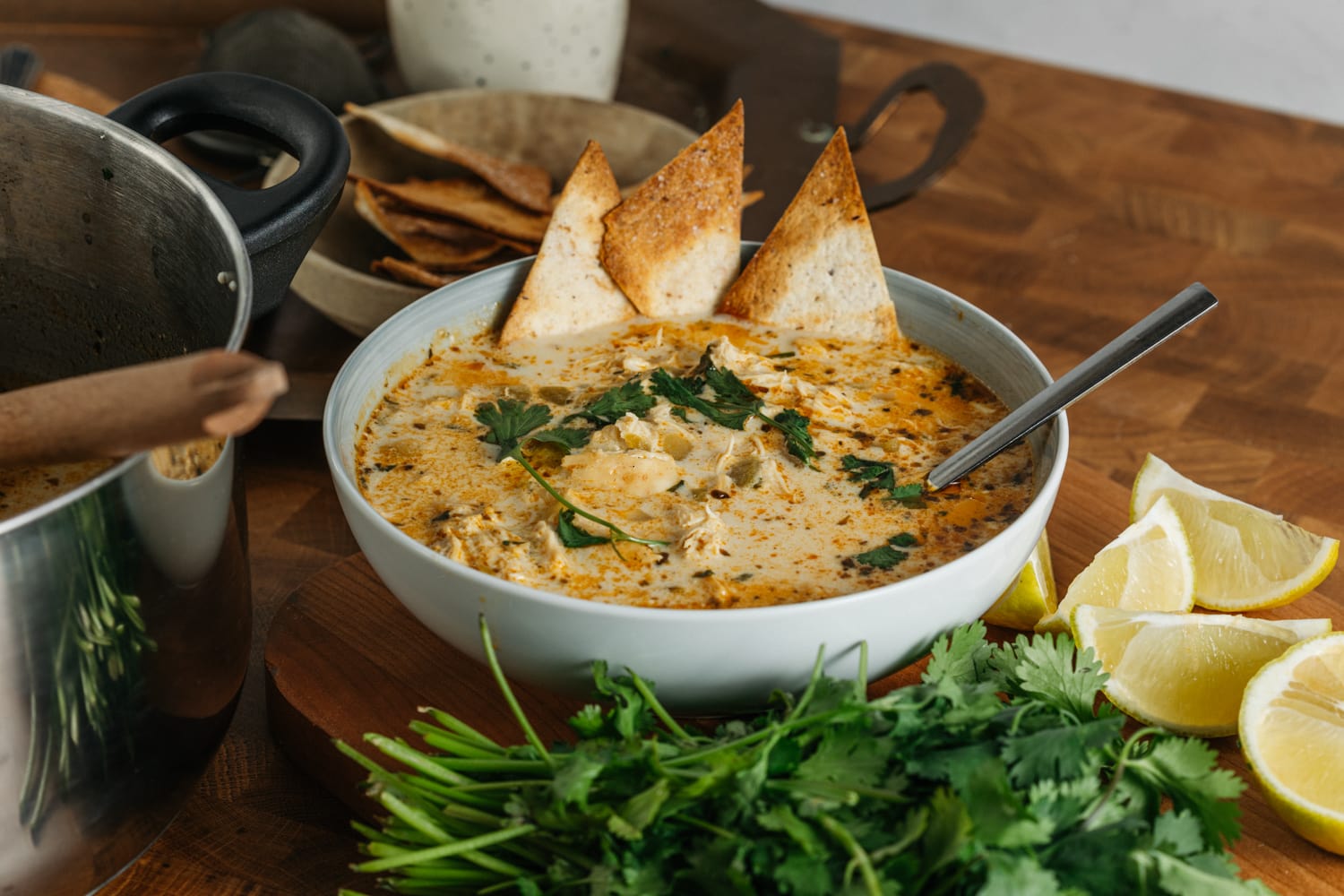 How to make Keto White Chicken Chili?
All you need to make this white chicken chili is a few ingredients you already have in your fridge and pantry. It's time to make delicious, creamy chili!
Ingredients
Shredded chicken
This great recipe calls for baked or boiled shredded chicken. To save time, you can use organic and high quality, store-bought rotisserie chicken or make your own. I prefer to do this by myself at home so I know exactly what chicken I'm using.
I simply grab a few chicken breasts, drop them in the water and boil for about 30 minutes to make sure the chicken is fully cooked inside.You can also add black pepper, salt, one or two bay leaves and other spices into the water to make it more flavourful.
Also, if you strain the broth after, you can use it as chicken broth we call for later in this recipe.
Olive oil
In this Keto White Chicken Chili recipe, we're using oil to bring out the flavor. Frying spices in oil gives them a completely different flavor and it's actually a crucial step to maximize your spices' potential and distribute the flavor more efficiently.Keep in mind that you shouldn't overdo it since that might cause you to burn the spices quickly. It's best you do it on medium or medium-low heat and adjust as you go.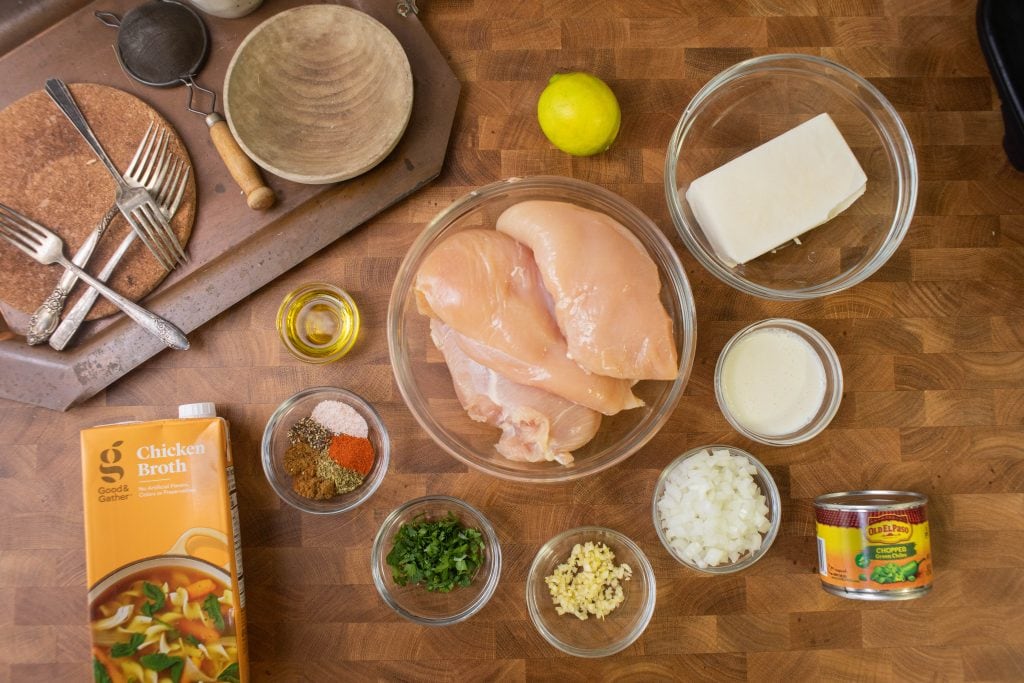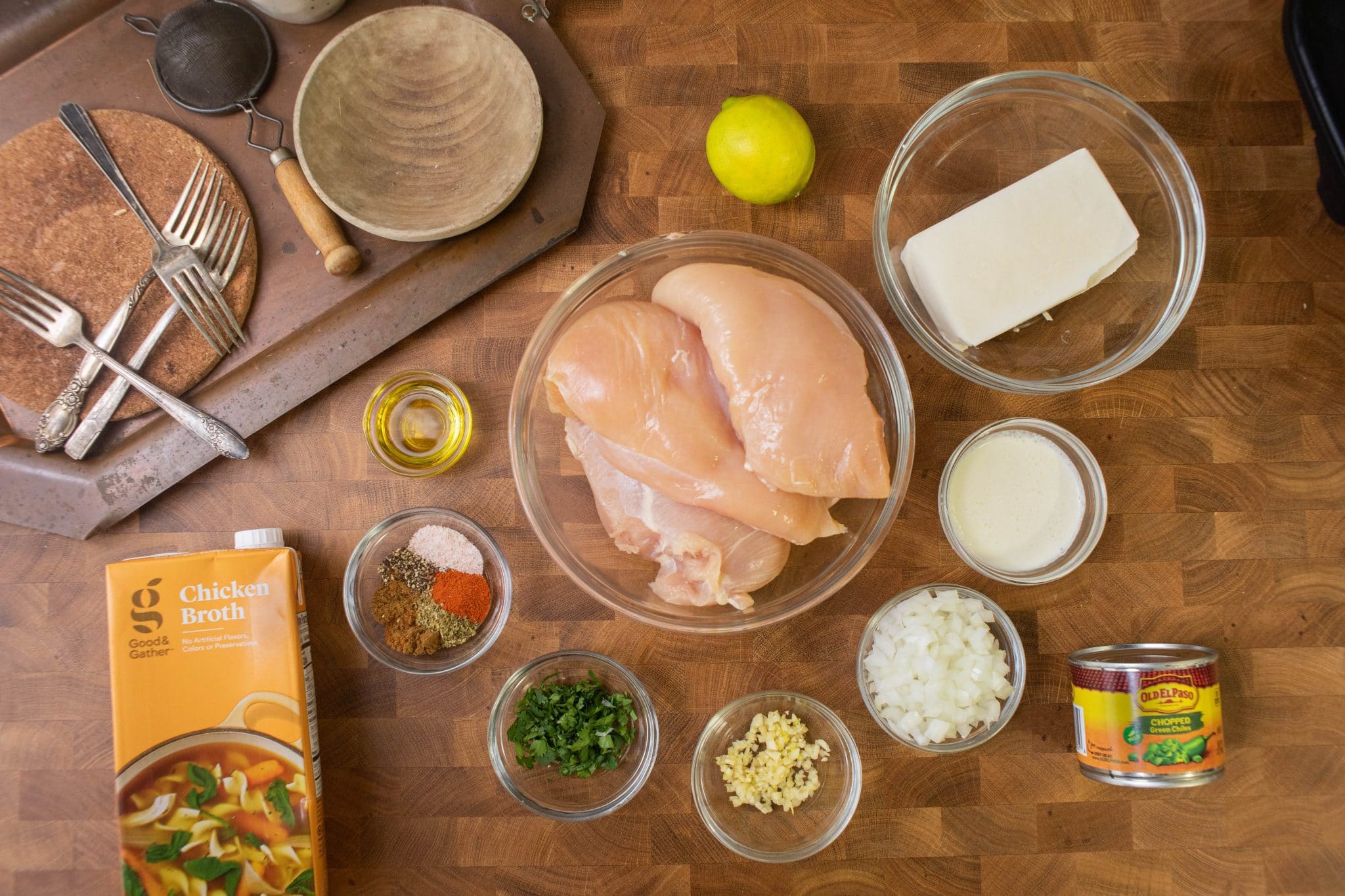 Garlic
Are you a huge garlic fan like I am? Not only is it one of the best ingredients to use flavor wise, it also has tons of different health benefits.Garlic cloves are known to help lower blood pressure and cholesterol, decrease inflammation and at the same time, boost your immune system especially during changing seasons.
Onion
I know hardcore keto police officers don't even like to use onion in their dishes because it has 9g of carbs per 100g, but we're only using half a cup here for 6 servings. In that case, carbohydrates here are absolutely kept to a minimum and you shouldn't worry about this at all. To be honest, I never supported this trend that onions are not keto – there are good carbs, and there are bad carbs. Onions are not the bad guys here.
Cream cheese
We used cream cheese in this Keto White Chicken Chili recipe to make it more smooth and creamy. I highly recommend using cream cheese instead of sour cream, for example. I just find that sour cream will not contribute to the thicker consistency even one bit. If you want a hearty dish and less of a keto soup, stick to cream cheese.
Chicken broth
As I've mentioned above, if you're making shredded chicken at home you can use the broth you cooked your chicken breasts in. I don't like to waste food so that's exactly what I did. The only thing you want to do is make sure that you drain it first.
Otherwise, if you're using store-bought chicken broth for your Keto White Chicken Chili recipe, pick one that is organic. I cannot stress this enough how important that is, especially when it comes to animal-based ingredients.
Canned green chilies
There are no Keto White Chicken Chili recipes without actual chiles right?! In this recipe, we're using a whole can of green chiles. Did you know that green chiles and red chiles are the same peppers, just harvested at a different time? Peppers that are left to ripen on the plant turn red and are also way hotter in taste.
Heavy cream
To counterbalance the heat from green chiles and cayenne pepper, we used a bit of heavy cream. It will also help to break down the texture just a little bit and make it more creamy.
You can use heavy whipping cream instead if that's what you have on hand, but I wouldn't use sour cream as an alternative. It has a slightly different, tangy flavor that I don't particularly like, especially in a white chicken chili recipe.
Cilantro
Don't like cilantro? Then maybe you've got the cilantro-hating gene! To put it in simple words, some people have a special variation in their olfactory-receptor genes that makes cilantro taste like soap. How is that for a fun fact?!
For the rest of you who love cilantro (like me), use as much as you want to. In this recipe we used 2 tablespoons. You can use the dry kind, but I highly recommend you use fresh cilantro. It will bring out the flavor of your creamy white chicken chili like no other.
Spices
I love a well seasoned dish, so for this Keto White Chicken Chili recipe I used cumin, cayenne, oregano, paprika, black pepper and salt. If you like your dishes more spicy, go ahead and add more cayenne pepper, chili powder even hot sauce.
Of course you're more than welcome to add your favorite spices as well such as onion powder or garlic powder. Simply said, season well.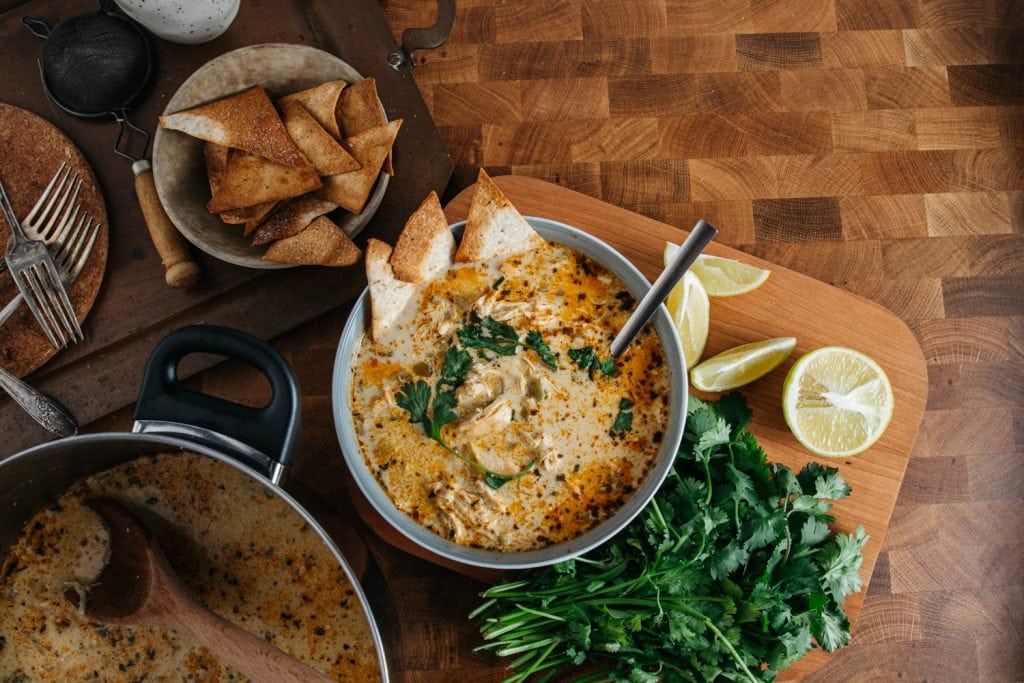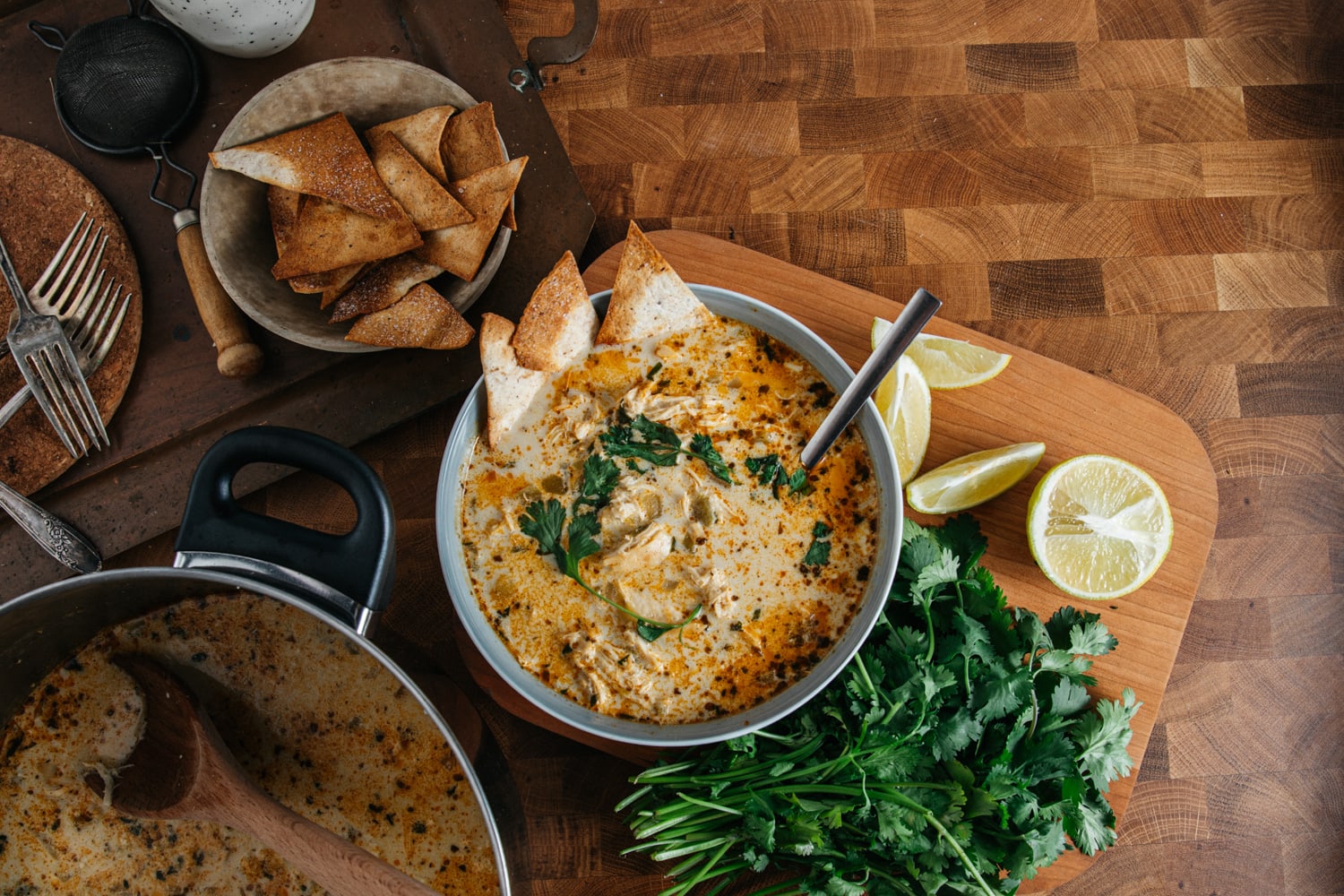 Directions
I know everyone enjoys easy keto recipes, and even if you're not a great cook you will absolutely love making this white chicken chili recipe.
Step 0: Deal with chicken breasts
I purposely called it "Step 0" because if you're using store-bought chicken breast or rotisserie chicken you can skip this step entirely.Otherwise, cook or bake boneless, skinless chicken breasts first. You can also use boneless chicken thighs if that's what you like, but I wanted to keep the meat in this recipe as lean as possible.
What's the easiest way to cook chicken? Take out a large pot, place your chicken inside, fill it up with water just an inch over the chicken breasts, add a bit of salt, pepper and a bayleaf and boil to simmer for about 30 minutes until cooked through.Remove from the pot, cool down and shred with a fork.
You can use the remaining chicken stock further down in this Keto White Chicken Chili recipe as well. No food should ever go to waste!
Step 1: Sauté garlic and onions
Heat olive oil in a pan and sauté minced garlic and diced onions until translucent. Do this over medium heat, but depending on your stove you may want to lower down the heat just a bit not to burn them.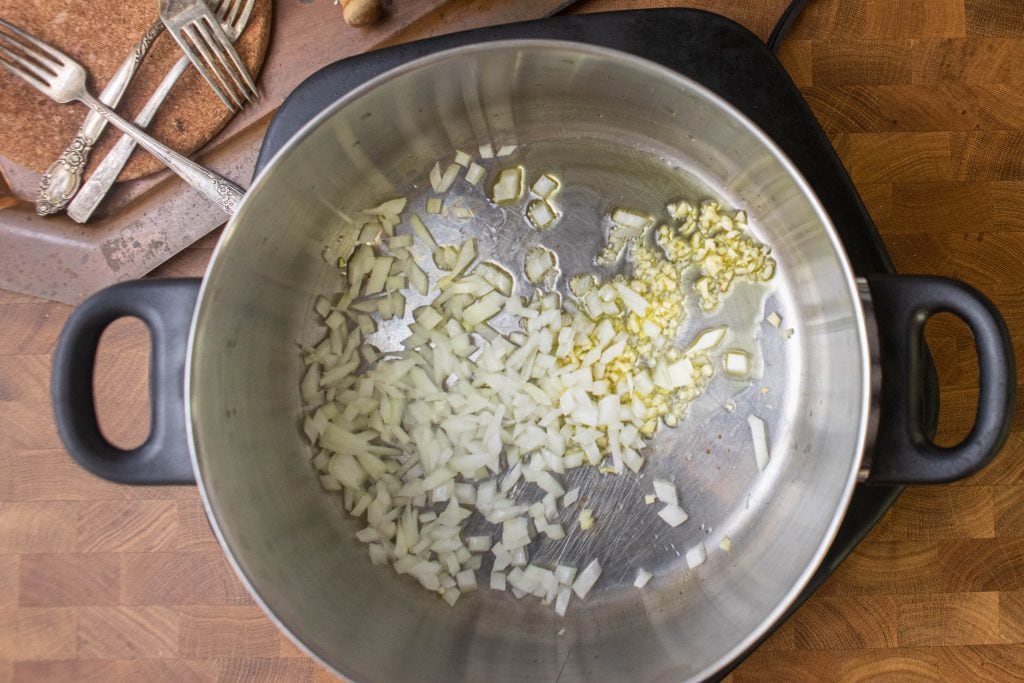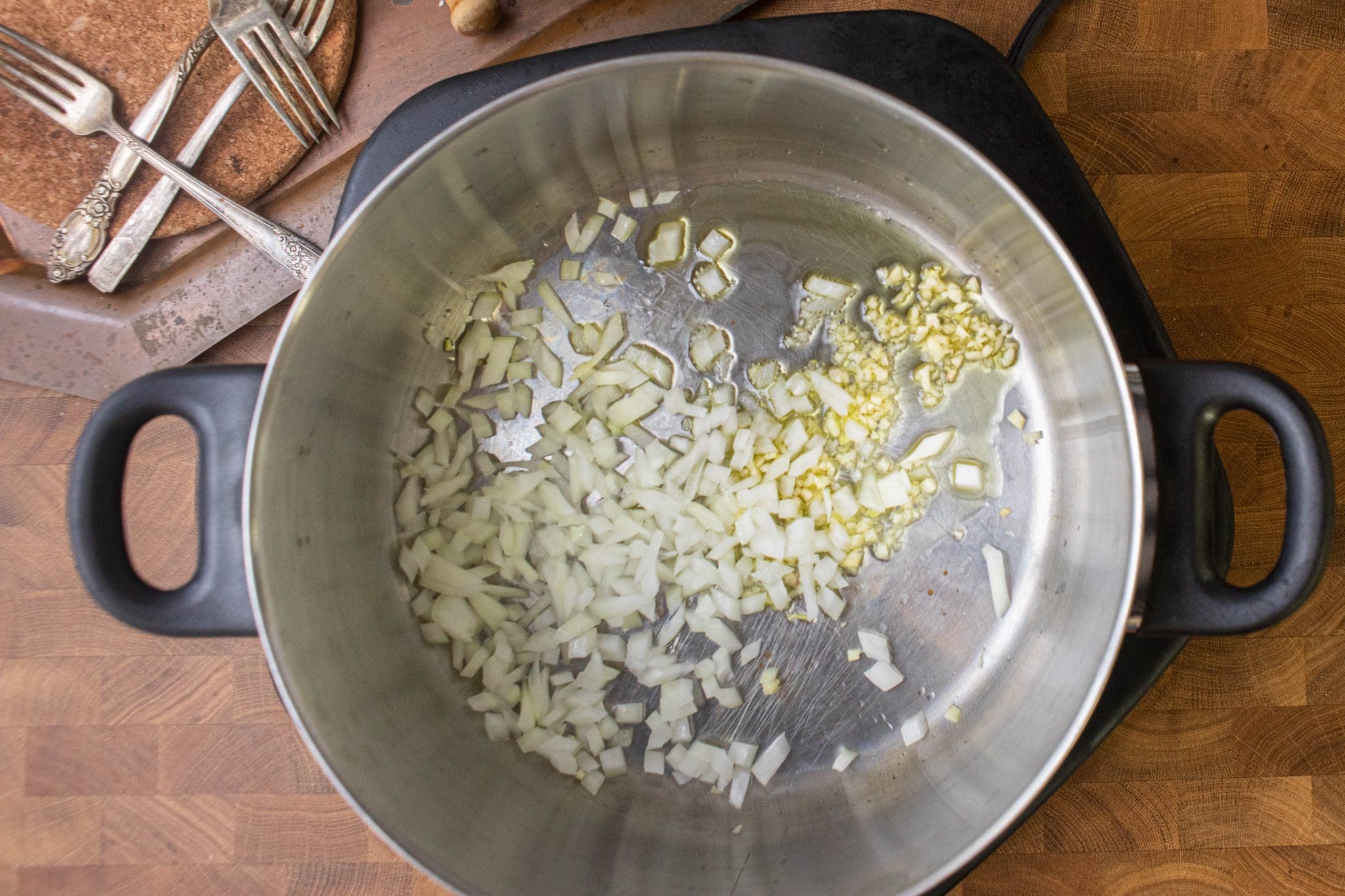 Step 2: Bloom spices in oil
Once your garlic and onions are translucent, add all the spices: cumin, cayenne, dried oregano, paprika, pepper and salt. If you want to use different ingredients, add them in this step as well. Blooming spices in oil will help you get the most flavor out. Keep an eye on your pan and make sure you don't burn your spices!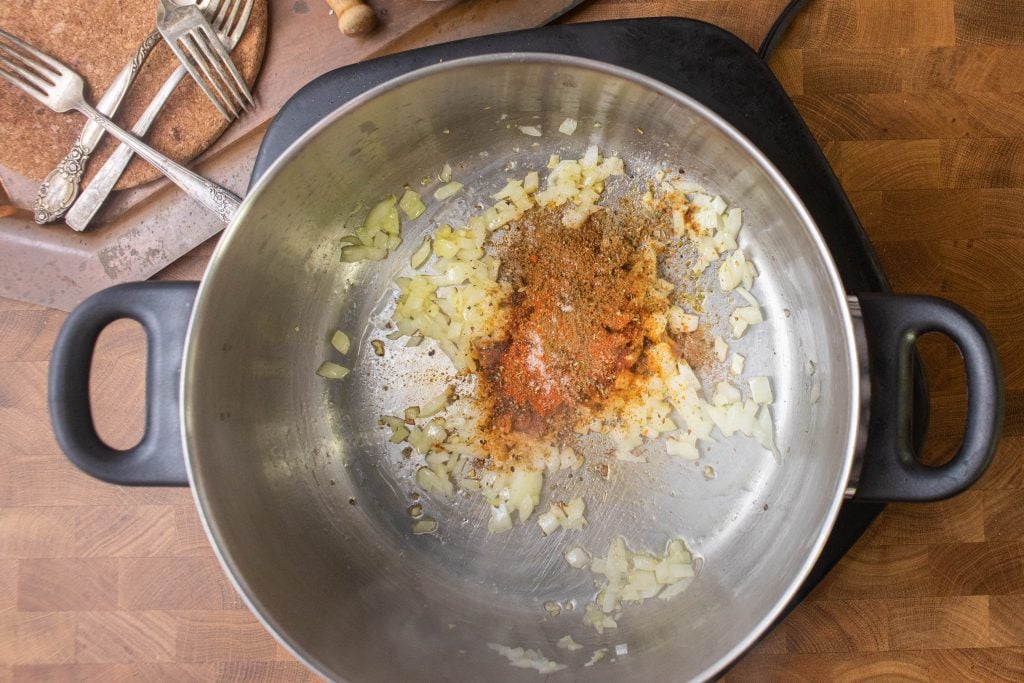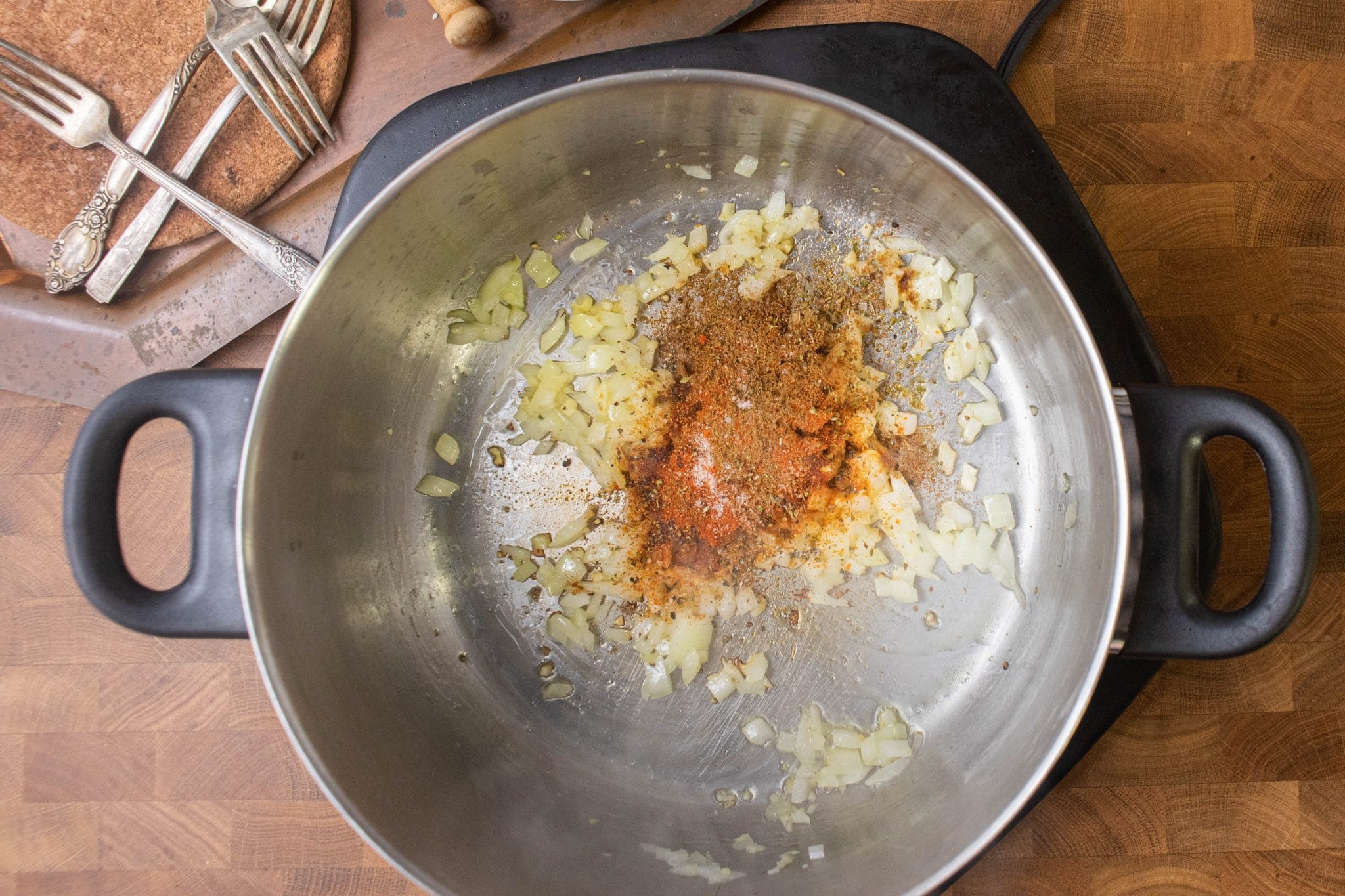 Step 3: Add chicken broth
After a minute or two of blooming spices, add broth. You can add the broth you cooked your chicken in or use organic, store-bought broth as well. Bring to a simmer and cook for about 15 minutes until all the flavors combine.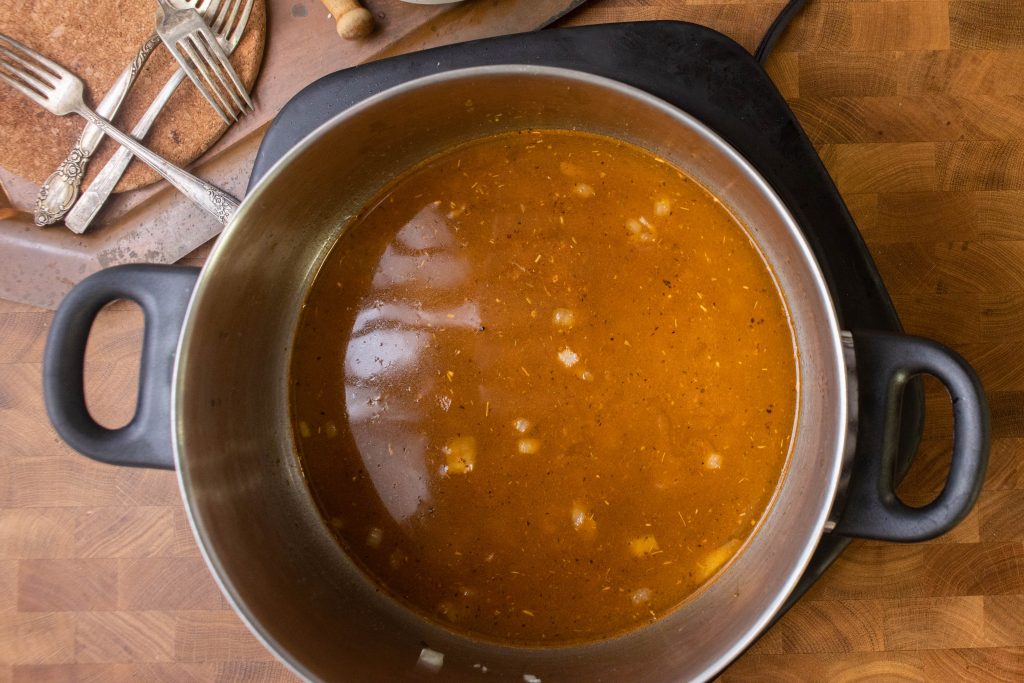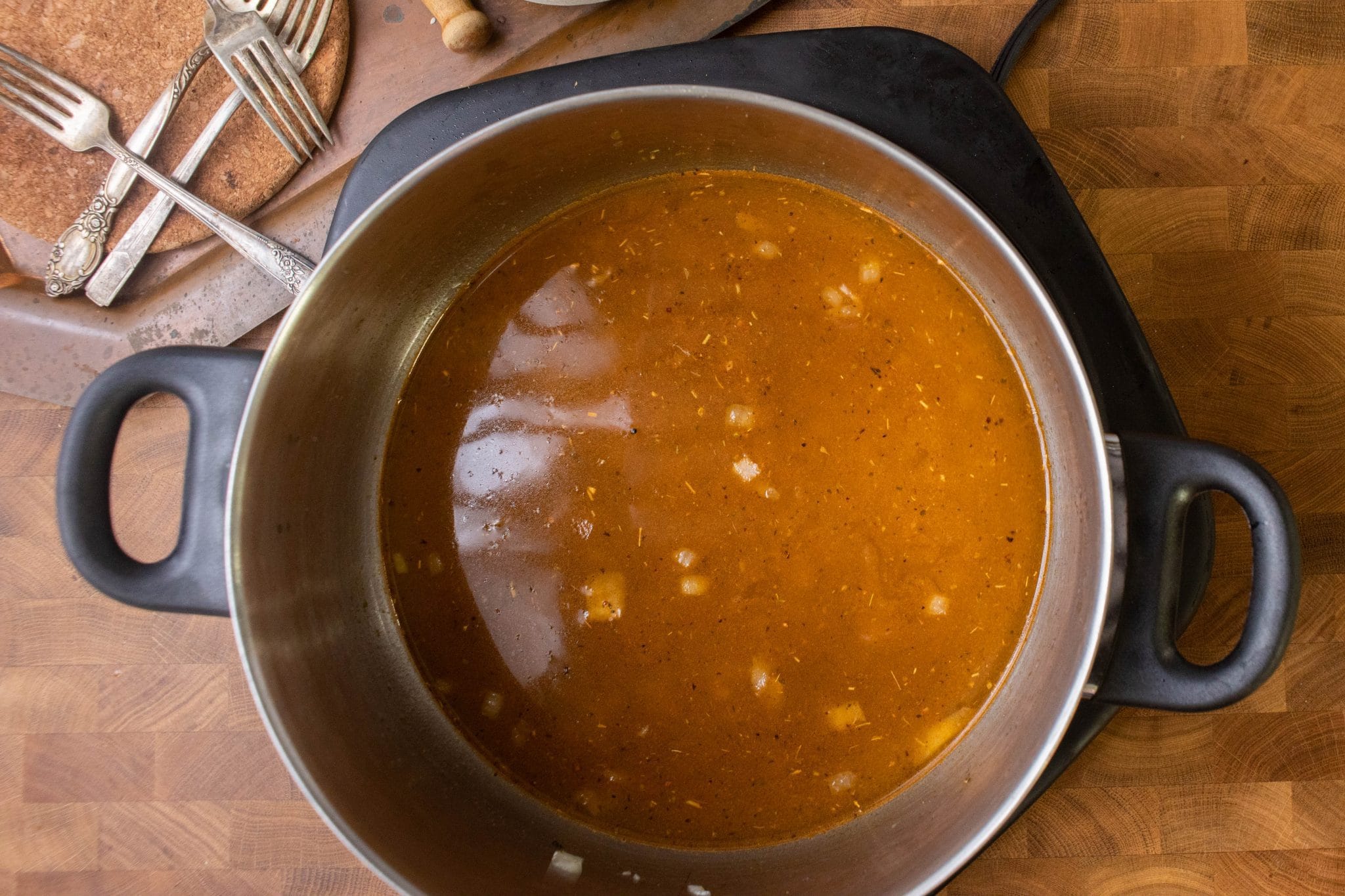 Step 4: Add the rest of the ingredients
Your Keto White Chicken Chili is almost here! What you want to do now is add shredded white chicken, chilis, cream cheese, heavy whipping cream and fresh cilantro.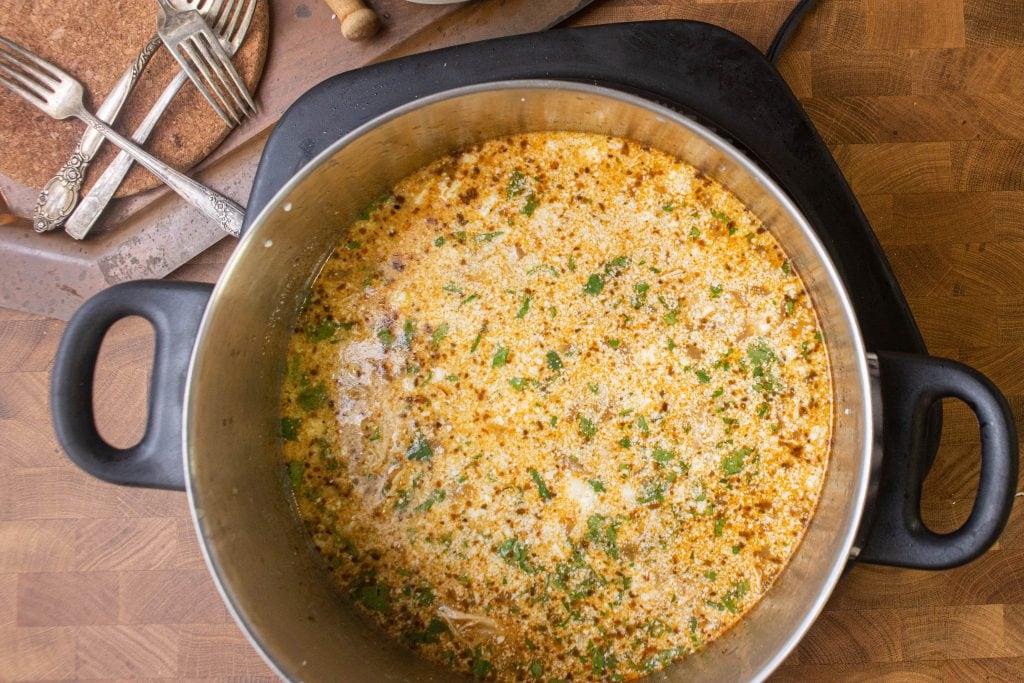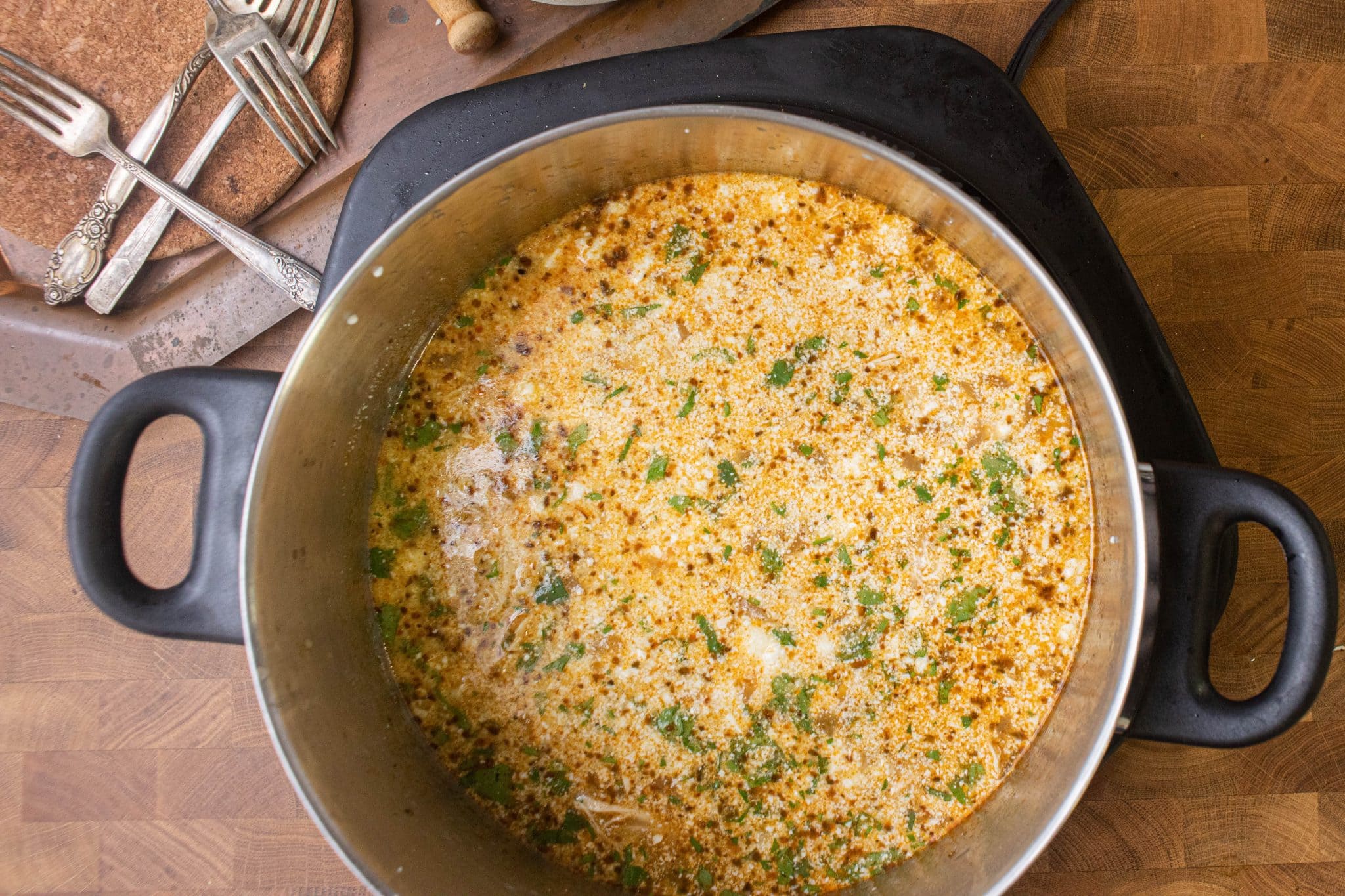 Step 5: Serve
There are so many ways you can serve your Keto White Chicken Chili! We usually eat it with keto tortilla chips, avocado, a good squeeze of lime juice and cilantro.If you want to experiment a bit more, add pepper jack cheese or Monterey jack cheese on top. Serve it alongside cauliflower rice for a wholesome dinner meal or eat it just like that.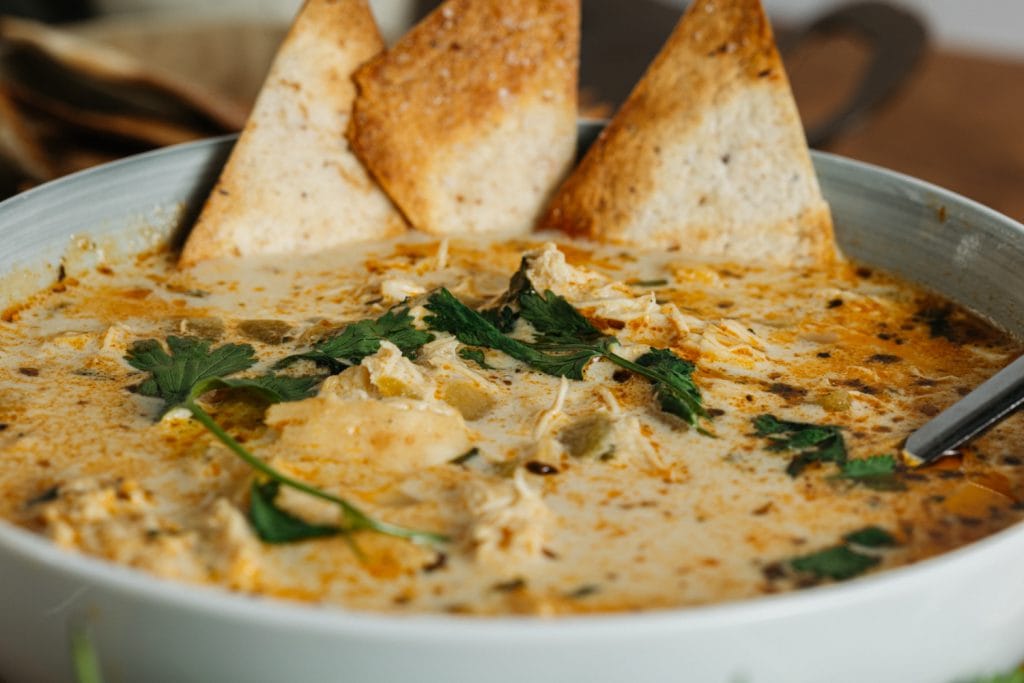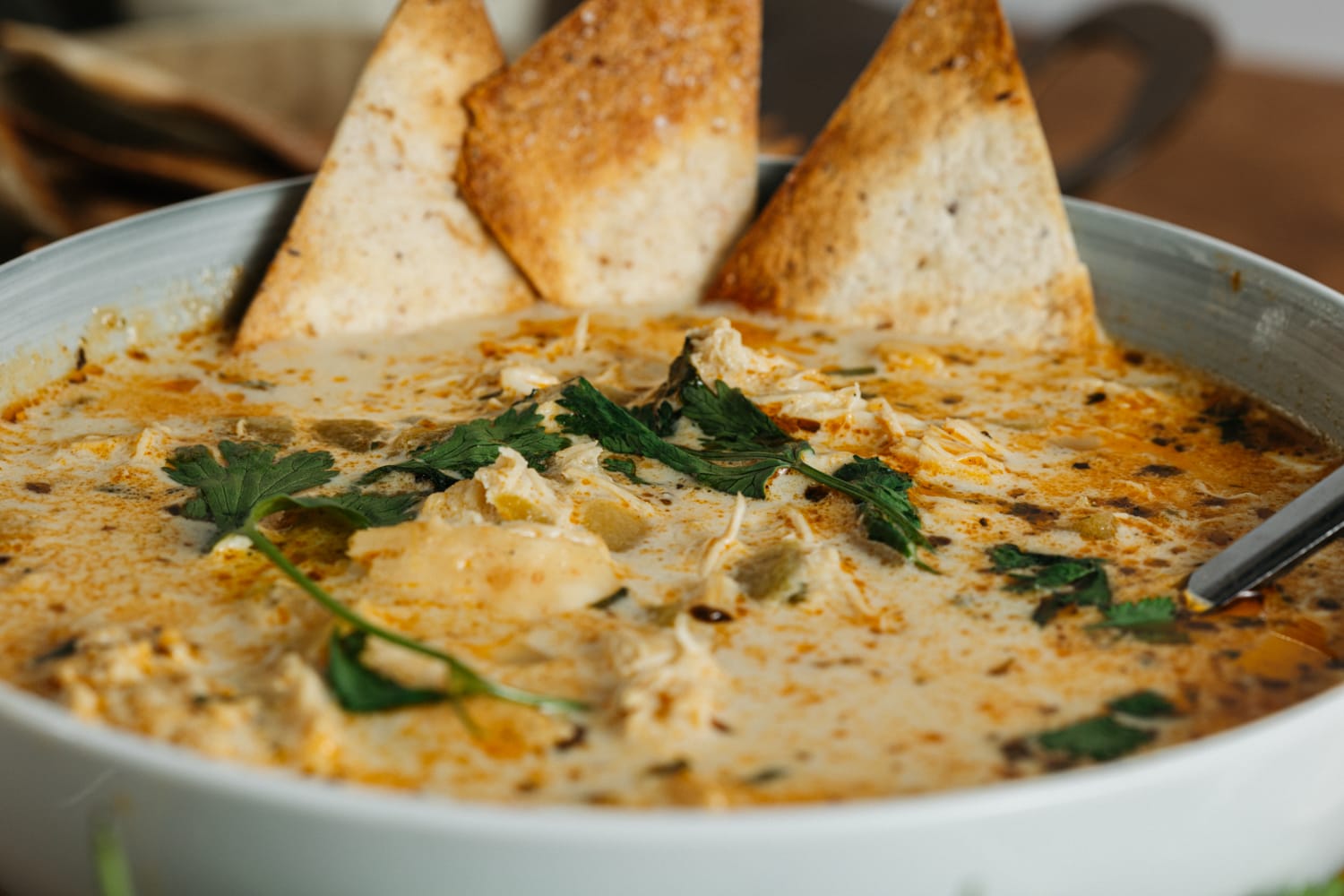 FAQs
Can I use chicken thighs instead of chicken breasts?
You're more than welcome to do so! It simply depends on your preference because chicken thighs are considered dark meat and they're a bit different in flavor, but it's completely up to you.
Can I use a slow cooker or an instant pot?
You can definitely use a slow cooker, a crock pot or even an instant pot to make this recipe but we haven't tried it ourselves so I can't tell you the exact directions for each one of these options.However, if you do, make sure to leave us a comment and let us know how it worked out!
By doing so, you'll also help out other readers by giving them tips on how to make our keto chicken chili your favorite way.
Can I add shredded cheese inside?
If you're a fan of anything cheesy, you can add cheese on top after you're done cooking it and perhaps broil it for a few minutes in an over proof thick bottomed dutch oven or any other oven safe dish.I wouldn't necessarily add it while cooking, only at the end while your keto chicken chili is still hot enough to melt it.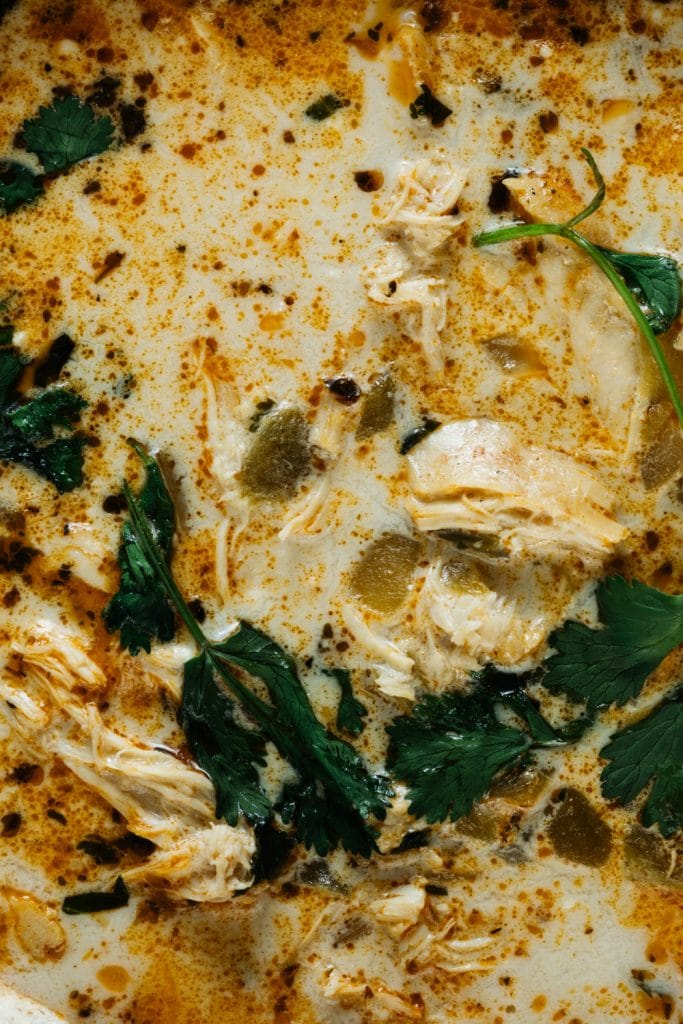 I'm lactose intolerant. Can I use canned coconut milk instead?
You can't substitute both cream cheese and heavy cream for canned coconut milk. However, if you are lactose intolerant this recipe will work but you will have to experiment on your own.My best guess is to add the thickest part of canned coconut milk and try to reduce it as much as possible while still simmering for a while.
You may have to add xanthan gum to thicken it up a bit. As per flavors, I'd add a bit of curry too to compliment coconut milk. You can also try making our Dairy Free Low Carb Chili. It's just as delicious, and definitely a keeper!
Have you tried our Keto White Chicken Chili recipe?
Let us know in the comments if you enjoyed getting your hands on our low carb, keto diet friendly white chicken chili. If you added more ingredients, we'd love to hear your recipe ideas as well!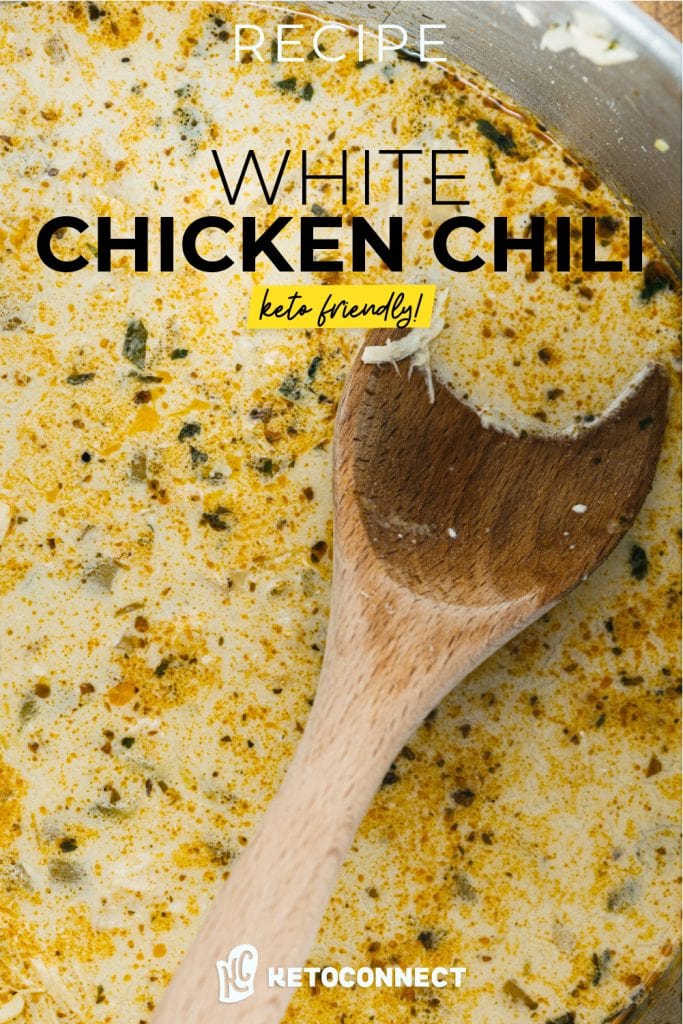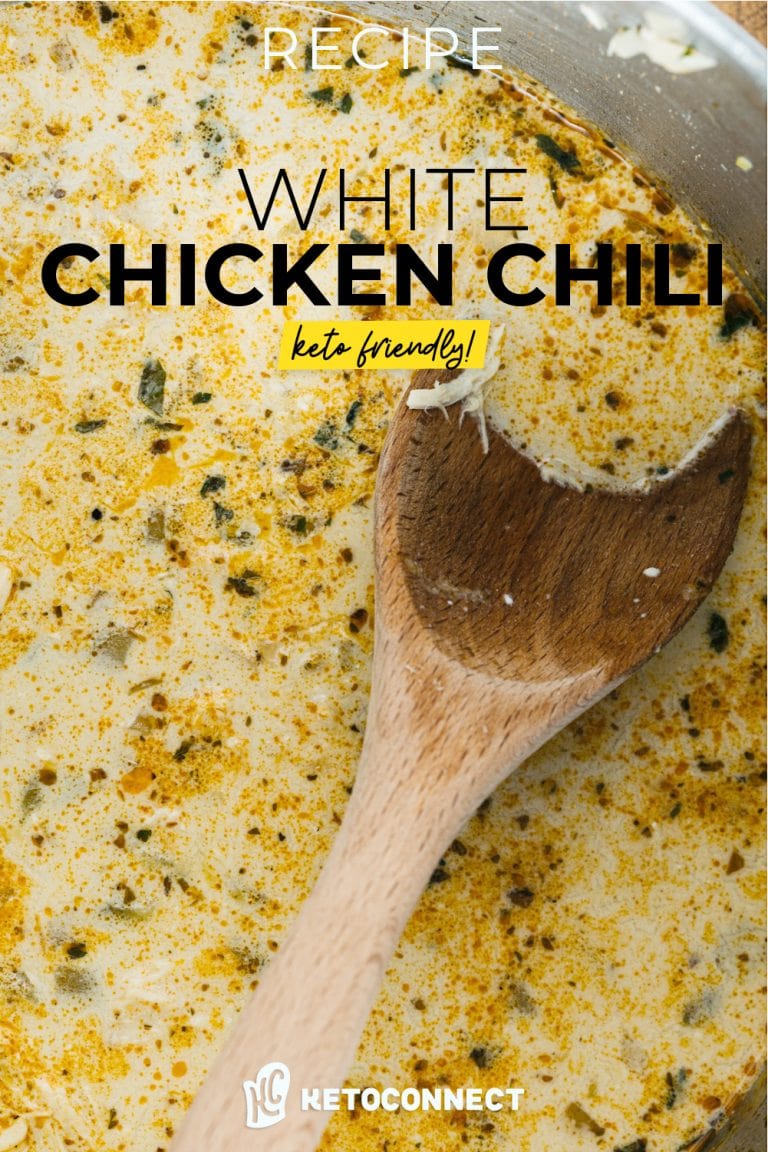 Keto White Chicken Chili
It is creamy, flavorful and packs a powerful dose of fat and protein to keep you full for longer!
Total Time 30 minutes
Servings 6 servings
Calories per serving 305kcal
Prep Time: 12 minutes
Cook Time: 18 minutes
Ingredients:
1.5 lbs Precooked Chicken Breast Shredded Can be baked or boiled
1 tbsp Olive Oil
3 cloves Minced Garlic
1/2 c Diced Onion
18 oz Block of Cream Cheese
4 cups Chicken Broth
7 oz Can Green Chilis
1/4 c Heavy Cream
2 tbsp Cilantro
1+1/2 tsp Cumin
1/4 tsp Cayenne
3/4 tsp Oregano
3/4 tsp Paprika
1/2 tsp Pepper
1 tsp Salt
Instructions:
Add oil to a pot and sauté the garlic and onions until translucent over medium heat.

Pour in the spices and and toast them for 2 minutes with the onions and garlic.

Add in the broth and bring to a simmer. Simmer for 15 minutes.

Once simmered add in the chicken, chilis, cream cheese, heavy cream, and cilantro.

Serve warm with Keto tortilla chips, avocado, limes, and extra cilantro.
Nutrition Facts
Keto White Chicken Chili
Amount Per Serving
Calories 305 Calories from Fat 99
% Daily Value*
Fat 11g17%
Saturated Fat 4g20%
Trans Fat 1g
Polyunsaturated Fat 1g
Monounsaturated Fat 4g
Cholesterol 96mg32%
Sodium 1829mg76%
Potassium 898mg26%
Carbohydrates 12g4%
Fiber 1g4%
Sugar 5g6%
Protein 39g78%
Vitamin A 465IU9%
Vitamin C 25mg30%
Calcium 361mg36%
Iron 3mg17%
* Percent Daily Values are based on a 2000 calorie diet.
Written By