We've outdone ourselves and our other keto mac and cheese recipe with this Velveeta Style Keto Mac And Cheese! Its right, creamy, hearty and will bring you back to your childhood days of eating Velveeta shells, or at least it did for me. Give this a try at home and watch your kids light up with cheese and joy!
What Is The Best Cheese For Keto?
We get this question a lot. While all cheese can be consumed just fine on keto, there are some that are better in terms of quality. If we are, for example, making a cheese plate or looking for raw milk cheese, we buy the blocks from a grocery store or a local farm – shredded would never cut it.You can also buy higher fat content cheeses like a double or triple cream brie cheese that will not only be much high in fat, but have a creamy, tangy texture and taste. The world of cheese is endless – cave aged, raw, soft, hard, crumbled. No matter how you buy it it will always add flavor and texture to your meals!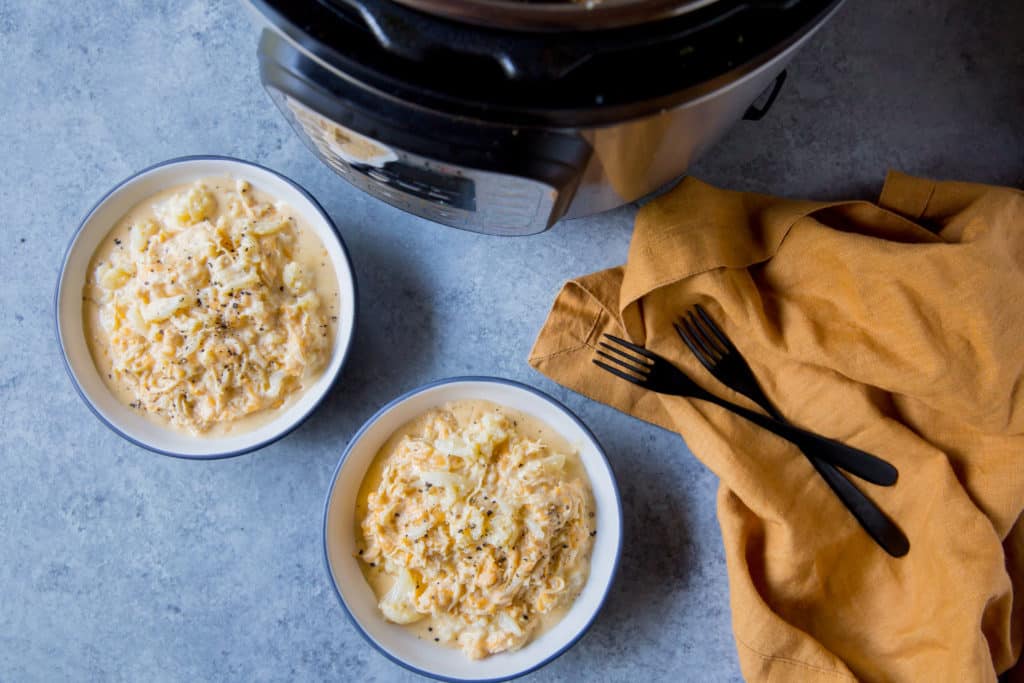 The Best Low Carb Vegetables For Keto!
Cauliflower is definitely one of the best low carb vegetable for keto, but it's not the only one. You've got broccoli, zucchini, asparagus, mushrooms, and honestly, the list goes on. We've got side dishes including all the best low carb vegetables from cauliflower fried rice to brussels sprouts and bacon, and even cheesy zucchini gratin!Give them all a try and let us know what you think 🙂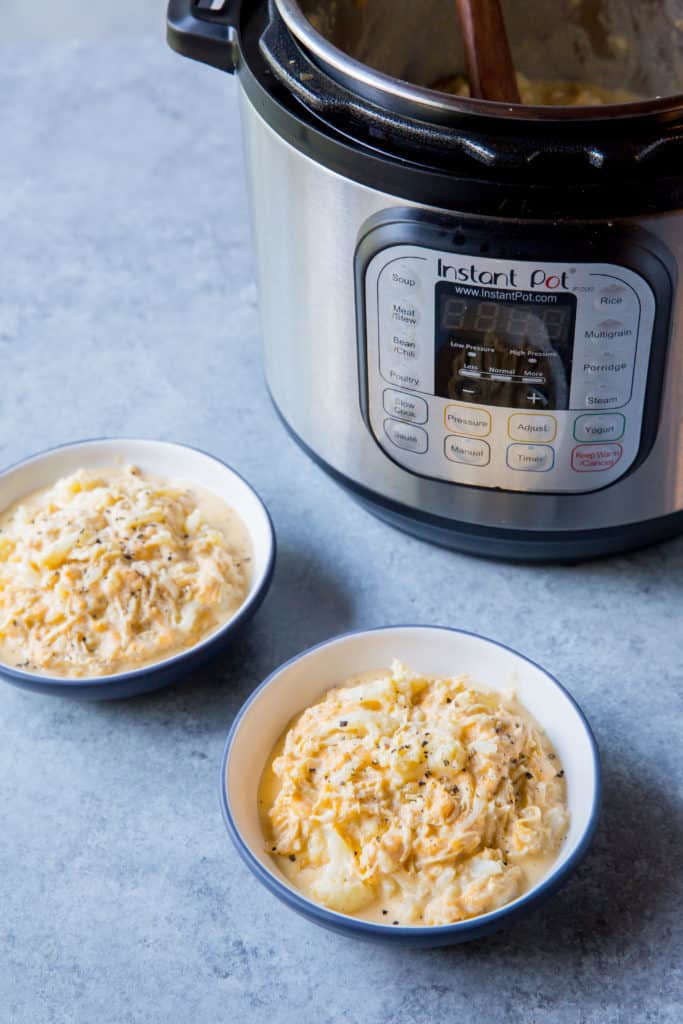 Velveeta Style Keto Mac And Cheese
I've never met someone who doesn't love mac and cheese and I don't think anyone could hate this recipe either. The cheese sauce is basically liquid gold without the high valuation, but it's better because you can eat it and it's delicious! If you grew up eating mac and cheese or your kids love it, give this Keto Mac And Cheese a try and tag us on instagram to show us all the gold glory!

Recipe can be quickly added to MyFitnessPal – Search "KetoConnect – Keto Mac And Cheese"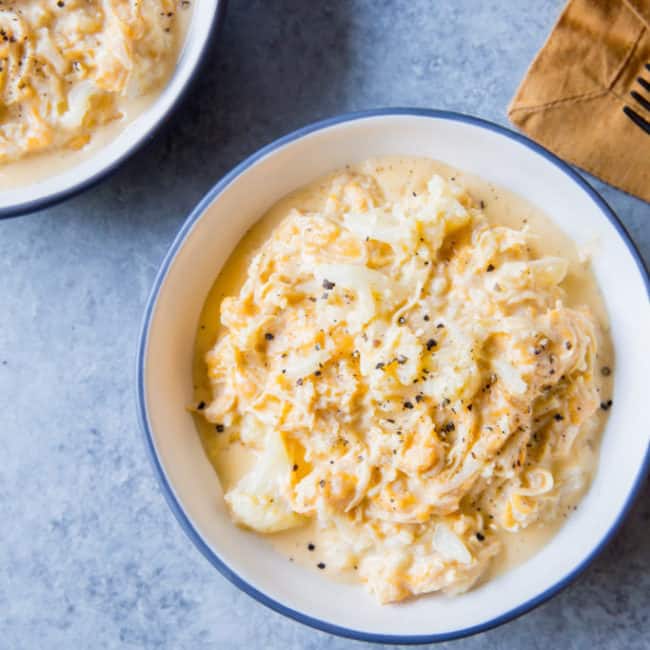 Keto Mac And Cheese (stove top)
A cream stovetop mac and cheese made out of cream cheese, chicken, and cayenne.
Total Time 20 minutes
Servings 6 people
Calories per serving 408kcal
Prep Time: 5 minutes
Cook Time: 15 minutes
Ingredients:
1/2 cup water
1 large cauliflower head, cut into small florets (see video for size)
3/4 cup chicken broth
2 cups chicken, cooked and chopped
1/2 cup heavy cream
4 tbsp butter
4 oz cream cheese
1/2 tsp pink salt
1/2 tsp black pepper
1/4 tsp cayenne pepper
1.5 cups shredded cheddar cheese
Instructions:
Add water to the bottom of a large stockpot and bring to a boil over high heat. Once boiling, add in the cauliflower florets, cover with a lid and steam for 5-6 minutes.

Once fork tender, drain the water and transfer the steamed cauliflower to another large bowl. Set aside.

Place the stockpot (used to steam cauliflower) back on the stove top at medium heat and add the chicken broth and chicken. Heat through for about a minute.

Turn the heat up to medium-high and add in the cream, butter, cream cheese and seasonings. Combine with a wooden spoon allowing everything to melt and incorporate.

Add in the cheddar cheese and combine using a spoon until fully melted and creamy in texture.

Turn the heat down to medium and add the cauliflower back in. Combine using a spoon making sure all the cauliflower is covered and heated through.

Serve immediately and enjoy!
Notes
Net Carbs: 6g
Serving Size: 1/6th recipe
Instant Pot Version:
Pour broth or water into the inner pot of the Instant Pot. Add the chicken, then place a steamer basket full of the cauliflower on top of the chicken.
Close and seal the lid. Cook on Manual High for 1 minute, then perform a quick release. Remove the basket of cauliflower and set aside.
Press the Cancel button, then press Saute. Add the heavy cream, cream cheese, butter, salt, and peppers to the chicken and broth mixture. Stir until melted and smooth.
Add 1 ½ cups of cheese and stir until melted, then add cauliflower. Press Cancel button. Stir until everything is well combined.
Serve immediately, with additional cheese sprinkled on top. Enjoy!
Nutrition Facts
Keto Mac And Cheese (stove top)
Amount Per Serving
Calories 408 Calories from Fat 315
% Daily Value*
Fat 35g54%
Carbohydrates 8g3%
Fiber 2g8%
Protein 15g30%
* Percent Daily Values are based on a 2000 calorie diet.